It might get buried underneath the allure of big points bonuses and travel perks, but the rental car insurance you get on the Chase Sapphire Preferred® Card and the Chase Sapphire Reserve® is one of the best benefits of all.
The coverage you get from charging your rental to a Sapphire card is some of the best rental car insurance you can get from a credit card. It covers any damage to your rental and provides cardholders with primary auto rental insurance. And that generally means you can skip additional policies from your rental car company – and even from using your own policy to file a claim if the worst happens.
Still, rental car insurance can be complicated. So we've broken it down to help you know exactly what you're getting from Chase's auto insurance benefit.
Chase Sapphire Rental Car Insurance: Primary vs. Secondary Coverage
Chase Sapphire cards aren't the only ones that offer some insurance when renting a car. But this coverage is better.
Almost every other card on the market offers only secondary rental car coverage. If you get into an accident or your car is damaged with secondary coverage, you'd have to file a claim with your personal insurance policy before turning to your credit card company for help. That means you'll have to pay your deductible – and your auto insurance premiums will likely go up, too.
But it's different on the Chase Sapphire Preferred or Reserve. You get primary rental car coverage. And that means you can skip your own policy and head straight to Chase for help.
Drilling into Chase's Auto Rental Collision Damage Waiver
It's time to get technical.
This primary coverage from Chase Sapphire cards replaces the typical "collision damage waivers" – or loss damage waivers – that car rental companies are required to offer.
These policies will provide reimbursement for damage due to collision or theft on a rental car. So if you get into an accident, it will cover the costs of any damage up to the cash value of the vehicle. But from car rental companies, it costs $10 to $30 a day. That can add up fast if you're traveling for more than a day or two.
This is why Chase's rental car coverage is so valuable. It means you can decline the car rental's add-on policy and still be covered. And you get it not just in the U.S., but internationally with any car rental.
Just note that this is not liability insurance. It will not cover medical bills, damage to another vehicle, or damage to property.
Must-Dos When Renting a Car
First things first: You must charge your rental car to your Chase Sapphire Preferred Card or Chase Sapphire Reserve.
And you also must decline the rental company's collision damage waiver or loss damage waiver. If you do not decline the car rental company's collision damage waiver, your Chase coverage will be voided.
Who Is Covered?
Just because you've got a Chase Sapphire card and used it to make your car rental doesn't mean you're all set. It's important to know exactly who – and what – is covered.
The primary cardholder – whose name is printed on the card – is covered as long as they are listed as the primary renter on the car rental agreement. In addition, any additional driver listed in the rental agreement will also be covered.
Anyone in your party not listed in the rental agreement as a driver will not be covered.
This benefit does cover any authorized users on your card as long as they use their card to rent a car.
What is Covered?
Primary rental car insurance covers much more than other rental policies you'll get from credit cards. Still, it's important to know exactly what will be covered on your rental.
Physical damage, up to the cash value of the vehicle
Theft, up to the cash value of the vehicle
Reasonable towing costs related to vehicle damage

It's unclear exactly what "reasonable" means. If you end up needing a tow, document everything possible with photos and get copies of the paperwork from the towing company. Note that towing due to traffic violations such as parking in an unauthorized space is not covered. 

Vehicle rental periods up to 31 days

If you need to rent a vehicle longer than 31 days, consider breaking up your rental into two separate rentals to retain this coverage

Valid loss-of-use charges incurred by the rental car agency

A car rental company may charge you for the time the car is being repaired and they are unable to rent it. Make sure to keep all documents related to repairs and charges incurred from the rental company in order to file a claim with Chase.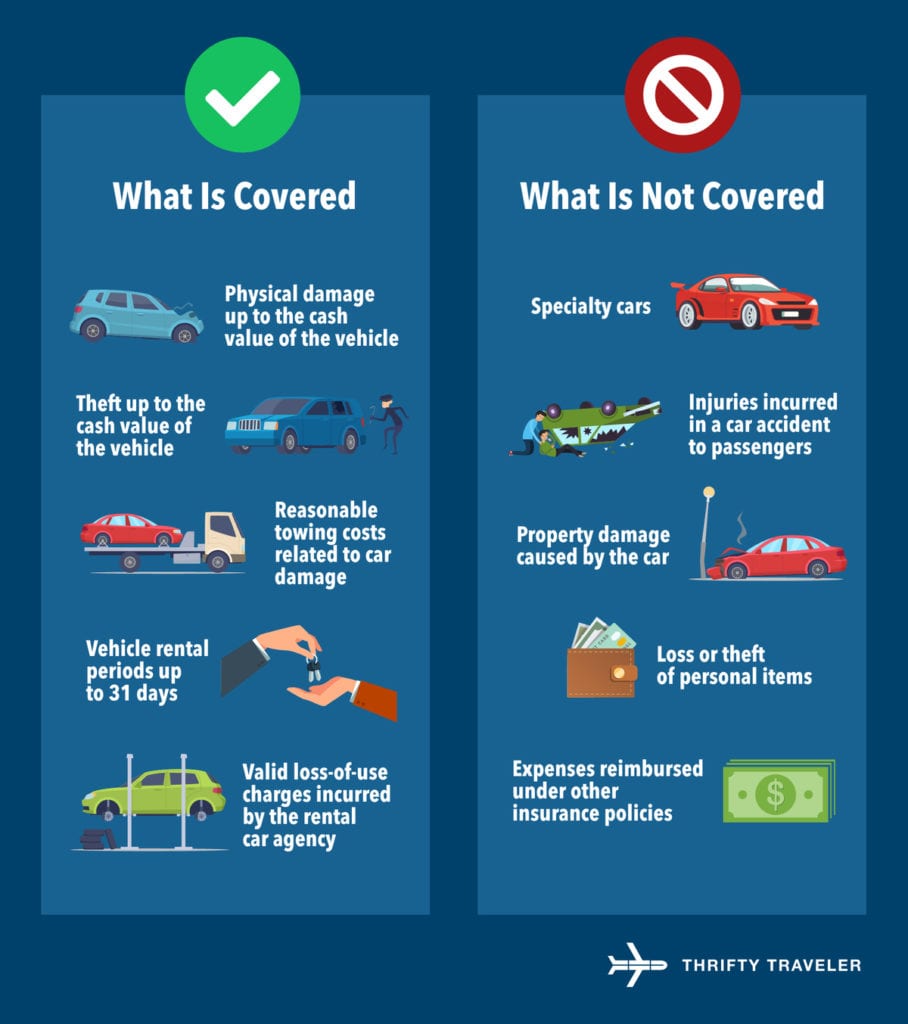 What's Not Covered?
While Chase Sapphire rental car insurance coverage is broad, it won't include everything.
Expensive, exotic, and antique automobiles, vans designed to carry more than nine people, vehicles that have an open cargo bed, trucks, motorcycles, mopeds, and motorbikes, limousines, and recreational vehicles such as ATVs are not covered
Personal injuries incurred by passengers in a car accident

Check your personal auto insurance to find out what is covered. 

Property damage caused by the car are not covered

Check your personal auto insurance to find out what is covered. 

Lost or theft of personal items inside your rental car

You may have what is called "off-premise" Personal Effects Coverage included in your renters or homeowners insurance that would cover some personal items depending on your deductible.

Expenses reimbursed under your personal auto insurance policy, your employer, or your employer's insurance
If you have any concerns about coverage for a specific type of vehicle, or any other questions about what is covered, just contact a Chase benefit administrator.
How to File a Claim with Chase
If you get into an accident or your rental car is stolen, you should immediately contact a Chase benefit administrator to report damage or theft. You must notify the benefit administrator within 60 days – but it is better to do so immediately after any incident.
You can contact Chase at 1-888-320-9961.
Chase will send you a claim form when you report your loss. You must submit a completed claim form within 100 days of the damage or theft. You then have 365 days from the incident to submit all required supporting documentation.
Required documentation may include:
a copy of the rental agreement
a receipt or credit card statement showing you used your Chase Sapphire card
before and after photos of the vehicle
an accident or police report
an estimation of repair costs
any documentation provided by the rental company before and after the incident
Tips for Filing a Claim
There are a few things ahead of time that you can do to make sure filing a claim is as easy as possible.
Take photos and/or video of the car before you leave the rental lot. Not only will this show any current damage before you have driven the car but you'll have images in case the car is damaged later. This will also provide a timestamp.
Take a photo(s) of the car rental agreement and any documents you are given. In the event of a stolen car or severe damage, you will want to have easy access to these documents.
When to Contact a Chase Benefit Administrator
Besides filing a claim with Chase there are a few things you may want to clarify before renting a car. Here is when you should contact a Chase Benefit Administrator.
If you're renting a car outside of the United States and you are unsure if your vehicle will be covered in that country.
If you're interested in renting a more expensive vehicle or a vehicle outside of the norm make sure to double-check if it will be covered before you waive the insurance from the rental company.
Immediately after an accident to get instructions on what will be needed to file a claim.
Chase Sapphire Benefit Phone Number: 1-888-320-9961
FAQs
Do I have to pay with my Chase Sapphire card to get coverage?
Yes, in order to get the coverage you need to use your Chase Sapphire card to rent the car.
Can I use Ultimate Rewards to pay for the rental car and still receive coverage?
Yes, when using points to pay for a rental car you still need to put a credit card on file. To receive the coverage you must use your Chase Sapphire card.
If I already have car insurance, should I still use the Chase benefit? 
Yes, you should use the Chase Sapphire rental car insurance. That way, if any damage occurs to the car, you can make a claim with Chase and not your own personal car insurance. If there is a situation where the Chase coverage doesn't cover something, you can then file a claim with your car insurance.
Does this coverage work in all countries abroad?
Yes, this coverage should be accepted in all countries around the world. If you are concerned or just want to verify that it will, contact Chase before your trip.
How much coverage does my card provide? 
The Chase Sapphire benefit will cover up to the cash value of the rental car. However, it's important to note that certain kinds of vehicles are not covered including recreational, classic cars, expensive makes and models, and motorcycles.
Does an authorized user of the Chase Sapphire Preferred or Reserve get the benefit? 
Yes, this benefit does extend to an authorized card user as long as they use their card to rent a car.
Bottom Line
Chase Sapphire rental car insurance is one of the most underrated benefits on these cards. It's there when you need it, and it goes much farther than the coverage you get from many other credit cards.
Just make sure you use your Chase Sapphire card, decline your rental company's coverage, and understand how to use this benefit beforehand – just in case.