A Global Entry membership is practically a must for any international traveler to get through immigration fast – and also clear airport security faster, too. But given the Global Entry application process, interviews, and high upfront cost, it can be daunting.
For years, would-be Global Entry applicants have been scared off by backlogs and trouble securing an appointment slot that can mean it takes months to signed up … but that's not always the case. Some people are stuck in limbo for months, waiting week after week for conditional approval or struggling to find an in-person appointment. More recently, it seems things have sped up, with some travelers finalizing Global Entry from start to finish in two weeks – or less.
Here's a walkthrough on how to apply, interview, and successfully use Global Entry – and how you can add this must-have travel perk to your repertoire for free.

What is Global Entry?
Global Entry (GE) is one of two popular "Trusted Traveler Programs" run by the U.S. government, and it's the best way to clear immigration quickly after your international flight back to enter the United States. And when we say quickly, we mean quickly.
After a recent trip to Southeast Asia, I landed in Chicago-O'Hare (ORD) to find a massive line for customs and immigration – it would have taken at least an hour, maybe more. But Global Entry gets you access to a dedicated line … and that was completely empty. After snapping a quick selfie at one of the Global Entry kiosk (or soon, via the Global Entry smartphone app), I walked over to an immigration agent, gave him my name, and walked through. The entire process took less than two minutes – I barely stopped walking!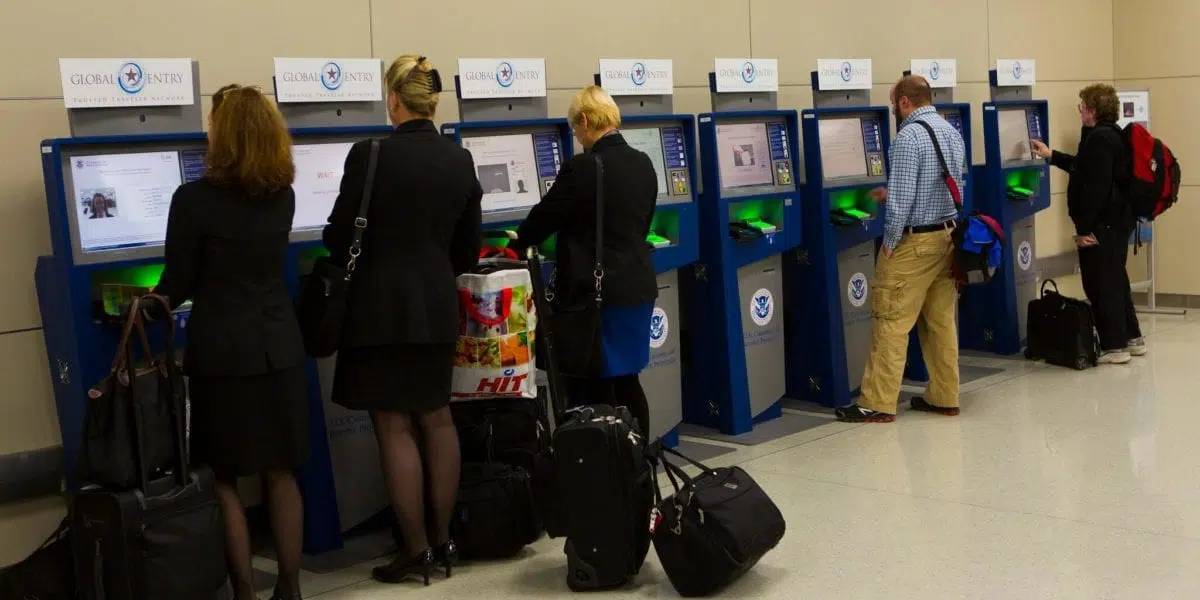 The other Trusted Traveler Program is TSA PreCheck, which you can use to skip long lines at airport security before getting on your flight whether you are traveling domestically or internationally. 
But part of the reason why Global Entry is so popular – and powerful – is that it also comes with TSA PreCheck. That means you can skip long lines at security on your way into the airport and as you come back into the country through immigration.
So if you travel internationally just once, that makes Global Entry the easy choice over PreCheck.
Both programs have a five-year membership once you're enrolled. Global Entry costs $100, while PreCheck now costs $78 after a price drop. And as you'll see below, more and more credit cards offer credits to cover the enrollment cost.
How Much is Global Entry?
Global Entry itself costs $100 for a five-year membership. That's a small price to pay for five years of speedier travel.
However, plenty of credit cards include a credit that covers the entire cost of Global Entry or TSA PreCheck enrollment as a perk. It seems like a new card adds this feature every year.
Many top-tier cards like *amex platinum card*, the *chase sapphire reserve*, and the *venture x* offer this benefit. But then there are even cheaper options that allow you to cover the cost of Global Entry, like the *capital one venture card* or the U.S. Bank Altitude® Connect Visa Signature Card, which even waives its $95 annual fee for the first year.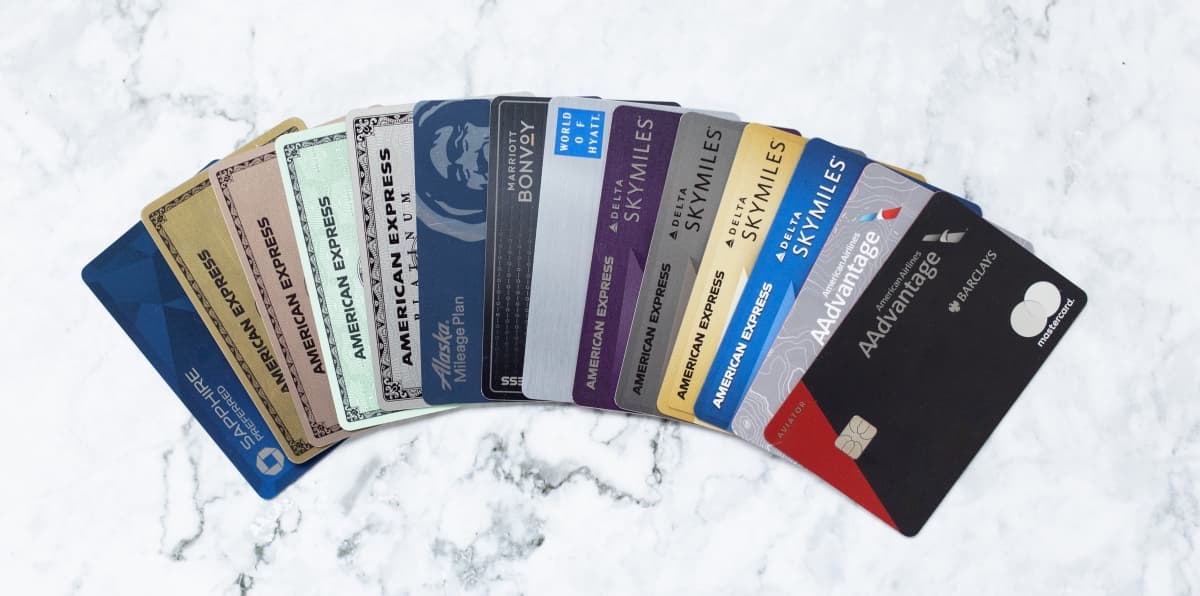 Read our guide on the top cards that offer Global Entry or TSA PreCheck.
All you need to do to cash in on that credit is pay with the card that covers your application fee. That means you can pay for a friend or family member to apply if you are already enrolled. Just use your card with a credit and you're set.
The Global Entry Application Process
Before you pay for your enrollment, you first need to apply for Global Entry. Luckily, it's fairly straightforward.
So long as you're a legal U.S. resident (or a citizen of a handful of other countries including Argentina, South Korea, Singapore and more) without a criminal record or previous immigration issues, you'll most likely meet the Global Entry requirements.
The application is filled with personal details to prove your identity and verify your previous travels. They're fairly typical questions, though one potential hiccup is that you'll need to provide five years of employment history and residential addresses. Depending on how much you've moved around, it could be a challenge.
You'll also need to provide some details on your international travel history over the last five years, too – including the months and years of your trips. Make sure you've got that all down by cross-checking old confirmation emails from airlines or scrolling through photos. Better yet, if you use an app like TripIt or Flighty, just pull up your past travels to easily document your history.
The whole application takes about 10 minutes. From there, it's a waiting game as Customs and Border Protection (CBP) runs your background check and processes your application. Watch your email inbox for an alert about a change in your Global Entry application status.

Read more: What to Do When You're Waiting on Global Entry Enrollment
Sure enough, I received an email about four business days later notifying me of a change. After logging in to my trusted traveler account, I saw that I had indeed been conditionally approved for the program in under a week. In some cases, it can be even faster. Unfortunately, other applicants wind up waiting in limbo for months – especially lately.
With demand for this must-have international travel program surging, many travelers have reported waiting for months on end for conditional approval. It's gotten so bad that the federal government began urging travelers to pick TSA PreCheck over Global Entry last summer.
While federal officials say some travelers can complete the entire process in less than 30 days (and that was our experience recently), backlogs in processing applications can drag out the process for months. U.S. Customs and Border Protection said last year that the average processing time for new Global Entry applicants, start to finish, was 208 days.
Still waiting on Global Entry conditional approval? Try calling the Global Entry information line at (877) 227-5511 to escalate your approval process, but there's no guarantee. And reports from travelers suggest that CBP will not escalate a Global Entry application until the nine-month mark.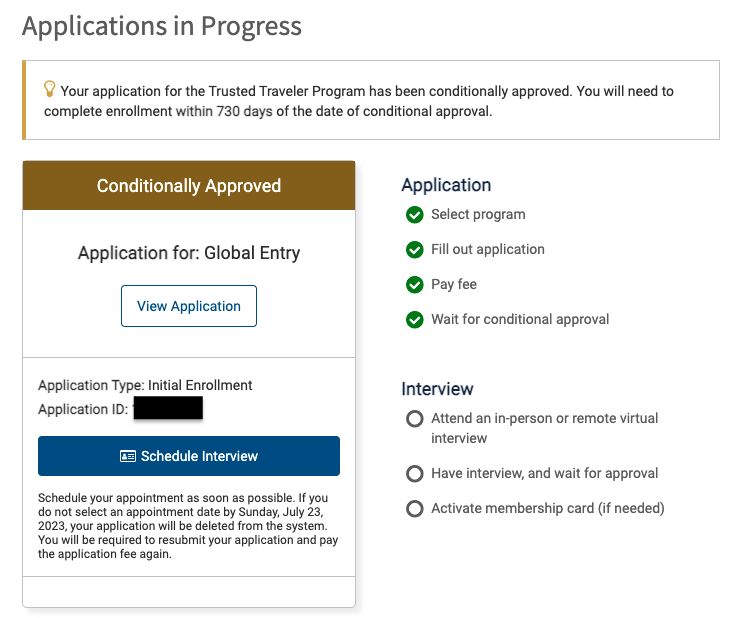 After receiving Global Entry conditional approval, the next step is scheduling an interview to finalize your enrollment. And that can be the most difficult part of the entire process.
Scheduling Your Global Entry Interview
To wrap up your Global Entry enrollment, you'll need to schedule an in-person interview. And depending on where you live and how many enrollment centers are around, this can be the most cumbersome part of the process. Regardless, it takes some effort and patience.
Schedules for these interviews are changing constantly, as Customs and Border Protection officials add availability in blocks and fellow travelers book or cancel their existing appointments. So even if the next appointment isn't for many months when you first look, secure the earliest appointment and then check back on the scheduling platform a few times a day to try to move it up sooner. 
You can check out the interview schedules at enrollment centers nationwide here.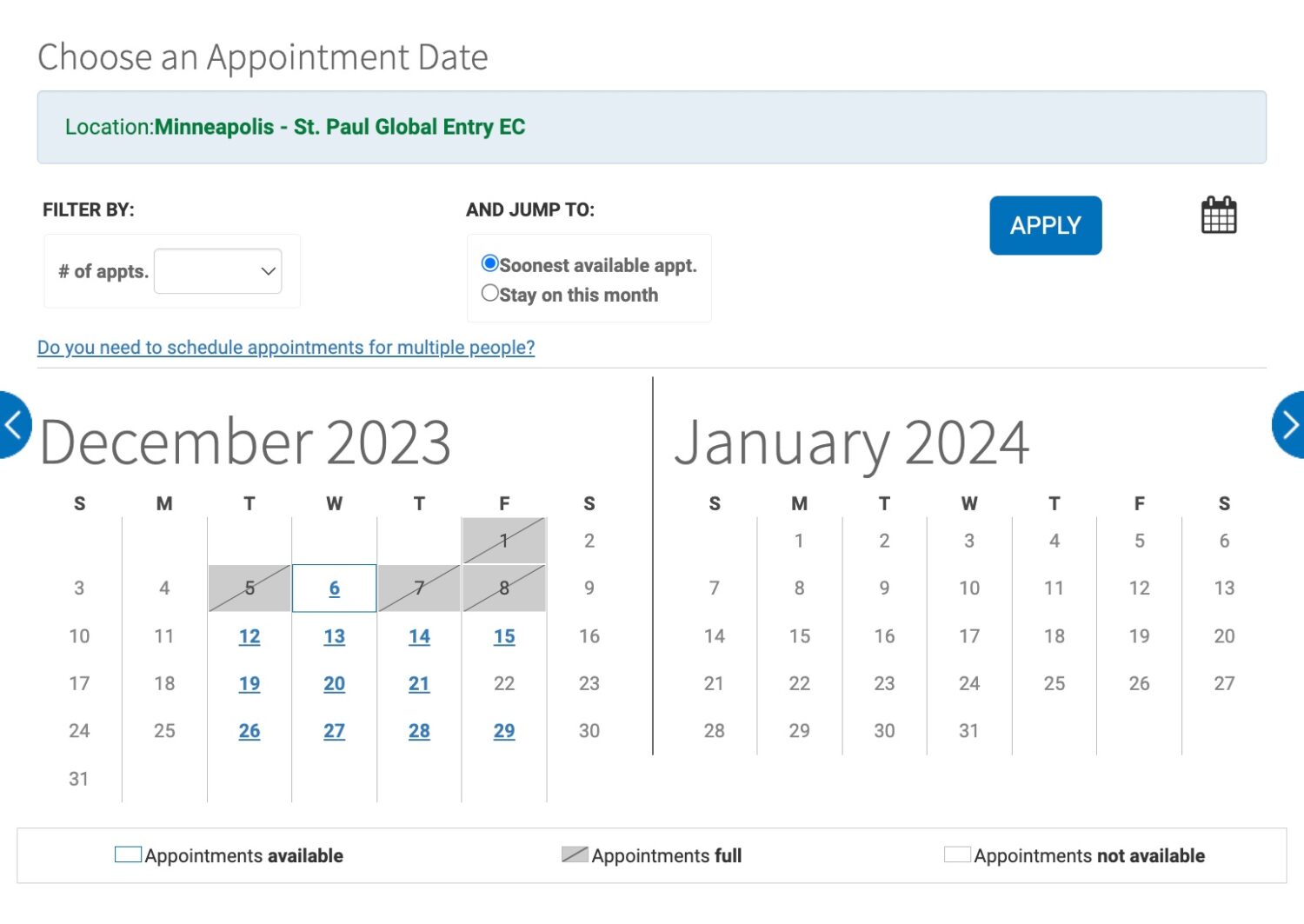 Check out our tips to securing a Global Entry interview faster!
Customs and Border Protection has made a concerted effort to address a backlog of applications and members awaiting interviews, but these interview slots come and go quickly. You can scroll through many months' worth of appointments at major airports without seeing a single interview available.
Thrifty Tip: Check for interview availability on the first Monday of the month at 9 a.m. local time – that's when federal officials add new slots at many major enrollment centers.
That's what makes services like Appointment Scanner invaluable. This service scrapes the entire Global Entry interview schedule 24/7/365, alerting you whenever it finds an appointment at your designated enrollment centers. You can get alerts for up to three locations by email or text, then head out and snag an opening as soon as you get one. It costs $29 for one month of alerts, which could be easily worth it.
But Customs and Border Protection also offers a relatively new, faster way way to finish up your Global Entry registration: Enrollment on Arrival.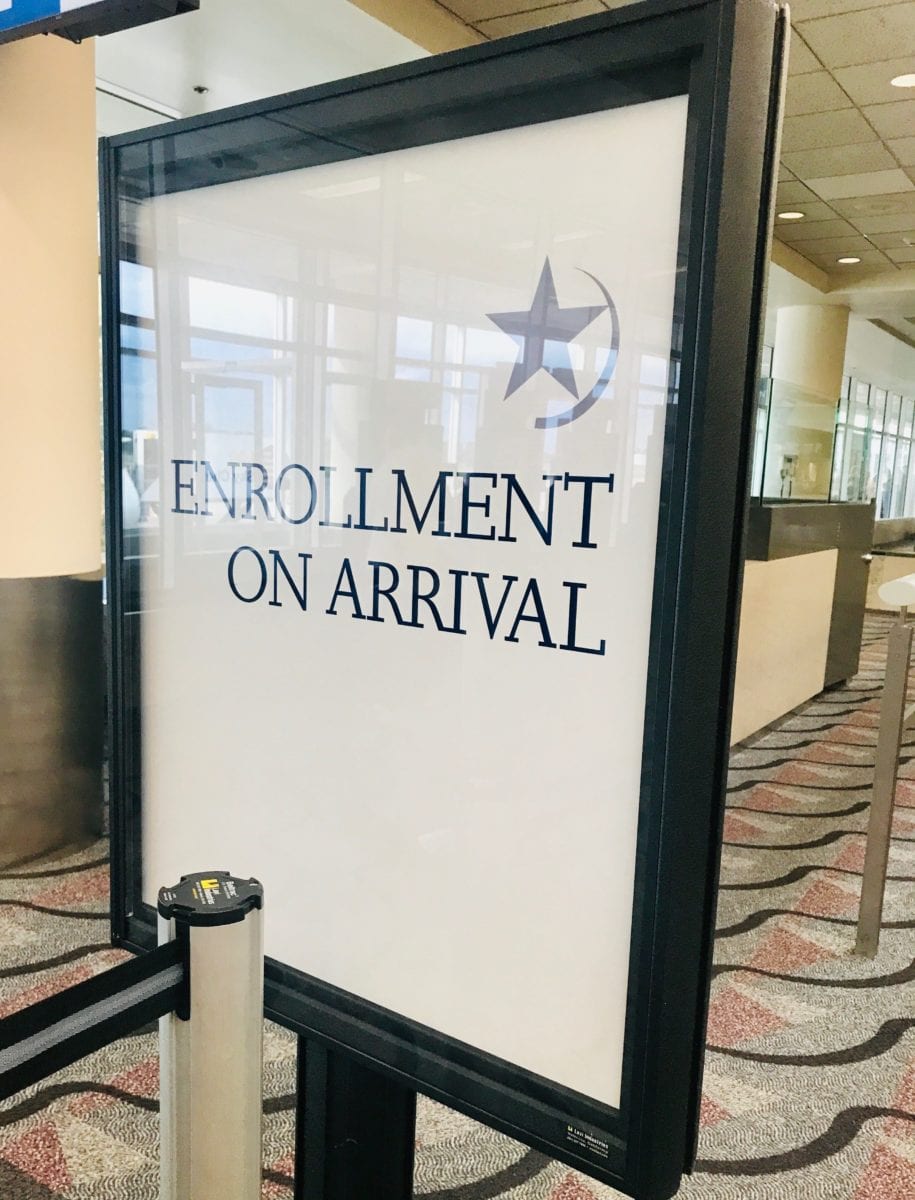 If you've been conditionally approved, you can do the interview and finalize your enrollment after exiting the plane and before clearing customs at 60-plus airports nationwide and over a dozen international locations with customs pre-clearance. To complete your application with "Global Entry On Arrival" you must be entering the U.S. after disembarking from an international flight.
What to Bring to a Global Entry Interview
Once you've scheduled an interview, the hard part is over. But this is the last and most important step in signing up for Global Entry.
To have the documents needed for Global Entry interview, be sure to gather your passport, driver's license, and confirmation of your conditional approval before you head to the enrollment center on the day of your interview. If the address on your driver's license doesn't match your current home address, you may want to bring another ID or piece of mail, as well.
Global Entry Interview Questions
In terms of the global entry interview question the interview itself was was simple: I was in and out within 10 minutes after being asked only to confirm my recent travels, some personal details and why I wanted to be in the program. Others might take longer, as it surely varies by an agent.
After the brief interview, the officer snapped a quick photo and took my fingerprint scans. That was really all it entailed. In just a few minutes he told me I had been approved and would receive an email notification. Sure enough, I had an email within minutes letting me know my account status had been updated.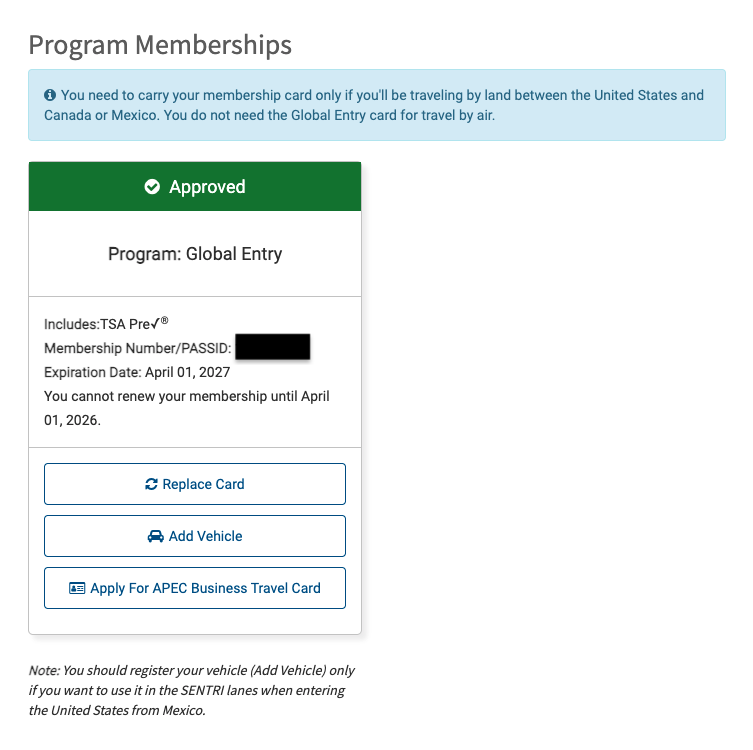 You should also get a membership card within a few days or a week by mail.

Using Global Entry
Once you've received your membership card, follow the attached instructions to activate it.
But unless you're entering the U.S. from Canada by land, there's not much reason to carry around the card. You only need your passport and fingertips – and increasingly, you may not need those at all to use Global Entry after returning from an international trip.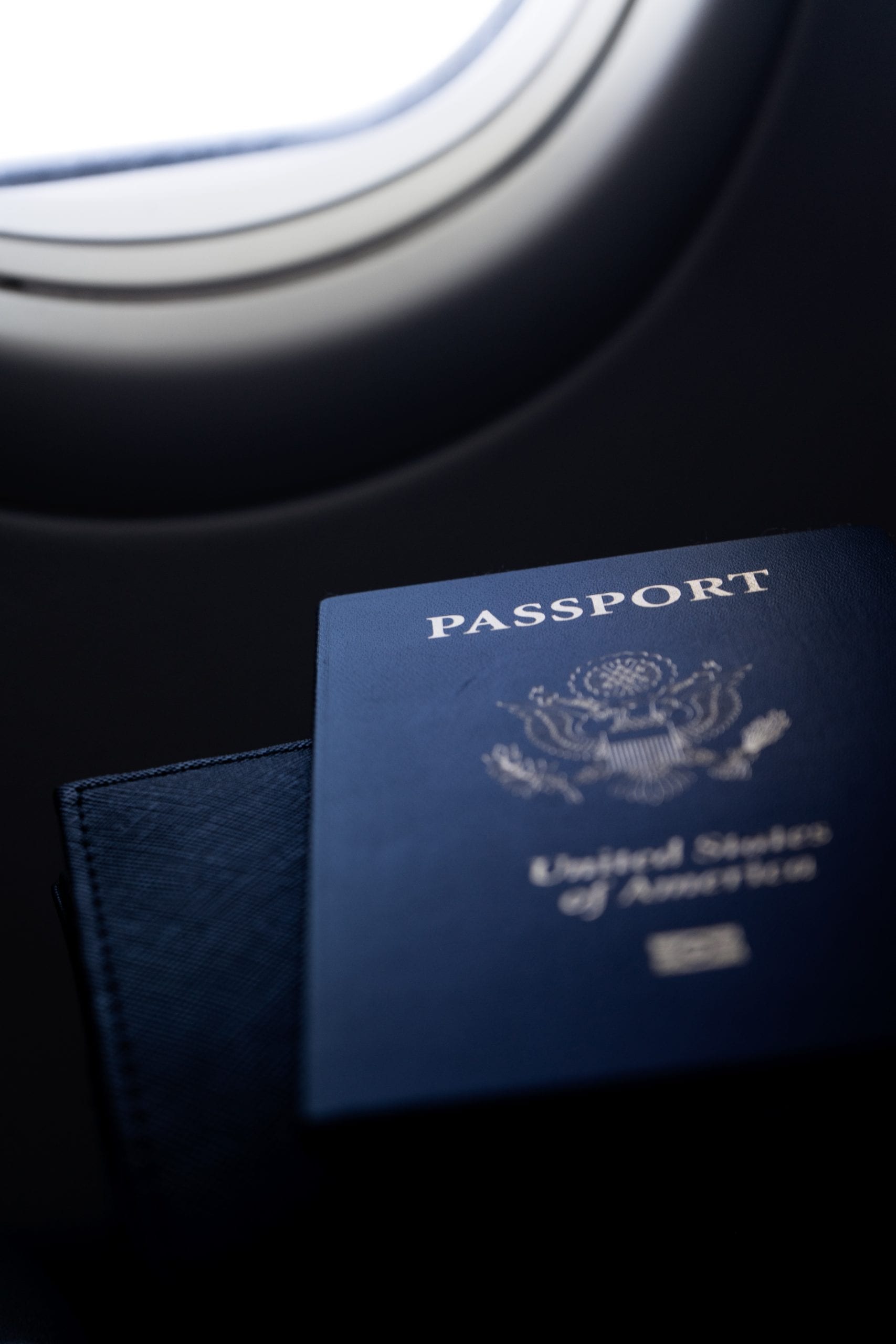 Once you land, follow the signs toward customs and immigration and the designated Global Entry lines. They're almost always drastically shorter (and much faster) than the standard immigration line for returning U.S. citizens. You'll see a row of Global Entry kiosks: the key to speeding through immigration.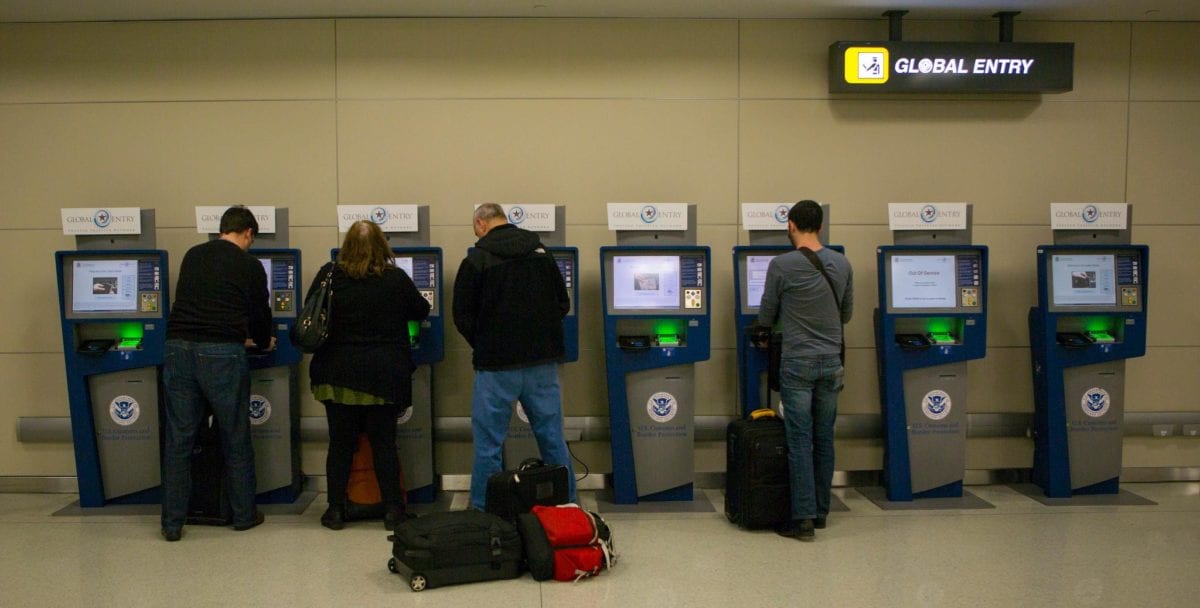 Exactly what you need to do once you reach a kiosk varies.
Some may require you to scan your passport and fingerprints
Most will simply have you snap a quick photo and answer a few brief questions about your trip on the screen before printing out a slip to hand off to an immigration officer
Some of the newest Global Entry kiosks will automatically take a photo as you stand by, then direct you to proceed to an immigration agent
The whole process of clearing immigration shouldn't take more than a few minutes – and you'll never need your Global Entry card at the airport. Compared to the backed-up lines you might be used to, it's a breeze.
And it's getting even easier. The federal government recently launched a new Global Entry Mobile app, allowing enrolled members to simply snap a selfie on their phone, process their arrival, show an immigration officer their digital receipt, and walk on through. It's currently available only at select U.S. airports, though that's expected to expand over time.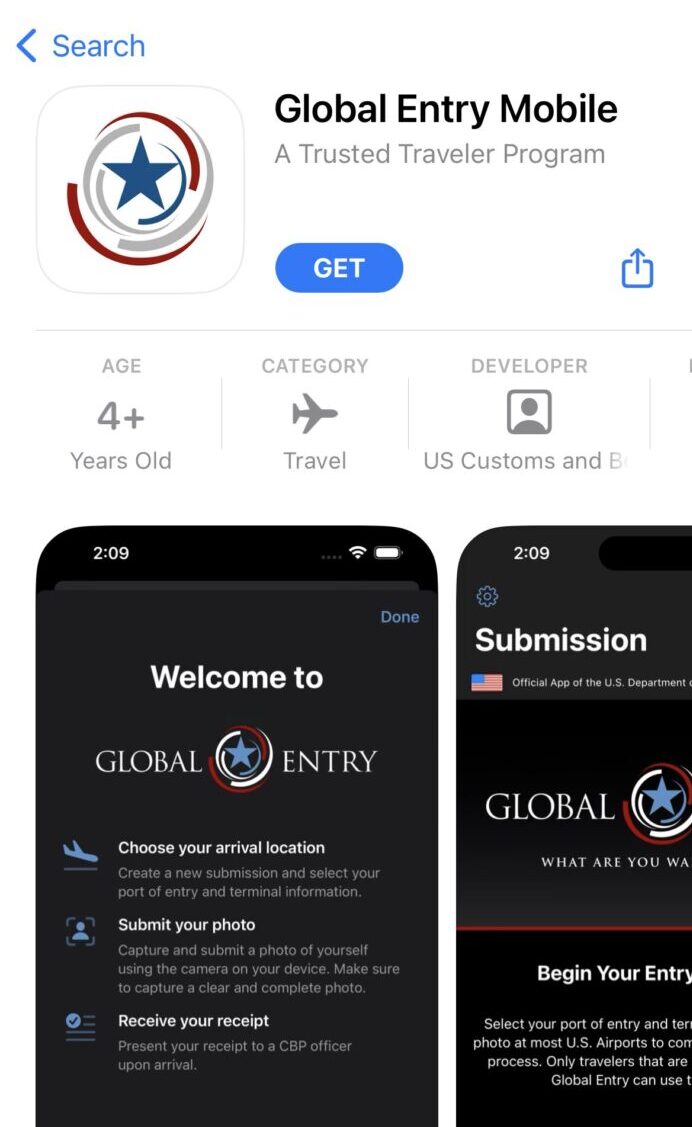 Getting PreCheck with Your Global Entry
As for utilizing your new TSA PreCheck benefit, keep in mind that PreCheck doesn't work on its own. The airline you're flying must participate in order for you to skip the lines and get in a PreCheck lane. Fortunately, almost every major airline participates in PreCheck now.
That means you need to enter your Known Traveler Number (KTN) in your airline account. Simply grab your Global Entry Membership Number (or PASSID), and enter it as a KTN. This should be available as soon as your account is approved following your interview.
If you upgrade from PreCheck to Global Entry, or vice versa, your KTN will not change.
Once you've updated your account with a TSA PreCheck-participating airline, your PreCheck benefit should carry over. Check with the TSA to see if your airline works with PreCheck. Good news: Almost all the big ones (and increasingly even minor carriers) do.

Global Entry for Kids
One of the most common questions we get is whether adults can use their Global Entry membership for their children. Unfortunately, Customs and Border Protection is very strict: No companions are allowed.
If you have children and want to get through immigration faster, you'll need to enroll each of them individually. That could change: As part of a proposed price increase that would push the five-year cost of Global Entry up to $120, all minors under 18 would be allowed to accompany their parents or guardians through the Global Entry lane for free.
But for now, you'll need to get even newborns their own Global Entry membership.
Read more: Everything You Need to Know About Getting Global Entry for Kids
Tips to Get Your Global Entry Approved Faster
Here are a few tips for getting your Global Entry approved quickly in 2022.
Already got TSA PreCheck? While you won't get a discount when applying for Global Entry, we've seen plenty of anecdotal reports that suggest having gone through the TSA PreCheck background check process will expedite your Global Entry approval process.
Don't wait – the cost might go up! My application was relatively smooth and quick. Get your application in now, and make an interview appointment as soon as possible. There's another reason: The federal government is working on raising the cost of Global Entry (and other Trusted Traveler Programs) from $100 to $120. Get your foot in the door while it's cheaper!
Be an interview appointment hawk. If your nearest enrollment center says there aren't available appointments until later in the year, don't just take their word for it! Book the next available appointment, whenever that is, as soon as you can, but then check the appointment schedule calendar early every morning to see if cancellations or a new batch of appointments open an earlier window. Or try a service like Appointment Scanner to do that work for you.
Use Enrollment on Arrival. If you are traveling abroad soon, use the EoA program to get an interview without an appointment. As soon as you land, you can interview with a CBP agent that day at the airport. Just make sure you allow for the extra time the interivew will take and if you have to wait for others in front of you.
Be prepared. According to a CBP spokesperson, the most important thing for interviewees is to come prepared. If you don't bring all of your documents and information with you, you will have to make a new appointment and come back later. That misstep could cost you months. At minimum, you'll need to bring a valid passport, another form of ID like a driver's license.
Bottom Line
If you've got one of the credit cards that covers Global Entry enrollment, it's a no brainer. Between TSA PreCheck privileges and a fast track through immigration, it's among the best solutions for international travelers out there. And so long as you can secure an interview, it's easy and fast to get enrolled.