Out with the old, in with the new.
The Escape Lounge MSP quickly became our favorite spot at our hometown airport of Minneapolis-St. Paul (MSP) after opening in 2016. After closing its doors in March 2020 due to the pandemic, it finally reopened in early August promising a new look and a new name thanks to a closer partnership with American Express: Escape Lounges – The Centurion Studio Partner.
But what does that rebrand and refresh mean now that it's back open again? What can travelers expect for seating, food, and drinks inside the Escape Lounge MSP? Is it a step closer to the unbeatable Amex Centurion Lounges, or more of the same?
Read on for our full review.

Getting into the Escape Lounge MSP
The lounge is located at the north end of the airport mall on the mezzanine level, perched above the bustling heart of Terminal 1 at MSP. It's just up the stairs (or a short elevator ride) from the entrance of Concourse E.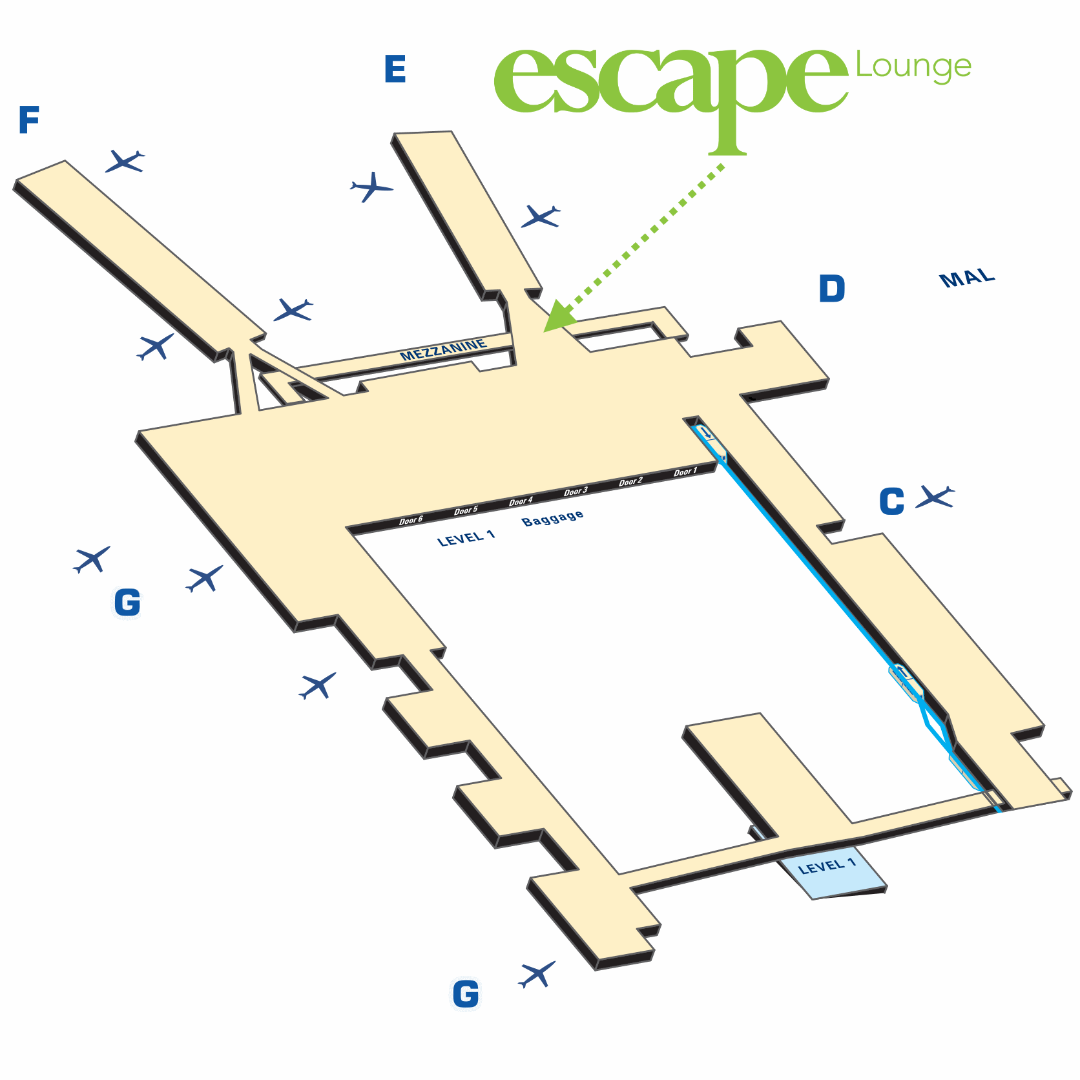 If you use the North Security Checkpoint at MSP, just head straight once you make it through security and head up the stairs, or take the elevator to level 3. Hang a quick left once you make it to the right level, and the glass doors of the Escape Lounge MSP will swing open for you.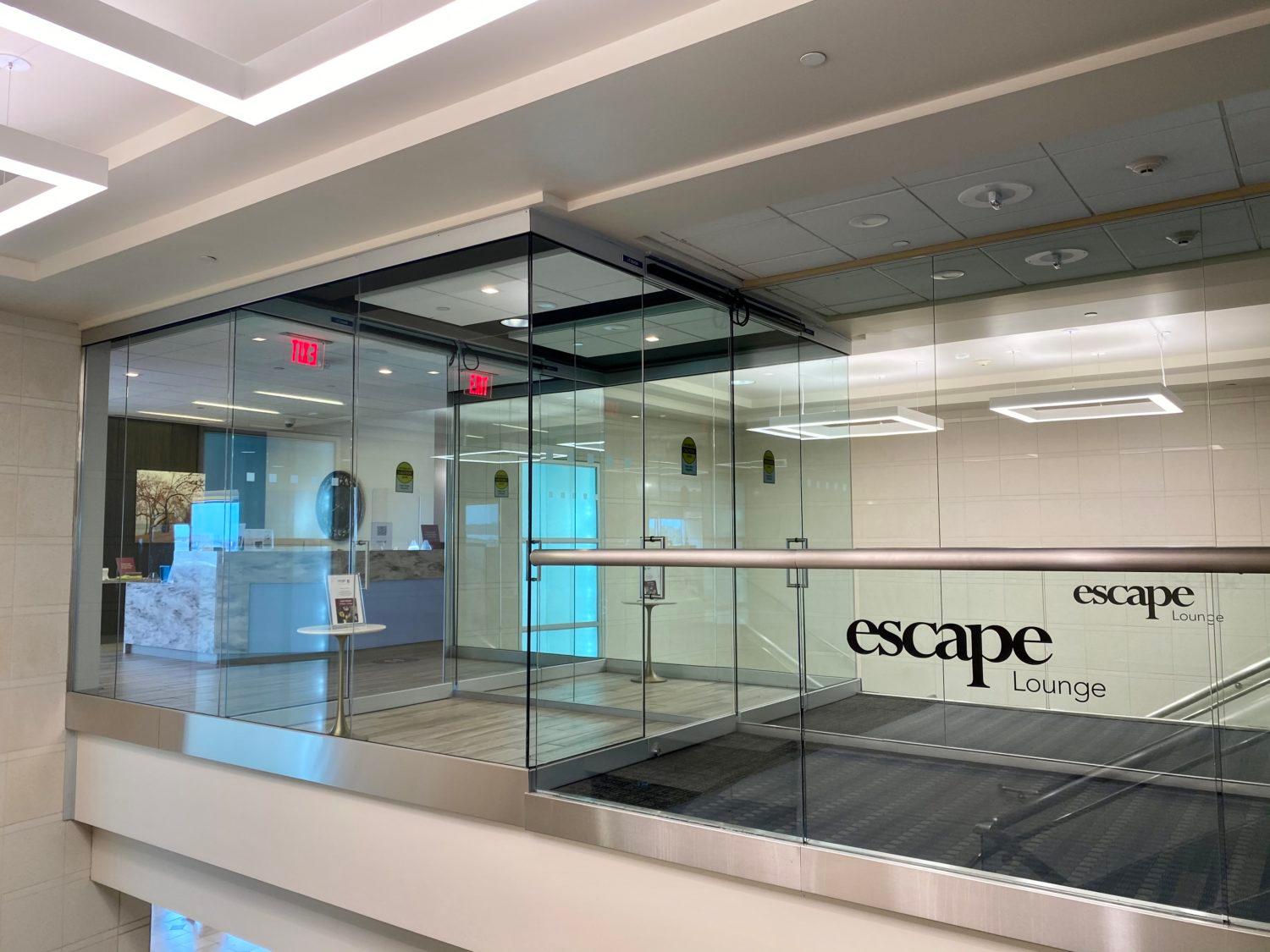 The lounge is typically open from 5 a.m. until 8 p.m. daily.
For several years, the Escape Lounge MSP – and all Escape Lounges – were part of the Priority Pass lounge network, meaning several top travel credit cards could get you in for free. But that changed in 2017 when Escape Lounges left Priority Pass.
And that leaves the Platinum Card® from American Express as the best way to get in – either the personal or small business version will get you in for free. Plus, you can also bring two additional guests for free, too. Additional guests will cost you $45 apiece – though children under 2 won't count toward your guest count.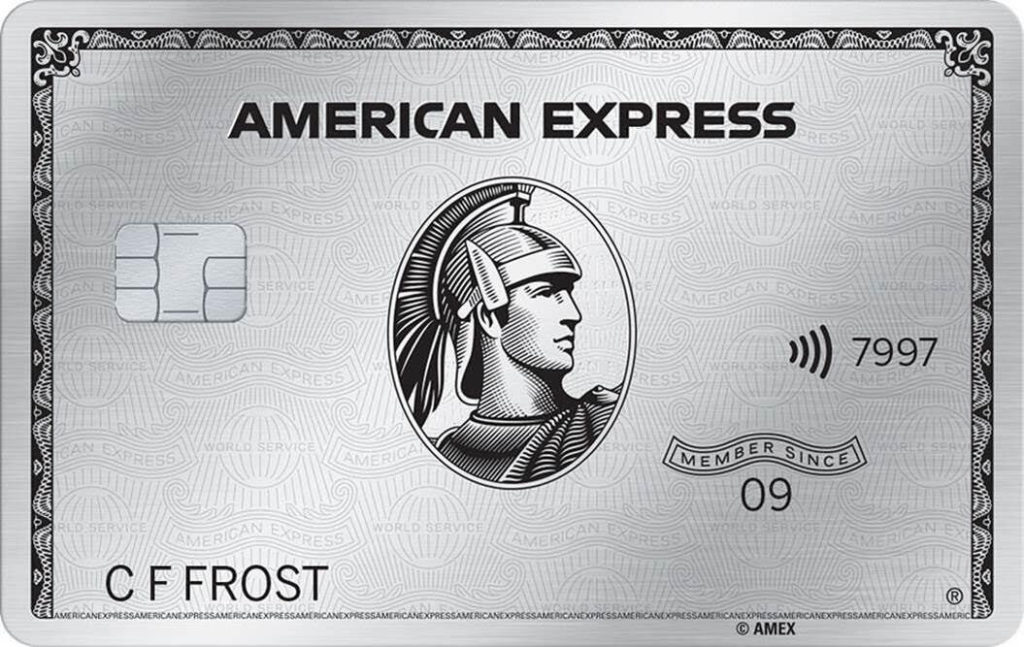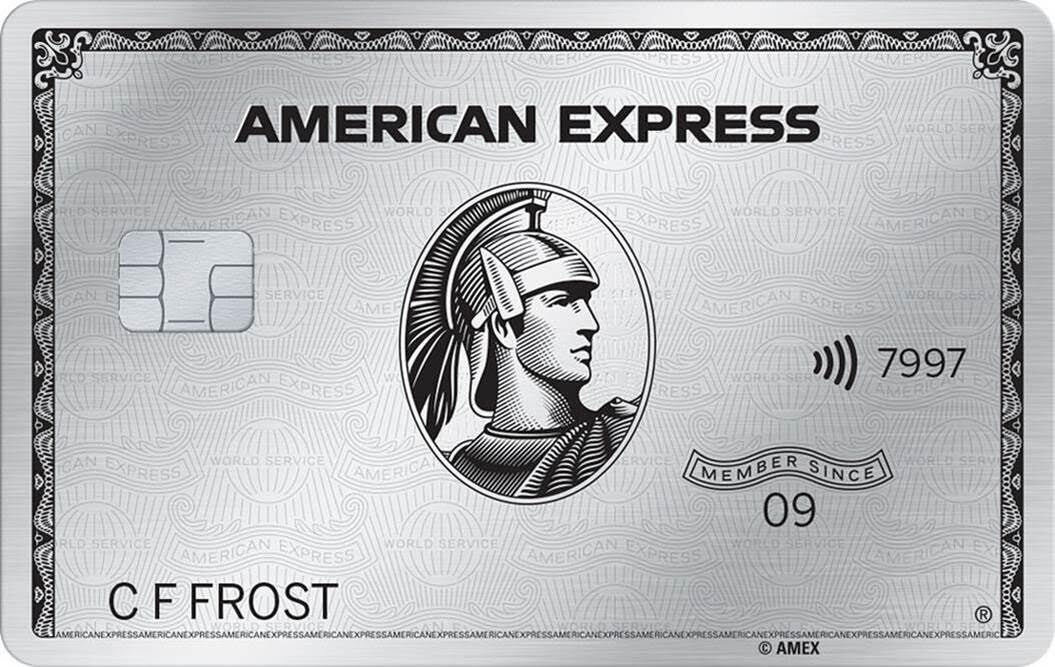 Click Here to learn more about the Platinum Card from American Express.

You can also now get into any Escape Lounge with the Delta SkyMiles® Reserve American Express Card – but there's a catch. You must be flying with Delta that day for your Reserve Card to get you in. And you won't get two guests free: They'll cost you $30 apiece.
Don't have the right credit card? You can buy a day pass to the lounge for $45 – or $40 if you pre-book your visit on their website.
Escape Lounge MSP Space & Seating
In May 2021, we reported that a renovation of the Escape Lounge MSP was underway with plans for a new look, new furnishings and finishes.
In reality, not much has changed inside the lounge. It's a bit brighter, with more glass and white tones rather than a woodgrain and green look. And neither its footprint nor layout has changed: It's still just 5,000 square feet, which is on the small side for an airport lounge.
But that's just fine. The Escape Lounge feels much larger than its 5,000-square-foot space. The space is laid out well, with plenty of different seating areas scattered across the lounge. Even with the incremental design changes, it looks sharp.
And most importantly, it's rarely busy: There's often far less traffic than over in the neighboring Delta Sky Club, which had grown so overcrowded that Delta is planning to build a third Sky Club at the airport by 2023.
You'll find a check-in desk right after walking through the glass-doored entryway, where you can hand over your boarding pass, credit card and ID to get in.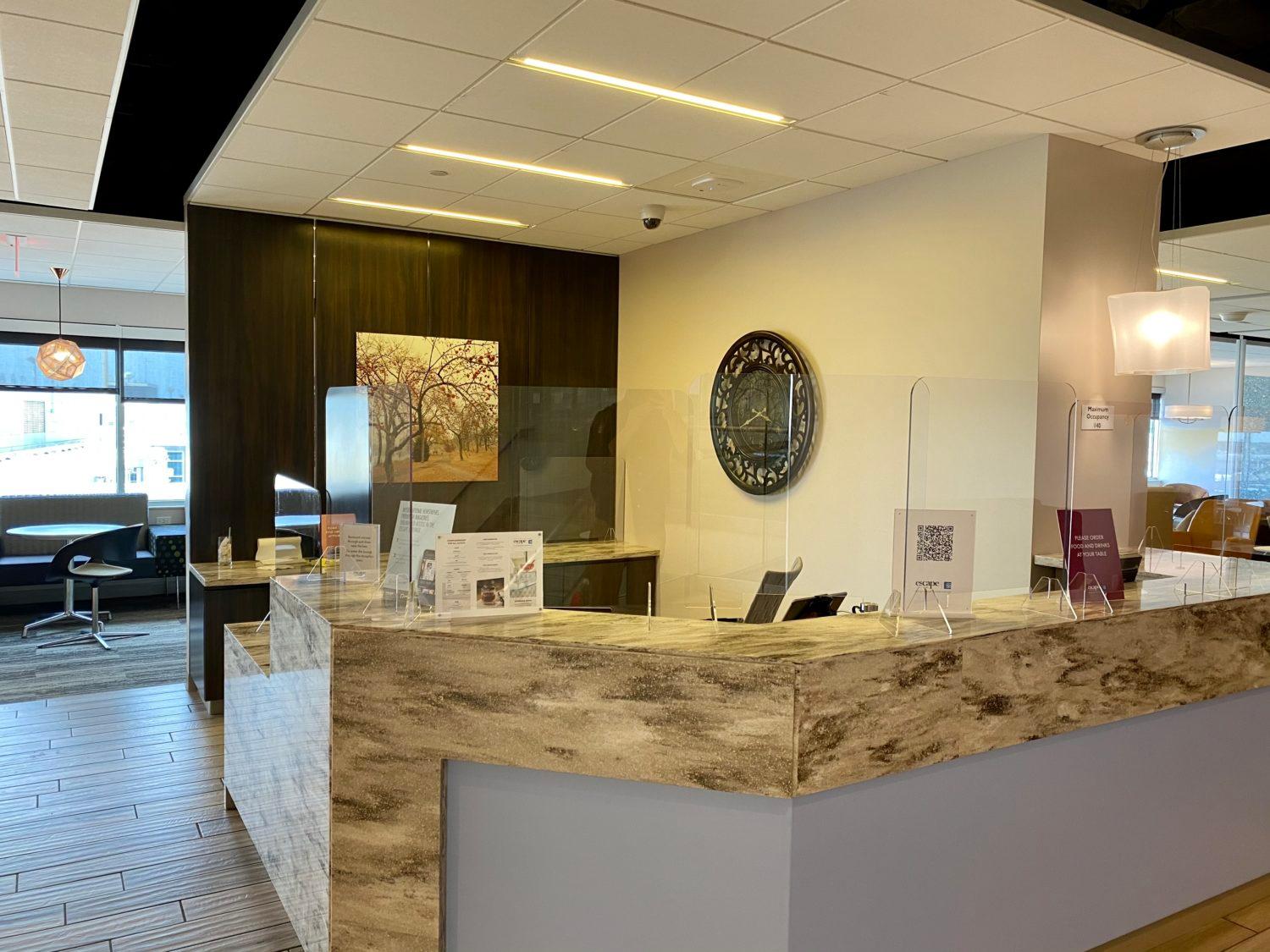 Head to the right after checking in at the front desk and into one of the lounge's main seating areas, with an assortment of chairs. For the most part, any seats scattered around the lounge give you easy access to outlets to keep your devices charged. This is certainly the coziest spot to hang out.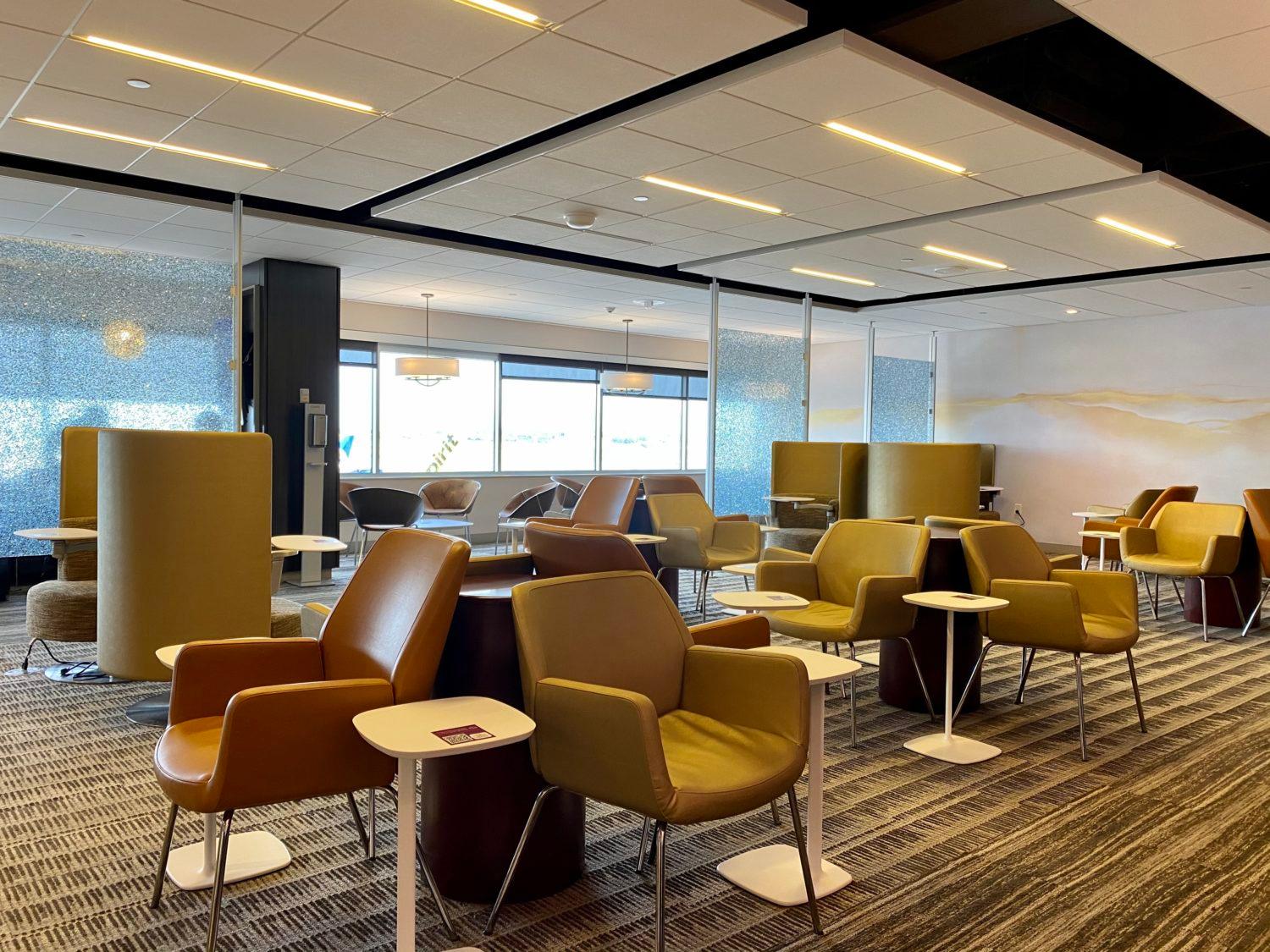 I particularly liked the high-back armchairs, which are plenty comfortable and give you some additional privacy.

Another nice option are these office-style chairs, complete with a swiveling table. These chairs are easily the best for getting some work done.

There's a small cafe setup in this area complete with one of several departure boards you'll see throughout the MSP Escape Lounge to monitor your flights. But it's completely empty, for reasons I'll explain later.

Closer to the windows you'll find one of my favorite spots in the entire lounge, with chairs and tables overlooking the tarmac below.

From there, you'll find a long row of comfortable armchairs with tables and chairs hugging the windows and chic lanterns overhead. The Escape Lounge MSP has outfitted these windows with light-blocking curtains to help when it gets too bright.

At the very center of the lounge just to the left of the check-in desk you'll find the star attraction of the lounge: The buffet. Or at least it used to be the star. Today, it's completely empty. Still, it's a well-designed space.

There's some additional seating in this area with an array of cafe-style chairs and tables.

Just beyond that is the bar area, with plenty of individuals and one long shared table for a group.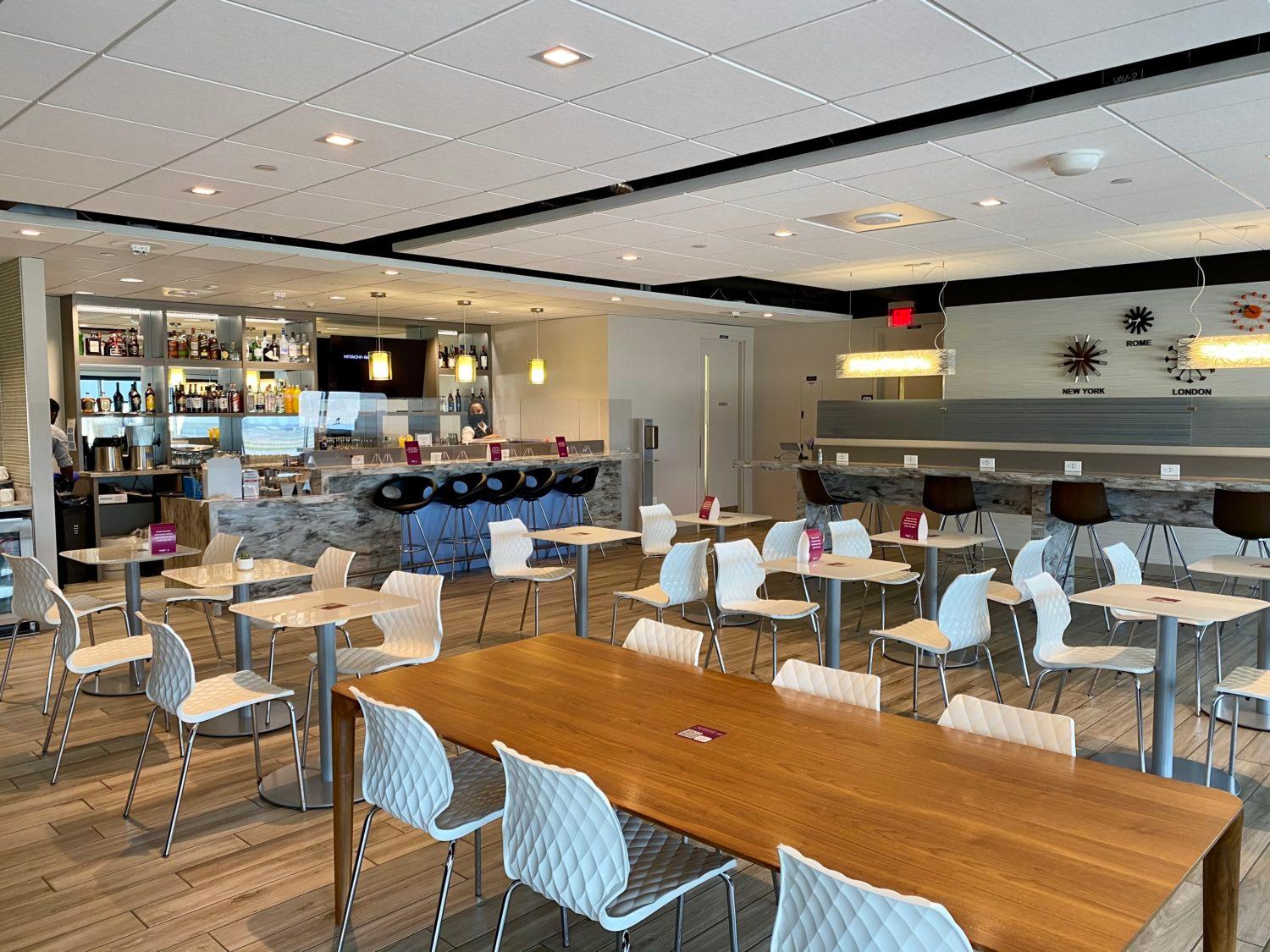 Here's a closer look at the bar itself.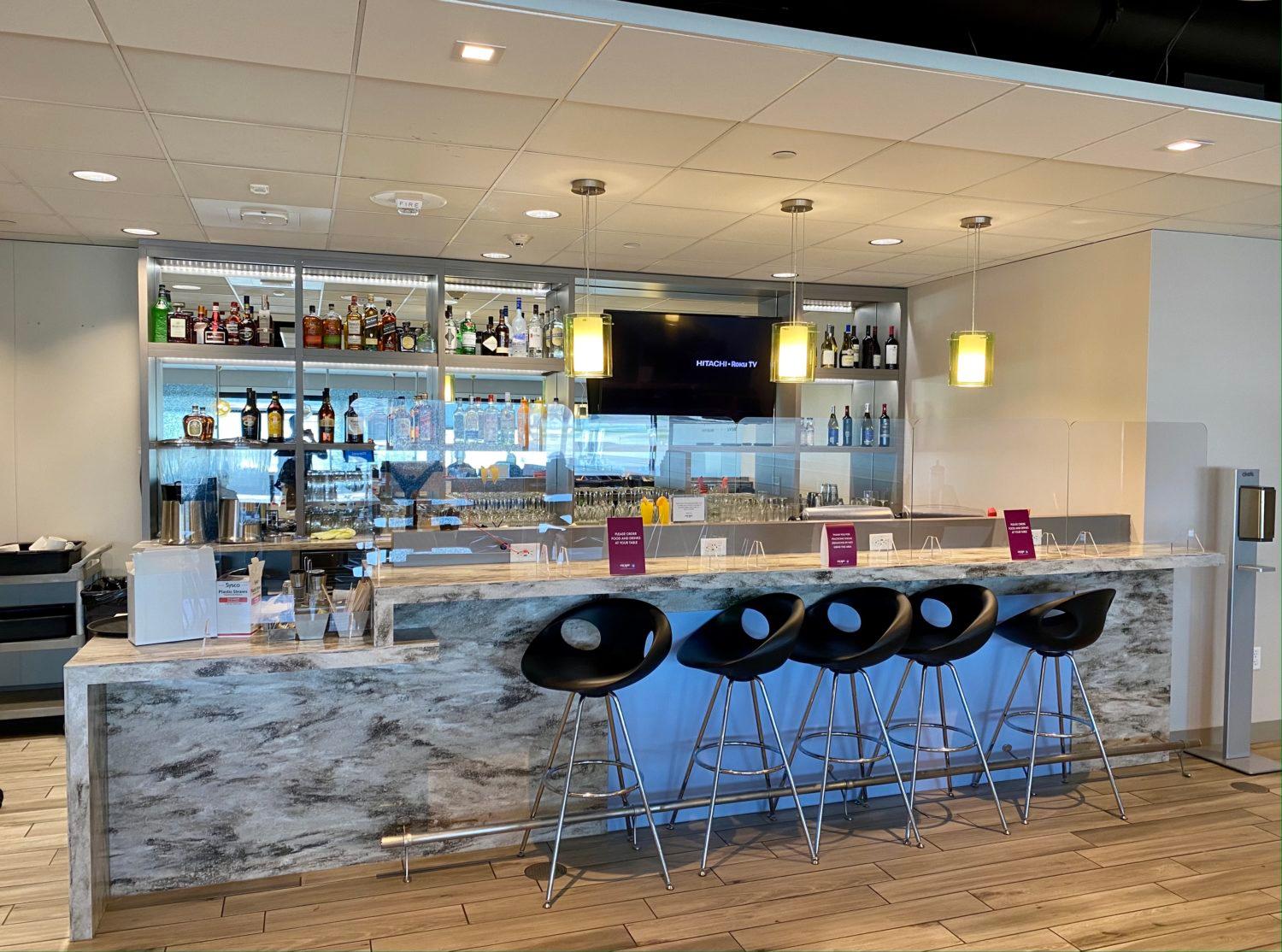 There's also some nice high-top bar seating here too, complete with a plastic divider between the two sides. Sign of the times! And there's also the signature touch of Escape Lounges, the wall with clocks set to cities around the world.

Finally, in the back corner of the lounge you'll find some additional seating and workspace, complete with a free printer you can connect to via Wi-Fi.

One thing this lounge is desperately missing? A restroom. You won't find one inside the lounge at all, even after the long closure and renovation. There is a public-use restroom just outside the lounge on the mezzanine level, but you'll need to exit the lounge and get back in to use it. And the bathrooms themselves are in dire need of an update, too.

Luckily, there's an exit at the far south end of the lounge that spits you out near the restroom doors – but you'll need to use the main entrance to get back in. It's not the biggest deal in the world, but it seems like a major oversight for a lounge that otherwise nails most, if not all, of the basics.
On the bright side, there's free Wi-Fi throughout the lounge, and in my experience, the internet is always plenty speedy … at least generally. Wi-Fi is not password protected, you'll just have to enter your email to connect.
During my visit, the Wi-Fi wasn't working. Fortunately, the airport's own Wi-Fi system was available and fast enough.
Food, Drinks & Service
Buffets are out. QR code menus and table service are in.
This is easily the biggest change the Escape Lounge MSP has made since its reopening. No matter whether you want a glass of water, coffee, a bite to eat, or a glass of sparkling wine, you'll have to order it from a lounge attendant.
That can be both a good and bad thing. Depending on when you visit and how many employees are on the clock, it could take a while to flag down an attendant to place an order. That was my experience at first, as it took more than 10 minutes for an attendant to make his way.
On the plus side, everything was quite speedy once I placed an order, as the server came back to my table to drop off my order within just a minute or two. And the speed of service definitely seemed to pick up throughout my stay on a sleepy midday visit.
But I'd be willing to bet this new service model is temporary. That huge buffet and bar setup eats up a lot of space in the lounge, and they're still there. It's likely only a matter of time before the Escape Lounge pivots back to a self-serve model – we've seen other lounges across the country like Amex Centurion Lounges do so in recent months.
No matter where you sit in the Escape Lounge MSP, you'll have a QR code nearby to scan to pull up a menu.

Here's a peek at the breakfast and dinner menu from my visit. Keep in mind these menus may change.

There's a separate menu for complimentary drinks, with a few wines, liquors, and beer available – you can pay for a specialty cocktail or glass of wine or beer. And while coffee drinks aren't on the menu, you can also place an order for an attendant to whip up something at the espresso machine.
I really loved that they have Bauhaus Wonderstuff available for free, a nod to a great Minneapolis brewery.

I placed a few orders throughout my stay and enjoyed pretty much everything. Before and after its closure, food has always been where the Escape Lounge MSP really shines. Just keep in mind that almost everything is served in smaller bites, glass jars, or tiny cast iron skillets.
To start, I ordered a stromboli bite, the soy ginger salmon, and a caesar salad. All were certainly quite small, not more than just a few bites. But it was all tasty.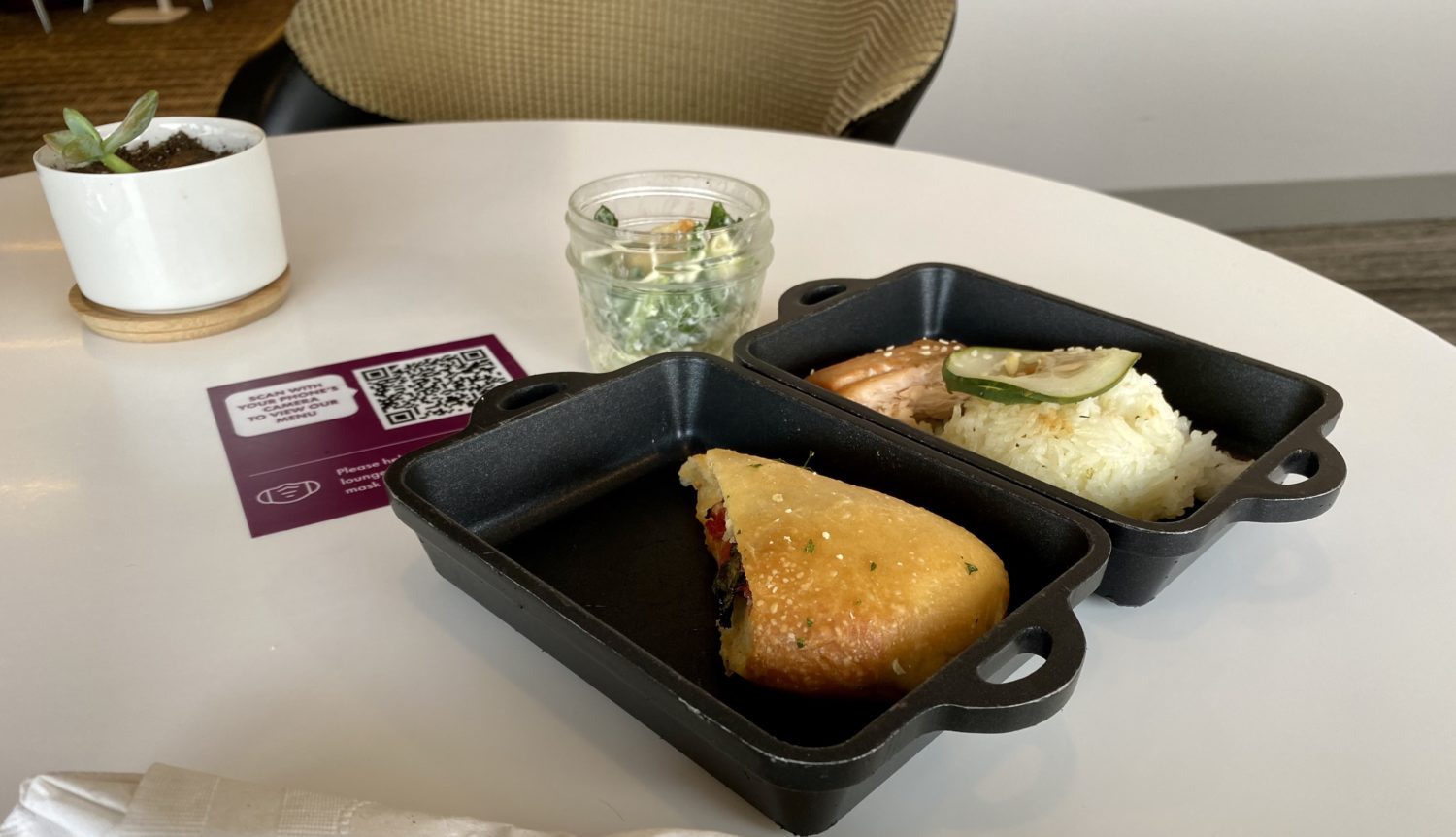 The salmon could have used a bit more sauce as it was on the bland side, but it was well done, accompanied by some well-cooked rice and a lightly pickled cucumber on top. You won't find a dish like this in many airport lounges in the U.S.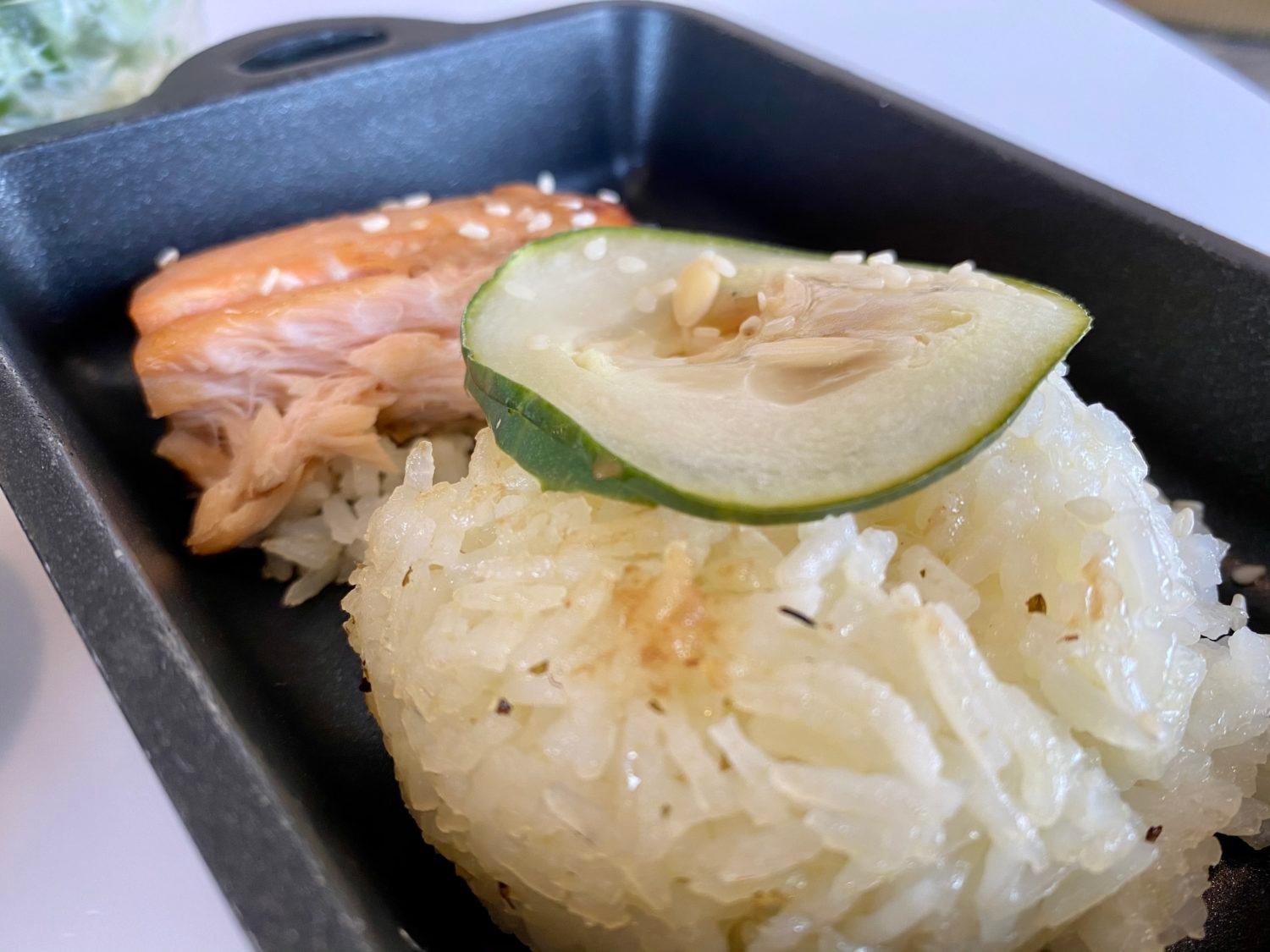 Later on, I tried the turkey and havarti baguette, cranberry farro salad, and the caramel apple pastry. Once again, everything was good to great. It's all on the small side – perhaps a bit too small, given the service flow in the lounge. But at least the presentation is great.

The star of the show was the caramel apple tart, which was flaky and warm.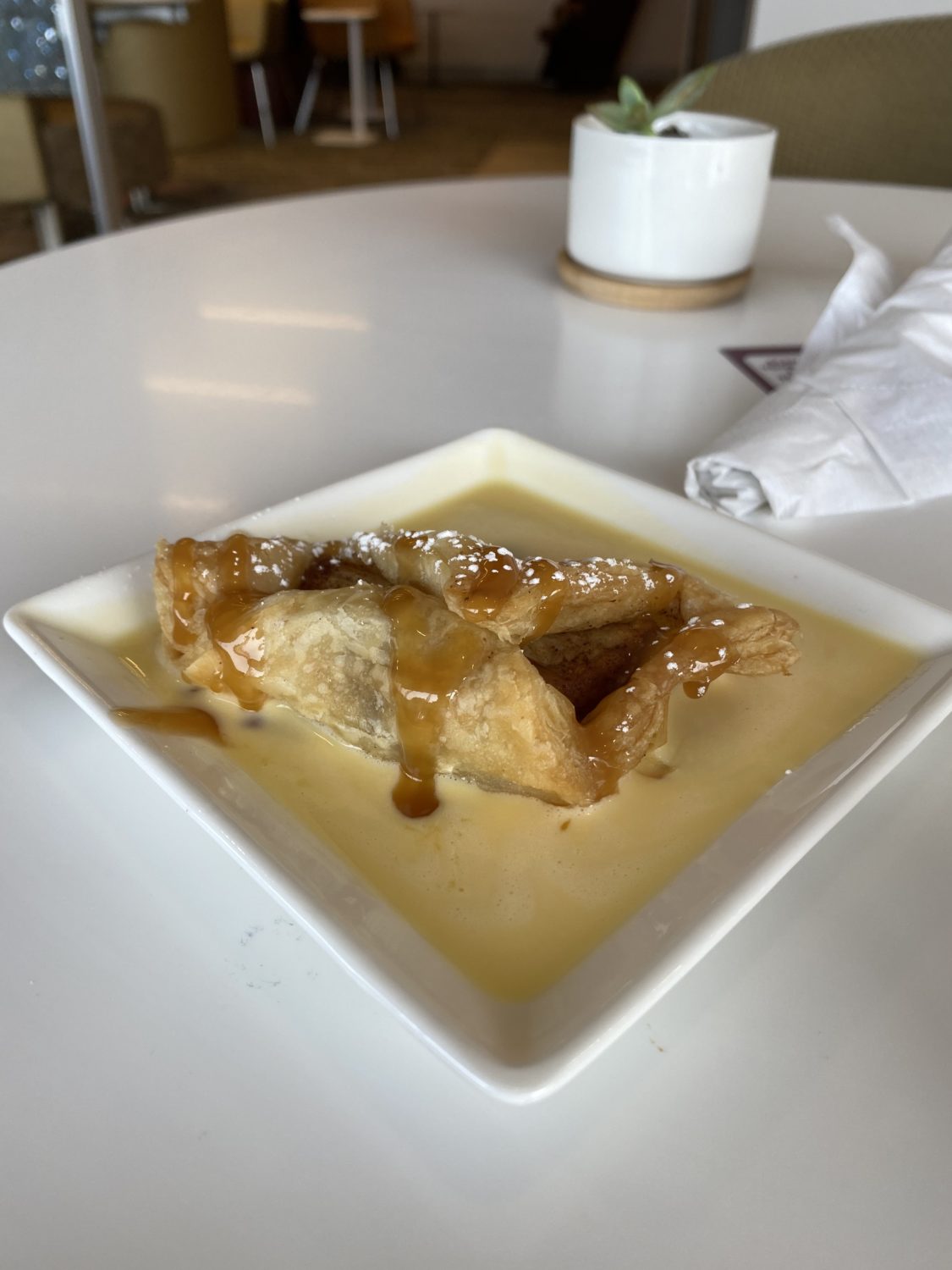 You can order a mug of normal coffee, but I ordered an Americano to cap off my stay in the lounge. It came out piping hot a minute later. And while it wasn't the best Americano I've ever tasted, it was far from the worst.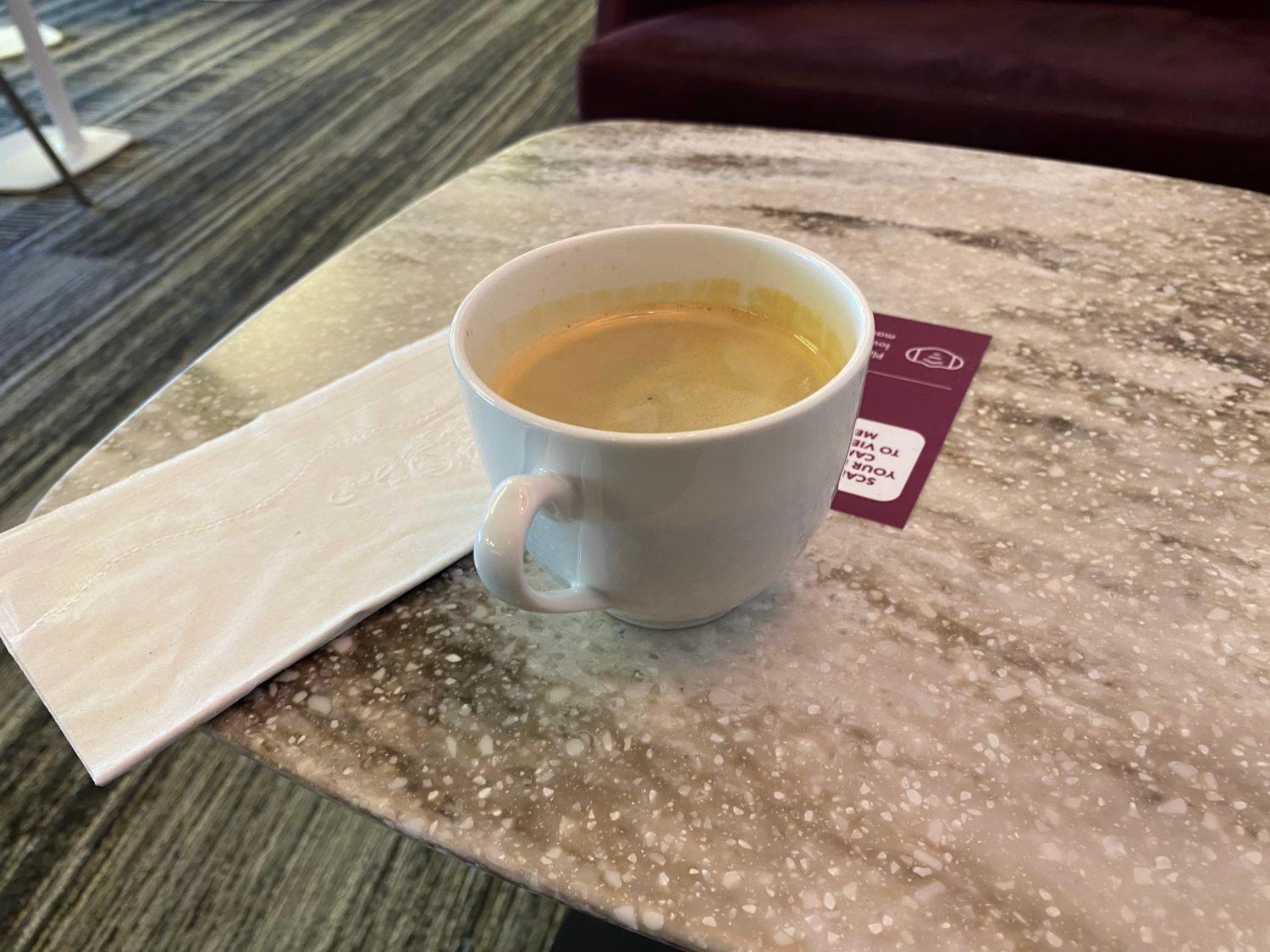 Bottom Line
The Escape Lounge MSP had been our team's favorite lounge at our home airport for years. We were thrilled to hear the lounge would get a facelift before reopening after more than a year-long closure and wondered what might be in store as Escape Lounges built an even closer partnership with Amex Centurion Lounges.
But if it's not broke, don't fix it. Aside from a few additional pops of color and pieces of furniture, The MSP Escape Lounge looks much the same as always. And that's not a bad thing.
It might be on the small side, but it's rarely packed, in our experience. And it does the important things right: Good seating, plenty of charging, great food, free drinks, and views of the airport. The new table service format has some kinks to work out, but that doesn't change an otherwise great lounge.
Now, if they could just add bathrooms inside the lounge, it might be near-perfect.