The secret about Global Entry is officially out. It's one of the most powerful tools to get through the airport faster – to skip through security thanks to a TSA PreCheck benefit, then clear immigration within minutes after an international trip.
But getting enrolled in Global Entry can be easier said than done. While federal officials say some travelers can complete the entire process in less than 30 days (and that was our experience recently), backlogs in processing applications can drag out the process for months. U.S. Customs and Border Protection said last year that the average processing time for new Global Entry applicants, start to finish, was 208 days. Ouch.
Long processing times to get signed up – and finding a Global Entry interview to finalize enrollment – have made it a months-long hassle for many flyers. It got so bad that the federal government has practically pleaded with travelers to sign up for PreCheck instead.
While you can hit plenty of snags throughout the process, scheduling an in-person interview can be the hardest part. It's the last step to getting Global Entry set up, and finding an interview can be a pain, dragging out the process by months or more.
But don't give up hope. We've got some hints to get Global Entry faster.
What is Global Entry?
Global Entry is a trusted traveler program that allows you to get through U.S. immigration and customs quickly. It also includes a TSA PreCheck benefit that gets you into a designated lane for security. It's a genuine two-birds, one-stone program.
Because this program lets you get through high levels of security quickly, the process for getting approved is a bit more rigorous. It's also more expensive, costing $100 (though that may soon increase to $120) versus TSA PreCheck which costs $78. Enrollment in both programs lasts for five years.
Torn between Global Entry vs TSA PreCheck? Read our guide!
The signup process for Global Entry is easy enough. You need to fill out an application online that is fairly extensive. You will answer questions about current and previous employment, residences, and more. This application will be submitted for a thorough background check.
Thrifty Tip: Pay for your application with a travel credit card that covers the cost of enrollment – it's like getting Global Entry for free!
After submitting your application, you need to get conditional approval. Once you've got that, you need an in-person interview to finalize your enrollment. From there, you can simply head to the designated Global Entry line when clearing immigration and waltz through in just a few minutes – or less.
One thing to keep in mind: Until your Global Entry enrollment is completely finalized, you won't get TSA PreCheck benefits, either.
Read our full guide to getting signed up for Global Entry for a complete walkthrough!
Waiting on Conditional Approval?
On paper, applying for and getting Global Entry is fast and simple. It can take just a week or so. But in practice, it's not always so simple.
After submitting your application, getting conditionally approved is the next step before you can move on to the interview stage. It's a crapshoot, but in some cases, that process can take months. And the pandemic certainly didn't help.
Enrollment Centers nationwide closed in early 2020, worsening a backlog of applications that Customs and Border Protection staff have struggled to chip away at. In the meantime, applications for Global Entry and other Trusted Traveler Programs have surged to record levels: More than 12,000 per day in April 2022, according to a spokeswoman for the agency.
Customs and Border Protection have employed a few different measures over the years to try to relieve the pressure on staff, move applications faster, and open up more interview availability. They've extended the grace period for pending Global Entry renewals to a full 24 months and began offering remote interviews for renewing members – if travelers renewing their Global Entry even require an interview at all.
But still, the stories of travelers waiting three, six, or nine months or more awaiting conditional approval continue. That's not always the case: While there are horror stories about applications sitting in limbo for months, some applicants are still getting conditionally approved in just a few days. It's seemingly random.
Read more: Application to Approval in 13 Days – My Global Entry Success Story
And unfortunately, there's not a whole lot you can do to speed up this conditional approval process. You can try calling the Global Entry information line at (877) 227-5511 to escalate your approval process, but there's no guarantee. And recent reports from travelers suggest that CBP will not escalate an application until the nine-month mark – up from the previous standard waiting time of four months.
How Long Do Global Entry Appointments Take to Schedule?
Finally get approved? It's time to schedule an interview. And depending on where you live, that can be a challenge. Many times, in-person interview times are months out – if they're available at all.
So how can you get in and get Global Entry faster? We've got some advice.
1. Monitor the Schedule Like a Hawk
It's not unusual to pull up the schedule of available interviews around your area and see … well, nothing.
Getting an in-person interview on the books can be the hardest part of signing up for Global Entry. That's especially true lately, as available appointments have been close to non-existent around major U.S. cities.
For example, here's a look at appointment availability at the Seattle (SEA) airport, where you currently won't find an appointment open until all the way in December. That's a long time to wait.
Other locations like Los Angeles (LAX), Minneapolis-St. Paul (MSP), Atlanta (ATL), Boston (BOS), and others don't currently have any appointments open, period, at the time of publication. But keep in mind: Just because there are no interviews available right now doesn't mean there won't be any tomorrow. Or even later today.
The schedule of available interviews is constantly in flux, as enrollment centers add and subtract slots and other applicants cancel or reschedule. So it's worth checking regularly if you're on the hunt for an appointment.
It pays to be vigilant and keep checking back. If you schedule an interview weeks or even months out, don't resign yourself to waiting that long. Book that appointment but keep checking back to the calendar. You may – and often will – be able to slide in even earlier.
Thrifty Tip: The federal agency that runs Global Entry now releases a bunch of interview appointments at 9 a.m. local time on the first Monday of each month. While you won't find wide-open interview availability at every single major hub across the country, there's typically enough there to help travelers stuck in Global Entry limbo get across the finish line.
2. Pay a Service to Find You a Global Entry Interview
If you've struck out finding a last-minute appointment at your home airport, there's a service that can do it better than you ever could.
It's called Appointment Scanner.
Appointment Scanner
This service scrapes the entire Global Entry interview schedule 24/7/365, alerting you whenever it finds an appointment at your designated enrollment centers. You can get alerts for up to three locations, including remote renewal interviews via Zoom. Just wait for an alert by email or text, then head out and snag an opening as soon as you get one.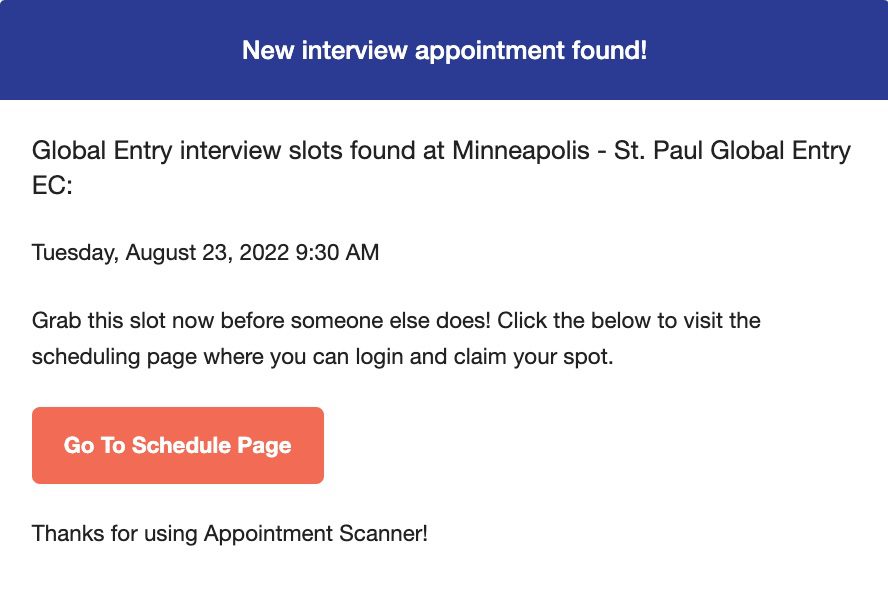 It's not free: It costs $29 for one month of alerts. But if you ask me, it's worth every penny if you're otherwise struggling to find an interview. Consider this:
I received an alert for an interview at my hometown Minneapolis-St. Paul (MSP) airport within four minutes of signing up. Four minutes!
I got more than 15 alerts for MSP interviews within just a few days – all for availability within the next two weeks.
Since I picked New York City (JFK) as one of my three locations, I also received more than 70 alerts for that airport … in less than 48 hours!
Appointment Scanner is an incredibly powerful tool that can help solve the interview problem for you. Its utility is undeniable.
Read our full review of the Appointment Scanner service!
3. Check on the First Monday Each Month
As travelers fight for limited interviews, the agency that runs Global Entry has shaken up how it releases these appointment slots.
In February 2023, U.S. Customs and Border Protection announced that it has begun releasing more interview slots on the first Monday of every month. Interviews get added to the calendar right at 9 a.m. at the local time of your enrollment center.
We haven't yet noticed whether this new promise has made a difference. And it's unclear whether or not the agency will continue loading appointments at random
"Given the unprecedented demand and continued interest in TTP, CBP is at an inflection point, where we must provide consistent, efficient, and accessible processing methods for applicants to select an appropriate enrollment option," Michael Millich, the agency's director of Trusted Traveler Programs, said in a statement.
So set yourself a calendar alert for 9 a.m. on Monday, April 3. Or Monday, May 1. Or even Monday, June 5. It might be your best bet to snag an appointment before other travelers beat you to it.
4. Major Enrollment Centers with Current Availability
Depending on where you live, you might get lucky with some decent (or even wide-open) interview availability: A handful of major U.S. airports have some appointments up for grabs.
One note: This look at availability is accurate as of publication on Sept. 6. But this could change fast – really fast. So be sure to grab a slot ASAP before they're gone.
Dallas-Fort Worth (DFW) has plenty of appointments in November.
Appointments are wide open in Miami (MIA) from November all the way through the end of 2023.
You can find appointments at Orlando (MCO) for a handful of dates in November and December.
There are a ton of slots available to book in September, October, and November in Detroit (DTW).
5. Take a Global Entry Interview Road Trip
Most of the major Global Entry enrollment centers are at major international airports. But they aren't alone.
There are roughly 100 enrollment centers nationwide – and even one in Guam! You can find them in towns big and small, in the center of the country and along the borders with Canada and Mexico, and in Hawaii and Alaska.
So depending on where you live, it could make sense to hop in the car to knock out your Global Entry – and turn it into a weekend road trip, if you can!
For example, you currently can't schedule an interview at our hometown Minneapolis-St. Paul (MSP). But you could head up Minnesota's beautiful North Shore, spend the weekend hiking, and pop in for an interview in Grand Portage where the schedule is wide-open all March, April, and May.

At five hours, this example is a fairly long drive. But by turning it into a weekend trip, you can get a two-for-one: a short vacation and your Global Entry interview. And there are other similar opportunities around the country.
6. Or Work it into a Domestic Trip
Pssst … You don't have to do your interview at your home airport.
If you've got some domestic trips coming up, check out the list of enrollment centers nationwide and see what might fit into your travels. Head down to your interview after you land or schedule it well ahead of your departing flight to return home. Or even sneak in during a layover!
Let's say your nearest enrollment center doesn't have interviews available for months, but you're making a trip to Miami. You never know, the interview schedule at Miami (MIA) airport might be wide open.
Check out your travel calendar, go through the list of enrollment centers, and see what you could make work.
7. Use Enrollment on Arrival
As enrollment centers continue getting hammered, Customs and Border Protection (CPB) keeps touting one of its newest features: Enrollment on Arrival.
How Enrollment on Arrival Works
Rather than scheduling an interview, you can simply wrap up your enrollment process when returning from an international trip. It's available at nearly 70 airports, including a few international airports that have U.S. customs pre-clearance like Dublin or a dozen airports in Canada. There is typically a designated lane to finish your enrollment with CPB officers while also clearing immigration.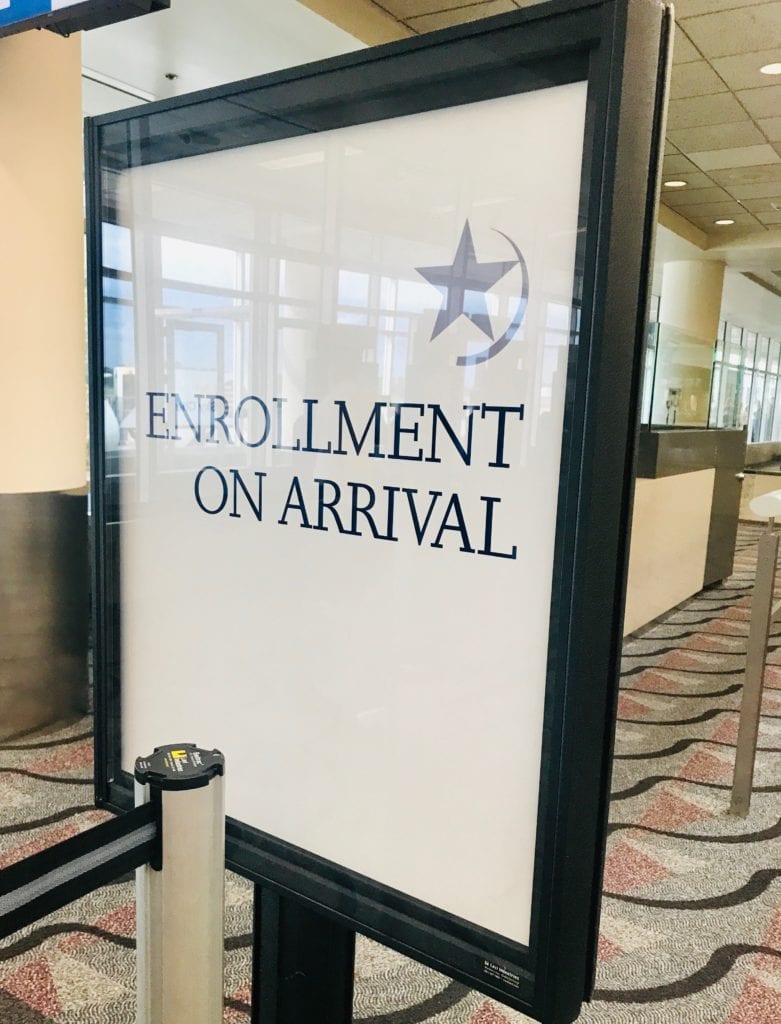 Read our full guide to enrolling in Global Entry on Arrival!
The biggest drawback of this process is that you won't be able to use the TSA PreCheck benefit until after you've completed your enrollment – so you're out of luck when departing on your international trip. But it's an easy way to knock out your interview when getting one on the schedule proves difficult.
Renewals Have More Options
Renewing your Global Entry for another five years? That's a whole different story.
You can begin the renewal process starting exactly one year before your Global Entry is due to expire. The application process for renewing is much the same as applying for Global Entry the first time. Barring any major life changes, it should be much easier (and much faster) to get conditionally approved.
But there are a handful of differences in processing Global Entry renewals to keep in mind – and that's a good thing.
A Global Entry spokesperson previously told Thrifty Traveler that a "significant percentage of Trusted Traveler Program member renewals" can be automatically approved, meaning they'll skip the need for an interview altogether.
If you do need an interview, Global Entry is now offering remote interviews for many renewing members via Zoom. Availability for these appointments is much, much easier than tracking down an in-person interview – plus you can do it from home.
Even if you're stuck in the renewal process, Global Entry now gives members a full two-year grace period. So even if your renewal is still pending, so long as you applied before it expired, you've got a full two-year stretch to continue using Global Entry (and TSA PreCheck) beyond the initial expiration date.
Bottom Line
It's gotten more and more difficult to get Global Entry in just the last year or so. But trust us – good things come to those who wait. And if you employ some of these strategies, hopefully, the wait won't be long at all.