Ever since its launch in 2016, the Chase Sapphire Reserve® has been a contender for one of the best travel rewards credit cards.
While the Reserve comes with a hefty price tag with an annual fee of $550, the points, perks, and credits you get from this card can easily offset that fee, and then some. And no benefit goes further in helping you justify the annual fee than the $300 Chase Sapphire Reserve travel credit.
This annual travel credit is one of the most lucrative benefits on any travel credit card … and it's also one of the easiest to use. With that $300 travel credit, you can essentially think of the Sapphire Reserve's annual fee as being $250 a year as long as you plan to spend at least $300 on travel each and every year. It's one of the biggest reasons why we urge readers not to rule out cards with big annual fees.
But how does this travel credit really work? What purchases qualify to use it, and which don't? When will you get it? Let's break it down.
Read our full review of the Chase Sapphire Reserve card!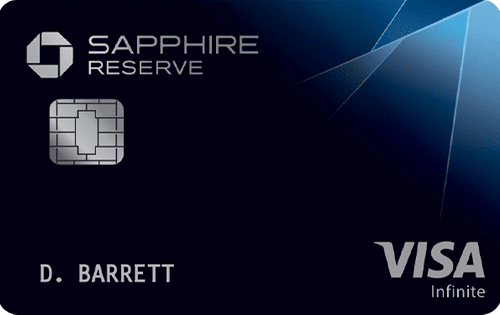 Click Here to learn more about the Chase Sapphire Reserve®. 
When Do You Earn the $300 Credit?
It depends.
The $300 Chase Sapphire Reserve travel credit is applied to your account each year right after you open your card – or renew it – and pay your annual fee. The annual fee is charged after your first statement with the Chase Sapphire Reserve closes. This means that you will have the travel credit available to use about one month after opening the card. Yes, you even get this travel credit in your first year with the card.
From there, you'll get this credit every year at the same time, right after you pay your annual fee. That's drastically different than other cards with similar credits like The Platinum Card® from American Express, which restart like clockwork each calendar year on Jan. 1. With the Chase Sapphire Reserve, it's based on when you were approved for the card.
For example, my annual fee is due each year in January. My new $300 travel credit loads to my account as soon as my December statement closes.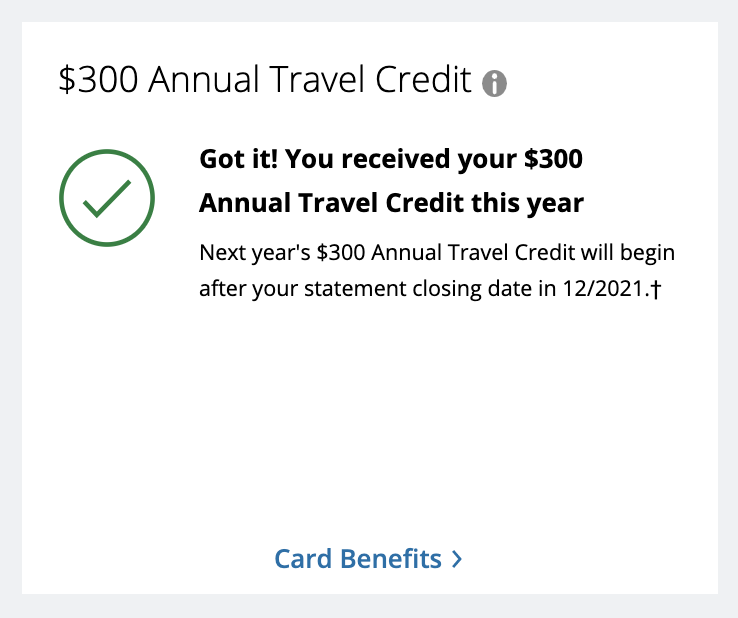 What Purchases Trigger the Chase Sapphire Reserve Travel Credit?
Any purchase that Chase considers travel will qualify for the $300 annual travel credit on the Chase Sapphire Reserve. And that covers a lot of ground, including many expenses you might not normally consider "travel."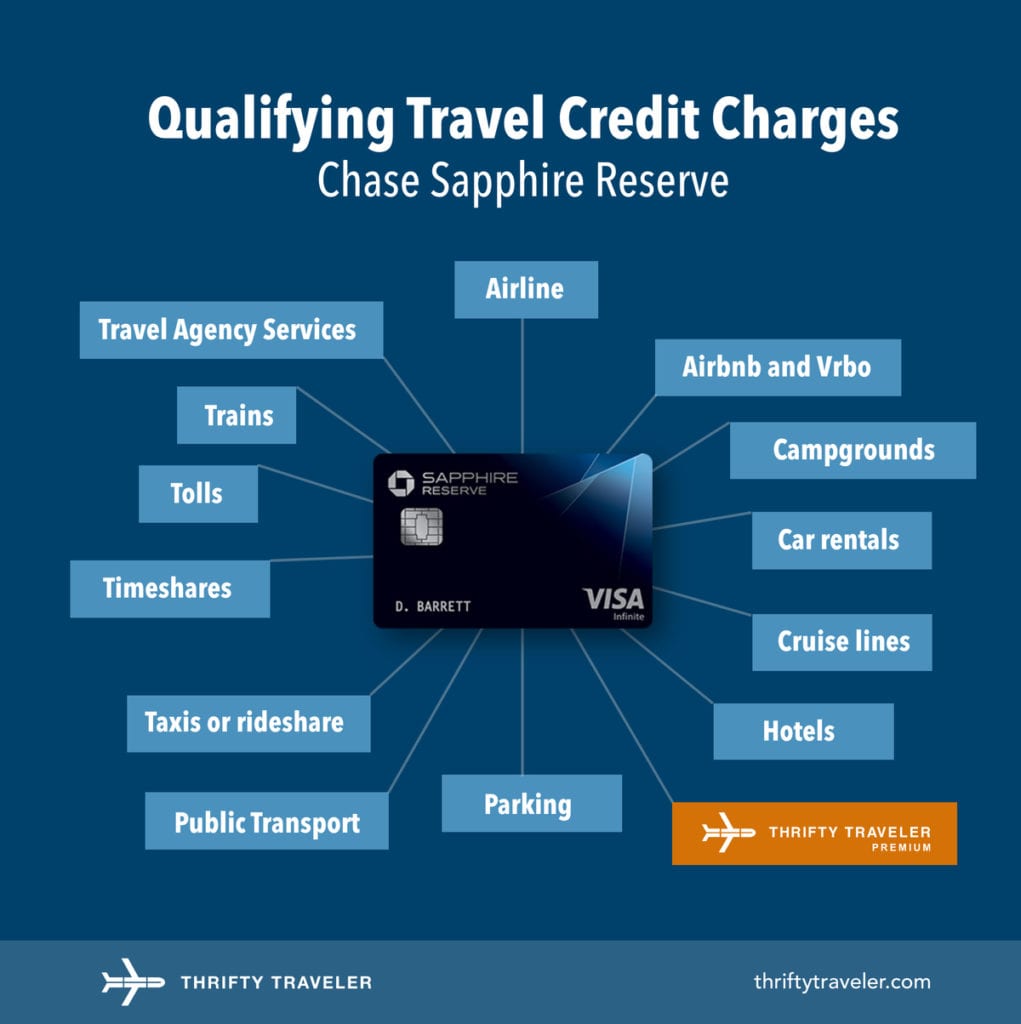 While this isn't exhaustive, here's a list of some charges that will trigger the Chase Sapphire Reserve travel credit:
Airline (airfare, baggage fees, seat selection, etc.)
Airbnb, VRBO, or other home-sharing platforms
Campgrounds
Car rentals
Cruise lines
Hotels
Parking (ramps, lots, meters)
Public transport
Taxis or rideshare (Uber & Lyft)
Timeshares
Tolls
Trains
Travel Agency services
Thrifty Tip: Are you a Thrifty Traveler Premium member? Since our flight deal alert service codes as travel, it will trigger your Chase Sapphire Reserve travel credit! Get the cheapest domestic and international flight deals sent straight to and the $300 Chase Sapphire Reserve travel credit will cover your membership fee.
For a full list of purchases that Chase will code as travel, visit the FAQs on Chase's credit cards rewards page.
It's also important to note that while you will typically earn 3x Chase Ultimate Rewards points per dollar spent on travel, purchases that are reimbursed as a part of the $300 credit will only earn 1x point per dollar spent. You won't start earning 3x on travel until after you have exhausted your annual travel credit each year.
What Doesn't Qualify for the Travel Credit?
Any purchase that doesn't code as travel will not qualify for your $300 credit. That includes money orders, foreign currency exchanges, travelers' checks, or any other similar cash charges.
Do You Get to Choose What You Use the Credit On?
No.
The Chase Sapphire Reserve travel credit is automatically applied to any charges that code as travel. You don't get to pick and choose which transactions you apply the credit for – it happens automatically until you meet the $300 threshold each year.
While that may be a pain if you want to strategically use your travel credits each year, this provides a ton of flexibility. It's infinitely easier to use than the airline credits offered by American Express, or even the $300 travel credit on the Capital One Venture X Rewards Credit Card, and most cardholders should have no issue using it up each and every year.
No matter how you slice it, it's $300 off your purchases – and essentially $300 off your annual fee as long as you plan to spend at least $300 on travel purchases each year. And if you're not, the Sapphire Reserve probably isn't the best fit for you.
How to Check Your Remaining Travel Credit Balance
To check the remaining balance of your $300 travel credit (or to see when you will get a new $300 to spend, simply log in to your online Chase account and head to the Chase Ultimate Rewards home page.
Once you are here, look for the box on the right-hand side of the page indicating your travel credit balance. Since I have already used mine this year, it shows mine I've already received it. But if you have any unused amount, you'll see it here.
All of the Benefits of the Chase Sapphire Reserve Card
The $300 travel credit is just one of the great benefits of the Chase Sapphire Reserve®.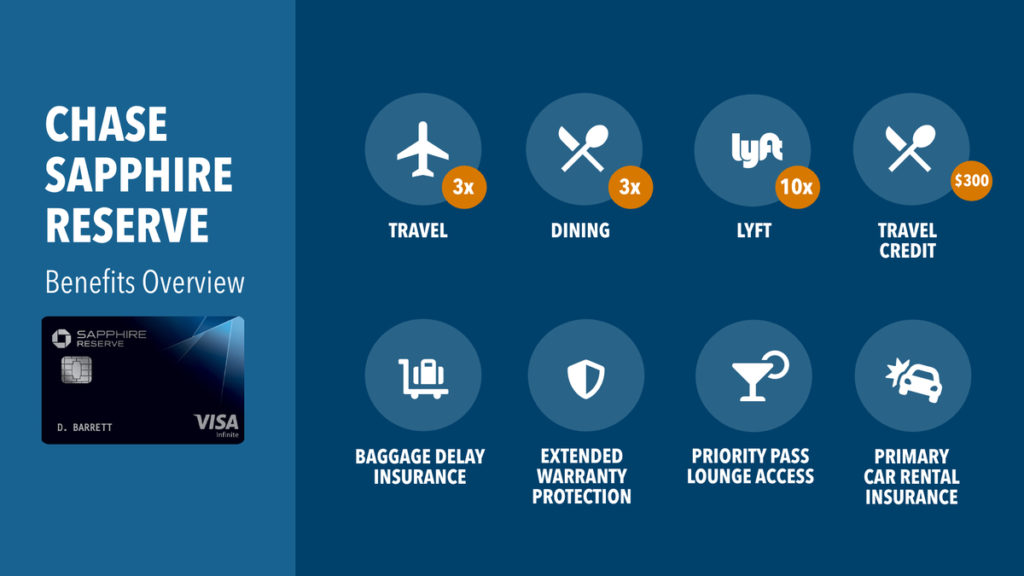 Earn 60,000 Chase Ultimate Rewards Points
After you spend $4,000 on purchases within three months, you will earn 60,000 Chase Ultimate Rewards points.
And since Chase Ultimate Rewards points can be redeemed for 1.5 cents each through the Chase Ultimate Rewards Travel Portal, the points are worth a minimum of $900.
Related: A Master Guide to Earning & Burning Chase Ultimate Rewards points.
$300 Annual Travel Credit
Chase automatically reimburses you for up to $300 in purchases that code as travel. Whether that is a taxi, uber, hotel, plane ticket, a cruise, etc, this is $300 right back in your pocket, effectively reducing the annual fee to $250. You don't need to file a claim or jump through hoops to receive your money. Just spend on travel and Chase will reimburse you.
Redeem Chase Ultimate Rewards Points For 1.5 Cents Per Point
One of the best benefits of this card – Get 50% more value when you redeem your points for airfare, hotels, car rentals, etc. through the Chase Ultimate Rewards travel portal. Since every point is worth 1.5 cents apiece, the 80,000-point welcome bonus is worth at least $1,200 toward travel.
That said, you can do even better…
Transfer Points to Travel Partners
Chase transfer partners are the key to getting even more out of your Ultimate Rewards points.
In all, there are 11 airlines and three hotel chains to which you can transfer your Chase points. And this is the key to booking amazing travel, including business and first-class flights. See our top redemptions for Ultimate Rewards Points.
Here's the full list of Chase Ultimate Rewards transfer partners:
| Program | Type | Transfer Ratio | Transfer Time |
| --- | --- | --- | --- |
| Aer Lingus | Airline | 1:1 | Instant |
| Air Canada Aeroplan | Airline | 1:1 | Instant |
| Air France/KLM | Airline | 1:1 | Instant |
| British Airways | Airline | 1:1 | Instant |
| Emirates | Airline | 1:1 | Instant |
| Iberia Plus | Airline | 1:1 | Instant |
| JetBlue | Airline | 1:1 | Instant |
| Singapore Air | Airline | 1:1 | 12-24 hours |
| Southwest Airlines | Airline | 1:1 | Instant |
| United Airlines | Airline | 1:1 | Instant |
| Virgin Atlantic | Airline | 1:1 | Instant |
| World of Hyatt | Hotel | 1:1 | Instant |
| IHG | Hotel | 1:1 | 1 day |
| Marriott Rewards | Hotel | 1:1 | 2 days |
Earn 3x Points On Travel And Restaurants Worldwide
You will earn 3x Chase Ultimate Rewards points per dollar you spend on all travel and dining at restaurants worldwide. You will also earn 1 point per dollar on all other spending.
10x Points On Lyft Rides
Earn 10x points per dollar spent on rides with Lyft through March 2025.
$100 Application Fee Credit for Global Entry, TSA PreCheck or NEXUS
If you apply for Global Entry or TSA PreCheck, or even NEXUS, and pay with the Chase Sapphire Reserve, the application cost will be reimbursed ($100 for Global Entry, $85 for TSA PreCheck, and $50 for NEXUS).
You are eligible to receive this credit once every four years. Since membership in both programs lasts for five years, you're set.
Complimentary Lounge Access
Receive complimentary Priority Pass Select membership, getting you free access to 1,300 airport lounges around the world. You can also bring up to two guests into the lounges with you for free.
But perhaps the best benefit of this Priority Pass membership is that you can dine for free at a number of airport restaurants across the country.
And soon, the lounge access will get even better.
Chase has big plans to compete with both American Express and Capital One by rolling out its own network of Chase Sapphire branded lounges.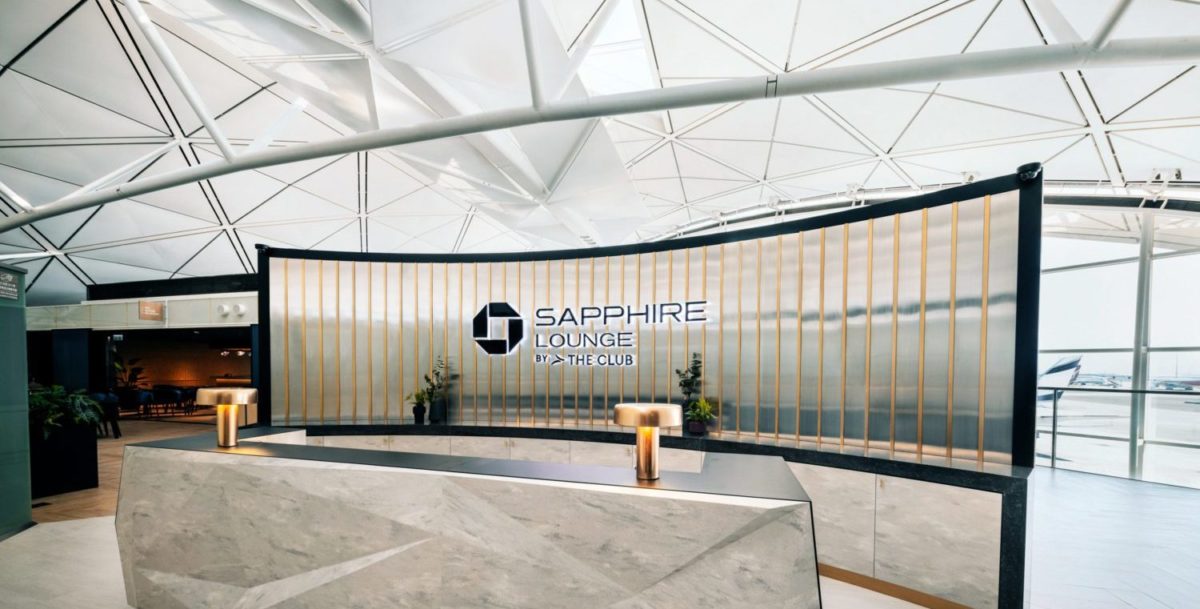 To date, only an overseas location in Hong Kong (HKG) is open – and while U.S. lounges are in the works, they won't open until 2023 or later. But Chase has plans to open up spaces in the following locations:
Boston (BOS) between Terminals B and C
San Diego (SAN) in Terminal 2
Phoenix (PHX) in Terminal 4
New York City-LaGuardia (LGA) in Terminal B
Las Vegas (LAS) in the C Concourse
Washington, D.C.-Dulles (IAD) in Concourse A
While Chase has been tight-lipped about both opening dates, we now know how travelers can access these lounges. Chase Sapphire Reserve cardholders get complimentary access through the Priority Pass membership that comes with the card. Just show your physical or digital Priority Pass card on entrance.
But if you have a Priority Pass membership through other premium travel credit cards, you should still be still be able to access the Sapphire Lounge… at least for now.
Primary Car Rental Insurance
When you charge your car rental to the Chase Sapphire Reserve card, you can simply decline the insurance from the rental company and get some of the best coverage you'll find, for up to $75,000 for theft and/or collision damage.
Read more: All About the Chase Sapphire Rental Car Insurance Benefit
Roadside Assistance
Receive 24-hour towing assistance (up to $50), 24-hour lockout assistance (up to $50), up to two gallons of fuel delivery, and flat tire changing service all included with your card membership.
Lost Luggage Reimbursement
If you check your bags and they're delayed more than six hours, the card will reimburse you up to $100 per day for up to five days. This coverage is meant to provide reimbursement for essential items like toiletries, clothing, and cell phone charging cables, for example.
Trip Delay & Cancelation Coverage
The card will reimburse you for any delay lasting six hours or more. Cardholders will be covered along with their spouse or domestic partner and any dependent children under the age of 22 for up to $500 for each purchased ticket.
Medical Evacuation & Travel Accident Coverage
The card provides coverage up to $1,000,000 for accidental death or dismemberment, or a combined loss of speech, sight, or hearing, experienced on a covered trip. Benefits are available when some portion of a trip has been purchased with the card or with Ultimate Rewards points earned on the card.
The card will also provide coverage for a medical evacuation. If you or a member of your immediate family are injured or become sick during a trip far from home that results in an emergency evacuation, you can be covered for medical services and transportation up to $100,000.
Visa Infinite Concierge Service
Get access to a dedicated line that can help you track down reservations at restaurants, purchase tickets on your behalf, or even buy flowers for a significant other.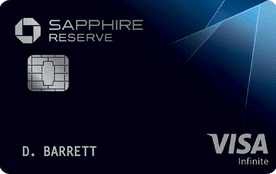 Click Here to get more information about the Chase Sapphire Reserve.
Bottom Line
The Chase Sapphire Reserve travel credit of $300 is incredibly easy to use.
Using up this travel credit each and every year helps justify the high annual fee and makes it far more reasonable for many. Benefits like these are a big part of the reason we always encourage readers to do the math before ruling out cards with big annual fees.
With this credit alone, it's safe to treat the Reserve Card's $550 annual fee more like it's $250 a year.