When you're dealing with credit card points and airline miles, there are some key differences. The ability to transfer credit card points to different airline and hotel accounts makes these points incredibly versatile and valuable. And that's an area where American Express Membership Rewards points truly excel.
With nearly two dozen Amex transfer partners at your disposal between airlines and hotel chains, the ability to transfer American Express points opens up a world of travel opportunities. But whether you're a newbie to points and miles or an old hand, these transfers are a whole new can of worms, with confusing twists and considerations to keep in mind.
We'll show you how to transfer your American Express Membership points – and some of the best Amex transfer partners to keep in mind to make your Amex points go the furthest.
The Best Amex Transfer Partners for Your Amex Points
Before we get into the "how?", let's cover the "who" and "where?" As in, who is American Express partners with? Where can you transfer your American Express Membership Rewards?
With more than 20 transfer partners overall, American Express has the largest stable of airline and hotel partners out there – more than similar points programs like Chase Ultimate Rewards, Capital One, or Citi ThankYou Points.
Below are the current options, as well as how long it takes to move Amex points from your American Express account to an airline or hotel brand – and breakouts on some of our favorite options.
Amex Airline Transfer Partners
| Program | Type | Transfer Ratio | Transfer Time |
| --- | --- | --- | --- |
| Aer Lingus | Airline | 1:1 | Instant |
| AeroMexico | Airline | 1:1.6 | 3-5 days |
| Air Canada Aeroplan | Airline | 1:1 | Instant |
| Air France/KLM | Airline | 1:1 | Instant |
| ANA | Airline | 1:1 | 1-2 days |
| Avianca | Airline | 1:1 | Instant |
| British Airways | Airline | 1:1 | Instant |
| Cathay Pacific | Airline | 1:1 | Instant |
| Delta | Airline | 1:1 | Instant |
| Emirates | Airline | 1:1 | Instant |
| Etihad | Airline | 1:1 | Instant |
| Hawaiian | Airline | 1:1 | Instant |
| Iberia | Airline | 1:1 | Up to 24 hours |
| JetBlue | Airline | 1.25:1 | Instant |
| Qantas | Airline | 1:1 | Instant |
| Qatar Airways | Airline | 1:1 | Instant |
| Singapore | Airline | 1:1 | Instant |
| Virgin Atlantic | Airline | 1:1 | Instant |
Let's go over some important points before we highlight some of the strongest American Express transfer partners. Unlike Chase transfer partners, from which every single point transfers on a 1:1 basis to an airline or hotel account, there are some poorer transfer ratios here. For example, you'll need to transfer 1.25 Amex points to JetBlue to get 1 TrueBlue mile.
That said, there are a handful of great options to consider for transferring your Amex points. In fact, this can easily be the best way to use your Amex Membership Rewards points for the most value.
Here's a quick example. Let's say you're trying to get to Europe next year and hoping to use your Amex points to fly from Minneapolis-St. Paul (MSP) to Amsterdam (AMS) and back. Many travelers would simply log into their Amex account and search for flights they can book directly via Amextravel.com – and there's nothing wrong with keeping things simple. But with cash prices for those flights regularly north of $1,000, you'll need a lot of points to book this way.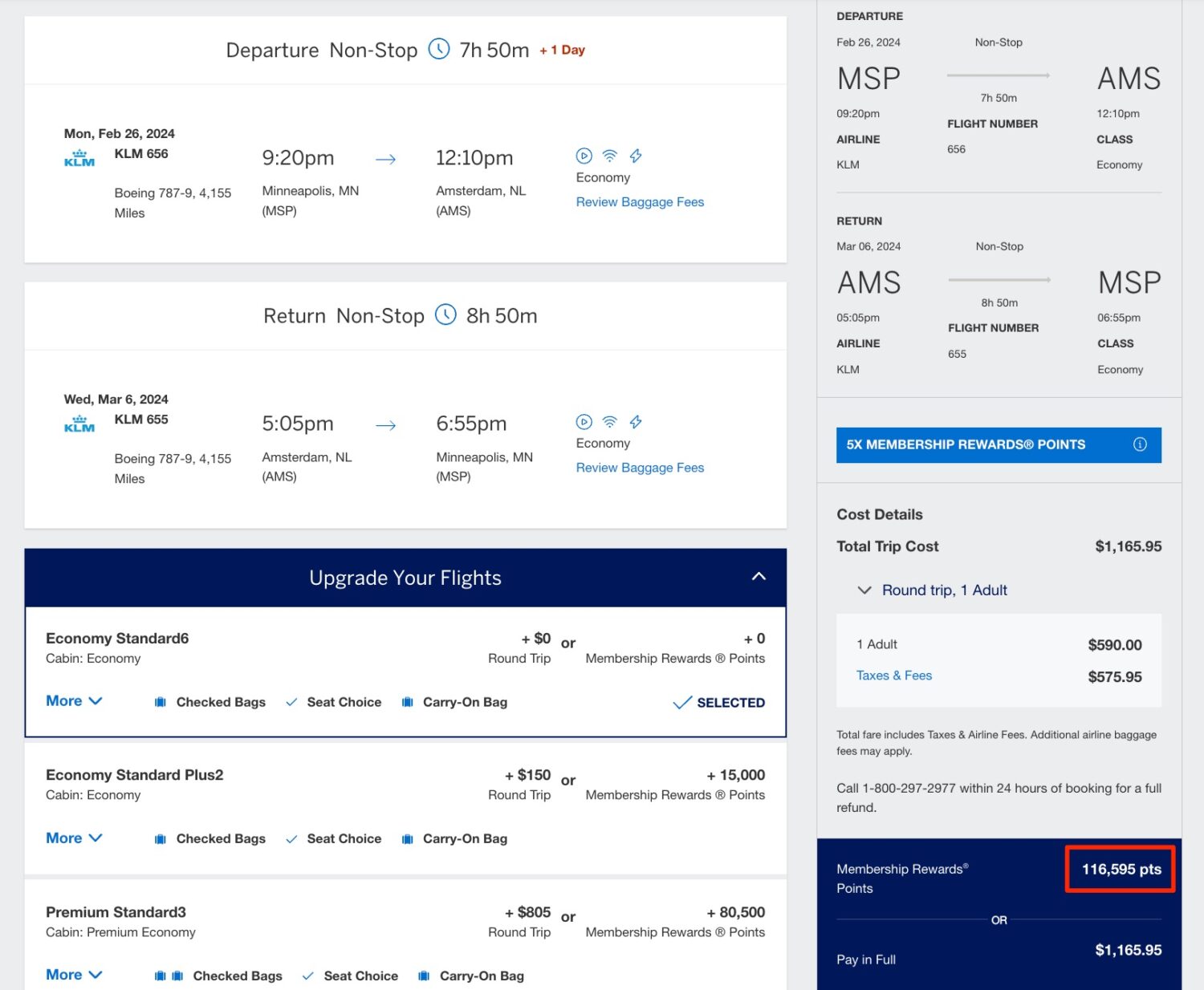 Booking through Amex's travel portal, every point you've got is worth a flat 1 cent toward flights. That means these $1,165 roundtrip flights in economy would cost you 116,595 Amex points. Ouch.
Here's where turning to Amex transfer partners can really shine. You can book these exact same KLM flights to and from Amsterdam by using Virgin Atlantic – one of Amex's airline partners to which you can transfer points on a 1:1 basis. If you time it right, you can book those flights – same dates, same plane, same seats – for just 30,000 points roundtrip. That's right: You can book this trip for nearly a quarter of what it'd cost you to book directly through Amex using your points.
A bit of simple math can help you calculate just how much your Amex points were worth in this instance: The original cash cost of the flight – the taxes and fees on this award ticket / how many miles you used to book. In this case, that math comes out to nearly 3.6 cents apiece – far more than the 1 cent you'd get out of booking directly through Amex.
That's just one example, but it showcases the power of turning to transfer partners with your Amex points.
Just keep in mind: These transfers are a one-way street. Once you send your Amex points to one of these partners, you can't get them back to your Amex account. That means you'll want to scope out award availability to ensure the flights you're eyeing are actually bookable with miles before initiating any transfers.
Read more: Save Your Points When Booking Flights, Transfer Them to an Airline Partner
The Best Amex Airline Transfer Partners
Let's run through some of the best, most worthwhile Amex transfer partners – and areas where they shine.
Delta Air Lines
Looking to pad your Delta SkyMiles balance? American Express Membership Rewards are the only credit card points that transfer to Delta, making these credit cards a strong option if need some more SkyMiles.
SkyMiles may not be the best if you're aiming to score a lie-flat business class seat overseas – the airline regularly charges 300,000 SkyMiles or more each way after a slew of hefty increases. But transferring Amex points to Delta can still be great when you want to book a dirt-cheap domestic flight using SkyMiles or hop on the next great SkyMiles flash sale.
For example, just 17,000 Amex points instantly transferred over to your Delta account could get you a trip to Maui (OGG) and back. That's cheaper than you'll find with almost any airline.
Air Canada
Air Canada's Aeroplan program is great, especially if flying business class is your thing.
With a hybrid pricing formula that charges more points the farther you fly, business class flights from the U.S. to Europe start at 60,000 points – or you can fly the incomparable Lufthansa First Class for 90,000 to 100,000 points each way. You can get all the way to Asia in business class starting at 75,000 points. Or stay closer to home and redeem flights on United, with transcontinental jaunts up front at 25,000 points each way or roundtrip flights to Hawaii starting at 25,000 points.
One amazing feature of Aeroplan is that you can add a stopover to any award ticket for just 5,000 additional points. That's a better perk than you'll find with almost any airline program, and it makes Aeroplan one of our go-to Amex transfer partners.
In addition to the bevy of two dozen-plus Star Alliance carriers you can book using Aeroplan points, the airline has partnered up with some other airlines including Etihad, Emirates, Gulf Air, and Oman Air. That means you can book flights on all those airlines using Aeroplan points, too.
All Nippon Airways
Looking to fly to Japan in business class for the same amount of miles most airlines charge for economy? ANA Mileage Club is your answer, with rates as low as 75,000 miles for a roundtrip to Japan in lie-flat seats. And it's another great transfer partner with dirt-cheap rates to fly to Europe as well: Just 88,000 miles roundtrip – read our guide on how to book business class flights to Europe using ANA miles.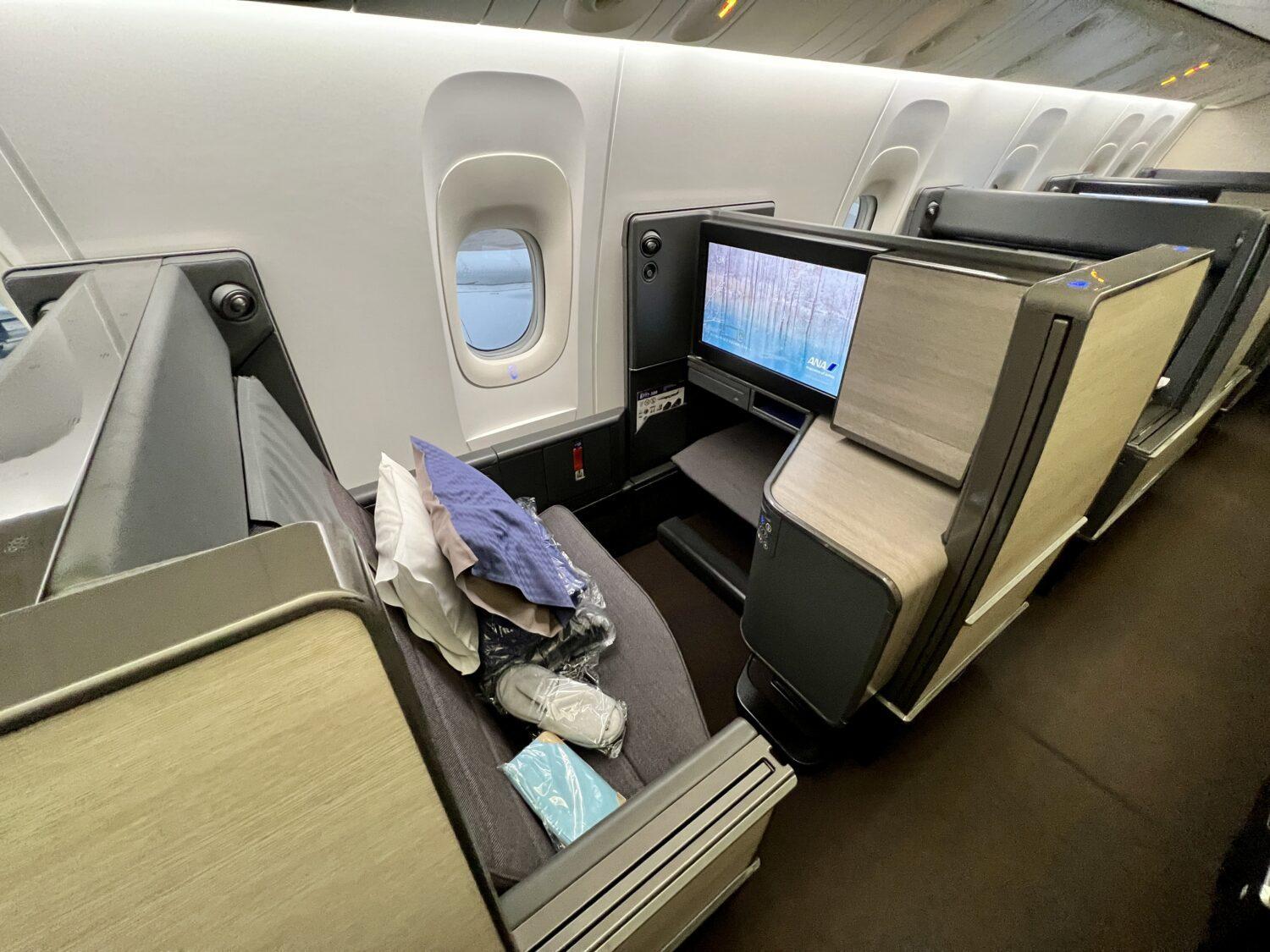 Virgin Atlantic
Virgin Atlantic is one of our absolute favorite Amex transfer partners, and it's another great option.
When Delta is charging 280,000 SkyMiles or more to fly in Delta One, you might be able snag the exact same seat by transferring just 50,000 Amex points to Virgin Atlantic. In general, Virgin Atlantic can be a great way to save miles to fly Delta whether you're hoping to head to Europe, book a short domestic trip, or fly all the way out to Hawaii or even Asia.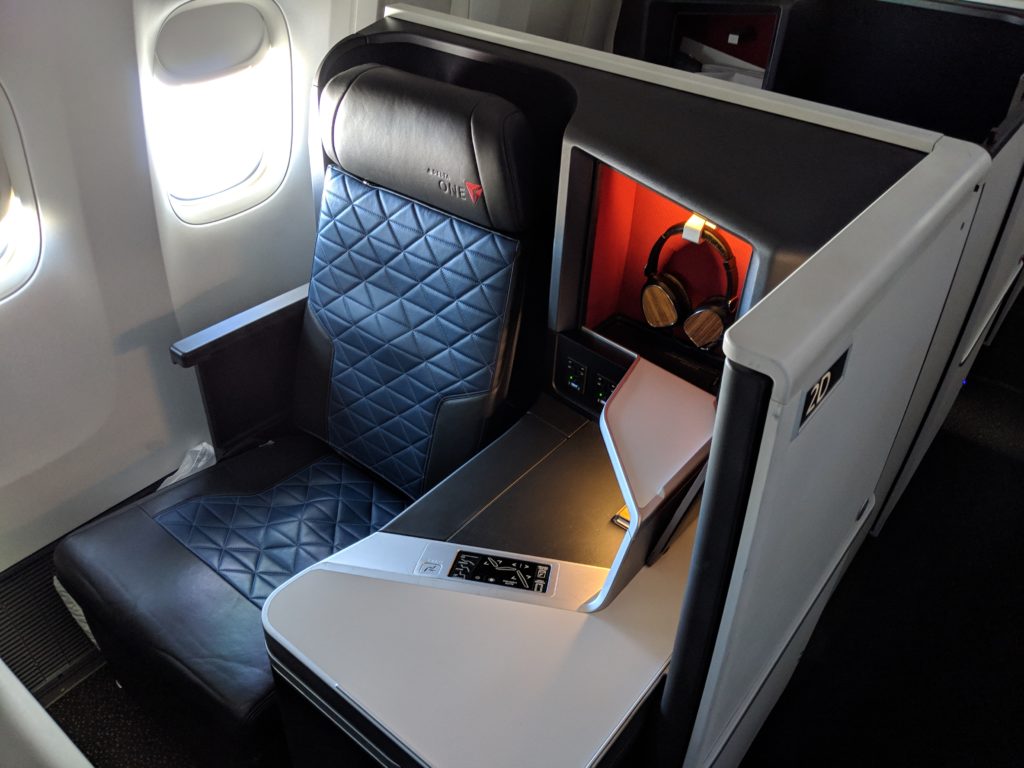 The power of transferring points to Virgin Atlantic Flying Club goes beyond Delta, though. It's a stellar way to book flights to Europe with Air France or KLM for as low as 12,500 points each way. You can even book ANA business or first class to Tokyo via Virgin Atlantic.
Like most of the best options on this list, Amex points transfer to Virgin on a 1:1 basis, which means 50,000 Amex points will get you 50,000 Virgin Atlantic points. Frequent transfer bonuses of 10% to 30% or more just make it better.
Iberia Airlines
Keep Iberia in mind, as it offers one of the cheapest ways to get to Europe in business class using miles.
For as low as just 34,000 miles each way, you can book Iberia business class to and from Madrid (MAD). That's less than most airlines charge for a one-way ride in economy, making this one of the best deals in the world of points and miles and a stellar way to transfer your Amex points.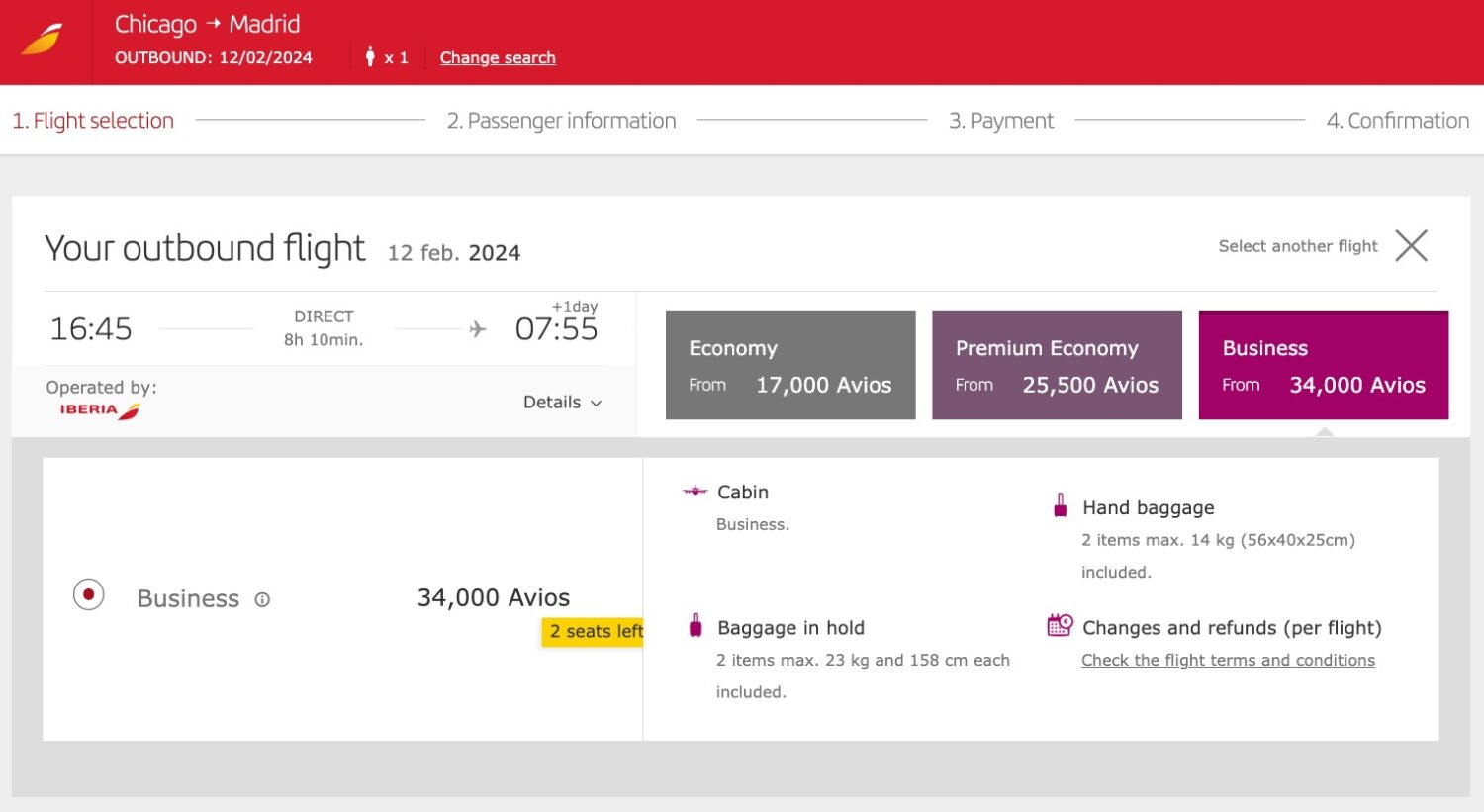 Want to save your points? Iberia also offers flights to Spain in economy for half the cost: as low as just 17,000 miles each way, or 34,000 miles for a roundtrip to Madrid.
Air France and KLM
Air France and KLM's Flying Blue program can be worth a hard look, especially if you're catching a big discount on one of the monthly Flying Blue Promo Rewards tickets to Europe.
Flying Blue regularly slashes economy, premium economy, or business class award tickets on select routes between the U.S. and Europe by as much as 50% each month. No matter which cabin you're hoping to fly in with your Amex points, those monthly deals can lead to gems like this uber-cheap one-way flight to Paris-Charles de Gaulle (CDG).
But even without those discounts, Air France and KLM's mileage program can be worthwhile. With low rates and fairly solid availability to actually book these flights with your miles, this is one of the best ways to book business class to Europe. Whether you want to get to Paris-Charles de Gaulle (CDG), Amsterdam (AMS), or connect almost anywhere flying business class to Europe, you can regularly find business class seats bookable for just 55,000 to 58,000 miles each way.
Like our other top contenders, Amex points typically transfer to Air France/KLM on a 1:1 ratio. Right now, it's even better: Through May 22, you can get a 25% bonus when sending Amex points to Flying Blue.
Singapore Airlines
Singapore's KrisFlyer Miles program is a strong option, largely because it is so easy to pile up points. Chase Ultimate Rewards, Citi ThankYou Points, and Marriott Bonvoy points all transfer to Singapore, too.
Transferring miles to Singapore is your only way to book business or first class on one of the world's best airlines – most other partner airline programs like United are blocked from booking premium cabin awards on Singapore.
The airline has also expanded the ability to book online with partner airlines, making it much easier to redeem Krisflyer miles on partner carriers like Turkish or United.
British Airways
Fancy a trip to Hawaii or the Caribbean? Or maybe you want to fly the world's best business class all the way to the Middle East? British Airways Avios has got you covered.
British Airways is a stellar Amex transfer partner. Consider this:
You can book nonstop flights on American Airlines from several West Coast cities to all four major Hawaiian islands and back for just 26,000 Avios.
Start from the East Coast instead and you can make it to many Caribbean islands for 15,000 to 18,000 Avios roundtrip, again flying on American Airlines.
Book your own Qatar Airways Qsuite from many U.S. cities to Doha (DOH) for just 70,000 Avios!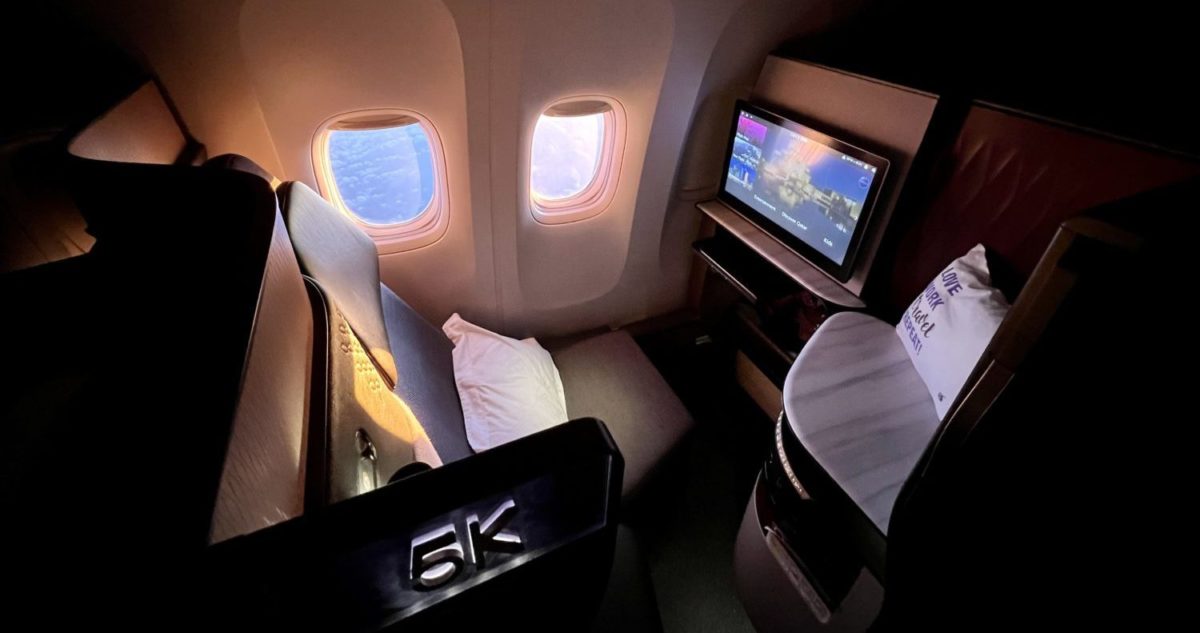 Avianca LifeMiles
Avianca LifeMiles is one of the strongest (and strangest) airline programs out there. This quirky Colombian airline's miles are insanely versatile and lucrative.
From cheap economy flights in the U.S. to jaunts down to South America and booking business class seats to Europe or Asia, Avianca LifeMiles is one of our go-to airline programs. While its website isn't the best and its customer service can be poor, you won't find a better combination of cheap award rates and low taxes and fees to book flights.
You can book domestic flights on United Airlines for fewer miles than United itself would charge. It's also one of the best ways to book flights in business or first class to Asia.
Airline Transfer Partners to Avoid
It's not all sunshines and roses. Sprinkled in among the many winners on this list of Amex transfer partners are some real duds that probably aren't worth paying attention to, including:
JetBlue is the only airline program on the list to which Amex points don't transfer on at least a 1:1 basis. Combined with the fact that JetBlue TrueBlue points don't go nearly as far as others listed above, this one is worth skipping.
Etihad was once an excellent way to book discounted flights overseas on American Airlines to Europe or Royal Air Maroc business class to Morocco, but changes to the Etihad Guest program made in early 2023 have blunted those sweet spots.
Hawaiian Airlines may seem like a no-brainer if you've got a trip out to the islands in mind, but there are far better Amex transfer partners for booking flights to Hawaii.
Aeromexico may look alluring thanks to the 1:1.6 transfer ratio, which means transferring 50,000 points would get you 80,000 Aeromexico Rewards miles. But it's a confusing and hard-to-use loyalty program – you're almost always better off using Air France/KLM Flying Blue or Delta SkyMiles instead.
Amex Hotel Transfer Partners
| Program | Type | Transfer Ratio | Transfer Time |
| --- | --- | --- | --- |
| Choice Privileges | Hotel | 1:1 | Instant |
| Hilton Honors | Hotel | 1:2 | Instant |
| Marriott Bonvoy | Hotel | 1:1 | Instant |
While Chase has some very valuable hotel transfer options like Hyatt in its portfolio, it's an admittedly weak spot for American Express Membership Rewards.
The Best Amex Hotel Transfer Partners
None of them. Honestly.
The idea of building your stash of hotel points may seem alluring. That's especially true with Hilton Honors, with its 1:2 transfer ratio that means transferring 1,000 Amex points nets you 2,000 Hilton Honors points.
But the fact of the matter is that these hotel points are worth far, far less than almost any airline you've got at your disposal with Amex. We'd much rather have 10,000 miles with Iberia, Virgin Atlantic, etc. than 10,000 points with Marriott or Hilton because those airline miles will get you much farther.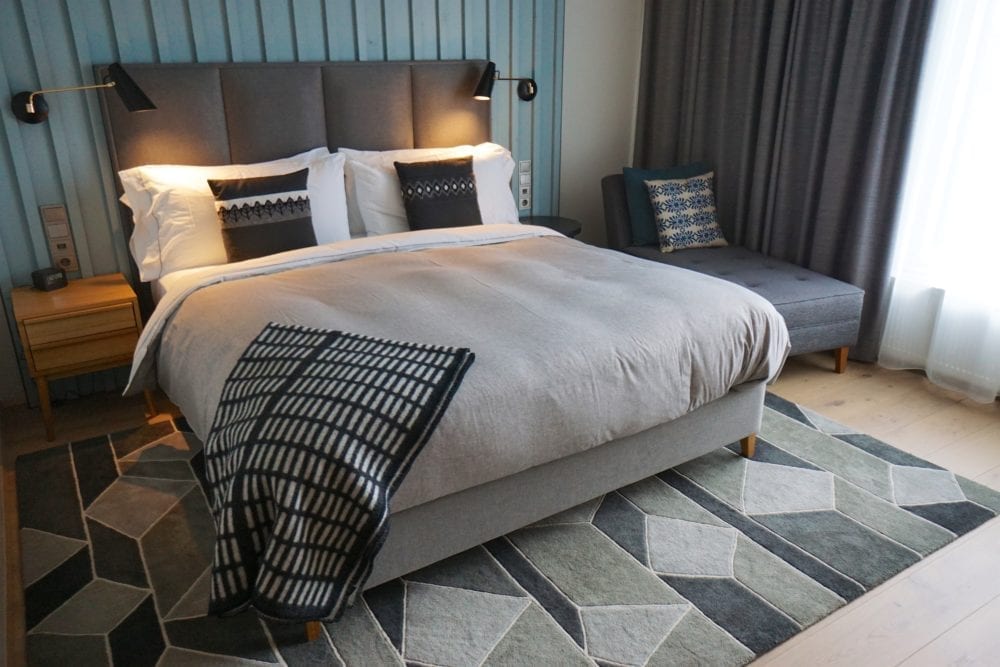 Unless if you're a few thousand Amex points short of a redemption and topping off your hotel account would get you there, you're probably better off skipping American Express hotel transfer partners.
American Express Transfer Bonuses Sweeten the Deal
You like airline miles, right? How about some free miles?
Several times every year, American Express teams up with a specific airline or hotel program to give travelers a bonus to transfer their miles. From 10% extra to 30% or more, these bonuses are basically free airline miles. Typically, we see at least one (or more) transfer bonuses a month.
Time transferring your Amex points right to coincide with one of these promotions, and you can come out even further ahead when transferring your points.
For example, our co-founder Nick took advantage of a 30% transfer bonus to Virgin Atlantic a few years back to make booking ANA first class to Japan an even better deal. At the time, Virgin charged just 120,000 points for a roundtrip in first class from Chicago-O'Hare (ORD) to Tokyo-Haneda (HND). That bonus meant he only had to transfer 93,000 Amex Membership Rewards points in order to book flights that typically costs – wait for it – more than $20,000!
It's the most extreme of extreme examples, but that meant he redeemed his Amex points for more than 20 cents apiece!
Top American Express Transfer Bonus Partners
When it comes to Amex transfer partner bonuses, there are some frequent culprits. And that's not a bad thing.
At least once or twice a year, we see transfer bonuses to Virgin Atlantic, British Airways, Iberia, and Air France/KLM, ranging from 20% to as much as a 40% bonus. Every now and again, we'll see bonuses of 15% to 25% or so to Avianca LifeMiles, Qantas, and occasionally Air Canada Aeroplan.
Unfortunately, it's been more than a decade since American Express has offered a transfer bonus to Delta SkyMiles – don't count on it happening again. And we're not aware of American Express ever rolling out a transfer bonus to ANA Mileage Club.
That said, here are some of the best historical transfer bonuses we've seen:

As of publication, you can take advantage of two different Amex transfer bonuses:
Chase vs American Express Transfer Bonuses: Who Wins?
Though it has started to change, Chase has been more stingy with these transfer bonuses than Amex over the years.
That's part of the reason why, in the battle between Amex points vs Chase points, Amex transfer bonuses reign supreme. Amex seems to roll out transfer bonuses more frequently than their No. 1 competitor – and bigger bonuses, too. The same is largely true with Capital One points, though that has also started to change.
Curious how to track when these transfer bonuses pop up? Log in to your Amex account and check out the list of transfer partners, or just sign up for our daily newsletter. We'll let you know as soon as one of these great offers pops up.
How to Transfer American Express Membership Rewards Points
American Express allows you to transfer Membership Rewards points in 1,000-point increments (except jetBlue, which allows transfers of 250 points at a time) to any of the American Express transfer partners listed in the table above. Just how many points you'll get will depend on each partner's transfer ratio.
Thrifty Tip: You'll need an account with that airline or hotel chain before you start the transfer. No matter the airline or hotel, creating one of these accounts is free and only takes a few minutes.
First things first, you'll want to log in to your American Express account for the card that earns you Membership Rewards points. From there, click the "Rewards & Benefits" option in the menu bar.
From here, scroll down to the "Ready to Redeem?" section of the page and click the "Transfer Points" tab, then hit "View All" when it pops up below.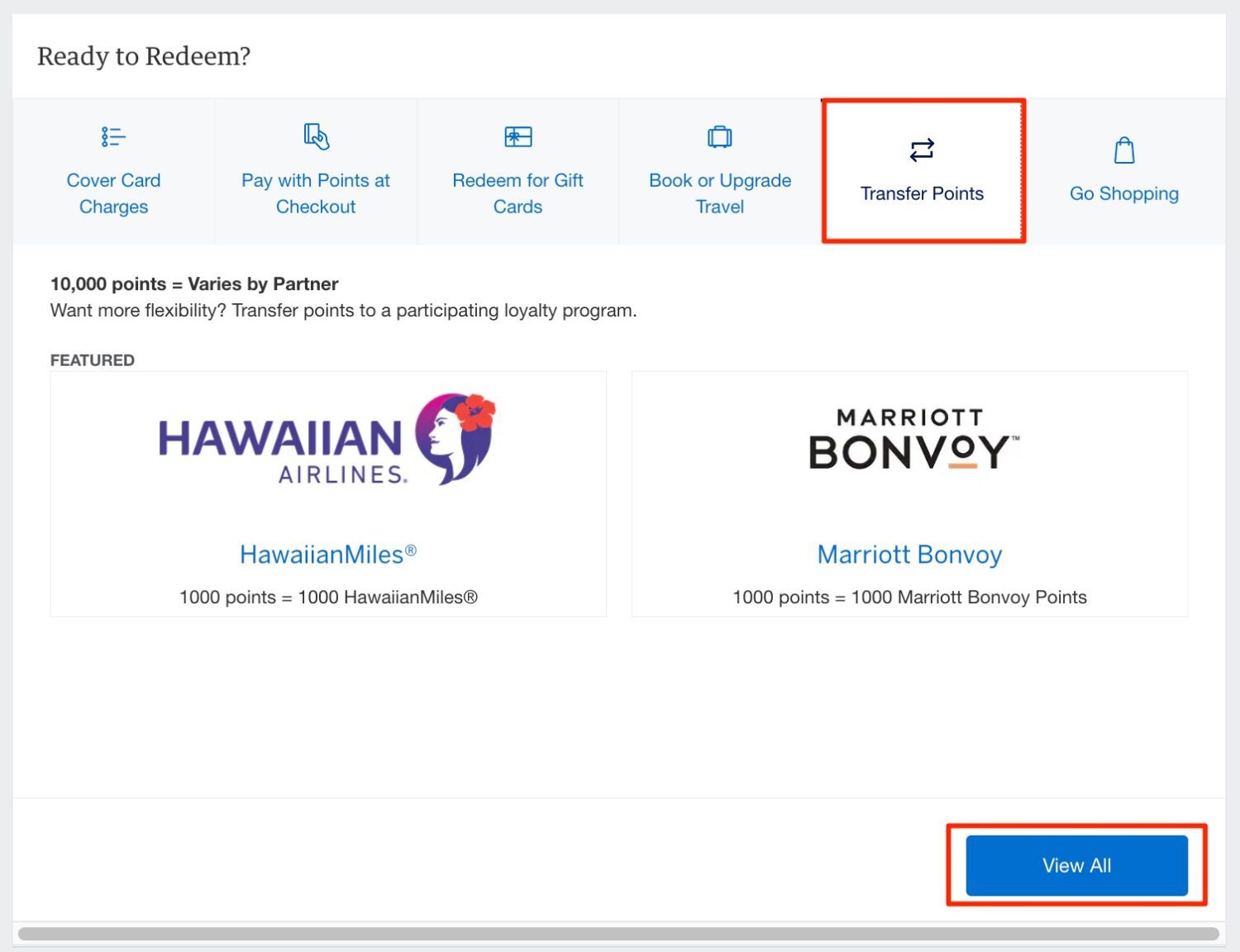 And voila: All your Amex transfer partner options will pop up. And any current transfer bonuses will be highlighted with some handy orange text and a big "OFFER" sticker.
Know where you want to transfer your points? Just click that airline (or hotel) partner and confirm your loyalty account details, if you haven't already. Enter the number of points you want to transfer, then hit the option to "Review Transfer" to proceed. You'll have to enter some details from your Amex card to finalize the transfer.
Amex has a default warning that points may take 24 hours or more to hit your loyalty account once you've confirmed your transfer … but that's rarely accurate. Most Amex points transfers happen instantly, meaning you can immediately turn around and redeem those points.

Barring any technical snafus, the only Amex transfer partners you may need to wait on are ANA Mileage Club, Aeromexico, and occasionally Iberia.
Do Your Research Before You Transfer Your Amex Points
Just beware: Once your transfer goes through, you can't pull those points back into your Amex account. That makes it critical to do your research and make sure sending your American Express Membership Rewards to that partner is the best way to go, and that the award tickets you want to book are available to book using points and miles.
Once you've decided where you want to transfer your Amex points and linked the account, you're ready. Just click on the account and enter how many Amex points you want to transfer over.
With a handful of different transfer ratios, it can be difficult to keep track of how many miles you'll actually get. Luckily, Amex makes it very clear just how it shakes out, as you can see here with JetBlue.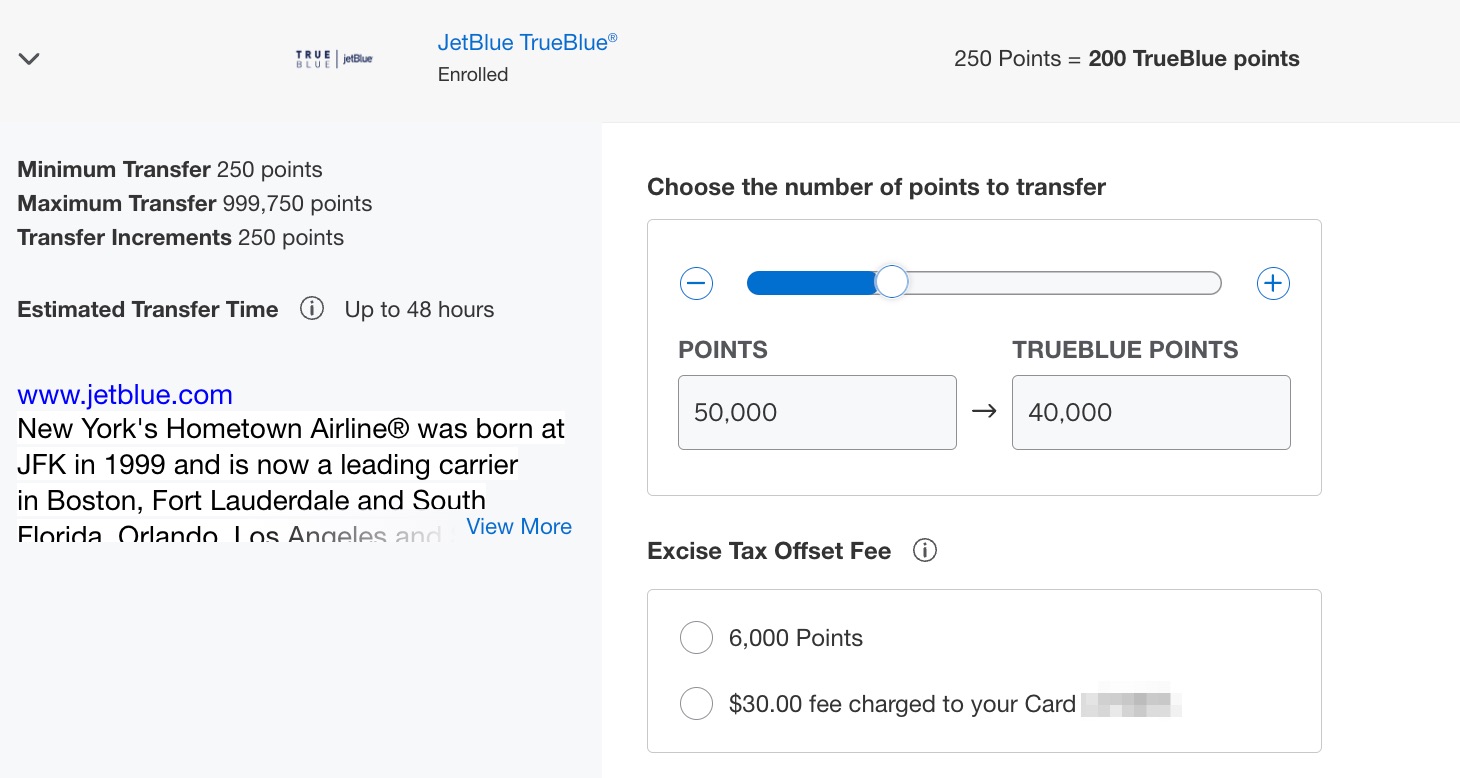 And finally, there's one last quirk to be aware of. When you transfer to U.S. airlines (Delta, JetBlue, or Hawaiian), you'll get hit with a small fee: .06 cents per point. A transfer of 50,000 Membership Rewards points will cost you $30. These fees are capped at $99. And while American Express allows you to cover the fee with points, that's a bad decision.
Once you're done, just hit confirm and transfer those points. Most of these transfers will clear instantly, but a handful of partners take 12 to 48 hours or more. Check out the chart above to get a sense of how long it may take to get those miles in your account.
Thrifty Tip: Want to combine with a spouse, friend, or family member? If you add them as an authorized user, American Express allows you to transfer Membership Rewards directly to their own airline or hotel accounts (after a waiting period).
How to Earn Amex Points
Now you just need some American Express points. You're in luck. American Express has a handful of credit cards to earn Membership Rewards points.
We love *amex platinum card*. It starts with an 80,000-point welcome offer bonus after spending $8,000 in six months, but be sure to check and see if you qualify for a 150,000-point bonus via CardMatch.
That's a huge stash of Amex points that could get you some serious travel. Add in the unbeatable suite of travel perks like unrivaled lounge access, $400 in credits split between airline fees and Uber rides, and it's easy to see why the array Amex Platinum Benefits makes it one of our favorite cards.
Learn more about *amex platinum*.
There's also the *amex gold card*, which is currently offering a 60,000-point welcome bonus after spending $6,000 in the first six months. But you may be able to qualify for a whopping 75,000-point welcome bonus using CardMatch, which is unbeatable … unless you get a friend or family member's referral link for an even better, 90,000-point bonus!
After Amex revamped the card with some great rewards for dining purchases and credits, this card is easily one of the best all-around cards on the market (terms apply).
Learn more about the *amex gold*
And finally, there's the old kid on the block with a new look. The refreshed *Amex Green Card* is potentially lucrative, with the ability to bonus_miles_full.
The card also comes with a $189 membership credit towards a CLEAR Plus membership, the privately run security program, and another $100 credit for Loungebuddy.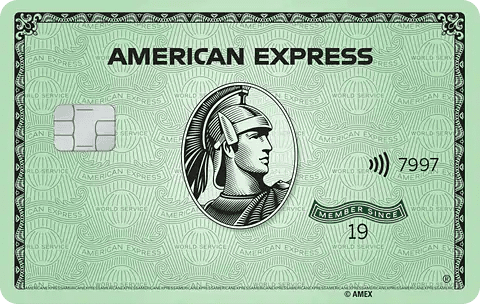 Learn more about the *Amex Green Card*
Bottom Line
It's not quite as simple as using your points toward a great flight deal, but the ability to transfer American Express points opens up a whole new world of travel.
Use this guide to get started and learn how to maximize those Amex points.
Frequently Asked Questions About Transferring Your Points to Amex Transfer Partners
Does Amex charge a fee to transfer reward points to Delta Air Lines?
Sadly, yes. But it's not much.
Amex levies what it calls an "excise tax offset fee" when transferring points to Delta and other U.S.-based airlines including JetBlue and Hawaiian. It works out to .06 cents for every point you transfer. That means transferring 50,000 points to Delta will incur a fee of $30.
These fees are capped at $99. Amex also gives you the option of using points to cover the fee instead of paying cash, but it's a bad use of those points.
What airlines can I transfer Amex Membership Rewards points to?
You can transfer your Amex points to a grand total of 18 airlines.
It's a long, long list, including several U.S.-based carriers as well as many fantastic foreign airlines. From A to Z, the list includes Aer Lingus, AeroMexico, Air Canada, Air France/KLM, All Nippon Airways, Avianca, British Airways, Cathay Pacific, Delta Air Lines, Emirates, Etihad, Hawaiian Airlines, Iberia, JetBlue, Qantas, Singapore Airlines, and Virgin Atlantic.
Do American Express Membership Rewards points expire?
No! At least, not really.
Much like all credit card points from other banks, American Express Membership Rewards points never expire so long as you've got a card active that earns those points. So as long as you've still got The Platinum Card® from American Express or the American Express® Gold Card in your wallet, your points are safe.
But once you transfer those points to an airline or hotel chain, that could change. After that, the expiration policy is set by the airline or hotel chain – and that varies. Some like Delta SkyMiles and JetBlue TrueBlue never expire, while others like Air Canada Aeroplan can expire in as few as 12 months if your account isn't active.
Read more: Will My Airline Miles Expire?
Is transferring my American Express points to a partner airline worth the hassle?
There's no question it requires more legwork to transfer points. But that little bit of extra hassle can be easily worth it.
Transferring your Amex points to the right partner airline can allow you to book a trip for a fraction of the points it would take to book directly through Amex using your points. And if you're aiming to book a business or first class flight, transferring points is often the only way to make it happen … unless you want to blow 500,000 Amex points.
How long do American Express Membership Rewards Points take to transfer?
It depends on where you're sending them, but most transfers these days are instant.
Just a handful of Amex transfer partners don't clear instantly. That short list includes ANA Mileage Club, AeroMexico Rewards, and sometimes Iberia. The rest of the 20-plus partners on the long list of options generally process automatically.
Not seeing your points? Try logging out and logging back into your airline or hotel account.
Where can I fly with American Express Membership Rewards points?
Look at a map. Everywhere on it.
I'm not joking. There are 18 airline mileage programs on the list of transfer partners. You can use those airline miles to book flights on more than 100 different partner airlines, which operate flights all around the globe.
Which hotels are Amex transfer partners?
You can transfer Amex points to Hilton, Marriott, and Choice Hotels.
Which airline or hotel partner would you recommend for transfer to maximize future trips?
It depends on what trip you want to take!
Generally speaking, we get the most bang for our buck (or points) by transferring to Air Canada Aeroplan, ANA MileageClub, British Airways, Air France/KLM Flying Blue, Virgin Atlantic Flying Club, and sometimes Avianca LifeMiles.