A trip to Japan is on every traveler's bucket list – and if it's not, it should be. You can't beat fresh sushi blocks from market, the temples, shopping, and incredible scenery.
There is no denying it's a grueling flight from the U.S., and it can be expensive whether you're paying with cash or your hard-earned points. We're here to show you a workaround that allows you to make the 12-plus hour flight each way in the comfort of business class for roughly the same amount of miles as economy.
One of Japan's flag carriers, All Nippon Airways (ANA), offers a much cheaper way to get there than you'll find on other airlines – not to mention an outstanding business class seat. Further, there's an easy way to accumulate ANA miles.
At just 88,000 miles roundtrip, ANA Mileage Club also offers one of the best ways to get to Europe in lie-flat seats. Read our guide on how to book business class to Europe with ANA miles!
All About ANA
ANA is a 5-star airline, and it's quintessentially Japanese. The cabin is understated but comfortable, with a 21-inch wide seat and 62 inches of legroom. The service is outstanding. And the food is top-notch.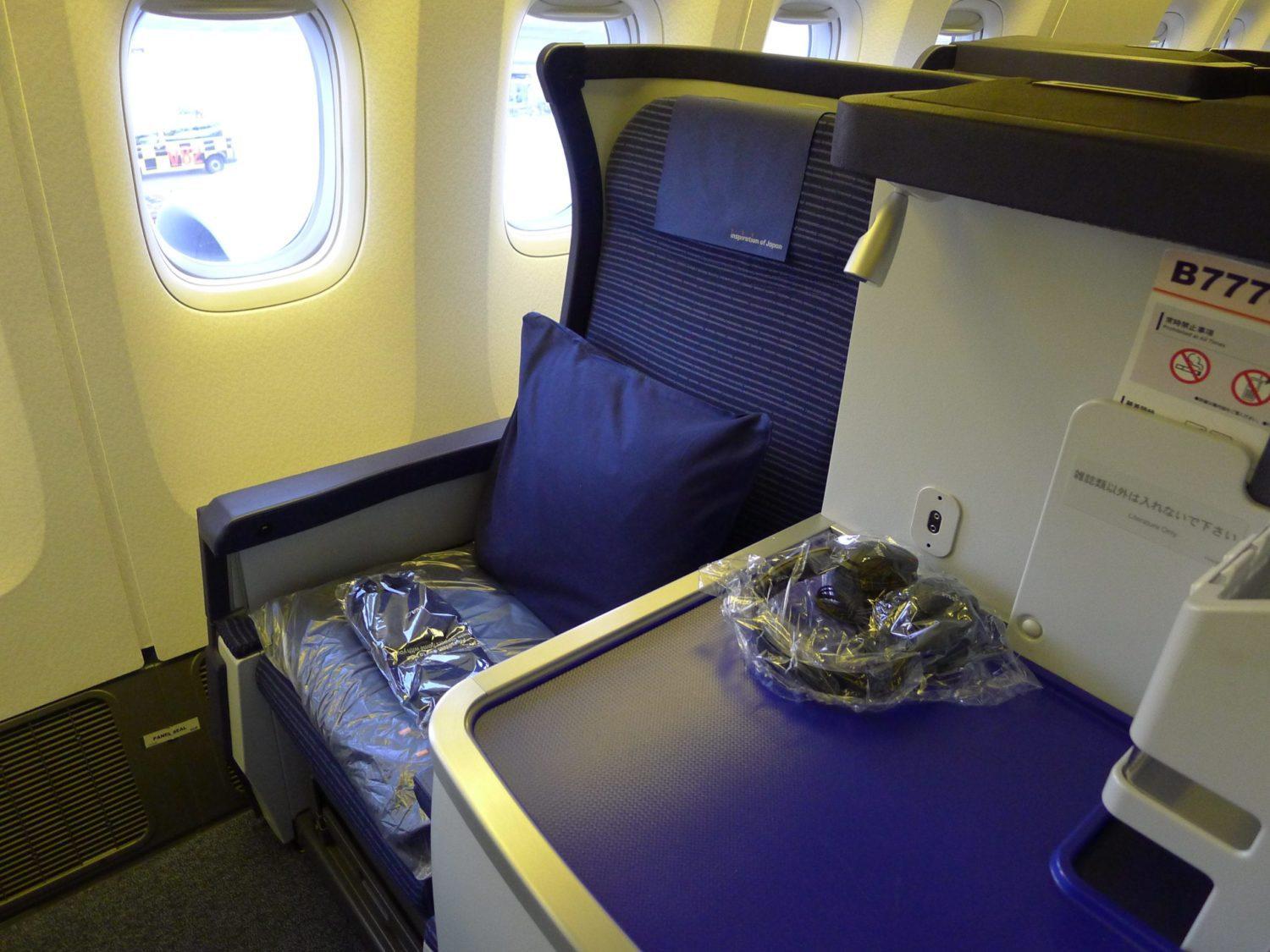 The seats and cabin aren't the flashiest or fanciest. But you'll arrive refreshed, well-fed and constantly attended to. Flying ANA is one of the best ways to cross the Pacific Ocean, and they fly nonstop from eight U.S. cities to Tokyo-Narita (NRT). The airline also flies from Chicago-O'Hare, Los Angeles (LAX) and New York City-JFK (JFK) to the Japanese capital's other airport, Tokyo-Haneda.
Thrifty Tip: Haneda (HND) is much closer to Tokyo than Narita (NRT), so you can save yourself a long train ride by flying into HND.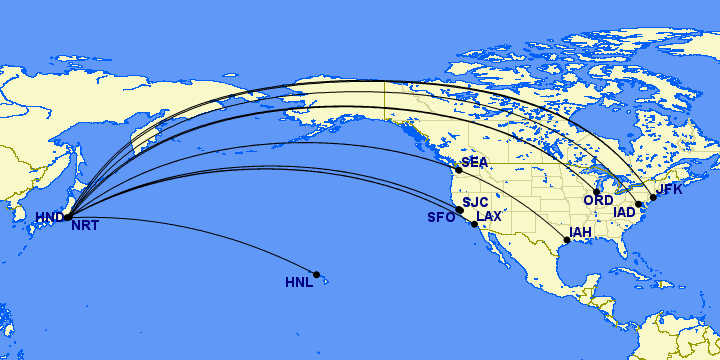 One hitch with ANA's Mileage Club is that one-way trips aren't allowed – you must book a round trip. So if you're looking to trek across Asia and fly home from a different country, this isn't the best way to go.
On the flipside, ANA is a transfer partner of both American Express and Starwood Preferred Guest/Marriott Rewards. That makes it pretty easy to get enough miles to book whatever flights you may have in mind.
Booking Business Class to Japan
A round-trip to Japan will cost you at least 70,000 in economy when booking with any of the major U.S. domestic airlines. Want a lie-flat bed and better meals in business class? Prepare to shell out 120,000 miles or as much as 160,000 miles.
This isn't the case with ANA. A round trip to Japan from the U.S. in business class starts at just 75,000 ANA MileageClub miles. You read that right: 5,000 miles more than flying economy on U.S. domestic airlines.
ANA's award chart varies by low, regular and high season. So depending on when you travel, a business class ticket could cost you 75,000, 85,000 or 90,000 miles, respectively.
There's one critical restriction to keep in mind when booking flights with ANA MileageClub miles. You can only book flights for yourself and up to 10 family members. Booking for a friend won't be possible.
Cherry Blossom season generally peaks in Tokyo in late March, but I spent a few days in Japan in early April and soaked in all the beauty of hanami. It's a wonderful time to be in Tokyo. Just pack a light coat.

Regardless of when you go, this mileage redemption is a steal. Case in point: You might think of flying Delta to Japan. Like ANA, Delta is an American Express Membership Rewards transfer partner. However, you'd need to transfer at least 70,000 points to Delta just to book economy. Business class would be at least 160,000 points, and perhaps much more.
For just 5,000-20,000 points more than economy, you'll have a bed to sleep in, chef-curated meals and great service with ANA. It's a no-brainer.
There are also some good savings through ANA if you'd rather save miles and fly economy. A roundtrip in economy costs between 40,000 and 55,000 ANA miles, depending on when you go.
The tradeoff here is that ANA passes on some fees that other airlines don't. A roundtrip business class fare comes with about $250 in fees, which may seem steep. But that's fairly reasonable for an international premium cabin ticket. And seeing as you're booking a $7,000+ fare for half as many miles as other carriers charge and just $250, we'd still call that a win.
How to Get ANA Miles
Earning enough ANA miles to get to Japan may seem out of reach, but it's simple. A bonus from just one or two cards will get you there. ANA is one of 16 airline transfer partners with American Express Membership Rewards, meaning you can send your points directly to your ANA MileageClub account. As you're planning your trip to Japan, keep in mind it can take a day or two for your transfer to clear.
There are some great opportunities to earn a boatload of American Express points. At the top of the list is the Platinum Card® from American Express, which has a hefty $695 annual fee (see rates & fees) but enough incredible benefits to more than outweigh that cost.
There's also the American Express® Gold Card, which comes with 60,000 points when you spend $4,000 in six months. The card also earns 4x points per dollar spent at restaurants and 4x points per dollar spent at U.S. supermarkets (up to $25,000 annually then 1x). 
ANA is also a transfer partner with the Marriott Bonvoy Program. Be sure to read our guide on how to transfer Marriott points to partner airlines for everything you need to know on this topic. 
Bottom Line
Mastering miles and points is all about using the right program at the right time. Even the more obscure ones like ANA. You may never collect a single mile on an ANA flight, but sweet spots like this make their program worth keeping in mind when using your American Express Membership Rewards points. 70,000 miles for a round trip in business class to Japan is unbeatable.