Just for holding the Platinum Card® from American Express, you get $100 in credits annually to use online or in-store at Saks Fifth Avenue. One $50 credit will be available from January through June & one will be available July through December each year of your card membership.
That means time is running out to use the second $50 credit for 2019. You've got through Tuesday, Dec. 31 to use this last $50 credit or lose it. And while Saks isn't known as the most thrifty place to do your shopping, there are plenty of fun travel items worthy of your $50 credit, whether you are looking to treat yourself or get some last-minute shopping taken care of.
Read up on how to use the credit and the best ways to make the most of it.
How to Get the Saks Fifth Avenue Credit
To earn the Saks Fifth Avenue $50 credit twice each year, you must hold the personal version of the Platinum Card from American Express. The Business Platinum Card from American Express does not offer a credit to use at Saks.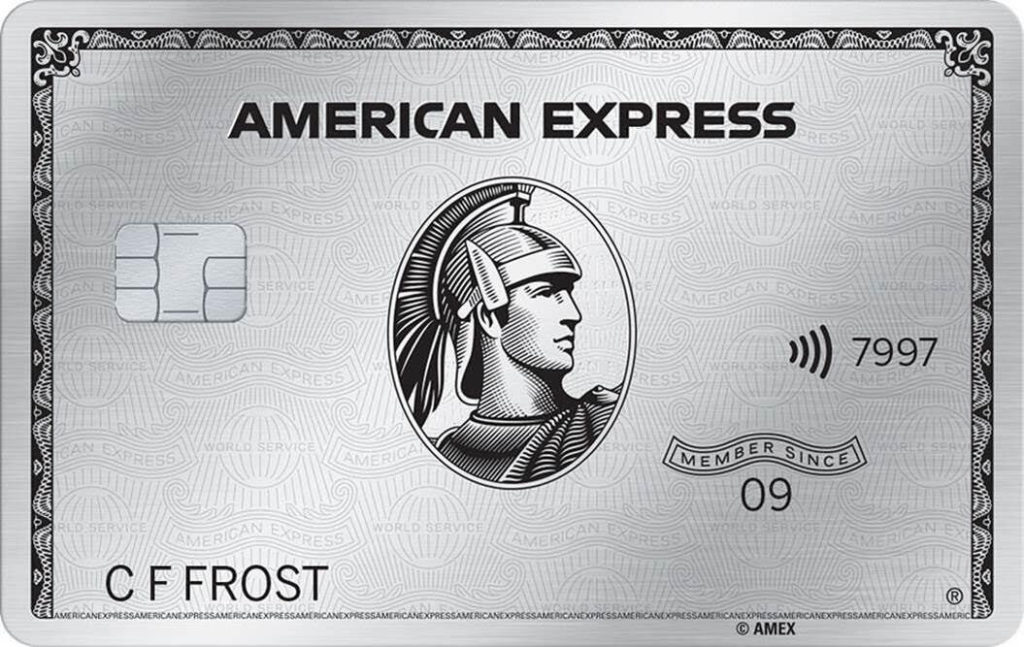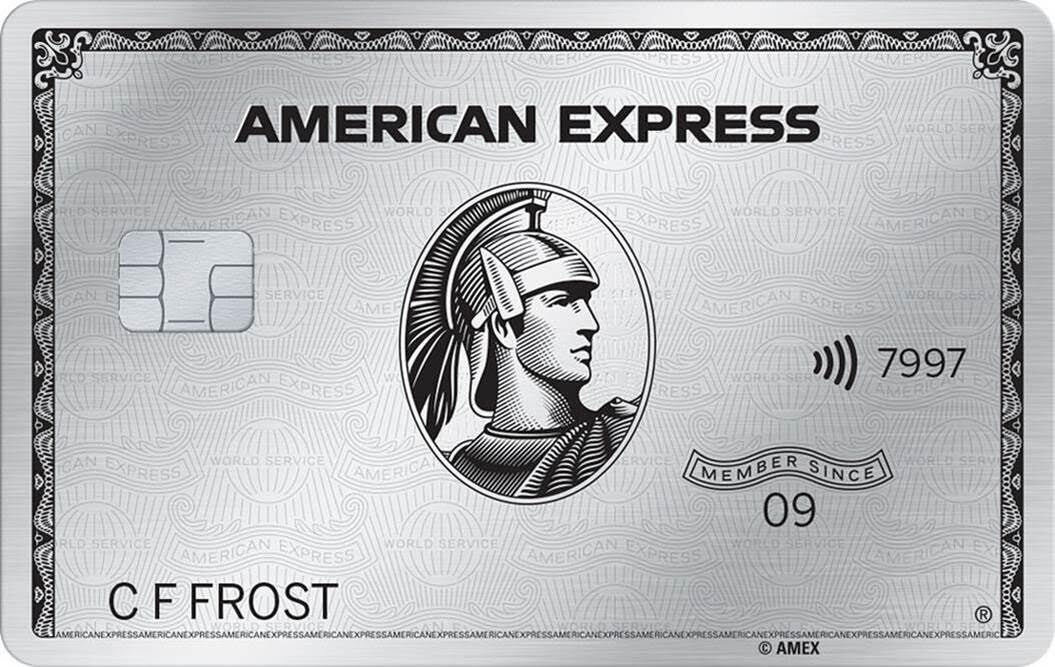 Click Here to learn more about the Platinum Card from American Express. 
Once you hold the card, you will need to log into your American Express account and activate the credit. To do this, head to the benefits tab.

From here you will click to enroll in the benefit. Once enrolled, you can head to a Saks Fifth Avenue retail store or www.saksfifthavenue.com to spend your $50. If you do your spending before you enroll in the benefit, you will not receive the statement credit.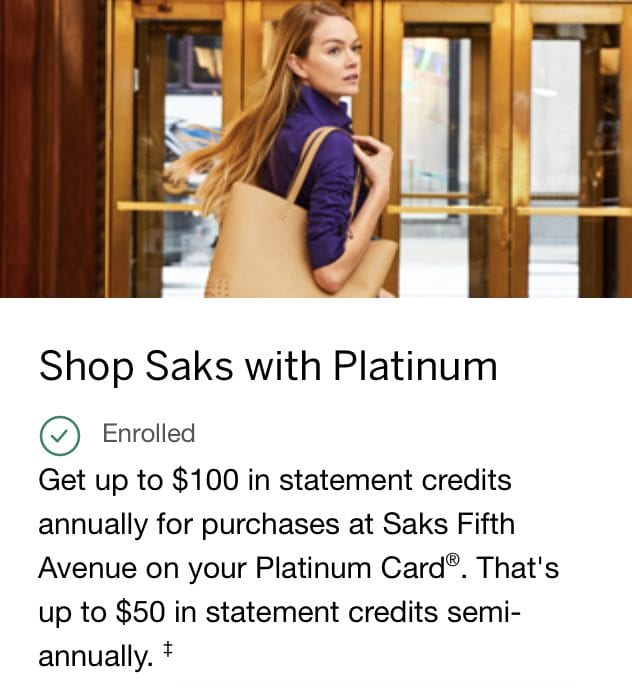 And Always make sure to first click through Rakuten (formerly Ebates) on your way to the Saks website. It is currently possible to earn an additional 11% cash back on your online purchase, or 4% back in store. Because Rakuten now allows you to earn Membership Rewards instead of cash back, you could earn 11x or 4x additional American Express Membership Rewards points instead.
That means if you spent $50 on your Amex Platinum card by first clicking through Rakuten, you would come out at least $5 ahead after getting your credit from Amex and your cashback from Rakuten.
Once you have taken these steps,  you are ready to use your $50 credit. Below, are some of our favorite Saks items costing $50 or less.
Tumi Electronic Cord Pouch
I purchased this electronic cord pouch with my first $50 Saks credit when the benefit first launched in 2018. While $35 is expensive for what this is, it is a great option for your credit as I find it to be a perfect size for everything I need to carry during my travels and fits in my backpack perfectly.
ban.do Back Me Up! Charging Cord
This iPhone Lightning charging cable is 5′ long. Making it a great option for travel as you never know where the nearest outlet will be in your hotel or Airbnb. This is also available in a rainbow color if you're feeling adventurous.
Grab the 20-ounce S'well Stone Traveler Tumbler for just $40. The bottle is triple-walled and designed for maximum insulation, leaving no condensation on the exterior. It will keep your hot drinks hot and your cold drinks cold for hours. Don't like this specific bottle? There are lots of options to choose from under $50.

S'well Travel Tumbler
Having a good water bottle for your travels is almost a necessity. Not only does it keep you hydrated on the go, but it also prevents you from buying overpriced bottles of water at the airport.
Grab the 17-ounce S'well Soft Touch Sport Geyser Stainless Steel Tumbler for just $35. The bottle is triple-walled and designed for maximum insulation, leaving no condensation on the exterior. It will keep your hot drinks hot and your cold drinks cold for hours. Don't like this specific bottle? There are lots of options to choose from under $50.
Graphic Image Leather Passport Cover
Protecting your passport during your travels is always a good idea. Being they are valid for ten years, damaging the document will ultimately cost you time and money. Grab this Graphic Image leather passport cover for only $63 before your next trip. While this item is more than the $50 Amex credit will cover, it will only be $5.50 after factoring in the 11% back from Ebates.
W&P Carry On Italian Spritz Cocktail Kit
While I would never pay $24 for these kits normally, they can make for a fun way to use your $50 Saks Fifth Avenue credit. Each TSA-compliant cocktail kit contains all the essentials you need to craft two sparkling spritz cocktails mid-flight, including a refreshing citrus cocktail syrup. Just add Prosecco (or other sparkling wine) and stir.
Looking for other cocktails? Check out all of the different options here.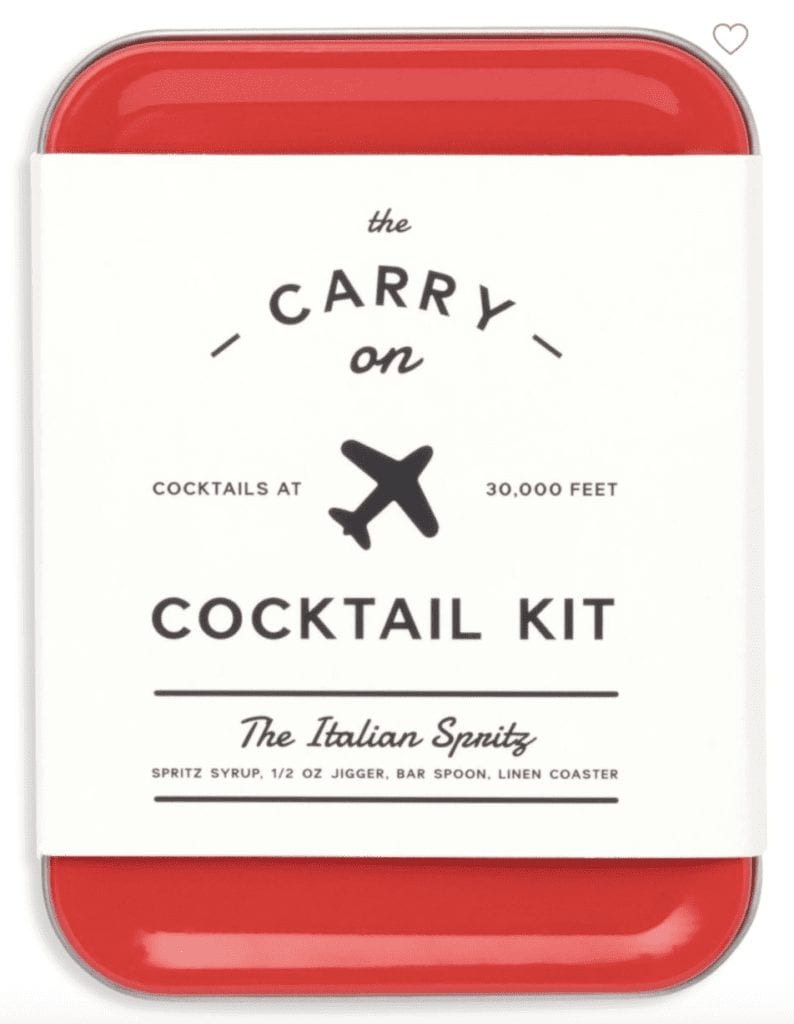 Saks Fifth Avenue Ultimate Mini Umbrella
I always travel with a small umbrella, as you just never know when you are going to need it. This mini umbrella from Saks is a great option. It is available in a handful of different colors and doesn't take up much space in my bag when it isn't fully deployed.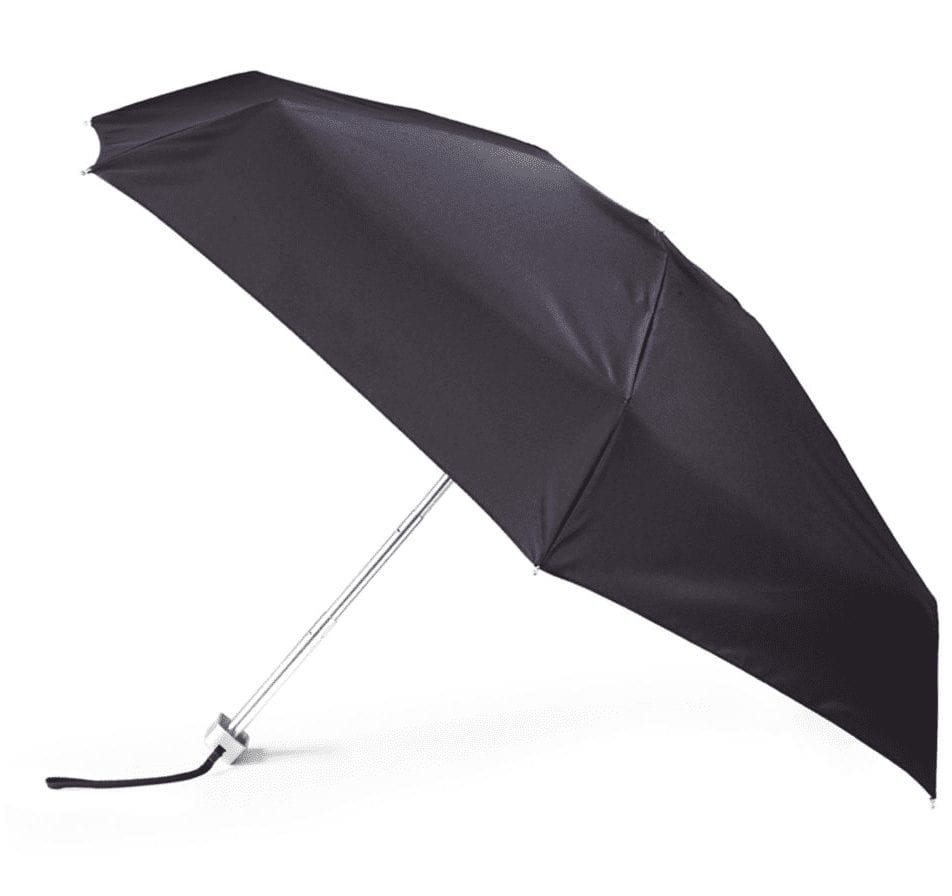 If travel pillows are your thing, this is a quick and easy way to grab one with your Amex Platinum $50 Saks Fifth Avenue Credit. Don't like this color? It is also available in a Potpourri option.

Kiehl's Facial Fuel Moisture Treatment for Men
While $28 is a lot to pay for face lotion under normal circumstances, this Kiehl's facial fuel moisture treatment for men is a great use of the Saks credit. I picked this up in the first half of 2019 with my credit and it is a great way to fight jet lag after a long-haul flight. Make sure to grab the TSA approved 2.5-ounce size.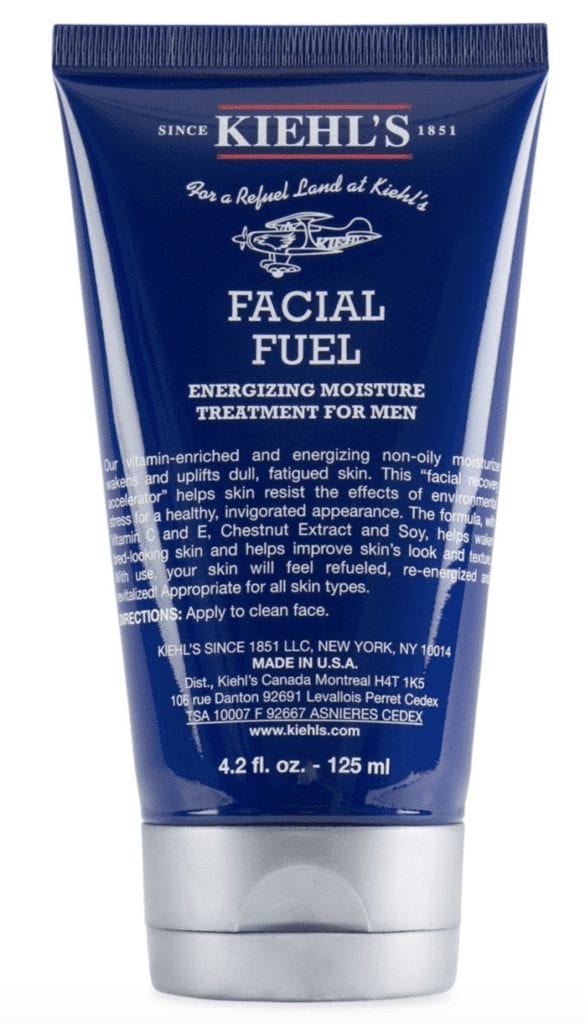 Le Creuset Cookware
While not travel related, you can score a great deal on many Le Creuset cookware items for you or the chef in your life. Le Creuset cookware is imported from France and is known for its quality. There are quite a few items for $50 or less, which you can check out below.
Buy Le Creuset Items Under $50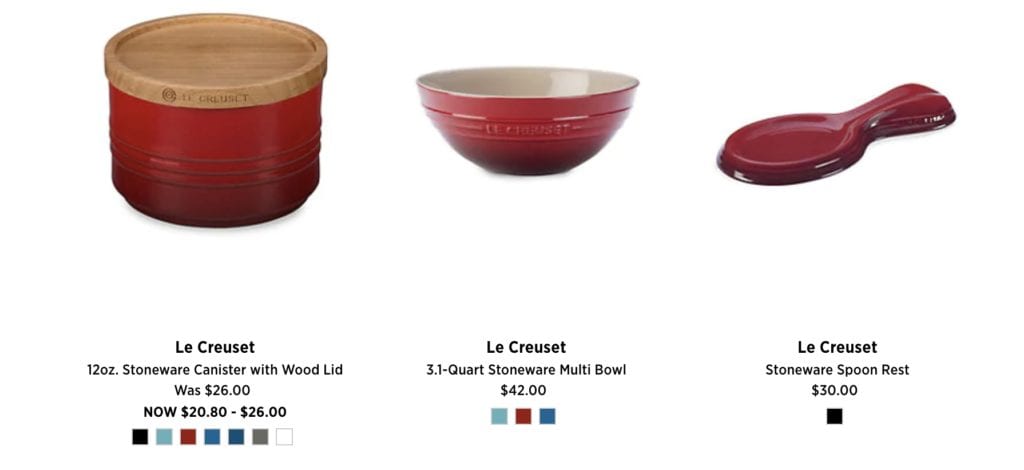 Tegu Travel Bugs Jet Plane Magnetic Wooden Toy
For the traveling kids in your life, this magnetic jet plane toy is perfect. It packs up easily and makes a great companion on a plane, restaurant, or in the car.

Bottom Line
The Saks credit offered on the Amex Platinum card is not reason enough to pick up the card. However, it is a nice benefit that you should be able to easily take advantage of. Of course, there are hundreds of items to use your credits on and these are just a few of our personal favorites.
Make sure to use yours up each year between January and June and again in July through December. The credit won't roll over so you will lose it if left unused.