Aeroplan is the loyalty program of Canada's flag carrier Air Canada … but it's also one of the best airline loyalty programs, period. With straightforward award pricing and an easy-to-use site, it's often the best way to book flights on nearly 50 airlines, from Star Alliance carriers like United, Lufthansa, and Turkish to awesome partners like Emirates and Etihad.
It's one of the few airline mileage programs that seems to get better over time – not worse. A massive overhaul back in late 2020 came with many upsides (and a few downsides), including eliminating egregious cash surcharges of $300-plus when redeeming miles, adding a stopover to your award ticket for a small mileage fee, and even allowing members to pool their points together.
And while we've seen small increases in award rates on some long-haul flights over the years, Aeroplan is still looking like a strong option – especially after United's latest devaluation. Whether you're booking a flight from the mainland U.S. to Hawaii or an ultra-long-haul business class suite to the Middle East, Aeroplan is often your best bet.
Don't fly Air Canada? No worries, it's super easy to earn the points you need to book through Aeroplan with top travel credit cards like the Chase Sapphire Preferred® Card, American Express® Gold Card, or Capital One Venture X Rewards Card.
There's plenty of value in using Aeroplan points to book flights near and far. So let's dig into how to earn Aeroplan points, how they price awards, and how you can squeeze even more value out of Air Canada's mileage program.
The Basics of Air Canada's Aeroplan Loyalty Program
If you don't already have a frequent flyer account with Air Canada, it's quick and easy to sign up for a free Aeroplan account on its website. Once you do so, you'll unlock one of our favorite ways to book flights on dozens of airlines around the globe.
Before we get into that, here are a few reasons Aeroplan stands out compared to other Star Alliance airline programs such as Avianca LifeMiles, Turkish Airlines Miles & Smiles, and United MileagePlus.
Why We Love Aeroplan
User-Friendly Website: Air Canada's website makes it easy to search and book flights with Aeroplan points. It allows you to fine-tune your search by filtering airlines, number of stops, duration, and more. The one feature it lacks is a flexible calendar search, but the fact that the site is quick and easy to use makes this a plus for Aeroplan.
Many Airline Partners: Since Air Canada is part of the Star Alliance, you'll be able to book flights on several different airlines like United, Swiss, and Singapore. But Air Canada takes this a step further with non-alliance partnerships with airlines such as Emirates, Etihad, and Bamboo Airlines.
No Fuel Surcharges: You don't have to worry about exorbitant taxes and fees when booking with Aeroplan. While you'll be on the hook for a small booking fee, you can book any partner airline without shelling out a ton of cash on top of your miles.
Stopovers: For just 5,000 extra points, you can stop for a few days in a connecting city on your way to your final destination. Best of all, you can do this on one-way award tickets and can even book these online.
Flexible Change/Cancellation Policy: Book in advance without much stress since you can change your award ticket for a ~$75 change fee or cancel and get your miles back for a ~$115 fee. Aeroplan also offers an option to use more points when booking in exchange for free changes or cancellation.
Family Perks: Aeroplan allows you to add an infant to your international award ticket for ~$20 or 2,500 points, far less than others charge. Traveling in Canada or the U.S.? It's free. You can also share your points with up to eight family members for free.
Instant Points Transfers: You don't need to worry about award availability disappearing while waiting for your points to transfer. All points from Aeroplan's bank partners transfer instantly.
Related: 5 Tips for Surviving a Long-Haul Flight with an Infant
Air Canada Aeroplan Partner Airlines
Of course, you can fly Air Canada using Aeroplan points, but you've got plenty of other options: Aeroplan has more airline partners than any other carrier. And that means you can use your Aeroplan points to book flights on almost all of them.
It starts with the Star Alliance, of which Air Canada is a member. With a total of 26 members, it's the largest airline alliance in the world.


Perhaps what sets Aeroplan apart from other Star Alliance frequent flyer programs is that you can now book long-haul business class awards flying Singapore Airlines – and it can be a bargain!
That's unique: Singapore prohibits most other partner programs from booking its best seats on flights to or from the U.S. Unfortunately, you can't book Singapore First Class with Aeroplan, but Singapore Airlines business class is still a treat.
Here are all 26 Star Alliance airlines you can book with Aeroplan points:
Aegean
Air Canada
Air China
Air India
Air New Zealand
All Nippon Airways (ANA)
Asiana Airlines
Austrian Airlines
Avianca
Brussels Airlines
Copa Airlines
Croatia Airlines
Egyptair
Ethiopian Airlines
Eva Air
LOT Polish Airlines
Lufthansa
Scandinavian Airlines (SAS)
Shenzhen Airlines
Singapore Airlines
South African Airways
Swiss International Air Lines
Tap Air Portugal
Thai Airways
Turkish Airlines
United Airlines
But the list of partners is even longer: Air Canada has a ton of partnerships with carriers outside the Star Alliance. This includes airlines like Air Mauritius, Azul Brazilian Airlines, Emirates, Etihad, Oman Air, Virgin Australia, and more. You can redeem Aeroplan points to fly on the majority of its partner airlines, but some agreements only allow you to earn points when flying those airlines.
To check if you can fly on a partner airline using Aeroplan points, click the "More details" tab on Aeroplan's partner airline page and look for the sentence stating "You can redeem Aeroplan points for flights across the airline's network."
Aeroplan Award Charts
Aeroplan sets award rates differently from most other airlines, and that can be a win for using these points.
Many airlines use a zone-based award chart, which determines how many miles you need to fly from point A to point B based on where you're flying to and from. And some use a distance-based award chart, where the amount of miles needed is determined by how many miles you actually fly from point A to point B.
Air Canada's points program is essentially a hybrid of the two. For travelers in North America, there are five distinct award charts.
Flights within North America (U.S., Canada, Mexico, Central America, and the Caribbean)
Flights across the Atlantic Ocean (Europe, Africa, Middle East, and India)
Flights across the Pacific (Asia and Oceania)
Flights to South America
Flights on Emirates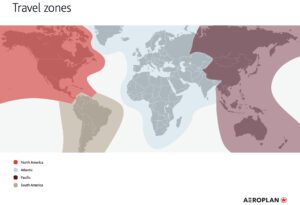 From there, it's divvied up into a distance-based chart. For example, the longer your flight from North America to Europe, the more it may cost you in miles. And Aeroplan will also charge different amounts based on whether you're flying Air Canada or one of its partner airlines.
All charges are for one-way flights, so when referencing the award charts below, just double it for a roundtrip.
Flights within North America
Air Canada defines travel within North America to include flights from Canada and the U.S. to as far south as Panama. The further your flights, the more it will cost you. And within that, the airline you are flying will also determine the cost.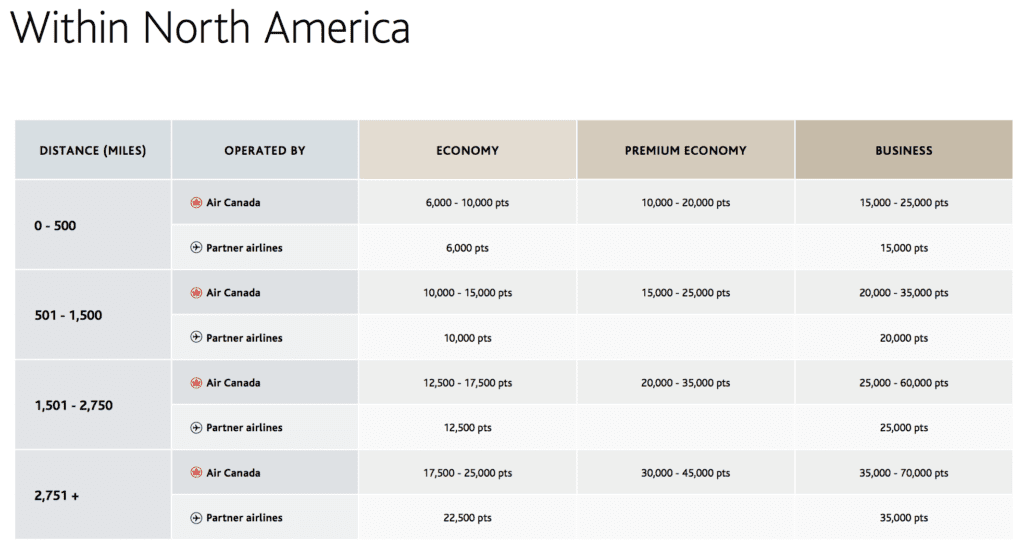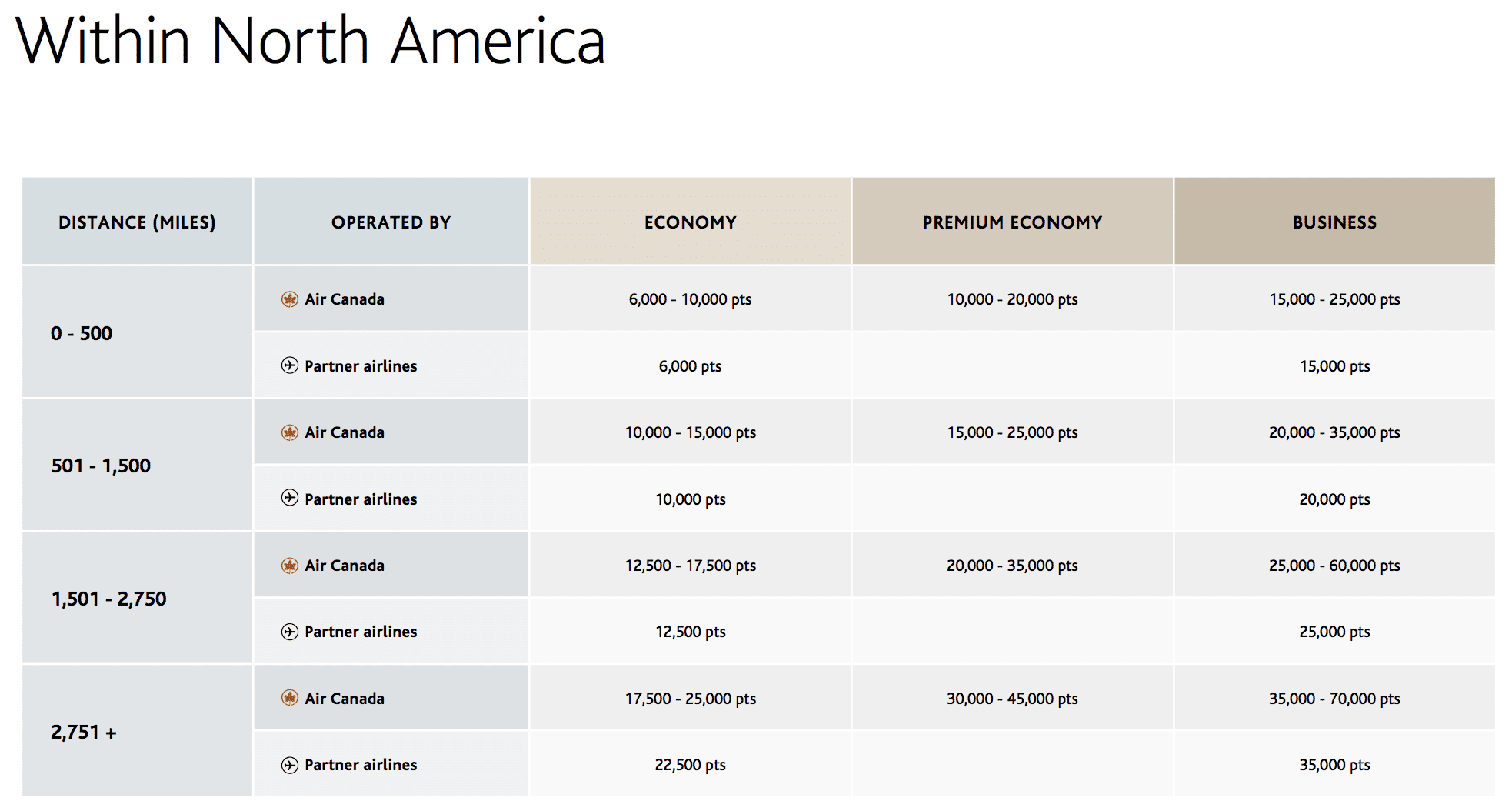 So if you are looking to fly United Airlines, a Star Alliance partner airline, between Minneapolis-St. Paul (MSP) and Chicago O'Hare (ORD) – which measures in at 334 miles – that flight would always cost 6,000 Aeroplan miles each way in economy. Just keep in mind you need to find award availability, otherwise you may see nothing at all when searching the Air Canada site.
Thrifty Tip: Not sure how long your flight is? Plug your route into GCmap.com!
But let's say you're looking to fly from Minneapolis-St. Paul (MSP) to Toronto (YYZ) – a flight operated by Air Canada. When using Aeroplan points to fly Air Canada itself, the price will vary.
Welcome to the world of dynamic award pricing. Because Air Canada can control the price of its own flights, Air Canada award rates will vary based largely on the cash price of the flight. The more the flight costs, the more points you will likely need. It's similar to how Delta SkyMiles work – though Air Canada hasn't gone quite that far.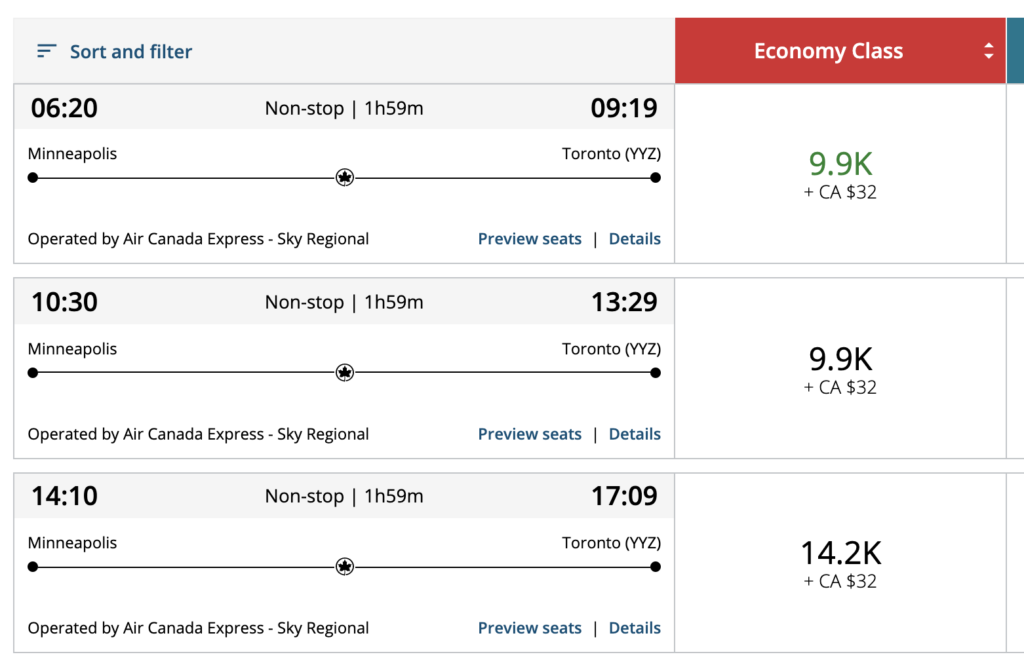 Travel Between North America and the Atlantic
Heading to Europe, the Middle East, or Africa? You're in the right place.
Once again, the amount of points you need to book a flight is determined by the distance you are traveling. And partner awards are going to be far more stable (and almost always cheaper) than flights with Air Canada, which have a dynamic pricing structure largely based on the cash pricing of the flight.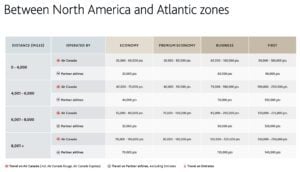 For example, a Turkish Airlines flight from Chicago-O'Hare (ORD) to Istanbul (IST) clocks in at 5,473 miles each way. That means it'll cost you 40,000 points for a one-way trip in economy or 70,000 points for Turkish Airlines business class.
Flying from the West Coast? You may have to pony up to 90,000 points each way. This is one of the biggest downsides to Aeroplan: The longer your flight, the more miles it'll cost. This means you may find better deals with other Star Alliance programs, such as Avianca LifeMiles or United MileagePlus when flying from the West Coast to Europe.
Travel Between North America and Pacific Zones
Heading West to Asia or Australia? Since the Pacific is a larger body of water than the Atlantic, Aeroplan allows you to fly longer distances for your miles when flying to places like Australia, Bali, Japan, or Thailand.
When flying partner airlines like ANA, EVA Air, Singapore Airlines, or United, you'll typically need 75,000 to 87,500 points to fly business class each way.
Travel Between North America and South America
If you're flying to South America, shorter flights under 4,500 miles to places like Colombia, Ecuador, or Peru will mostly cost 30,000 points each way in economy or 50,000 in business class. Although, if you're connecting from the West Coast, you may need to pay more.
Flying deeper into South America to destinations such as Argentina, Brazil, or Chile? Expect to pay 40,000 points for economy or 60,000 points for business class each way from most cities.
Booking Emirates Flights with Aeroplan
Aeroplan turned many heads when it announced a new partnership with Emirates in late 2022. When it launched, it was an incredible deal because the rates followed the award charts above.
However, this was a short-lived sweet spot: Aeroplan introduced a separate award chart, specific for flying Emirates, in early 2023. Here's what it looks like now.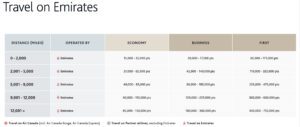 While you won't pay any high fuel surcharges when booking Emirates flights with Aeroplan points, you'll potentially have to shell out a lot more points compared to what Emirates charges using its own Skywards miles.
All of Emirates' nonstop flights between North America and its hub in Dubai (DXB) fall in the 5,001 – 9,000 miles of distance band. Looking at the chart, it could cost up to 185,000 points one-way for business class, or up to 475,000 in first class.
However, you'll typically find the following rates to fly Emirates nonstop between North America and Dubai when redeeming Aeroplan points depending on the departure city. Expect to pay ~$60 one-way or $160 roundtrip in taxes and fees regardless of which cabin you fly.
Economy: 45,000 or 55,000 points one-way
Business: 100,500 to 121,500 points one-way
First: 263,000 to 326,000 points one-way
While the rates to fly Emirates First Class are through the roof, flying economy or business class isn't so bad when you figure in the much lower cash bill compared to booking the same flights with Emirates itself. Those fees can reach over $1,700 when redeeming Emirates Skywards miles.

Aeroplan Sweet Spots: How to Redeem Points for Max Value
The Aeroplan award chart is incredibly valuable and provides a lot of opportunities for both short-haul economy flights (think United Airlines) and also international premium-cabin business and first class seats.
Here are some of our favorite ways to put Aeroplan points to use.
Domestic Economy Flights from 6K One-Way
Short-haul flights under 500 miles will cost 6,000 Aeroplan points each way on a partner airline – and up to 10,000 points with Air Canada. That's a small but lucrative sweet spot.
This can be a great way to book domestic United Airlines flights as they will cost just 12,000 points roundtrip, even if United itself is charging far more miles for the exact same flights.
Longer flights will price out between 10,000 and 12,500 miles each way, which is largely the standard with other programs. Remember to use GCmap.com and type in your airports to find the one-way flight distance.

Transcontinental Business Class Flights on United for 25K
Another solid value for using Aeroplan to book domestic flights is to fly United Polaris business class on transcontinental flights. These can be booked for 25,000 miles each way. However, it can be incredibly difficult to find the award availability on these routes.
Your best bets for these routes are flying between Newark (EWR) and either San Francisco (SFO) or Los Angeles (LAX).

Fly to Hawaii for 25K RT in Economy (or one-way in First)
Most airline award charts treat Hawaii separately from the mainland. Not Aeroplan. And that opens a massive sweet spot.
You can book a one-way flight for as low as just 12,500 miles in economy. That's often lower than what United charges but United's rates can vary wildly.
Still, due to Aeroplan's distance-based pricing model, you'll need to fly from the West Coast for the lowest rates. So your best bet is looking for flights from Los Angeles (LAX) or San Francisco (SFO) flying United Airlines.
On the plus side, it's generally easy to find the availability to book these economy awards if you book at least a few months in advance.
Want to fly up front? Just double the price. It's 25,000 points each way for these shorter flights in first class from the West Coast to all the Hawaiian islands. That's half what United charges and tough to beat.
But … it's also nearly impossible to find the award availability unless you're a spontaneous traveler who can pick up and fly to Hawaii on a whim. You'll generally only be able to book United first class to Hawaii using Aeroplan points for extremely last-minute travel – like booking in the morning and flying in the afternoon or evening.
Fly to Europe in Business Class from 60K One-Way
When Aeroplan overhauled its program a few years back, possibly the best news of all came to those looking to book a business class seat to Europe.
Since Aeroplan eliminated fuel surcharges altogether, you can fly any of Air Canada's partner airlines to Europe with only minimal taxes and fees on top of your miles – roughly $60 one-way when departing from the U.S. Fees vary by city when returning from Europe but you won't see anything too exorbitant.
This makes Aeroplan one of the best ways to book flights on airlines like Austrian Airlines, Lufthansa, and Swiss business class, which can require hefty fees north of $1,000 when booking with other Star Alliance programs such as ANA Mileage Club or Turkish Miles & Smiles. And after United increased its award pricing recently, Aeroplan is now an excellent way to book United business class for less.
Nonstop flights from the East Coast start at just 60,000 points one-way in business class plus ~$60 in fees like this flight from New York (JFK) to Geneva (GVA) flying Swiss.

Longer flights require more miles but you'll be able to book for 70,000 points one-way from several cities in the Midwest, like this flight from Chicago (ORD) to Munich (MUC) flying United Polaris business class. For comparison, United now charges at least 80,000 miles for the same exact flight.

Lufthansa First Class from 90K One-Way
If you can find the award space (no easy task – you can typically only book within just two weeks of departure), booking Lufthansa first class can be a real sweet spot.
Depending on the length of your flight, it can be booked for either 90,000 or 100,000 points each way. That's not the lowest rate you'll ever find, but it's competitive.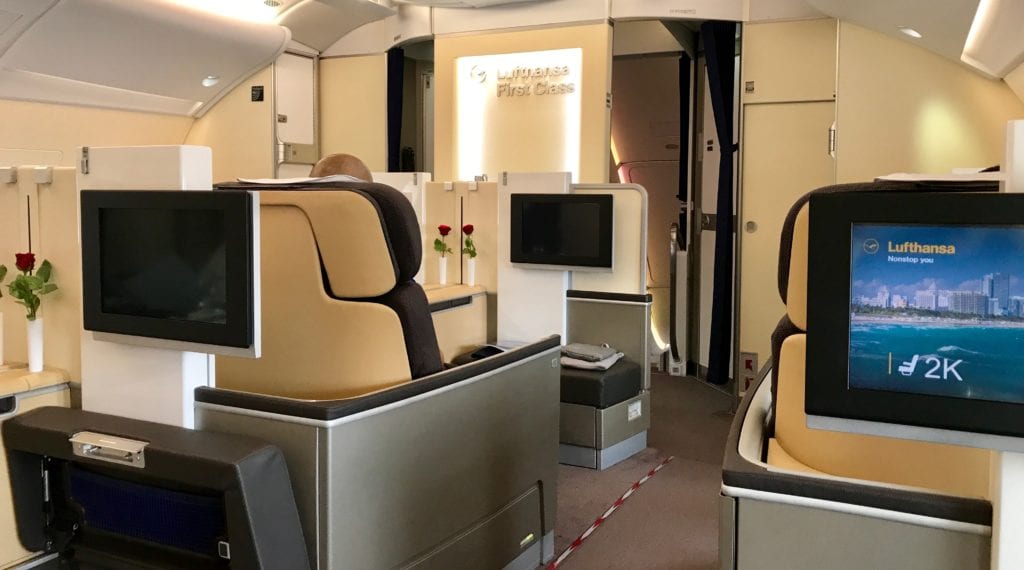 Read more: Lufthansa First Class Was Spectacular … But I'll Never Fly it Again
Fly to Asia from 35K in Economy or 55K in Business One-Way
Aeroplan points can be a great way to get to Asia on the cheap as well. Award rates haven't changed much in years – we've only seen modest increases and some flights even got cheaper a few years back.
Booking partner awards will start at 35,000 points each way in economy and just 55,000 each way in business class.
These incredible rates will only be available for routes under 5,000 miles in distance. This means you'll only see these prices on routes from the Pacific Northwest or Hawaii to North Asia, like this flight from Seattle (SEA) to Tokyo (HND) flying All Nippon Airways, also known as ANA.

If you're traveling a little further, you can fly EVA Air business class starting from 75,000 points each way. Yes, EVA Air is the airline that operates the Hello Kitty plane.
Most business class flights to Asia will max out at 87,500 miles each way, which is a pretty amazing deal compared to what United is now charging for some of these same flights.
Perhaps the best deal in this price range is booking Singapore Airlines business class nonstop to Singapore on the longest flight in the world from New York City. Singapore charges at least 111,500 miles to book these same flights and Aeroplan is the only Star Alliance partner which is able to book these flights in Singapore Airlines business class.

ANA First Class from 90K Each Way
This one is surely a unicorn but it's a stellar deal nonetheless. Sure, booking ANA First Class with Virgin points is a better deal but it requires you to call to book and you'll also be on the hook for higher fees.
If you prefer to save on fees and book online, booking ANA First Class with Aeroplan will often be your best bet. It will price out at 90,000 or 110,000 miles each way depending on your departure city.
Read our full review of ANA first class from Chicago to Tokyo. 
How to Book Flights via Aeroplan
Booking flights with Aeroplan points on Air Canada's website is fairly simple. The only major drawback is that there isn't a calendar search to give you a full month's view of rates at once.
For this reason, we usually recommend seeking out award availability using United's award search first and then plugging in the exact dates you find on United's website into Air Canada's search. However, this only works for Star Alliance airlines and other shared partners which you can search for on United. If you're trying to book flights on airlines like Etihad or Emirates, you'll need to search day by day directly on Air Canada's site.
Once you're ready to book, simply select the "Book with points Aeroplan" checkbox when searching for flights on AirCanada.com. And make sure to choose the total number of passengers traveling.
Once you land on the search results page, you'll have plenty of options to narrow down your search in order to find the flights you're looking for. You can sort and filter by cabin, number of stops, airlines, connecting airports, and more.
Only want to see business class fares? Choose the "More options" filter and select "Business Class only" from the dropdown. You can also choose to display the aircraft type in the search results among other filters.
Mixed Cabin Awards
If you're booking connecting flights and hoping to fly business class on the longer flight with a short connecting flight in economy, you'll want to be careful when choosing flights.
These "mixed cabin" awards will show up in the "Business Class" column but you'll want to avoid these if the words "Mixed cabin" are red in color.
If you hover over the "Mixed cabin" text, it will tell you what percentage of your trip will be in business class. You can also add the visual bar under the "More options" filter – or choose to exclude mixed cabin awards.
When choosing which fare you'd like to book, it will tell you which flight is in economy class. In this example, you'd be flying business class on just the short flight from Chicago to Montreal (YUL) and economy on the long flight from Montreal to Zurich (ZRH). No bueno.
An example of where you'd want to book a mixed cabin award is taking a short domestic flight in economy with a connection in business class on the long flight to Europe. For these, you'll see "Mixed cabin" in black letters.

The top example is flying United from Duluth (DLH) to Chicago in economy, with a connection flying Swiss business class to Zurich for just 70,000 points one-way. That's a heck of a deal. Plus, it's often unavoidable to book this type of mixed cabin award when trying to fly from smaller airports connecting to a business class flight across the pond.
Booking Stopovers
Aeroplan lets you add a stopover to your itinerary for just 5,000 more points. You can even do this on a one-way ticket, which opens up opportunities to see additional cities on your way to or from your destination (or both).
Until recently, you had to book these over the phone, but you can now book some stopover trips online. To do so, choose the "Multi-city/Stopover" option when searching for flights and then click the text that says "Add stopover for flight 1."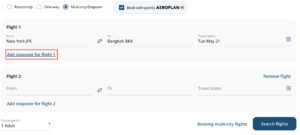 You'll then enter your stopover city and the number of days you'd like to spend in that city. For example, if you're looking to fly Singapore Airlines from New York City (JFK) to Bangkok (BKK), it might be nice to break up the journey with a few days in Singapore (SIN) on the way.

This presents a pretty incredible value to fly the longest flight in the world, stopover in Singapore, and then continue onward to Thailand a few days later for just 92,500 points in business class.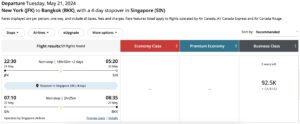 How to Earn Air Canada Aeroplan Points
Of course, you can earn Aeroplan points by flying Air Canada or a partner airline and crediting your miles to your Aeroplan account. But the easiest way to stack up a ton of points is by earning some transferrable credit card points.
Luckily, Air Canada's Aeroplan program is a transfer partner of most major bank points, including Amex Membership Rewards, Bilt Rewards, Chase Ultimate Rewards, and Capital One Venture miles. Here are some of our favorite cards to earn some Aeroplan points.
We love the Capital One Venture X Rewards card. It's truly one of the best cards out there for travelers. Currently, you can earn 75,000 Venture Miles after spending just $4,000 in the first three months of opening the card.
Considering you earn at least 2x for every dollar you spend on the Venture X Card, you'll earn a total of at least 83,000 points, which can be transferred instantly to Aeroplan. That alone is enough to fly business class from much of the U.S. to Europe.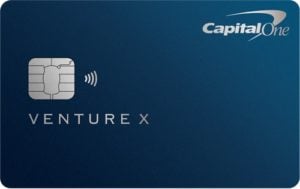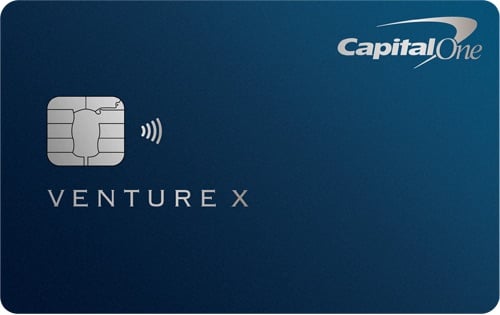 Click Here to learn more about the Capital One Venture X Rewards Credit Card.
The American Express® Gold Card is currently offering a 60,000-point welcome bonus after spending $4,000 in the first six months. And you may be able to qualify for a whopping 75,000-point welcome bonus using CardMatch.
Beyond that bonus, this card is easily one of the best all-around travel cards on the market thanks largely to an unbeatable 4x return on an unlimited amount of spending at restaurants and 4x points on up to $25,000 a year spent at U.S. supermarkets – and 1x points after that.
Click Here to learn more about the American Express Gold Card.
If you're just starting out with points and miles, we consider the Chase Sapphire Preferred® Card the best travel rewards credit card for beginners. You can currently earn a welcome bonus of 60,000 Chase Ultimate Rewards points after spending $4,000 in the first three months.
And with 3x points per dollar spent for dining and 2x points for travel purchases, it's really easy to rack up a ton of Chase points that can be instantly transferred to Aeroplan.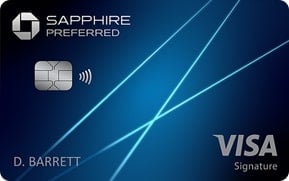 Click Here to get more information about the Chase Sapphire Preferred Card. 
Chase also has a co-branded Air Canada credit card dubbed the Aeroplan® Credit Card which allows you to earn up to 100,000 points in your first year of card membership for a limited time.
Finally, if you have Marriott Bonvoy points, they can also be turned into Air Canada Aeroplan miles at a ratio of 3:1 (3 Marriott Bonvoy points equals 1 Aeroplan mile). You're usually better off keeping those points for hotels, but it can be a good way to top off your points for redemption when needed.
Read more: The Master List of Credit Card Transfer Partners
Bottom Line
Aeroplan is a fantastic program that provides a ton of value for domestic short-haul trips and international travel to Europe, Asia, the Middle East, and beyond. Better yet, the miles are incredibly easy to earn.
Air Canada's Aeroplan is one of our go-to programs to book award tickets flying Star Alliance airlines – as well as other unique partner airlines. Especially after United massively increased its award rates, don't overlook Aeroplan when planning your next big trip.
Lead photo courtesy of Air Canada