Aeroplan is the loyalty program of Canada's flag carrier Air Canada, and it's been a favorite among points and miles aficionados for years. Their miles have been fairly easy to earn, and a great way to book flights on Star Alliance airlines like United, Lufthansa, Turkish, EVA Air, ANA, and countless more.
Then in November 2020, Aeroplan made some huge changes to their award program, with some upsides and downsides. Eliminating egregious cash surcharges and allowing members to pool their points together was a big plus. Unfortunately, that was coupled with some mild-to-substantial increases to award rates – especially when booking first and business class awards.
Still, there's plenty of value using Aeroplan points to book flights near and far. So let's dig into how to earn Aeroplan points, how they price awards, and how you can squeeze even more value out of Air Canada's mileage program.
How to Earn Air Canada Aeroplan Points
First things first: To redeem Aeroplan points, you need some points first. And thanks to flexible credit card points, they are very easy to earn.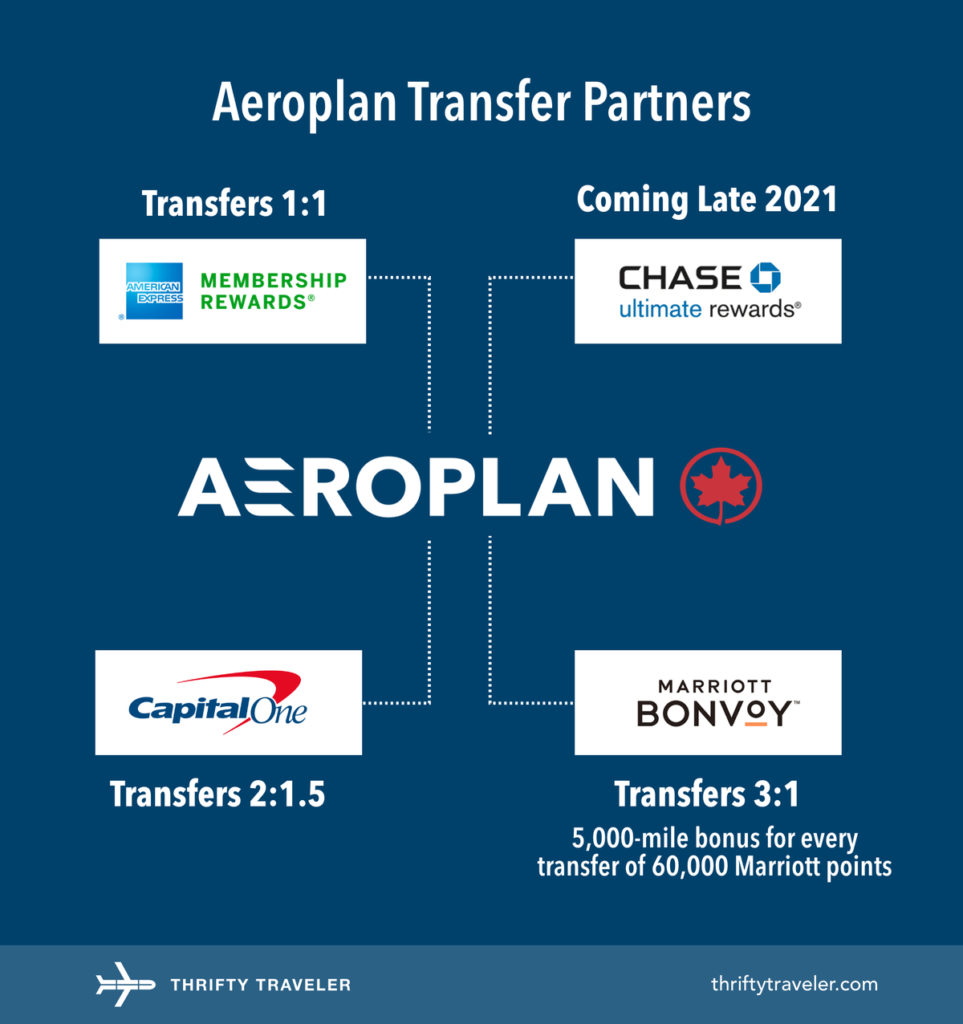 You can transfer American Express Membership Rewards points, the points you earn from cards like the Platinum Card® from American Express or the American Express® Gold Card to Aeroplan on a 1:1 basis. That means 1 Amex point gets you 1 Aeroplan point.
Have Capital One Venture Miles? They to can be transferred to Aeroplan – but it's not as beneficial. For every 2 Capital One Venture Miles you transfer, you'll receive 1.5 Aeroplan points. So if you transfer 50,000 Capital One Venture miles to Aeroplan, you would end up with 33,333 Aeroplan points.
Chase Ultimate Rewards recently added Aeroplan as a transfer partner – again, with points transferring on a 1:1 basis. That means you can turn the points you earn from cards like the Chase Sapphire Preferred® Card or the Chase Sapphire Reserve® into Aeroplan points.
Last but not least, Chase also has a co-branded Air Canada credit card dubbed the Aeroplan® Credit Card which allows you to earn two welcome flight rewards (worth up to 100,000 Aeroplan miles) after you spend $4,000 in the first 3 months of card membership.
Finally, if you have Marriott Bonvoy points, they can also be turned into Air Canada Aeroplan miles at a ratio of 3:1 (3 Marriott Bonvoy points equals 1 Aeroplan mile). But Marriott goes a bit further by adding a 5,000-mile bonus for every transfer of 60,000 Marriott points (20,000 Aeroplan miles).
Read more: Thrifty Traveler's Master List of Credit Card Transfer Partners.
The Basics of Air Canada's Aeroplan Loyalty Program
Many airlines use a zone-based award chart, which determines how many miles you need to fly from point A to point B based upon where you are flying. And some use a distance-based award chart, where the amount of miles needed is determined by how many miles you actually fly from point A to point B.
Air Canada's points program is essentially a hybrid of both.
For travelers in North America, there are four distinct award charts for travel. Within North America, flights across the Atlantic Ocean (Europe and the Middle East), flights across the Pacific (Asia and Oceania), and flights to South America.
From there, it's divvied up into a distance-based chart: the longer your flight from North America to Europe for example, the more it may cost you in miles. And Aeroplan will also charge different amounts based upon whether you're flying Air Canada or one of its partner airlines. All charges are for one-way flights, so when referencing the award charts below, just double it for a round-trip.
Flights within North America
Air Canada defines travel within North America to include flights from Canada and the U.S. to as far south as Panama. The further your flights, the more it will cost you. And within that, the airline you are flying will also determine the cost.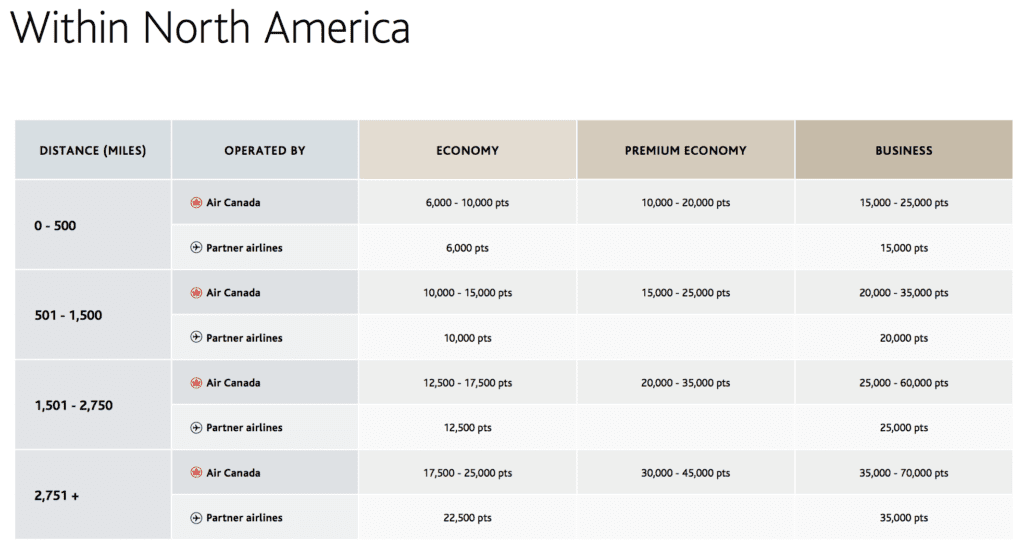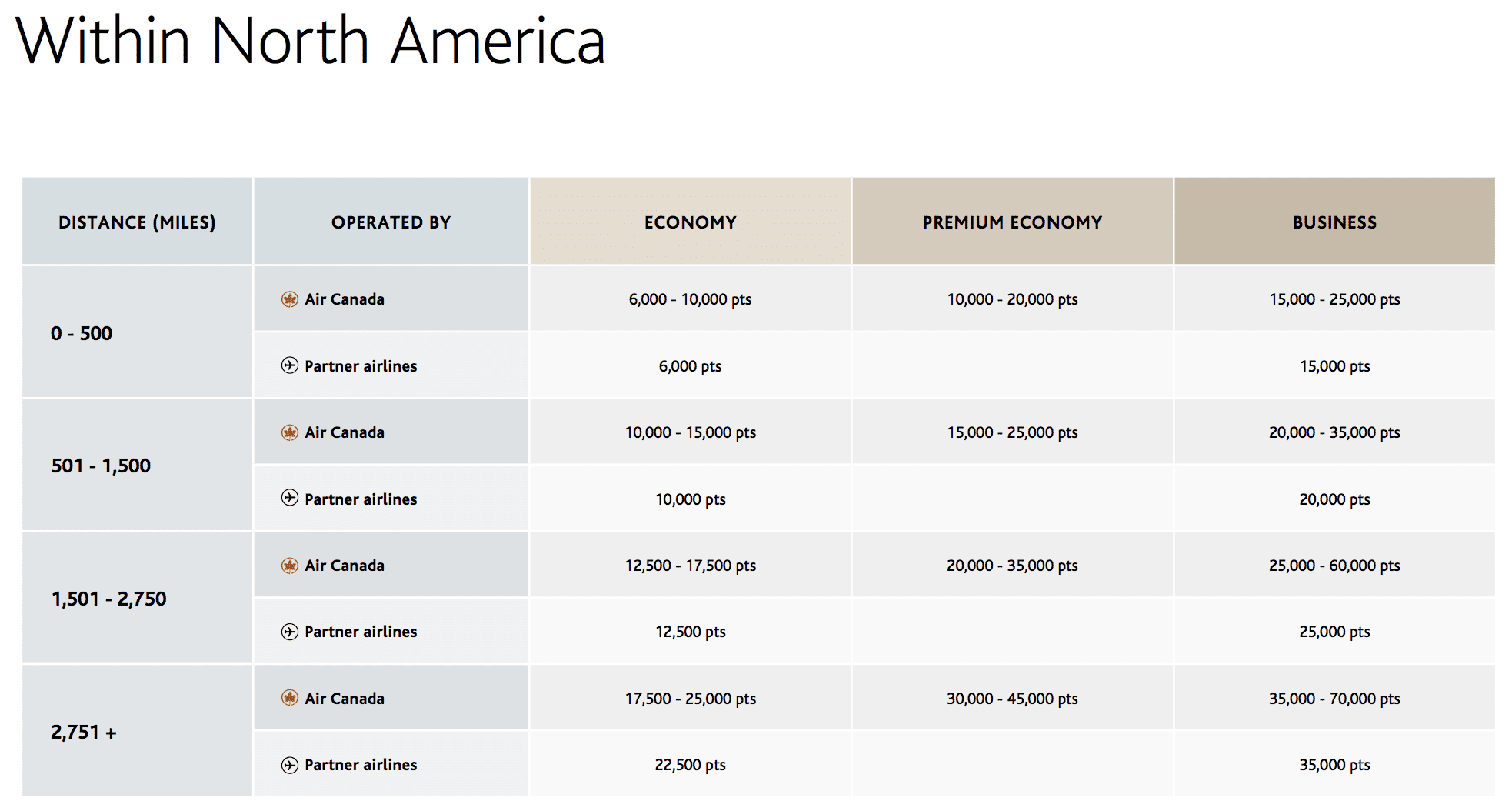 So if you are looking to fly United Airlines, a Star Alliance partner airline, between Minneapolis-St. Paul (MSP) and Chicago O'Hare (ORD), that flight would always cost 6,000 Aeroplan miles each way in economy – assuming you can find award availability.
Thrifty Tip: Not sure how long your flight is? Plug your route into GCmap.com!
But let's say you're looking to fly from Minneapolis-St. Paul (MSP) and Toronto (YYZ) – a flight operated by Air Canada. When using Aeroplan points to fly Air Canada itself, the price will vary.
Welcome to the world of dynamic award pricing. Because Air Canada can control the price of its own flights, Air Canada award rates will vary based upon the cash price of the flight. The more the flight costs, the more points you will likely need. It's similar to how Delta SkyMiles work – though Air Canada hasn't gone quite that far.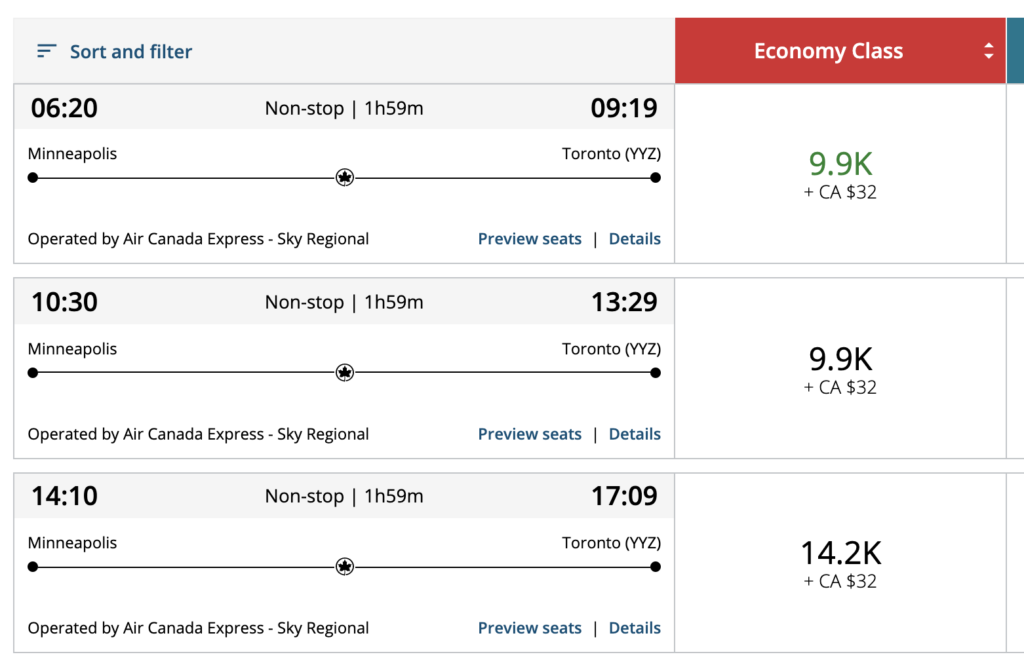 Travel Between North America and Atlantic
Heading to Europe, the Middle East, or Africa? You're in the right place.
Once again, the amount of points you need to book a flight is determined by the distance you are traveling. And partner awards are going to be more stable as flights with Air Canada will have a dynamic pricing structure largely based on the cash pricing of the flight.
For example, a Turkish Airlines flight from Chicago-O'Hare (ORD) to Istanbul (IST) clocks in at 5,473 miles each way. That means it will cost you 40,000 points for a one-way trip in economy or 70,000 points in business class.
This is one of the biggest downsides to Aeroplan's overhaul. Previously, you could fly from anywhere in the U.S. to Europe in business class for just 55,000 miles. Today, those flights now cost at least 60,000 points – and as much as 85,000 points if you depart from the West Coast.
Travel Between North America and Pacific Zones
Heading West to Asia or Australia?
Travel Between North America and South America

Redeeming Aeroplan Points for Maximum Value
While there are some negative changes in how Aeroplan now prices awards, there's still tremendous upside – especially if you're looking to fly a partner carrier.
The Aeroplan award chart is incredibly valuable and provides a lot of opportunity for both short-haul economy flights (think United Airlines) and also international premium-cabin business and first-class seats.
Here are some of our favorite ways to put Aeroplan points to use.
Short-Haul Domestic Economy Flights
Short-haul flights under 500 miles will cost 6,000 Aeroplan points each way on a partner airline – and up to 10,000 points with Air Canada. That's a small but lucrative sweet spot.
This can be a great way to book short-haul United airlines flights as they will cost just 12,000 round trip.

Longer flights will price out between 10,000 and 12,500 miles, which is largely the standard with other programs. Remember to use GCmap.com and type in your airports to find the one-way distance.
Transcontinental Business Class Flights on United Airlines
Another solid value for using Aeroplan to book domestic flights is booking transcontinental business-class flights on United Airlines. These can be booked for 25,000 miles each way (50,000 miles roundtrip).
Even better, United runs their fancy new 787-10 Dreamliner planes equipped with the new United Polaris business class seats. But be warned: You may need to be flexible to find award space on these routes.
Your best bets for these routes are Newark (EWR) to either San Francisco (SFO) or Los Angeles (LAX).

Fly to Hawaii for 25K RT – or in First for 50K
Most airline award charts treat Hawaii separately from the mainland. Not Aeroplan. And that opens a massive sweet spot.
Still, due to Aeroplan's distance-based pricing model, you'll want to start from the West Coast. So your best bet is looking for flights from Los Angeles (LAX) or San Francisco (SFO) flying United Airlines.
You can book a one-way flight for just 12,500 miles in economy – roughly half of what United itself would normally charge.
Want to fly up front? Just double the price. It's 25,000 points for these shorter hops in First Class from the West Coast to all the Hawaiian islands. That's tough to beat.
Fly from the U.S. to Europe
Historically, flying to Europe has been one of the best ways to use Aeroplan – be it in economy, business, or first class. And that hasn't changed.
Let's start with the good news: Since overhauling the program, Aeroplan has eliminated fuel surcharges. These additional fees could tack on huge costs for award tickets to Europe on carriers like Lufthansa or Austrian Airlines, to name a few. We're talking hundreds of dollars – if not a $1,000 – in addition to your miles. Instead, you'll pay a flat partner award fee of $39 CAD (about $29 USD) plus some small taxes and fees – at least on most flights.
So while it now costs a few more miles to book Europe flights with Aeroplan miles than beforehand, you won't be paying nearly as much in cash.
And when it comes to getting to Europe, you will generally be paying 35,000 to 40,000 points each way in economy and 60,000 to 70,000 each way in business class if you are booking with Air Canada partners – and often much more if you are flying with Air Canada.
If you can find flights on Swiss, Lufthansa, or Turkish Airlines, some of Air Canada's Star Alliance partners, that will be your best bet.
If you can find the award space (no easy task, as you can typically only book within just two weeks of departure), booking Lufthansa first class can be a real sweet spot. Depending on the length of your flight, it can be booked for either 90,000 or 100,000 points each way. That's not the lowest rate you'll ever find, but it's competitive.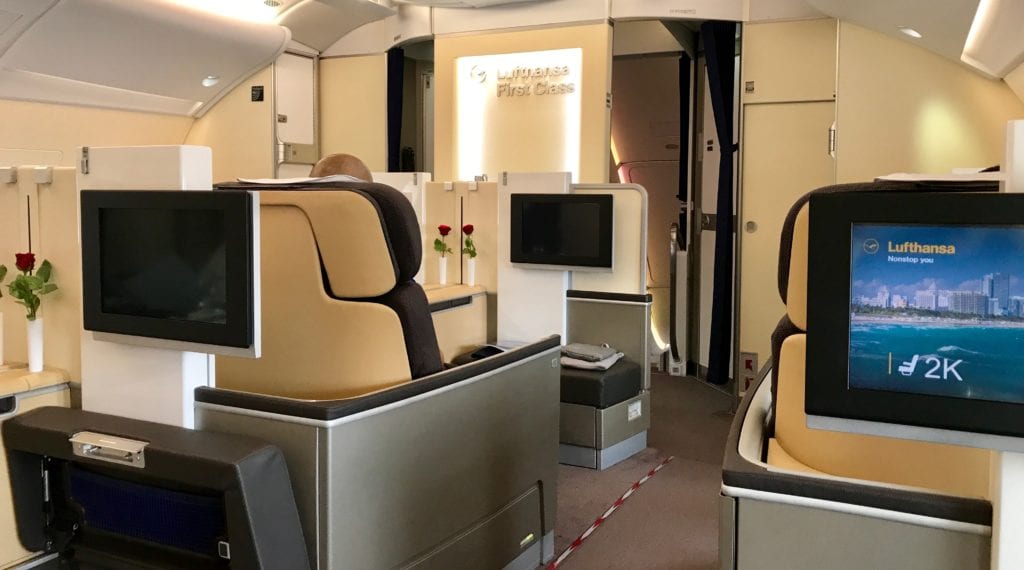 Fly to Asia, Too
Aeroplan miles can be a great way to get to Asia on the cheap as well. Little has changed when it comes to award rates when flying to Asia – in fact, it has gotten even cheaper for some flights.
Booking Aeroplan partner awards will start at 35,000 points each way in economy and just 55,000 each way in business class – especially if you're starting from the West Coast, where flights are shortest.

Your best bets for using Aeroplan miles for transpacific travel are going to be ANA and EVA Air. Yes, EVA Air is the airline that operates the Hello Kitty plane.
And if you can find award space, booking ANA first class is another option for getting to Tokyo which will price out at 90,000 or 110,000 miles each way depending on your departure city.
Read our full review of ANA first class from Chicago to Tokyo. 
Booking Stopovers with Aeroplan Award Tickets
Another awesome feature of the Aeroplan points program is the ability to add stopovers for only 5,000 points each. You are allowed to add one stopover for each one-way trip you book, (or two for a roundtrip itinerary).
That's a novelty, as most airline programs don't allow stopovers unless if you're booking a round-trip award ticket. Just keep in mind that flights within North America are not eligible for stopovers.
For example, I could book a trip from Seattle (SEA) to Tokyo (HND) on ANA for 35,000 miles – spend a week in Toyko and then for just 5,000 miles more fly to Bangkok (BKK) – a flight that would otherwise cost 25,000 additional miles.
In order to piece this together as one itinerary, you will want to call Aeroplan to book. But as long as the award space is available, it shouldn't be an issue.
Aeroplan is Family Friendly
Generally speaking, if you are looking to add an infant to an international premium cabin ticket, it will cost roughly 10% of the cash price of the ticket. Using miles to book, that can add up fast.
But that isn't the case with Aeroplan. The program charges some of the lowest fees out there for adding an "infant in arms" to your ticket. You'll pay just 25 CAD (roughly $19 USD) or only 2,500 points to add an infant to your ticket.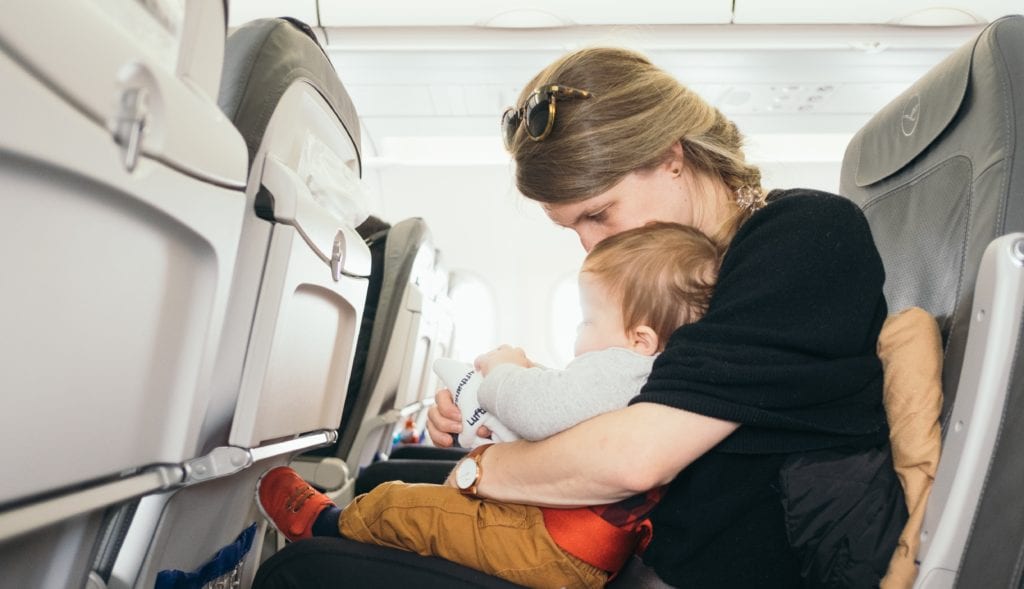 If you are traveling in Canada, or between Canada and the US, adding an infant is completely free.
Related: 5 Tips for Surviving a Long-Haul Flight with an Infant. 
It is a rarity for major airlines to allow you to combine your balance of miles with family members at no cost. Most charge hefty fees to transfer miles between accounts.
But with the new Aeroplan program, up to eight family members can join together to share points for free. Any points accumulated (from flights or transfers from credit card points) will be added to a shared balance.
And from there, members with redemption privileges can use the points to redeem rewards. This allows you to book all travelers with miles on one itinerary.

Bottom Line
Aeroplan is a fantastic program that provides a ton of value for domestic short-haul trips and travel to both Europe and Asia.
Thanks to the ability to transfer credit card points into Aeroplan from American Express Membership Rewards, Capital One Venture Miles, Marriott Bonvoy, and soon Chase Ultimate Rewards, the miles are incredibly easy to earn. While the program overhaul had both upsides and downsides, there's a lot to like about Aeroplan today.
Don't overlook Aeroplan when planning your next big trip.
Lead photo courtesy of Air Canada