We all want to save when it comes to booking flights. One of the best ways to do that is by using points and miles. But not all points and miles redemptions are created equal.
Whether you've earned a stash of points from banks like Chase, American Express, or Capital One, you can book flights through the program's travel portal and use those points to cover the cost. It's undoubtedly the easiest way to take your flights and make them free and where many travelers stop – and that's perfectly fine. We have a mantra at Thrifty Traveler: The best use of your points is for a trip you wouldn't otherwise take. 
But when flight prices are high like they are right now, that also means you're also going to need a whole lot of points to book your trip that way. Say you want to go to Europe this summer. Cash fares for trips like that are going to look expensive at first glance.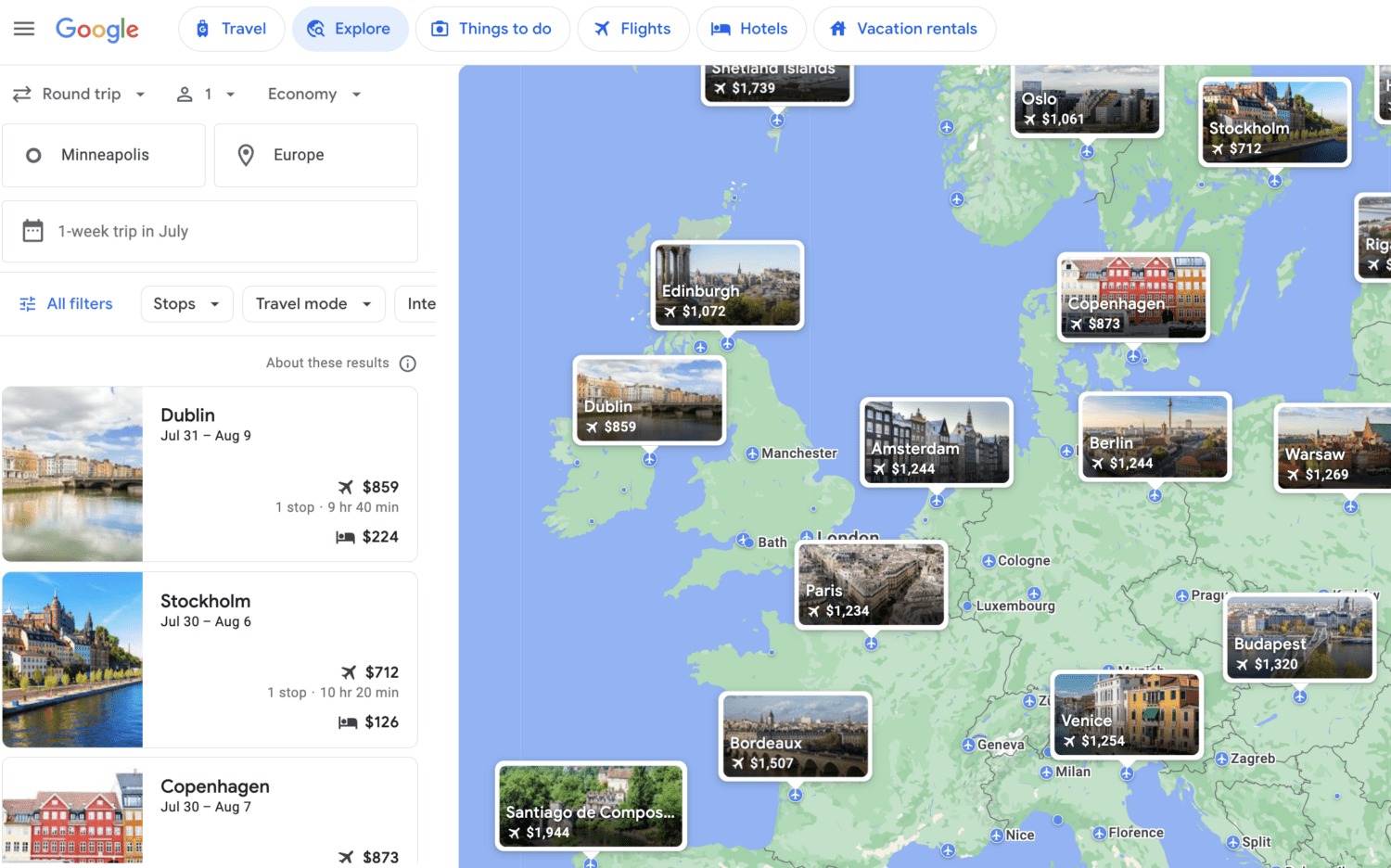 I'm planning a trip to Iceland this summer, and this is what I saw when I looked at flight prices.


When prices are high, that also means the amount of points you'll need to cover that flight is typically high, too. For example, I could use my Capital One Venture Miles to cover the cost of my flights to Iceland by booking through the Capital One travel portal.
But because Capital One Venture miles are only worth 1 cent apiece when booking through the Capital One travel portal (or when using those miles to cover my travel purchases on my statement afterward), I'd need 129,455 miles to cover this roundtrip flight. Uffda.

I can get a slightly better rate using my Chase Ultimate Rewards points because I hold the Chase Sapphire Preferred Card, which means my points are worth 1.25 cents each when booking through the Chase Travel portal.

Even then, I'd still be out 81,572 Chase points – or even more, if I want to avoid basic economy and book a main cabin ticket.
Maybe you don't have that many points to spare, or you don't want to wipe out your entire points balance in one fell swoop. That's when it's time to start diving into the world of travel credit card transfer partners: Your chance to send your points to a partner airline … and wring far more value out of them.
Transfer Points to an Airline Partner
From Chase to American Express, Capital One to Citi, and even Bilt Rewards, the biggest names in travel credit cards each partner with a slew of airlines and hotel chains. That allows you to send your credit card points to these airline (or hotels), converting your points into miles with that airline instead.
Leveraging these transfer partners can require a bit more legwork, but it's often the best way to squeeze even more value out of your points – by far.
See our master list of credit card transfer partners!
Credit card points typically transfer to airline and hotel partners on a 1:1 ratio. For example, 10,000 Chase Ultimate Rewards points can get you 10,000 United Airlines miles. Or 10,000 Southwest Rapid Rewards pints. Or even 10,000 Virgin Atlantic Flying Club points.
That makes these points ultra flexible. But here's where the real value of these transfer partners comes in: When you find the right transfer partner, you can book the same flight for far fewer points than what you'd get redeeming them through your bank's travel portal.
How much can you save by transferring points? Let's use my summer trip to Iceland as an example. This one-way flight from Minneapolis to Reykjavik on Delta would cost $907 for a main cabin economy fare.

I could book directly with Delta and remove this charge from my Capital One card for 90,700 Venture Miles (since every mile is worth one cent towards travel) – or book through the Capital One Travel Portal for about the same rate.

But then I remembered: Virgin Atlantic is a partner airline with Delta, which means I might be able to book this Delta flight using Virgin Atlantic points … and I could transfer my Venture Miles to Virgin Atlantic. Turns out I could book that exact same one-way Delta flight to Iceland for just 30,000 points and $5.60 in fees. Transferring my points to Virgin Atlantic saved me 60,700 miles to put toward future travels.


That's an incredible deal for a flight to Europe in peak summer. And it was only possible by transferring my points.
Take Advantage of a Transfer Bonus
You can turn 30,000 Capital One Venture Miles (or 30,000 points with Chase, American Express, and other banks) into 30,000 Virgin Atlantic points almost instantly and book that flight. But sometimes, you can get an even better deal.
Every so often, credit card companies like Capital One, Chase, and American Express roll out bonuses when transferring credit card points to one or two of their transfer partners. Think of these transfer bonuses as a way to get free miles.
For example, Capital One last month was out with an offer to get a 30% bonus when transferring Venture Miles to Virgin Points. With that 30% bonus, transferring 50,000 Capital One Venture Miles would get you 65,000 Virgin Atlantic points, for example.

Let's go back to that Delta flight from Minneapolis to Reykjavík. With a 30% bonus like that, I only had to transfer 23,100 Capital One Venture Miles to get the 30,000 Virgin points I needed to book this flight.
Again, it would have cost me 90,700 Venture Miles to cover this flight through Capital One the usual way. Using a transfer bonus saved me 67,600 miles!
Utilize Transfer Partners to Fly Business Class
Transferring your credit card points can help you save some serious points no matter where you're going. But if you want to fly business or first class abroad, it might be the only way to make it a reality.
For most people, flying business class is out of reach when you consider the cash price. Take a look at this SWISS Business Class flight, for example.

Of course, you can pay for this flight directly with points like Chase Ultimate Rewards, but it will cost you a boatload: 228,187 points to be exact.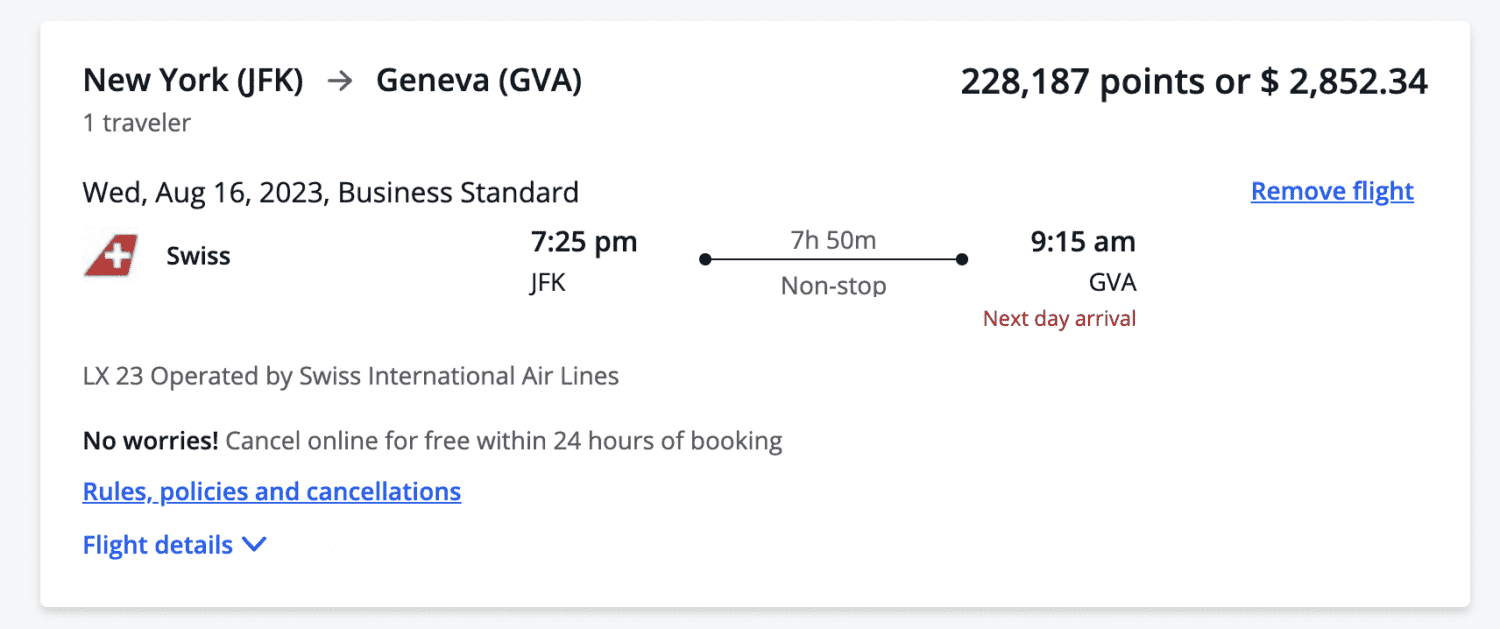 But if you time it right when your airline is making those seats bookable with miles – a big caveat, so keep reading! – transferring to an airline partner can help you book for a fraction of the points. Here's a deal we recently sent to our Thrifty Traveler Premium+ subscribers.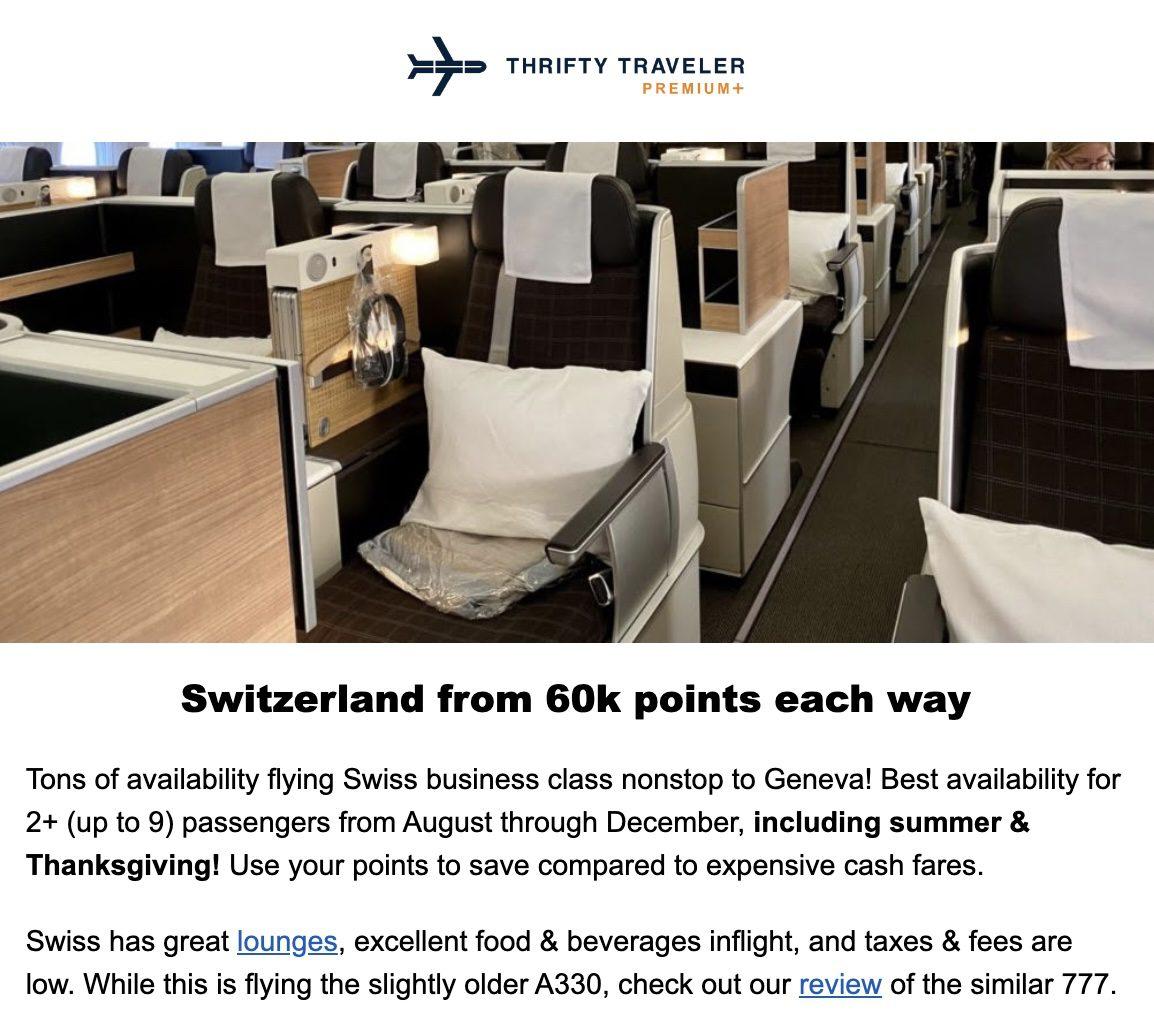 Get deals like this in your inbox with Thrifty Traveler Premium+!
In this case, you could book this exact same SWISS business class seat by transferring for 60,000 points from Chase, American Express, or Capital One to Air Canada and booking through its Aeroplan program. That means 60,000 points can get you the full business class experience: lounge access, top-notch food and drink, free champagne, and a comfortable seat that turns into a bed as you cross the Atlantic Ocean.

Compared to the alternatives, 60,000 points is a drop in the bucket. And there are plenty more examples where that came from.
What to Consider Before Transferring Your Points
There are a few important things to keep in mind when you're thinking about transferring credit card points to an airline partner.
Here's the big one: These transfers are a one-way street. Once you send the points to an airline partner, you cannot get them back to your Capital One, Chase, or other credit card program account.
That's why it's critical to find the award space first. While almost any flight is bookable with credit card points through a travel portal, the same isn't true when it comes to airline mileage programs. Most airlines only offer a select number of award seats, so you should never transfer points to an airline until you know the flights you want to book are actually available.
For example, here's what it looks like searching a month's worth of award space with Virgin Atlantic's reward seat checker.

Also, keep in mind that you'll still have to pay taxes and fees on these flights. For some airlines, those fees are negligible (see the example above, where Virgin Atlantic charged me $5.60 on top of the points for my flight). But others charge much more when booking award flights with points and miles – especially if you're flying business or first class with your miles.
Transferring points to airline partners can get you outsized value for them, but it doesn't make sense in every case. You need to do the math to decide whether it's best to pay directly with points or utilize a transfer partner. 
Is the cash fare cheap? Did you find a great deal from your Thrifty Traveler Premium membership and want to pay with points? Your best bet is probably booking through the bank's travel portal and using your points to cover the flight.
If not, it's worth exploring transfer partners to see if you can save some points, especially if you're interested in booking an international flight in first or business class.
Bottom Line
It's fairly straightforward and easy to fly for free by booking your flights through a reward program's travel portal and using points to pay for them. But when flights are looking expensive, you can spend fewer points by transferring them to an airline partner to book.
While it might take a few extra steps, trust us: It can be worth the extra legwork.