American Express is making some substantial changes to *amex platinum card*, making it harder to earn a big welcome bonus and more expensive to share perks like lounge access or instant hotel status with loved ones.
The bank quietly tweaked the terms and conditions for its flagship travel card overnight. The changes on deck – many of which are already in effect – range from fairly trivial to major.

Get more travel news to your inbox – sign up for our free daily newsletter
For years, new Platinum cardholders have earned a welcome bonus – be it 80,000 points or a whopping 150,000-point bonus – after spending $6,000 within the first six months. It'll now require spending $8,000 within that span.
Amex has added language that could crack down on earning multiple welcome bonuses on different co-branded versions of the Platinum Card, including those from Charles Schwab and Morgan Stanley … though it may still be possible depending on which order you apply for each card
Adding authorized users to your Platinum Card is getting drastically more expensive. Instead of adding up to three users for a total of $175, they'll now cost $195 each.
It's long been free for Platinum Cardholders to add another member to their account with a Gold Card instead, with fewer perks. Amex has rebranded that free option as a "Companion Platinum Card" – a name change with apparently no other implications.
The audiobook and podcast platform Audible will drop off the list of eligible services to use up to $20 in monthly entertainment credits as of Oct. 2, though Amex is adding the Wall Street Journal as an option immediately.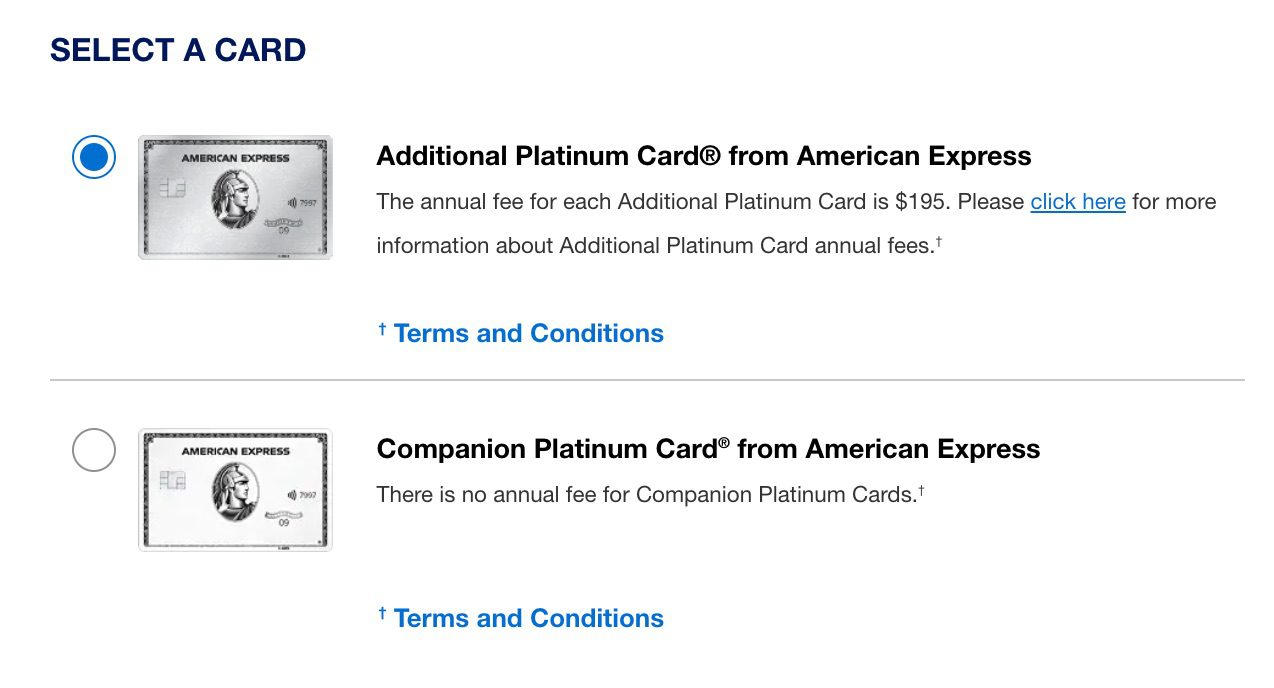 Altogether, it's a sizable change to Amex's pricey Platinum Card likely to rile many current cardholders – especially those who have been sharing travel perks with family or friends. It already comes with a hefty $695 annual fee (see rates & fees), but these changes will make that far more expensive.
The cost of adding new authorized users and many of these other changes are in effect, but Amex has yet to notify current cardholders. Company representatives did not immediately respond to a request for comment.
*amex platinum card*  seems more popular than ever as flyers go all-in on the trappings of "premium travel": Unbeatable lounge access, hotel status, hotel credits, and more. Buoyed by rich benefits and eye-popping welcome bonuses, American Express has said their top-tier card is drawing in record numbers of new customers quarter after quarter.
American Express last hiked the annual fee on the Platinum Card back in the summer of 2021, adding a slew of new money-saving credits to offset it. But beyond that big move, Amex is constantly tweaking its cards, watering down some benefits or making them harder to use.
This is another clear example. And travelers who have added authorized users will be the hardest hit.
A Loss for Authorized Users = A Win for Lounges?
It's been an underrated aspect of the Platinum Card for many years.
While an additional $175 to add additional card members seems pricey, that fee has covered up to three additional users each year. That's three friends or family members who can get into a Delta Sky Club, Amex Centurion Lounge, or Plaza Premium Lounge on their own. In fact, they get many of the Amex Platinum benefits as the primary cardholder: Lounge access, instant status with Marriott and Hilton, status with several rental car agencies, and more.
But now Amex is charging $195 per person. That means those same three family members will cost you an extra $585 each year, nearly doubling the card's annual fee. After adding three additional users, you can add more for $175 apiece. American Express has claimed it will notify current cardholders of the higher price tag and when it will get charged.
That's steep compared to the competition. Consider this: On the *chase sapphire reserve*, authorized users cost another $75 apiece. With the *venture x*, cardholders can add four authorized users for free.
It's a painful change for the Platinum Card with an undeniable upside: It should mean fewer travelers are lining up outside airport lounges with a Platinum Card in hand.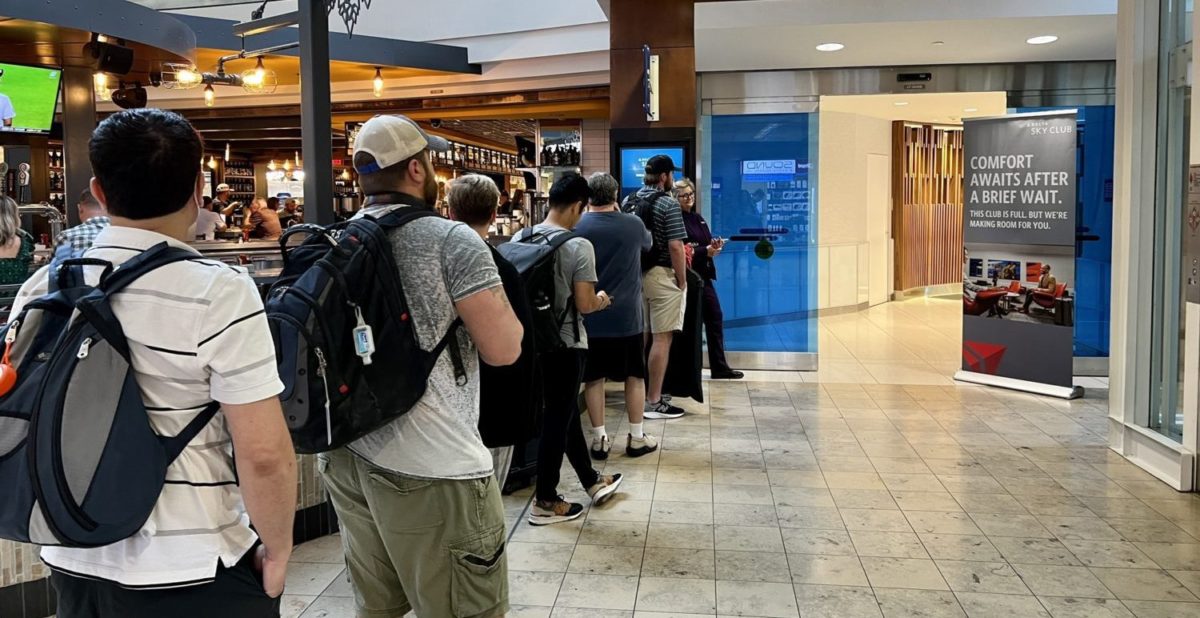 Overcrowded airport lounges have become a major issue in the last year – none moreso than Delta Sky Clubs and Amex Centurion Lounges. The Platinum Card gets cardholders complimentary access to both. And while Delta and Amex have gone through several rounds of policy changes meant to limit crowding, it hasn't moved the needle much.
American Express likely has all the data it needs to prove that hiking the annual cost of authorized fees would put a dent in the lounge lines. It's a high price to pay for travelers who have extended lounge access to friends and family, but a win for solo travelers.

Amex Platinum Companion Cards?
On paper, there's a brand new kind of card you can extend to friends and family. In practice, nothing has changed.
Rather than pay more in annual fees to give authorized users a full-fledged Platinum Card, there's long been an option to issue them a Gold Card for free instead. American Express is rebranding that option as a Companion Platinum Card® from American Express, fresh with a new look.
As before, you don't get many benefits with the Companion Platinum Card … but one ultra-valuable and underrated perk sticks: Even Companion Platinum cardholders will still get a credit to cover the cost of their own TSA PreCheck or Global Entry membership!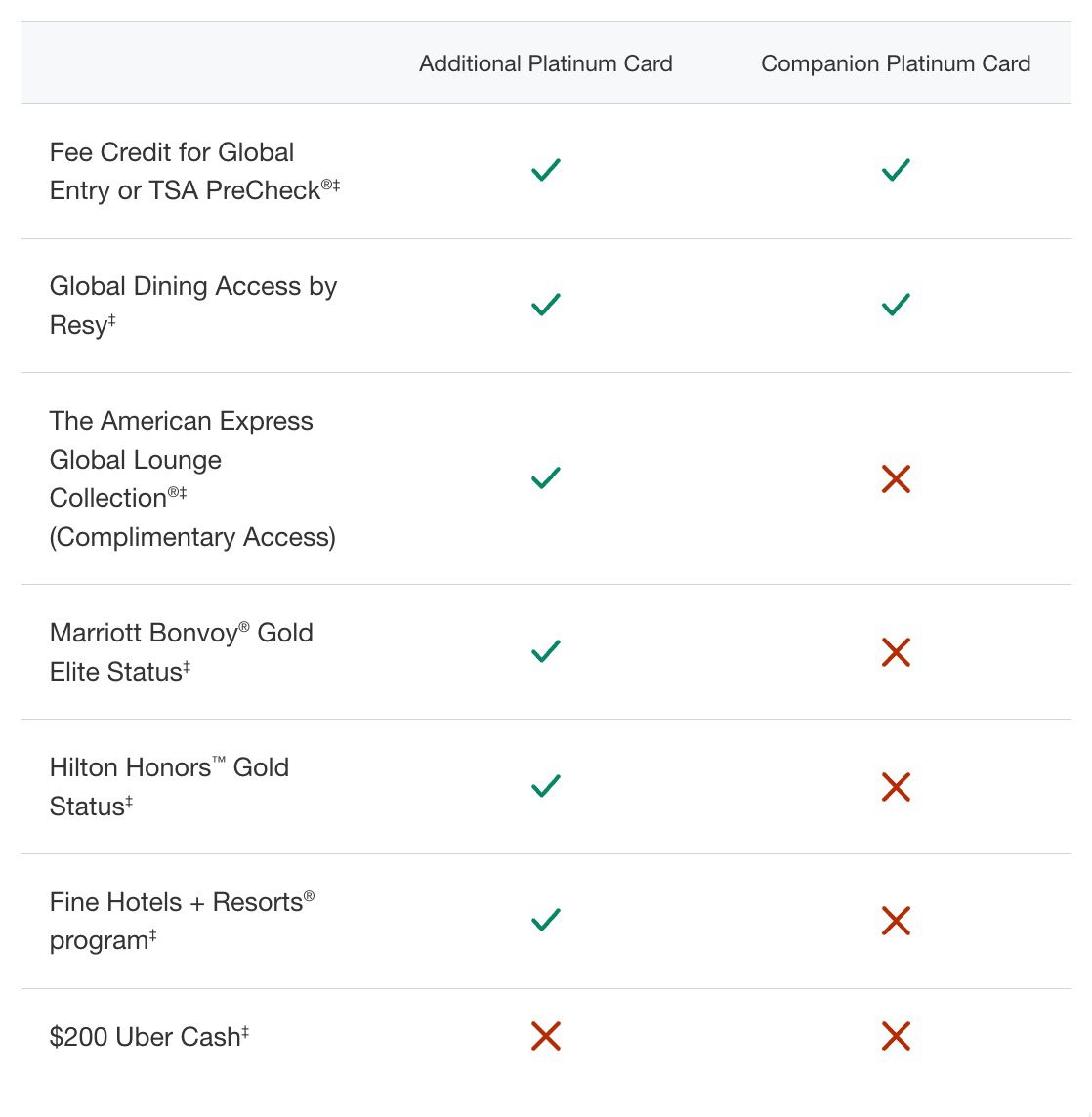 Read more: How to Get TSA PreCheck for the Whole Family With One Credit Card

Bottom Line
This one will leave a mark.
With no warning, American Express is making some substantial changes to its ultra-premium travel credit card. Diehard credit card aficionados will be sad to see they can no longer stack bonuses on different co-branded versions of the Platinum Card – and earning any bonus on the Platinum Card now requires even more spending.
Meanwhile, even occasional travelers will pay hundreds more in fees to share the perks of the Platinum Card with friends and family.