A ninth Chase Sapphire Lounge has been proposed, and it's looking like this one will be at the Dallas-Fort Worth International Airport (DFW).
The Dallas-Fort Worth International Airport Board was set to vote to approve or deny a lease agreement with the Chase Sapphire Lounge by The Club at its meeting on Thursday, Feb. 2. However, due to inclement weather in the Dallas area, that meeting has since been postponed.
According to the board meeting notes, the Sapphire Lounge will be located in Terminal D by gate 35, relatively close to both the existing Capital One Lounge at DFW (which we think is one of the best airport lounges in the country) and the DFW American Express Centurion Lounge. Details about the size of the space have been released, but any of the shared airline lounges in that area could be the future home of the Sapphire Lounge.
The lounge will be open to eligible Chase cardholders and Priority Pass holders, which aligns with the rules for Chase's other proposed Sapphire lounges, the documents say.
If approved, the Sapphire Lounge at DFW could be one of the first Chase lounges in the U.S. It won't be the first Sapphire Lounge to open, however. A Sapphire Lounge in Hong Kong (HKG) began welcoming travelers last fall.
With the addition of DFW, Chase plans to open at least nine lounges worldwide.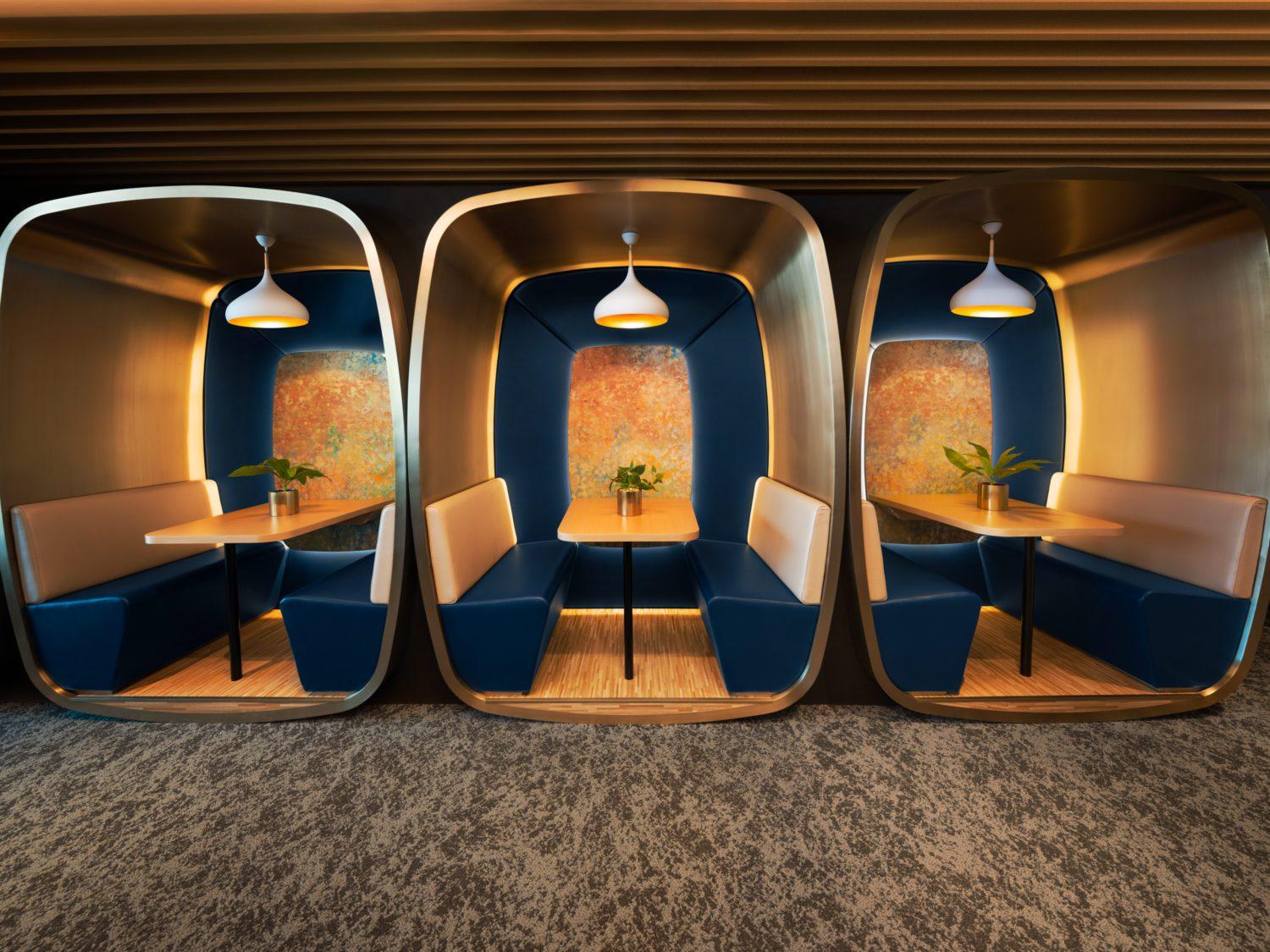 The Sapphire Lounges are run in collaboration with Airport Dimensions, the same group behind "The Club" family of lounges that Priority Pass members can currently access. However, Chase will offer more upscale amenities than what you will find in most Priority Pass Lounges – think showers, wellness areas, family rooms, and more.
But these new Chase Sapphire Lounges will face stiff competition. American Express has been the king of airport lounges for years with its long and growing list of Amex Centurion Lounges in both U.S. airports and abroad. And now Capital One has set the bar even higher with its first-ever lounge in Dallas-Fort Worth (DFW), with two more Capital One lounges on the way this year in Denver (DEN) and Washington, D.C.-Dulles (IAD), and more pending announcements on the way.
Who Will Have Access to Chase Sapphire Lounges?
Naturally, travelers with Chase's top-tier card – the Chase Sapphire Reserve® – will get in free along with two free guests thanks to a Priority Pass Select membership.
But so will anyone with a Priority Pass membership from other, non-Chase cards like The Platinum Card® from American Express and the Capital One Venture X Rewards Credit Card – though there's no ruling out Chase eventually axing those access methods.
Unfortunately, travelers with the Chase Sapphire Preferred® Card won't have a way to get in – even for an additional fee.
There's still no definitive word yet on whether Ink Business Preferred® Credit Card members will be provided with any access privileges.
Read More: Everything We Know About Chase Sapphire Airport Lounges
Bottom Line
If approved by the Dallas-Forth Worth International Airport Board Thursday morning, DFW will eventually be home to a ninth Chase Sapphire Lounge location. The lounge will be situated near the existing Capital One and American Express lounges when the ribbon is cut.
The Sapphire Lounges will be available to Chase Sapphire Reserve cardholders and Priority Pass members, but to date, a U.S. location has yet to open its doors.