Chase has big plans to build out a portfolio of its own airport lounges for travelers dubbed Chase Sapphire Lounge by The Club – and those plans just keep growing. Next on its list: Sin City.
Chase and its airport lounge operator named Airport Dimensions recently won a bid to build a new lounge in Las Vegas (LAS), according to public documents from the Clark County Commission. The initial plans call for a roughly 4,500-square-foot lounge in the airport's C gates, which are home to Southwest Airlines but fairly easy for any travelers to access. Documents show the lounge space is located behind security near the entrance to the C Gate concourse.
But beyond its location and size, there are precious few details about Chase's plans for its Las Vegas lounge – including what travelers may eventually find inside and when it may open. A spokesman for the Las Vegas airport said the airport and Chase are in the midst of negotiations for a final agreement on the lounge plans and construction. Chase confirmed to Thrifty Traveler it had won the bid for a Las Vegas airport lounge but did not provide any other details about its plans for the space.
"A construction timeline won't be settled until the agreement is finalized so it's too soon to give any dates for work to commence or a targeted opening," the airport spokesman said.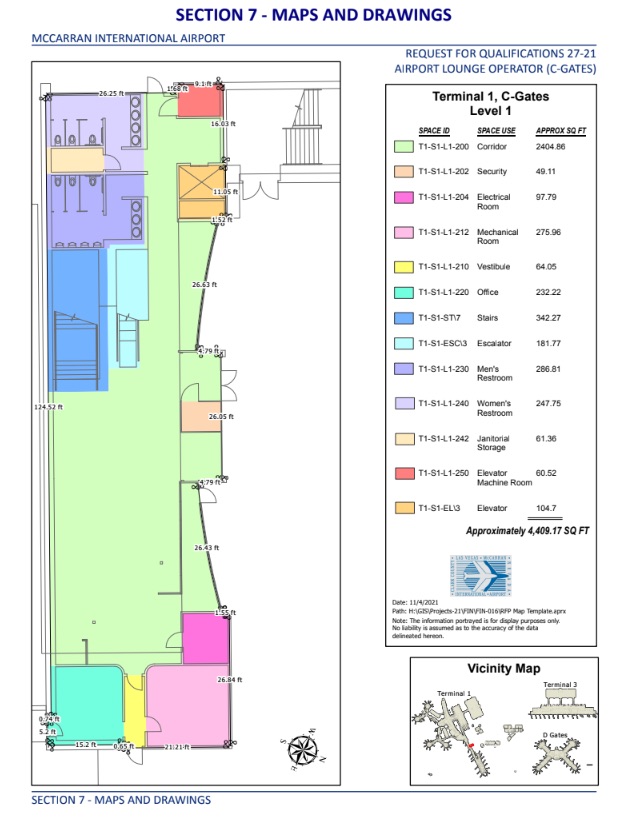 Las Vegas would be Chase's sixth lounge location in the works, with other outposts planned in Boston (BOS), San Diego (SAN), New York City-LaGuardia (LGA), Phoenix (PHX), and Hong Kong (HKG). None of those locations are open yet, though Boston is expected to be the first to throw open its doors sometime this year. While neither Chase or the airport are saying much, it's safe to expect this Las Vegas lounge won't open until at least some time in 2023 or even 2024.
But Vegas is a big win in the brewing airport lounge wars, where competition for any available real estate space is increasingly cutthroat.
Case in point: Chase and Airport Dimensions beat out the company behind Escape Lounges for the Las Vegas space as well as Capital One, which has been desperately trying to build out a bigger network of lounges beyond its excellent Dallas-Fort Worth (DFW) lounge and upcoming locations in Denver (DEN) and Washington, D.C.-Dulles (IAD). The Las Vegas airport confirmed to Thrifty Traveler that MAG USA (which runs lounges like the Escape Lounge MSP and Escape Lounge Phoenix) and Plaza Premium Group (Capital One's lounge partner) also submitted bids for the lounge.
It's at least the second time Chase has beat Capital One to the punch – Capital One also lost to Chase for a Phoenix lounge contract. Chase and Airport Dimensions won the bid for a 10-year lease agreement for the space, which the Clark County Commission approved on March 15.
At just under 4,500 square feet, Chase's lounge in Las Vegas will be by no means massive. And it's bound to be quite busy: The Chase Sapphire Lounges are expected to be available to both Chase Sapphire Reserve® cardholders as well as members of Priority Pass. It's still unclear whether travelers with other Chase cards like the Chase Sapphire Preferred® Card or Ink Business Preferred Credit Card will get any special access.
The credit card company is building out these lounges with Airport Dimensions, the same group behind "The Club" family of lounges that Priority Pass members can currently access – including several existing lounges in Las Vegas. However, Chase plans to offer more upscale amenities than what you will find in most Priority Pass Lounges – think showers, wellness areas, family rooms, and more.
Read more about Chase Sapphire Lounges and what's in store!
Long home to several The Club lounges as well as the Las Vegas Centurion Lounge – the very first Amex Centurion Lounge – Las Vegas is suddenly the belle of the ball for airport lounges. American Express drastically expanded the Vegas lounge last year. And in addition to Chase, Delta is reportedly planning to build its own long-awaited Sky Club in Las Vegas, according to Points, Miles & Martinis.
Bottom Line
They might be starting from scratch, but Chase is aggressively trying to build out a network of Sapphire Lounges for travelers. And they've got their next location locked down in Las Vegas.
We don't know much yet about this lounge beyond its location in Vegas' C Gates and its fairly small size, at just 4,500 square feet. And while there's no official timeline, it's safe to assume this latest lounge won't open for at least another year or two.