You want to go to Japan. That's not a question, it's a statement of fact.
Japan has rightfully earned its recognition as one of the world's best destinations and its place on many travelers' wish lists. And while cash prices to fly to Tokyo can be high, you're in luck: There are tons of options to book flights to Japan using points and miles.
Whether you're looking for the best budget option to fly economy, fly in style in business class, or splurge for first class, we've got you covered. These are some of the best ways to get to Japan on points and miles.
Fly Japan Airlines Economy Using American Airlines Miles
When you're flying across the Pacific Ocean at the back of the plane, you want to be comfortable. And while economy seats across airlines may seem identical, every extra inch of space counts.
Few airlines do economy better than Japan Airlines (JAL). We're convinced this Japanese flag carrier offers the best economy seat to fly to Asia – or anywhere, really. JAL calls these seats "Sky Wider" economy, and they live up to that name.
At up to 19 inches wide, these seats are substantially wider than what airlines like American flies on many of the same long-haul routes. An inch or two of extra width is the difference between relaxing and worrying about rubbing shoulders with your neighbor. Look for JAL's Boeing 787 Dreamliners for these routes, as they configure the economy cabin with just eight seats across (most airlines squeeze nine seats into the same space).
Want legroom? You're in luck there, too. JAL gives you up to 34 inches of pitch on these planes, which is at least 2 inches more than you'd get on most airlines.
Factor in JAL's tasty food and sterling service, and you've got one of the best ways to fly economy to Japan – or anywhere in Asia, really. Read our review of Japan Airlines economy.
How to Book: There are a handful of ways to book flights to Japan on JAL. You've got several partner airlines to choose from.
But we think the best way to get there is using American AAdvantage miles. A one-way flight between Tokyo and the U.S. will run you just 35,000 AAdvantage miles. And thanks to how American prices out awards, it works out at that price whether you're flying nonstop from one of JAL's many U.S. outposts or if you need to add in a connecting flight from your home airport.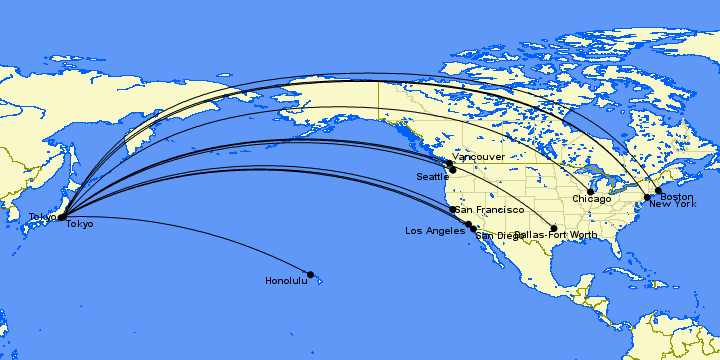 When it comes time to book, it couldn't be easier. You can book these flights with your AAdvantage miles directly on AA's website. Use American's older search engine to make it easier to find the flights you want.
If you're on an economy budget, it's tough to beat 70,000 AAdvantage miles and minimal fees for round-trip flights to Japan. But there's a way you can cut that mileage rate in half.
Hop on a Delta SkyMiles Deal
Unlike American's concrete award chart which means you'll pay 70,000 miles for round-trip flights to Japan, Delta's award pricing system is unpredictable. Sometimes the pricing to fly Delta can be good. Other times it's exorbitantly expensive.
But when the Delta SkyMiles deals are good, they're unbeatable. Case in point: We found round-trip fares to Japan on Delta for as low as 30,000 SkyMiles earlier this year. That's less than most airlines charge for a one-way fare!

Delta is shifting its flights to Japan into Tokyo-Haneda (HND), rather than Tokyo-Narita. Given how much closer Haneda airport is to town, that's a good thing.
And the flight itself should be fairly comfortable, as many of Delta's long-haul planes are far more passenger-friendly in economy than its competitors. Delta has even upgraded dining and drinks for economy passengers on these flights, so you'll be in for a treat.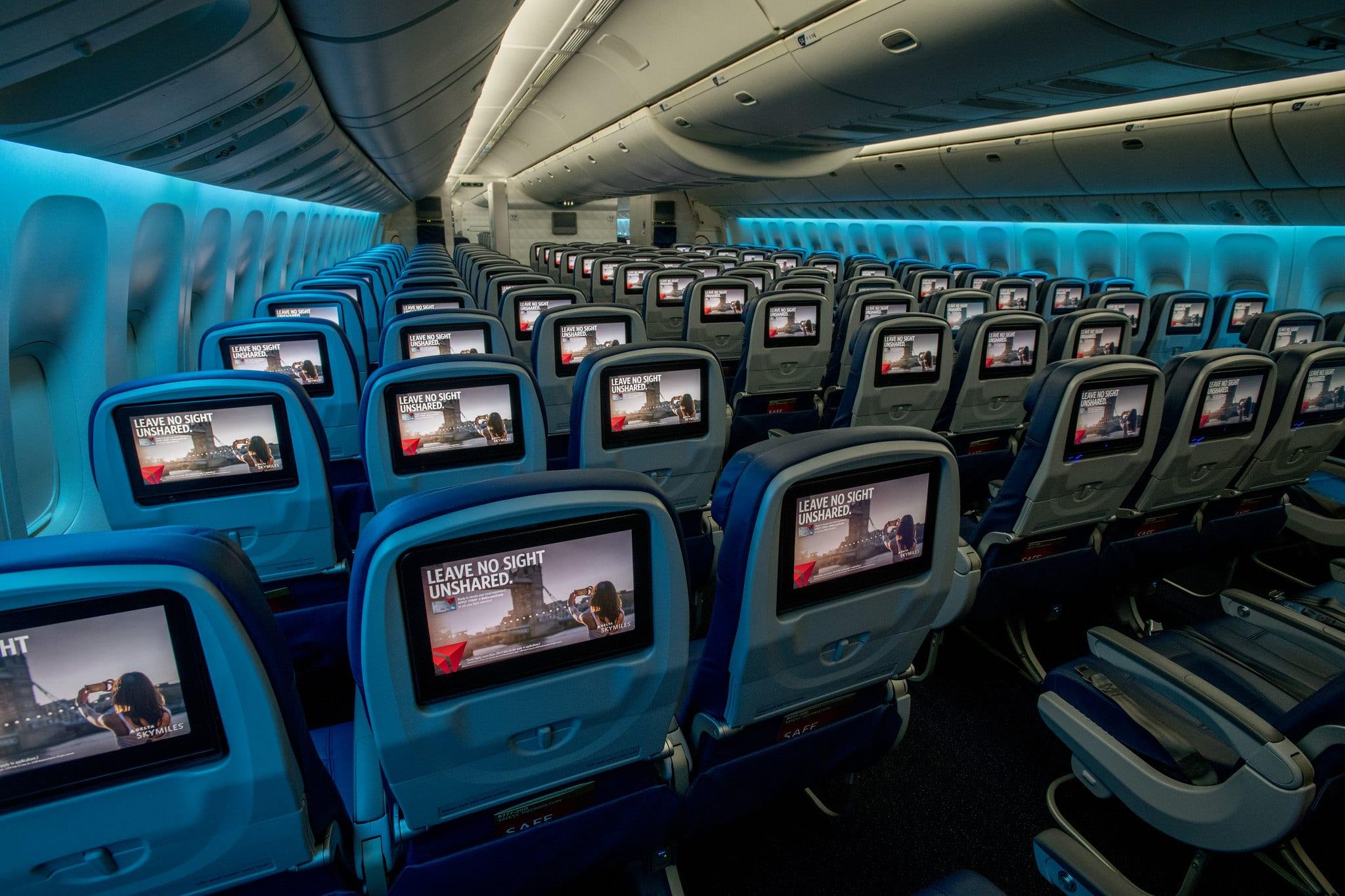 How to Book: Patience. And flexibility.
The trick with using Delta SkyMiles is waiting for the right deal, and being flexible enough to wait for it to come to you. That means this option likely won't work if you've got a specific time period.
Or maybe it will. There's just no telling when the next great deal will pop up, but be sure you're signed up for our daily emails. Or join Thrifty Traveler Premium – you'll get the first heads up about the next Delta SkyMiles deal to Japan.
Just how many SkyMiles you'll need to fly to Japan and back will depend on the sale – and where you live. If you're in a Delta hub like Atlanta (ATL), Minneapolis-St. Paul (MSP), or Detroit (DTW), expect to pay more thanks to Delta's hub penalty. But these deals can bring the price down between 30,000 SkyMiles to 50,000 SkyMiles round-trip, no matter where you live.
And that makes this option is tough to beat. Read up on how to earn the Delta SkyMiles you need to book one of these insane deals. Otherwise, transfer some American Express Membership Rewards points (from a card like the Platinum Card from American Express) to your Delta SkyMiles account.
Take a Flight Deal and Make it Free
What's better than a cheap flight to Tokyo? A free flight to Tokyo.
If you're not up for studying airline award charts to find the best way to book with airline miles, one of our favorite ways to use Chase Ultimate Rewards points is to book flight deals.
Whether you find a cheap flight on your own or get an alert through Thrifty Traveler Premium, it's easy to book through Chase's Ultimate Rewards travel portal. And it's the only way to book a flight to Tokyo for completely free – normal award flights will always have cash fees.
Take a recent deal from the East Coast to Tokyo-Haneda (HND) for under $400 round-trip.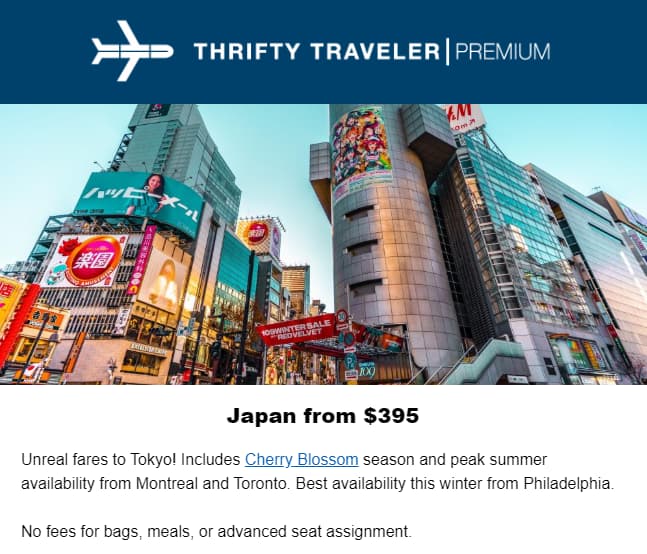 If you've got the Chase Sapphire Preferred card, you can book one of these flights with points. It will work out to roughly 32,000 Chase points for your trip to Tokyo.

Got the Chase Sapphire Reserve? You can book the exact same flight for just 26,600 Chase points! 
How to Book: You'll need some Chase points to make this happen.
The Chase Sapphire Preferred is the best card for points and miles beginners, thanks to the different ways you can redeem these points. If you're a frequent traveler, the Chase Sapphire Reserve is tough to beat – especially as your points will be worth even more toward your cash fare.
Then, it's time to find your cheap flight to Tokyo. Forget online travel agencies like Expedia or Kayak: use Google Flights to find the cheapest flight possible. Or just wait for a Premium flight deal to hit your inbox!
From there, follow our guide to book flight deals using Chase points. It's pretty simple, and the price via Chase's portal should match what you've already seen – with some exceptions. And remember: You'll still earn frequent flyer miles on flights booked with credit card points.
Fly ANA Business Class from 75K Miles Round-Trip!
Here's your chance to fly business class to Japan for the price of economy. And on one of the world's best airlines, to boot.
Most airlines charge at least 160,000 miles for a round-trip in business class to Japan. Booking flights on All Nippon Airways with ANA MileageClub, it starts at just 75,000 miles. For the round-trip. In business class. That's not an error.
This is one of the cheapest ways to get to Japan using miles. The trick is timing it right, as ANA carves out different pricing during low (L), regular (R), and high (H) travel seasons.
You'll want to focus on the low season, as that's when a business class round-trip from the U.S. to Tokyo will cost you just 75,000 miles. A trip during the regular season will jump to 85,000 miles – and 90,000 miles during the high season.
No matter how you time it, this is a great deal. United Airlines, a partner through the Star Alliance, would charge at least 180,000 miles for the same flights. Flying in economy on the  – just 5,000 fewer miles.
And while all of ANA's business class seats are excellent, the new seats coming soon on flights between New York City (JFK) and Tokyo look out of this world. They may just dethrone Qatar Airways' Qsuites for the best business class in the world.
How to Book: First things first, you need some ANA miles. And you don't need to fly ANA a bunch to earn them.
Instead, just transfer those points from American Express Membership Rewards. If you're eligible for a whopping 100,000-point bonus on the American Express Platinum Card, you can book these flights in one fell swoop.
But before you do, be sure to head to ANA's website and scope out award availability to make sure the flights you want are available. Or better yet, start by searching via United's website for nonstop flights from some of the U.S. hubs ANA flies to, like Chicago-O'Hare (ORD), Houston-Intercontinental (IAH), New York City (JFK), and more.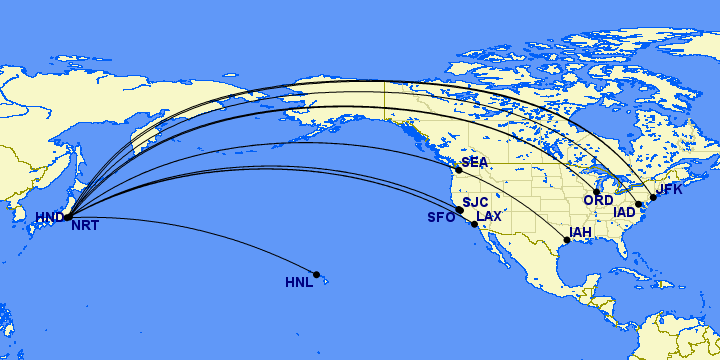 Look for flights available at the Saver Award level, as that's the key to finding flights bookable with ANA. And critically, you need to find round-trip fares – ANA does not allow one-way bookings when using its own miles.
Once you've found the flights, head back to ANA's website and search for an award booking. You'll need an ANA frequent flyer account to search, so log in, plug in your dates and get to booking.
The one downside of booking with ANA is that the airline passes on some cash fees – roughly $270 USD. But considering these flights typically cost $7,000 or more, that's a small price to pay.
Back on Japan Airlines … in Business for 60K
So maybe we have a soft spot for Japan Airlines. Can you blame us when their business class seats looks like this?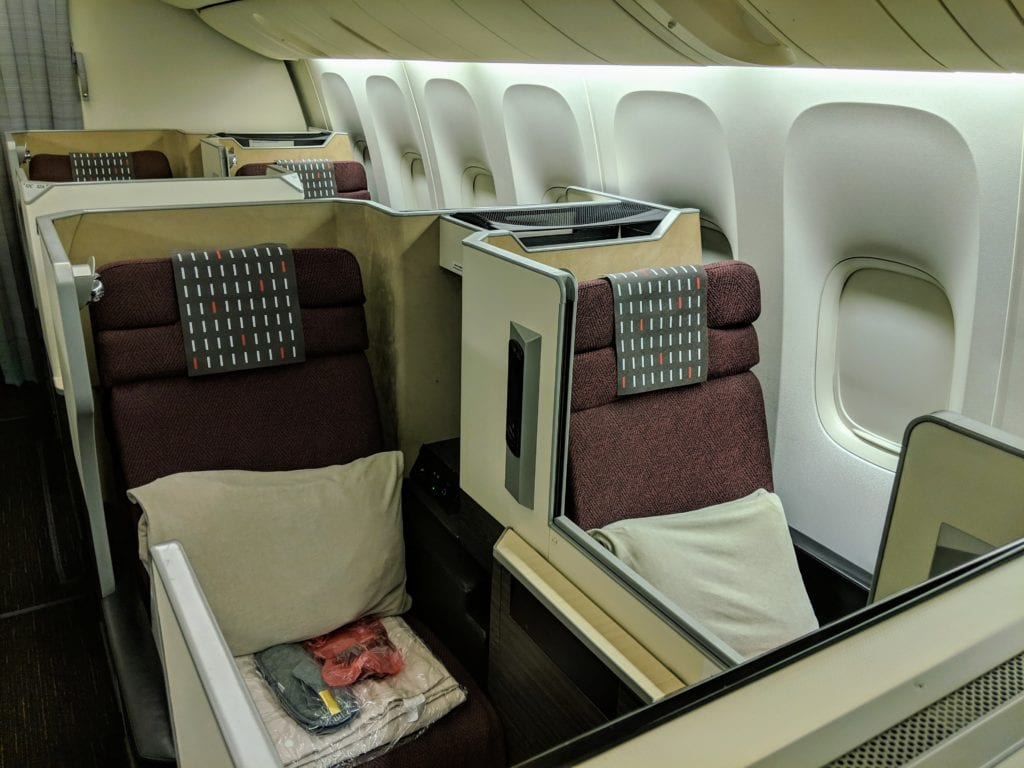 Welcome to SkySuites. These seats are the best of both worlds, offering tremendous privacy while giving you near-limitless room to stretch your legs and store your bags. But it gets better, with some outstanding service and some of the tastiest food you'll have – in the sky or on the ground.
After a recent flight from Chicago-O'Hare (ORD) to Tokyo-Narita (NRT), we're convinced JAL business class is one of the best ways to get to Asia in style.
And just as with JAL economy, you can book these flights with American AAdvantage miles. And you only need 60,000 AAdvantage miles to do it. 
How to Book: American charges just 60,000 for a one-way business class flight from the U.S. to Tokyo-Narita (NRT) or Haneda (HND). There are other options to book, but this is the most cost-effective way to get to Japan in style on JAL.
Award availability seems to be the best at least two to three months before departure, though you can often find seats just a week or two before the flight, too. Be flexible with your dates and you could snag one of the best business class seats out there for just 60,000 miles each way.
Flying First Class on ANA for 110K Miles
We saved the best for last. And it combines two airlines you're already familiar with – Virgin Atlantic and ANA – for one of the best points and miles redemptions, period. Not just to get to Japan – in the world.
Flying first class on All Nippon Airways is a treat in and of itself. These suites are almost too private – if that's a thing. You'll have one of the most comfortable beds available in the skies. Amazing dining, comfortable pajamas, top-notch amenities, and seemingly bottomless glasses of Krug champagne will help put you to sleep.
Read our full review of ANA First Class on the flight from Chicago-O'Hare (ORD) to Tokyo-Haneda (HND)
You could book this seat through ANA itself. United would charge you 121,000 miles for flights from the U.S. to Tokyo – each way, not round-trip. But you can cut that rate in half.
How to Book: Using Virgin Atlantic Flying Club miles, you can book round-trip flights from the West Coast to Tokyo for 110,000 miles.
Live in the Midwest or on the East Coast? That'll be 120,000 miles, round-trip. After a recent change, you can now book one-way flights for half the cost.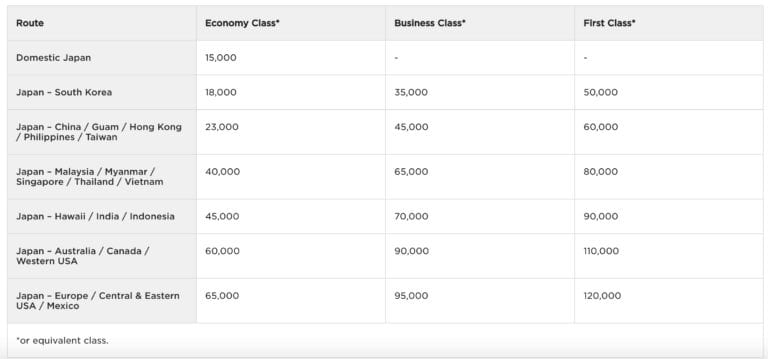 Read our full guide to booking ANA flights using Virgin Atlantic miles. And keep in mind that you can transfer points to Virgin from Chase, Citi, and American Express.
Thrifty Tip: Watch for a Citi or American Express transfer bonus to Virgin Atlantic to make this already sweet deal even better. With a 30% transfer bonus, you could book these flights for as low as 85,000 points!
Just to underscore how good of a deal this is … these flights typically sell for more than $20,000!


Bottom Line
This is just a small sliver of the possible ways to get to Japan using points and miles, but in our opinion, they're the best ways to make that bucket list trip happen.
Whether you're fine flying economy or pine for the comfort of first-class, booking flights to Japan doesn't have to be expensive. You can do it for nearly free.