We post all the time about how much we value Delta SkyMiles, even when others don't. But this isn't one of those posts.
Delta's frequent flyer program has some major shortcomings – especially the lack of an award chart and the constantly changing prices for award flights. But as Delta flyers based in Minneapolis-St. Paul (MSP), our least favorite part about SkyMiles is a little different. We call it The Hub Penalty.
If you live in a Delta hub like Atlanta (ATL), or Detroit (DTW), or Salt Lake City (SLC), you can often expect to shell out a few more SkyMiles on many flights. We'll explain why. 
What is the SkyMiles Hub Penalty?
With no award chart, Delta award prices act more like cash fares. And that's not all bad.
One of the biggest benefits is the constant flash sales Delta holds for flights with SkyMiles. They're an excellent way to book flights on the cheap, and it wouldn't be possible if Delta were tied to an award chart. We're talking a round-trip flight to Europe for under 20,000 SkyMiles, flights to Japan and back for 30,000 SkyMiles, and domestic trips for 9,000 SkyMiles round-trip – or less.
But as you dive into these deals, you can clearly see how Delta's hub penalty works … and how it works against travelers based in Delta's hubs.
Take the flash sale we found for flights to Tokyo starting at 30,000 SkyMiles round trip, for instance. Flights out of Delta hubs like Minneapolis, Atlanta, Detroit, and Salt Lake City were nearly all at least 44,000 SkyMiles each – still a bargain, to be sure. Yet you could get the best deals out of United hubs like Denver (DEN) and San Francisco (SFO) or Phoenix (PHX), an American hub. 
It's not just flash sales where you may pay more when flying in or out of a Delta hub. The same logic holds true for short domestic hops. Say you're in Seattle (SEA) and want to pop down to Denver (DEN). You're in luck because it's pretty easy to find a good deal for just 11,000 SkyMiles round-trip – and less if you're willing to book a basic economy award.
However, if you want to fly to Delta's major hub in Salt Lake City, you can typically expect to pay more – even for a much shorter flight. Why? Because you're flying into a Delta hub, on a route where Delta dominates with far less competition.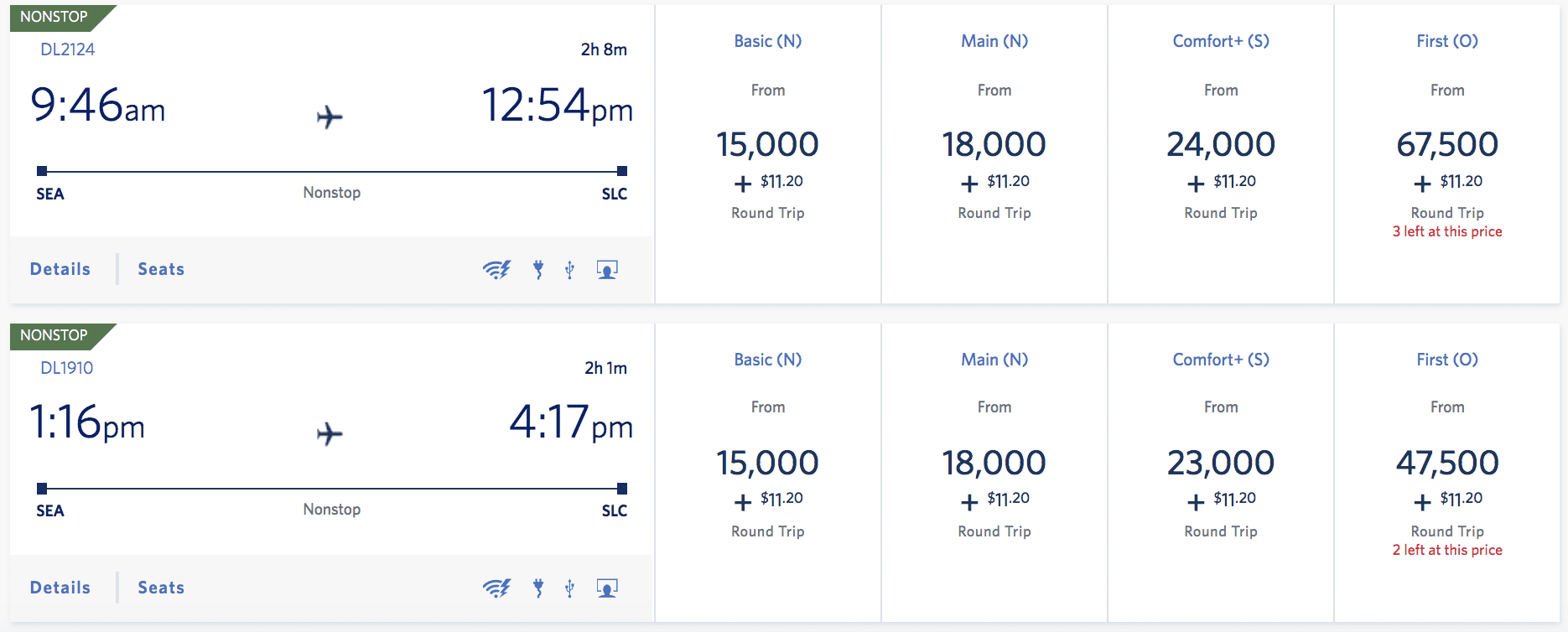 Meanwhile, airports big and small where Delta doesn't have a huge presence – like Chicago-O'Hare (ORD) or even Chicago-Midway (MDW) – are often the best ways to score a good deal with SkyMiles, on long-haul or short flights.
Thrifty Tip: If Delta wants to charge you too many SkyMiles for your flight, try adding in a short flight on either side to see if it brings down the price.
Those are just a few examples of a principle we see time and time again. When you're using SkyMiles, it will generally cost you more to fly in and out of a major Delta hub.
Our Analysis
Delta has a stranglehold on many of its hubs. Outside of the behemoths like New York City-JFK (JFK) and Los Angeles (LAX), its major competitors like American Airlines and United don't have much of a presence in Delta's primary areas of service. Less competition = more control over fares. And because Delta is untethered from an award chart, it can exploit that.
It's safe to say that because Delta's flyers are loyal and don't have as many alternative options on other airlines, it can charge more for a flight out of one of its hubs. And that's exactly what they do.
That's a bummer, especially for loyal Delta flyers based in their hubs (full disclaimer: the whole TT team fits that bill). However, that doesn't negate the value in SkyMiles, and it opens up some opportunities for travelers based elsewhere
Bottom Line
Delta's hub penalty is a byproduct of the lack of an award chart, and it's an unfortunate one. However, Delta SkyMiles are still worth collecting and using. It's just another complicating factor that Delta flyers need to keep in mind when they're looking to burn some SkyMiles for a nearly free flight.
Lead photo courtesy of Delta