Here at Thrifty Traveler, we pride ourselves on finding the cheapest domestic and international airfare. That's what our Thrifty Traveler Premium service is all about: finding fares at $500 off or more. What's better than a cheap flight?
Just one thing: A free flight – or a nearly free one. That's why we also scour the internet for the best ways to use points and miles to travel more for even less. Thrifty Traveler Premium also get award alerts to book flights using points and miles – including rare business and first class opportunities!
We've sent Thrifty Traveler Premium members countless alerts for unadvertised Delta SkyMiles flash sales with massive discounts on flights to Europe, Asia, and beyond; rare award sales on both United and American Airlines; and huge amounts of business and first class award availability to save not hundreds but thousands of dollars.
From some amazing award fares we've unearthed in just the last few weeks to some all-timer deals from the past, take a look at some of the absolute best award fares we've sent to Premium members.
Start getting alerts for deals like these straight to inbox with Thrifty Traveler Premium!

Delta SkyMiles Flash Sales to Europe for 32K RT – Or Less!
It's only right to start with Delta SkyMiles flash sales.
Delta is notorious for ditching its award chart, the cheat sheet that lays out how many miles it will cost to fly from point A to point B. Instead, Delta uses dynamic pricing: SkyMiles rates vary wildly based on cash price, time of year, demand, and more. And while that's a bummer, there's a massive upside: Huge flash sales with massive discounts. Like this one.
Last year, we unearthed an unpublished SkyMiles flash sale with availability from almost any airport in the U.S. to major European cities from just 32,000 SkyMiles … roundtrip! That's half what most airlines charge for these flights!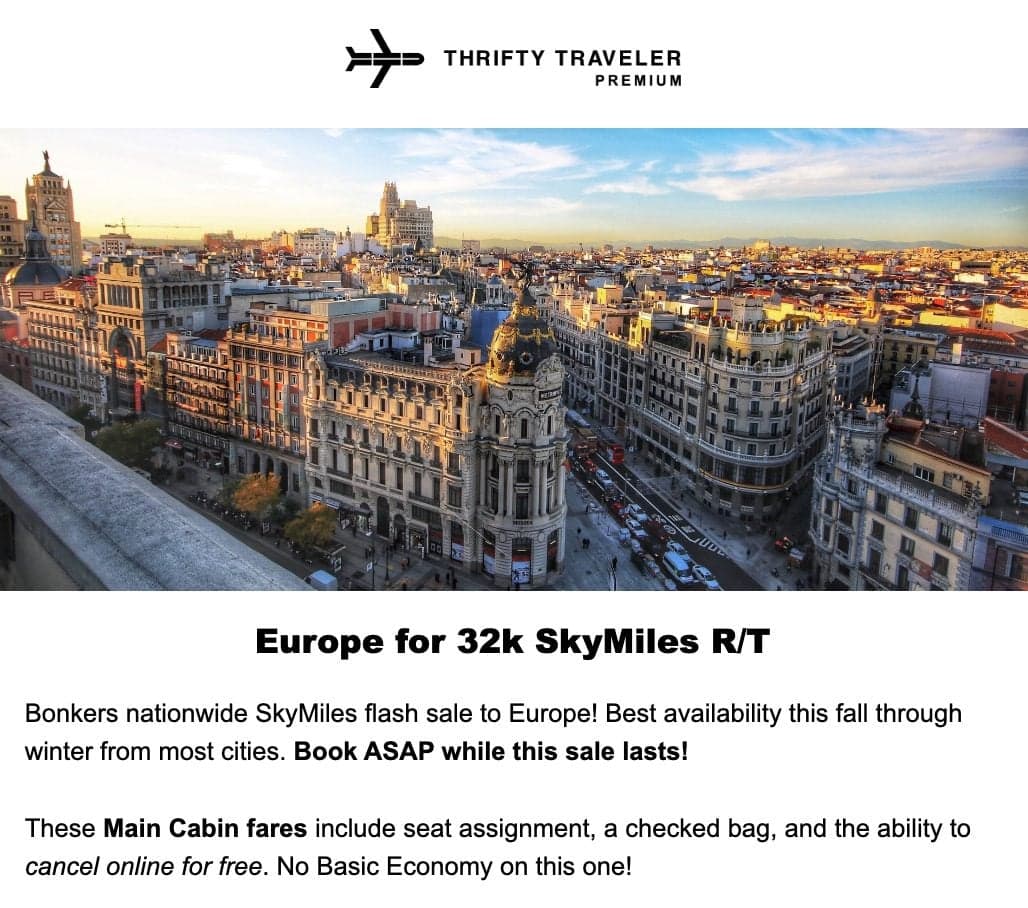 Get award alerts like this one sent to your inbox with Thrifty Traveler Premium!
Occasionally, we've seen SkyMiles award fares to Europe even cheaper. And by cheaper, we mean half that already incredible price. A few years ago, Delta slashed rates as low as just 14,000 SkyMiles round-trip to get to London and back.


Delta loves targeting its competitors' hubs with deals like this – and unfortunately, travelers in Delta strongholds like Atlanta (ATL) or Minneapolis-St. Paul (MSP) often pay higher rates thanks to Delta's hub penalty. In this case, flights were still available nationwide for 30,000 SkyMiles or less!
Delta rarely advertises these massive sales, but we always find them. Flash sales like this one are easily the best way to use your Delta SkyMiles.
Award Fare Alerts for Tons of Qsuites Seats!
Qatar Airways Qsuites are the best business class seats in the world – and it's not particularly close. So go figure that finding the award availability to book these unbeatable suites can be a challenge – especially lately. We can help.
We sent Thrifty Traveler Premium a whopping 10 alerts in the last year for a chance to book Qatar Qsuites to the Middle East and beyond. That includes this most recent award alert, with a massive amount of seats, with space for two (or more!) passengers to fly from the U.S. to Doha, head to the Maldives, or even continue onward to almost anywhere in Africa for a trip in 2024!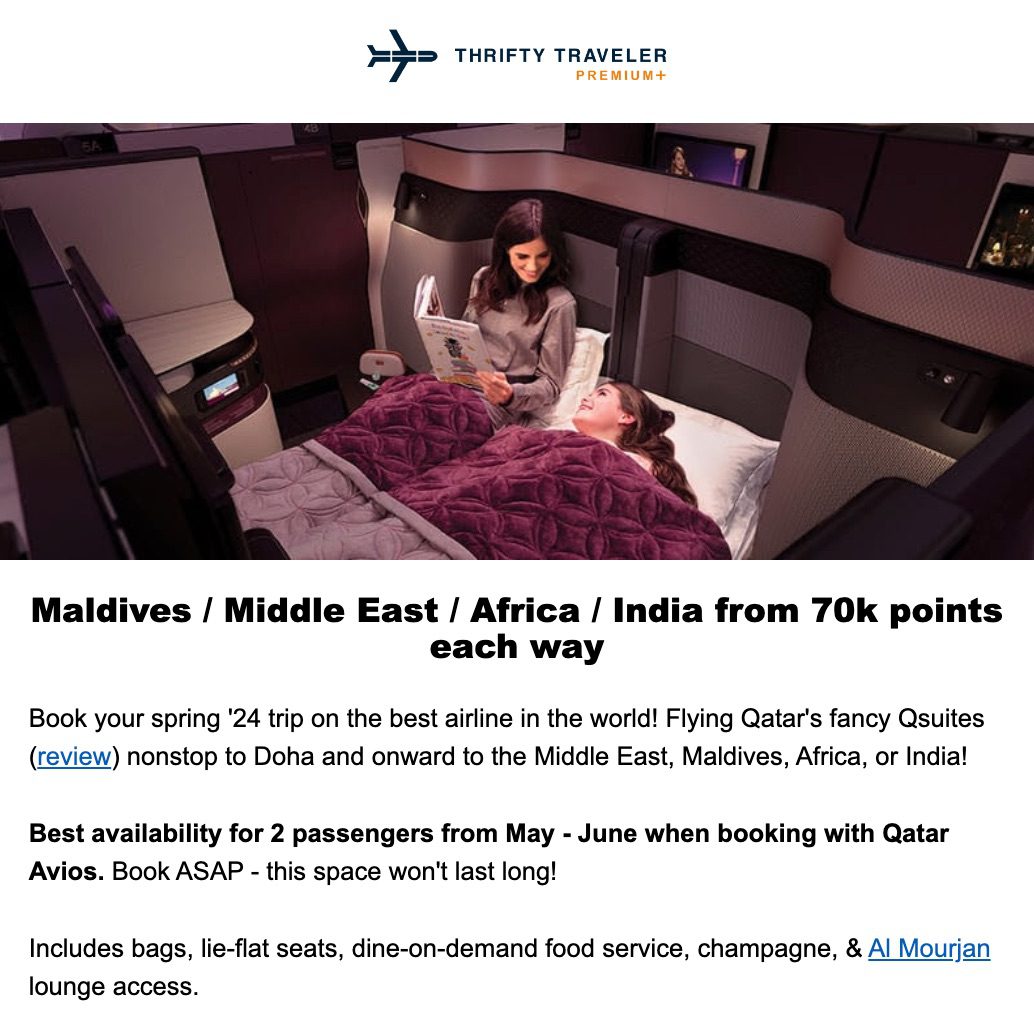 Read our full review of flying Qatar Airways Qsuites from Dallas-Fort Worth (DFW) to Doha (DOH)!
That's just one of the latest business class award space alerts for Qsuites we've sent to Thrifty Traveler Premium subscribers. In this case, nonstop flights for two (or more!) were available from many U.S. hubs like Los Angeles (LAX), Chicago-O'Hare (ORD), Dallas-Fort Worth (DFW), New York City (JFK), and many more.
We're always looking for ways to help travelers stretch their points even further by combining credit card transfer bonuses with our award alerts. It doesn't get much better than booking Qsuites for just 50,000 points thanks to a 40% transfer bonus from Amex to British Airways available last year.

10K AAdvantage Miles to Fly Roundtrip to Australia
This one from 2019 nearly broke the internet.
Whether you're paying cash or using miles, getting to Australia or New Zealand isn't cheap. So jaws hit the floor when American Airlines briefly sold flights from the U.S. to New Zealand and Australia for just 10,000 AAdvantage miles round-trip.
Yes, you read that correctly: 10,000 miles to get to New Zealand and back. Typically, 10,000 miles will hardly get you to a nearby U.S. city. But this was back when American Airlines was just starting to play with variable award fare pricing as they slowly transitioned to dynamic award pricing. Talk about making a splash!
The sale didn't last more than an hour or two, but many of our Thrifty Traveler Premium members were able to book the deal of a lifetime after we shared it – though credit goes to Spencer from Straight To The Points for being the first to find this gem.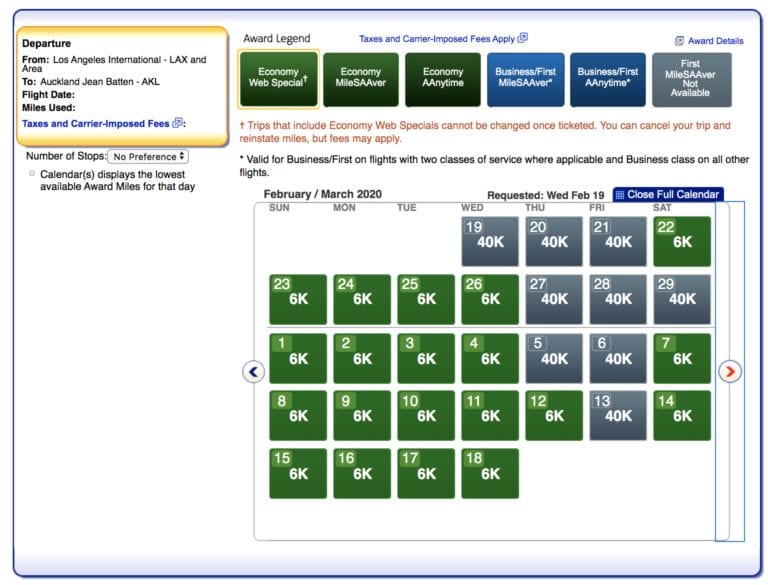 And the savings here were huge: These flights would have cost more than $1,000 each in cash. This was the deal of a lifetime!
Check out all the best deals we've found to use your AAdvantage miles!
United Business Class From 60K Miles … Worldwide!
We've never seen anything like this before – and our Thrifty Traveler Premium know just how special this alert was.
We find award space to book United business class seats with points and miles every now and again. And we also find nationwide United sales, with discounted fares from most U.S. airports to a few cities in Europe or Asia. But a United business class points and miles deal … from nearly every United airport in the U.S. … to almost every destination across the globe that United flies to?
That's completely unprecedented, but it's just what we found. From Europe to Asia to Africa and even Australia: Just 60,000 to 80,000 United miles to get there. Wild.

Only our Thrifty Traveler Premium get deals like these to use points and miles!
That's right: We sent Thrifty Traveler Premium members this deal earlier this year, and it included so many amazing United routes. And it was flying the comfortable new United Polaris business class seats at the front of the plane on every single one of them.
The one hitch was that there was just a week-long span in March 2024 where flights were bookable at these low rates. But that was good enough for countless Premium members to lock in an incredible trip next year – including some routes that are typically impossible to book with miles!

From Cape Town (CPT), to Zurich (ZRH), to Tahiti (PPT), and Buenos Aires (EZE), this deal was truly worldwide.
A Summer Trip to Switzerland in Biz Class
Travel demand to Europe surges every summer, making it difficult to lock down award space if you want to fly across the pond in business class. As travel demand exploded heading into summer 2023, finding business class seats to Europe was like pulling teeth.
That's what made this next award alert so great: We discovered a goldmine of award availability for two (or more) passengers to fly straight into Geneva (GVA) in Switzerland all summer long – including almost every day in July and August 2023, to boot!
SWISS business class is one of our favorite ways to fly to Europe. Snagging these seats for a summer trip thanks to one of our award alerts? For just 60,000 points each way? You can't beat that.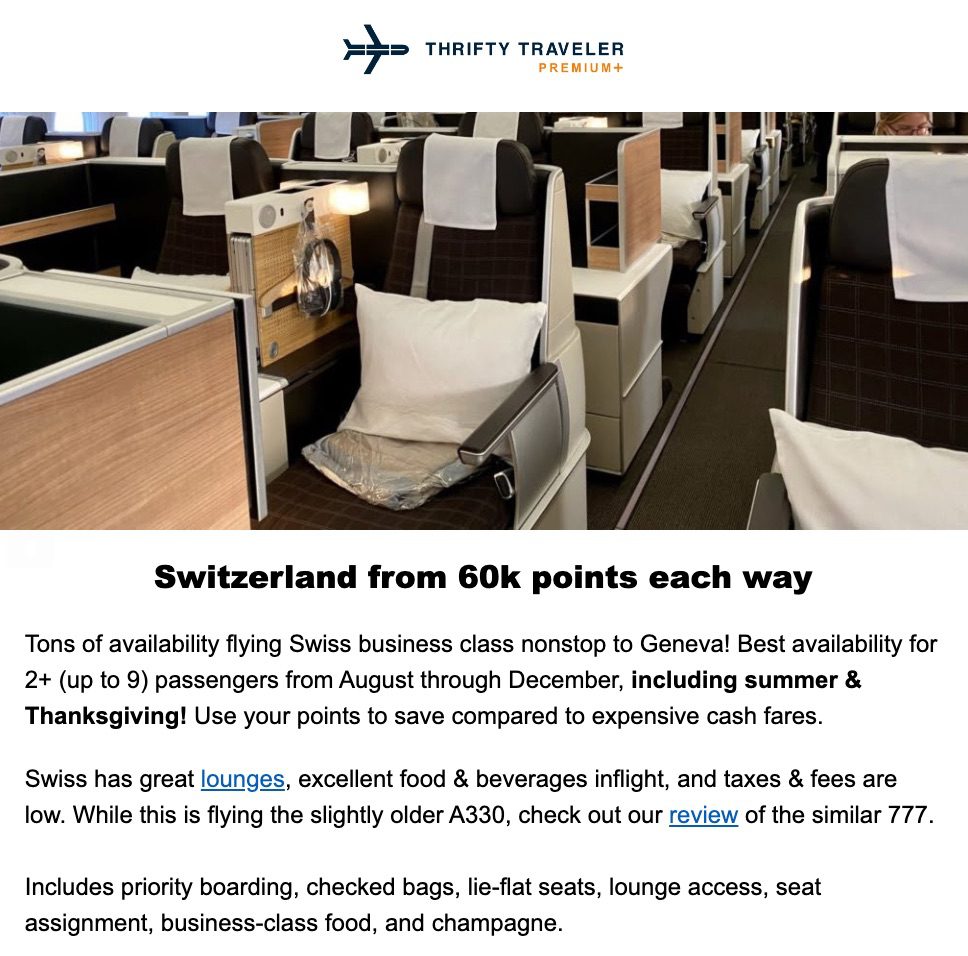 Fly Almost Anywhere in Europe for 30K Miles RT!
At the end of 2019, we stumbled upon an absolute goldmine.
Delta temporarily slashed SkyMiles award rates flying partner airlines like Air France, KLM, or Virgin Atlantic, allowing travelers to book roundtrip flights to most major European cities for just 30,000 SkyMiles!
Most airlines charge at least 60,000 miles for a round-trip to Europe – and Delta often charges much, much more. But whether you booked flights to western European megahubs like Amsterdam (AMS) or Frankfurt (FRA) or even farther-flung destinations like Athens (ATH) or Istanbul (IST), it was still just 30,000 SkyMiles.


Unfortunately, Delta has since raised prices for these flights considerably: After a slew of devaluations over the years, these deals aren't nearly as good anymore. But there's a great way you can still book almost any roundtrip flight to Europe for 30,000 miles…
Air France and KLM are partners with Virgin Atlantic, too, allowing you to use Virgin Atlantic Flying Club points to book Air France/KLM flights – or vice versa. Unfortunately, some hefty cash fees make using Virgin Atlantic Flying Club miles to fly KLM a bad deal – with one exception.
Flights departing from Minneapolis-St. Paul (MSP) are spared from those exorbitant fees. That means you could book roundtrip flights from Minneapolis to almost anywhere in Western Europe as low as just 30,000 miles and under $100 in fees. 

Just book with Virgin Atlantic points instead of Delta SkyMiles. – they're easy to earn, as Virgin is an Amex transfer partner, a Chase transfer partner, a Capital One transfer partner, a Citi ThankYou transfer partner, and even a Bilt Rewards transfer partner.
During peak travel periods like mid-summer, you'll see higher rates of 50,000 points roundtrip. On the plus side, it's easy to find and book these flights. And if you can pair it with a transfer bonus – like a current 30% bonus when sending Chase points to Virgin Atlantic, for example – it gets even better. We sent this alert to Thrifty Traveler Premium members just a few days ago!

Delta One to Europe for 50K Points
Booking a Delta One business class seat across the pond for just 50,000 points each way is one of the best deals in the world. Not with Delta SkyMiles, though …
You can book Delta One to Europe for 50,000 points by using Virgin Atlantic points instead. But beware: It can be hard – if not impossible – to find the award availability to make it work. It's been months since we've seen this deal.
But things were different this time last year. In fall 2022, we gave Thrifty Traveler Premium the heads-up several times about availability to book from several U.S. cities to Amsterdam (AMS), Paris-Charles de Gaulle (CDG), Brussels (BRU), Berlin (BER), Zurich (ZRH), and other destinations for a trip in 2023.
With the help of transfer bonuses to Virgin from banks like Chase or Capital One, it could be even cheaper than 50,000 points!

If you're really lucky, you'll even get a chance to fly to Europe in Delta One suites – Delta flies its Airbus A350-900s or Airbus A330-900neos equipped with these suites on a handful of transatlantic routes.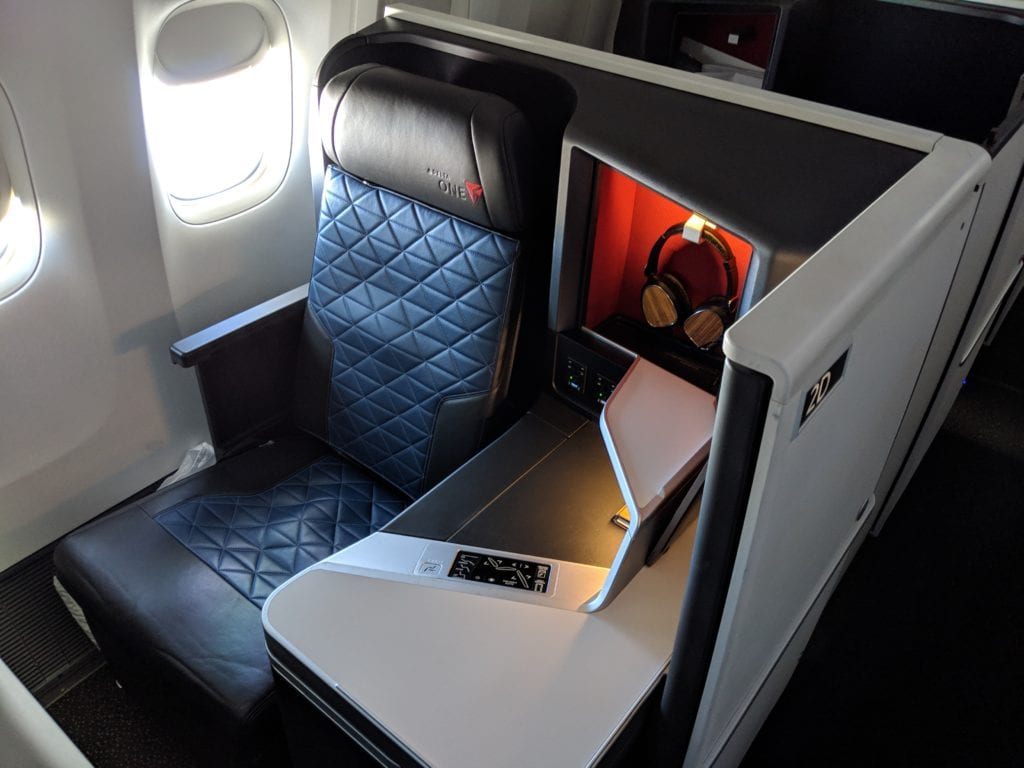 Sadly, a steady trickle of amazing Delta One deals has all but disappeared lately: You may not find a single seat no matter where or when you search. But it's only a matter of time before that changes – and when it does, we're constantly searching for our Thrifty Traveler Premium members for another Delta One alert.
Business Class to Australia & New Zealand from 60K
In normal times, booking a lie-flat seat to Australia or New Zealand isn't just a chore: It's nearly impossible. Airlines are incredibly stingy with these seats, preferring to force travelers to pay in cash rather than release award availability to book with points and miles.
But these aren't normal times. In the last few months, we've found a slew of unreal award deals down to Australia and New Zealand for 2023 and 2024.
At just 60,000 AAdvantage miles each way, this is cheaper than you'll find on almost any other airline. And it was wide-open, with business class space to both Auckland (AKL) and Sydney (SYD) bookable over peak summer in the southern hemisphere … for six-plus passengers!
That's just one of several Australia award alerts we've found and sent Thrifty Traveler Premium members in recent months. Here's another: Flying United Polaris business class to either Sydney or Auckland from just 70,000 points.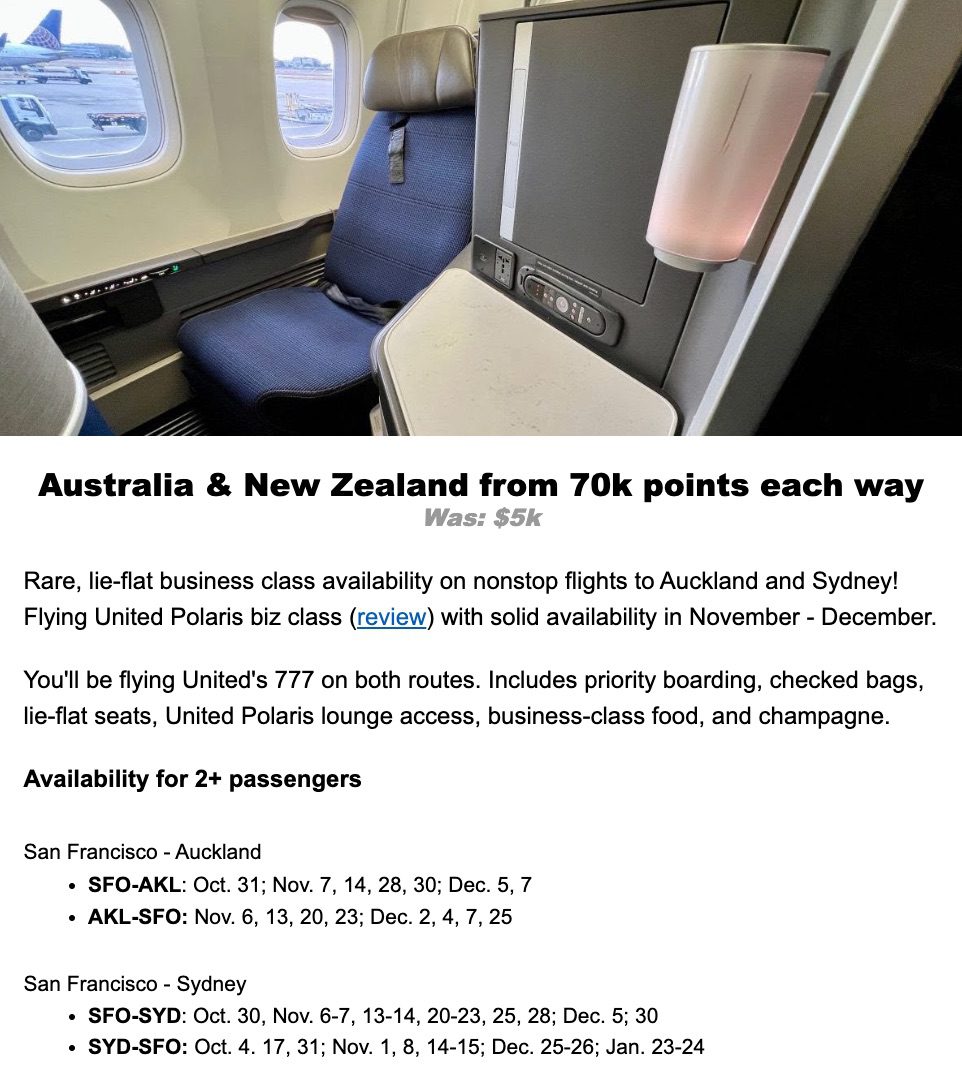 And one more: Flying Qantas business class on the airline's brand-new route from Dallas-Fort Worth (DFW) to Melbourne (MEL), a deal we unearthed a few months back for a trip later this year.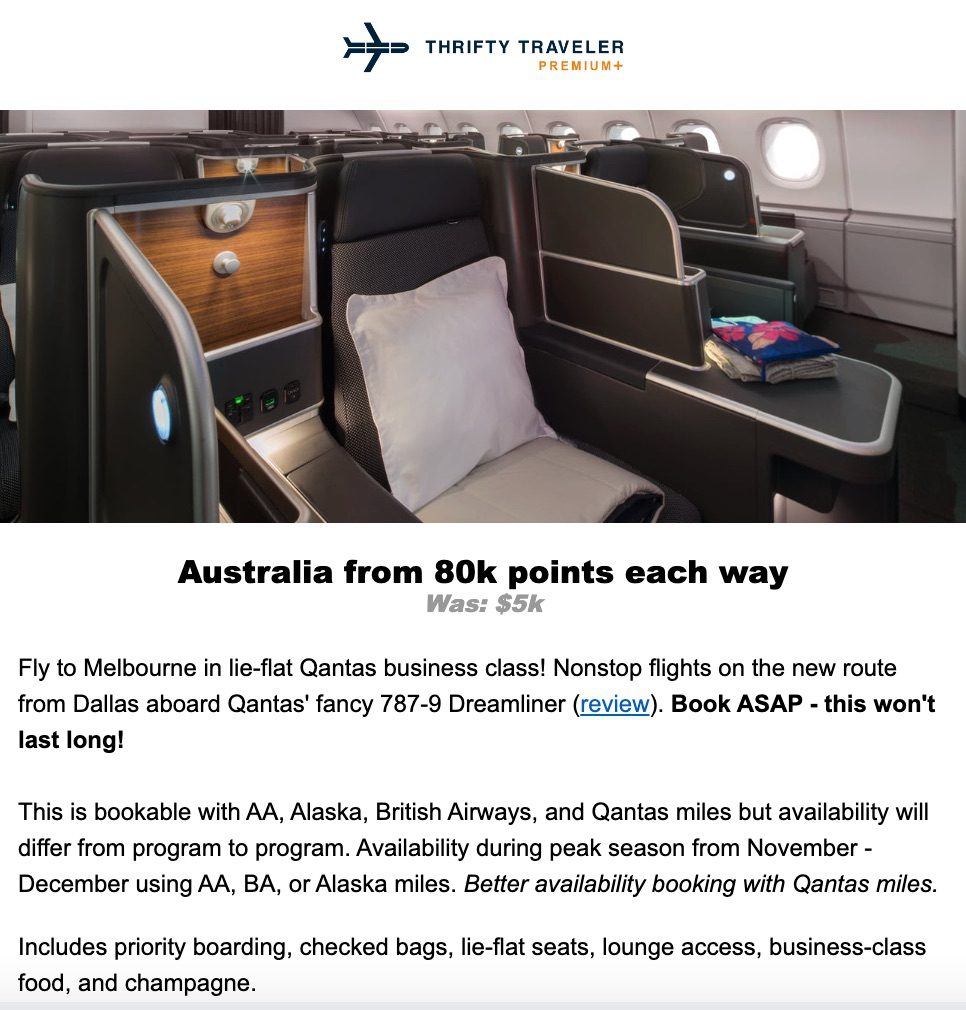 Worldwide AAdvantage Miles Sale from ALL U.S. Cities
American Airlines isn't nearly as generous with its mileage flash sales as Delta, but this one made history: It was the first worldwide flash sale on American Airlines AAdvantage miles!
Fares from every U.S. city were at least 50% off typical award fares to destinations around the world. We're talking:
Hawaiian islands for 30,000 miles roundtrip
Caribbean islands, from Aruba to St. Kitts, for 15,000 miles roundtrip
European hotspots from Barcelona to Zurich for 33,000 miles roundtrip
South American hubs like Buenos Aires and Rio de Janeiro for 30,000 miles roundtrip
All of Central America for 15,000 miles roundtrip
Asian gateways like Hong Kong and Tokyo for 40,000 miles roundtrip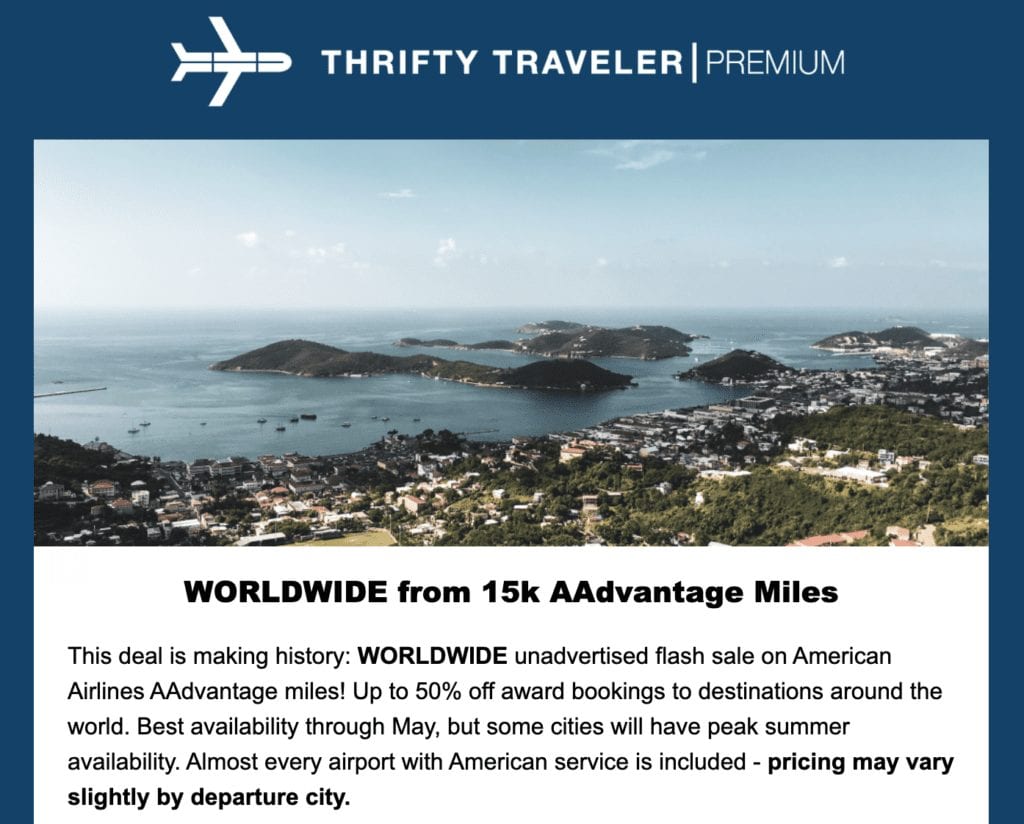 SkyMiles Flash Sale to Hawaii for 9K RT
Hawaii can be expensive to get to, whether you're using cash or points. So naturally, this Delta SkyMiles flash sales really blew our minds – and helped Thrifty Traveler Premium members lock in a trip to Hawaii this spring for a fraction of the miles you'd normally pay.
That's right: Just 9,000 SkyMiles to fly to Hawaii and back.

This deal from earlier this year was only available at these unbelievably low rates from a few cities like Los Angeles (LAX) and Seattle (SEA) to islands like Kauai (LIH), Kona (KOA), and even Maui (OGG). We've found other stellar SkyMiles deals to Hawaii from cities nationwide with rates as low as 10,000 to 19,000 SkyMiles roundtrip. But a trip to Hawaii and back for just 9,000 miles easily tops the list.
Sign up for Thrifty Traveler Premium now and start getting alerts like this!
A Chance to Fly Emirates' Gamechanger First Class
There's first class … and then there's this. Emirates' game-changing first class suites cannot be touched. And we gave Thrifty Traveler Premium members the heads up on a rare chance to book it from the U.S. last year.

Read our full review of the incredible Emirates first class suites on the 777!
Emirates only has a handful of planes equipped with these incredible suites – and they rarely fly to the U.S. So when we noticed that Emirates was flying these jets between its Dubai (DXB) hub and Washington, D.C.-Dulles (IAD), we sent out an award alert with almost daily availability from January through March 2022!

In the months since we first found this deal, Emirates has repeatedly raised cash fees on nearly all of its routes, meaning these fares now cost you $800 plus all those miles – and even more miles now, too. But back when we sent this alert, you could have booked the world's best first class for 136,000 miles and just $181!

ANA First Class to Japan for 55K Points
Japan is open again, and we've found the unicorn deal of all award alerts: ANA First Class to Tokyo in 2023 … for two or more!
Finding even one first class seat on this top-rated Japanese airline has been nearly impossible for two-plus years. Traveling with a companion? Forget about it. So we knew we stumbled upon a literal goldmine with this award alert in January – especially considering you could book using just 55,000 points each way!
After more than a year without a single seat available, we unearthed a goldmine of availability to book ANA's latest-and-greatest first class suites from San Francisco (SFO) for two or more passengers all spring, summer, and even into the fall 2023. Just a few days later, we also found flights in these same suites from Honolulu (HNL).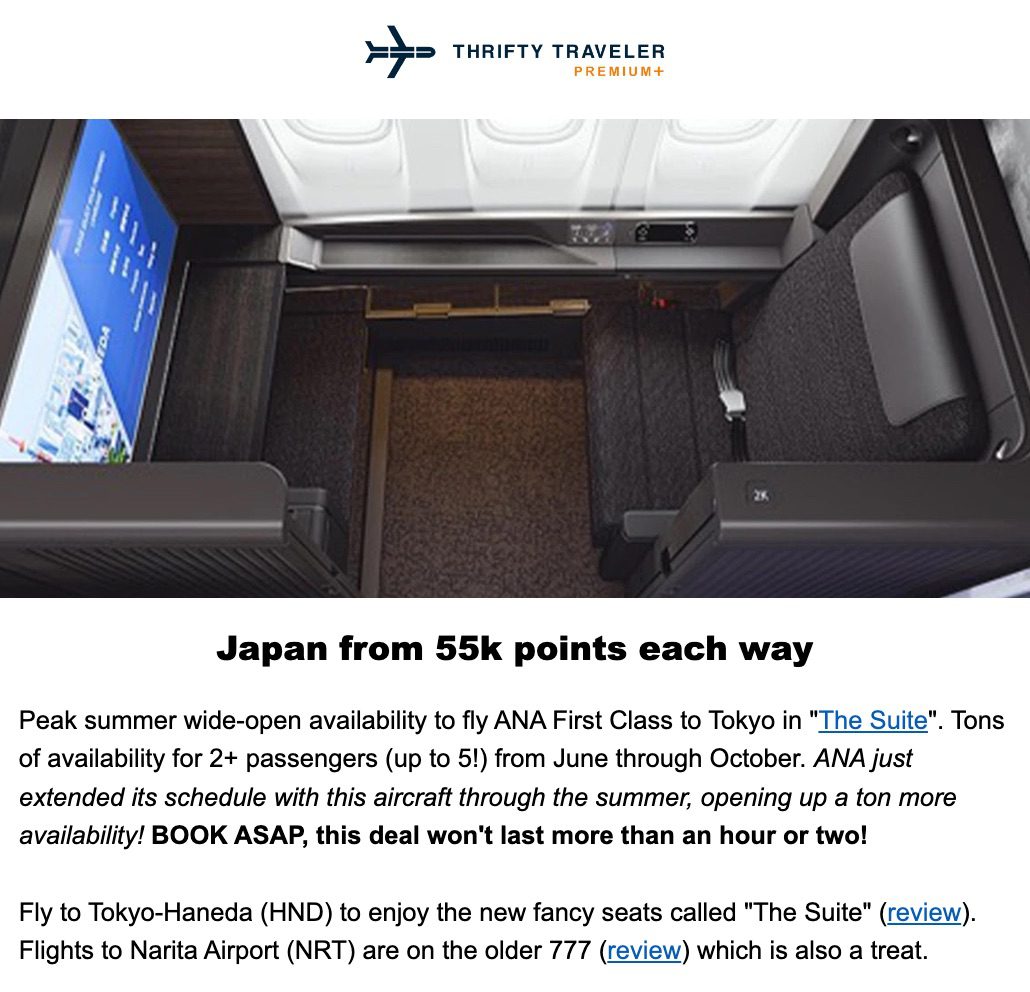 These first class seats to Tokyo got gobbled up within hours! Get the next rare award alert with Thrifty Traveler Premium!
Booking ANA first class awards via Virgin Atlantic is one of the best deals in the world of points and miles – if not the best, period. A first class ride to Tokyo for just 55,000 points (or less, thanks to transfer bonuses) is unbeatable, and this alert made it a reality.
Sadly, Virgin Atlantic has since raised award rates to book these ANA first class flights. But that doesn't matter for our Thrifty Traveler Premium members who booked and took an unforgettable flight to Tokyo thanks to one of our award alerts.
Bottom Line
This is just the start. Between SkyMiles flash sales, award sales on American and United, mileage sweet spots, and ultra-rare business class availability, we're constantly finding the best ways to make your points and miles stretch even further.
Points and miles are the key to traveling more for less. That's why we send these alerts to Thrifty Traveler Premium members along with massive discounts on international and domestic cash fares.
Lead photo courtesy of Qantas