Here at Thrifty Traveler, we pride ourselves on finding the cheapest domestic and international airfare. That's what our Thrifty Traveler Premium service is all about: finding fares at $500 off or more. What's better than a cheap flight?
Just one thing: A free flight – or a nearly free one. That's why we also scour the internet for the best ways to use points and miles to travel more for even less. We've sent Thrifty Traveler Premium members alerts for Delta SkyMiles flash sales with massive discounts on flights to Europe, Asia, and beyond; rare award sales on both United and American Airlines; and huge amounts of business and first class award availability to save not hundreds, but thousands, of dollars.
Here's a look at some of the absolute best award fares we've sent to Premium members over the years.
Not a Premium member yet? Get award fare alerts and cheap flight deals for just $5.99/month!
Delta SkyMiles Flash Sale to London for 14K RT
It's only right to start with Delta SkyMiles flash sales.
Delta is notorious for ditching its award chart, the cheat sheet that lays out how many miles it will cost to fly from point A to point B. Instead, Delta uses dynamic pricing: SkyMiles rates vary wildly based on cash price, time of year, demand, and more. And while that's a bummer, there's a massive upside: Huge flash sales with massive discounts. Like this one.
Most airlines charge at least 60,000 miles to fly to London-Heathrow (LHR) and back. But last year, Delta slashed rates as low as just 14,000 SkyMiles round-trip to get to London and back.

Delta loves targeting its competitors' hubs with deals like this – and unfortunately, travelers in Delta strongholds like Atlanta (ATL) or Minneapolis-St. Paul (MSP) often pay higher rates thanks to Delta's Hub Penalty. In this case, flights were still available nationwide for 30,000 SkyMiles or less!
Delta rarely advertises these massive sales, but we always find them. Flash sales like this one are easily the best way to use your Delta SkyMiles. And this one is just the tip of the iceberg.
Fly Almost Anywhere in Europe for 30K SkyMiles RT!
At the end of 2019, we stumbled upon an absolute goldmine.
Delta temporarily cut SkyMiles award rates flying partner airlines like Air France, KLM, or Virgin Atlantic – and with that came some unbelievable value when using SkyMiles. With this deal, you could have flown to most major European cities for just 30,000 SkyMiles round-trip!
Most airlines charge at least 60,000 miles for a round-trip to Europe, and Delta often charges much, much more. Whether you booked flights to western European megahubs like Amsterdam (AMS) or Frankfurt (FRA) or even farther-flung destinations like Athens (ATH) or Kyiv (KBP) in Ukraine, it was still just 30,000 miles.
Roundtrip flights to many European destinations can cost up to $1,000 cash, so the savings by using SkyMiles here was insane.

Award Fare Alerts for Tons of Qsuites Seats!
Qatar Airways Qsuites are the best business class seats in the world – and it's not particularly close. So go figure that finding the award availability to book these unbeatable suites can be a challenge.
That's why we're always searching for award availability to fly Qatar Qsuites to the Middle East and beyond. This spring, we found a massive amount of seats, with space for two to four (or more!) passengers to fly from the U.S. to Doha (DOH), continue onward to Middle Eastern cities like Amman (AMM) or Muscat (MCT), or fly down to Cape Town (CPT) South Africa in style! And it lasted all the way through summer 2021!
This is just the latest business class award space alert for Qsuites we've sent to Thrifty Traveler Premium subscribers. In this case, flights were available from many U.S. hubs like Los Angeles (LAX), Chicago-O'Hare (ORD), Dallas-Fort Worth (DFW), New York City (JFK), and many more. Best of all, you could book these seats for just 70,000 American AAdvantage miles each way – or 75,000 to fly all the way down to South Africa.
Read our full review of flying Qatar Airways Qsuites from Dallas-Fort Worth (DFW) to Doha (DOH)!
10K AAdvantage Miles to Fly Roundtrip…to Australia
This one nearly broke the internet.
Whether you're paying cash or using miles, getting to Australia or New Zealand isn't cheap. So jaws hit the floor when American Airlines briefly sold flights from the U.S. to New Zealand and Australia for just 10,000 AAdvantage miles round-trip. 
Yes, you read that correctly: 10,000 miles to get to New Zealand and back. Typically, 10,000 miles will hardly get you to a nearby U.S. city. But this was back when American Airlines was just starting to play with variable award fare pricing with their Economy Web Specials. Talk about making a splash!
The sale didn't last more than an hour or two, but many of our Thrifty Traveler Premium members were able to book the deal of a lifetime after we shared it – though credit goes to Spencer from Straight To The Points for being the first to find this gem.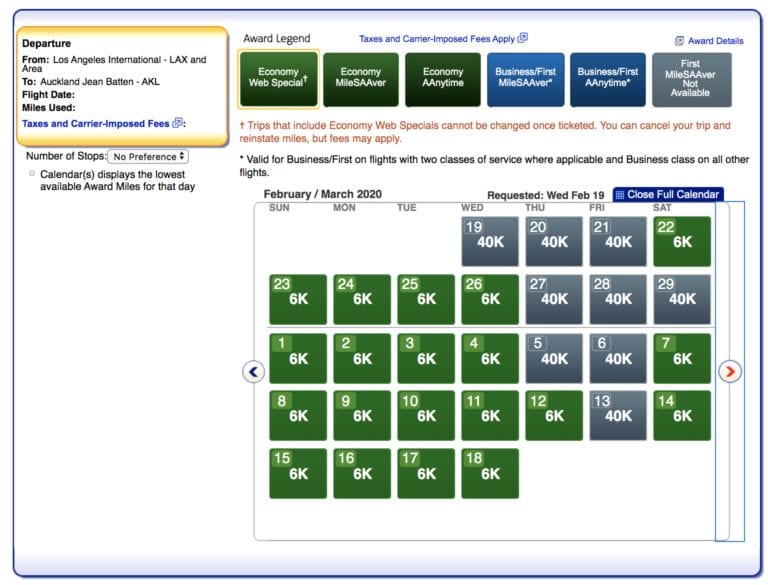 And the savings here were huge: These flights would have cost more than $1,000 each in cash. This was the deal of a lifetime!
Minneapolis to Anywhere in Europe for 30K Miles!
Time for another mileage sweet spot.
Air France and KLM recently teamed up with Virgin Atlantic, allowing you to use Virgin miles to book Air France/KLM flights – or vice versa. Unfortunately, some hefty cash fees make using Virgin Atlantic Flying Club miles to fly KLM a bad deal – with one exception.
We discovered that flights departing from Minneapolis-St. Paul (MSP) were spared those exorbitant fees. That meant you could book round-trip flights from Minneapolis to almost anywhere in Europe for just 30,000 miles and under $100 in fees. Just book with Virgin Atlantic miles instead of Delta by transferring points from Amex Membership Rewards, Chase Ultimate Rewards, or Citi ThankYou Points.
These fares, available into late spring 2021, would typically cost over $1,000!
Delta One Suites Under 100K SkyMiles
If you're flying across the ocean, it's tough to beat Delta One suites. This is Delta's top business class seat, and easily among the best business class seats in the world, period. The problem? Delta often charges 120,000 SkyMiles, 250,000 SkyMiles, or even more … each way. It's not cheap.
Enter Delta SkyMiles flash sales. In just the past year, we've found a handful of amazing sales to book Delta One seats for dirt-cheap.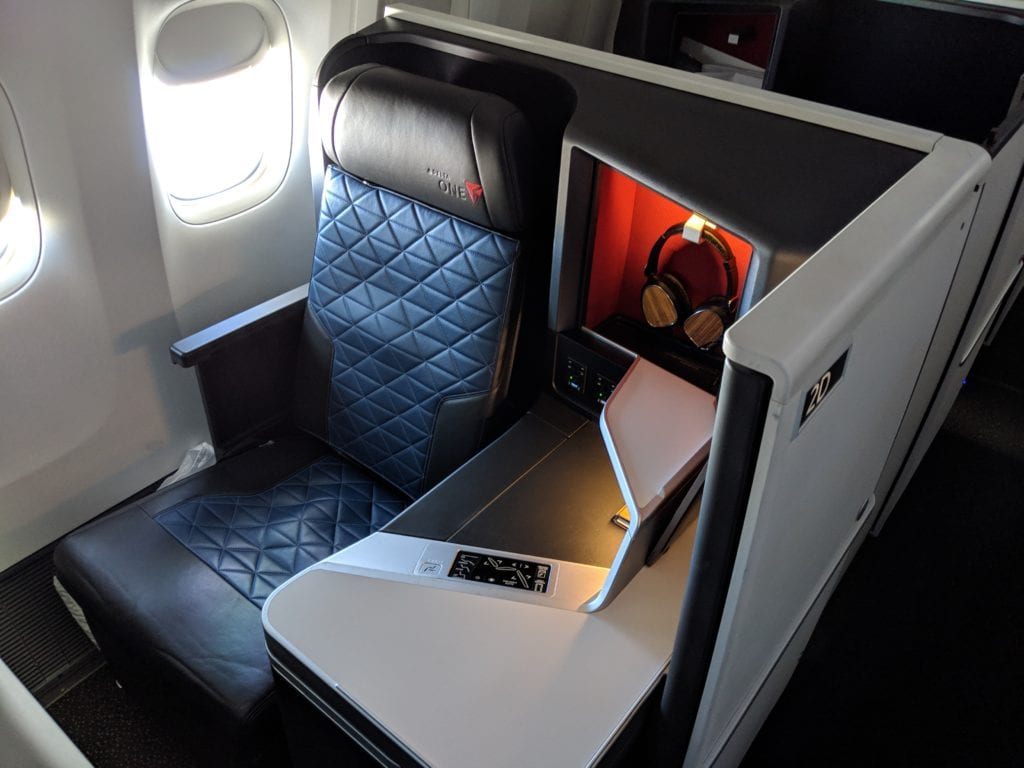 Do Delta One Suites really live up to the hype? (Yes, they do)
The cream of the crop was an insane flash sale on Delta One Fares to Tokyo-Haneda (HND). At just 90,000 SkyMiles round-trip, it was one of the best sales we've ever found to fly business class. Getting to Tokyo and back in lie-flat seats would typically cost at least 250,000 SkyMiles – or $5,000.
And back in late 2019, we found another Delta One SkyMiles flash sale to Europe, with wide-open availability to fly even to tough-to-reach destinations like Athens (ATH), Budapest (BUD), and Istanbul (IST) for just 98,000 SkyMiles round-trip! And it was bookable at that low rate from nearly every U.S. airport, even smaller cities like Bemidji, Des Moines, Peoria, and more! (Yes, we find flight deals from your regional airport!)
Worldwide AAdvantage Miles Sale from ALL U.S. Cities
This American flash sale definitely made history: it was the first worldwide flash sale on American Airlines AAdvantage miles!
Fares from every U.S. city were at least 50% off typical award fares to destinations around the world. We're talking:
Hawaiian islands for 30,000 miles roundtrip
Caribbean islands, from Aruba to St. Kitts, for 15,000 miles RT
European hotspots from Barcelona to Zurich for 33,000 miles RT
South American hubs like Buenos Aires and Rio de Janeiro for 30k RT
All of Central America for 15,000 miles RT
Asian gateways like Hong Kong and Tokyo for 40,000 miles RT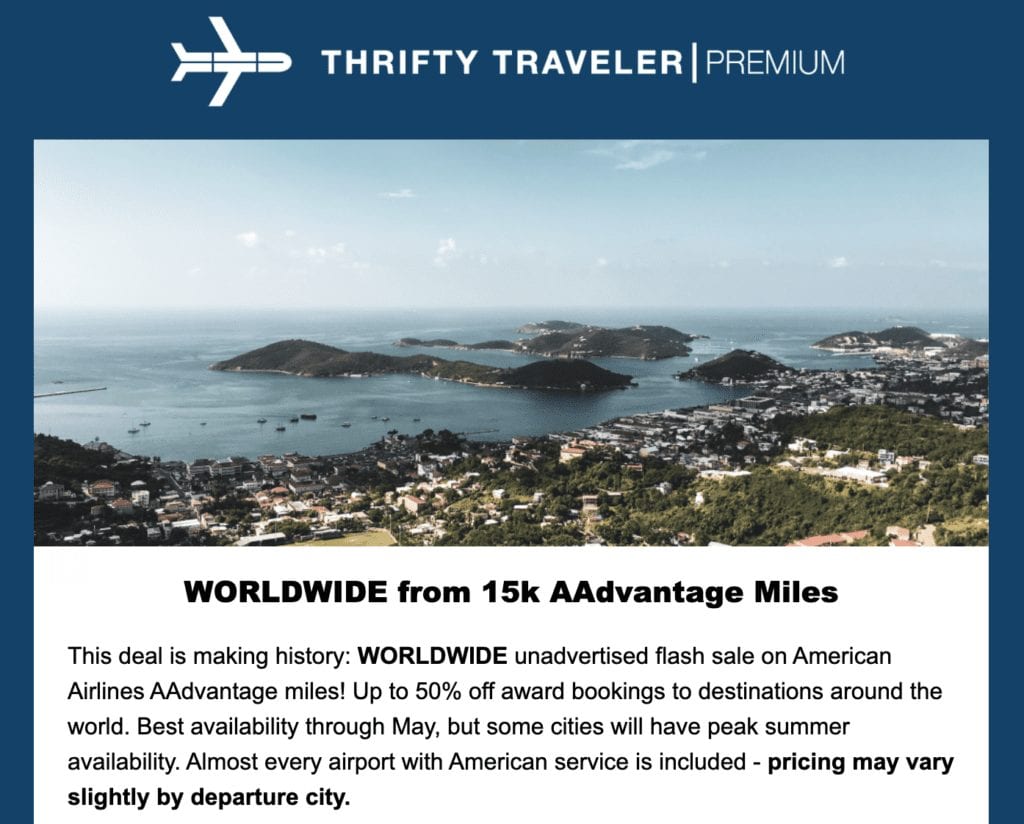 Thrifty Tip: Wishing you had more AA miles after learning about flash sales like this? Here's how to get them for next time – and why you should.
Massive United Business Class Award Sale to Europe
Want to use your United miles (or Chase points) to fly business class? Almost anywhere in Europe? Even in United's brand new Polaris cabins?
We found wide-open saver award availability to fly United Polaris business class to most major European cities through much of 2021. That meant you could book these seats for just 60,000 United miles each way. Or 55,00 Aeroplan miles. Or 45,000 Turkish miles. Or just 88,000 ANA miles for a round-trip in business class!
The best part? Wide-open availability for up to groups of four! Award sales like this don't come around often.
Bottom Line
This is just the start. Between SkyMiles flash sales, award sales on American and United, mileage sweet spots, and business class availability, we're constantly finding the best ways to make your points and miles stretch even farther.
Points and miles are the key to traveling more for less. That's why we send these alerts to Thrifty Traveler Premium members along with massive discounts on international and domestic cash fares.