Whether you're a recent convert to points and miles or a seasoned pro, you've heard the knock on Delta SkyMiles: They're "worthless," "unpredictable" and "not worth the trouble." Let the Thrifty Traveler team set the record straight: That's all wrong.
Sure, it's a tricky program with some major challenges and a history of sudden price hikes that make your stash of SkyMiles less valuable. But that doesn't mean that they're useless. Far from it.
We'll outline some of our best tips for understanding how Delta SkyMiles work, and how to redeem them for maximum value.
Rules of Thumb
The main thing you need to understand about Delta's loyalty program is that the guidelines that govern most frequent flyer programs don't really apply to SkyMiles. That's because Delta long ago stopped publishing an award chart, the cheat sheet that tells you how many miles it will cost to fly from point A to point B. Most airlines use an award chart to set the base amount of miles charged for any given award flight.
Instead, Delta uses a highly variable award system that looks more like a cash fare calendar. It's called dynamic award pricing, and it means that the amount of miles you need to book a flight vary based on the cash price, demand, seats sold, time of year, and so on.
Most airlines have just two or three price tiers at which they offer award fares. Delta has eight or more. So even on the exact same route, the amount of SkyMiles charged for a flight can vary wildly day by day.
That unpredictability can make it more difficult to get a good deal with your SkyMiles – especially if you're trying to fly business class, where Delta often charges exorbitant rates.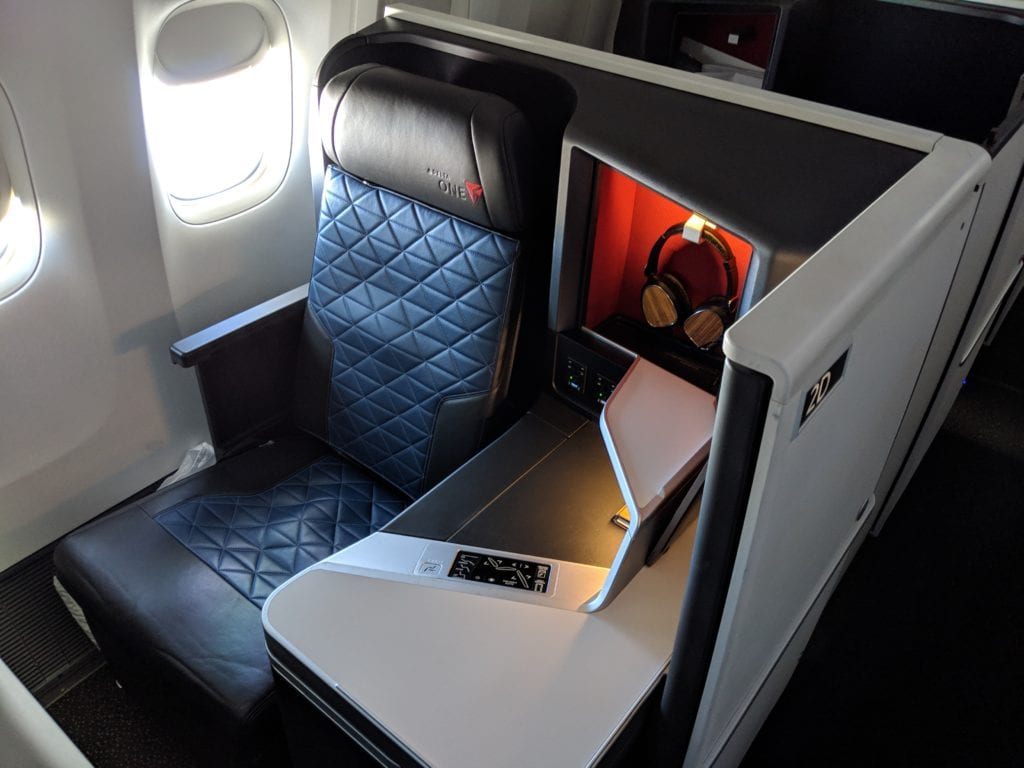 Get A Long View
Without an award chart, using Delta's calendar view of award fares is the key to getting the best bang for your buck with SkyMiles. Once you've zeroed in on your route, use the "Price Calendar" function once you've entered your search to pull up five full weeks of availability.
Scrolling through a few months, you'll get a feel for what the absolute base price is for a given award fare, like the 37,000 SkyMiles it will take you to get from Minneapolis-St. Paul (MSP) – or any Delta hub – to London-Heathrow (LHR) in economy, for example.
Thrifty Tip #1: Ensuring you're getting your flights for the lowest amount of SkyMiles possible is the key to getting the most out of Delta's program.
Big Savings on Flash Sales
Delta regularly offers occasional sales on award fares – we call them SkyMiles flash sales. And this is where SkyMiles really shine.
Whether it's a domestic flight that Delta is touting or an unpublished international deal, these sales give you a chance to make your SkyMiles go even farther. Delta can offload international routes for half the usual amount of SkyMiles Delta charges – or even steeper savings.
In just the last few weeks, we've found domestic flash sales as low as 8,000 SkyMiles round-trip or flights to the Caribbean starting at 11,000 SkyMiles. Most airlines still charge about 20,000 miles for a domestic round-trip award, and 30,000 to the Caribbean.
Want more award alerts like this one? We send them to Thrifty Traveler Premium+ members first, along with dirt-cheap domestic and international flight deals.
But the savings can get even better. Here's a quick recap of some of the best SkyMiles we've seen over the last year:
That's just the tip of the iceberg. These flash sales are easily the absolute best way to use your SkyMiles. So while the unpredictable pricing is frustrating, these steep sales are the upside.
One thing to note is that you'll need to act fast, as these sales often last just a few days.
Read our guide on Everything You Need to Know About SkyMiles Flash Sales. 
Sweet Spot for Short Flights
We've cautioned against using your miles for domestic flights in our guide on when to use points vs. paying cash, but it's an area where SkyMiles actually shine.
There is no shortage of routes available for between 5,000 and 10,000 SkyMiles each way. Seattle (SEA) to Denver (DEN) for 5,000, Minneapolis-St. Paul (MSP) to Boston (BOS) starting at 7,000 SkyMiles and even the highly competitive route between San Francisco (SFO) and New York City-JFK (JFK) for as low as 9,000 SkyMiles. Just beware. Delta now sells Basic Economy award tickets on many domestic routes.
The trick is finding them at the lowest price tier, as you learned above. When you can, it's a win, considering American and United often charge at least 10,000 miles for many of these same flights.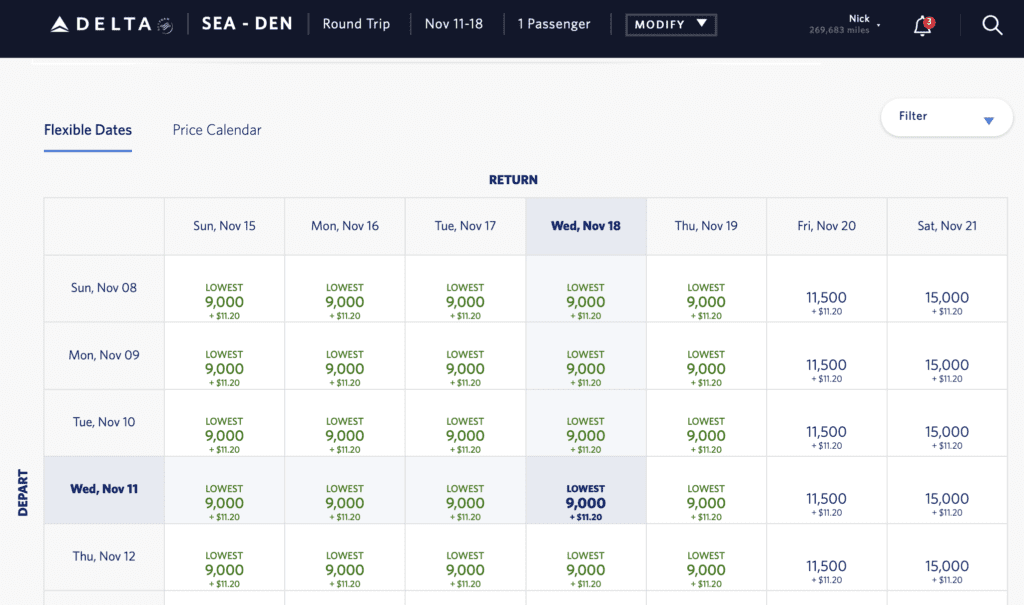 Avoid Last-Minute Bookings
Pros in the miles and points world will tell you that booking last-minute is a great way to snag award availability. But that's not a winning approach with SkyMiles.
The dynamic award chart allows Delta to treat its award bookings much like any cash fare. This means that prices can skyrocket in the final weeks prior to departure. Take a look at the next two weeks of fares between MSP and JFK, which generally sell as low as 7,500 SkyMiles one way.
When redeeming with SkyMiles, it pays to plan ahead.
Pay With Miles
This extra little feature of Delta's isn't always the best strategy, but it can be an absolute steal. Available only to holders of Delta's American Express cards, Pay With Miles allows you to use each SkyMile as one cent toward a flight in cash. It may not sound like much of a deal, but it can easily save you 10,000 or more SkyMiles if you spot a cheap cash fare here or through your Thrifty Traveler Premium subscription.
One of the best parts of the Pay With Miles feature is that these fares are eligible to earn Medallion Qualifying Miles (MQMs) and Medallion Qualifying Segments (MQSs) towards Delta elite status where standard award tickets are not.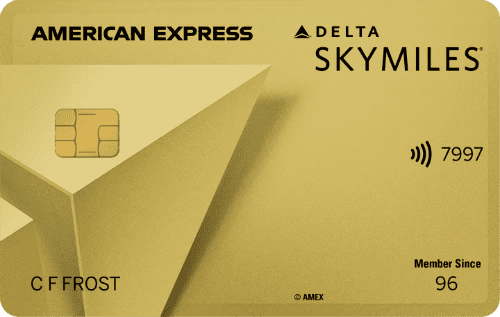 Click Here to learn more about the Delta SkyMiles® Gold American Express Card. 
Click Here to learn more about the Delta SkyMiles® Platinum American Express Card. 
Avoid Partner Airlines … Sometimes
Delta is notorious for devaluing SkyMiles. Their latest price hikes on award flights last year hit SkyTeam partner airlines the hardest. Depending on your destination, booking on a partner airline like Air France or Virgin Atlantic can cost you at least an extra 5,000 SkyMiles in economy and generally another 15,000 or more in business class than the exact same route on a Delta plane.
But that's not always the case. It can actually be cheaper to book on a partner airline using SkyMiles than board a Delta plane. We've explained how Delta award prices can move up and down, seemingly at a moment's notice. Pricing with partner airlines like Air France, KLM, and China Airlines is far more stable. And that means you may be able to snag a better deal by flying with one of those partner airlines.
This was the case at the end of 2019 when Delta started selling partner award tickets for 15,000 SkyMiles each way to almost everywhere in Europe.
There are some terrific first-class cabins on Delta's SkyTeam partners flying international routes, including Air France's La Premiere and Garuda Indonesia. Unfortunately, they're all off-limits when booking with SkyMiles. The SkyMiles program limits you to business class no matter what airline you're booking as that's Delta's highest service on long-haul routes.
Bottom Line
Delta gets a lot of heat for how it handles its SkyMiles program, but with some extra legwork, you can make excellent use of your miles. Unlike most major airlines, SkyMiles never expire. By using this guide to how Delta SkyMiles work, you can be sure you're spending them wisely.