Need to earn Delta SkyMiles – and a lot of them? Look no further.
While others bash Delta SkyMiles for being "worthless," there are plenty of great ways to redeem SkyMiles. Between frequent SkyMiles flash sales offering half-priced routes, cheap domestic fares, you can get a lot of value out of SkyMiles. We don't blame you for wanting to add to your stash.
These days, the best ways to rack up SkyMiles go far, far beyond simply flying with Delta. From the best credit cards with big bonuses to smaller ways to continually add to your balance, here are the best, tried-and-true ways to earn Delta SkyMiles in 2023.
Related Reading: How Much Are Delta SkyMiles Really Worth?
American Express Delta Airlines Co-Branded Credit Cards
There's no easier way to amass a ton of Delta SkyMiles quickly than getting a welcome bonus offer from the co-branded American Express Delta credit cards. All told, there are four co-branded Delta credit cards from American Express, plus even more small business versions. And each card offers a different welcome offer bonus.
If you come away with one thing here, make it this: You can earn the welcome bonus on each card once per lifetime. That means you could open the Delta SkyMiles® Gold American Express Card and earn a big welcome offer bonus, then open the Delta SkyMiles® Platinum American Express Card down the road and earn a welcome offer bonus on that card, too. That makes it much easier to continue earning SkyMiles.
Related reading: You Can Upgrade Your Delta Amex Card (But Maybe You Shouldn't)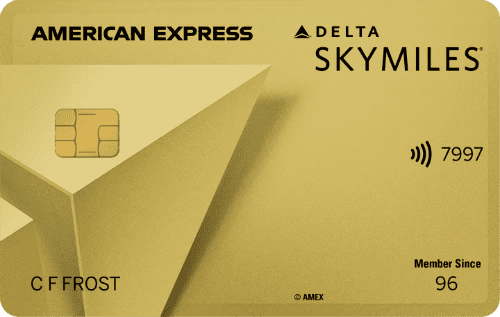 Click Here to learn more about the Delta SkyMiles® Gold American Express Card. 
Click Here to learn more about the Delta SkyMiles® Platinum American Express Card.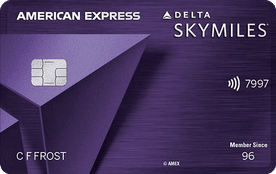 Click Here to learn more about the Delta SkyMiles® Reserve Card from American Express.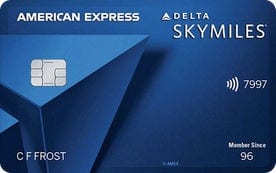 Click Here to learn more about the Delta SkyMiles® Blue American Express Card. 
Want to learn more about what each of these cards offers? Make sure to visit our Top Credit Cards Page. 
American Express Membership Rewards Credit Cards
It might seem counterintuitive, but one of our favorite ways to earn Delta SkyMiles isn't even a Delta credit card. In fact, we think the best credit card for earning Delta SkyMiles isn't even a Delta card at all. That distinction goes to the American Express® Gold Card.
American Express has its own suite of credit cards that earn Membership Rewards points. But Delta is an Amex transfer partner, which means you can send these points from Amex directly to your Delta SkyMiles account on a 1:1 basis (1 point = 1 Delta SkyMile). And thanks to some excellent bonus categories, you can earn even more SkyMiles than by using one of Delta's co-branded cards in certain spending categories.
One of the best is The Platinum Card® from American Express, which starts with a standard, 80,000-point welcome bonus after spending $8,000 in six months. But be sure to check and see if you qualify for a 150,000-point bonus for the same spending requirement.
But the points go beyond that initial bonus. One of the best features of this card is that it earns an unbeatable 5x points on airfare purchased directly through airlines or at amextravel.com on up to $500,000 spent in this category in a calendar year. Combined with some solid travel insurance, it makes the Platinum Card the best card for booking flights.
So if you buy a $500 ticket at Delta.com, you'd earn 2,500 Membership Rewards that you could transfer to your Delta SkyMiles account. You earn just 2x SkyMiles on Delta purchases with the Delta SkyMiles® Gold American Express Card, so the same flight would earn you just 1,000 SkyMiles.
This card carries a hefty fee, at $695 annually (see rates & fees). But with that comes an incredible suite of perks like $200 in travel credits, up to $200 toward free Uber rides, airport lounge access, up to $189 to cover the cost of a CLEAR Plus membership, up to a $100 credit for Global Entry or PreCheck, and more. Those benefits can easily outweigh the annual fee.
It can even get you complimentary access to the Delta Sky Club when you've got a Delta flight that day.
Read: Is the Amex Platinum Worth the Annual Fee? An Honest Review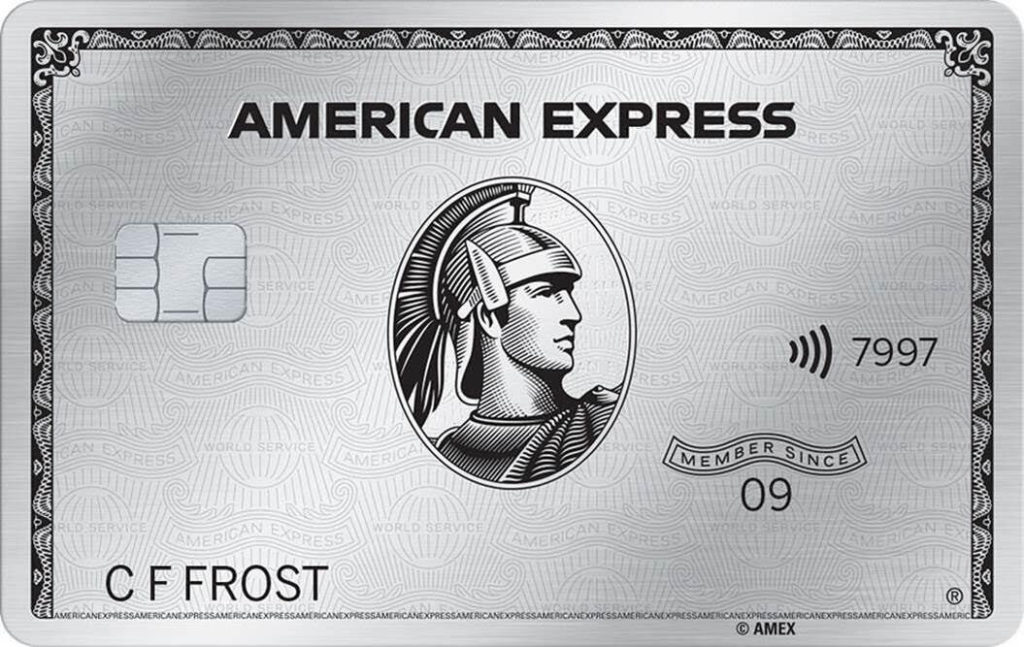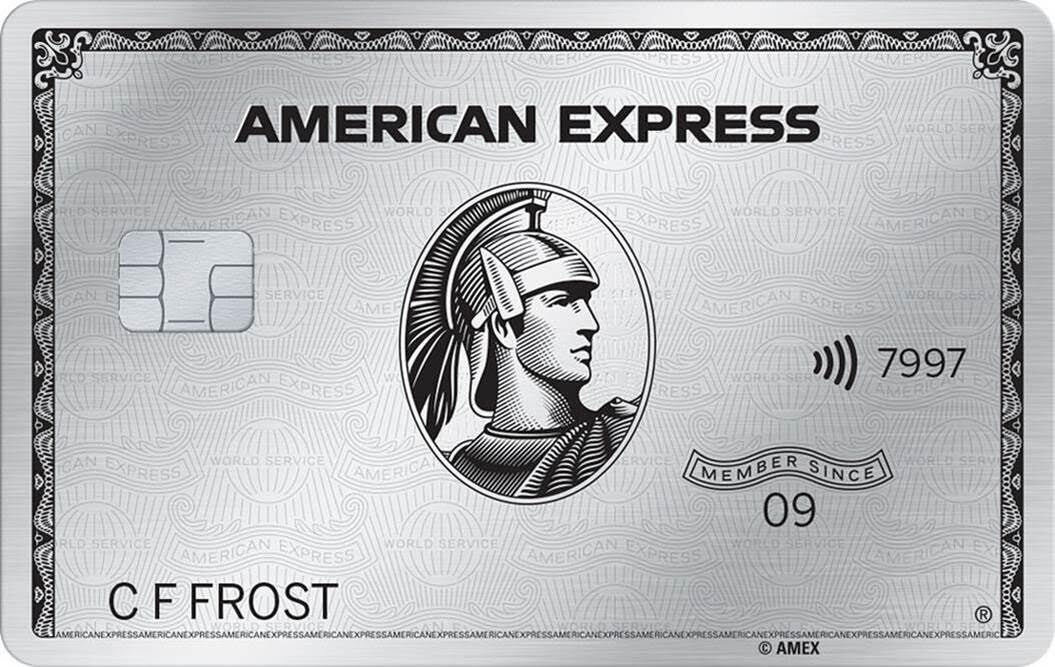 Click Here to learn more about the Platinum Card from American Express. 
The American Express® Gold Card is another strong option. The card is currently offering a 60,000-point welcome bonus after spending $4,000 within six months of card membership. But like the Platinum Card, you may qualify for a much higher offer through CardMatch … or via personal referral links!
You'll also earn an unlimited 4x points per dollar spent at restaurants and U.S. supermarkets (on up to $25,000 each year, then 1x) – the highest bonus on the market – and 3x points on airfare booked directly with airlines or through amextravel.com. This card has an annual fee of $250 (see rates & fees), which we feel can be worth it.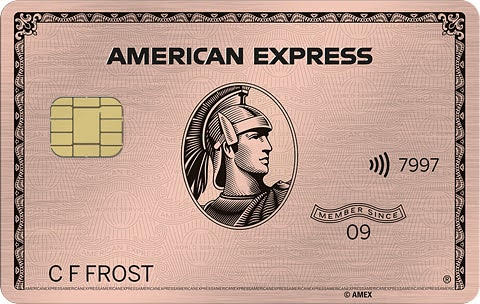 Click Here to learn more about the American Express Gold Card.
And then there's the *Amex Green Card* which Amex refreshed in October 2019 with a handful of new perks including a $189 credit to cover the cost of a CLEAR Plus membership and a $100 Lounge Buddy credit. It also earns 3x points on every dollar you spend on both dining and travel.
Learn more about the *Amex Green Card*
Read our guide to help you decide which card is right for you: Gold, Green, or Platinum?
One important note: American Express Membership Rewards charges a fee of 0.06 cents per point up to a maximum of $99 when you transfer from American Express Membership Rewards points to a U.S. airline. So a transfer of 100,000 points would incur a $60 fee when you transfer to Delta. It's not earth-shattering, but it is slightly annoying quirk be aware of when making Membership Rewards points transfers to Delta.
Earn by Flying with Delta – or Partner Airlines
This one is obvious. Of course, you can earn SkyMiles by flying with Delta. But it's no longer the easiest way to earn Delta SkyMiles.
The days of earning miles based upon how many miles you fly are long gone. These days, everyday SkyMiles members earn 5x SkyMiles for every dollar spent on Delta flights. You can juice those numbers by paying for your flight with the right credit card or by earning Delta status – more on that soon.
But if you want to earn Delta SkyMiles on your flight, you'll need to avoid Delta basic economy fares. As of December 2021, Delta basic economy tickets no longer earn SkyMiles or credit towards Delta Medallion status.
So let's say you spend $200 on a Delta main cabin ticket from Chicago-O'Hare (ORD) to Atlanta (ATL). After you take that flight, you'll get just shy of 1,000 SkyMiles in your account – the taxes and fees you pay on each plane ticket don't count towards your mileage earning.
But you can also earn Delta SkyMiles by flying some of Delta's partner airlines like Air France, KLM, or countless more. Here's where it gets tricky.
If you book that KLM flight directly through Delta.com, you'd earn SkyMiles just as if you were flying Delta – it's based upon the cash price of your flight. But if you book through KLM and attach your SkyMiles account to your reservation, it's based upon the length of your flight, what cabin you're flying in, and other factors.
It gets complicated, but flying partner airlines is a way to earn even more SkyMiles (and earn Delta status faster, too).
Earning Delta Medallion Status
Delta's Medallion status program isn't for everyone, especially now that Delta has raised the spending requirements to earn most tiers. But if you've got it, it's a great way to earn some additional SkyMiles.
The higher you climb on Delta's status ladder, the bigger bonuses you'll get on Delta purchases. The lowest level is Silver Medallion, and with that, you'll earn 7x SkyMiles on all Delta purchases – up from the 5x everyday SkyMiles members earn. Gold members earn 8x, while Platinum members get 9x SkyMiles. At the very top is Diamond, and those members get 11x SkyMiles on Delta purchases.
Related reading: Why Free Upgrades on Delta are Getting Harder & Harder

Needless to say, any level of status with Delta is a great way to accelerate your ability to earn Delta SkyMiles. Learn more about Delta's elite program.
Marriott Bonvoy Points & Credit Cards
Marriott points aren't just good for hotel stays.
Transferring hotel points to airlines is generally a poor value, but Marriott can be an exception in certain circumstances. You can transfer Marriott Bonvoy points to over 40 different airline partners, including Delta, at a 3:1 ratio.
So if you transfer 60,000 Marriott points to your Delta account, you'll get 20,000 Delta SkyMiles. Unfortunately, Marriott ended a 5,000-point bonus for transfers to Delta (and several other airlines) in late 2022.
That means this method of earning SkyMiles is probably only best in a pinch if you need a few thousand more SkyMiles to book a flight … or if you've simply got more Marriott Bonvoy points than you know what to do with.
Both American Express and Chase offer different versions of Marriott Bonvoy credit cards that will earn Bonvoy points.
Read more: How to Transfer Marriott Bonvoy Points to Partner Airlines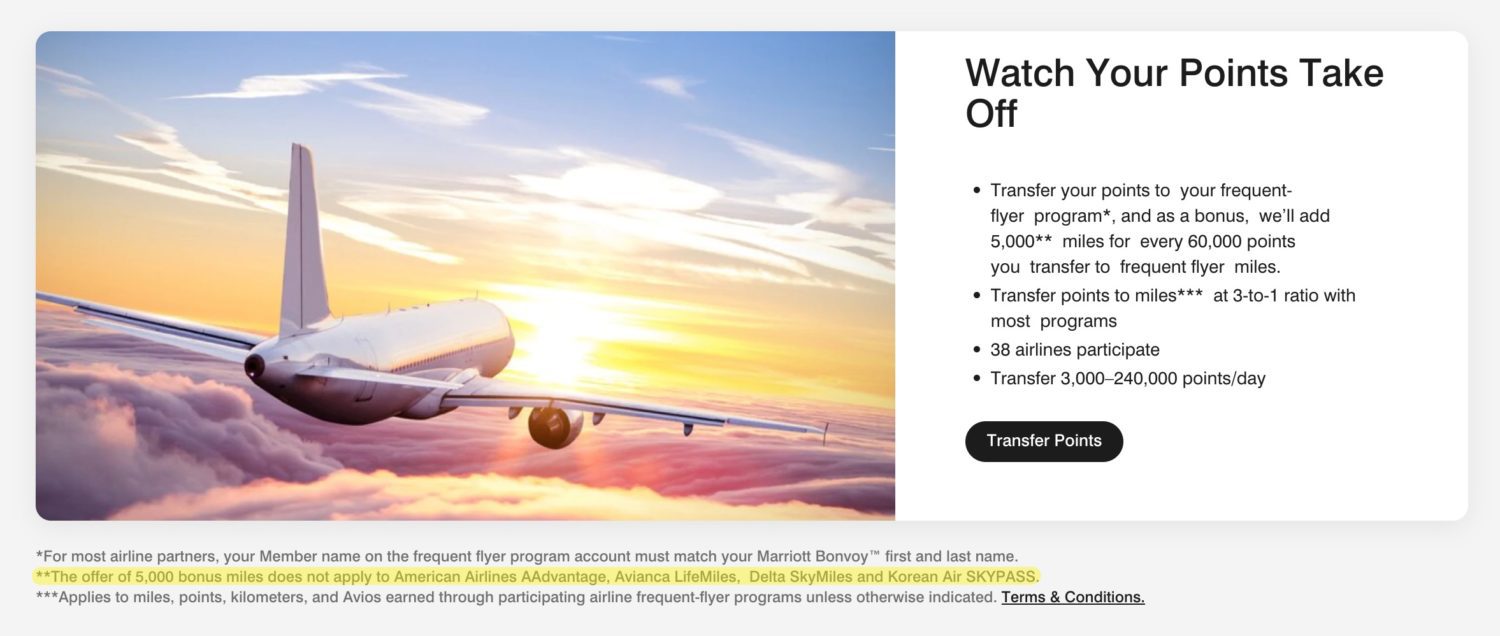 The SkyMiles Shopping Portal
Shopping portals are one of our favorite ways to earn additional points and miles for shopping you're doing anyway. And Delta SkyMiles has its own dedicated shopping portal called (go figure) SkyMiles Shopping.
By using the program, you can shop with hundreds of online retailers and earn additional SkyMiles just for clicking through their portal on the way to your favorite online retailer. Delta frequently offers bonuses at specific retailers, so be sure you're signed up for email alerts. To register for the SkyMiles shopping program, visit their site.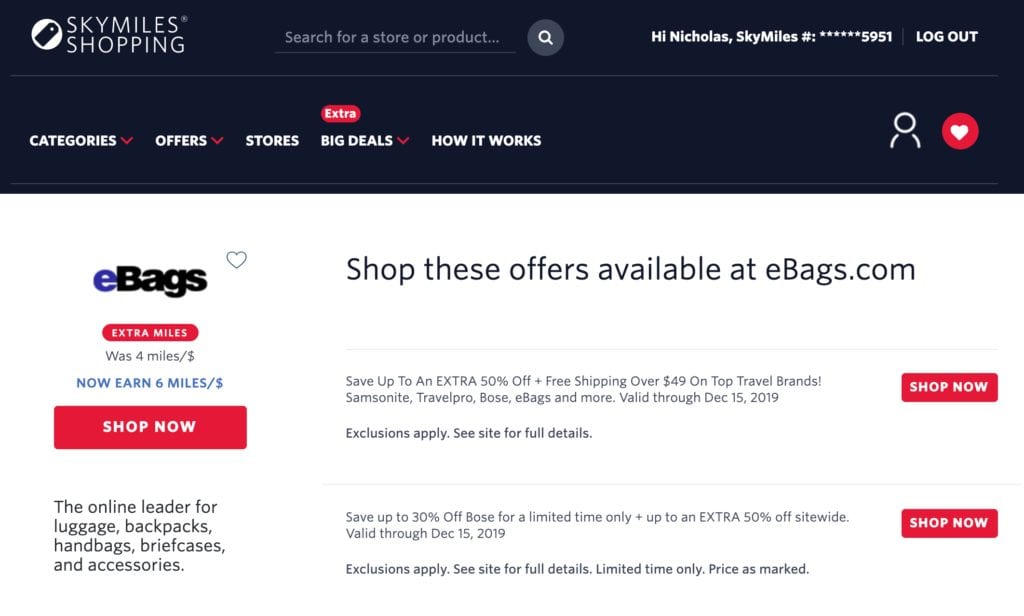 About to make an online purchase? Visit cashbackmonitor.com to see whether the store offers bonus miles through the SkyMiles shopping portal. You don't need to use a Delta SkyMiles credit card to receive the bonus miles through the program. Simply go through the shopping portal and pay with whatever credit card you'd like to earn the additional SkyMiles.
Check out our full guide to SkyMiles shopping here.
The SkyMiles Dining Program
Dining portals offer another great way to rack up additional points and miles. And Delta's SkyMiles Dining Program offers an easy way to earn Delta Skymiles just for eating at or getting takeout from certain restaurants.
Sign up and link a credit card to your account. Just as with the SkyMiles shopping portal, it doesn't need to be a co-branded Delta credit card. Then, visit one of the many participating restaurants, pay with your linked card, and you'll earn 3x miles for every dollar you spend on your bill. This is in addition to whatever points, miles, or cash back you earn on the credit card you are paying with.
But you can get even more SkyMiles with Delta's promotion for new members. You can earn a bonus 1,000 SkyMiles by spending at least $30 (taxes and tips count!) at three restaurants within 30 days of signing up.
These bonuses don't rival the huge bonuses you'll get from credit cards. But it's a great way to continue earning SkyMiles for everyday spending. You can join SkyMiles Dining here.
Check out our full guide to SkyMiles Dining here. 
Earn SkyMiles on Your Starbucks Orders
Delta practically broke the internet with this. SkyMiles for Starbucks?!
Yes, it's real. Delta and Starbucks teamed up in late 2022, allowing SkyMiles members to earn bonus miles on their coffee orders while double-dipping with extra Starbucks Rewards Stars on select orders, too. Delta SkyMiles members can now link their accounts with Starbucks Rewards at deltastarbucks.com and start earning miles on almost every purchase at participating Starbucks locations:
Travelers will earn 1x SkyMile per $1 spent on eligible Starbucks purchases – everything except gift cards, alcohol, tax, and tips count towards earning bonus SkyMiles at participating Starbucks stores.
On days when you're catching a Delta flight, you'll also earn double stars in your Starbucks Rewards account – even when ordering ahead via mobile at participating airport Starbucks
Spending $20 a week on Starbucks? That's another 1,000-plus SkyMiles a year. And while that's by no means earth-shattering, every little bit counts!
Link Your Instacart Account to Delta SkyMiles
Delta Air Lines and Instacart have a partnership allowing Delta SkyMiles members to earn miles each time they shop for groceries on the online grocery delivery platform. Once linked, Members will earn one SkyMile for every $1 spent with Instacart. If you have an Instacart Express membership, you'll earn 1.5 miles for every $1 spent.
Link your SkyMiles and Instacart accounts.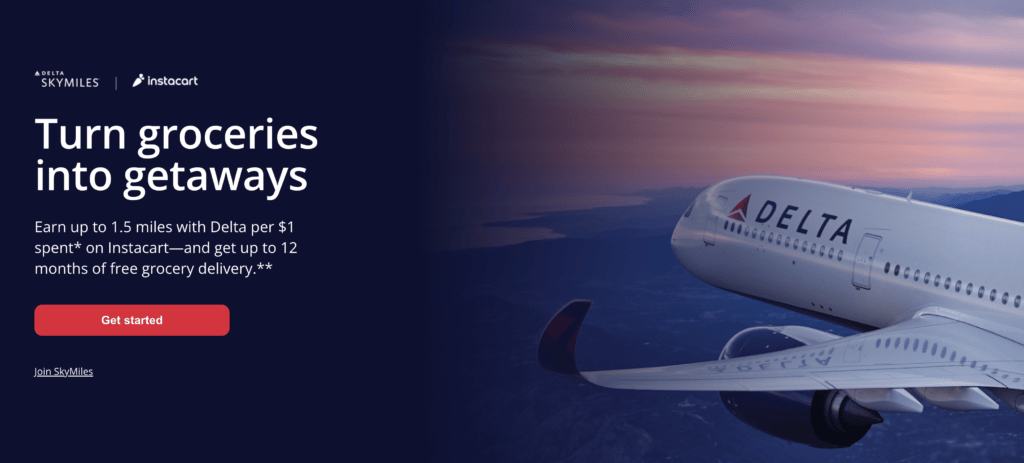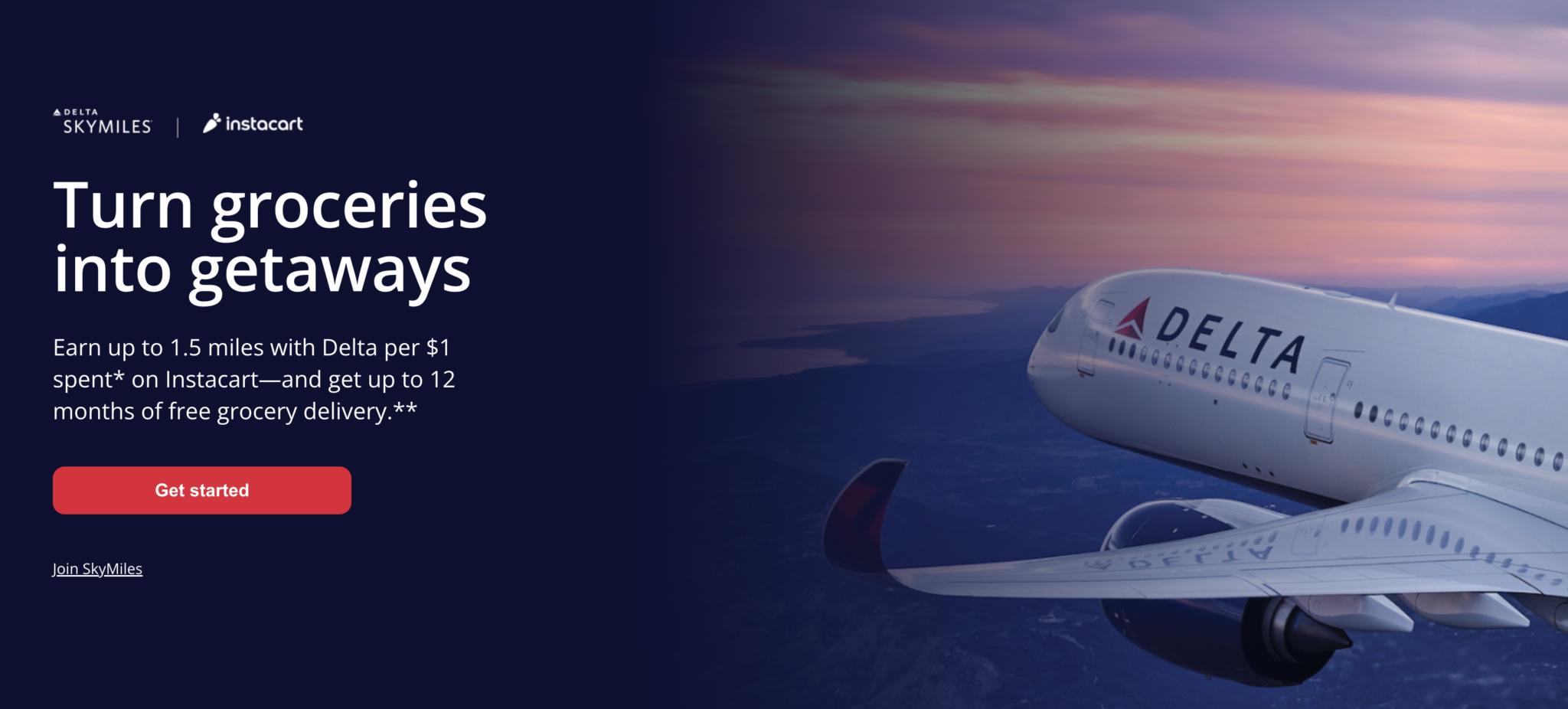 As a part of this partnership, Delta and Instacart will also offer extended complimentary trials of Instacart Express, Instacart's premium membership, for SkyMiles Members. SkyMiles Members and Silver and Gold Medallion Members will have the option of a three-month complimentary Instacart Express trial; Platinum and Diamond Medallion Members can opt into a 12-month free trial.
Link Your Lyft Account to Delta SkyMiles
Delta and Lyft have a great partnership that allows you to earn Delta SkyMiles every time you hop in a Lyft. It's as simple as linking your Delta SkyMiles and Lyft accounts. You will earn 1x SkyMile per dollar spent at Lyft & 2x SkyMiles per dollar spent on rides to and from the airport. 
Again, these miles are in addition to any points, miles, or cash back you are earning on the credit card you use to pay for your ride.
You can also link your Lyft account to your Hilton Honors account. However, you can only earn Delta SkyMiles or Hilton Honors points for your ride, not both.

Link your accounts today and start earning!
Add Your SkyMiles Number to Your Turo Account
Delta Air Lines and Turo have launched a partnership allowing Delta SkyMiles members to earn miles each time they rent through the car-sharing platform.
Think of Turo like the Airbnb of cars: Rather than renting from a company, you're paying to borrow a car from its owner. You can add your SkyMiles membership number to your Turo account to earn bonus miles.
New Turo members will get 2,000 SkyMiles after completing their first rental. After that, you'll get 500 SkyMiles for each Turo rental.
Unfortunately, the 2,000 SkyMiles bonus is only available on accounts that have not yet completed a Turo rental. If you've already rented through Turo, the best you can do is get 500 SkyMiles for each and every rental once your SkyMiles number is linked.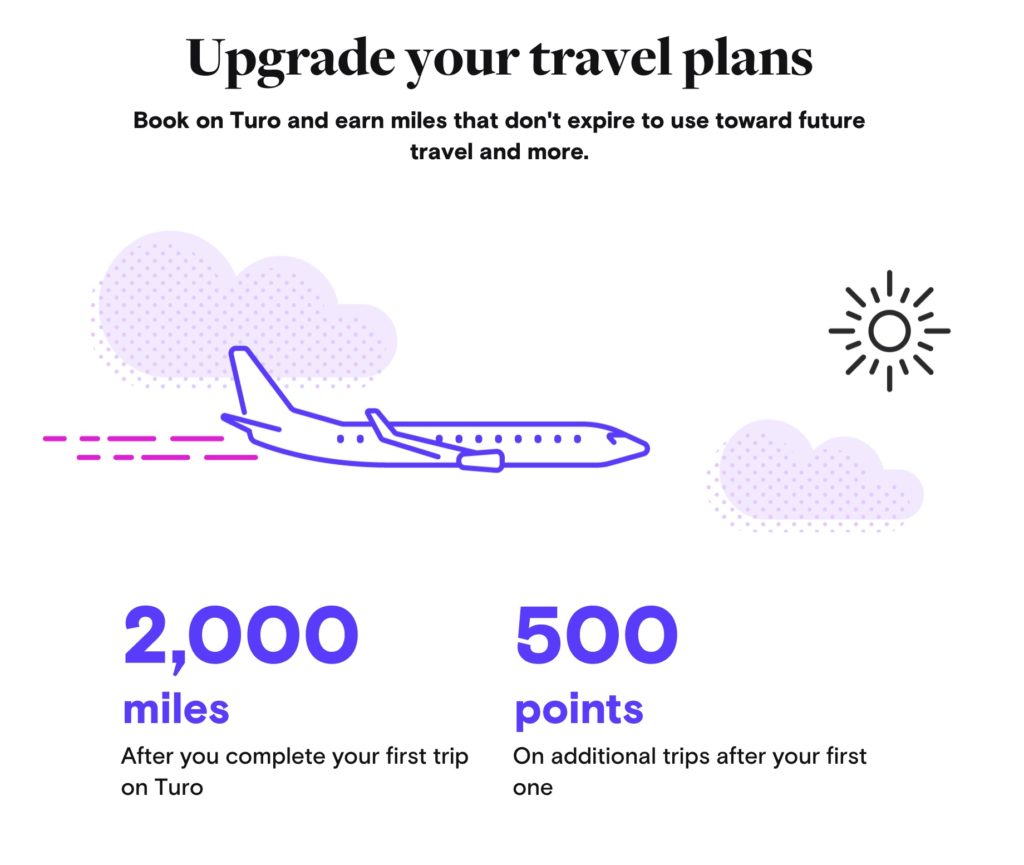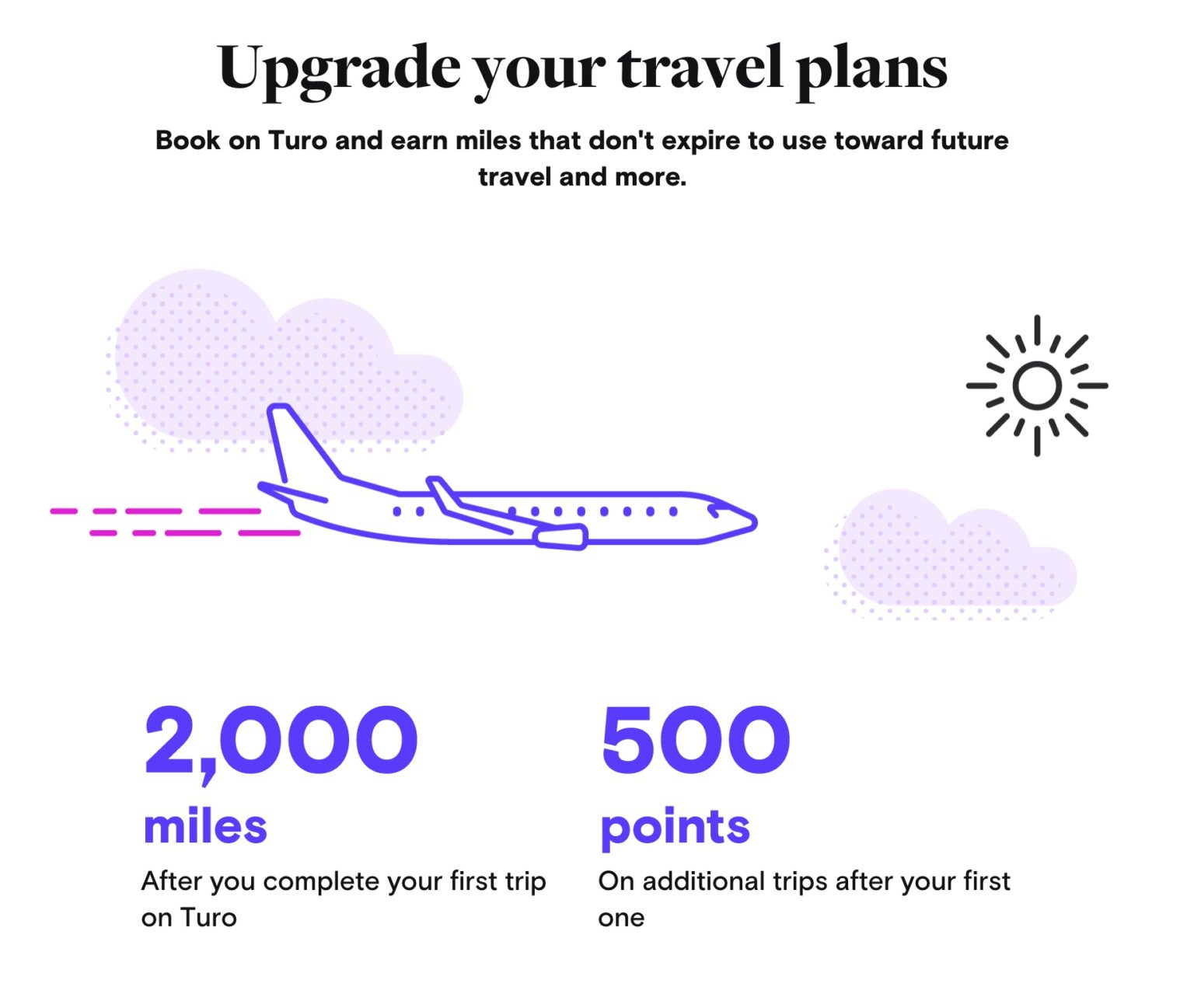 Link your accounts today and start earning!
Purchase Tickets Through Ticketmaster
Way back in 2019, Delta launched a brand-new partnership with ticket-selling behemoth Ticketmaster, allowing SkyMiles members to earn bonus SkyMiles when buying tickets to concerts, sporting events, and more.

Simply head to the partnership page at Delta.com/ticketmaster and punch in your SkyMiles number before buying tickets. This partnership will earn 1x SkyMiles per dollar spent, and if you buy a lot of tickets, that can add up fast. However, you won't earn SkyMiles for the (often extensive) taxes and fees on your tickets.
Almost all tickets purchased through Ticketmaster will be eligible to earn SkyMiles. According to the terms of the partnership, that even includes resale tickets bought on Ticketmaster.com. Just be sure to make your purchase through the Delta.com/ticketmaster page
Book With Airbnb
In early 2016, Delta and Airbnb launched a partnership allowing you to earn Delta SkyMiles for Airbnb stays. To get those bonus SkyMiles, you must book through delta.com/airbnb. You'll earn 1x SkyMile per dollar spent on qualifying Airbnb stays.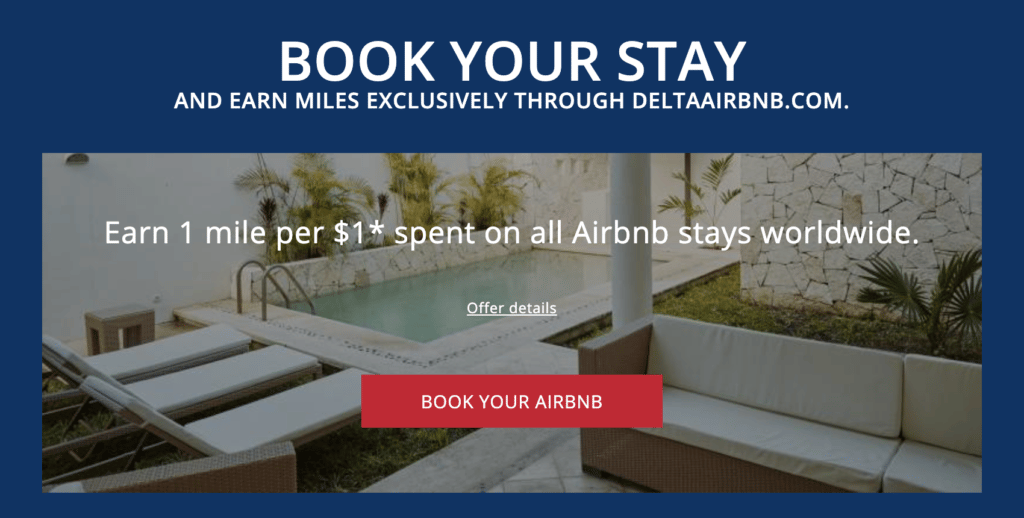 Read our guide on the Top 5 Ways to Save on Airbnb Bookings. 
Book Car Rentals Through Rental Agencies
Need to rent a car? Make sure you're earning SkyMiles.
Rather than earning credits with the car rental company, you can credit those rentals to your SkyMiles account instead! It's a little-known option, but an easy way to earn some extra SkyMiles. For every qualifying rental, you'll earn 500 SkyMiles.
Delta has partnerships with Hertz, Dollar Car rental, Thrifty Car Rental, Alamo, Enterprise, National, Europcar, ExecuCar, Carmel, Sixt, and Super Shuttle.
We are partial to National because of the Free Executive Status that comes with a handful of travel rewards credit cards.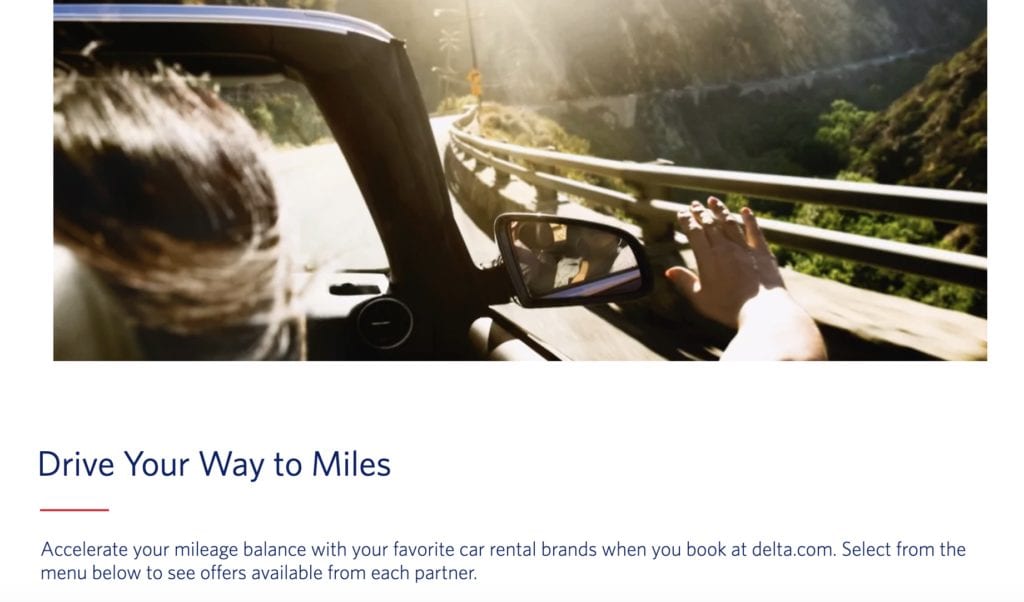 Book Cruises Through SkyMiles Cruises
You can even earn Delta SkyMiles by booking a cruise. Through their partnership with CruisesOnly, you can book a cruise to places like Alaska, the Caribbean, and even Europe on many of the large cruise lines and earn bonus SkyMiles based on the number of nights in your package.
Simply start the booking process at skymilescruises.com to start earning.
Delta's On-Time Bags Guarantee
If you tend to check a bag flying with Delta, this little-known perk is an absolute must.
Delta is committed to providing reliable baggage service each and every time you fly. And as a part of that, if your checked bag doesn't arrive at the carousel in 20 minutes or less after any domestic flight, you can easily get 2,500 bonus miles. 
All you have to do is complete the form at this link no later than three days after your flights arrive.
Read more about Delta's bags guarantee and how you can earn more SkyMiles!
Can You Transfer SkyMiles to Another Member?
Technically, Delta allows you to transfer SkyMiles to other program members. But we don't recommend it.
That's because Delta will charge you $0.01 per mile plus a $30 processing fee per transaction (plus applicable taxes). And you must transfer miles in allotments of 1,000 SkyMiles.
So if you were looking to transfer 30,000 SkyMiles to another user, it would cost you $330 ($300 for the miles and a $30 transaction fee).
You can transfer a maximum of 30,000 SkyMiles per transaction. Within a calendar year, one SkyMiles account can transfer a maximum of 150,000 SkyMiles. One SkyMiles member can receive a maximum of 300,000 SkyMiles each year via transfer.
But with costs that high, I can't think of a situation where this would make financial sense. Just avoid these transfers, as it isn't a good way to earn Delta SkyMiles.
Read More: Can I Transfer Airline Miles to Someone Else?
Can You Buy Delta SkyMiles?
You may be just a few miles short of your next SkyMiles redemption, and one of the options above just simply won't work. In this case, it may make sense to buy some SkyMiles.
But that's the only situation in which it makes sense to buy SkyMiles direct through Delta. The costs are simply too high for it to be worth it.
Delta charges $0.035 per SkyMile and you must buy them in increments of 2,000 SkyMiles. That means buying 2,000 miles would cost you $70. There are no savings as you buy more and more SkyMiles.
Delta allows you to purchase a maximum of 60,000 SkyMiles each year.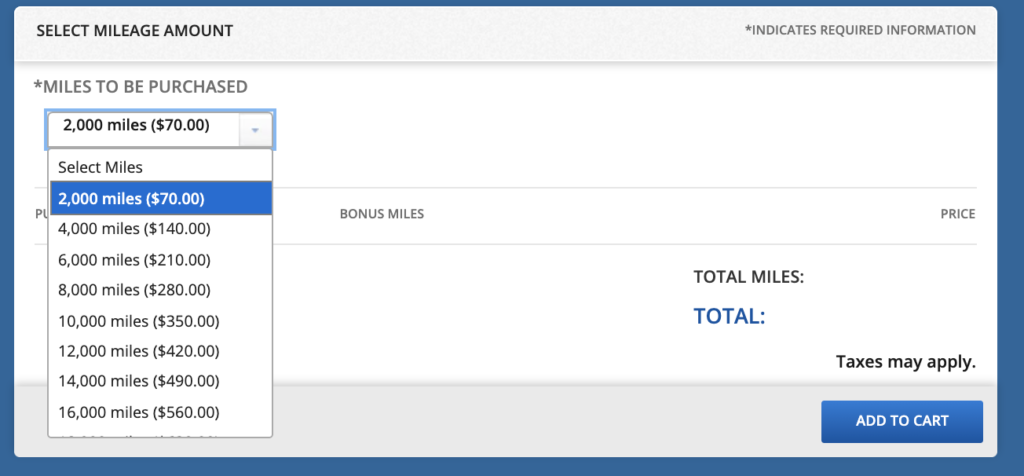 This clearly isn't the best option for earning Delta SkyMiles – or even a good one. But it can work if you are just short of making a redemption and need to top off your SkyMiles account.
Read More: A Guide to Buying Airline Miles: When to Buy, When to Skip
Bottom Line
Whether you're near a Delta hub airport or not, Delta SkyMiles are absolutely worth earning. And luckily, there are tons of great ways to earn big bonuses and keep adding to your SkyMiles stash in 2023.