Believe it or not, earning miles is the easy part of getting the hang of points of miles. It's when you go to redeem them where things get difficult – especially if you want to get the most bang for your buck, as that's where many travelers simply give up.
As one of the big three airlines in the U.S., United and its MileagePlus program is one of the first places that many Americans begin earning miles. If you're one of the over 100 million MileagePlus members and you don't know how to use United miles – or even where to start – we're here to help.
From quick domestic hops to aspirational trips across the globe in business or first class, there are plenty of ways to put these miles to use. We'll be discussing a few of the best ways to use United MileagePlus miles – and just in case you don't have quite enough in your account, we'll let you know a few easy ways to build up your MileagePlus balance, too.
The Basics of United MileagePlus Miles
There are two main ways that you can use your United miles for flights. The first is booking flights that United actually flies, and the second is using your miles to book flights on one or more of United's partner airlines.
But if you have enough United miles and you're ready to travel, where do you start? Just how far will your miles get you? The answer can be highly variable, but let's take a look at some examples for how to use United miles.
Using United Miles on United Flights
Of course, you can use your United MileagePlus miles to book flights with United itself. The Chicago-based carrier flies all over the U.S., to and from its major hubs in San Francisco (SFO), Denver (DEN), Houston-Intercontinental (IAH), Chicago-O'Hare (ORD), Newark (IAD), and Washington, D.C.-Dulles (IAD). Looking to go abroad? You can likely hitch a ride from one of these cities to almost any corner of the globe on a United plane, be it in Central or South America, Europe, Asia, or Australia.
So what will it cost you to book a flight using United miles? That's hard to say. Way back in 2019, United ditched its award chart – a cheat sheet that shows you how many miles you need to book any flight from point A to point B – and began to transition to dynamic award pricing. In layman's terms, that means United will charge you … well, however many miles it wants.
In practice, award rates are based upon cash prices, demand, the time of year, how close you're booking before departure, and more. That means the mileage it'll cost you to book a flight is constantly changing.
That's why sometimes a simple roundtrip flight from Minneapolis-St. Paul (MSP) to Newark (EWR) will cost you less than 19,000 miles…
And other times, that exact same route might cost you more than 50,000 miles roundtrip…
That unpredictability can make it hard to work out whether you're getting a good deal when using your United miles. Fortunately, United has a handy calendar view that can help you zero in on the cheapest rates that will cost you fewer miles than others.
This handy calendar view – with the ability to see a month's worth of flights and filter for nonstop or business class – makes United.com one of the best ways to search for award flights on United as well as many of its partner airlines. Speaking of partner airlines…
Booking United Partners with United Miles
United miles are good for more than just United flights, though. You can use them to fly on more than two dozen different airlines that United partners with.
Welcome to the world of airline partnerships and alliances, the key to opening up the world and getting even more out of your miles. And with United miles, you've arguably got it better than any other major U.S. airline's mileage program.
United is part of the Star Alliance, a network of 26 global airlines including names like Air Canada, Air New Zealand, All Nippon Airways (ANA), EgyptAir, EVA Airways, Lufthansa, SAS, Singapore Airlines, SWISS, Turkish Airlines, and many more. And with a stash of United miles, you can book flights on almost any of them.

United also ditched its award chart for these partner award tickets a few years back. But unlike using miles to fly United, the award rates you'll use to book flights with one of these partner airlines is far more stable. At time of publication, you can generally expect the following award rates for one-way flights to – give or take a few thousand miles based on the route and airline:
U.S. to Central & Northern South America: 22,000 miles in economy; 35,000 miles in business class
U.S. to Southern South America: 33,000 miles in economy; 66,000 miles in business class
U.S. to Europe: 33,000 miles in economy; 77,000 miles in business class; 121,000 miles in first class
U.S. to Africa: 44,000 miles in economy; 88,000 miles in business class
U.S. to Asia: 38,500 miles in economy; 88,000 miles in business class; 121,000 miles in first class
U.S. to Australia/New Zealand: 44,000 miles in economy; 99,000 miles in business class
One last thing about these partner award rates: Once you get within three or so weeks of departure, you'll see United charges a few thousand more points per ticket as a late booking penalty. Also, since United no longer has an award chart for these partner award redemptions, these rates could change at a moment's notice. You just never know.
Whew, got all that? Now, where do you want to go? How do you want to use your miles?
If you need a bit of inspiration, you're in luck. Here are five of our favorite ways to use United MileagePlus miles. 
Use United Miles for Lufthansa First Class
Lufthansa First Class is a dream redemption for many points and miles enthusiasts, so it makes sense to start there. Who doesn't want to fly like this across the Atlantic Ocean, sipping champagne and nibbling on caviar?
Read our full review of Lufthansa First Class!
Lufthansa flies its jets equipped with first class to its Frankfurt (FRA) hub from several U.S. cities like San Francisco (SFO), Los Angeles (LAX), Houston-Intercontinental (IAH), Chicago-O'Hare (ORD), New York City (JFK), Newark (EWR), Miami (MIA), and more. Of course, flying this fancy isn't cheap whether you're using cash or United miles.
As you can see from the screenshot below, you can book Lufthansa First Class for 121,000 miles each way. That's what you'll need anytime you find a Lufthansa first class flight between the U.S. and Europe.
You can book these same seats for fewer miles using other Star Alliance airline programs. But one advantage of booking with your United miles is that they don't pass along any fuel surcharges on award flights with Lufthansa – extra fees that could leave you with hundreds of dollars in cash charges along with your miles.
As you can see, you'll pay just $129.77 in airport taxes and fees on a flight departing Europe – the same charge for any class of service. In fact, going from the U.S. to Europe, your cash cost would be just $5.60.
But if you have some flexibility, flying Lufthansa first class back to the U.S. from Europe could be the better move. By departing from Frankfurt or connecting there on your way back to the states, you'll get access to one of the best airport lounges in the world.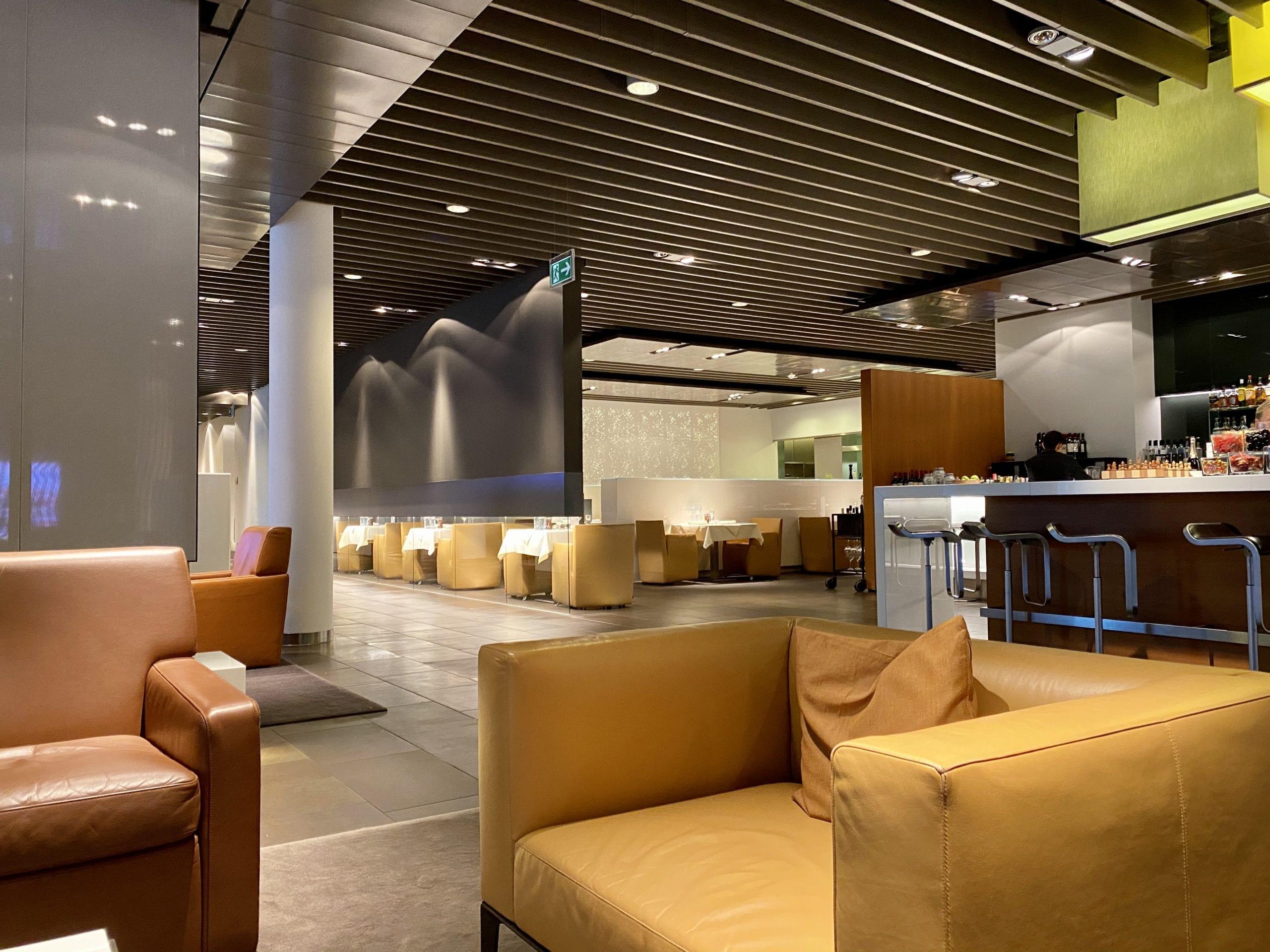 The Lufthansa First Class Terminal is exactly that: an entirely separate terminal, reserved only for Lufthansa First Class passengers. It has its own security checkpoint, passport control, a la carte dining, sleeping rooms, and rides to and from your plane in luxury vehicles right on the tarmac. The service and overall experience are tough to match anywhere else.
But finding award availability on these seats to book with your United miles is another matter. Lufthansa generally only opens first class seats to partner airlines like United within the last 14 days before departure – sometimes a month out. Often, you won't see any seats until just three or four days before departure – and only to or from a few U.S. cities.
That means you'll need to be extremely flexible to make this work. You'll need to wait until the last minute to book … and you might even want to have a backup flight booked just in case the seats you want don't materialize.
If you can make it work and you've got the miles to spend, flying Lufthansa First Class and experiencing the First Class Terminal in Frankfurt is tough to beat. Doing it with little cash out of pocket makes it even better.
Fly Economy To the Caribbean
Booking flights with your miles doesn't always have to be about luxurious flights to faraway places. Sometimes, you just need a quick flight to somewhere warm. Maybe a beach and a drink with a little umbrella in it are just what you're looking for. If that's the case for you, then using United miles to fly to the Caribbean can be the perfect match.
It can be hard to pin down thanks to United's constantly changing award rates for its own flights. Yet flights from across the U.S. to Caribbean islands are regularly available for 17,500 United miles each way or 35,000 miles roundtrip.
In this case, check out flights from Houston-Intercontinental (IAH) to San Juan (SJU) in Puerto Rico for 17,500 miles each way. With three frequencies available at that rate, it isn't hard to lock something in.
Availability can be scarce during school breaks, but with so many islands to choose from and so many available connections in the US, you're sure to find something that works. At these award prices, why not keep exploring until you've found the island of your dreams?
Polaris Business Class
We can't write a post about using United miles without mentioning United Polaris business class.
United has made great strides in improving its business class seats over the last few years, and travelers love it. Fortunately, these seats are available on more and more United planes as the airline continues retrofitting older jets.
Read our full review of United Polaris business class!
United charges as low as 60,000 miles for a one-way flight in these seats between the U.S. and Europe, or as low as 70,000 MileagePlus miles to Asia or Africa. Unfortunately, United's move to dynamic award pricing combined with sky-high airfare for summer and on into fall can make finding and booking Polaris business class at a lower rate more difficult.
But it's not impossible. Over the last few months, Thrifty Traveler Premium+ members have gotten alerts for wide-open award availability (for two, four, or more passengers) to fly United business class using United miles. The floodgates to get to Europe in business class were wide open earlier this year, with flights to Amsterdam (AMS), Zurich (ZRH), or London-Heathrow (LHR) for 60,000 United miles each way.
Just a few weeks back, there was a brief, easy chance to book United business class almost anywhere in the world, including all the way to Wellington (WLG) in New Zealand. And thanks to a pricing quirk, you could book these flights for just 60,000 miles each way, too!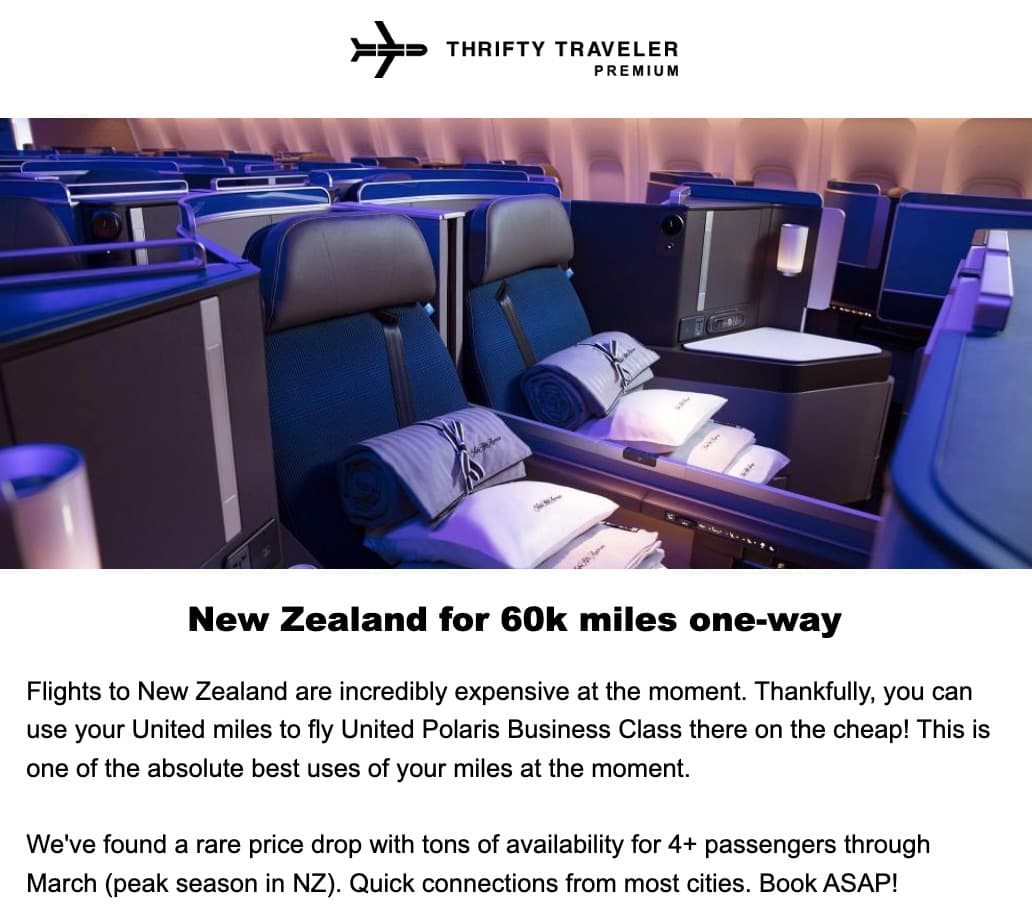 Thrifty Traveler Premium+ members get award alerts like this, plus cheap domestic and international cash fares!
If you have another way to get to Europe, you may have better luck finding a seat in Polaris business class on your flight back to the U.S. This fall, we're seeing rates as low as 65,000 miles from Europe to the U.S. Using your MileagePlus miles for your return flight can be a great way to experience Polaris Business Class without having to pay the extra miles you'd need to use to book it for your outbound flight.
The United Excursionist Perk
One of the most interesting – yet also most complicated – features of the MileagePlus program is the United Excursionist Perk. It's a perk that's tough to fully understand and easy to forget about, but it can be hugely valuable if you use it the right way.
When you book a round-trip (or even an open-jaw) flight using United miles, you can add another one-way flight for no additional miles. That's the Excursionist Perk. And while there are some important restrictions around how you can put this perk to use – and we'll get to them soon – there's still a lot of value here.
It's enough to get many frequent travelers who might otherwise be tempted to book one-way awards to rethink and look more closely at this option. Is can save miles and taxes, allowing travelers to pick and choose the best redemptions and best routings to our destination and back home.
Here are the rules:
Your free Excursionist flight must take place between the two segments of your round-trip flight, not before your departing flight or after you return.
It must be in a different region than where your trip first began. Ex: If you book a round-trip from the U.S. to Europe using miles, your free Excursionist flight can't be in the U.S. – but it can be in Europe.
Your Excursionist flight must be within one region. Ex: You could fly from one European city to another, but not from Europe to Africa or Asia.
For example, you could book a roundtrip flight using United miles from Washington, D.C.-Dulles (IAD) to Amsterdam (AMS) and add in a free flight from Amsterdam down to Athens (ATH). Better yet, you can make an open-jaw booking to fly into Amsterdam and back home from Athens … but still get that intra-European flight for free. Here's a screenshot illustrating how it works from GCmap.com: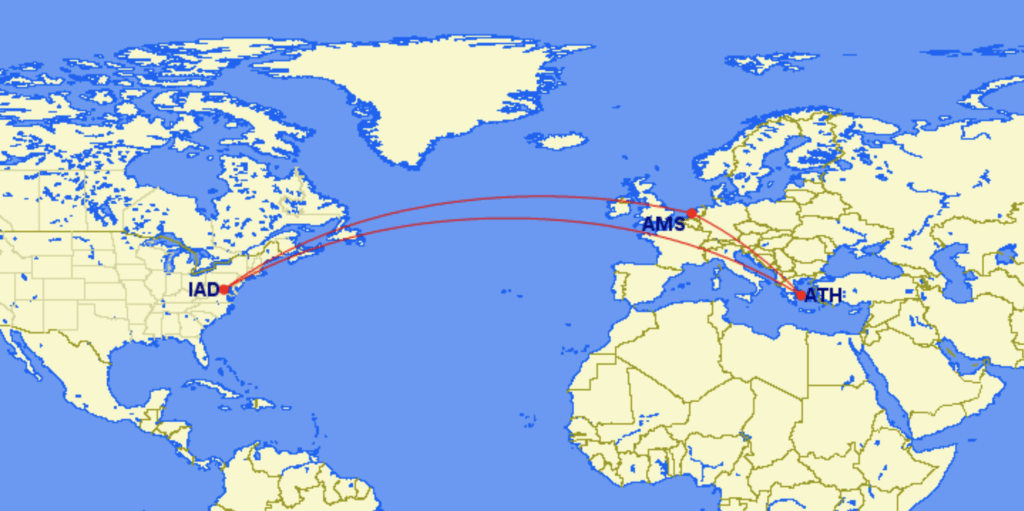 In this case, the Excursionist Perk allows you to see two vastly different parts of Europe on a single award … without paying another mile: You're only on the hook for the taxes and fees. These are three separate flights for the price of two: You can stay in Amsterdam and Athens as long as you want for the same award rate as the simple roundtrip booking – or booking the transatlantic legs separately as one-way tickets.
Here's a side-by-side look at the flights: One a standard roundtrip award to Europe and back, and the other with the Excursionist flight to Athens looped in. Both cost just 65,000 United miles roundtrip thanks to the Excursionist Perk.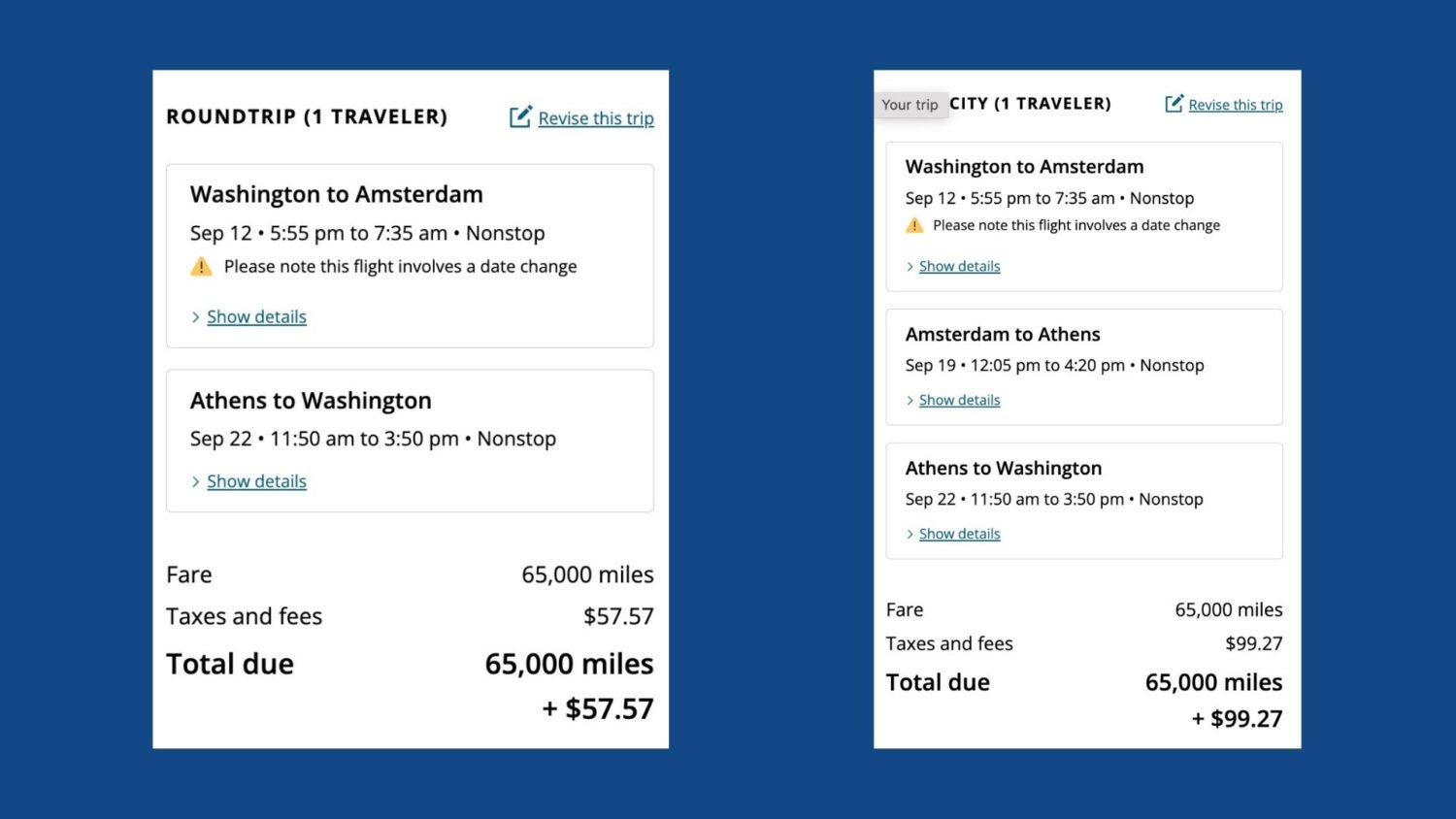 Read our complete walkthrough on how to book United Excursionist Perk flights!
Here's what that one-way flight from Amsterdam (AMS) to Athens (ATH) would normally cost you if booked separately.
Using the Excursionist Perk can get far more complex than this example too, allowing you to build a ton of extra value into your award flights with United miles. By taking advantage of stopovers and open jaws, or by nesting a few different itineraries, you can maximize the number of places you visit and minimize the number of miles you are using to get there.
This part of the United MileagePlus program is certainly worth taking some time to understand.
Use United Miles Wisely on Frequent Award Sales
When United made the move over to dynamic award pricing, it wasn't all bad news.
The lack of award charts means United has the freedom to offer flights for fewer miles than they once did. These discounted flights aren't as frequent as Delta SkyMiles flash sales – and as flight prices get more expensive, they're becoming rarer and rarer.
But they do exist, like this unadvertised flash sale to London-Heathrow (LHR) from earlier this year. Before, these flights would cost at least 60,000 miles roundtrip. Thanks to this sale, you could book from almost every airport in the country for just 44,000 United miles total.
Award sales are exactly what they sound like: They offer discounted award rates on select routes. They can take many forms, but they usually only involve certain departure cities or a specific set of destinations – and over a strict timeline.
It won't always work, but if you can make them fit your travels – or better yet, use one of these sales to inspire your next trip – you can find award flights within the U.S. for as low as 5,000 miles each way. Longer domestic flights or flights to international destinations are sometimes discounted by 20%, 30%, or even 40%.
United has increased the offering of these kinds of award sales to their MileagePlus members. Here's an example of one such sale, from a United tweet in May 2021.
But generally, United almost never announces these award sales in advance. They can be great, but you need to be paying attention – and you have to be ready to book quickly. To make sure that you find out about these award sales as soon as possible, there are a few things you can do.
First, make sure that you have your account set to receive promotional emails from United. Second, follow United on your social media accounts. They almost always tweet and post about these sales when they launch them.
Finally, make sure to follow us here at Thrifty Traveler. We do our best to get information like award sales out to our followers as quickly as we can. To find out first, subscribe to Thrifty Traveler Premium and before you know it, you'll get an award alert and be hopping on a plane for your next great United redemption.
How to Earn United Miles
There are plenty of ways to earn United miles.
Yes, you can earn miles flying with United and its partner airlines; you can use the MileagePlus Shopping Portal or Dining Program; and you can use the MileagePlus X App, but we won't get into those details here. Unless you're traveling regularly for business or doing a ton of shopping and dining, those aren't the fastest ways to build up your United miles balance.
The fastest ways to quickly gain large amounts of MileagePlus miles are with credit cards and transfer partners. Let's take a minute to go over both of those here.
United Credit Cards
United has a handful different co-branded credit cards offered by Chase that can help add to your United MileagePlus balance, spanning from introductory, no-fee cards to a high-end, high-fee card that comes with United Club access.
That list includes the United Club℠ Infinite Card, the United Quest℠ Card, the United Explorer℠ Card, and the United Gateway Card℠. On the business side of things, Chase has two options for United co-branded cards, the United Business Card and the United Club Business Card.
Benefits on these United cards from Chase vary greatly, as do the annual fees, which range from $0 to $525 depending on which card you choose. The higher-end cards on both the personal and business sides come with United Club access. Other available benefits on most of these cards include access to increased award availability, priority boarding, free checked bags, and discounts for onboard purchases.
The natural starting point is the United Explorer℠ Card, which has been a mainstay in many travelers' wallets for years.
It clocks in at a $95 annual fee, though that's waived in year one. Simply pay for your flight with the card, and it gets you (and up to one companion on your reservation) a free checked bag on any United-operated flight. You also get a credit of up to $100 to cover an application for Global Entry or TSA PreCheck – the Explorer card is one of the most reasonably priced travel cards with this perk.
Click Here to get more details on the United℠ Explorer Card.
These cards are all impacted by Chase's 5/24 rule, so that is something to consider before applying. If you've opened five or more credit cards from any bank (not just Chase!) within the last 24 months, you won't get approved.
Chase Ultimate Rewards Cards
In addition to their co-branded United credit cards, Chase offers a variety of personal and business credit cards that earn Ultimate Rewards points. And arguably, these cards are even better for earning United miles.
United is one of the many Chase transfer partners, allowing you to transfer Chase points straight into your United account – and do it instantly. Points transfer on a 1:1 ratio, meaning 1,000 Chase points gets you 1,000 United miles. Transfers have to be done in increments of 1,000 points.
With instant transfers, that means you can search for the flights you want, find what you'd like to book, and then transfer your points and complete the booking. In other words, you can leave your Chase Ultimate Rewards points in your Chase account right up until you're ready to use them. This is helpful because award inventory is constantly changing and it's difficult to know ahead of time where you want to transfer a valuable currency like Ultimate Rewards.
Getting started, no card is better for earning Chase points right now than the Chase Sapphire Preferred® Card. It's got a reasonable annual fee of just $95. But most importantly, you can currently earn 60,000 Chase Ultimate Rewards points after spending $4,000 within three months.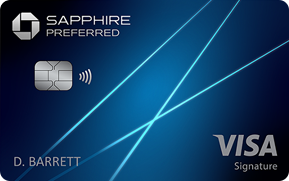 Click Here to get more information about the Chase Sapphire Preferred Card.
There's also no denying the value of the Chase Sapphire Reserve – especially if you're using points to book flights, as each point is worth 1.5 cents toward airfare and other travel expenses. Add in the free lounge access via Priority Pass, $100 credit toward Global Entry or TSA PreCheck, and an annual $300 travel credit, and your next big trip to Europe could be even cheaper – so long as you're OK with the card's $550 annual fee.
Click Here to get more information about the Chase Sapphire Reserve.
But it's also worth hard look at either the Chase Freedom Flex or the Chase Freedom Unlimited® cards. They form a perfect tandem with a Sapphire Card.
While Chase markets both of these cards as no annual fee cashback credit cards, they get exponentially more valuable if you hold either (or both) of them with a Chase Sapphire card. That's because you can transfer the cashback earned from either card directly into your Chase Ultimate Rewards account, turning that cashback straight into Chase points.
Read more: How to Quickly Earn 100K Chase Points with 2 Cards
BILT Rewards
Bilt Rewards is a newcomer to the world of transferrable points.
Bilt is somewhat revolutionary, offering a rewards program and co-branded credit card that allows users to earn points on rent payments. What's also revolutionary is that you can transfer points directly to both American Airlines and United – the only major transferrable currency that allows you to send points to two major U.S. carriers.
Whether you get a credit card or not, Bilt is easily worth looking into if rent is a major expense for you.
Earning points on these payments is quite simple. Program members will earn a minimum of 250 Bilt Points per month by paying their rent through the Bilt Rewards app, no matter how much your monthly rent costs. Simply pay through the Bilt app and you'll receive 250 points each and every month.
While it's not necessary in order to earn these transferrable points, renters can drastically accelerate their earning by paying their rent with a new co-branded Bilt Rewards Mastercard and climbing the tiers of Bilt status. Bilt overhauled both their Mastercard and status levels last fall to make them even better.
This $0 annual fee card is the key to earning more valuable points. So long as you make at least five transactions per statement period, you'll earn:
1x point per dollar spent on rent on up to $50,000 in rent annually
2x points per dollar spent on travel when you book directly with the airline, hotel, rental car agency, etc.
3x points per dollar spent on dining
1x points per dollar on all other purchases
Information about the Bilt Mastercard has been collected independently by Thrifty Traveler. The card details on this page have not been reviewed or provided by the card issuer.
Bilt points transfer to United on a 1:1 basis. Based on early data, transfers from Bilt to United seem to deposit very quickly and, in many cases, almost instantly. This makes planning and booking significantly easier because you can find the actual flights you want to book and know exactly how many points you need to transfer from your Bilt account.
Read more: Bilt Rewards: Earn Transferable Points for Paying Rent (+ No Fees)
Marriott Bonvoy
Yes, you can even transfer hotel points to United MileagePlus from Marriott Bonvoy.
Thankfully, Marriott Bonvoy has retained a similar transfer partner network to the Starwood Preferred Guest (SPG) program, which they absorbed several years ago. Transferring points to to airlines was historically one of the most valuable uses of SPG points. While it's not quite as stellar these days, it's still a good way to get extra value out of your Marriott points.
Marriott Bonvoy points transfer to most airlines at a rate of 3:1 – but with United, it's even better. United MileagePlus is a preferred transfer partner, so your Marriott points will transfer at a slightly increased rate of 3:1.1. In addition, for every 60,000 Marriott points that you transfer to an airline, they give you an extra 5,000-mile bonus.
For a transfer of 60,000 Marriott Bonvoy points to United miles, the math works out like this:
60,000 Marriott points = 22,000 United miles + 5,000 (bonus miles) = 27,000 United miles
That's not bad. Generally, we only recommend transferring Bonvoy points to airlines when you need to top off your account with enough miles to complete a redemption. But if you're short points in other accounts or have big plans with other transferrable currencies, turning to a stash of Bonvoy points to transfer to United could make sense.
Bottom Line
Remember: How to use United miles – or any points and miles, for that matter – is up to you. We've rounded up some of the best ways to use these miles for top value, but there's no one-size-fits-all answer for the right way for you to use your miles.
Happy redeeming your United miles on a simple flight from Portland (PDX) to Louisville (SDF) to see friends or family? By all means, do it. When it comes down to it, the best way to redeem any miles is for a trip that you wouldn't otherwise take. Unfortunately, United's changes over the years have made it difficult to know exactly how many miles you'll need for a flight while raising award rates for some redemptions to make it more expensive.
But as we've shown, there are still great ways to get value out of your United MileagePlus miles. You just need to put in the time to search and book your flights. Add a little flexibility in your travel planning to take advantage of the best deals, and you're set.