Having an account full of United MileagePlus miles is a great place to be.
Redeeming United miles can be one of the best ways to fly United all over the world – from Cleveland (CLE) to Cape Town (CPT). And that's especially true if you want to fly lie-flat in a United Polaris business class seat somewhere abroad. But best of all, you can also use United miles to book more than 20 partner airlines, helping you get almost anywhere on the planet flying some of the world's best airlines.
United miles have taken a hit recently as the carrier has raised award rates across the globe. But there are still great ways to redeem the United MileagePlus miles you've saved up – and United hasn't gone nearly as far as the exorbitant Delta SkyMiles rates.
Pair some of these great redemptions with a Thrifty Traveler Premium+ alert to let you know when award space is available to book, and you'll be on your way.
Hop on Deeply Discounted Sales
Years ago, United ditched its award chart – a cheat sheet that shows you how many miles you need to book any flight from point A to point B – and began to transition to dynamic award pricing. In layman's terms, that means United will charge you … well, however many miles it wants.
But that's not always bad news. While you might see some exorbitant award rates, it also opens the door to some incredible deals like this: Your bucket list-crushing trip to Tahiti was just 42,000 miles away from becoming reality with this alert we sent to Thrifty Traveler Premium+ members a few weeks ago.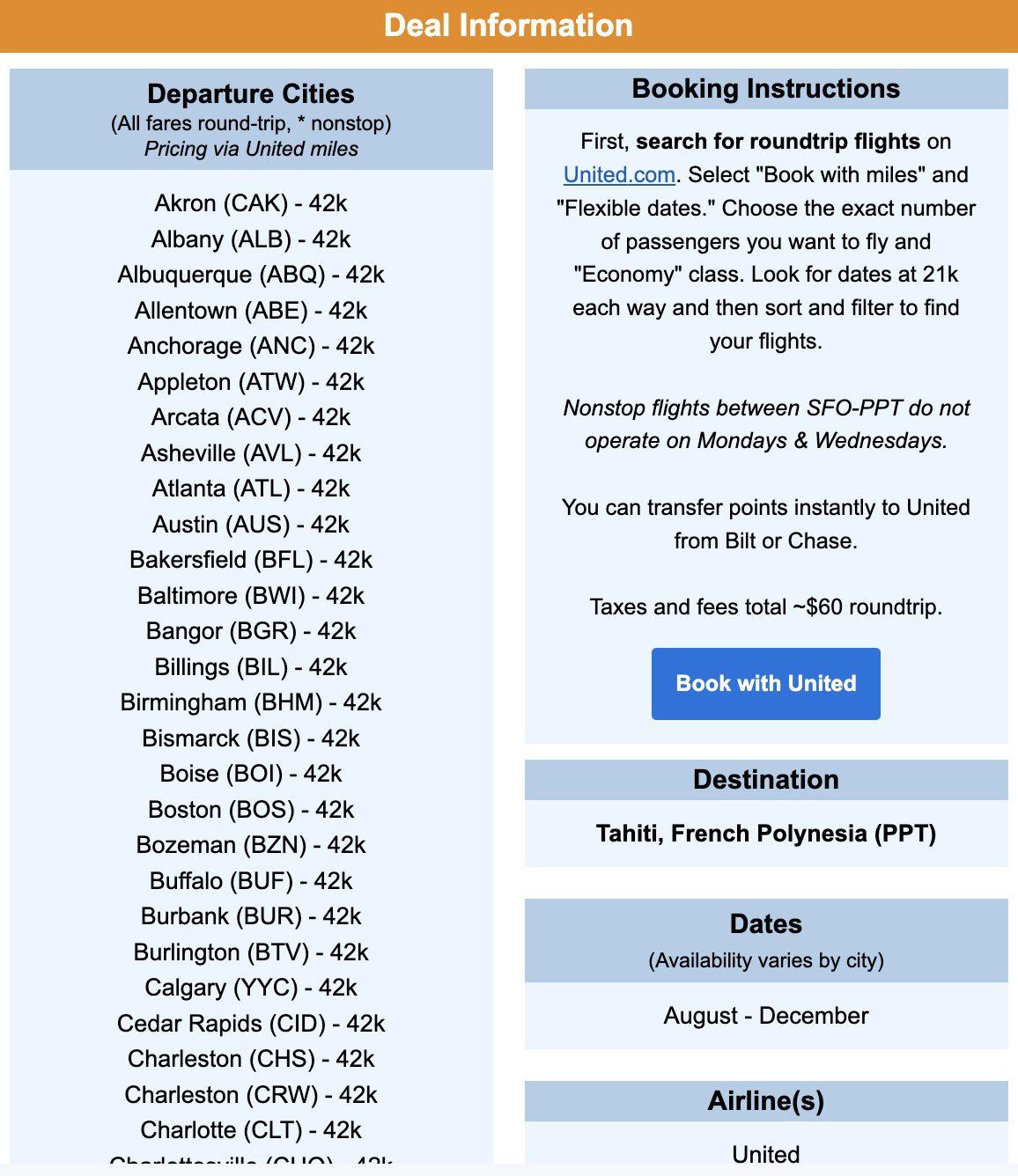 Attention, Thrifty Traveler Premium (or Premium+) members: You've likely already received this deal! If not, you might want to log into your Premium account and adjust your departure airport settings – or select "All Cities" to see every deal!
Welcome to the world of United award sales. They're exactly what they sound like: United occasionally offers discounted award rates on select routes. They can take many forms, but they usually only involve certain departure cities or a specific set of destinations – and over a strict timeline.
It won't always work, but if you can make them fit your travels – or better yet, use one of these sales to inspire your next trip – you can find award flights within the U.S. for as low as 5,000 miles each way. Longer domestic flights or flights to international destinations are sometimes discounted by 20%, 30%, or even 40%.
United almost never announces these award sales in advance, but we're always scouring the internet for them for our Thrifty Traveler Premium+ members. How about this recent gem to Tokyo?
Just 50,000 United miles could have made your Tokyo dreams a reality from almost any city in the country. Wow! And the same goes for Australia for just 10,000 miles more.
The best part about sales like these is that these cheaper rates are often available from airports nationwide, whether you're flying nonstop from United hubs like San Francisco (SFO) or Chicago-O'Hare (ORD) or starting from another city and making a connection.
This is why we love United miles flash sales: The flexibility, the widespread nature of them, and the fantastic value for your miles. Booking a trip like this for just the cost of the taxes and fees? That's how you travel for less, and it's one of the best ways to redeem United miles.
Book Polaris Business Class Sales, Too
After the latest increases, snagging a lie-flat seat in United Polaris business class will typically cost you at least 80,000 miles each way – or 100,000 miles or more to Australia.
But not always. Much like United routinely slashes award rates on trips in economy, we occasionally see even better deals flying United business class, too. That means you can use fewer miles to stretch out, sip some champagne, put on some slippers, and recline your seats to bed mode.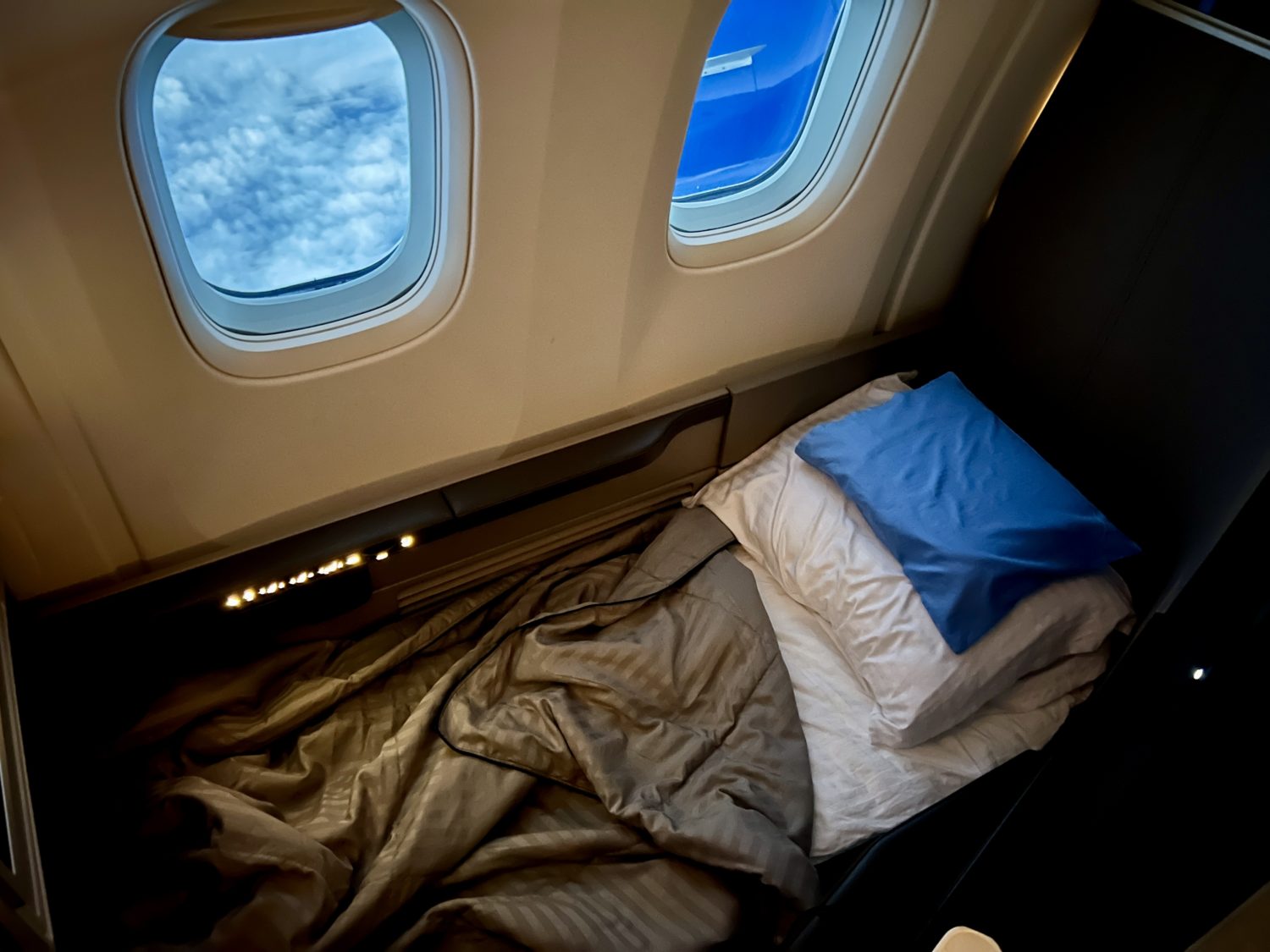 Read our full review of United Polaris business class!
When you're flying all the way to New Zealand, a lie-flat business class seat is paramount. But booking those seats (and beds) isn't cheap: It'll typically cost you 300,000 United miles or more just for a one-way flight. Not this time.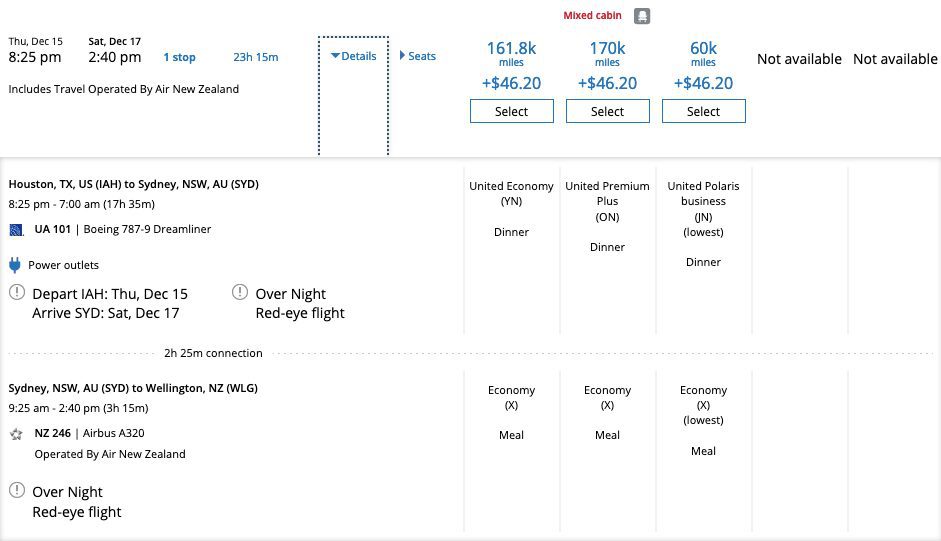 Thrifty Traveler Premium+ is the only flight deal service that sends members cheap flight deals and award alerts to use their points and miles – read up on how it works!
That's right: Just 60,000 United miles for a business class seat all the way to Wellington (WLG) in New Zealand with just a quick connection in Australia. You know you're getting a deal when flying business class costs a fraction of a cramped economy seat.
This unicorn fare popped up last spring. It came and went fast, but not before Thrifty Traveler Premium+ members jumped on it for a trip to the land down under later in 2022 or even 2023 – including New Zealand's peak summer!
There was one other deal that really stopped us in our tracks…
Earlier this year, almost all of United's international routes with a business class seat on them were made available all at the same time. It was a complete bonanza, a free for all…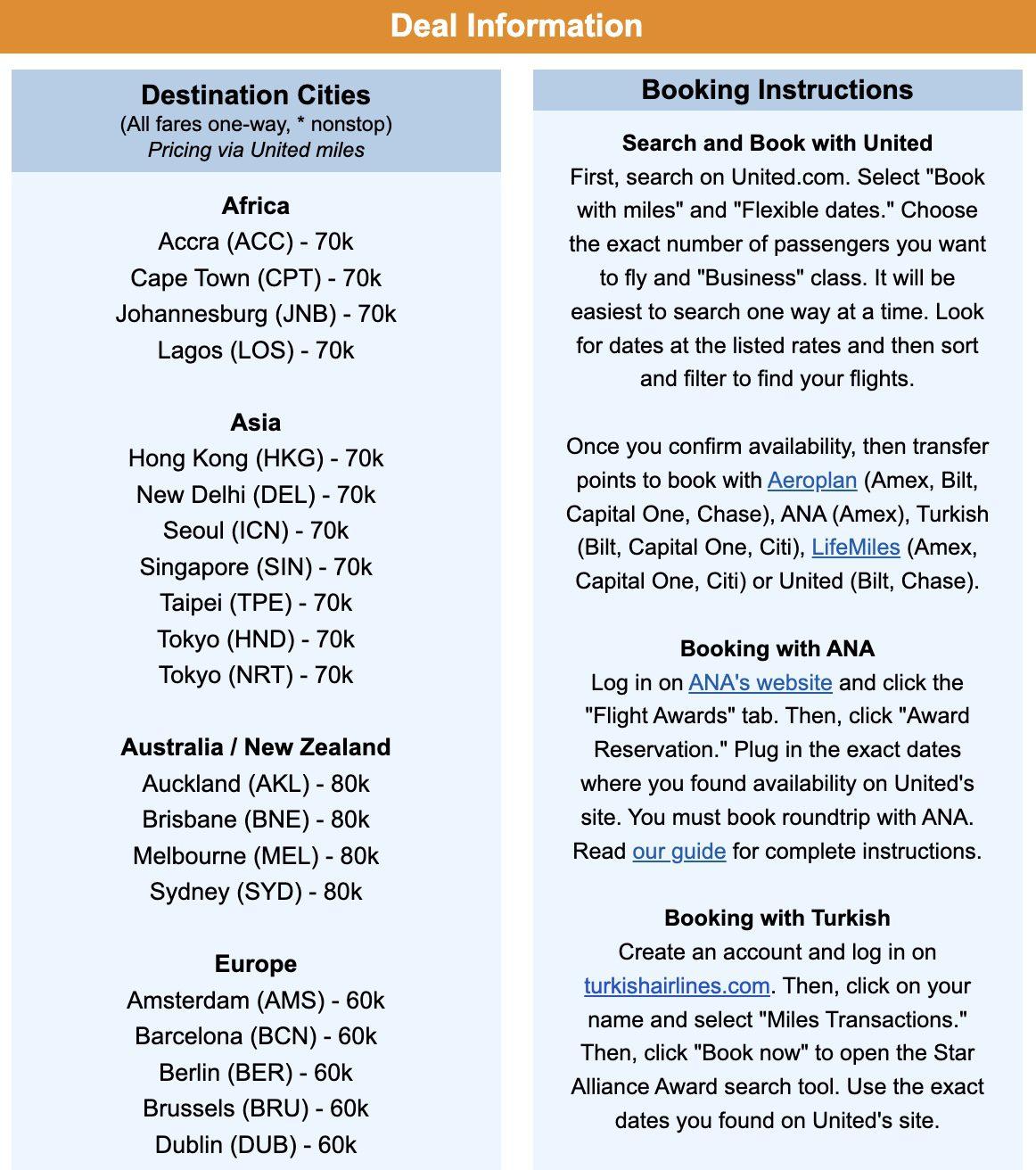 But even at full price, booking United Polaris overseas is a stellar way to use 80,000 United miles – especially on a flight this summer to London-Heathrow (LHR) that would normally cost $4,000 or more.
Cheap Domestic Redemptions
If there's one surefire way to squeeze something out of your United miles, it's by booking domestic trips.
Starting at just 5,000 miles one-way or 10,000 roundtrip, United flights won't cost you too many miles if you're staying in the country. That's the upside of United's new pricing model: Flights that once cost 25,000 miles roundtrip can often be booked for less now.
So if you want to take the family to Orlando (MCO) from the Newark (EWR), you can do it for just 13,800 miles roundtrip.
Or let's book a fall colors hiking trip in the Rocky Mountains from Chicago-O'Hare (ORD), shall we?
Or can I interest you in a Pacific Northwest escape from San Francisco (SFO)?
You get the picture. Not very many miles can get you some pretty great flights on United Airlines when you fly domestically.
Lufthansa First Class
There might be no better, more luxurious way to fly to Europe than in Lufthansa First Class. And United miles can make it happen.
Who doesn't want to fly like this across the Atlantic Ocean, sipping champagne and nibbling on caviar, sitting (and sleeping) in the nose of a Boeing 747?
Read our full review of Lufthansa First Class!
Lufthansa flies its jets equipped with first class to its Frankfurt (FRA) and Munich (MUC) hubs from several U.S. cities like San Francisco (SFO), Los Angeles (LAX), Houston-Intercontinental (IAH), Chicago-O'Hare (ORD), New York City (JFK), Newark (EWR), Miami (MIA), and more. Of course, flying this fancy isn't cheap whether you're using cash or United miles.
As you can see from the screenshot below, you can book Lufthansa First Class for 121,000 miles each way. That's what you'll need anytime you find a Lufthansa first class flight between the U.S. and Europe. While you can book for fewer miles from other airline programs, you won't pay any hefty fuel surcharges on United award flights with Lufthansa – extra fees that could leave you with hundreds of dollars in cash charges along with your miles.
If United miles are what you've got, you cannot beat this.

But finding award availability on these seats to book with your United miles is another matter. Lufthansa generally only opens first class seats to partner airlines like United within the last 14 days before departure – sometimes a month out, if you're really lucky. Often, you won't see any seats until just three or four days before departure – and only to or from a few U.S. cities.
That means you'll need to be extremely flexible to make this work. You'll need to wait until the last minute to book … and you might even want to have a backup flight booked just in case the seats you want don't materialize.
The United Excursionist Perk
There's one truly unique way to redeem United miles you won't find on any other U.S. airline – or any carrier in the world, really. It's your ticket to a free flight when using United miles.
It's called the United Excursionist Perk. It's a perk that's tough to fully understand and easy to forget about, but it can be hugely valuable if you use it the right way.  When you book a round-trip (or even an open-jaw) flight using United miles, you can add another one-way flight for no additional miles.
There are some important restrictions around how you can put this perk to use – and we'll get to them soon – but there's a lot of value here. Here are the rules:
Your free Excursionist flight must take place between the two segments of your round-trip flight, not before your departing flight or after you return.
It must be in a different region than where your trip first began. Ex: If you book a round-trip from the U.S. to Europe using miles, your free Excursionist flight can't be in the U.S. – but it can be in Europe.
Your Excursionist flight must be within one region. Ex: You could fly from one European city to another, but not from Europe to Africa or Asia.
For example, you could book a roundtrip flight using United miles from Washington, D.C.-Dulles (IAD) to Amsterdam (AMS) and add in a free flight from Amsterdam down to Athens (ATH). Better yet, you can make an open-jaw booking to fly into Amsterdam and back home from Athens … but still get that intra-European flight for free. Here's a screenshot illustrating how it works from GCmap.com:
In this case, the Excursionist Perk allows you to see two vastly different parts of Europe on a single award … without paying another mile: You're only on the hook for the taxes and fees. These are three separate flights for the price of two: You can stay in Amsterdam and Athens as long as you want for the same award rate as the simple roundtrip booking – or booking the transatlantic legs separately as one-way tickets.
Here's a side-by-side look at the flights: One a standard roundtrip award to Europe and back, and the other with the Excursionist flight to Athens looped in. Both cost just 65,000 United miles roundtrip thanks to the Excursionist Perk.
Read our complete walkthrough on how to book United Excursionist Perk flights!
Fly Business Class to Asia
United miles are good for more than just United flights, though. You can use them to fly on more than two dozen different airlines that are United partners.
Welcome to the world of airline partnerships and alliances – the key to opening up the world and getting even more out of your miles. And with United miles, you've arguably got it better than any other major U.S. airline's mileage program. United is part of the Star Alliance, a network of 26 global airlines including names like Air Canada, Air New Zealand, All Nippon Airways (ANA), EgyptAir, EVA Airways, Lufthansa, SAS, Singapore Airlines, SWISS, Turkish Airlines, and many more. And with a stash of United miles, you can book flights on almost any of them.

Unlike using miles to fly United, the award rates you'll use to book flights with one of these partner airlines is more stable … but a little bit more expensive than you'll find with United itself. Still, many of these redemptions come at an incredible value. Take EVA Air business class, for example.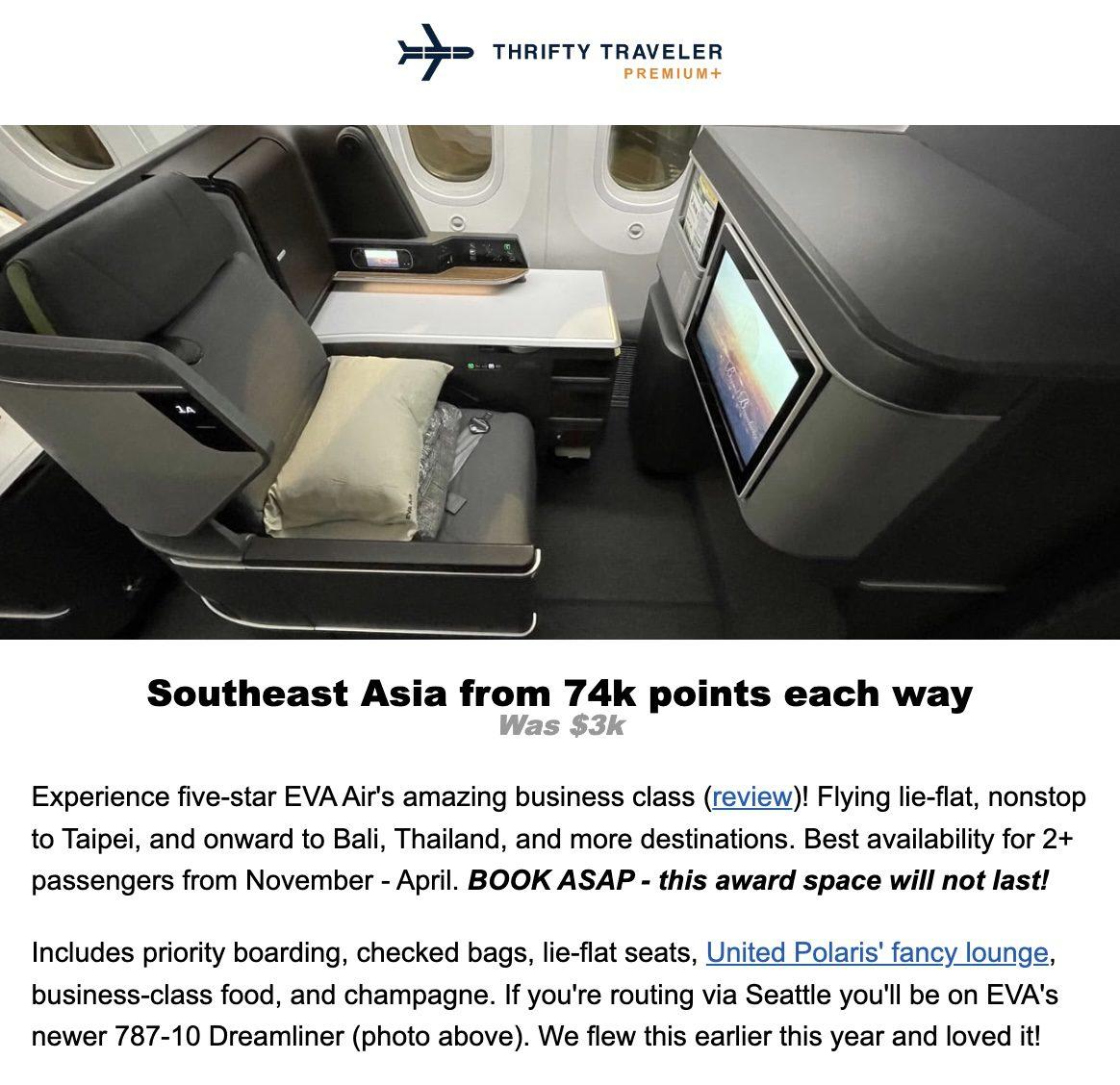 Back when we found this deal, you could grab this cozy seat to Southeast Asia for just 88,000 United miles each way. Now those same seats will cost you 110,000 miles, which stings … but it's still a great way to redeem United miles if you've got them. And even though you're flying another airline, you'll still get access to United's amazing Polaris lounges in airports like Chicago-O'Hare (ORD), Houston (IAH), and many others.
If a trip to Japan is more your speed, United offers an exceptionally comfortable way to make that journey, too! Enter ANA's "The Room" Business Class.
While you won't get the lowest rate booking through United, you can still book these seats for 110,000 United miles each way. Not bad for a $5,000-plus flight in one of the world's best business class seats, right?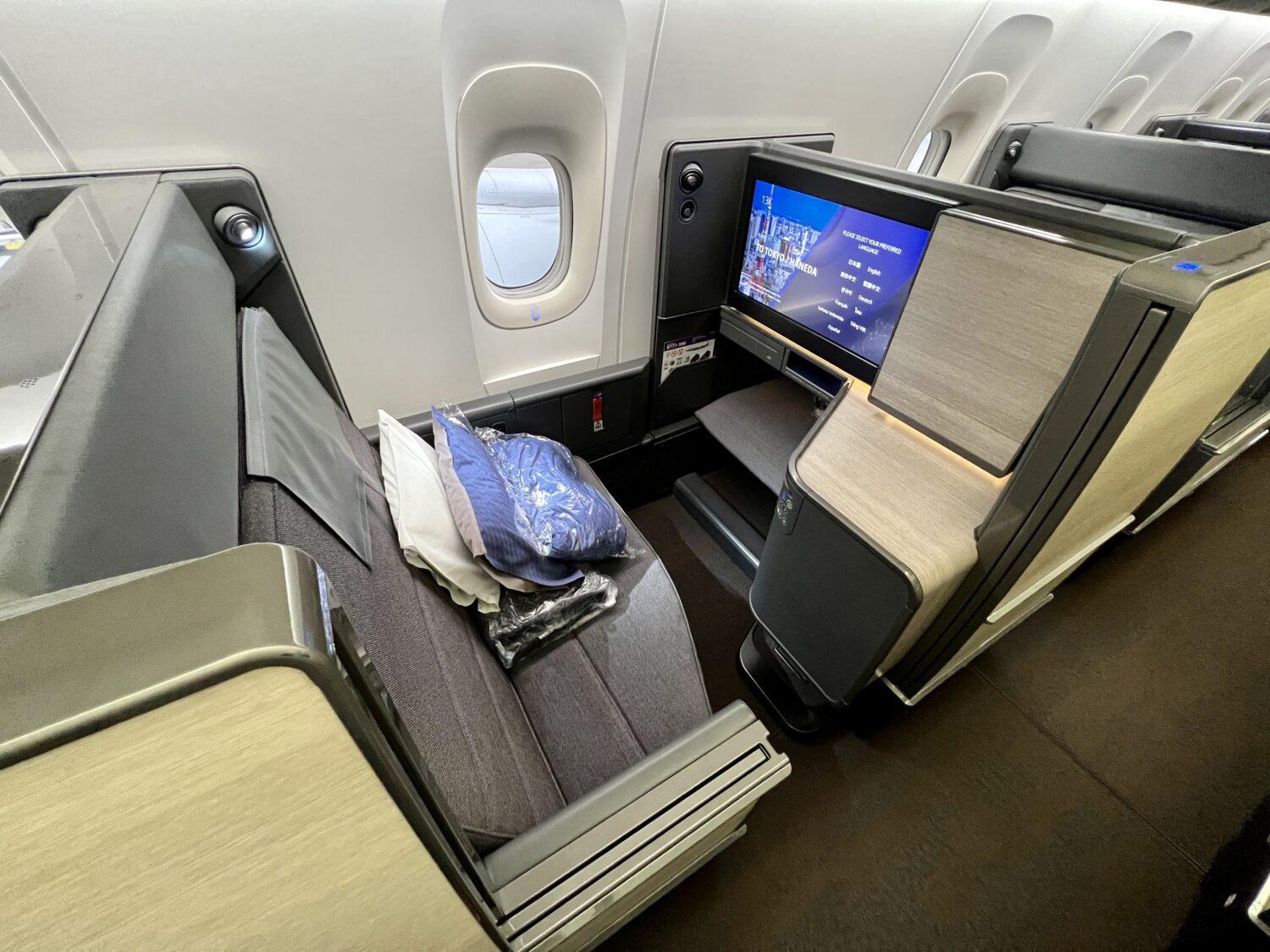 Get award alerts to fly like this with your points and miles with Thrifty Traveler Premium+!
How to Earn United Miles
Lucky for you, there are plenty of ways to earn United miles.
Yes, you can earn miles flying with United and its partner airlines. But the best way to earn a bunch of United MileagePlus miles is with credit cards – and not just United's own Chase cards.
That's an option, of course. United has a handful of co-branded cards with Chase including the *united club infinite*, the *united quest*, the *united explorer*, and the *united gateway*.
The *united explorer* is almost always the best place to start: You can currently bonus_miles_full Plus, you'll get a credit that covers the cost of signing up for either Global Entry or TSA PreCheck.
Learn more about the *united explorer*.
But we'd argue the best way to earn United MileagePlus miles isn't from a credit card with United's name on it. It's via Chase Ultimate Rewards cards like the *chase sapphire preferred* or the *chase sapphire reserve*. United is a Chase transfer partner, which means you can instantly turn a stash of 60,000 Chase Ultimate Rewards into 60,000 United miles.
The Chase Sapphire Preferred is our go-to recommendation for most travelers thanks to its reasonable annual fee of just $95. But most importantly, you can currently earn 60,000 Chase Ultimate Rewards points after spending $4,000 within three months.
Learn more about the *csp*.
It's also worth hard look at either the Chase Freedom Flex or the *freedom unlimited* cards. They form a perfect tandem with a Sapphire Card. And though they're marketed as no-annual-fee cashback credit cards, you can transfer the cashback earned from either card directly into your Chase Ultimate Rewards account, turning that cashback straight into Chase points.
Small business owners (and trust us, you might be one and not even know it) should also give a long, hard look at the *Ink Cash* and the *Ink Unlimited*. Both cards are currently offering a bonus of $900 cashback (or 90,000 Chase points!) after spending $6,000 in the first three months of card membership.
Read more: Got a Chase Sapphire Card? Here's What You Should Do Next
Renters, though, should look at one card in particular.
The Bilt Rewards Mastercard® allows you to earn 1x point per dollar you spend on rent each month without paying extra fees – and there's no annual fee for holding the card, either. It's a no-brainer option for renters.
Bilt Rewards sweetens the deal with what it calls Bilt Rent Day: A monthly promotion that allows you to accelerate on the first of each month. So long as you make at least five transactions every month with your Bilt card, you normally earn 3x points per dollar spent on dining, 2x points per dollar spent on travel, and 1x points on other purchases. On Bilt Rent Day, that doubles: You get 6x points per dollar on dining, 4x points on travel, and 2x points on all non-rent expenses.
Here's the beauty of earning Bilt points: You can transfer them to your United Airlines account on a 1:1 basis, so 50,000 Bilt points gets you 50,000 MileagePlus miles.
Bottom Line
If you have United MileagePlus miles, you're in luck.
Whether you're set on flying United or one of its two dozen-plus partners, there are plenty of great (and unique) ways to redeem United miles. You might be able to book for fewer miles using some other airline mileage programs, but the breadth of what you can book and the ease of earning MileagePlus miles is a winning combo.