Where other frequent flyer miles programs fail, American Airlines delivers with plenty of great ways to redeem AA miles.
Though far from perfect, there's a lot to love about the AAdvantage program. The miles are relatively easy to earn, and the rates American charges to get from point A to point B are generally reasonable. That's a strong combination and a big part of the reason why they're worth collecting.
So we'll break down some of the best ways to use AAdvantage miles. Thanks to some outstanding airline partners through the Oneworld Alliance, many of these flights won't actually be on American itself. Consider that just another bonus of using AAdvantage miles.
But some of these may be limited-time opportunities. Big changes for redeeming AAdvantage miles are coming in 2023, so take advantage while you can!
Domestic Flights from 5,000 Miles Each Way
In just the last few years, American Airlines has begun selling domestic flights for as low as 5,000 miles each way – down from a previous norm of 7,500 miles or even 12,500 miles. The airline calls them Economy Web Specials.
It can be a bit tricky to find these fares, as American doesn't publish a list of which routes qualify for discounted pricing, so it will require some trial and error.
Short-haul flights under 1,000 miles from American hubs like Phoenix (PHX), Dallas-Fort Worth (DFW), Chicago-O'Hare (ORD), and Philadelphia (PHL) seem to be the best bets. But even then, it can be unpredictable, with drastic swings in prices day by day.

American isn't alone in offering these cheap rates for short domestic hops – Delta has been doing it for ages, and United started offering similar sales. Still, it can be a great way to redeem AA miles when you find them. And it's about to become more common…
Sometime next year, American will eliminate its current award chart with ironclad redemption rates when redeeming miles to fly American. That means these discounted (or sometimes elevated) web special prices will become the norm.
Fly to Europe in the Off-Season
American Airlines' award chart specifically carves out cheaper rates for traveling during the off-peak.
So if Europe is on your mind for 2023 (and it should be!), that means you can get there and back for 45,000 AAdvantage miles round-trip in economy – down from the norm of 60,000 miles.
The off-peak definitions change year by year. For 2023, Jan. 10 through March 14 and Nov. 1 through Dec. 14 qualify for the cheaper pricing. And for hotspots scattered across Europe, these off-peak times are a great time to visit. Thanks to the rise of web special fares, you can sometimes find even cheaper rates to redeem AA miles for a trip to Europe.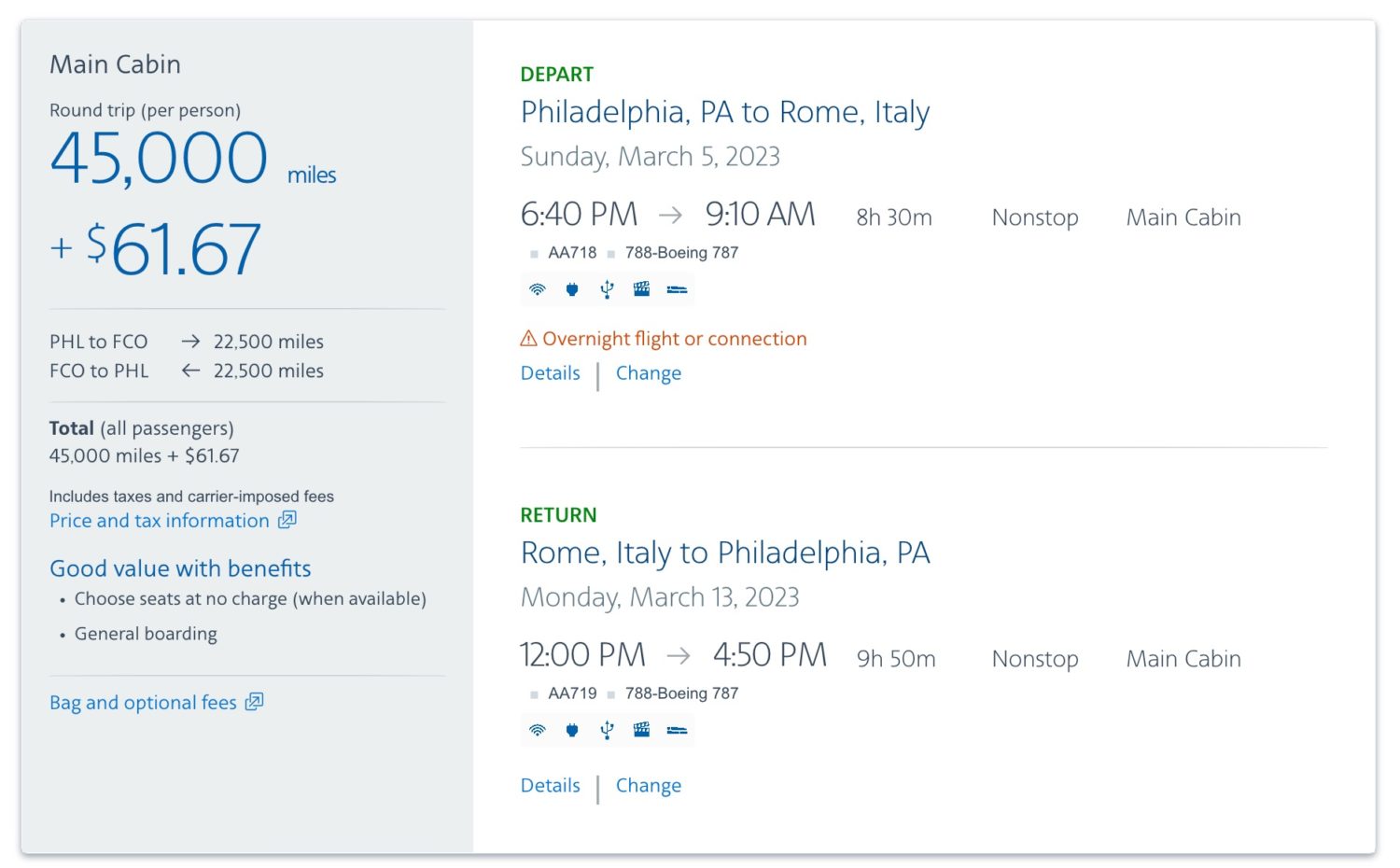 It's important to note that this cheaper pricing only applies to flights on American itself. Flights on partners like British Airways or Iberia typically do not qualify for off-peak rates. 
And one of the beauties of using AA miles is that you can generally tack on a connecting domestic flight for 0 miles. So if you're not already in Philadelphia (PHL), for example, you may be able to simply start your search from your home airport and book the one-stop itinerary for the same rate.
… Or in Business Class
With some luck, American Airlines can be a jackpot if you're looking to fly business class to Europe.
For starters, almost all American planes flying to Europe have a great reverse herringbone seat, with more space and privacy than you'll find on the older planes Delta typically fly overseas. A brand new business class seat equipped with closing doors is on the way – though it won't hit the skies until 2024.
But if you time it right these business class flights are also bookable with just 57,500 AAdvantage miles each way. Most airlines charge at least 70,000 for a business class seat across the Atlantic. On Delta, that's more like 250,000 SkyMiles. Ouch.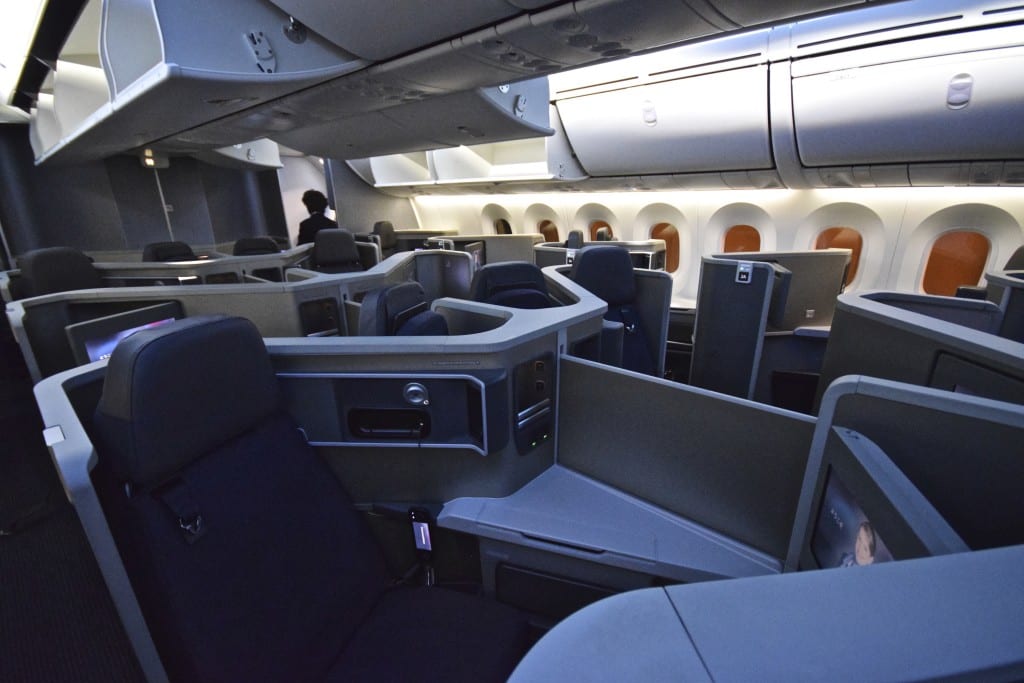 The trick is finding the award space – aka a seat in business class that's actually bookable with miles. American is notoriously stingy when it comes to booking its own business class with miles. With the rollout of web special awards and American's rapid move toward dynamic award pricing, you're far more likely to find exorbitantly expensive business class awards to Europe than a deal for 57,500 miles each way.
But it can be done – it just takes  lot of patience to find the flights you need. You might need to wait until the last few weeks before departure to book. Flights into London-Heathrow (LHR) and Paris-Charles de Gaulle (CDG) seem to be the most reliable bets. And married segment logic can complicate things – where the nonstop flight from New York City-JFK (JFK) to LHR isn't available, but starting in Minneapolis-St. Paul (MSP) and connecting through JFK opens up the flights.
Get to the Caribbean or Mexico for Less
How does a trip to the beach for 25,000 miles round-trip sound?
With AAdvantage miles, it's easy to get to Mexico or an island in the Caribbean for cheap. Thanks to low rates and plenty of flights, there's no better way to book a trip south than with AAdvantage miles.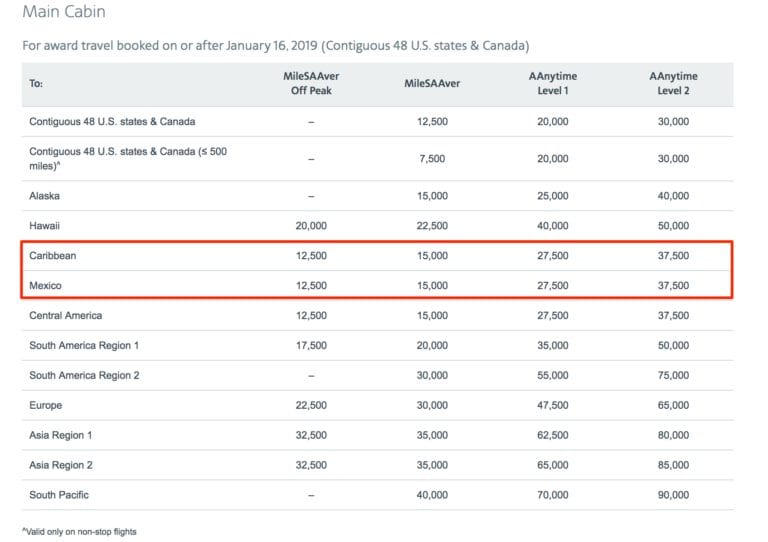 Much like with Europe, American has flights at cheaper rates during the off-peak season. In this case, you can unlock those rates from April 21 to May 20, and Sept. 9 through Nov. 18. That means you can get to incredible islands like St. Martin (SXM), St. Lucia (UVF), and Aruba (AUA) for as low as 25,000 miles round-trip. Even at 30,000 miles for a normal round-trip, it can be a steal.
Redeem AA Miles to Fly Japan Airlines in Style
The real beauty of using AA miles isn't to fly American Airlines – it's redeeming them for partner airlines. And this one is tough to beat.
After two-plus years off-limits, Japan is back open to travelers. And when you're flying 13-plus hours to Asia, it's worth some extra miles to fly in comfort. How about a SkySuite?
Japan Airlines business class is one of the best ways to fly, if you ask us … has one of the world's best business class seats … and they're called SkySuites. In the right seat, it's both spacious and insanely private. Some of the best food you'll find in the sky doesn't hurt either.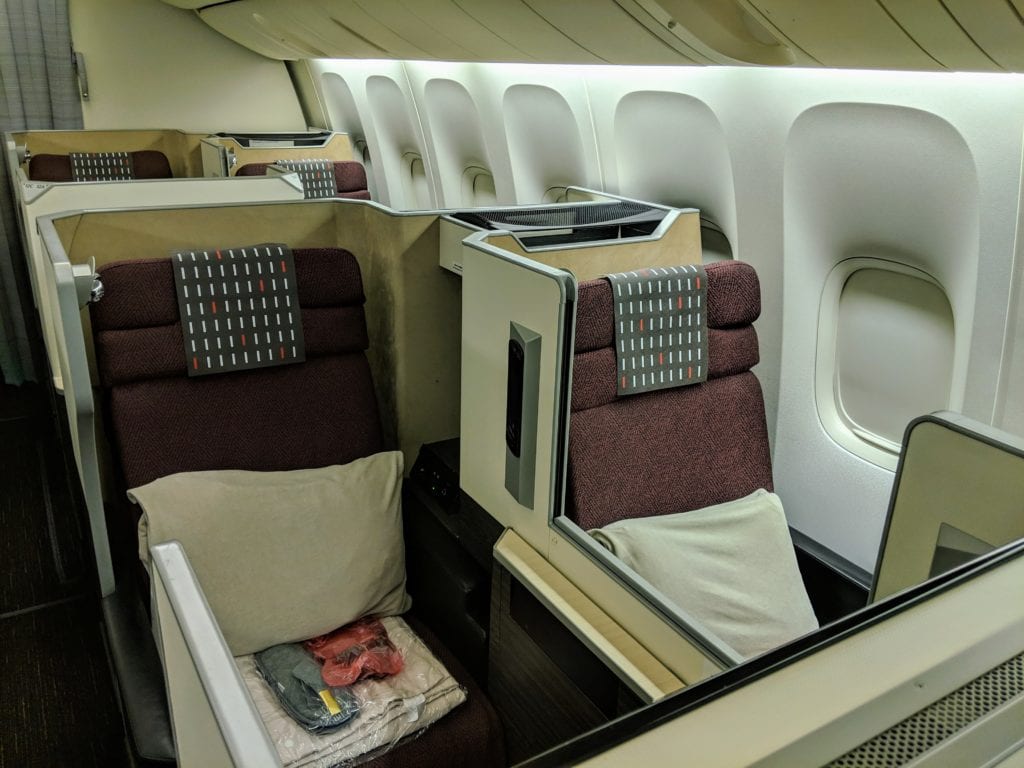 Read our full review of flying Japan Airlines business class from Chicago-O'Hare (ORD) to Tokyo-Narita (NRT)!
The best part? This incredible flight – which normally costs $5,000 or more –  is just 60,000 AAdvantage miles each way from the U.S. to Japan (or vice versa). 
For years, it was difficult to book these flights as you couldn't do it online. But that has changed, as these awards are now bookable directly at AA.com. And thanks to the occasional burst of award space flying JAL business class, you can easily redeem AA miles for a trip in Japan airlines business class all the way into fall 2023.
Earlier this month, for instance, we sent Thrifty Traveler Premium+ members an award alert for two-plus passengers to fly JAL business class next summer – not just into Tokyo, but into Osaka (KIX) as well!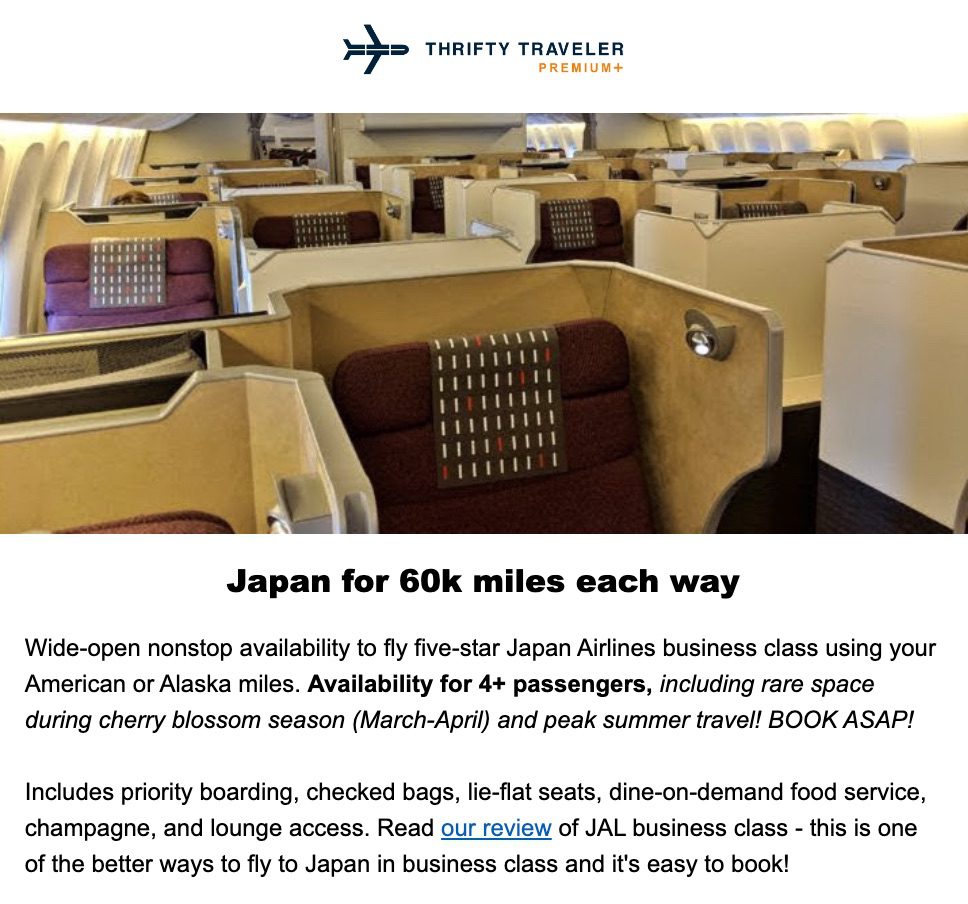 Get award alerts to fly business or first class with your miles with Thrifty Traveler Premium+!
Fly to the Middle East in Qsuites
If Japan Airlines is one of the best business class seats, the top prize surely goes to Qatar Airways Qsuites. And good news: You can book them with AA miles, too.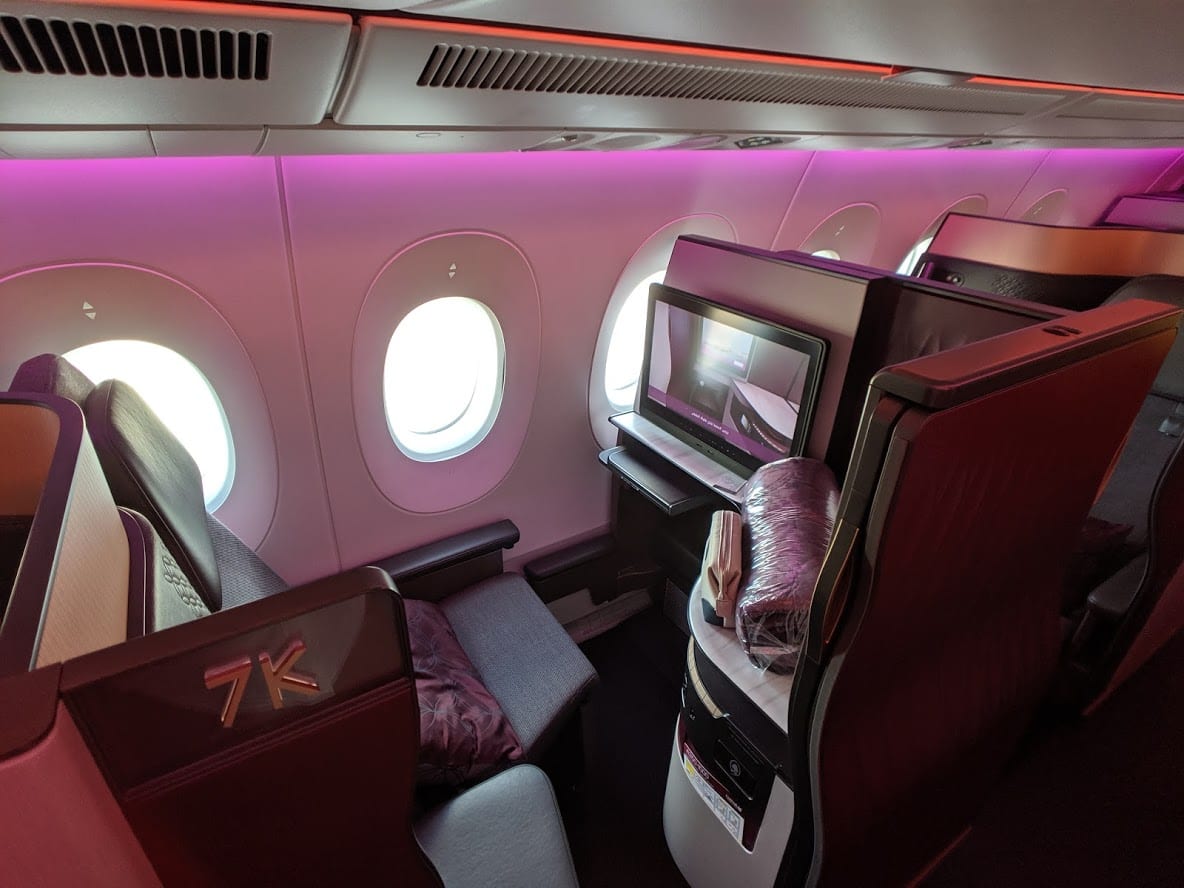 Read our full review of flying Qsuites from Dallas-Fort Worth (DFW) to Doha (DOH)!
You'll need 70,000 AAdvantage miles to book the one-way flight from the U.S. to Qatar's hub in Doha (DOH), or vice versa. Or you can continue onward elsewhere in the Middle East like Muscat in Oman and still pay just 70,000 miles. You'll get some incredible meals and service, and easily the best seat you can fly in business class. Then there's this: You can visit the incredible Al Safwa First Class Lounge during your layover in Doha before continuing onward elsewhere in the Middle East.
The award space to fly Qsuites with your AA miles can be hit or miss. Lately, it's been harder to book – especially now that you won't see Qatar business class flights when searching AA.com. But trust us, they're still out there.
Every now and again, the floodgates open. Case in point: We've sent no less than eight award alerts in 2022 to our Thrifty Traveler Premium+ members with wide-open options to fly Qsuites to the Middle East and beyond.
But there are other great options across the globe to hop in Qatar business class. Among them: It costs just 42,500 AAdvantage miles to fly from Europe to the Middle East. Want to fly from an Asian city like Bangkok (BKK) to Doha, or vice versa? It's just 40,000 AAdvantage miles! 
Or Fly Qsuites to South Africa for 75K AA Miles!
This might just be the single best way to redeem AA miles.
A one-way flight in Qsuites from the U.S. to the Middle East will run you 70,000 AA miles. So you'd figure continuing onward to Johannesburg (JNB) or Cape Town (CPT) – another 10 hours in the air – would cost you significantly more, right?
Wrong. Flying Qatar Airways business class from the U.S. down to South Africa (or anywhere else on the continent) costs just 75,000 AAdvantage miles each way. It's a massive sweet spot on the American Airlines award chart, and one of the best deals in points and miles.
The fact that you can tack on another 10-hour flight in Qsuites for just 5,000 additional AA miles makes this redemption worth singling out.
How to Earn AAdvantage Miles
If some of these ways to redeem AA miles have made it on your bucket list, now's a great time to start piling them up.
And it doesn't get much easier than this. Few credit cards offer a better, more lucrative welcome offer bonus than the AAdvantage Aviator Red World Elite Mastercard. Just for opening the card, making a single purchase, you can earn 60,000 American Airlines AAdvantage miles. Plus, when you add an authorized user card and make a purchase on that card within the first 90 days, you'll earn an additional 15,000 miles. That's 75,000 miles from making just two purchases!
The annual fee is not waived for your first year of card membership. These are some of the easiest miles you will ever earn.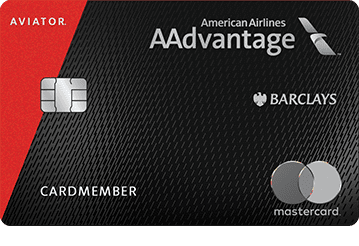 Learn more about the AAdvantage Aviator Red World Elite Mastercard (this is not an affiliate link)
But American Airlines is unique in the fact that they have co-branded credit card relationships with both Citi and Barclays thanks to the merger of American and U.S. Airways a few years ago. For the time being, American has made the decision to continue the relationship with both banks.
That means you can also nab the Citi® / AAdvantage® Platinum Select® World Elite Mastercard®, which is currently offering 50,000 AAdvantage Miles after spending $2,500 within the first three months. The card's $99 annual fee is waived in the first year.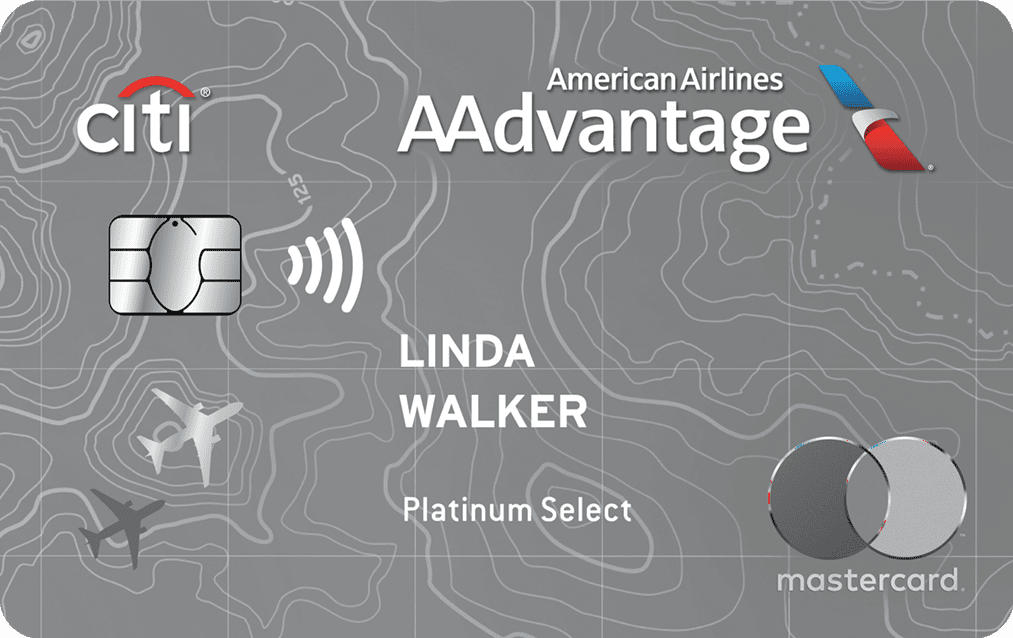 Learn more about the Citi® / AAdvantage® Platinum Select® World Elite Mastercard®
This is significant because you can earn the welcome offer bonus on each card. That'd net you 100,000 American Airlines miles after spending $2,500 on the Citi AAdvantage Platinum Select Card in the first three months of card membership, making a single purchase on the Barclay's card … and only paying the $99 first year fee on the Citi version.
Finally, there's a new kid on the block to add to your stash of AA miles. It's called Bilt Rewards, a new and novel program that allows you to earn points on your monthly rent payments – without paying pesky fees. In tandem with a Bilt Rewards Mastercard – especially on the first of each month when you earn double points on most purchases – it's a great way to earn AA miles.
That's because American is one of Bilt's best transfer partners, if you ask us. Bilt Rewards points transfer to American on a 1:1 basis, which means a stash of 50,000 points from paying your rent (or picking up the tab at dinner with a Bilt Rewards card) can automatically net you 50,000 AAdvantage miles.
Bottom Line
There is no shortage of excellent ways to redeem AA miles. This is just the tip of the iceberg.
Combine some of these dynamite redemptions with how easy it is to pile up AAdvantage miles, and you've got a recipe for some amazing travel for pennies on the dollar.