When you're heading to Tokyo, you've got some important choices to make. And it's not just: "Should I have sushi for lunch and dinner? Or breakfast, lunch, and dinner?"
The decisions start before your trip even begins. The Japanese capital city has two major airports that each receive international flights from the U.S. and across the world: Tokyo-Haneda (HND) and Tokyo-Narita (NRT). Which airport should you fly into?
We put that question to the test, flying into Narita and out of Haneda on a recent trip. And there was a clear winner.
Getting into Tokyo from Narita
Tokyo's larger airport is mostly geared toward connecting travelers onward throughout Asia. And both of Japan's major carriers – Japan Airlines and ANA – have a huge presence at Tokyo-Narita (NRT), as do many major airlines worldwide.
So there's a good chance any cheap flight to Tokyo you find will take you to Narita.
But here's what you need to know about Narita: It's far away from the heart of Tokyo. Like, really far.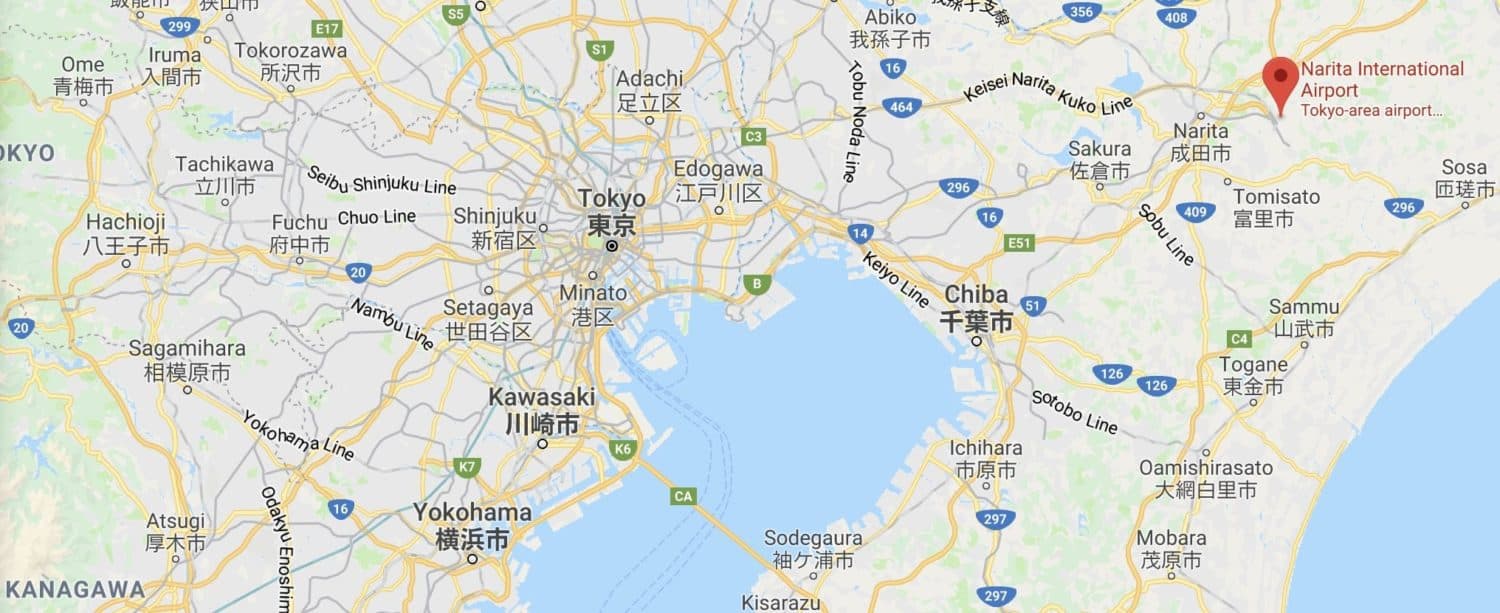 Narita International Airport was built in the late 70s to handle the bulk of international flights, relieving some stress on Tokyo's other airport. And it was built roughly 90 minutes east of Tokyo, closer to the coast of the Pacific Ocean than the city itself.
That means taxis, Uber, or ridesharing services like it are probably out of the question for this far-flung airport, as it would likely run you $200 or more each way.
But there's an easy way even from: Tokyo has one of the cleanest, timely, and most modern subway systems in the world.
While Tokyo's subway system may feel intimidating, it's simple and easy to use. And most importantly, it runs like clockwork. Trains depart exactly as scheduled – not a minute before or after. Getting from Narita into the heart of Tokyo is a great way to start to learn the ropes of using the metro.
Thrifty Tip: Google Maps will be your best friend for navigating Tokyo's subway system. Just plug in your origin and destination, and Google will crank out the best ways to get there by subway, including schedules, line names, and pricing.
After landing at Narita and clearing customs, head out for the exits and look for a Keisei Railway ticket desk.
There are a few options to get you into town. The first and cheapest option would be to buy a standard ticket on the Keisei Skyaccess Line  – in my case, all the way to Ginza station. These are your typical subway cars that run on the line built specifically to reach Tokyo from Narita. Tickets typically run 1,100 yen to 1,500 yen total ($10.50 to $14.25 USD).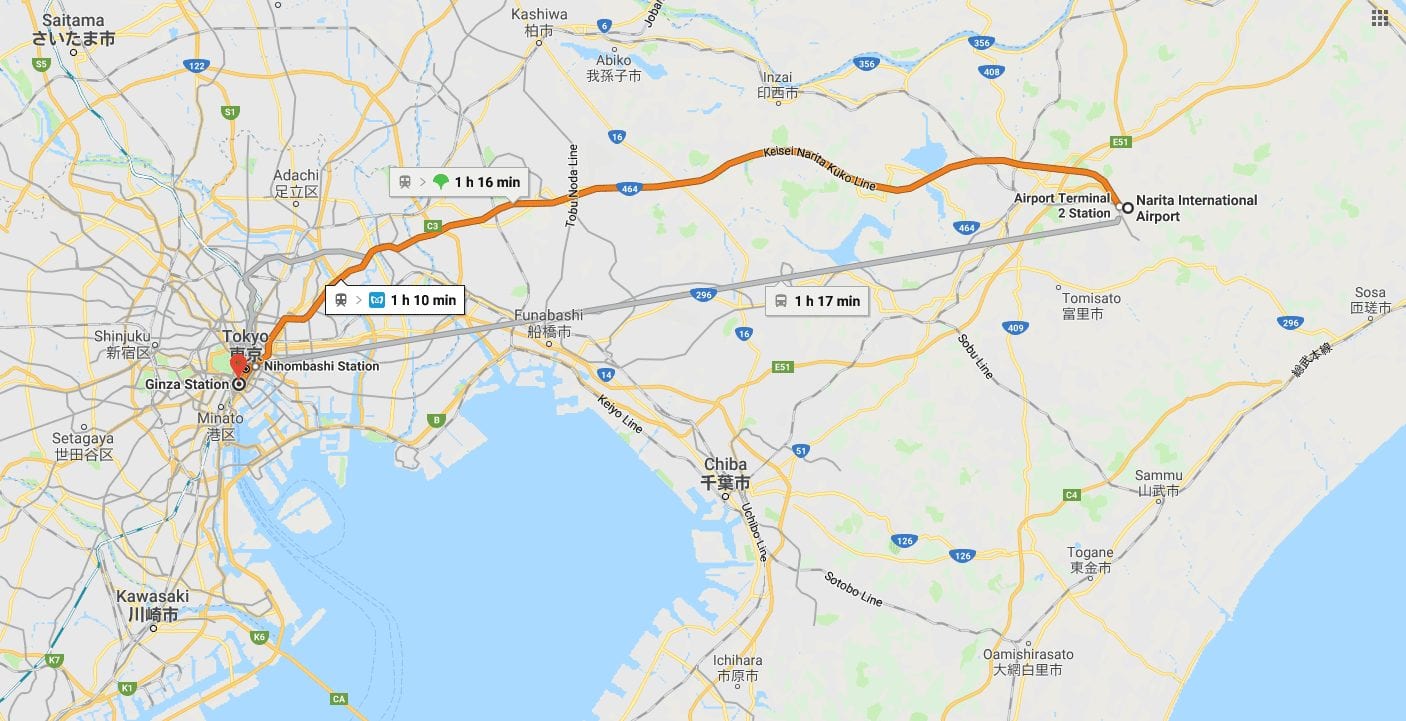 Odds are, you will need to make at least one transfer in order to make it to your final destination. But it's fairly quick, easy, and painless.
There's also another option called the SkyLiner that can get you into town faster – it puts you on a high-speed train with dedicated and comfortable seating. But it will only shave off 20 or so minutes of travel time, depending on where you're heading within Tokyo. And you'll have to pay almost double for it: Skyliner tickets typically start at 2,400 yen ($20 USD) each way.
If you're spending a short time in Tokyo and want to maximize your stopover, that faster Skyliner ticket might be worth the premium. Another option is the Japan Rail Narita Express, which takes you straight to Tokyo Station.
But I went for the cheaper Skyaccess Line tickets. No matter which option you take, expect it to take about an hour or more to reach your final destination in Tokyo. In my case, it was a tad more – but well worth the savings over the pricier SkyLiner ticket.
Travel Time: 75 minutes
Total Cost: 1237 yen ($11.75 USD)
Getting into Tokyo from Haneda
Let's get right to it. Tokyo's Haneda (HND) airport is closer. Much closer.
There's a reason why more and more airlines want to fly into Haneda – and Delta is abandoning Tokyo's other hub airport altogether. It's just much easier and faster to get into town from Haneda – and for much less money.
Unlike Narita, taxis and Uber are an option from Haneda. It won't be cheap, as taxis charge a flat rate starting at about 5,900 yen ($56 USD) each way, with Uber costing roughly the same amount.
But it couldn't be easier to get into town from Haneda using Tokyo's subway system. Depending on where you're at in the city, you may not even need a fancy ticket to ride on Tokyo's standard metro lines. Some routes will take you on the Keikyu line, which is easy to navigate. Either way, it should take one transfer at most.
Thrifty Tip: Don't try to decode the interlocking network of public and privately run train operators throughout Tokyo. Trust us: Just follow Google Maps' lead to get where you need to go.
In my case, I was actually riding from near Ginza Station back to Haneda's international terminal for a flight home. Buying a ticket from the automated machine and scanning through to the gate was simple. So was the ride – and the cost.
Travel Time: 28 minutes
Total Cost: 570 yen ($4.40)
Bottom Line
At the end of the day, getting into Tokyo from either airport is fairly simple and can be cheap. Don't hesitate to fly into Narita (NRT) if that's where an amazing flight deal or mileage redemption takes you.
But at less than half the cost and time, there's no denying Haneda has the edge here. That's why it's become the preferred airport for businesses and travelers alike.