Among the hundreds of airline frequent flyer programs out there, All Nippon Airways (ANA) Mileage Club might just crack the top five. Sure, you can use miles from this Japanese airline to fly to Japan and back … but they're also great for Europe … or even Australia … or flying around the world!
The best airline programs combine low rates to redeem miles for a free (or nearly free) flight and an easy way to earn them, and that describes ANA Mileage Club to a T. There are a ton of sweet spots to fly economy or even business class for fewer miles than other airlines would charge you. And since it's an Amex transfer partner, you can transfer points from cards like the *amex gold card* or *amex platinum card* to easily get the ANA miles you need.
Of course, these great deals come with a few drawbacks: Higher tax and fee charges on some (but not all) redemptions and some restrictions you won't find when using miles through other airlines. But that doesn't outweigh the value of ANA Mileage Club and why you should study up on it for your next big trip.
We'll walk you through all the quirks and let you know everything you need to know about ANA Mileage Club.
The Basics of ANA Mileage Club
ANA Mileage Club is the frequent flyer program for Japan's All Nippon Airways (ANA). And it's one of the cheapest ways to fly using points and miles to … well, just about anywhere.
We're talking business class to Europe for 88,000 miles roundtrip, business class to Japan and back from just 75,000 miles, and one of the best ways to pull off a trip around the world using miles, just to name a few. So, how do you join the club? That part is easy.
The first step to taking advantage of ANA's unbeatable award rates is to sign up for a free ANA Mileage Club account on its website.
While the form looks a bit outdated, it's a pretty straightforward process. One thing to note is that you'll need to create two separate passwords with ANA: One for its website and another "AMC Password" which is a 4-digit PIN that you'll need for verification purposes when speaking with an agent over the phone. Write this AMC Password down or use a go-to number – it may come in handy one day.
Now that you've joined, where do you want to go? Your options are nearly endless.
Where You Can Fly With ANA Miles
Naturally, you can use ANA miles to fly ANA itself between North America and Japan.
In the U.S. and Canada, you'll find ANA-operated flights to one or both of its hub airports in Tokyo-Narita (NRT) or Tokyo-Haneda (HND) from a total of eight gateways.
Chicago (ORD)
Houston (IAH)
Los Angeles (LAX)
New York (JFK)
San Francisco (SFO)
Seattle (SEA)
Vancouver (YVR)
Washington D.C.-Dulles (IAD)
If you're flying ANA to or from Japan, you're in for a treat. ANA has some of the widest seats and most generous legroom you'll find in economy. But ANA first class is among the best in the world. And ANA business class is outstanding, too – especially if you can snag one of its newest business class seats.
Read more: Where to Find (& How to Book) ANA's New First, Business Class Cabins
But these aren't the only cities you'll be able to fly to and from. Since Air Canada and United are ANA partners, you can use ANA miles to fly from any city with Air Canada or United service by booking a partner award ticket. That means you can use ANA miles to fly from the majority of U.S. and Canadian airports.
And you can fly to destinations throughout the world — it doesn't need to be a city with ANA service.
ANA Partners: Airlines You Can Fly
While its hub is in Tokyo, you can use ANA miles to fly all over the world thanks to being a member of the Star Alliance with a few dozen other airline partners, including Air Canada, United, TAP Air Portugal, Turkish, EVA Air, and many more.


In addition to Star Alliance airlines, ANA has a few one-off partnerships with some other airlines outside of the alliance such as Garuda Indonesia and Olympic Air. You can find the full list of ANA partners on its website.
Just note that there are certain restrictions for redeeming awards depending on the airline partner. For instance, you may only be able to book economy seats on Singapore Airlines with ANA miles on most flights, as Singapore generally only releases business and first class seats to its own KrisFlyer mileage program.
Rules and Restrictions Using ANA Mileage Club
While its redemption rates are generally the lowest you'll find for roundtrip flights in several markets, there are a few pitfalls to the ANA Mileage Club that you should be aware of before digging too deep.
In short:
You must book roundtrip flights. No matter which airline you book with your ANA miles, you must book roundtrip when traveling internationally. However, you can still get creative by booking stopovers and open-jaw tickets.
You can only book flights for yourself and family members. No booking flights for friends using your ANA miles, unfortunately.
Transferring Amex points to ANA often takes 48 hours. Unlike many credit card points partners, transfers to ANA are not instantaneous.
ANA miles expire after three years. There is no way to extend the validity of ANA miles.
Two of the biggest drawbacks are the lag time for points to transfer and the fact that you must register family members to book.
48-Hour Transfer Time from Amex
Waiting for points to transfer can induce a lot of anxiety when trying to book an elusive saver award seat in business class because you can no longer put flights on hold while waiting for your points to transfer. Will the business class seats you found be available two days from now? Maybe … but maybe not. Gulp.
Sure, that means there's some risk here. But if you're flush with points, flexible with travel plans, and think you'd be able to use your ANA miles elsewhere if the exact flights you want happen to disappear, I wouldn't hesitate to take that risk for the chance to book an amazing deal with ANA Mileage Club.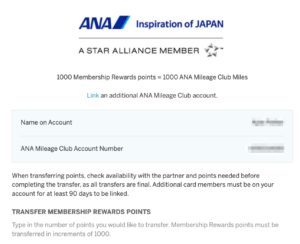 Thrifty Tip: If you really have a ton of Amex points, it may be worth proactively transferring points to ANA in advance so you are ready to book if a hot deal pops up. Just keep in mind that once you transfer points to an airline, you can't get them back to your Amex account.
Booking for Family Members Only (Not Friends)
As for travel companions, ANA's official policy only allows you to book award flights for your spouse and any relatives within two degrees of relationship. This includes your parents, children, grandchildren, and siblings. But it also includes your spouse's siblings, parents, and grandparents, as well as your sibling's spouse. Here's how ANA's website spells it out.
You'll need to register family members before you can book flights for them with your account and members can register up to 10 people on one account. ANA states that you may be asked to present documentation to verify your relationship, though there are reports that they rarely ask for documents.
One upside to the ANA Mileage Program is that you can pool miles with your family by registering for a family account.
Fuel Surcharges on ANA Awards (& How to Avoid Them)
No matter which airline program you're using or where you're going, redeeming miles is never free travel. From $5.60 on a one-way domestic flight to $1,000-plus on some transatlantic business class awards, there's always an additional cash cost.
With ANA Mileage Club, how much you'll owe in cash depends on which airline you're booking. This is because carrier-imposed fuel surcharges will be passed along by ANA depending on the airline.
And these fees can really add up … in addition to your miles, it can sometimes cost $1,500+ in cash fees when flying long-haul routes on certain airlines in business class. You don't want to do that.
The good news is that there are several airlines you can fly that don't have these high surcharges, so you just need to be careful when choosing flights. And when redeeming miles to fly ANA itself, these surcharges have decreased drastically in the last year or so.
Fuel Surcharges on ANA-Operated Flights
ANA's fuel surcharges when flying ANA itself are always in flux. That's because ANA is constantly adjusting fuel surcharges for its own flights depending on the price of jet fuel.
If you purchased your ANA award ticket at the end of 2021, the fuel surcharge for ANA-operated flights between the U.S. and Japan was just $190 roundtrip. In June 2022, it went up as high as $658. Ouch!
Luckily, these surcharges have been coming down recently. At the time of publication booking in June or July 2023, this fuel surcharge is $432 roundtrip. For bookings made starting August 1, 2023, it will go down to $346 – nearly half what it was just a year ago.
Since this is a moving target, you can find the latest information on fuel surcharges for ANA-operated flights on ANA's dedicated page by clicking on the "International Surcharge Info" tab. It lists these surcharges only for flights to Japan. Surcharges are listed each way, so you'll need to double it for roundtrip.
ANA charges the same fuel surcharge for its own flights regardless of whether you're flying economy, going for business class, or splurging for first class.
You can check what the fuel surcharge is for your itinerary by expanding the "Payment" section once you are on the itinerary summary page during booking.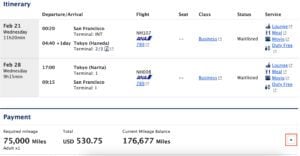 For these nonstop flights from San Francisco (SFO) to Tokyo (TYO), the fuel surcharge is $432, with taxes pushing the total to around $530. That's not an awful deal for business class seats to Japan when you're using just 75,000 miles, but it's something to be aware of.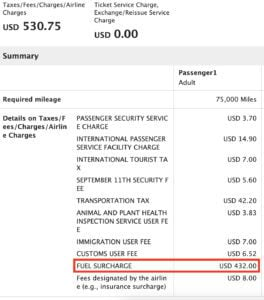 Interestingly, if you were to fly beyond Japan on connecting flights operated only by ANA, the fuel surcharge may be lower. For example, at the time of publication, the fuel surcharge for roundtrip flights to Australia is only $98, with total taxes and fees around $292 thanks largely to Australian government taxes.
Read more: Drilling into ANA Fuel Surcharges
Fuel Surcharges for Partner Airlines
If you're going to use ANA miles to book flights on a partner airline, your cash fees can vary wildly.
The trick is to focus on airlines that don't levy fuel charges – or at least not on flights to certain markets. Other airlines that do pass on more cash costs may charge less for economy flights or shorter routes than for business or long-haul journeys.
If your goal is to keep your points AND cash charges low, you'll need to choose carefully. Here's a general breakdown of what these fees look like on some of ANA's most popular partner airlines that operate flights from North America.
ANA Partners with No Fuel Surcharges
You'll get the best deal on your final cash bill when flying these airlines:
Air Canada
Air New Zealand
Avianca
Copa Airlines
SAS
Singapore Airlines
TAP Air Portugal
United, though you may see fuel surcharges on some flights to Asia
ANA Partners with Lower Fuel Surcharges
While redemptions on these airlines using ANA Mileage Club means you'll have some higher cash costs, they're fairly reasonable.
Expect under $200 roundtrip when flying long-haul business class from the U.S. Add in the taxes and additional fees, and it'll be a bit more.
Ethiopian Airlines
EVA Airways
LOT Polish
I wouldn't hesitate to book these airlines with ANA Mileage Club. The cheap mileage rates more than make up for the low fuel surcharges.
ANA Partners with Moderate Fuel Surcharges
These airlines have fuel surcharges between $300-500 roundtrip when flying long-haul business class from the U.S. Total taxes and fees will be slightly higher.
Asiana
EgyptAir
Turkish Airlines
Booking flights operated by these airlines with ANA miles is more of a toss-up. If the routing is nice, the low mileage rates charged by ANA could make it worthwhile to pay the moderate cash fees.
ANA Partners with High Fuel Surcharges
This is where things get ugly.
The fuel surcharge on these airlines is $1,700 roundtrip when flying long-haul business class from the U.S, with total taxes and fees coming out to around $1,800. That stings!
Austrian Airlines
Brussels Airlines
Lufthansa
Swiss
It's best to avoid flying long-haul routes on these airlines when booking with ANA Mileage Club. You'd be much better off booking stead through another Star Alliance Program that pass on fewer cash fees such as Air Canada Aeroplan, Avianca LifeMiles, or United MileagePlus. While you may need more miles, that'll save you a small fortune in fees.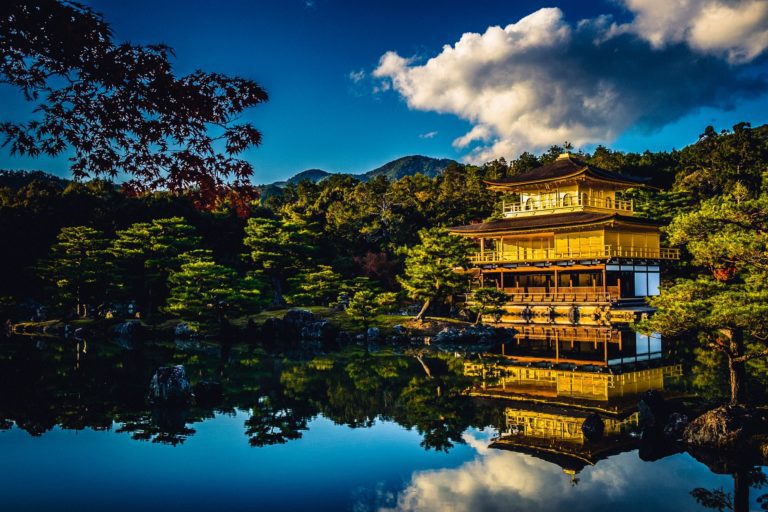 ANA Award Charts: How to Price an Award Flight
Now that you know some of the downsides when booking with ANA miles, let's get to the good news: ANA's super cheap award rates!
Unlike Delta, United, and a growing number of frequent flyer programs with award rates that constantly change based on the cash price of flights, ANA still publishes award charts. What does that mean? Think of them as a cheat sheet to determine how many miles it will take to book the flights you want.
In ANA's case, it has four different award charts. The rates may depend on which airline you're flying, where you're traveling to and from, or how far you're flying.
For the most part, you'll only need to pay attention to the ANA international flight awards and the partner flight award charts, though if you're taking a multi-city trip between multiple zones, you may want to have a look at the round-the-world chart. More on that later.
First, before we go into the details of the different award charts and how to price your award flight, let's discuss ANA's award zones…
ANA Award Zones
ANA divides the world into 10 different award zones. Knowing these zones will help you determine how many miles you'll need to book flights when looking at the region-based award charts.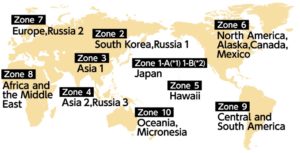 ANA explains exactly which countries belong to these zones on its partner flight awards page.
International Flights Operated by ANA
For international flights only operated by ANA, it doesn't just matter where you're going – it matters when you're going, too.
ANA's award chart for these flights is divided up into seasons, with a standard price, lower rates for off-peak seasons, and higher rates for the busier stretches.
The exact dates of these seasons change slightly every year, but in general terms, the seasons are as follows for ANA flights between North America and Japan:
Low Season (L): January, February, and early to mid-April
Regular Season (R): March; mid-May thru late July; late August thru mid-December
High Season (H): Late April thru mid-May; late July thru late August; mid-December thru early January
You can find the exact dates of these seasons on ANA's international flight awards page.
The layout of the award charts can be a bit confusing on ANA's website, but if you expand the first dropdown you can scroll down and see the rates for flights between North America and Japan. Y is for economy, PY means Premium Economy, C stands for business class, and F is for First Class on ANA.

These are roundtrip rates — and they are pretty incredible! Many other frequent flyer programs charge a similar amount of miles to fly just one way.
And you can also fly ANA-operated flights beyond Japan, like to Australia starting from 105,000 miles roundtrip in business class! You can expand each region on the ANA website to find the rates or just have a look at this grid-like chart from ANA's member's guide to see all the zones in one view.
It can be a little hard to follow if you've never seen something like this before. But if you follow a "C" (Business Class) fare from Zone 6 (North America) over to the column for Zone 10 (Oceania), you'll see that it's just 105,000 miles roundtrip in the low season (L).
If your departure and return dates happen to fall in different seasons, ANA will pro-rate the number of miles required accordingly. This means you would simply add half the amount of the different roundtrip rates together to calculate the total number of miles required.
For example, a business class flight to Japan that departs in the low season (75,000 miles) but returns in the regular season (85,000 miles) would be priced at 80,000 miles roundtrip (37,500 + 42,500).
Partner Airline Award Chart
If you're flying on one of ANA's partner airlines – or a combination of ANA and an airline partner like United or Air Canada – it's even easier to figure out how many miles you need.
For these partner award redemptions, there's no difference depending on the season. You'll just need to know the zones for your departure and destination as well as your class of travel.
You can expand the "North America (Zone 6)" dropdown on ANA's partner flight awards page to scroll through the rates. Or, have a look at this handy grid-like ANA partner award chart to view all of the rates at once.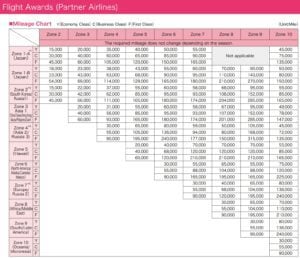 Mixed Classes
Sometimes you'll need to mix the class of service of your flights in order to find flights you can book with ANA Mileage Club. This means you may need to fly a short flight in economy when connecting to a long-haul flight in business class.
In these cases, you'll be charged the higher business class rate. That's less generous than some other airline programs like Avianca LifeMiles, though by no means a dealbreaker.
Read our full review of Turkish Airlines business class!
Another scenario you may run into is where you can find business class availability on your flight to your destination, but can only find availability in economy flying back home. In these cases, your roundtrip rate will be pro-rated: You'll just need to add half the roundtrip rates for business and economy together to get your pro-rated roundtrip rate.
For example, if you were to fly to Europe in business class, and then back home in economy, it would cost 71,500 miles – just add 44,000 miles (half the business class roundtrip rate) with 27,500 miles (half the economy rate).
Routing Rules for ANA Awards
While you can't book a one-way international flight with ANA miles, the ANA mileage program has some very generous routing rules that allow you to book some exciting itineraries.
By utilizing stopovers and/or "open-jaw" flights, you'll have the chance to visit multiple destinations on one trip and pay the same rate as a roundtrip flight.
Here are some of the basic rules:
Transfers: You're allowed two connections in each direction.
Stopovers: You can have one stopover per roundtrip, plus one open-jaw. A stopover counts as a transfer.
Open-Jaw: You can book a single open jaw or a double open jaw in lieu of a stopover. Essentially, two or three one-way flights under the same booking.
Return flight: You must return to the same "country" as your origin city. Luckily, the U.S. and Canada are considered the same country for this purpose.
Confused yet? If you're just looking for the basic rules for simple roundtrip itineraries, just know that you can only have up to two stops in each direction.
Want to learn more about how to take advantage of some more advanced routing rules? Keep reading for specifics.
Stopovers
A stopover is defined as any layover greater than 24 hours. It's a great way to see two cities for the price of one. This means you could stop in London for a week on your way to Sweden and it would cost the same number of miles as a simple roundtrip to Sweden.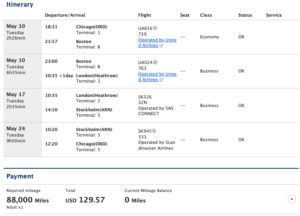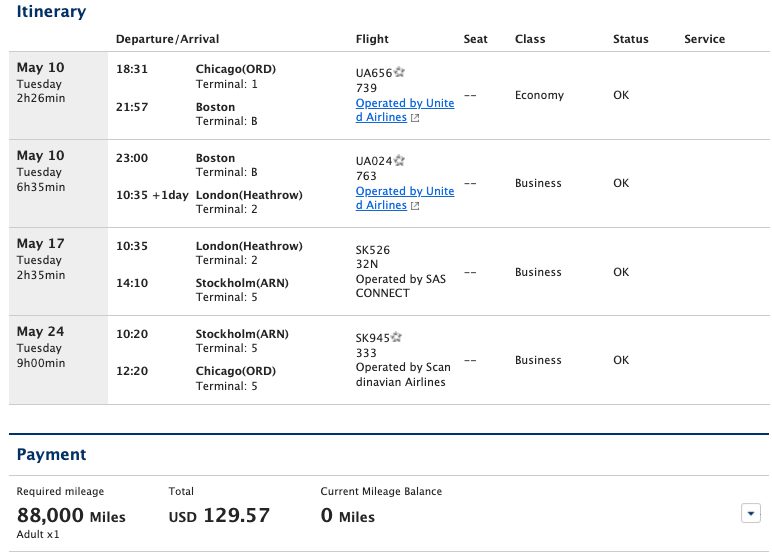 But that's just scratching the surface. You can also book a trip to South Africa with a stopover in Europe, such as this itinerary flying economy from Washington D.C.-Dulles (IAD).
In this case, your destination is Cape Town (CPT), so you'll be charged the rate for Africa, which is 65,000 miles roundtrip in economy. That is pretty great on its own, but to add in a stopover in Europe for zero extra miles is a steal!
This type of route is possible because ANA lumps its 10 award zones into just three "areas" for connection purposes.
Area 1: Americas (North America, Central America, South America, Hawaii, etc.)
Area 2: Europe, Middle East, Africa
Area 3: Asia/Oceania (Japan, South Korea, Southeast Asia, South Asia, Southwest Pacific, etc.)
Since Europe and Africa are both in Area 2, you can have a stopover or book an open-jaw flight within that area and still pay the roundtrip rate for whichever city is considered your destination.
Of course, the routing has to make logical sense. Basically, if you're departing and arriving in the same area, you can't have a connection in another area. Say you're flying from North America to South America … you can't have a connection in Europe.
Open-Jaw Flights
Open-jaw flights are when you fly into one city and back from another. This means you could book an ANA award ticket where you fly to London-Heathrow (LHR) but back from Milan (MXP), then train or fly separately between the two cities.
But where you can really take it to the next level is by booking two open jaws on one ticket. This basically means you'll be able to book three one-way flights under the same reservation.
For this to work, your second one-way flight must be within the same "area" as your first stop. And you must still follow the rule of returning to the same "country" as your origin.
To take this example to the extreme, you could book one ANA award ticket where you fly from Los Angeles (LAX) to Tokyo-Haneda (HND), then Seoul (ICN) to Bali (DPS), and then Sydney (SYD) to San Francisco (SFO).
Of course, you'd be responsible for arranging separate flights from Tokyo to Seoul, and from Bali to Sydney in this case. But with plenty of competition among airlines, you wouldn't have too much trouble finding cheap cash tickets to make a bucket-list, multi-city trip like this a reality.
How to Book Flights with ANA Miles
Now that you know how to price an ANA award ticket and some of the routing rules, let's get to the specifics of actually redeeming your ANA miles and booking these flights.
Finding the Award Space
Unlike cash tickets or some other mileage programs like Delta SkyMiles, you won't be able to book just any flight using ANA miles. In order to book an award ticket, you'll first need to find award availability.
For ANA-operated flights, you may find more availability directly with ANA, though it doesn't hurt to search first through a partner airline program website such as United.com to try and narrow things down a bit more.
If you're looking to book ANA's first class, keep in mind that ANA rarely releases more than one first class award seat per flight and you often need to book well in advance.
This means you may need to split up between first and business if you're traveling with a companion. And depending on the route, even finding business class award space can be a challenge.
Since ANA's website doesn't allow you to search more than one week at a time, it's often easier to first use another Star Alliance search tool to pinpoint dates where "saver" awards are available and then plug those dates into ANA's search tool.
Use United's Site to Find Availability
Our favorite tool to use in order to find saver award space on Star Alliance airlines is United's old advanced search tool.
A word of advice? It will be easiest to search for one-way flights separately. Make sure to select "flexible dates," and choose the exact number of passengers traveling. Once you complete your search, expand to "view 30-day calendar" to maximize your view of travel dates.
Also, make sure you are not logged in to your United account as certain elite members and credit cardholders may see award space that can't be booked by ANA.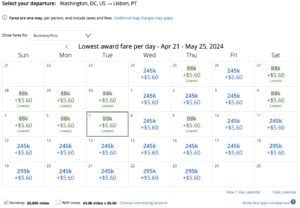 In order to find the space that can be booked by ANA, you'll want to check dates that have the lowest rates showing on United's site, expand the details, and look for the following saver award fare codes in parentheses: Economy (X), Business (I), and First (O).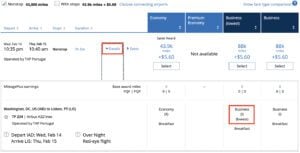 United will stamp "Saver Award" on top of the economy column but it does not do this for business or first class, so you'll need to expand the details to check each individual flight. It's also important to check the operating airline to ensure it's an ANA partner or if you're trying to avoid those high fuel surcharges we mentioned.
For more of a step-by-step guide to this process, check out our post on How to Fly Business Class to Europe for 88,000 Points Roundtrip.
Once you've found flights with saver award space, write down the flight information and plug it into ANA's award search tool.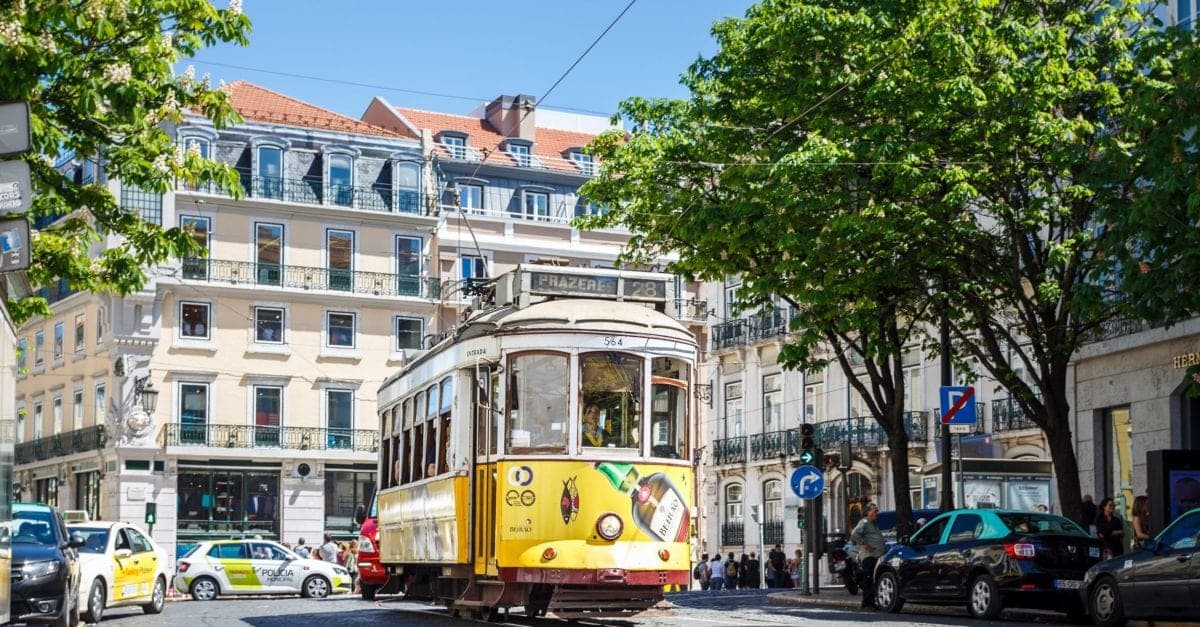 Booking Flights through ANA Mileage Club
You can book flights with ANA Mileage Club up to 355 days in advance, although some partner airlines don't release seats that early. For example, United only releases seats 337 days in advance.
To book flights, just open up ANA's website, log in, and navigate to the award booking tool by clicking on the "Flight Awards" tab and then clicking "Award Reservation."
You can then do a simple roundtrip search for the dates you've found with the ability to search +/- three days. With few exceptions, the availability should match what you found earlier through United. 
On the following page, you'll see which dates have available seats over a span of seven days.
On the final page, you'll be able to see the total mileage and taxes required for booking. This is also where you can expand the payment details to see what, if any, fuel surcharges are being charged. In this particular example, there are none as the flight is being operated by TAP Air Portugal – just government taxes and fees!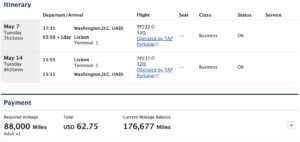 Waitlisted ANA Flights
Be aware that if you're looking for ANA flights, you might see an option to book "waitlisted" award seats.
I wouldn't recommend transferring any points for these: There's no guarantee that your waitlisted award will clear. Instead, your best bet is to try another date to see if you can find a bookable award ticket.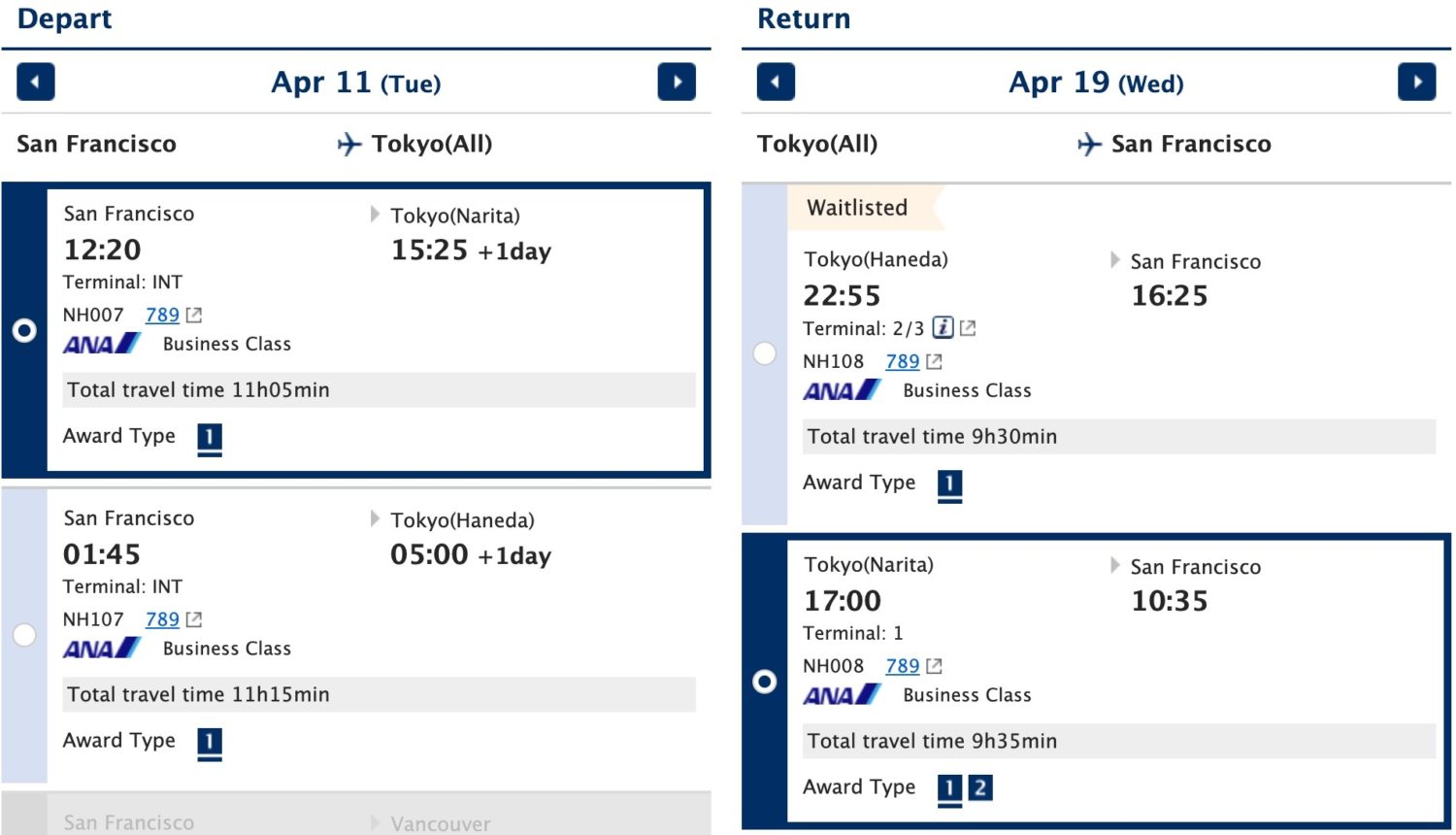 Multi-City / Mixed-Cabin Flights
If you're booking a more complex trip, such as a multi-stop or mixed-cabin itinerary, you'll want to click on the "Multiple cities / Mixed classes" tab to search for your flights.
You can search up to eight segments for one single award redemption. For mixed-cabin flights (i.e., economy on the short flight, then business class on the long flight), you'll need to enter each segment separately in order to book the award with ANA.
You'll then choose each individual flight separately. Make sure to choose the correct flights to coincide with your connecting flights. And select business class for the long-haul flights if you want those lie-flat seats.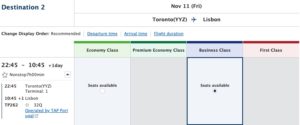 Call to Book Awards You Can't Find Online
In our experience, ANA agents are extremely well-trained and very helpful when it comes to booking award flights. If you've found "saver" availability through United but are having trouble booking those flights on ANA's website, give ANA a call at 1-800-235-9292.
It will help immensely if you already have the exact flight information you are looking to book so you can just feed this information to the ANA agent.
The Best ANA Sweet Spots
The ANA Mileage Club is flush with sweet spots in its award chart. While there are too many to list them all, here are five of our favorite places you can fly on the cheap when booking with ANA miles.
Japan for 40,000 miles roundtrip in economy, 75,000 in business, or 150,000 in first class during the low season flying ANA itself.
Europe for 88,000 miles roundtrip in business class. This one is so good, we created its own step-by-step booking guide.
South America for 88,000 miles roundtrip in business class. No fuel surcharges to worry about on this amazing redemption, where you can fly the United Polaris business class seats.
Africa for 104,000 miles roundtrip in business class. You won't find a better deal to South Africa than this. Plus, you can add stopovers in other parts of Africa — or even Europe!
Australia from 60,000 miles roundtrip in economy or 105,000 in business. Fly ANA flights via Japan during the low season for the best price – and you can even add a stopover in Tokyo for free, to boot! Flying partner airlines isn't much more at 120,000 miles in business class, regardless of the season.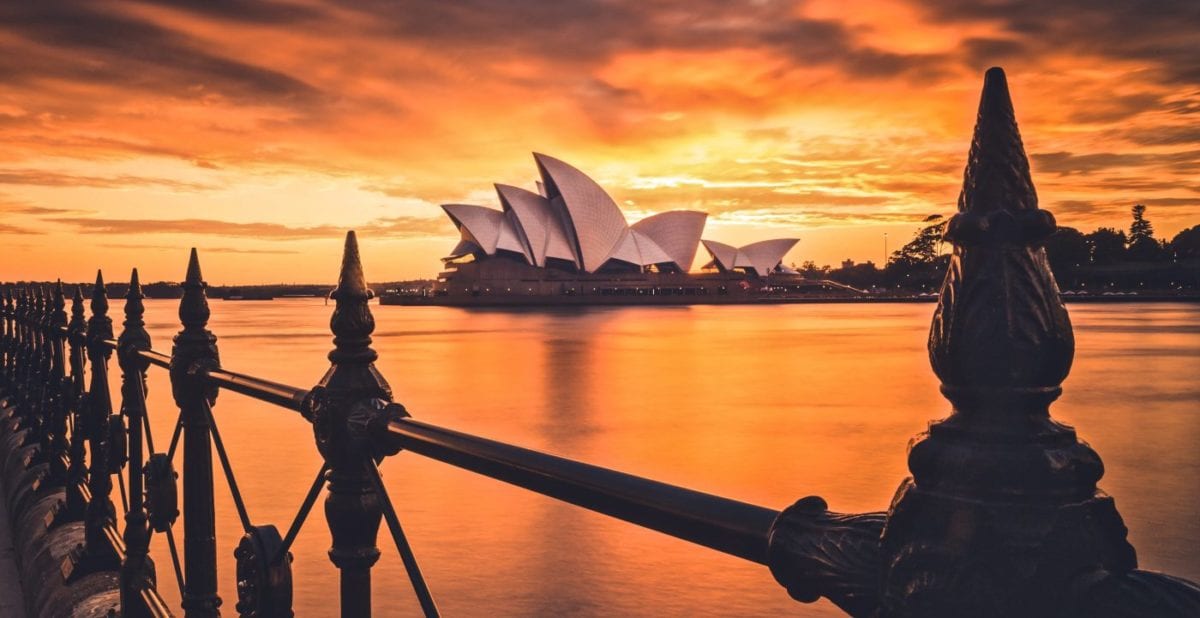 ANA Round-the-World Tickets
Want to fly around the world? Look no further.
ANA Mileage Club is one of the best ways to book a round-the-world ticket. These types of itineraries have mostly disappeared from other airlines' mileage programs, but ANA still publishes an award chart for round-the-world flights — and it can really help you save if you're planning a big trip.
To read the chart, you'll need to calculate the total distance for each of your flight segments. A great tool to use for this is the Great Circle Mapper.
Once you've figured out the total mileage for distance flown on your flights, check out ANA's round-the-world award chart to know how many ANA miles it will take to book your trip.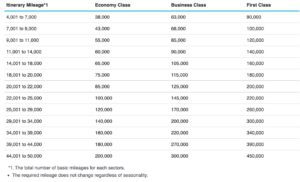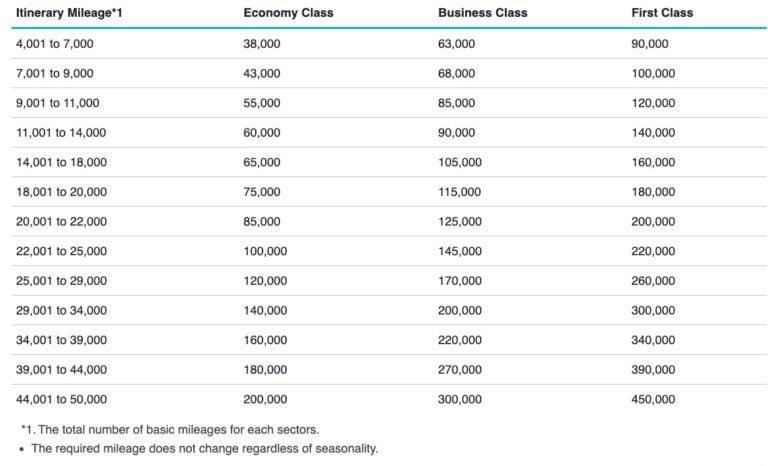 If you can find an itinerary where you're flying between 25,001 miles – 29,000 miles in total distance, you'll only need to shell out 170,000 miles for a business class ticket. Keep it from 22,001 miles – 25,000 miles and the price drops to 145,000 ANA miles in business class. And if you can squeak it in at 22,000 miles miles or less, it's just 125,000 miles.
Those are pretty amazing deals to fly around the world in luxury. Of course, there are a few rules you'll need to follow to pull this off.
Rules for ANA Round-the-World Tickets
Beyond finding the award availability on each and every flight you need, the rules can make this process complicated.
You must cross both the Atlantic and Pacific oceans once.
You must continue flying east-to-west or west-to-east. No backtracking allowed.
You can have a total of up to eight stopovers.

Up to three within Europe.
Up to four within Japan.

You must travel for at least 10 days. The last flight needs to be at least 10 days after the first international flight.
You can have a maximum of 12 flight segments.

You can also include up to four ground transport sectors, which won't count towards your flight segments. Flying into one airport and departing from another in the same city (like Tokyo-Haneda and Tokyo-Narita, for example) counts as one ground sector.

You can mix classes, but you will be charged the number of miles for the highest class of service flown at any point on your itinerary. Domestic first class within the U.S. will count as business class unless you fly international first class.
Here's a round-the-world sample itinerary from ANA's website. We might try to pick a different airline than Lufthansa to avoid those hefty fuel surcharges, though…

How to Book ANA Round-The-World Awards
To book these awards, you'll need to find award availability for each flight segment, write down the flight information and then call an ANA agent to book. It can definitely be a tedious process, but the hard work will pay off once you book your dream trip around the world.
Read more: ANA Around the World Awards: A Complete Guide
ANA's Change & Cancellation Policy
ANA has a reasonable change and cancellation policy for award tickets … with one major caveat.
You won't be able to change the airline, route, or class of service when making changes. If all you need to do is change travel dates, you can change your flight for free so long as you do so at least 96 hours (four days) before your first flight.
For any other changes, you'll simply need to cancel, redeposit your miles and rebook. Instead of charging a cash fee for cancellations, ANA simply deducts 3,000 miles from your ANA account for each ticket.
You can call to cancel your booking anytime before the departure of your first flight. Only miles that have not expired will be refunded to your account.
How to Earn ANA Miles
Of course, you can earn ANA miles by either flying ANA or crediting flights flown on Star Alliance carriers, such as United or Air Canada, to your ANA Mileage Club account … but you don't need to fly to earn these miles.
The easiest way to earn ANA Mileage Club miles is through credit cards that earn Amex Membership Rewards points. Get enough, and you can transfer them on a 1:1 basis straight to your ANA Mileage Club account. You've got a few options to earn the points.
One of the best ways to earn a ton of these points is *amex platinum card* on which you can currently earn at least an 80,000-point welcome bonus after spending $8,000 within the first six months. Better yet, check to see if you qualify for a 150,000-point bonus via CardMatch.
Plus, there are plenty of other Amex Platinum benefits like extensive lounge access, up to $400 in credits split between airline fees and Uber rides, credits that completely cover the cost of CLEAR and either Global Entry or TSA PreCheck, and more.
Learn more about *amex platinum*.
The *amex gold card* is currently offering a 60,000-point welcome bonus after spending $4,000 in the first six months. And you may be able to qualify for a whopping 75,000-point welcome bonus using CardMatch. Got a friend who has it? See if you can get a massive 90,000-point bonus via personal referrals.
Beyond that bonus, this card is easily one of the best all-around travel cards on the market thanks largely to an unbeatable 4x return on an unlimited amount of spending at restaurants and 4x points on up to $25,000 a year spent at U.S. supermarkets – and 1x points after that.
Learn more about the *amex gold*
You can also transfer Marriott Bonvoy Points to ANA miles at a 3:1 ratio, with a 5,000-mile bonus for every 60,000 points transferred. But that's probably only useful as a last resort to top off your account for the final few thousand miles you need.
Bottom Line
ANA Mileage Club is one of the best airline programs in the world when it comes to booking cheap flights using points and miles.
While there are a few quirks to the program and the website can take some getting used to, it's well worth it to figure out how to take advantage of its low redemption rates and maximize your points and miles.
From business class flights to Europe or South America, first class tickets to Japan, or a trip around the world, joining ANA Mileage Club can get you there for less.