After getting accustomed to seeing most international flights over 150,000 SkyMiles or much more, we could hardly believe our eyes: Roundtrip flights from airports nationwide to New Zealand this fall and winter for 50,000 SkyMiles or less – or as low as 37,400 SkyMiles?!
No, that's not a mirage or a typo. This was real. We sent this alert to our Thrifty Traveler Premium+ members back in June, helping them get to New Zealand for a small fraction of what it typically costs. Kudos to Eye of the Flyer for spotting this first.
To be crystal clear, this deal is no longer available. These dirt-cheap rates fizzled out some time a few days later: You'll likely see 150,000 SkyMiles or more for these flights when searching at Delta.com or on your smartphone app now.
But hundreds (and no, that's not an exaggeration) of our Thrifty Traveler Premium+ members from across the country booked this deal before it disappeared. Considering many of these flights cost up to $2,000 or more, it was a truly fantastic way to use SkyMiles. In fact, we'd argue it was one of the best Delta SkyMiles flash sales of all time – and easily the most exciting.
No matter how good it was, it doesn't negate the bigger trend of SkyMiles' sinking value. One great deal doesn't undo the sky-high business class award rates or the spread of pesky basic economy award fares. And whether it gets you to Europe, South America, or New Zealand for fewer SkyMiles, great flash sales like this one have disappeared – this was the first major international deal from Delta we've seen in more than six months.
So where did this unreal deal come from? Was it a mistake fare? Hardly.
Read more: The Sad State of Delta SkyMiles in 2023
Drilling into the Deal
Delta announced in January it would fly nonstop to Auckland (AKL) for the first time ever starting this fall. Less than five months after tickets went on sale, this happened.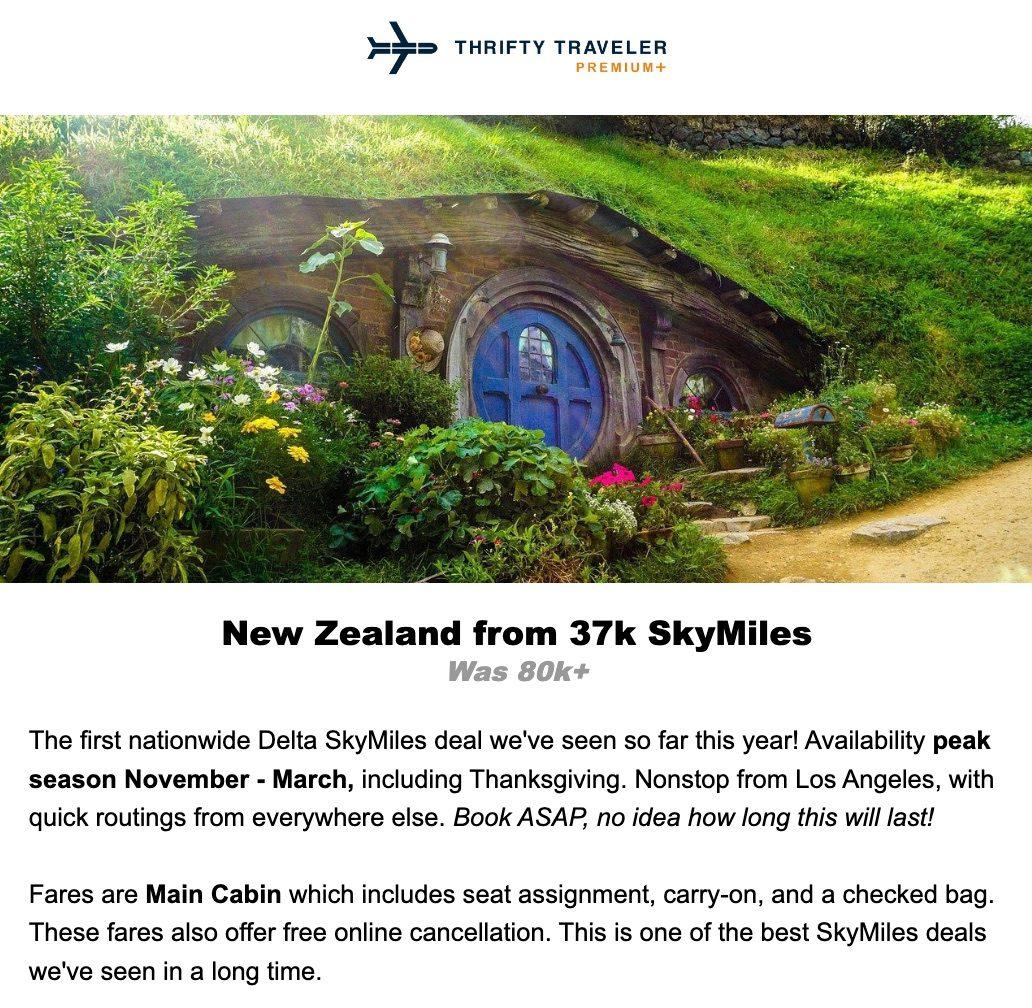 This deal is gone now – get the next one with Thrifty Traveler Premium+!
Delta quietly slashed award rates from the norm of 120,000 SkyMiles or more down to as low as 44,000 SkyMiles … roundtrip. And this wasn't just a one-off on the nonstop flight from Los Angeles (LAX): It was a nationwide sale. From other Delta hubs like Minneapolis-St. Paul (MSP) and Atlanta (ATL) to smaller airports across the country, you could get to Auckland and back for 50,000 SkyMiles total.
It was even cheaper for travelers with a Delta Amex card in their wallets thanks to the new TakeOff 15 benefit, bringing the final cost to 37,400 SkyMiles or 42,400 SkyMiles thanks to the automatic 15% discount. Many of our Thrifty Traveler Premium+ shared their amazing SkyMiles redemption in our members-only Facebook group.
Travelers hoping that these deeply discounted economy fares would mean cheaper Delta One seats were in for a rude awakening: Those were still 500,000 SkyMiles or more roundtrip. But there was a silver lining…
Because of the plane Delta is using on this new route (more on this later), flyers with top-tier Diamond Medallion status could use Global Upgrade Certificates – one of the best Delta Choice Benefits – to skip straight up to Delta One! On most other international routes, they'd only secure a spot in Delta Premium Select with a slim chance of getting bumped up to business class before departure.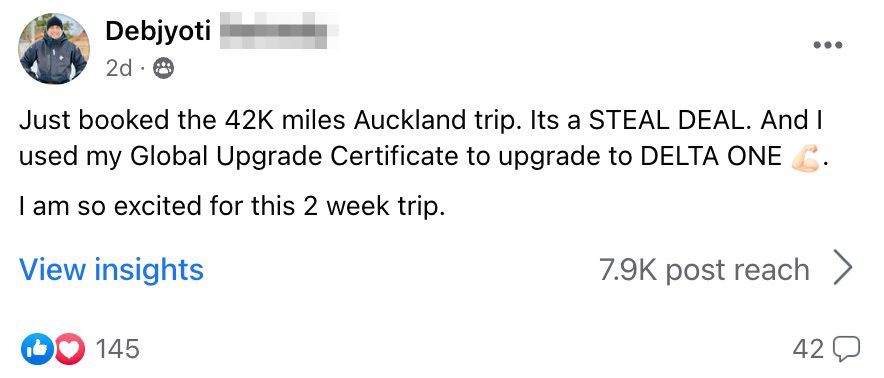 These aren't Delta One suites: These planes were acquired from another airline with a 2-2-2 seating setup up in business class. Regardless, it was still just 42,000 SkyMiles or less for a roundtrip to New Zealand in lie-flat business class by using those certificates.
But why did these rates get so low in the first place?
New Routes = SkyMiles Sweet Spot?
New international routes halfway across the globe always make a splash when they get announced. But actually selling those seats is much harder work.
Airlines don't talk much about pricing, and Delta definitely doesn't talk about how it sets SkyMiles award rates. But let's make an educated guess: This new route to Auckland probably isn't selling quite as well as Delta had hoped.
That wouldn't be a surprise. It can take a few years for airlines' new routes to mature to the point where they're reliably filling up – it's why many new routes wind up being a one-year-and-done experiment. And that's especially true in crowded markets, and Delta has plenty of competition here: United, American, and Air New Zealand all fly nonstop from Los Angeles to Auckland while United and Air New Zealand also fly nonstop from San Francisco (SFO).
Read more: Why You Should Care About New Airline Routes
Offloading some seats on the cheap for SkyMiles is an elegant solution. Really, it's a three birds, one stone fix: Delta generates some renewed buzz about its route to Auckland, fills up a bunch of seats, and convinces a ton of travelers to fork over some of the SkyMiles they've hoarded the last few years.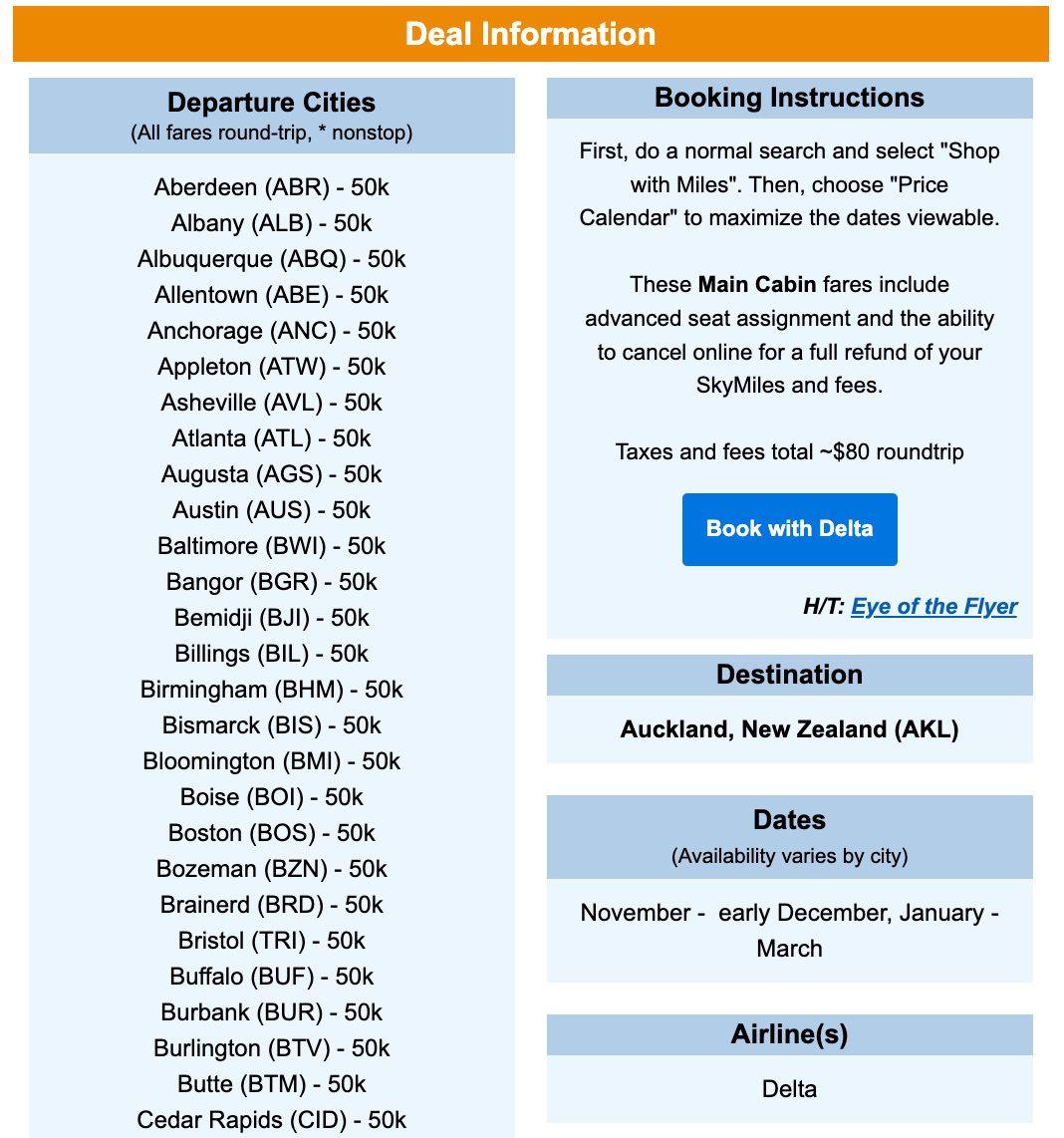 In some ways, this latest sale feels like déjà vu from one of Delta's other recent route additions: Tahiti.
Delta announced its first-ever nonstop flights to Tahiti (PPT) last summer. Within a matter of weeks, we saw some unbelievable award fares on the flights from Los Angeles (LAX) … as low as 50,000 SkyMiles roundtrip! 
But it's not just the "new" angle that could have driven this sale. There's something in particular about how Delta is planning to operate this new route that made it ripe for an unbelievable SkyMiles deal.
Tons of Economy Seats to Fill
This isn't just a new route. It's a new route with even more economy seats to sell than they usually have onboard.
Delta leans on its fleet of Airbus A350-900 or Airbus A330-900neo jets for ultra-long flights across the Pacific Ocean. Those jets typically have 226 seats or 224 seats respectively in economy – including Delta Comfort Plus.
Delta is scheduled to operate its route to Auckland on an A350-900 … but not one of its usual planes. These were acquired from partner airline LATAM over the last few years. And Delta hasn't had the time to equip them with the usual assortment of seven-plus rows of Delta One Suites or even install a single Delta Premium Select seat, which means they've got a whopping 309 economy seats onboard. 

That is a lot of seats at the back of the plane. And it could have been a key driver in why Delta suddenly decided to slash award rates to New Zealand for what many travelers now expect to see for a quick domestic trip.
Pumping Up SkyMiles
At a time when many travelers have soured on SkyMiles thanks to unpredictable (and often sky-high) award rates – how many miles you'll need to book – nothing can pull Delta fans back in like a jaw-dropping sale.
In fact, that's exactly what Delta has been doing with SkyMiles flash sales for years. While they hiked business class award rates and killed off the extra value you'd get using miles to book partner airlines like Air France or Virgin Atlantic, these deeply discounted sales are a sweet spot – a way to tout the value of SkyMiles in spite of the bad blood.
And there's no denying they can be sweet. From roundtrips to Hawaii for 10,000 SkyMiles to 32,000 SkyMiles to Europe and back, these are rates that you simply won't find on other carriers, which often charge twice as much or more. Getting in on these deals requires some flexibility, but it's unbeatable when you can make it work.
Check out some of the best Delta SkyMiles deals we've ever found!
But Delta holds all the cards here. Without an award chart – the cheat sheet that determines how many miles you need to fly from point A to point B – Delta is free to charge however much it wants. The airline is using these deals to boost SkyMiles' reputation, all while steering you and me toward the flights it wants us to take.
And finding these deeply discounted sales has gotten much harder recently. What was once a steady stream of international Delta SkyMiles flash sales has practically dried up altogether. Once-or-twice yearly deals to book Delta One business class to Europe or Asia at reasonable rates have vanished, too.
So does this stellar deal to New Zealand mean SkyMiles flash sales are back? No, it's far too early to say that yet. But giving flyers at least one great deal to look forward to is no doubt part of Delta's motivation behind this one.
Bottom Line
Our jaws are still on the floor. We didn't see this coming, but hundreds of travelers will be making their way to New Zealand later this year or next for as few as 37,000 SkyMiles or so roundtrip.
This deal from June is gone now – all these dirt-cheap SkyMiles fares got gobbled up within a matter of days. But looking back, a sub-50,000-SkyMiles ticket to New Zealand might actually make a lot of sense.
What does that mean for the future of SkyMiles deals? It's too early to say for sure.