Something new and special will soon be flying across the Pacific Ocean for Japan Airlines.
The Japanese carrier this weekend finally gave travelers a long-awaited glimpse of what's inside its new Airbus A350-1000. And by the looks of it, flyers at the front of the plane are in for a treat – a massive step up from the already excellent Japan Airlines first class and Japan Airlines business class seats that have been flying for a decade or more.
It starts with just six incredibly spacious first class suites, equipped with a double bed, personal wardrobe space, and other bells and whistles all enclosed within five-foot-high walls (and yes, there's a door) for nearly unparalleled privacy.
Japan Airlines' new business class suites are getting the door treatment, too, along with cool features like Bluetooth charging and a novel, built-in speaker in the headrest to watch your movie or show without headphones. Premium economy and economy at the back of the plane both benefit from wider seats and more legroom than you'll find on most airlines – plus new 4K seatback screens and plenty of charging ports.
It's a new generation of luxury seating – but unlike similar reveals from other carriers like Lufthansa and Qantas, you won't be waiting years to see them in the sky. The first of these Airbus A350-1000s is expected to begin flying exclusively between Tokyo-Haneda (HND) and New York City (JFK) sometime before the end of the year. Over time, they should become a fixture on most U.S. routes.
Here's a look at what you'll find when they do.
JAL's New First Class Suites
One word: Wow.
First class doesn't get much more spacious, private, or glamorous than that. That's not a seat: It's a sofa, a 48-inch-wide surface to stretch out on your way to or from Tokyo. There's nearly 80 inches of legroom, with no need to squeeze your feet into a cubby at the front. And come bedtime, you get this.
It's not a double bed, per se: These laughably wide suites aren't meant to accommodate two passengers at once. But really … it's a double bed. You won't find a bigger sleeping surface in the sky.
To give travelers all that space, Japan Airlines stuck with just two rows of first class suites in a 1-1-1 configuration. There's a tradeoff: While each suite is absurdly spacious, there are just six of them. That'll likely make finding the award space to book these suites with points and miles tough – if not darn near impossible.
If you manage to score a suite, there are plenty of extra cool features beyond the sheer size awaiting you. There's a 43-inch 4K screen at the front of the suite, Bluetooth charging, and a tablet to control everything … or even communicate with flight attendants. And Japan Airlines opted against installing overhead luggage bins, instead building plenty of storage inside each individual suite.
In all, it's a major improvement over the airline's great (but admittedly outdated) first class seats, as seen below. Throw in Japan Airlines' incredible food and service, and this will be an amazing experience.
JAL's New Business Class Suites
Japan Airlines' current business class seats are already great. They might not have doors, but the layout provides a stellar blend of privacy, space, and comfort. Really, the only thing it's lacking is storage.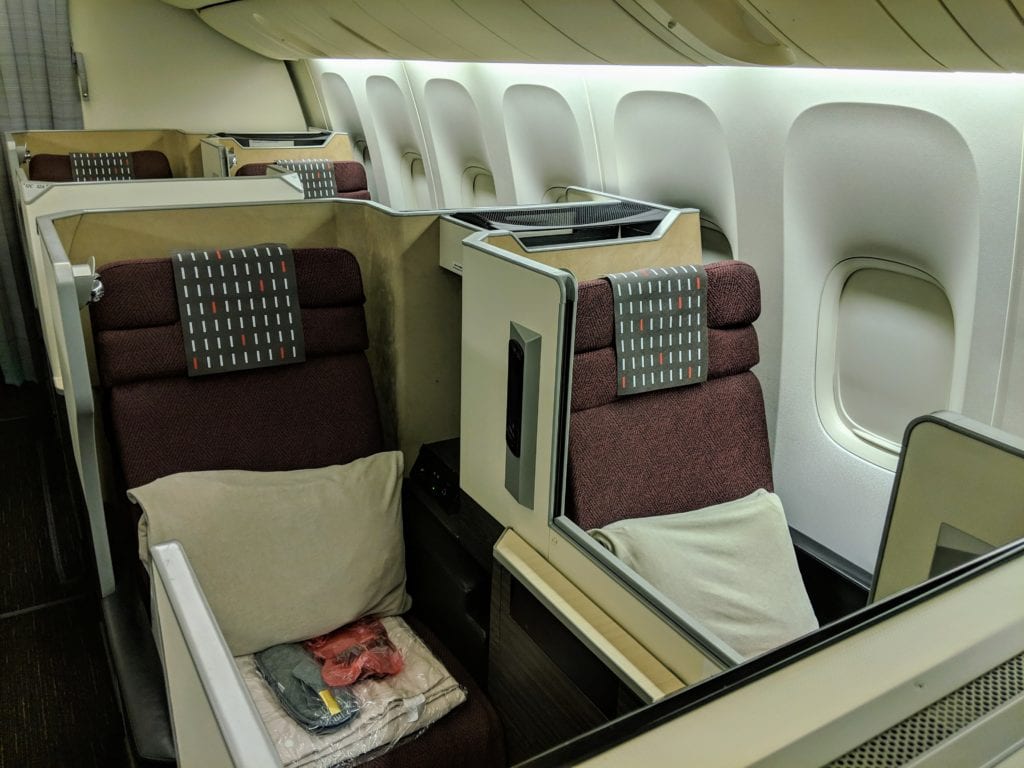 But the new Japan Airlines business class looks like it's in another league. Take a peek.
Yes, privacy doors are coming to business class, too. There'll be 52 business class suites onboard each JAL A350-1000, spread across two cabins in a 1-2-1 configuration. Unlike other top business class seats like Qatar Qsuites or ANA's The Room, every suite is facing forward.
Each suite stands 52 inches tall, so there should be plenty of privacy. Japan Airlines says the privacy doors use some translucent paneling for a less "oppressive" feel – and it's undeniably a sleek look.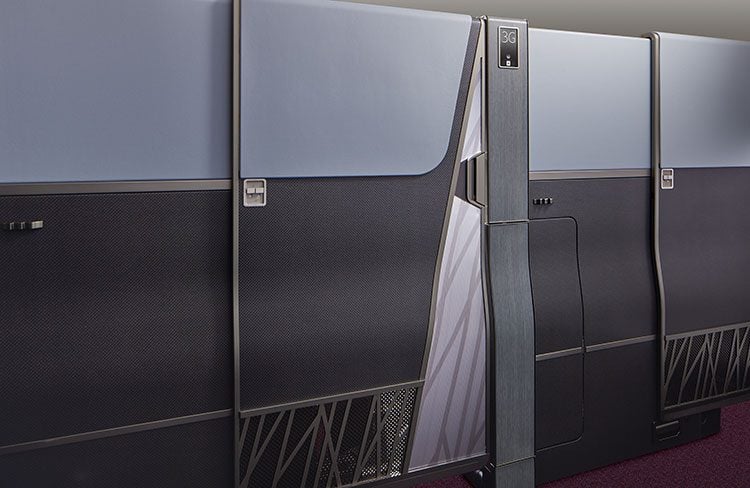 Every business class seat measures 22 inches wide, which is a step up from the current seats you'll find flying to and from Tokyo. And every suite is equipped with a 24-inch 4K monitor and a feature brand new to JAL: speakers built into each headrest, allowing you to listen along to the ultra-crisp screen in front of you without headphones. First class suites can do the same.
New JAL Premium Economy & Economy Seats
Japan Airlines is redoing its seats from nose to tail, so even passengers toward the back of the plane will see some improvements.
There's a new, state-of-the-art Premium Economy seat onboard these A350-100s – 24 of them spread across just three rows, in fact. With substantial privacy dividers, 42 inches of legroom, and 16-inch 4K seatback monitors, these should easily be among the best premium economy seats on the market.
Japan Airlines economy is one of the best ways to cross the Pacific Ocean, as the airline uses wider seats with more legroom than you'll find on most other carriers. Their new economy seats may feel a bit tighter than what you'll find on its Boeing 777s or 787 Dreamliners flying today: The 3-3-3 seating arrangement leaves passengers with 18 inches of width and up to 34 inches of legroom.
On the plus side, there's a substantial headrest you can adjust as needed, a 13-inch 4K seatback display, and plenty of ways to stay charged: USB-A and USB-C sockets as well as a universal power port.
Bottom Line
Japan Airlines is raising the bar with its new cabins.
Brand new first class suites are laughably private and spacious, while business class suites will benefit from privacy doors and fancy new features. Expect to see these new cabins flying between Tokyo and New York sometime before the end of the year – and to many more U.S. cities in the years to come.