From groceries to gas, things here at home in the U.S. are getting expensive. But abroad, you'd be amazed by how far you can stretch your dollar.
It's one of the great ironies of traveling right now: Flight prices are up overall, but amazing flight deals to some international destinations are still popping up every day. And while things cost more at home than a year ago, the U.S. dollar is incredibly strong against many major international currencies – and that means your dollar goes further once you land, too.
It's the best of both worlds if you can jump on a cheap flight, then stretch your dollar in places like Portugal, Greece, and South Africa, among many others. Let's look at some of the destinations where the U.S. dollar is looking strong … and show you just how cheap it can be to get there in the first place.

Portugal
No matter where you go in Europe, your dollar is stronger than it's been in years.
In fact, they're almost equal. The conversion rate is close to a five-year high, as evidenced by this data collected and analyzed by Google. It means Europe is more affordable than usual right now: A 75 euro dinner now costs you about $79. Just a year ago, that same dinner would have cost you $91.

But prices across individual European countries and cities using the Euro can still vary, from the wildly expensive Paris to other cheaper, off-the-beaten path destinations. And few countries are cheaper than Portugal. 
The thriftiness is just part of the reason we love Portugal and think you will too. Start your trip in either Lisbon or Porto, and see the scenic, coastal country for yourself. I knew it would be beautiful … but I underestimated just how cheap it is there, too.
During my first trip to Portugal earlier this year, a really great dinner barely scratched $25. Some of the best pastries in the world, called pasteis de nata, often cost just 1 euro. Same goes for an espresso. I never thought twice about buying local food on the street and I fell short of my budget every day I was in Portugal.

Plus, in cities like Lisbon, Airbnbs are plentiful and affordable. So skip the hotels and book yourself an apartment, instead.
Now all you need is a cheap flight to get to Portugal from the U.S., and we've got some great news for you: Portugal has been one of the most reliable destinations for cheap flights this year (and next).
How cheap? How about flights there and back this year for under $400 roundtrip?

Thrifty Traveler Premium members got this cheap flight alert – sign up and get the next great domestic or international flight deal!
We unearthed this fare just two weeks ago, proving that insanely cheap flights are still out there. There were some impossibly cheap fares on the list, including the nonstop from Newark (EWR) to Porto (OPO) for just $384 roundtrip!

Spain
Just to the east and accepting euros, Spain is another place where your dollar is going to get you more.
Unlike other major countries on the continent, Spain is a historically affordable destination for travelers. That's especially true for foodies hitting Spain, where a dinner and a glass of wine won't cost you much more than a Chipotle order here at home.
From Barcelona, to Madrid, and even to Mallorca, there are a million ways to eat and drink your way through Spain. Hit Madrid's mercados and get some tapas, or snack on some pintxos all day long.
With two major airports in Barcelona (BCN) and Madrid (MAD), Spain is ripe for cheap flights, too.

This deal we sent to Thrifty Traveler Premium a few weeks back gave subscribers a crack at some phenomenal nonstop and one-stop fares over to Spain – and not on budget airlines but major U.S. carriers and their international partners.
Want to get to Spain on miles instead? Read up on how to fly there for just 34,000 miles roundtrip – or do it in business class for less than 70,000 miles!
Ireland
Ireland doesn't come immediately to mind as a cheap western European destination like Portugal and Spain, but we think it probably should.
The Emerald Isle is much cheaper than neighboring England and especially Iceland to the north. And with the dollar's strength against the euro right now, Ireland can be a bargain.
Our points and miles expert Peter just got back from a trip to Ireland, the land where even a personalized pint of Guinness with his face stamped on the foam on top cost him just $6.

Transportation in Ireland is also pretty affordable, meaning you can get around to all of the sights without breaking the bank, too. But first you need to get there, and Ireland is often fertile ground for some of the cheapest flights to get to Europe.
That's due in part to the presence of Irish flag carrier, Aer Lingus, offering nonstop flights to and from many U.S. cities. Combined with competition from U.S. airlines flying in and out of Dublin (DUB), roundtrip fares for $400 or even less aren't hard to come by.

If you're feeling lucky, you could book these fares during St. Patrick's Day, too. I think it's safe to assume that Dublin puts on quite a celebration during that week…
Greece
You've probably seen the stunning seascapes and pristine islands of Greece. The place just looks expensive – to me, anyway. Yet somehow, it's not.

Also on the euro, Americans can stretch the value of their dollar in Greece right now. In the metropolis of Athens, a $70-a-night Airbnb can get you stunning views in the city's vibrant heart. On the island of Crete, access to the beautiful Samaria Gorge hike runs you just 5 euro. And if the South Aegean island of Paros is more your speed, flights to the island start at just $30 one-way.
You'll be amazed at how cheap it can be in Greece once you get there, but it must be expensive to fly to Greece, right? Obviously not. What, are you new here?

Get flight deals like this one in your inbox with Thrifty Traveler Premium!
Believe us now? Cheap flights to Athens (ATH) are out there! These flights are in October, which is a beautiful time of year in Greece – it's not too hot, but weather is still summery with a fraction of the crowds. This fare was part of a deal that included tons of other U.S. cities, so it wasn't just New Yorkers who got in on the fun.
Croatia
The crown jewel of Croatia is Plitvice National Park. It's one of the finest parks on the planet. A real-life Jurassic Park without the dinosaurs that simply must be seen to be believed. Entrance to the park for adults work out to just $7.
Our finest park in the U.S., Glacier National Park (my opinion), costs $35 to enter. Need we say more?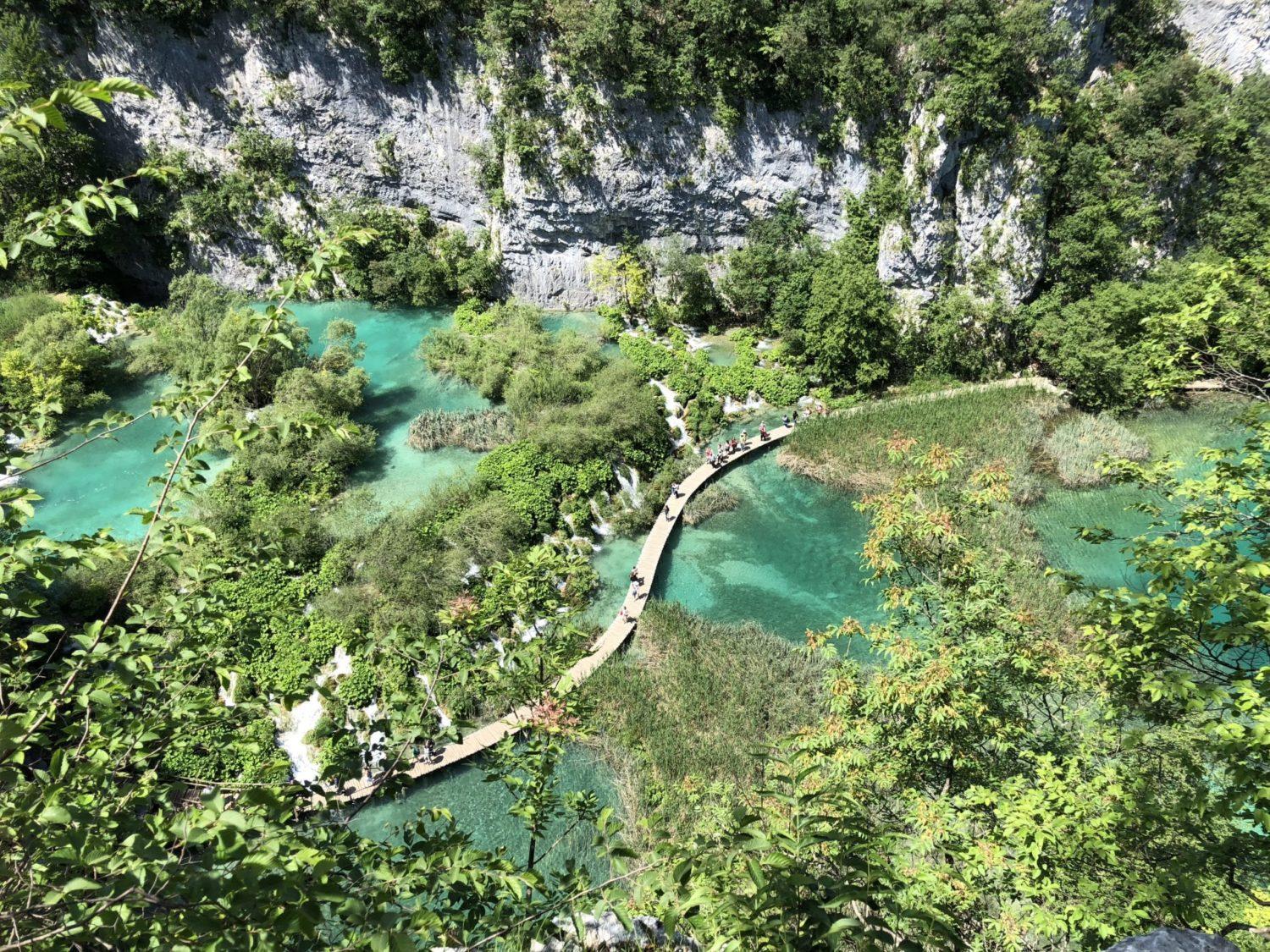 Want to kayak around the city of Dubrovnik for an hour? It's just $15 for the rental. And the savings go on and on and on.
Unlike the bulk of Europe, Croatia still uses its own currency: The Croatian Kuna. The current exchange rate means $1 nets you more than 7.1 Croatian Kuna – a five-year high. So don't get fooled by prices that appear high, because the dollar is very strong to the Kuna right now.
With the longer distance and few nonstop options, cheap flights to Croatia can be hard to come by … so it can pay to wait for a deal like this one we sent our Thrifty Traveler Premium members.

This deal included fares to both Dubrovnik (DBV) and Zagreb (ZAG) flying this year and through the winter months, too. When you're paying less than $600 to get there, your dollar already feels pretty strong.
Hungary
If you're looking for charm without the cost, head to Eastern Europe. Western Europe's popular destinations come at a premium, but you can see, eat, and drink so much more in Eastern Europe for a fraction of the cost.
Perhaps no city is more emblematic of this than Budapest. Already renowned as one of the best budget destinations in all of Europe, it's even better for American's right now with the exchange rate the best it's been in more than two decades!

Budapest is a beautiful city, full of travel hotspots you should see. It's also on our favorite underrated European cities list, and one of the most affordable destinations in the world.
And with fares like these, the savings start before you ever touch Hungarian soil.

These quick, one-stop flights to Budapest (BUD) from Chicago-O'Hare (ORD) are about as efficient a trip to Eastern Europe as you're going to find. And the only thing better than an efficient route is a low fare.
Turkey
The Turkish lira has been struggling for years, making a trip to Turkey cheaper for Americans thanks to the exchange rate.
Yet the U.S. dollar just keeps getting stronger and stronger against the lira. Case in point: The dollar's value against the lira has more than quintupled in the last five years. It's more than doubled in the last year alone!

Your dollar has never gone further than right now in Turkey, and it's an underrated destination for travelers, too. Start your trip with a flight into the brand new Istanbul airport (IST) and explore the country from there.
Istanbul, Cappadocia, Antalya, Bodrum, and Izmir are all popular locales in the country. They're all destinations where you can live a little more while spending a little less. Go make that visit to the Mediterranean Sea with a visit to Turkey, and don't spend too much to get there, either.
Istanbul is a  popular place to connect when flying Turkish Airlines, but the flag carrier's presence also drives a ton of competition into Turkey itself. That's why we weren't surprised to find some great Delta (and partners) fares into IST later this year.

Costa Rica
Costa Rica offers a diverse landscape that features both dense, wildlife-rich rainforests and pristine beaches. As a bonus, it's in the Central timezone, which means jet lag-free travel.
Costa Rica is one of my favorite places to visit because you can really have it all. During a trip a few years ago, I spent three days hiking, zip-lining, and searching for wildlife in the rainforests near Arenal. For the next three days, I was sipping drinks by the pool and soaking up the sun on the beach on the western coast near the town of Nosara.
The weather was beautiful throughout. And when we were out and about, it didn't break the bank, either.

The Costa Rican Colón is also at a five-year low compared to the dollar, meaning fewer your dollars get you more Colón when you're visiting the central American country.
With both Liberia (LIR) and San Jose (SJO) as airport options, Costa Rica flight deals aren't too hard to find. And when we do find them, we send them to our subscribers right away.

Belize
Thanks to a spike last fall, the Belize dollar is trending up. So when you're island-hopping through the cayes of Belize, scuba diving one of the best reefs on the planet, or laying by the pool sipping that drink you daydream about, you're spending less than you would have a year ago.

Just $1 gets you 2 Belize dollars these days. You'll see those savings add up during your trip.
Belize (BZE) only has one major airport, but the flight deals down there are plentiful. We loved this most recent example to get there and back next winter for less than $300.

Colombia
Ocean, mountains, culture, and adventure dot the country of Colombia and its world-class cities of Bogota, Cartagena, or Medellin. It's the kind of destination travelers are starting to consider more and more – due in part to how far your dollar can go there.

The exchange rate with Colombian pesos continues to trend in Americans' favor, with $1 netting more than 4,000 pesos today. It's not hard to find an ice cold bottle of beer in Colombia for just 4,000 pesos – $1 or less!
It's a perfect time to save on your trip to Colombia, especially when you pair it with some record-low cheap flights. In fact, while many flights are more expensive than ever, we've seen some record-low fares down to both Bogota (BOG) and Cartagena (CTG) in 2022.

Thailand
Thailand comes to mind immediately as one of the thriftiest travel destinations … at least if you can get there for cheap.
The lodging, transportation, food, and everything else there is famously inexpensive. And that was when the Thai Baht and the dollar were closer in value

The exchange rate has been soaring for the last year, hitting five-year highs. That means the cheap food, drinks, and massages in Thailand are only cheaper right now.
If Thailand seems a little too far-fetched for you, give us two minutes to change your mind! We have a beginner's guide to Thailand that is the perfect way to kickstart your planning. If you're looking for a longer excursion to the Asian nation, we've got a two-week guide for you, too.
Thailand is far away, but that doesn't mean you can't get there for cheap. But because the flights are so long, we try to look for some more comfortable ways to get there than your traditional economy seat. Enter Premium Economy, which gives you a comfier seat and some better service on your long journey – for the price of what most travelers pay for a standard coach seat.

Like we said on the deal: If we were heading to Phuket (HKT), this is how we'd book it!
South Africa
The exchange rate with the the South African Rand isn't at record highs for American travelers, but South Africa is still unquestionably a cheap place to travel in 2022.

Can we recommend Cape Town to you? The mountainous, coastal city should be on your bucket list if you love international travel. There's hiking in the mountains, world-class beaches, an immense amount of consequential history, incredible wine, and a culture unlike anything you've ever seen.
Up until now, however, there just haven't been very many flight deals to help get you there for cheap. That has changed.

I mean, come on! Sub-$600 fares to South Africa used to be unheard of, and that's doubly so for airports in the middle of the country. But a $591 fare from Minneapolis-St. Paul (MSP) to Cape Town (CPT) with just one stop? Unreal.
We've heard from tons of Thrifty Traveler Premium subscribers who have booked bucket list trips to South Africa this year thanks to unbelievable deals like this one. And the deals just keep coming!
Bottom Line
The U.S. dollar is strong right now, and it's especially strong against the currencies of some of our favorite, thriftiest travel destinations. That means your dollar goes a lot further at these destinations than it does back here at home.
And with flight deals as bountiful as they are right now, it might be some of the best international travel conditions for Americans that we've seen in a while.