Whether you're saving points by flying economy or aiming to splurge to fly the world's best business class, booking flights on Qatar Airways using points has gotten much easier.
For years, using American Airlines AAdvantage miles was the go-to way to book Qatar flights using miles – and it may still be the best way to book Qatar Qsuites business class. But Qatar's closer partnership with British Airways and recent adoption of Avios miles has opened the floodgates, making it much easier to earn the miles you need to book by transferring points from cards like the American Express® Gold Card, Chase Sapphire Preferred® Card, or Capital One Venture X Rewards Credit Card.
That has put Qatar and its Privilege Club program in the spotlight … and travelers are quickly realizing there are some hurdles and quirks to using Qatar Avios. The site can be tricky to navigate and you need some Avios in your account in order to search for flights. 
We'll walk you through how it works so you can book these flights for yourself with no hassle.
The Basics of Qatar Airways
Qatar Airways is one of the best airlines in the world. And its footprint in the U.S. keeps growing, making it even easier to find a ride.
Qatar currently flies to its hub in Doha (DOH) from 12 U.S. cities and one in Canada.
Atlanta (ATL)
Boston (BOS)
Chicago-O'Hare (ORD)
Dallas-Fort Worth(DFW)
Houston-Intercontinental (IAH)
Los Angeles (LAX)
Miami (MIA)
Montreal (YUL)
New York (JFK)
Philadelphia (PHL)
San Francisco (SFO)
Seattle (SEA)
Washington, D.C.-Dulles (IAD)
Aiming to fly in the renowned Qatar Qsuites? Most of these flights between North America and Qatar should have them onboard, though as of publication, some flights from Boston (BOS), Philadelphia (PHL), and Atlanta (ATL) do not. If you're using the Legrooms extension while searching through Google Flights, it should tell you whether your business class fare gets you an individual suite – that's what you want.
Don't live near one of these gateways? You can always book a separate positioning flight to one of these cities and book a separate award ticket through Qatar. And that's important: When booking flights using Qatar miles, you cannot mix airlines on one ticket. That means you'll need to depart from one of Qatar's North American gateways to book Qatar flights through Qatar Privilege Club.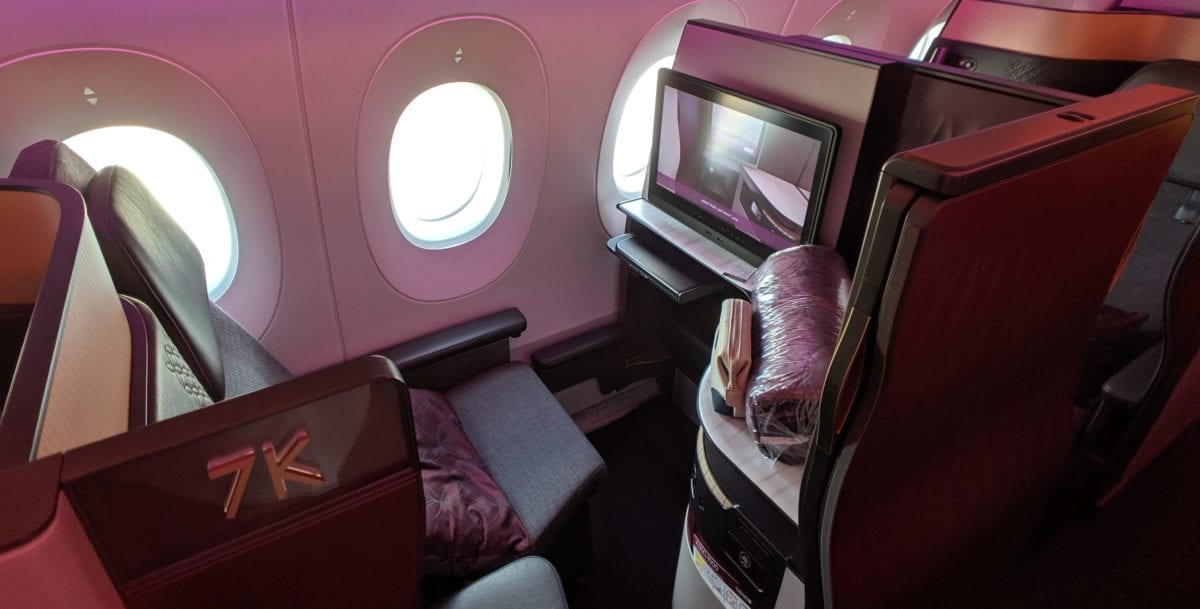 Read our full review of Qatar Airways Qsuites!
While Qsuites get all the fanfare (and rightfully so), Qatar Airways economy is a treat, too. You get at least 32 inches of legroom in wider seats than you'll find on many other airlines. Plus, the food, service, and onboard entertainment are top-notch.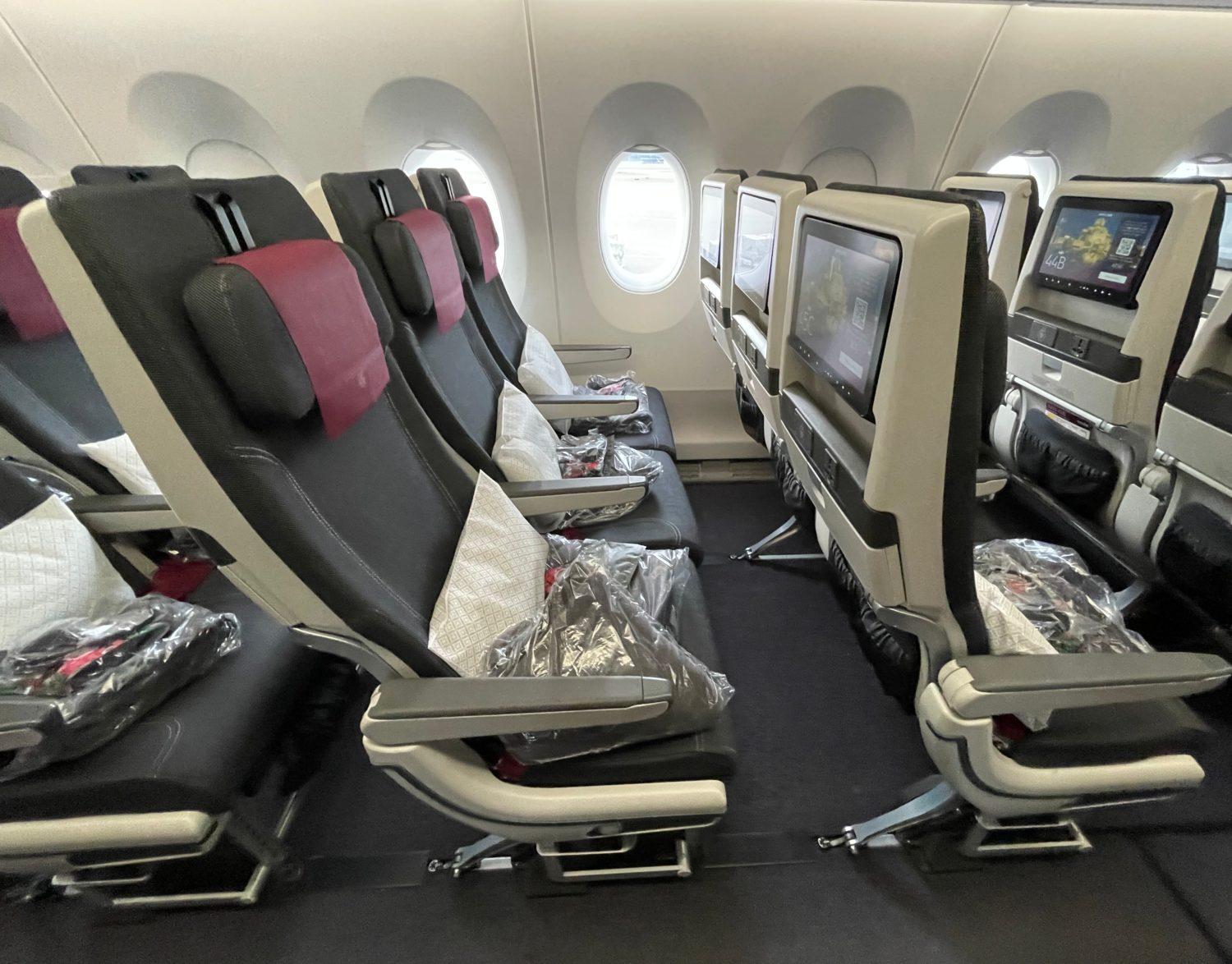 As of publication, Qatar doesn't fly any of its Airbus A380s equipped with Qatar Airways First Class to or from the U.S. And it's unlikely that will change.
Why You Should Book with Qatar Privilege Club
British Airways and Qatar Airways charge the same number of miles to fly Qatar's nonstop flights between North America and its hub in Doha (DOH).
It'll cost you 35,000 Avios and about $65 for a one-way economy flight whether you book these nonstop flights through British Airways Executive Club or Qatar Airways Privilege Club. Up in business class, it's 70,000 Avios and roughly $100 in taxes and fees either way.
So, why book through Qatar instead of British Airways? If you want to make a connection and go beyond Doha, using Qatar miles will be significantly cheaper.
Let's say you want to continue onward to somewhere like Dubai (DXB), Cairo (CAI), the Maldives (MLE), or go as far south as Cape Town (CPT). British Airways charges award rates on a per-segment basis, adding together the normal cost of each flight. Despite their closer partnership, Qatar still does it differently.
Instead, Qatar generally prices award tickets on its own flights by region. You can look up how many Qatar Avios it will take for a saver award on your specific flight by entering your route in Qatar's calculator.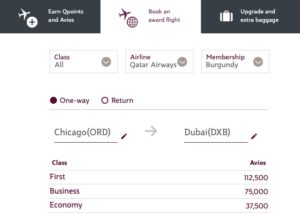 It's the same rate no matter which airport you depart from in North America. And roundtrip flights are simply double the price of a one-way. Some popular destinations to fly Qatar beyond Doha include:
Abu Dhabi (AUH), Dubai (DXB), and Muscat (MCT): 37,500 economy; 75,000 business each way
Amman (AMM), Cairo (CAI), and New Delhi (DEL): 40,000 economy; 80,000 business each way
Maldives (MLE), Nairobi (NBO), and Seychelles (SEZ): 42,500 economy; 85,000 business each way
Bangkok (BKK), Cape Town (CPT), and Johannesburg (JNB): 47,500 economy; 95,000 business each way
Looking for another route? just plug it into the calculator to look up the number of miles required for a saver award.
Note: Qatar recently raised taxes and fees on award tickets and now charges a per-segment fee. Connecting flights generally incur total taxes and fees of around $200 each way for business class tickets.
While these fees are more than what American Airlines charges for award tickets, it's still an incredibly cheap way to fly Qatar's Qsuites – especially considering how much easier it is to earn Qatar Avios than American miles.
Now that you know where you can fly and how many miles your flights will cost, let's get to the nitty-gritty of how to actually book these flights with Qatar.
Step 1: Sign Up and Link Accounts
To get started, you'll need to sign up for a free account with Qatar.

If you don't already have a British Airways account, you'll first want to sign up for a British Airways Executive Club account as well so you can link the two accounts.
By linking your accounts, you'll open up more transfer opportunities since you can transfer points from Amex Membership Rewards, Chase Ultimate Rewards, and Capital One Venture miles instantly to British Airways. Citi ThankYou points transfer directly to Qatar Airways.
How to Link Qatar and British Airways Avios
It's incredibly easy to link your British Airways and Qatar Airways accounts.
After registering with Qatar, you'll get a prompt to link your British Airways Executive Club account. Otherwise, you can link your accounts here.
Simply follow the prompts to link the accounts. It will bring you to a sign-in screen to provide your login details with British Airways and you'll receive a few one-time password codes to your phone or email for verification.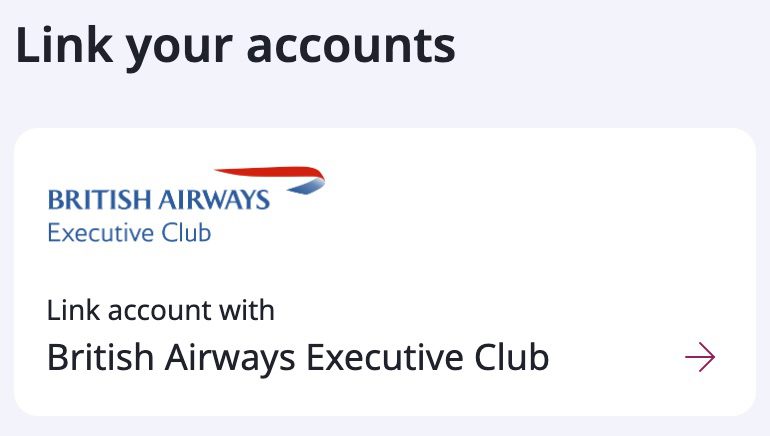 Once your accounts are linked, you'll be able to instantly move Avios between British Airways and Qatar. Plus, as long as your accounts are linked, Qatar will be able to pull from either account when booking.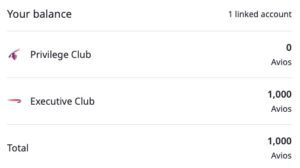 Step 2: Get Some Points to Search
One major hurdle trips up travelers when trying to search through Qatar's site for award redemptions: Unless you have miles in your account, you cannot search for award seats.
The good news is that you don't need to have the entire amount to book an award just to search. Even if you have just a few miles in the account, you should be able to search to confirm the flights you want can be booked by Qatar before you transfer the full number of points required.
If you're just starting out and both your British Airways and Qatar accounts are empty, you'll want to transfer at least 1,000 points (the minimum required by the banks) to be able to search – and I'd recommend just transferring the minimum at first because once you transfer credit card points to an airline, they cannot be transferred back.
Luckily, transferring Amex, Chase, or Capital One points to British Airways is instant. And so long as your British Airways and Qatar accounts are linked, you should be able to begin searching for award flights on Qatar's site without taking any extra steps.
If for any reason Qatar's site isn't letting you search at this stage, just move a few Avios from British to Qatar. There is no minimum required, you could transfer just one mile if you'd like. These transfers are also instant – but unlike your credit card transfer, you can also instantly transfer them back to your British Airways account.
If you have Citi ThankYou points, you'll need to transfer from Citibank directly into your Qatar Privilege Club account. These transfers generally take 1-2 days.
Step 3: Search for Flights
Once you have a balance of Avios, you'll be able to search for flights with Qatar. The experience can be a bit buggy so you'll want to follow these steps closely in order to avoid errors or higher-priced flights.
Find Saver Award Availability
The first step is to pinpoint which dates have the lowest-priced saver award availability.
While Qatar's site has a flexible calendar search, it cannot be relied upon. It often shows saver award pricing on the calendar but when you click through to select flights, there may not actually be any flights available for that low rate.
It used to be easy to search for award availability on American's website. However, this summer American stopped showing award space for Qatar flights on its website for travel more than 30 days in the future. Since Qsuites saver award availability tends to show up in waves well in advance of travel, using American's website to search for availability is no longer a great option.
I would recommend first searching for saver award availability on British Airways' website. From the homepage, hover over "Book" and click "Book with Avios". Or, just follow this link. You'll need to log in to search and you'll only be able to see award space flying Qatar when searching nonstop routes to or from Doha (DOH). This means you'll need to search each segment individually if you are looking for connecting flights beyond Doha.
Search directly from this page. Disregard the "Check reward flight availability" link. That is a different tool that is only for British Airways-operated fligths. It's easiest to search one-way at a time. Make sure to choose the exact number of passengers traveling. Qsuites are generally only available for a maximum of two passengers per flight.
First, search for the nonstop flight from your North American gateway to Qatar's hub in Doha. You'll need to search individual dates since British Airways doesn't have a calendar view. You can toggle through different dates or weeks at the top. Look for availability on Qatar-operated flights only.
If you're just traveling to Doha, it's easy. You can just book the flight through the British Airways website. If you're planning to connect elsewhere, you'll need to head over to Qatar's website to verify availability and book there. More on that later. If you're flying to another destination in the Middle East, you can pretty much count on the onward connection having available award space so it's not really necessary to search again via British Airways.
But if you're looking to travel somewhere far beyond Doha, such as the Maldives (MLE) or Cape Town (CPT), you'll want to repeat this process to pinpoint saver award availability on the nonstop flights between Doha and your destination.
Keep in mind that flights from North America almost always arrive in Doha the following day, so you'll need to line up availability accordingly. For example, you may need to depart from Chicago on Mar. 15, to connect to a flight to the Maldives on Mar. 16. It's also crucial to pay close attention to the flight times to make sure the flights you want line up. This will take a bit of trial and error.
Once you've found dates that you believe should match up, continue to the next step to book your flights through Qatar.
Start Your Search from Qatar's Homepage
It's time to plug in what you've found directly at QatarAirways.com. And this is where things get tricky.
If you try to search for flights through Qatar's award booking tool, you may experience some hiccups. It will sometimes give you an error message if you do not have enough miles in your account to book the flight you are searching.
To get around this, you'll want to first conduct an exact date search for a normal cash ticket directly from Qatar's homepage.
On the following screen, click on the "Book an award flight" button at the top-right to view award flights for that date. If you're not logged in, it may say "Book using Avios", which will bring you to a login screen and then back to this page.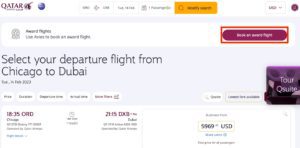 If you get an error or the website locks up at any point during your search, always navigate back to the homepage to start your search again. You can do this quickly by clicking on the Qatar logo in the upper-left corner of the screen.
Select the Right Flights
Qatar's search will display flights operated by both Qatar and British Airways on the award booking results page. Choose wisely.
You'll want to avoid flights operated by British Airways as those will have extremely high taxes and fees. Instead, look for flights operated by Qatar where you saw saver award availability when searching on British Airways' site.
If you're taking a connecting flight to the Middle East, the flights between Doha and the destination in the Middle East will be marketed as first class. You'll still pay the business class rate for these connections. It's just 75,000 Avios plus around $200 in taxes and fees one-way in this example from Chicago to Dubai.
If you're searching for multiple passengers, Qatar will display the total number of miles plus taxes and fees that are required for your entire party. For two travelers, it will be double, and so on.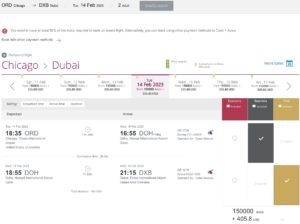 Thrifty Tip: If you're traveling in business or first class when transiting in Doha to a connecting flight in the Middle East, stop by the Al Safwa First Class Lounge.
Beware: Qatar also offers "Flexi awards," which are higher-priced award seats that will be more available than saver award seats. These flights are highlighted by a green flag. You'll want to avoid these flights if you're looking for the saver rates as Flexi awards are double the price.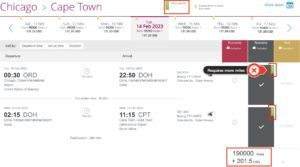 If you don't find any saver award seats available on the date you have chosen, you can navigate to other dates easily by using the calendar. You can even get a monthly view of dates by clicking on the "More dates" icon. But, remember that the rates listed on Qatar's calendar are frequently inaccurate. As you can see, it's showing that every date has saver seats available here but this is not the case in reality. That's why it's easier to pinpoint your dates using British Airways' search tool beforehand.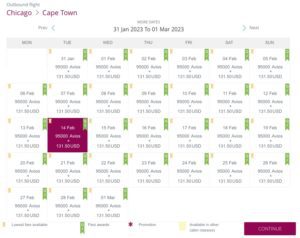 When you find saver seats available (flights you can select without the green flag), it will be 95,000 Avios plus around $200 in taxes one-way to Cape Town (CPT).
And 85,000 Avios plus around $200 in taxes and fees one-way to the Maldives (MLE).
Step 4: Transfer More Points to Book
Found the flights you want are bookable through Qatar Privilege Club? Now, it's time to transfer enough points to actually book the flights. Follow the same process as mentioned earlier when you made your initial transfer to be able to search on Qatar's site.
This time, just calculate how many more miles you'll need to book your flights and complete the transfer. It should be instant from Amex, Capital One, and Chase to your British Airways account, while it may take 1-2 days for transfers from Citi to Qatar.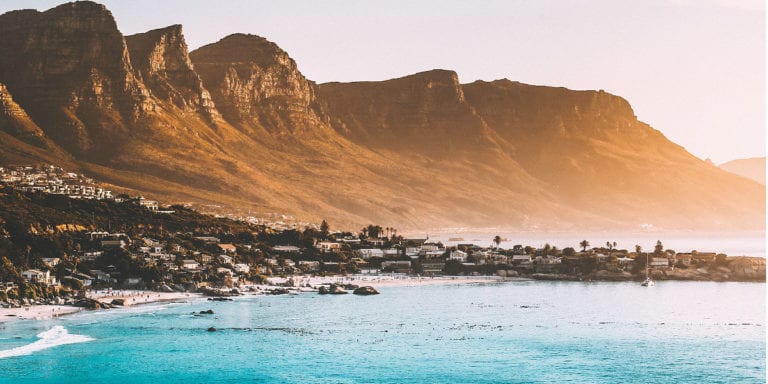 Step 5: Book Your Flights with Qatar
Once your points have been transferred into your account, go ahead and complete the booking on Qatar's website. You won't need to transfer Avios from British to Qatar. As long as the accounts are linked, Qatar will be able to utilize your full balance of Avios to book the flights.
It will use up all of your Qatar Avios first and then pull from your British Airways account. If Qatar is pulling Avios from your British Airways account, it will ask you to log in to your BA account during the booking process and bring you right back to your booking with Qatar.
If you have any issues booking your flights, you can contact Qatar Airways Privilege Club for assistance by calling 1-800-988-6128.
After the flights are ticketed, relax and grab your favorite beverage. You just booked seats on the best airline in the world! Cheers to that!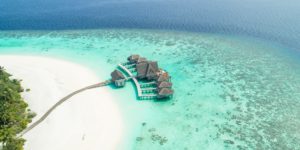 Qatar Airways Change & Cancellation Policy
One other reason why booking through Qatar Executive Club is great? A solid change and cancellation policy.
Unlike other airlines that charge you $200-plus to cancel a flight and get your miles back, Qatar award tickets can be changed or canceled for a small $25 fee up to 24 hours before departure. Within three to 24 hours of departure, that jumps to a $100 fee.
Simply navigate to manage your booking on Qatar's website to make any changes or cancel your ticket. All miles will be redeposited and taxes refunded after paying the fee if you choose to cancel. No shows or cancellations within three hours of departure will forfeit all miles and fees.
Do British Airways or Qatar Avios Expire?
British Airways and Qatar miles both expire after 36 months of inactivity. You should always aim to use up your miles ASAP, but when that's not possible, there's an easy way to keep them from disappearing.
To extend the activity, you just have to earn, spend, purchase, or share at least one mile to keep all your miles active. A simple transfer from credit card points or purchase through a shopping portal should do the trick.
How to Earn Qatar Avios
You don't need to fly Qatar or British Airways to earn Avios to book these flights.
If you're earning points with any major credit card that earns transferrable points, you'll be able to transfer those points to either British Airways or Qatar, which you can pool together to book flights through Qatar. Here are some of our favorites.
The American Express® Gold Card is one of the best all-around credit cards, period. It earns 4x points at U.S. supermarkets (up to $25,000 each year, then 1x) and restaurants. You'll earn 60,000 Amex points after spending $4,000 within six months.
And you may be able to get a 75,000-point welcome bonus via CardMatch! Amex points can be instantly transferred to British Airways on a 1:1 basis, which you can easily share with your Qatar balance by linking the two accounts.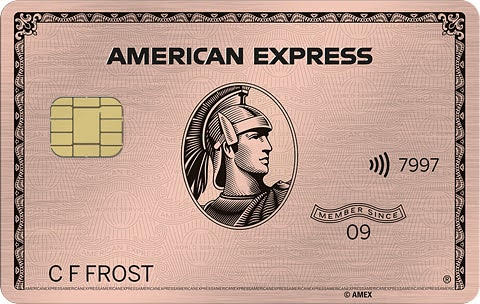 Click Here to learn more about the American Express Gold Card.
We think the Chase Sapphire Preferred® Card is the best travel rewards card for beginners. Currently, you can earn a welcome bonus of 60,000 Chase points after spending $4,000 in the first three months. Chase points can be instantly transferred to British Airways on a 1:1 basis.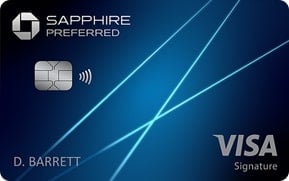 Click Here to get more information about the Chase Sapphire Preferred Card. 
The Capital One Venture X Rewards card is truly one of the best cards out there for travelers. Currently, you can earn 75,000 Capital One Miles after spending just $4,000 in the first three months of opening the card. Capital One miles can be instantly transferred to British Airways on a 1:1 basis.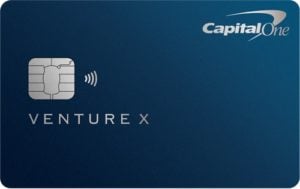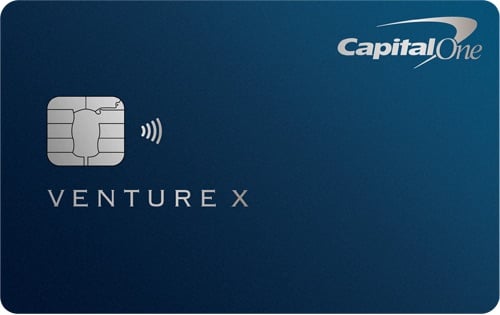 Click Here to learn more about the Capital One Venture X Rewards Credit Card
The Citi Premier® Card is another great way to earn points that can be transferred to Qatar. Currently, there is a 80,000-point bonus after spending $4,000 within the first three months. Citi points transfer to Qatar Airways on a 1:1 basis. These transfers can take 1-2 days.
Click Here to learn more about the Citi Premier Card.
If you need to top off your account, you can also transfer Marriott Bonvoy points to either British Airways or Qatar at a 3:1 ratio, with a 5,000-mile bonus for every 60,000 points transferred.
Bottom Line
Qatar's Qsuites are now more attainable thanks to new transfer opportunities with British Airways. Booking these flights with Qatar involves a few extra steps and navigating a tricky website, but it's well worth it to learn this process so you can book flights on the best airline in the world with easy-to-earn points.
The Middle East and the Maldives are calling. And Qatar's Qsuite is waiting for you.