What's better than flying to Tokyo? Flying to Tokyo in First Class on one of the world's best airlines.
Welcome to ANA First Class, one of the world's most sought-after ways to fly on Japan's top-rated airline. It's truly one of the best ways to fly. And done right, booking it is one of the best deals in points and miles.
We took advantage of an incredible 30% transfer bonus when sending Amex Membership Rewards to Virgin Atlantic to book a roundtrip flight from Chicago-O'Hare (ORD) to Tokyo-Haneda (HND). Paying cash, this ticket would have cost $22,000 apiece. Instead, we booked for less than 100,000 points and under $400 total.
So was it worth the points? Read on our full ANA first class review.
Booking ANA First Class
Virgin Atlantic miles have some serious sweet spots, so that's where I turned to book ANA First Class.
Not only can you use Virgin Atlantic miles to book award flights on Delta Air Lines, but you can also use them to fly in first class on one of the top three airlines in the world, All Nippon Airways (ANA), Japan's flag carrier.
Virgin Atlantic Flying Club has a zone-based award chart for travel on ANA, and the redemption rates are as follows: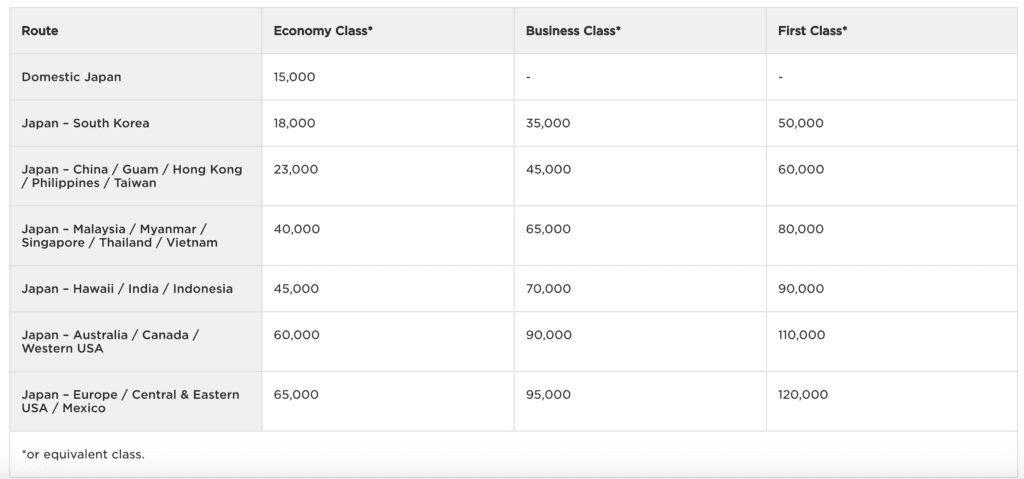 Since Chicago is considered the Eastern U.S., we were able to book our first class flights for 120,000 Virgin Atlantic Flying Club Miles and $341 of international taxes and fees. 
However, because of the 30% Virgin Atlantic transfer bonus from American Express Membership Rewards mentioned above, we only had to transfer 93,000 Membership Rewards points to book.

See our guide for a full breakdown of How to Book ANA Flights with Virgin Atlantic Miles.
This was an absolutely incredible value for what would otherwise be an absolutely unaffordable flight. Frequent transfer bonuses like this one are one of the reasons we feel Amex wins in the battle between Amex points vs Chase points. And while Virgin Atlantic only allowed roundtrip award tickets on ANA at the time, that has since changed.
You can transfer into Virgin Atlantic from Citi, American Express, Chase and Marriott, so there are lots of options for earning Virgin Atlantic Flying Club miles. See our master list of airline transfer partners for more info.
Finding Award Space
You cannot search for or book ANA award tickets through Virgin Atlantic's website. However, generally speaking, Virgin Atlantic will have access to the same award availability as all of ANA's other partner airlines. Our go-to was using the United Airlines website to search for availability.
Once we found first class availability on ANA as is pictured below, we called Virgin Atlantic Flying Club at 1.800.365.9500 to actually book the flights. Both of us had great phone agents that were very knowledgeable and attentive. They were able to see the award space we were seeing and booked the flights for us with the 120,000 miles in our respective accounts. In total, each of our phone calls only took about 10 minutes.

Ground Experience & Boarding
We arrived at Chicago O'Hare airport (ORD) by way of a Delta flight from Minneapolis-St. Paul (MSP) with about three hours to spare before our flight. Because we were flying on a Star Alliance first class ticket, we were able to access the new United Polaris Lounge located, in Terminal 1 near gate C18.
This was convenient as we were departing from gate C10, just a short walk from the lounge.
The Polaris Lounge makes for a great way to start a flight. Not only does the lounge have a full bar with complimentary drinks, but it also has complimentary buffet-style food as well as a full sit-down restaurant, where you can order off of a menu. Because Mr. TT and I had eaten in Minneapolis before our flight, we passed on eating in the lounge and saved room for the food onboard our ANA flight.
The lounge is also equipped with showers and plenty of seating to relax or get work done before your upcoming flight.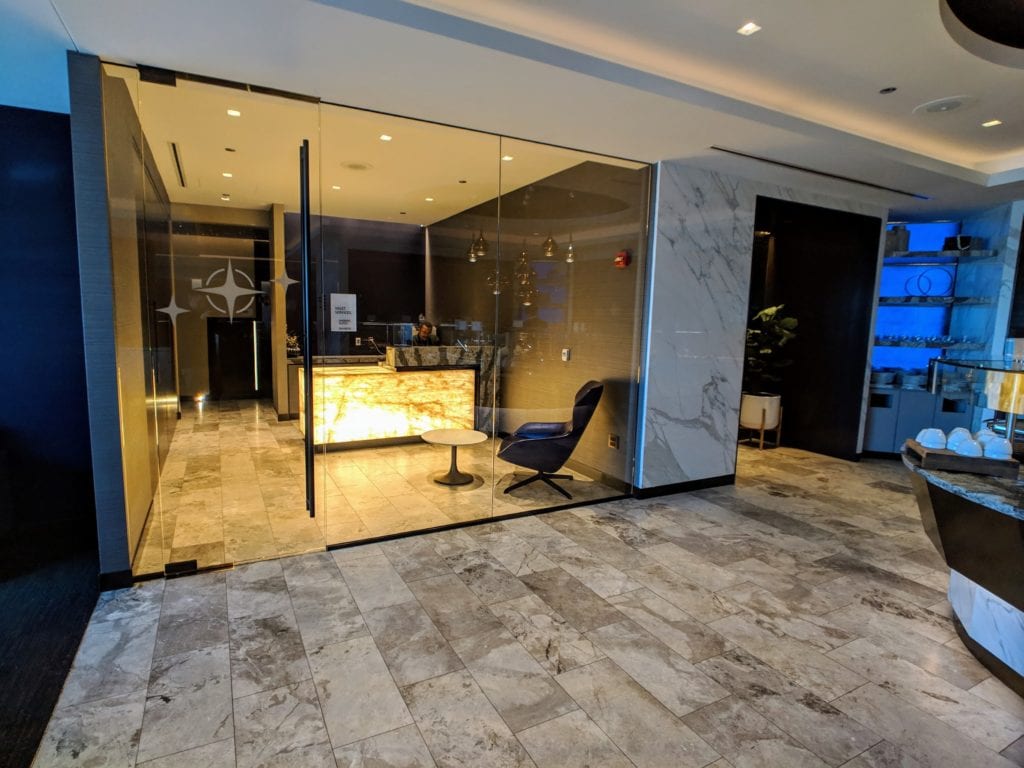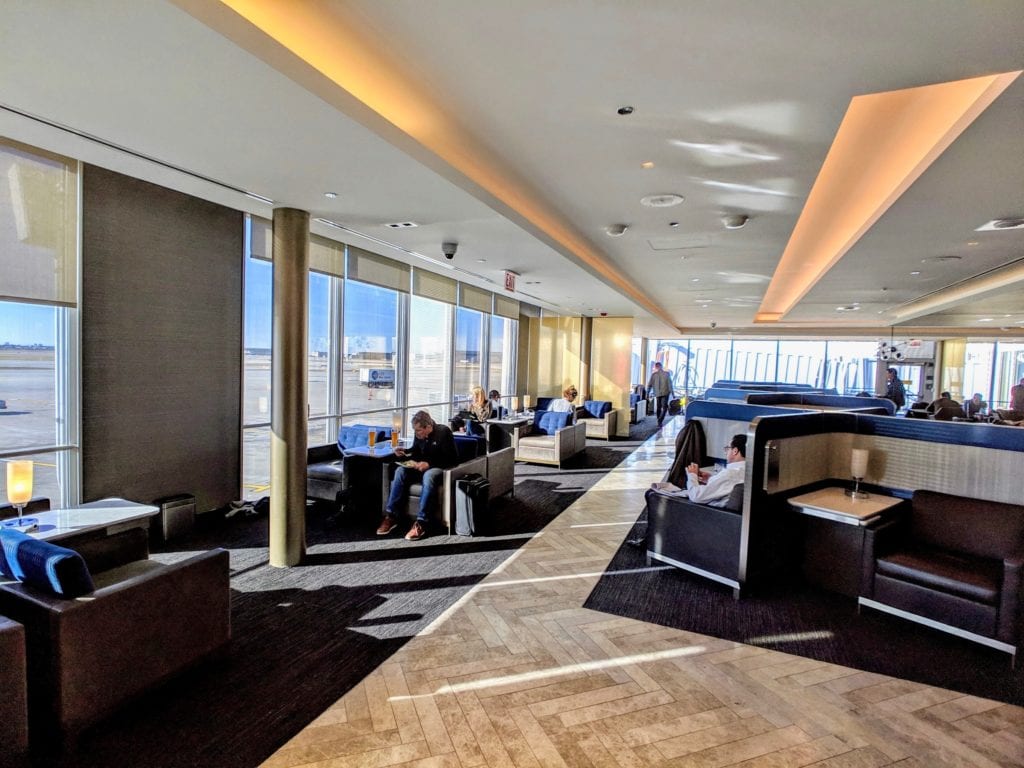 We recently visited the Polaris Lounge in Houston before our Singapore Airlines flight to Manchester England which had much less traffic than the Chicago Lounge. This wasn't a surprise, since Chicago simply has more routes offering first and business-class service on Star Alliance carriers.
Read More: A Full Review of the United Polaris Lounge Chicago-O'Hare (ORD)
After enjoying a few mezcal Negroni cocktails and getting some work done in the lounge, it was time to head to the gate to board our aircraft.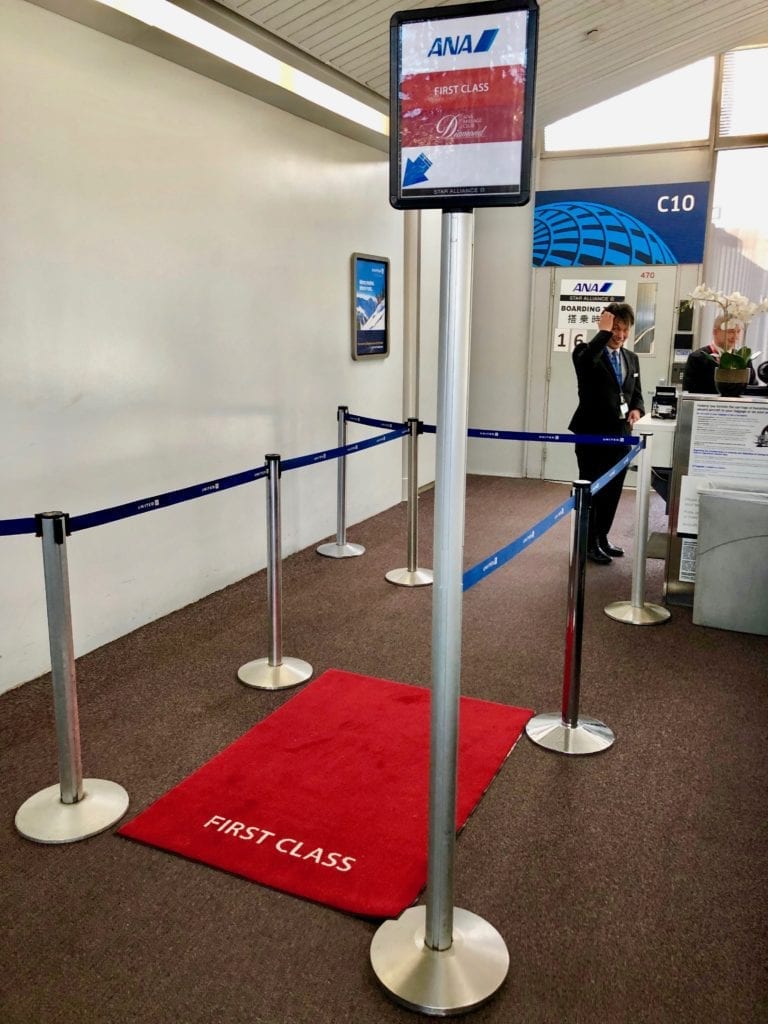 When we got to the gate, each class of service (economy, business, and first class) had their own lines for boarding. As we got in the first class boarding line, the gate agent quickly came over to check our boarding passes to verify we were in the right line. Just a few short minutes later, we boarded the aircraft.
ANA's First Class Cabin
Flying ANA first class has always been a points and miles goal of mine. It is one of the best values out there and for me, it is the perfect example of using points for something I otherwise couldn't afford. To say I was excited about the flight was an understatement.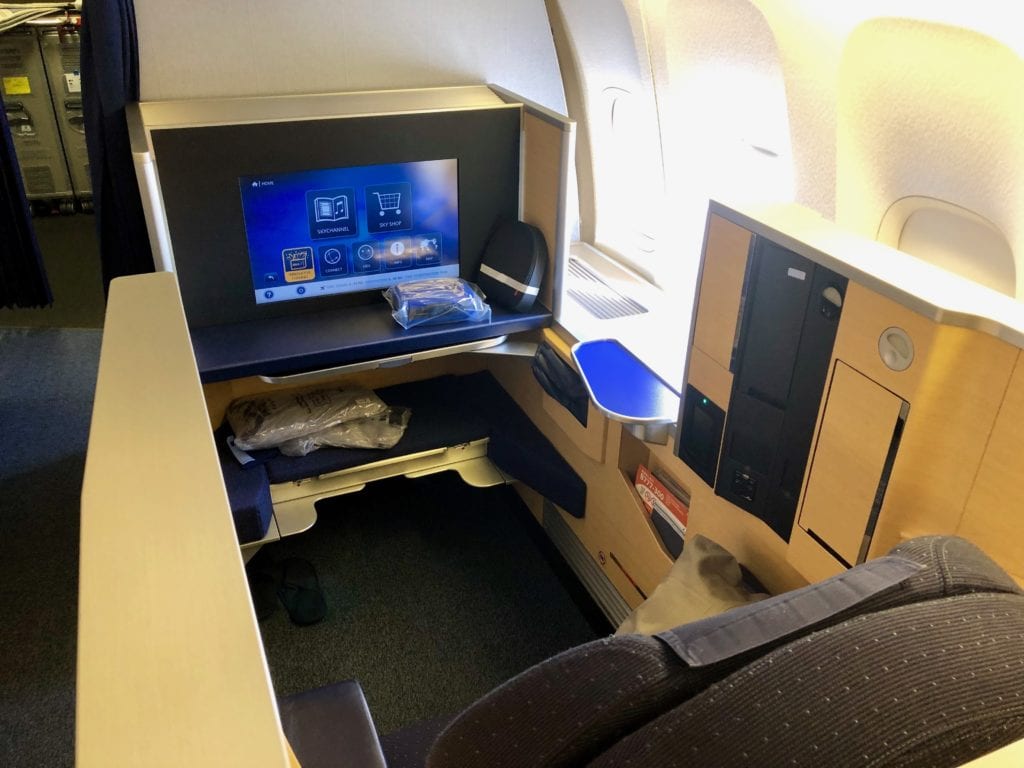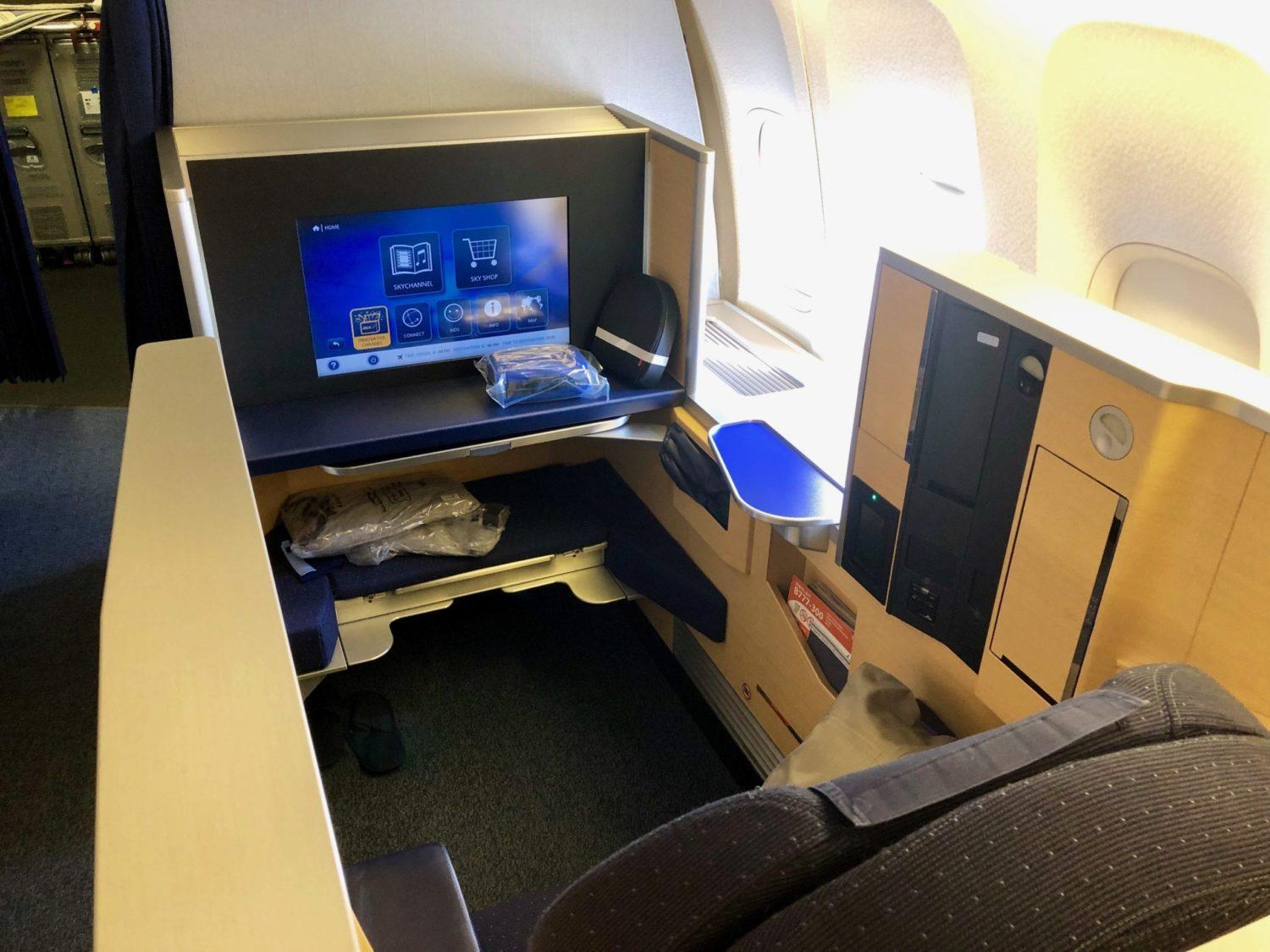 The ANA first class cabin on board the Boeing 777-300 feels very exclusive as there are only eight seats total, arranged in a 1-2-1 layout. I was seated in seat 1K for our flight, while Mr. TT was right behind me in seat 2K. There were only five others on board with us in first class –  seat 2D was empty.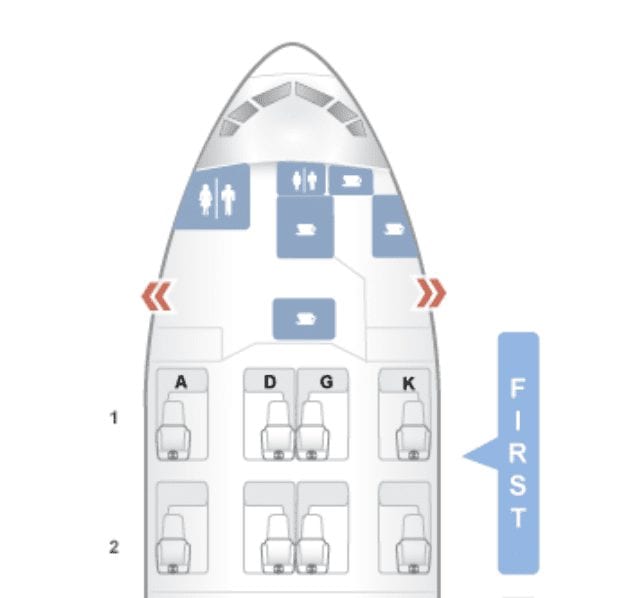 Shortly after boarding, the fantastic service started and we were both offered champagne. We were also given pajamas and both food and drink menus so that we would have a chance to look it over before it was time to order.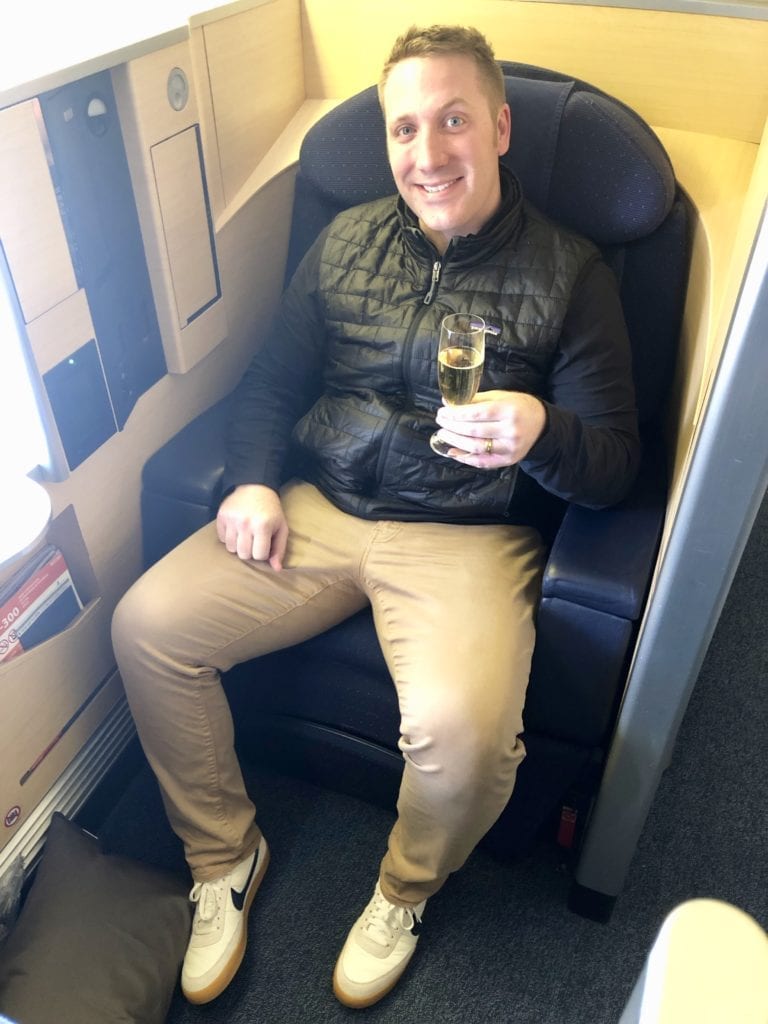 Both Mr. TT and I found the pajamas to be very high quality and we both wore them for the duration of our flight. I have been offered pajamas on a number of other flights and these blew them all out of the water for comfort. After changing into them, the flight attendants took our clothes and hung them up so they wouldn't get wrinkled.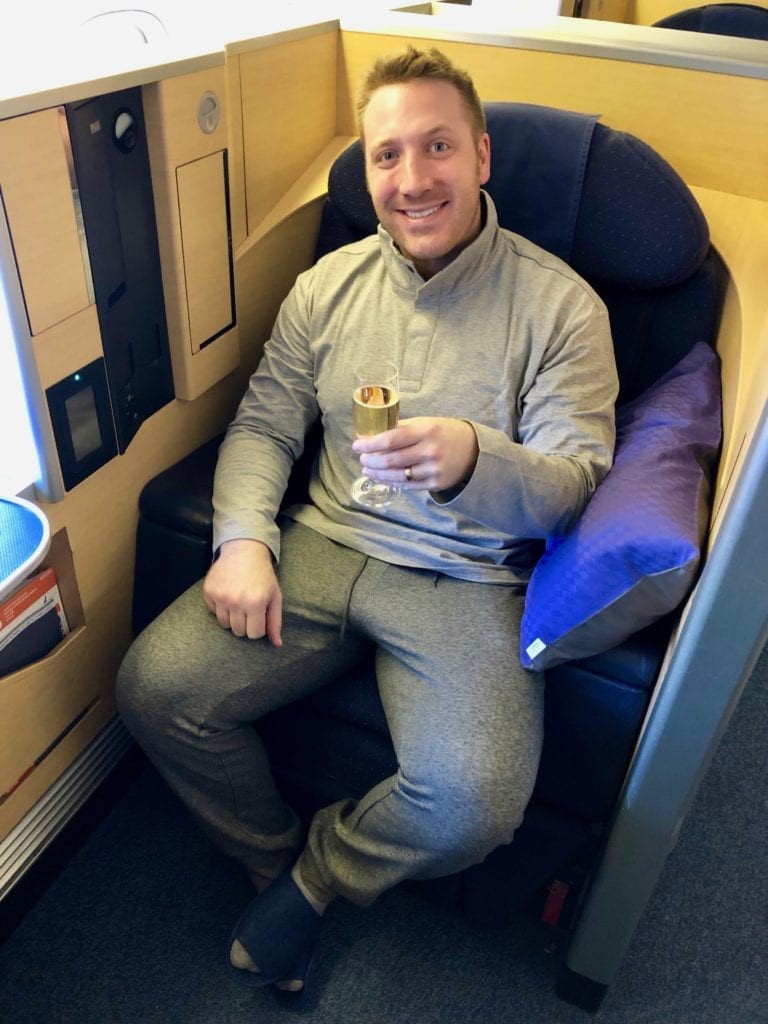 ANA First Class Seats
Let me be honest: The aesthetics of the seat are not anything to write home about. In fact, you might mistake it for an office cubicle.
But I can easily say this is the most comfortable seat I have ever been in on an airplane. Each seat is 33 inches wide and offers 76 inches of legroom. That's more than double what you would expect to find in a regular economy seat.
One drawback, however, is the privacy of the seat – there's almost too much. While it isn't fully enclosed with a door like the Delta One suites or even Qatar Qsuites, it does offer a ton of privacy. If you are traveling with a companion and sitting in the middle seats, don't expect to have many conversations. While the wall does open up, seeing your companion would require moving forward around the wall.
Similarly, if you like having a window view, the design of the seats along the windows won't offer you much for viewing. Due to the design of the seat and its shell, you again would need to lean forward to see out the window as you can see below. Ultimately, these are small complaints. The comfort of the seat far outweighs it all, if you ask me.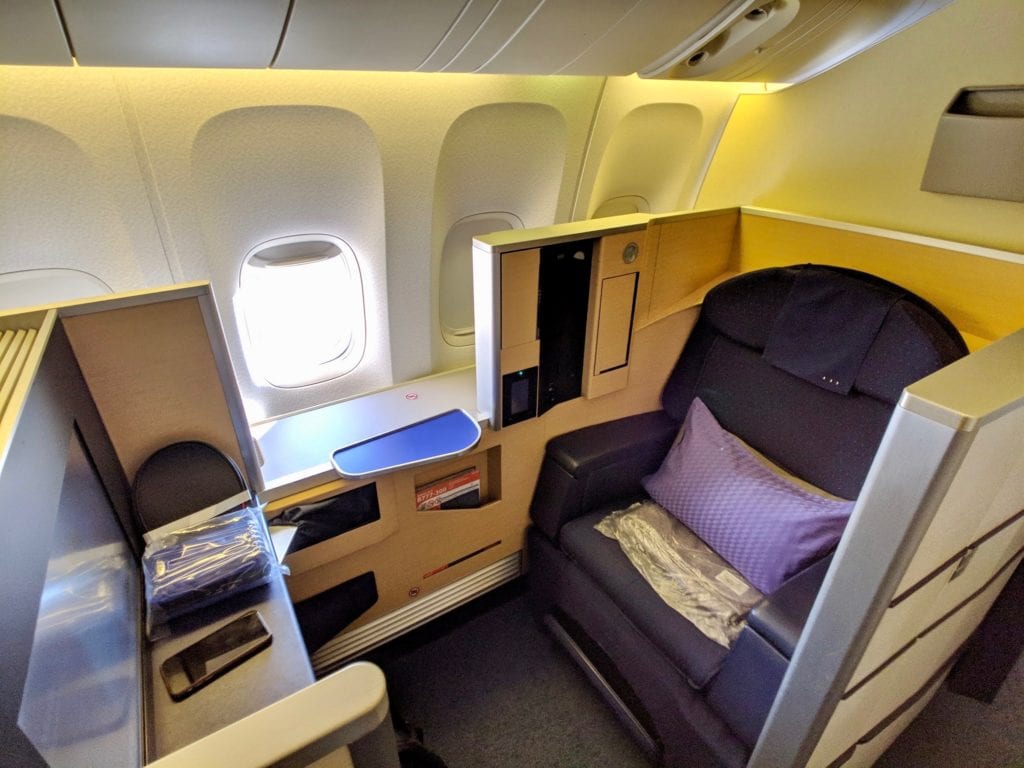 If legroom is what you are after, ANA first class seats have no shortage of it – not to mention an incredible amount of storage space too. I was able to fit my backpack and shoes underneath the footrest. There is also a drawer with tons of space that pulls out beneath the footrest. That's where I stored my passport, wallet, and a number of other things during our flight.
Now let's talk about bedtime. After eating dinner and enjoying a few drinks, it was time to get settled in for a few hours of sleep. I've tried out my fair share of lie-flat seats before, but this was by far the most comfortable bed I've experienced in the sky. After dinner, I got up to use the restroom and the flight attendant offered to get my bed ready. I happily obliged and when I returned to my seat, this was waiting for me.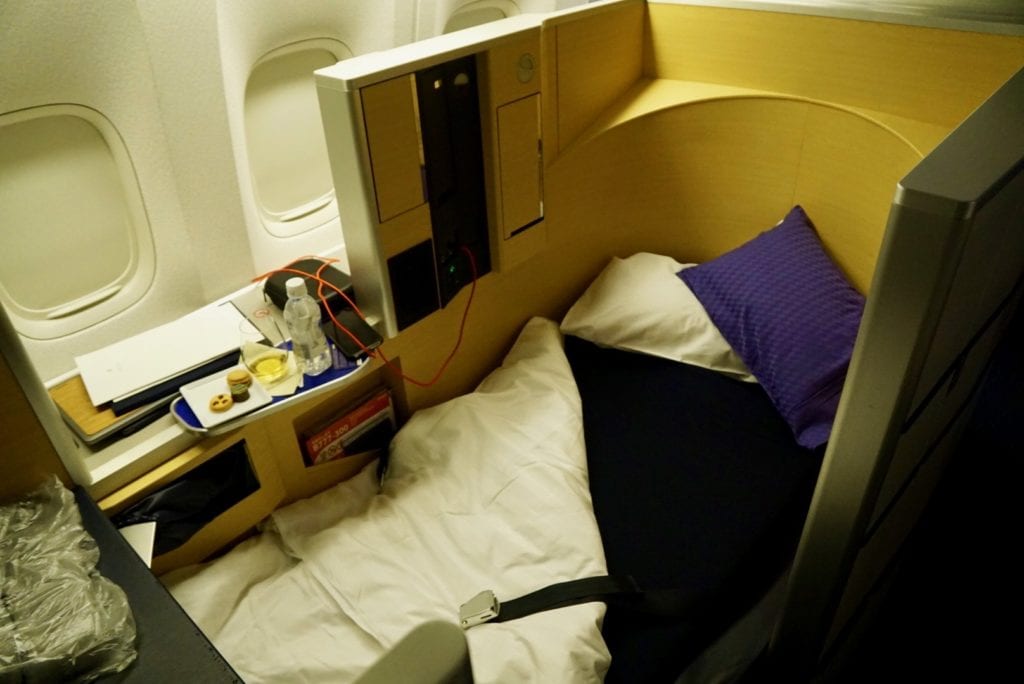 The flight attendant brought an extra pillow, put down a mattress pad, and provided a nice comforter. The footwells were huge and there was no issue at all getting comfortable. She even dropped off a little tray of dessert treats.
Both the pillows and blankets added to the comfort. I generally don't sleep well on airplanes – sometimes due to the sheer excitement of the plane I'm flying, and other times out of discomfort. I easily slept for about two hours in my cozy bed. 
Service and Dining Flying ANA First Class
Let's get this out of the way: ANA first class dining and service was absolutely amazing. From start to finish, everything was incredible.
Before takeoff, a flight attendant came to my seat to introduce herself and make sure I had everything I needed (including a glass of champagne). She also delivered a hot towel which there was no shortage of throughout the flight.
The flight attendants were visible throughout the flight and every time I got up to use the restroom they came and organized my space and even made my bed when I was reclined in bed mode. That was far from necessary, but a very nice touch. And it speaks to how over-the-top ANA first class service can be.
When it comes to ANA first class dining, you typically have two options. You can take the international (western food) or Japanese cuisine track.
Both meals started with a delicious appetizer consisting of apricot and goat cheese, a rosette of smoked salmon, foie-gras mousse canapé with a few cheese and pepper sticks. Oh, and who could forget the delicious glass of 2004 vintage Krug champagne. If you aren't familiar with champagne, this retails for over $300 a bottle.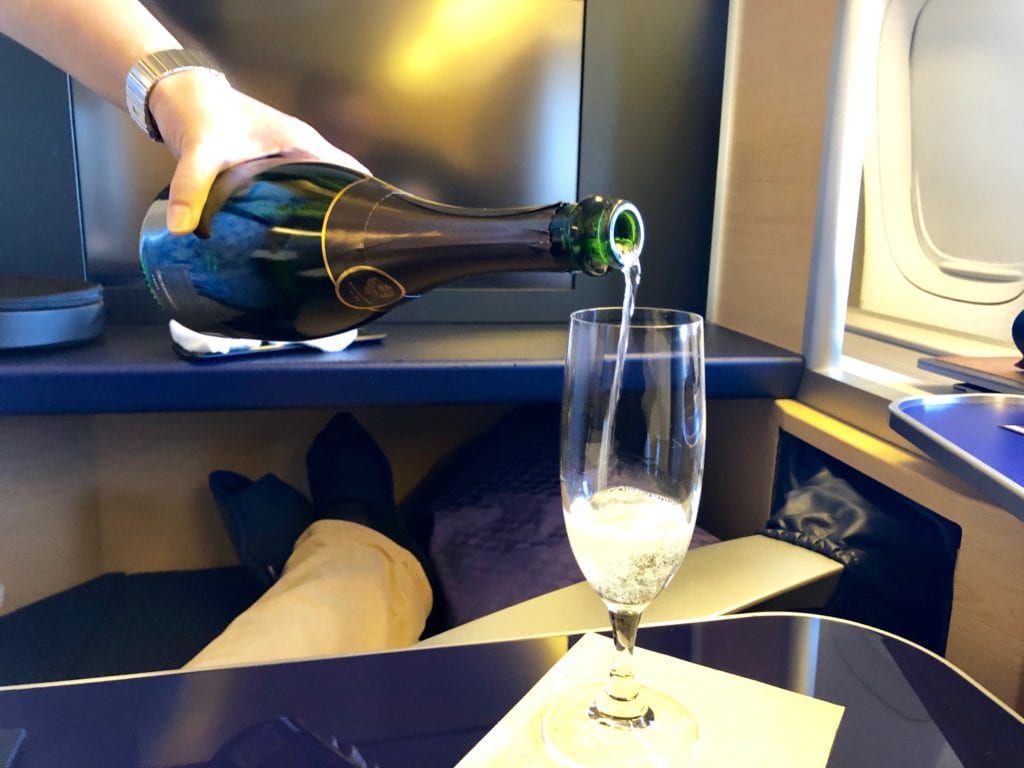 For my next course, I got a plate of shrimp and scallops gâteau style served with a green pea sauce. Absolutely delicious.
Next up was a traditional garden salad served with a delicious Japanese horseradish wasabi dressing. I was a big fan.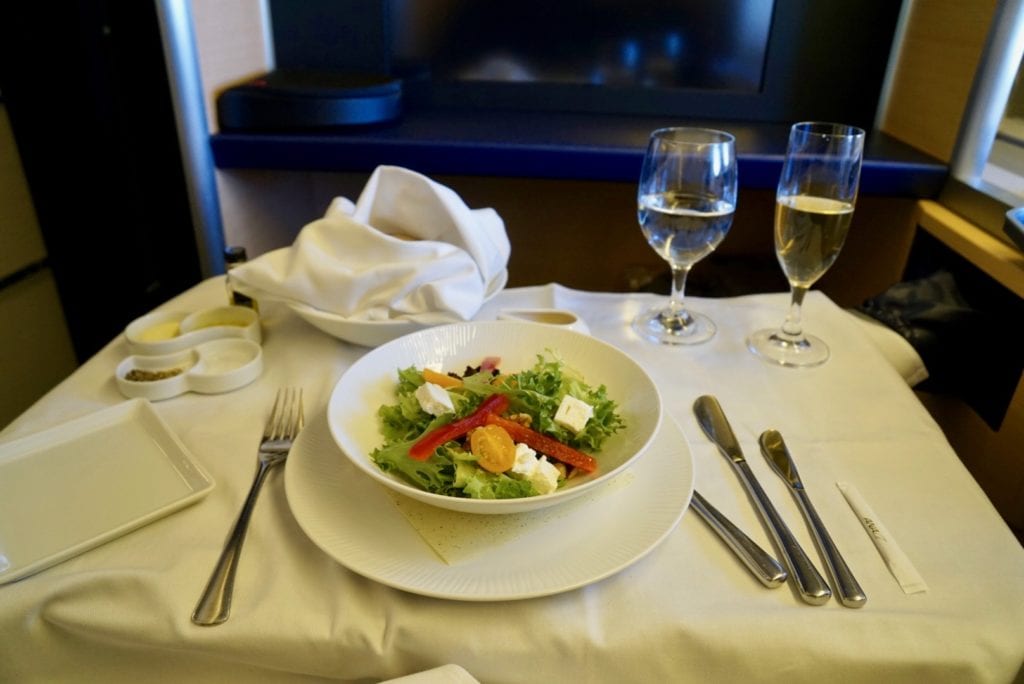 Next up was a pureéd corn soup that was simple and delicious. At this point, I was running out of room for my main course.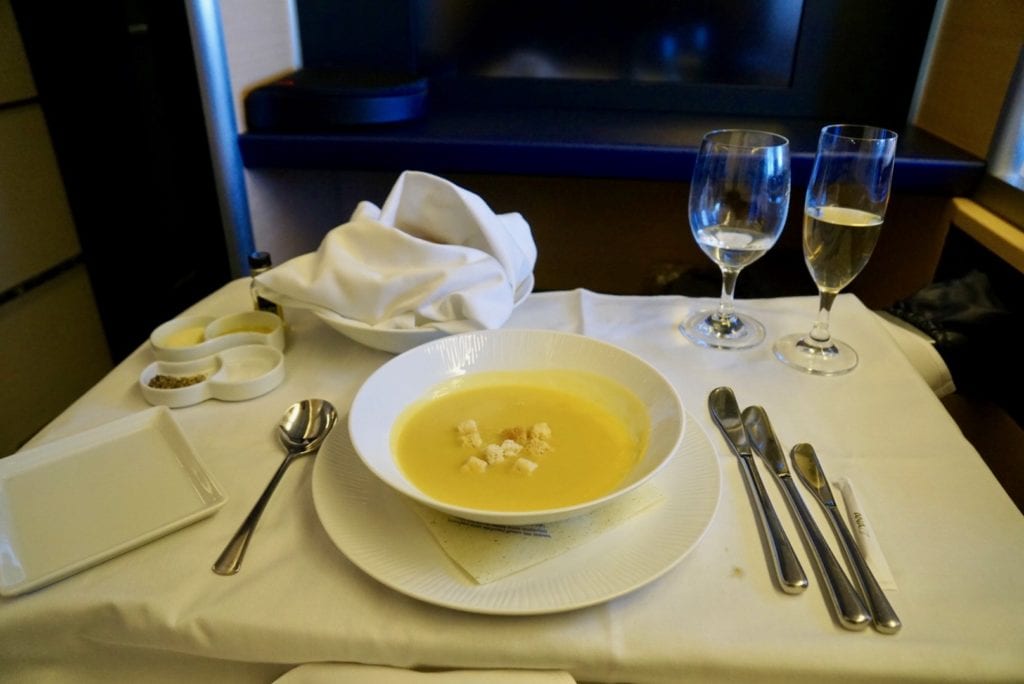 For my main course, I had a choice of a Wagyu beef filet, sautéed chilean seabass, veal, or a vegetable cannelloni. I opted for the Wagyu beef filet and I am glad I did. It was incredibly flavorful and cooked to a perfect medium-rare, something that's difficult to find on a plane.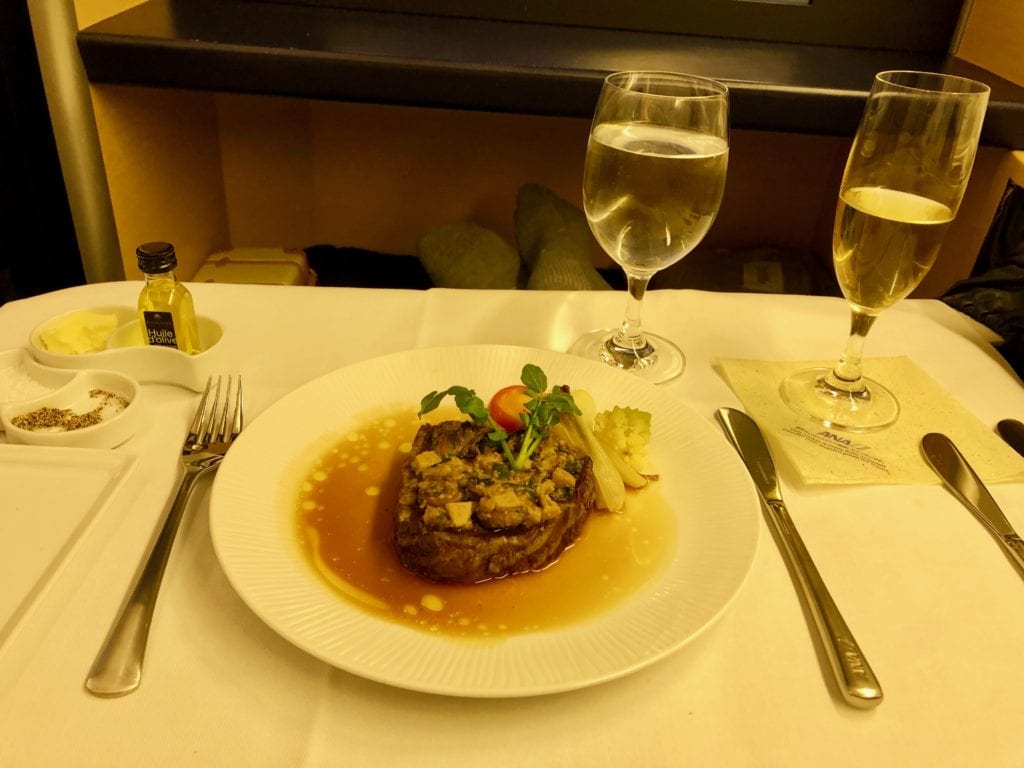 At this point, I was completely stuffed but I couldn't turn down dessert. So I ordered for the cappuccino mousse cake and espresso. I was also offered a glass of sparkling sake (next to the espresso) and a glass of Hibiki 17 Japanese Whisky (next to the water).
Mr. TT took the Japanese cuisine track and said all of his offerings were delicious as well.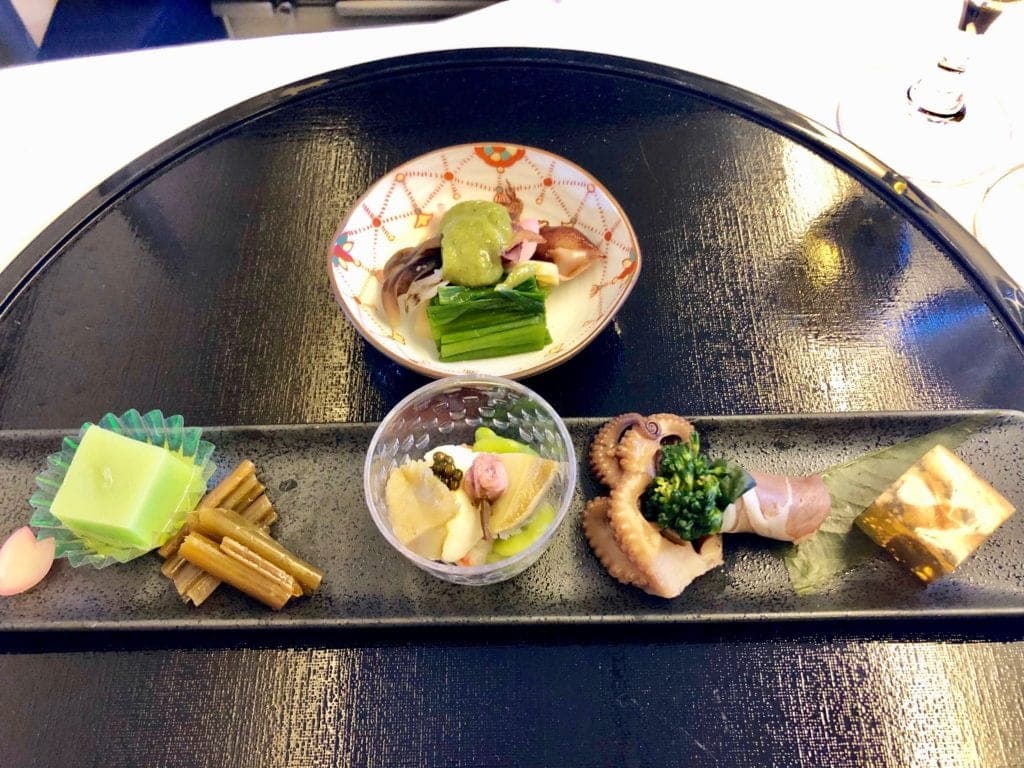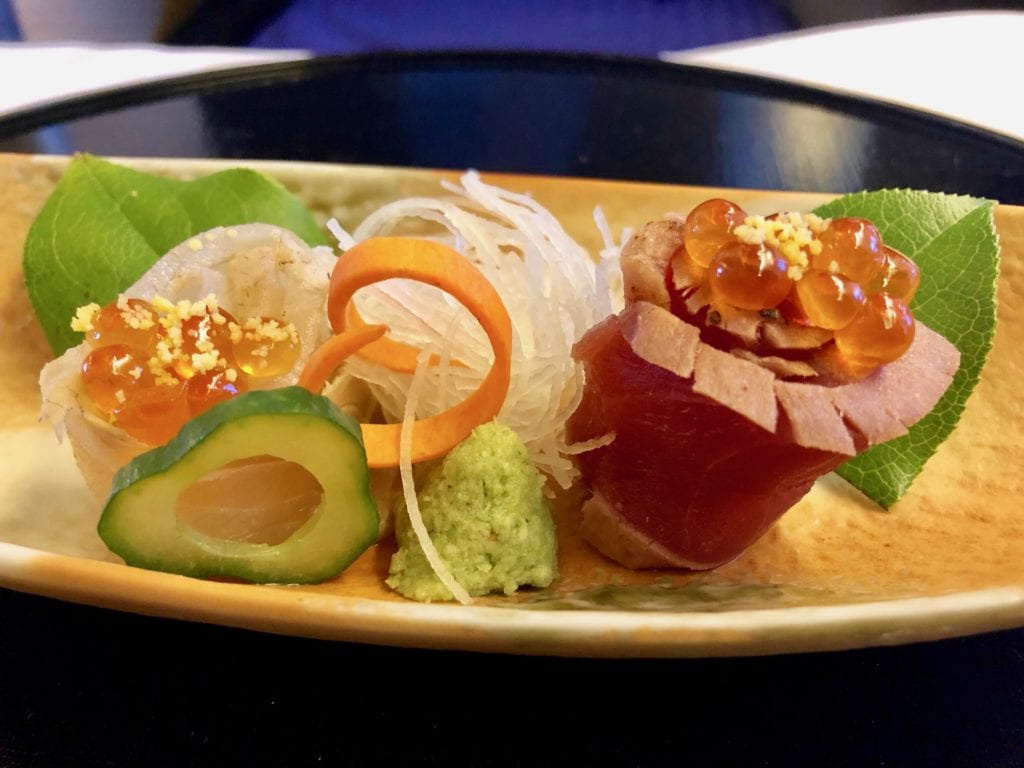 Amenities
The amenity kits provided on our flight were from Samsonite and were designed to look like a miniature hard-sided suitcase. Previously, ANA's first class amenity kits were from the high-end luxury luggage brand Rimowa, but they have been offering the Samsonite kits for a few years now.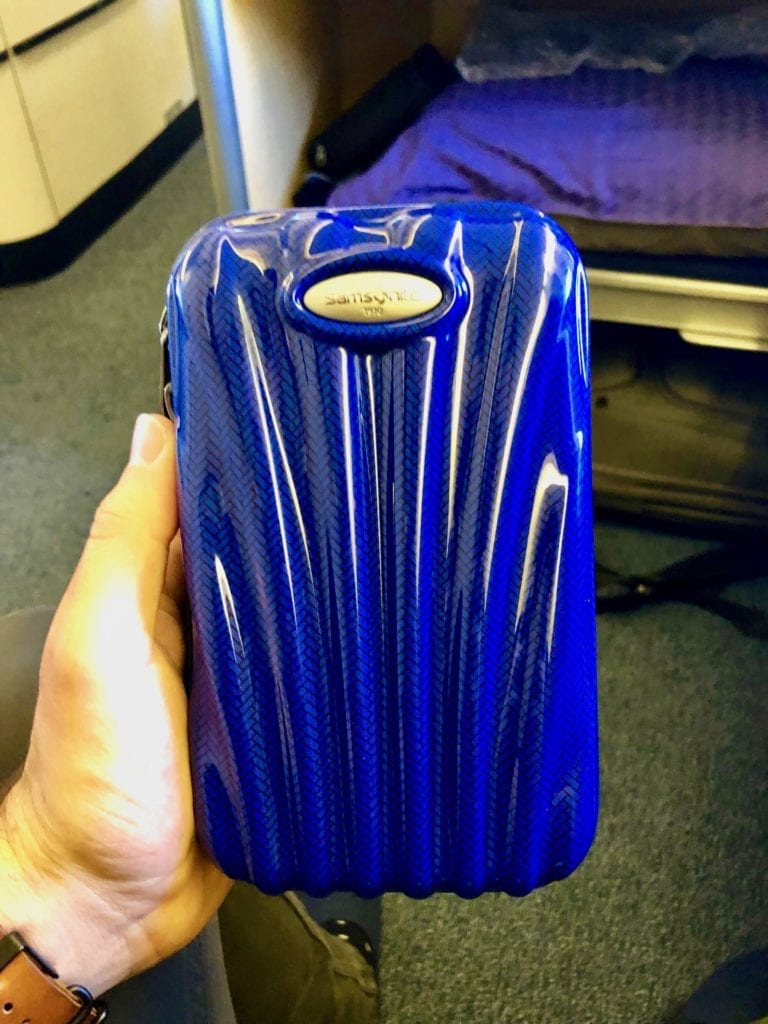 Inside the kit were the usual items: earplugs, a sleep mask, lip balm, moisturizers, and compression socks. The toiletries inside the kit were provided by The Ginza, a Japanese beauty products company. I am not an expert on moisturizers or beauty products, but a quick Google search tells me that their stuff is pretty high-end based on the price.
Interestingly enough, on our return flight from Tokyo back to Chicago, we receive different amenity kits from Globe Trotter. The contents were still provided by The Ginza, and I personally liked the look and design of this one a bit better.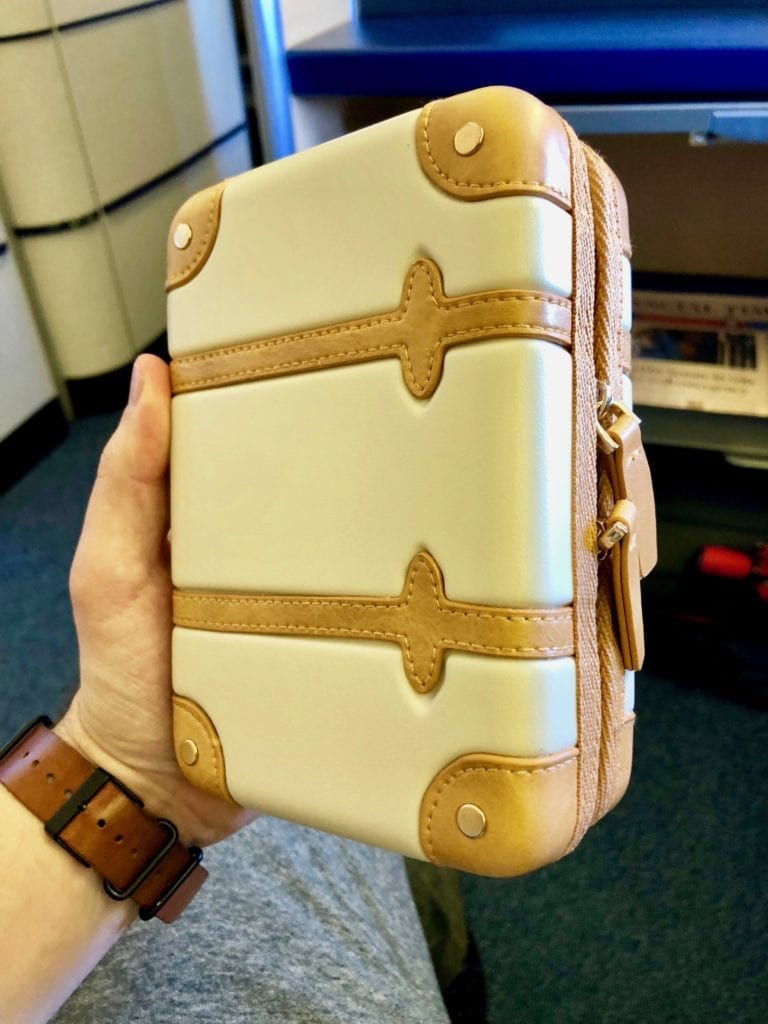 Entertainment
ANA's first class seats are equipped with beautiful high-resolution entertainment screens. These displays were sharp and large enough to see even while laying down. They were loaded with a great selection of movies including a number of new releases I enjoyed (Bohemian Rapsody, A Star is Born, and The Greenbook). Between the onboard entertainment and the food, it made the 14-hour flight seem quick. 
Unlike the screens onboard Singapore Airline's business class, the screen is both a touchscreen and can be controlled by the wired remote.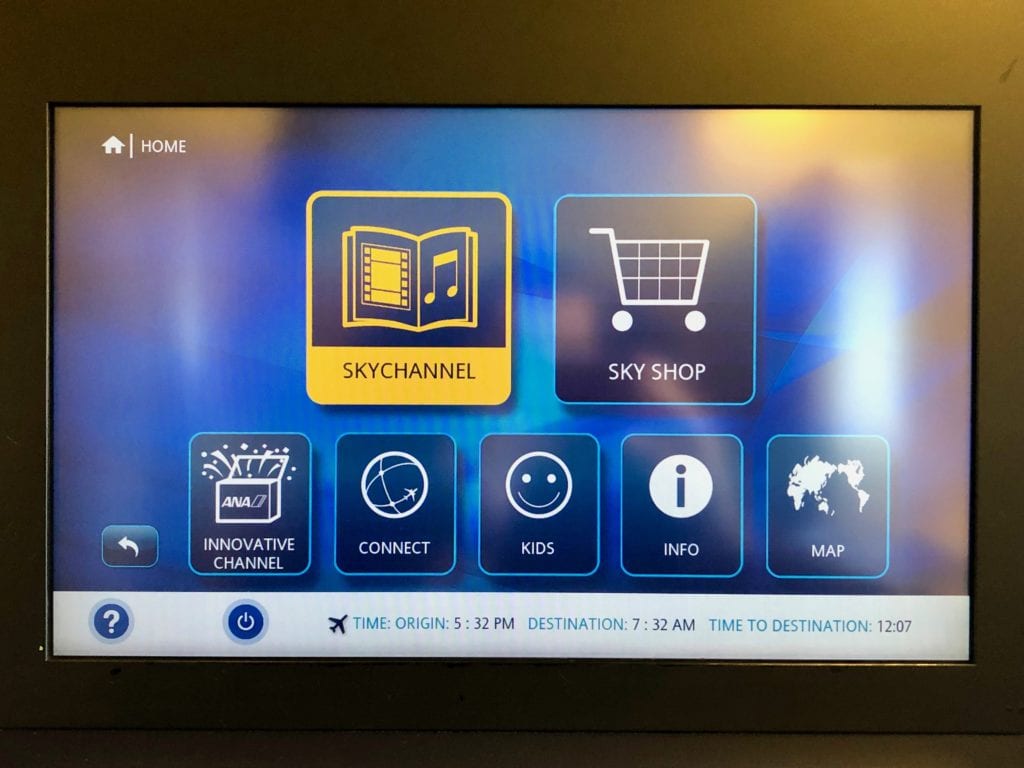 The WiFi service on board, meanwhile, was average at best. All first class passengers were given a card for a free 100MB of WiFi access. As you can see on the card they call this the "full flight plan." It lasted a little over two hours and the speeds were not great.
Since I was in the middle of something when my 100MB expired, I purchased another 100MB for $20. It worked for probably another 45 minutes or so and then I completely lost connectivity somewhere over the Pacific. I later found out from a Thrifty Traveler reader that the flight attendants will give you as many of the WiFi cards as you want. I should have asked before paying the $20, so don't make the same mistake I did.
Generally speaking, I don't ever expect much out of WiFi on international flights and this was about my expectation.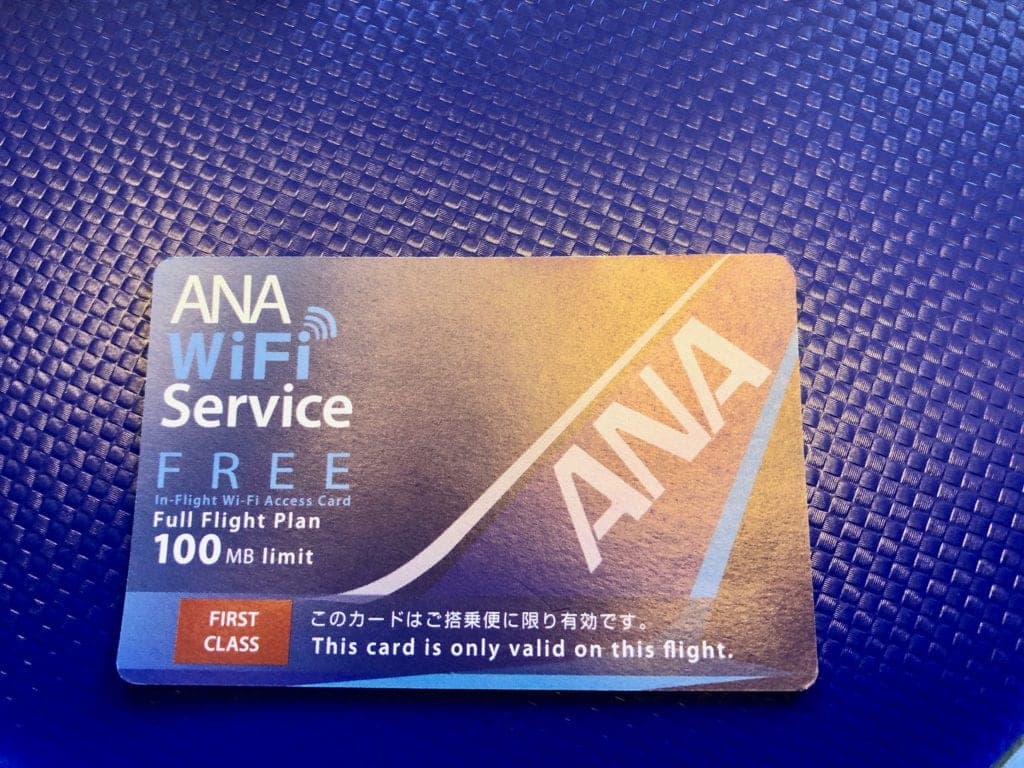 Bottom Line
I loved my first experience in ANA first class and can't recommend it enough if Japan is on your travel bucket list. The seats are incredibly comfortable, the service, food, and drinks are top-notch, and it is one of the most comfortable beds in the sky.
This is one of my favorite Virgin Atlantic points redemptions to date and I can't wait to eventually fly the product again. Well done ANA!