Editor's note: This review was originally published in May 2019, before the pandemic. We've republished it with updates as needed
From its ultra-spacious economy seats at the back to the lush first class up front, Japan Airlines has a reputation for excellence.
But what about its business class? I truly didn't know what to expect heading into the flight from Chicago-O'Hare (ORD) to Tokyo-Narita (NRT), or how it would stack up against other top-notch airlines.
Spoiler alert: I'd easily consider it one of the world's best business class experiences. And seeing as you can book a one-way flight with just 60,000 AAdvantage miles, it's an incredible way to make the long flight to Asia or back.

How to Book Japan Airlines Business Class
There are a handful of ways to book, thanks to its partnerships and spot in the Oneworld alliance. After this flight, I'm more convinced than ever that it's one of the best ways to use American AAdvantage miles.
No matter which of the many Japan Airlines' gateways you're flying from, it costs just 60,000 AAdvantage miles for the one-way flight to Tokyo-Narita (NRT) or Tokyo-Haneda (HND). 
Thrifty Tip: Not sure which Tokyo airport to fly into? If you've got a choice, head to Haneda vs Narita. It's much closer to town.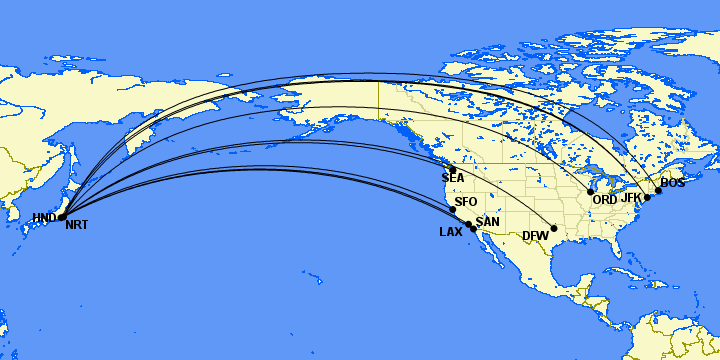 And one of the beauties of using AA miles to book Japan Airlines business or first class is that you can tack on a domestic positioning flight for free. That's perfect if you're not already stationed at one of airports where Japan Airlines flies. In all, I used 60,000 AAdvantage miles to fly from Minneapolis-St. Paul (MSP) to Chicago-O'Hare (ORD) – in American Airlines first class – and then hop on the flight to Tokyo-Narita (NRT). 
It's gotten much easier to book Japan Airlines business class in recent years, as American now allows you to search and book JAL flights online at aa.com. For years, you'd have to search for award availability through another airline site like British Airways, then call American Airlines to book.

And we're constantly finding great award availability to book JAL business class and sending it to our Thrifty Traveler Premium+ members. That means finding the space to fly to Tokyo in these seats isn't such a chore.
One great alternative to using American Airlines miles is Alaska Airlines, which also partners directly with JAL. This same transpacific flight would cost 50,000 Alaska Mileage Plan miles. 

Our Japan Airlines Business Class Experience
Lounge Access
Departing from Chicago-O'Hare (ORD), business and first class passengers on Japan Airlines get into American Airline's Flagship Lounge. And while it's not the best lounge in the world, it's an incredible lounge by U.S. standards.
For starters, it's massive, with a ton of different areas and a wide array of seating choices, from dinner tables to recliners to a dedicated quiet sleeping room down a long hallway. So while many airport lounges feel crowded, that's rarely the case at the ORD Flagship Lounge, in my experience.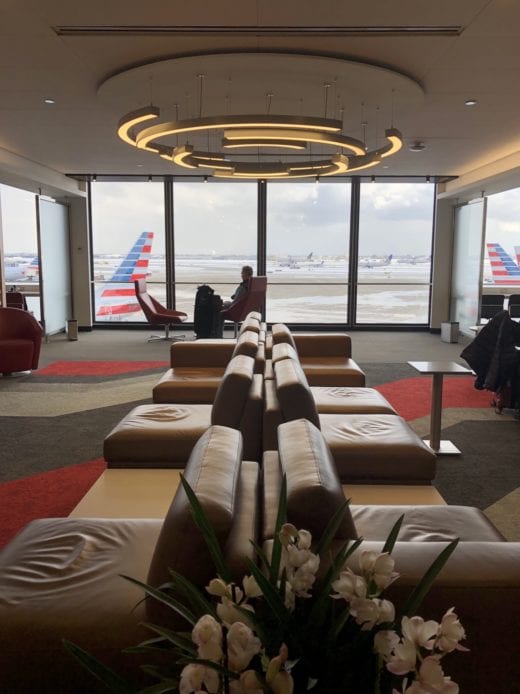 This is the same lounge you'll get into when flying business class with Iberia, British Airways, and a handful of other Oneworld airlines. Unfortunately, a late flight out of MSP meant I only had a few minutes here this time. But during other visits, I've found the food, drinks, and service all to be great. There's even a champagne bar!

Be sure to read our review of Iberia business class to get a fuller picture of the lounge.
Japan Airlines Business Class Cabin & Seats
Business and first class passengers board Japan Airlines toward the front of the plane. And the first thing you'll notice about JAL business class is … just how different it looks.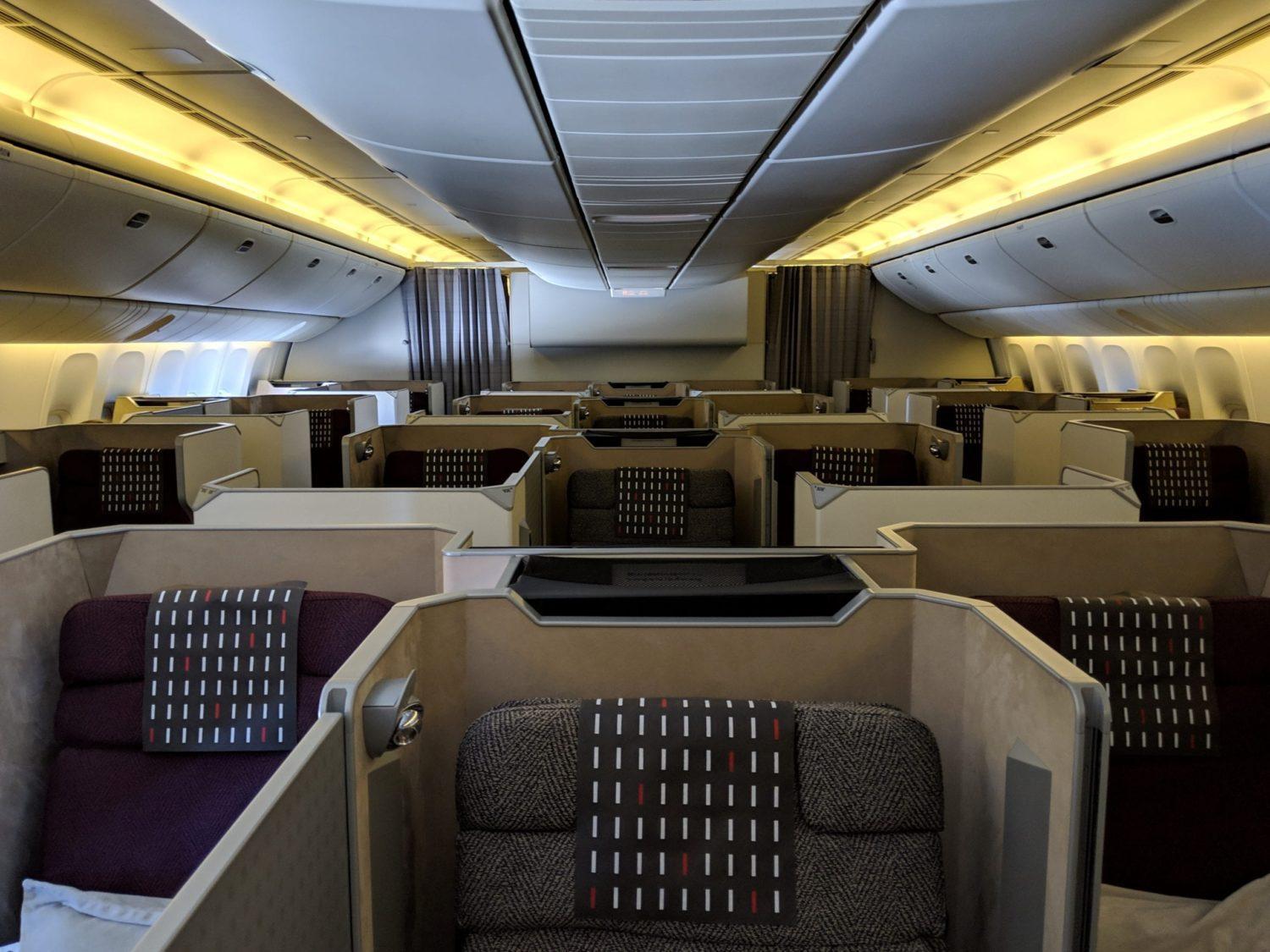 These aren't the fan-favorite angled business class seats you find on airlines like American Airlines, EVA Air, or Hong Kong Airlines. They're not the staggered arrangement you find on Iberia or Emirates. They aren't even Delta One Suites.
Japan Airlines business class calls them SkySuites. And they're one of just a handful of airlines that use this kind of seat.
On paper, it might seem crowded. While most business class cabins are arranged in a 1-2-1 setup, these suites are in a 2-3-2 configuration. And yet this seemingly jam-packed setup arguably works even better. Every single traveler still has direct access to the aisle, not to mention plenty of legroom.
There are two seats along each wing, with one pushed a little farther forward than the other. But no need to step over your neighbor – you get to the seat nearest the window out of a narrow walkway, while the other seats are open to the aisle.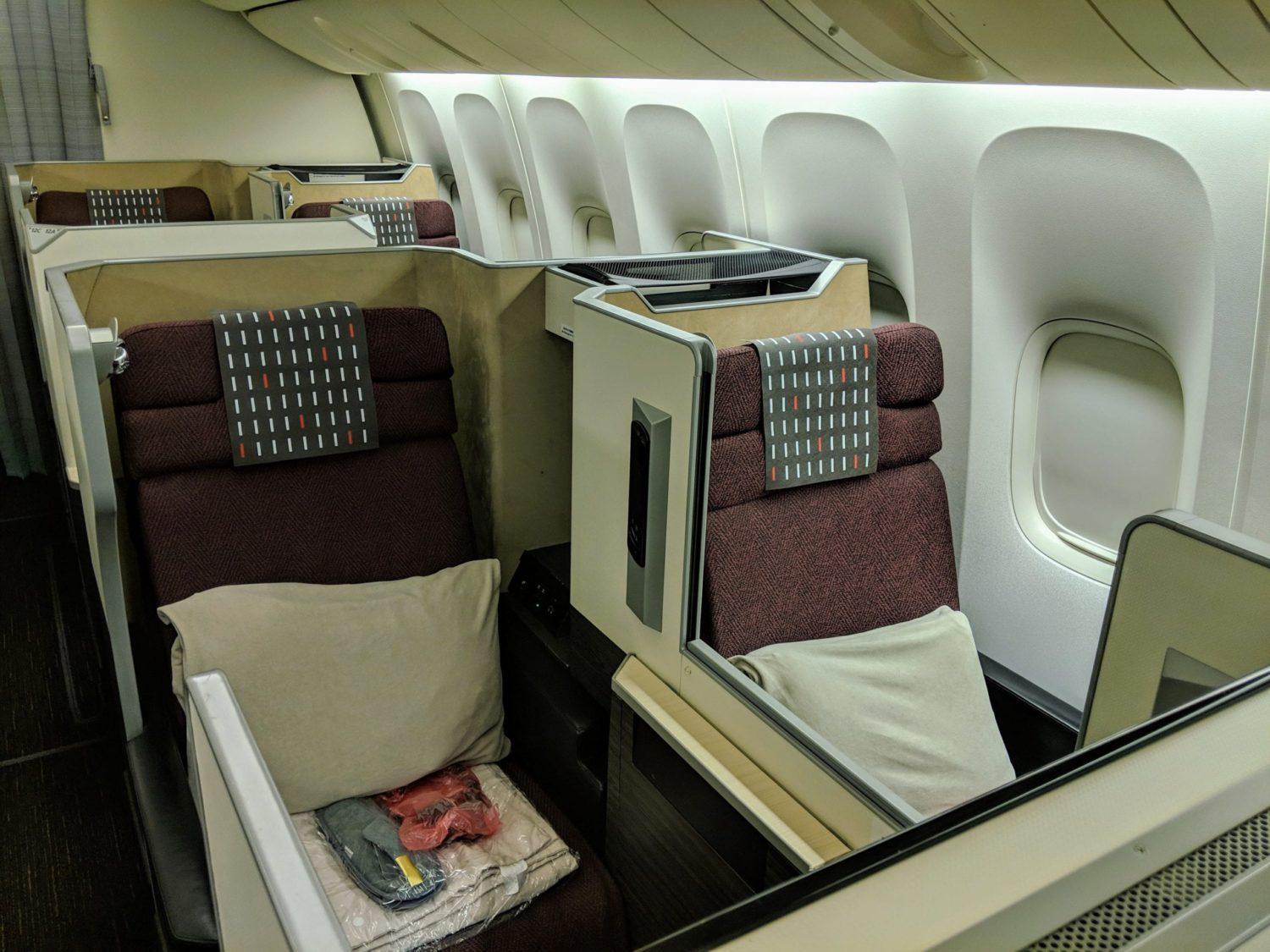 Then the center section, meanwhile, has three seats. Two open up directly into each aisle, while you can get into the center seat from the walkway on either side.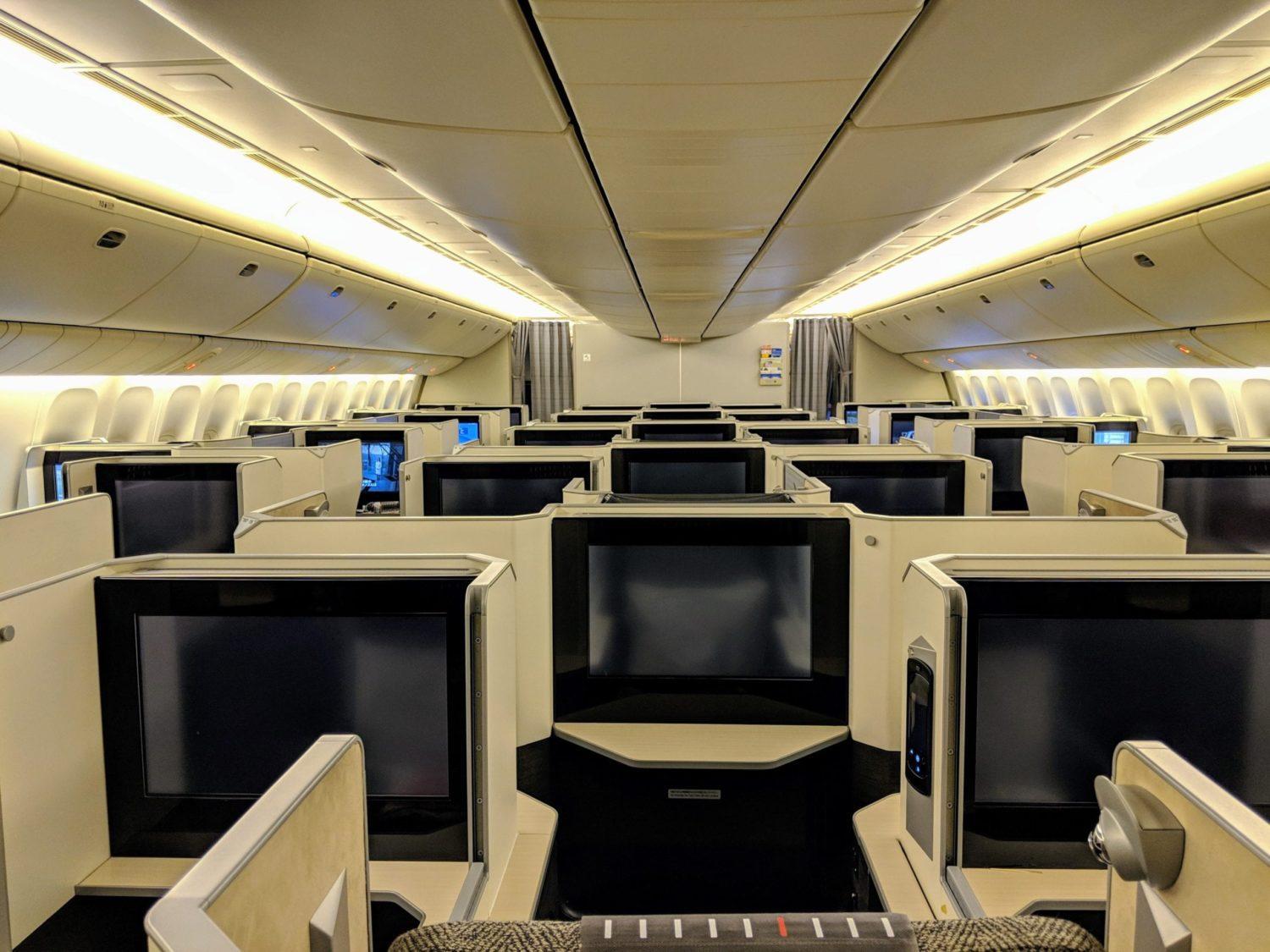 Though certainly narrow, it's pretty easy to slide through the walkways to get in and out of your seat.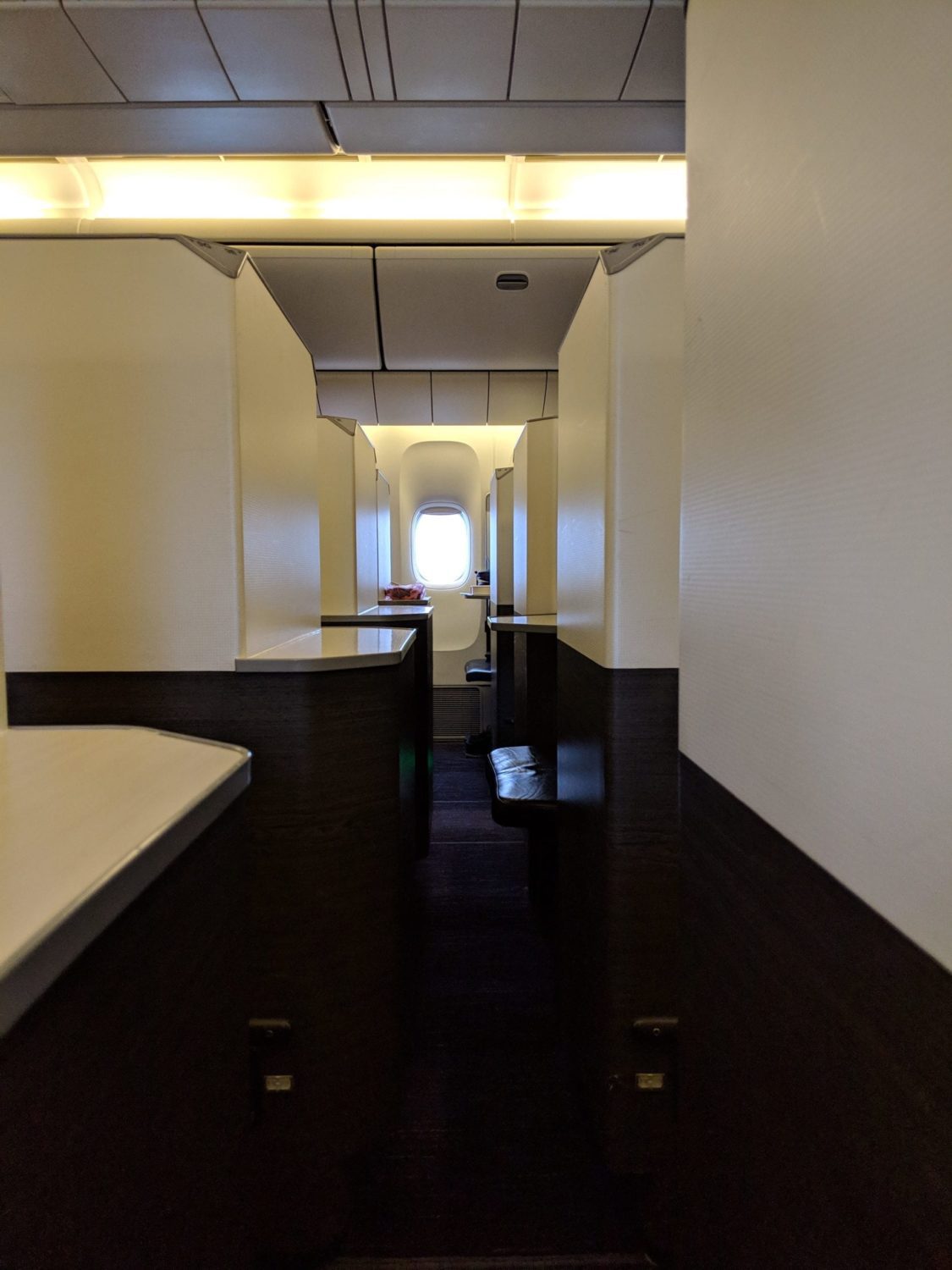 If you're lucky, you might be able to snag a seat in the vaunted mini-cabin: A single row directly behind first class and in front of the galley with just seven seats total. This cabin is incredibly private, though the seats are typically reserved for elite flyers until just one to three days before departure. 
But there was no need for that extra privacy on this flight. Less than half the 49 business class seats on my flight were taken. Score!
Decor throughout the cabin is simple but elegant – very Japanese. I really like the alternating seat colors of gray and maroon. Add in some beiges and a bit of dark woodgrain, and it really works.
There were just two bathrooms at the front of the cabin available for business class passengers  – but seeing as the flight was far from full, that wasn't an issue. The bathrooms themselves were pretty straightforward – and always absolutely spotless.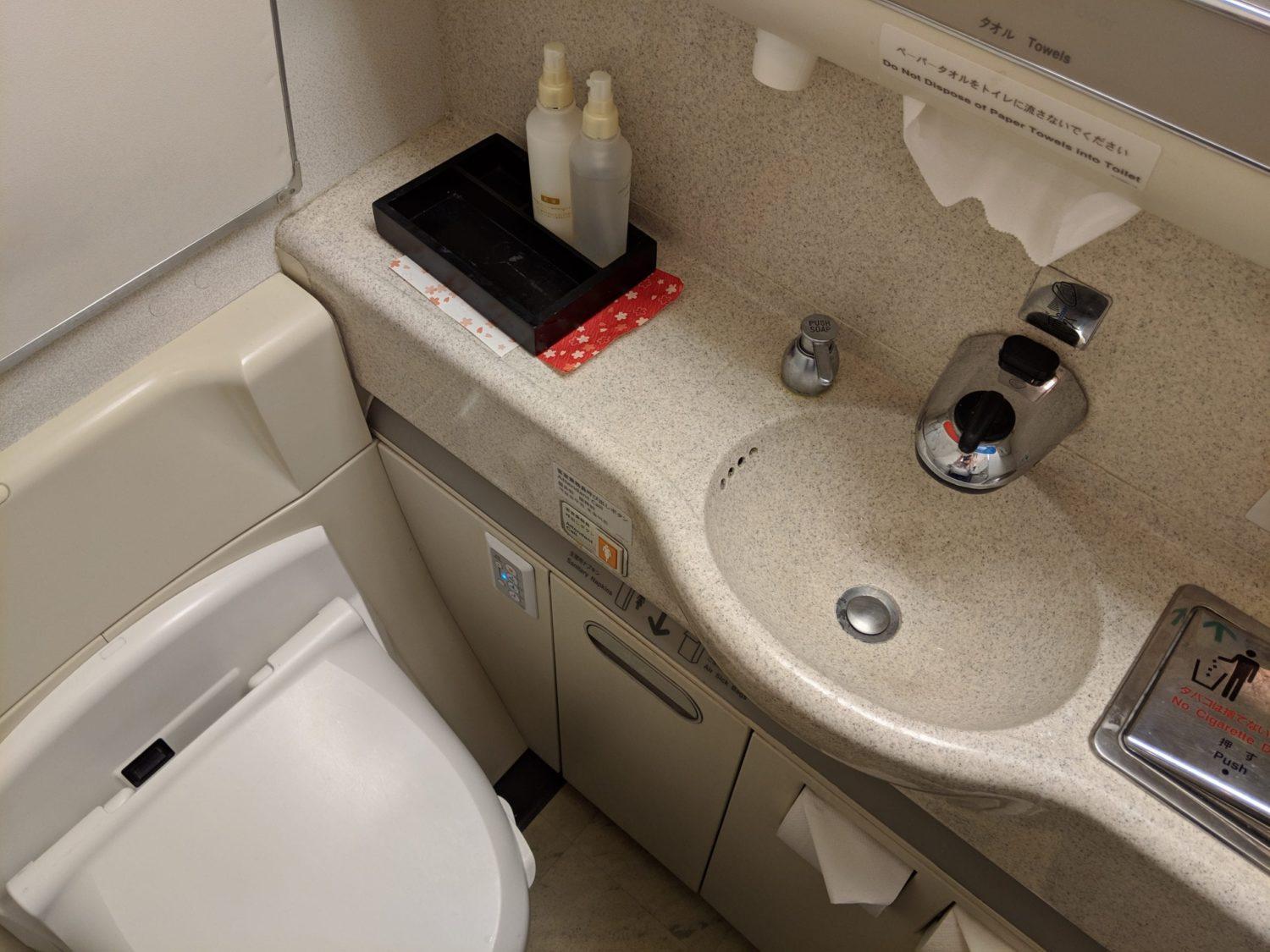 I say pretty straightforward because there were two quintessentially Japanese touches. First, the bathrooms were stocked with moisturizers from the Japanese luxury skincare brand Shiseido. This is pricey stuff.

And the finishing touch: The toilets have a bidet function! Because of course they do.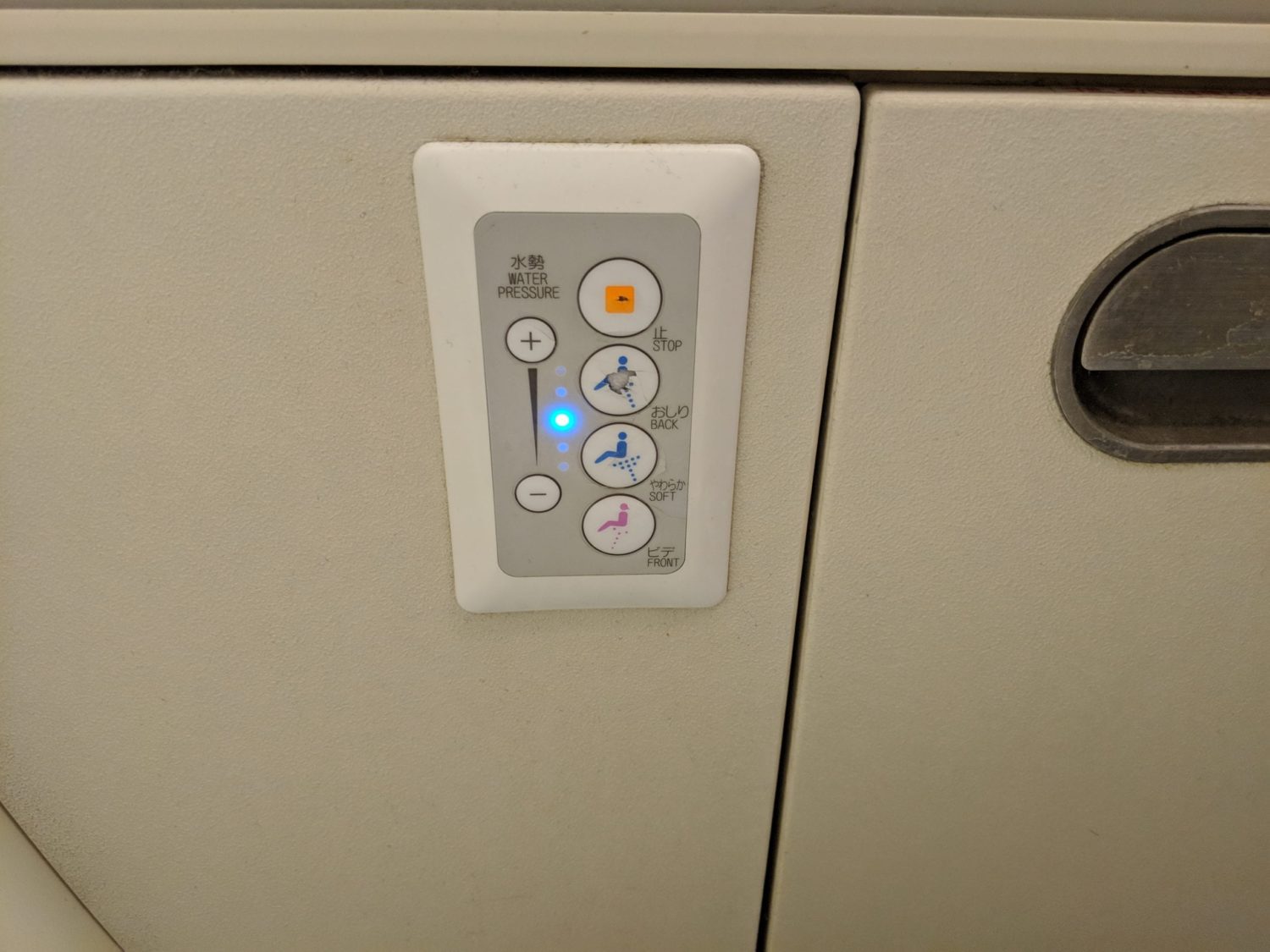 I was seated in 9K, three rows back in a seat closest to the window. And as I made my way to my seat, I wondered: With seven seats in each row, aren't these seats pretty small?
The answer is a resounding no.

Every seat is more than 25 inches wide. And thanks to the layout of the cabin, they're insanely private. Short of a closing door like the Delta One Suite, it's hard to think of a more private setup than this one. If you don't know your neighbor, you can use the controls to electronically raise and lower the partition between seats. These have to remain down during takeoff and landing, however.
What's more, these seats have an absolutely insane amount of legroom. I'm 5 feet 10 inches, and my legs could barely reach the ottoman. And this ottoman setup is perfect, as there's no constraining footwell that can be difficult to put your feet in as you find with some airlines.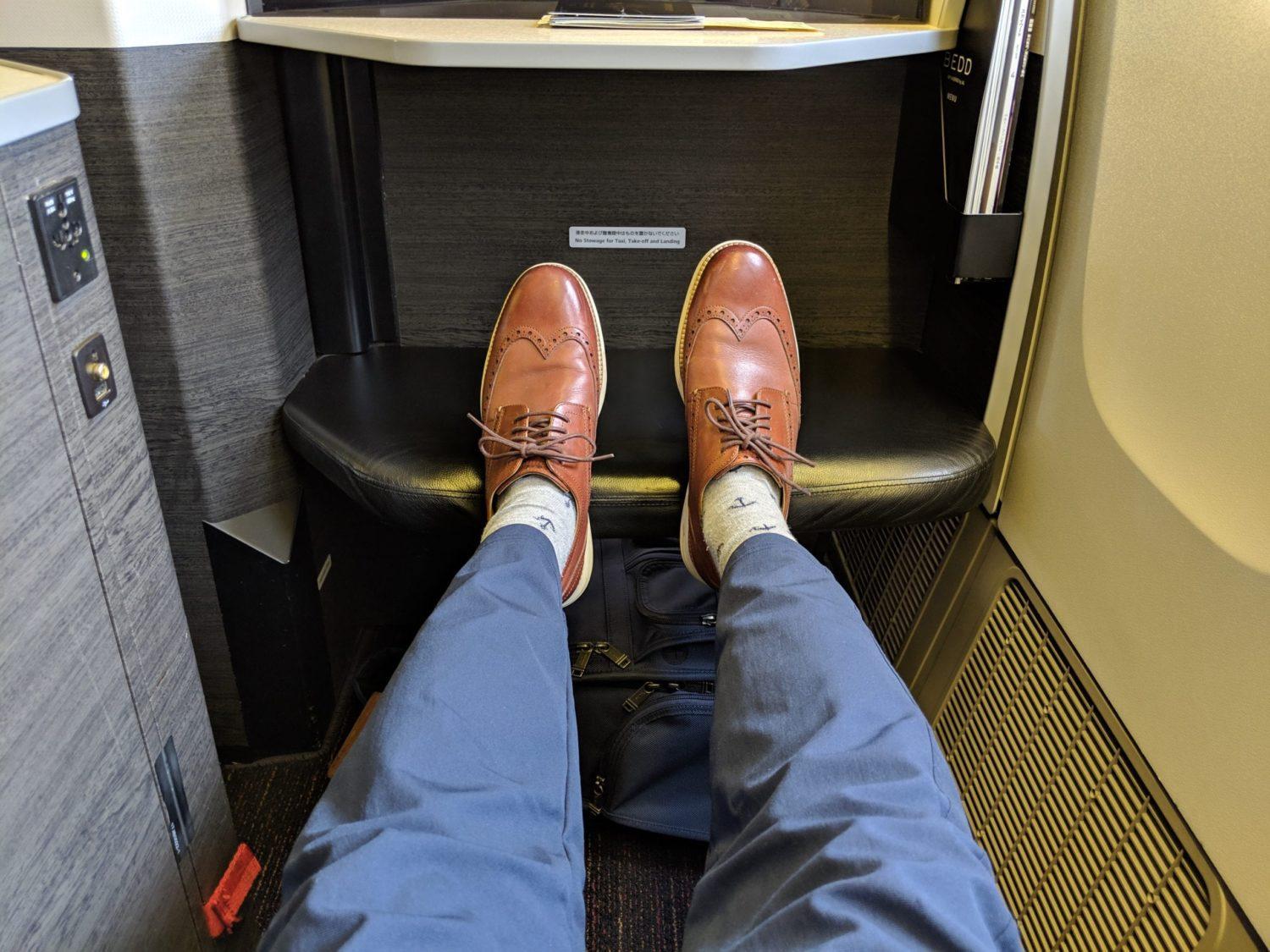 On the flipside, some seats are certainly better than others. Seats positioned closer to the aisle don't have nearly as much privacy – they open right into the aisle, after all. One of Japan Airlines' many lovely flight attendants offered to take my photo in one of these seats as she saw me snapping photos. I couldn't refuse.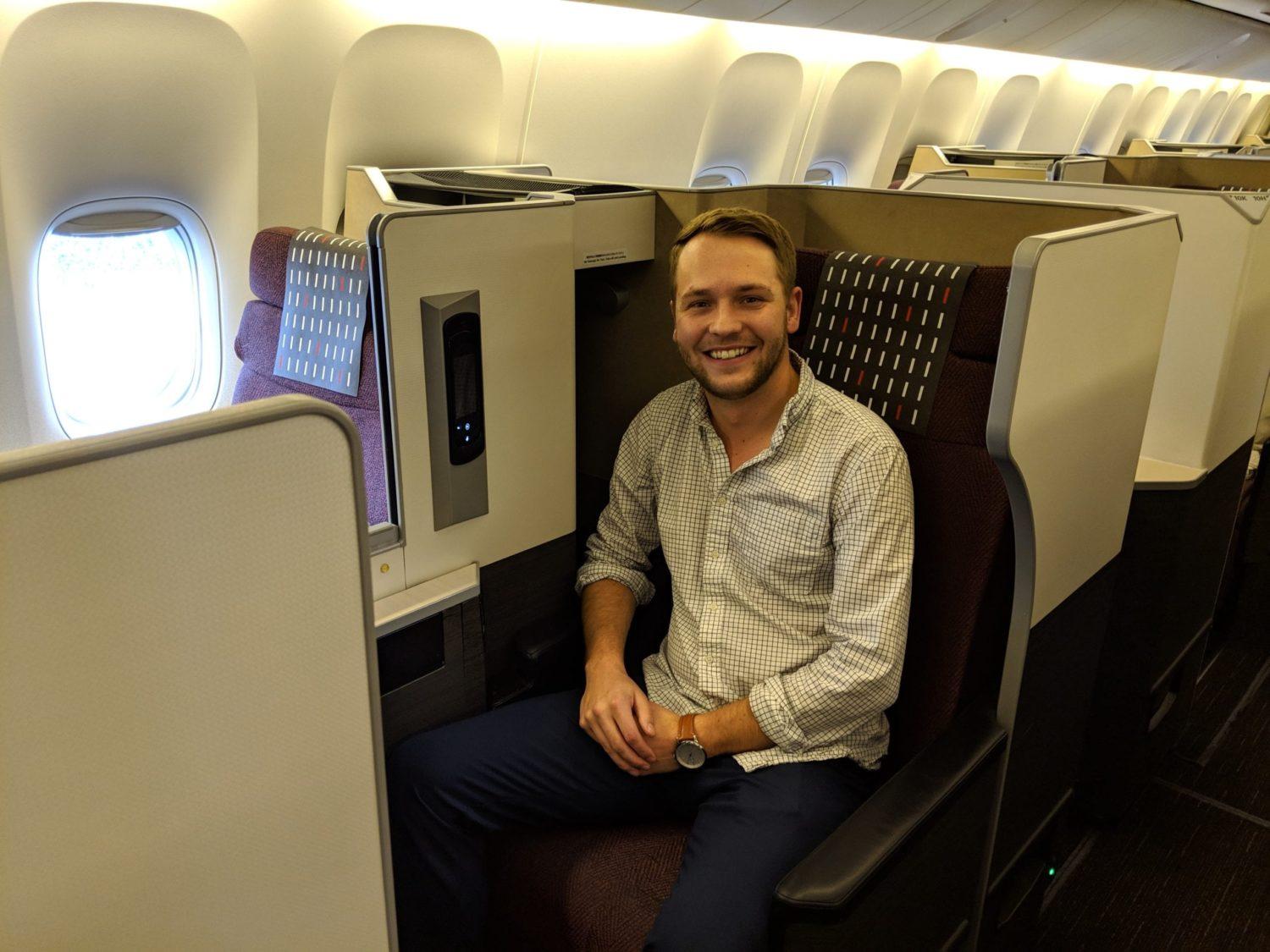 If you're traveling with a companion, these pairs of seats along the windows are your best bet. And while they aren't the best for carrying on a conversation, they're far from the worst. In fact, I'd say it's easier to lean forward to chat with your friend or spouse in one of these SkySuites than with the typical reverse herringbone business class seats.

Of course, you can raise that partition if you don't know your neighbor. Luckily, the seat next to mine was empty, so I left it down for the majority of the flight for some extra room to stretch out. While the seat itself is quite wide, the walls of the SkySuite aren't much bigger in these window-well seats. And I can see how that might feel a bit narrow to some travelers.
The biggest issue with these seats closest to the window, though, is storage. There just isn't much room to put your things. On the bright side, there is plenty of space underneath the ottoman for a personal item or even a smaller carry-on bag. 

But other than a narrow ledge along the side of the seat and a small pocket next to the ottoman stuffed full of literature, that's it. There are no storage cubbies or drawers in these seats closest to the window. 

Seats closer to the aisle in JA business class get a small cubby, which definitely helps. You'll just have to decide which you value more when picking your seat: storage space or privacy.

Along the wall of the suite, there's a straightforward set of controls to adjust the headrest, lumbar support, and to recline all the way back into bed mode. This is also where you'll be able to raise and lower the partition. While there were nicks and scratches throughout the seat, I thought it looked great overall. I really like that dark woodgrain.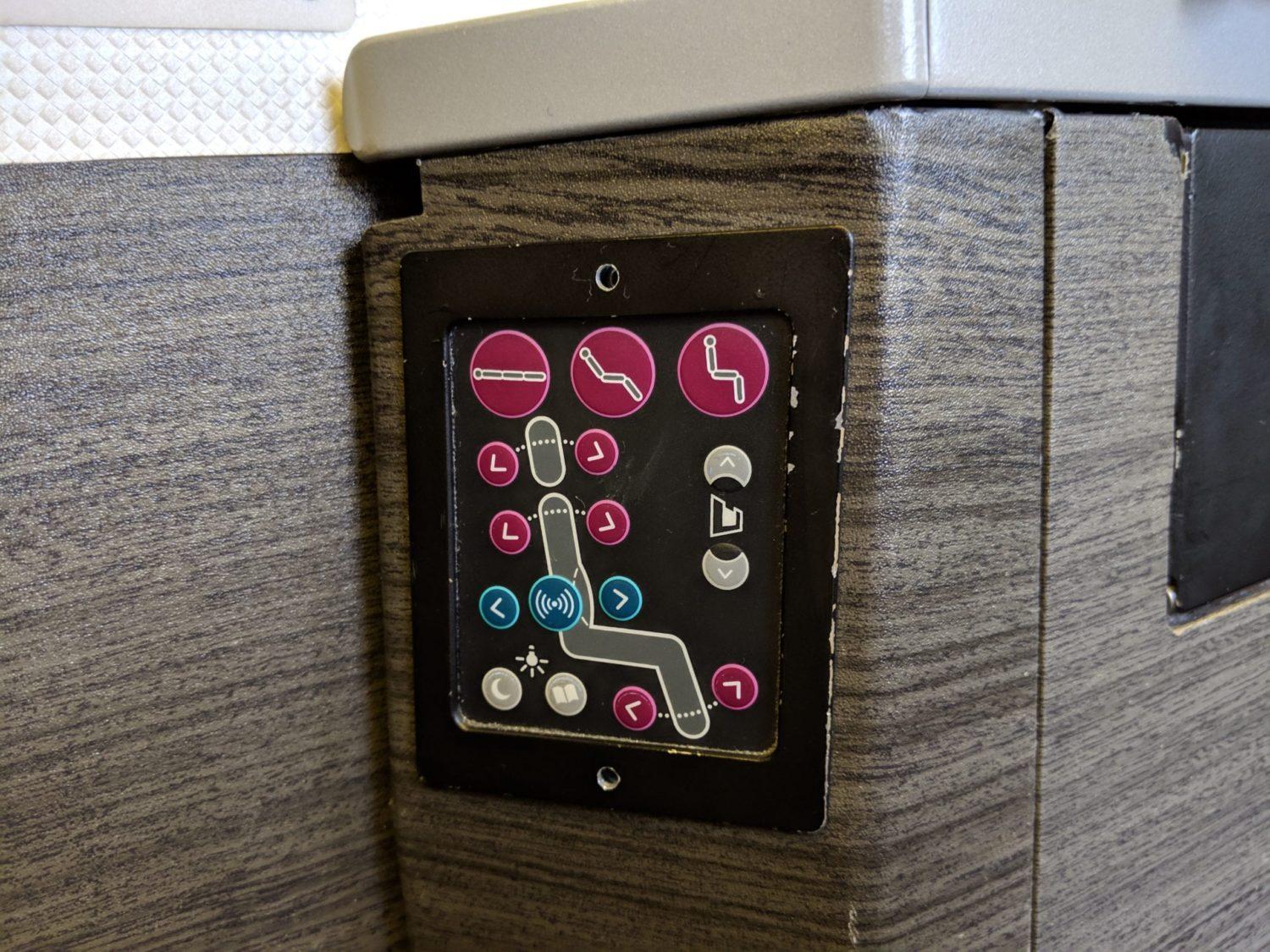 Further along this wall toward the front of the seat, you'll find a universal power socket and a USB plug, along with an S-Video input. You know, in case you want to play Nintendo 64 at 33,000 feet.

Closer to your head, you'll find an individual reading light and a headphone jack.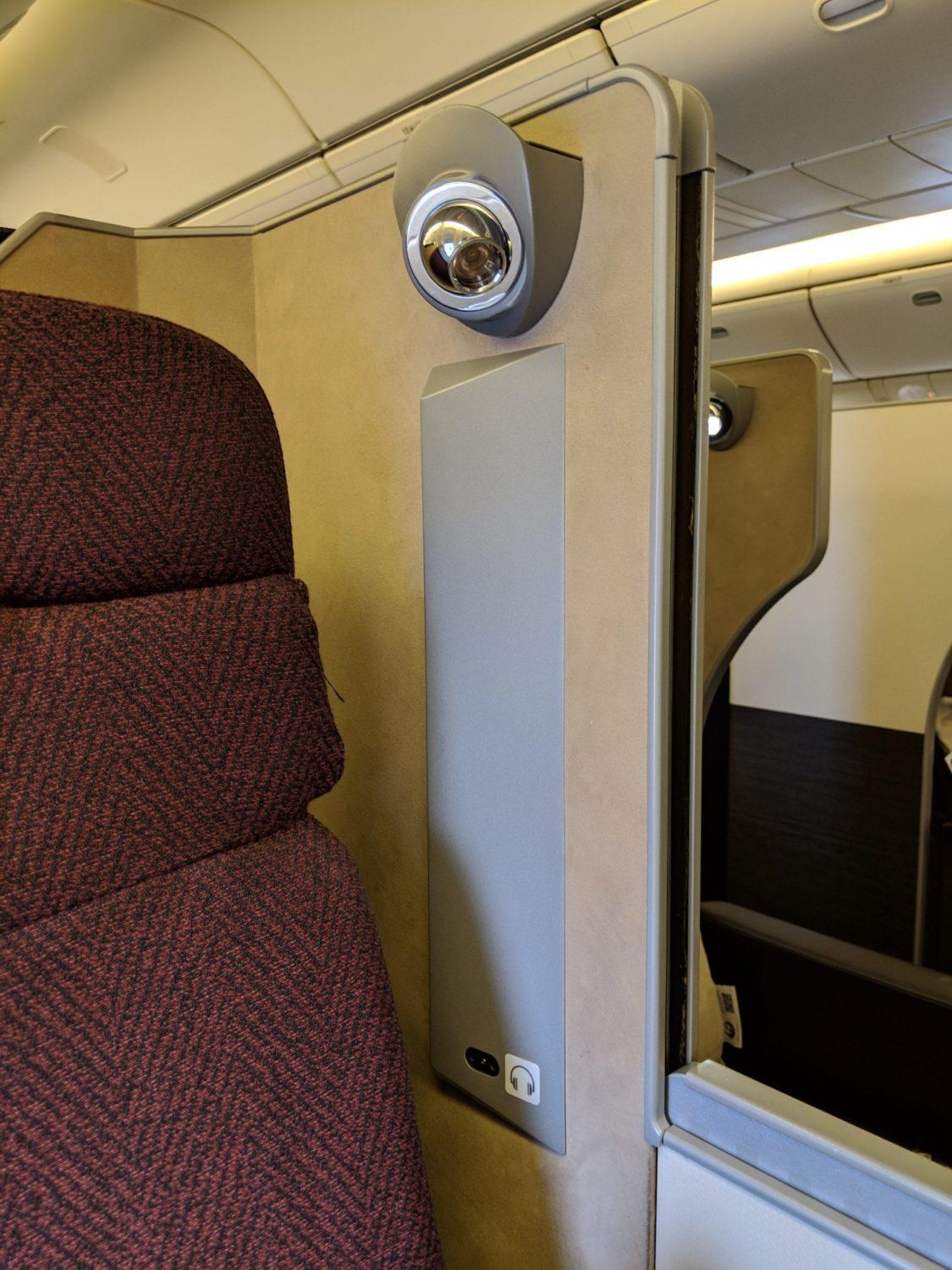 If you're dim like me, you might need some help finding out how to get out the tray table. Remember that ledge along the side of the suite? Just lift up and a tray will pop up. The tray is sizeable, and slides forward and backward. But the best part is that it also rotates at least 90 degrees, so you can move it to the side and slide out during meals or while working.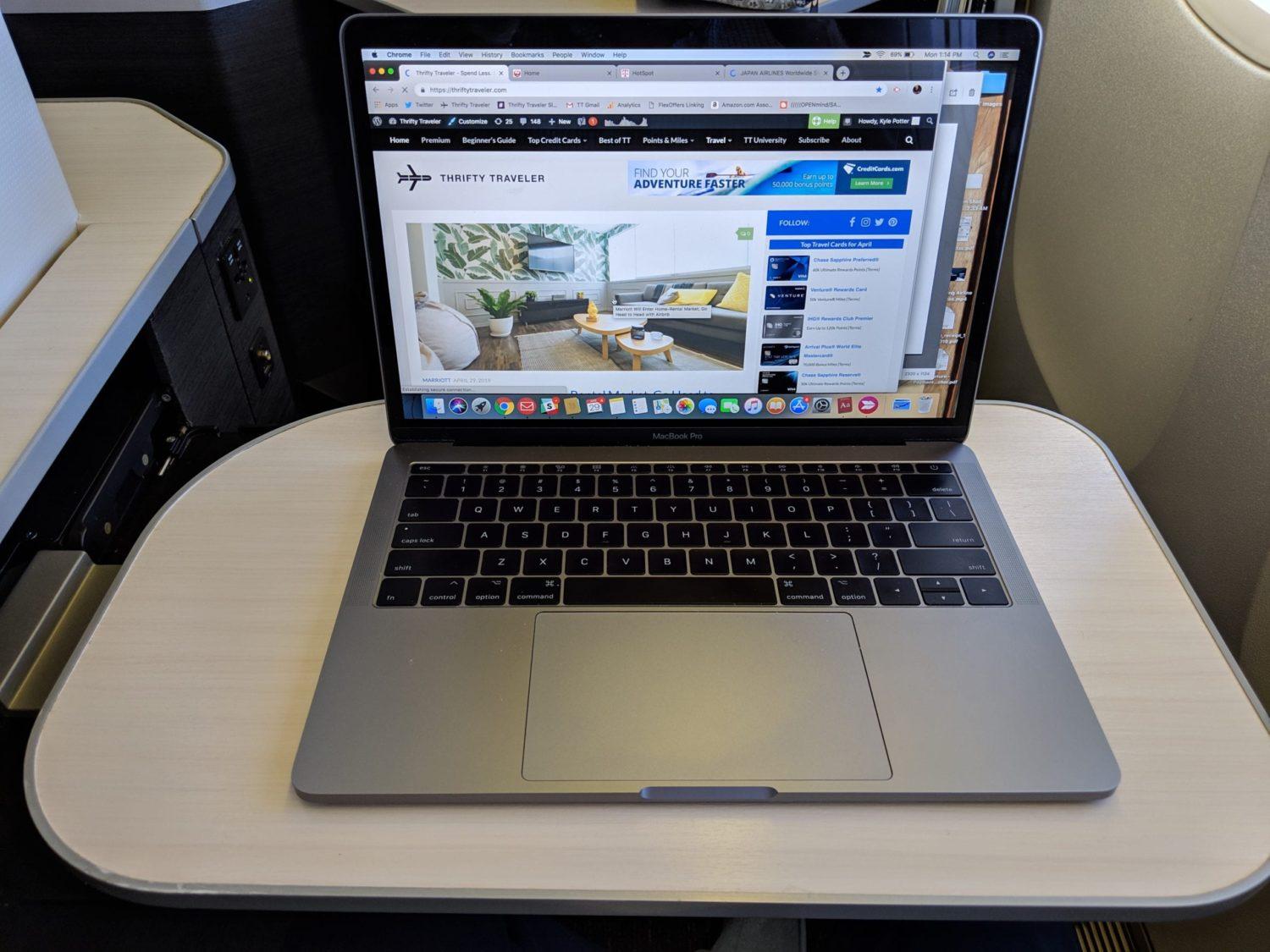 When it's bedtime, you're in for a treat. Japan Airlines business class is one of the few airlines where passengers get mattress pads – with a choice between harder and softer. That's an amenity you typically won't find until you get up to first class, if at all.

And while the seat itself is quite soft, the extra padding helped turn my SkySuite into a comfortable bed. With seemingly infinite legroom, it's great. Add in a duvet and a pillow (more on those later), and you're ready for a great sleep.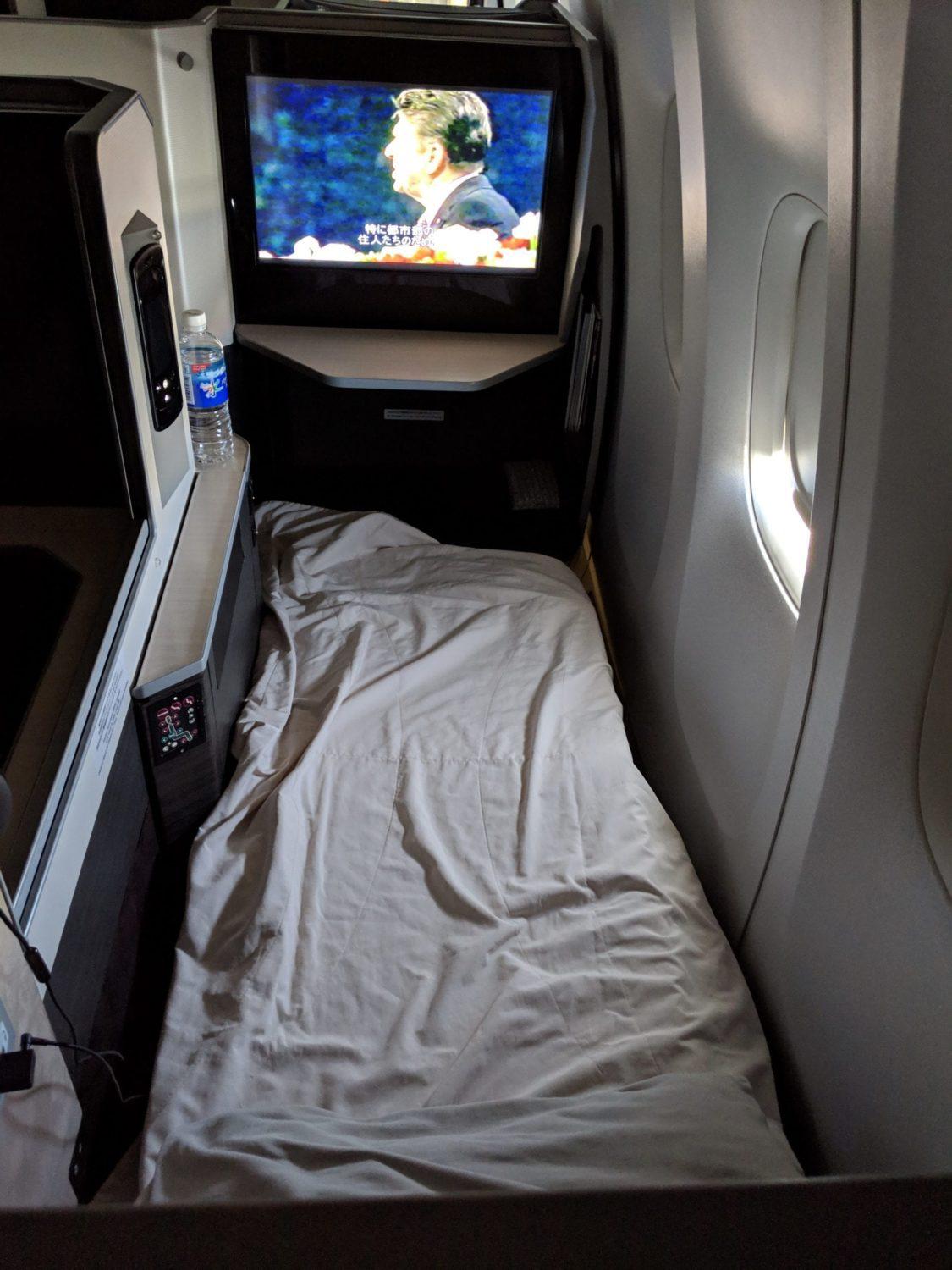 Amenities
There was a big stack of amenities waiting at each seat as I walked into the cabin.

Let's start with the bedding. The duvet was on the thin side, but that was perfect for Japan Airlines, which is notorious for keeping its cabins warm. My flight was no exception.

The pillow, meanwhile, was disappointingly thin – almost flimsy. Luckily, I was able to snag an extra from my non-existent neighbor. But if there's one area with Japan Airlines' amenities that could use an upgrade, it's the pillow.

Soon after boarding, a flight attendant offered a pajama sweater – though not a full pajama set, an amenity reserved for first class. But again, with the pretty warm cabin temperature, I passed.
Every passenger also got a set of JAL-branded noise-canceling headphones. These are just fine and an improvement over most headphones or other earbuds. But they weren't particularly powerful nor comfortable (more on-ear than over-ear) so I'd bring along your own headphones if you have a favorite pair.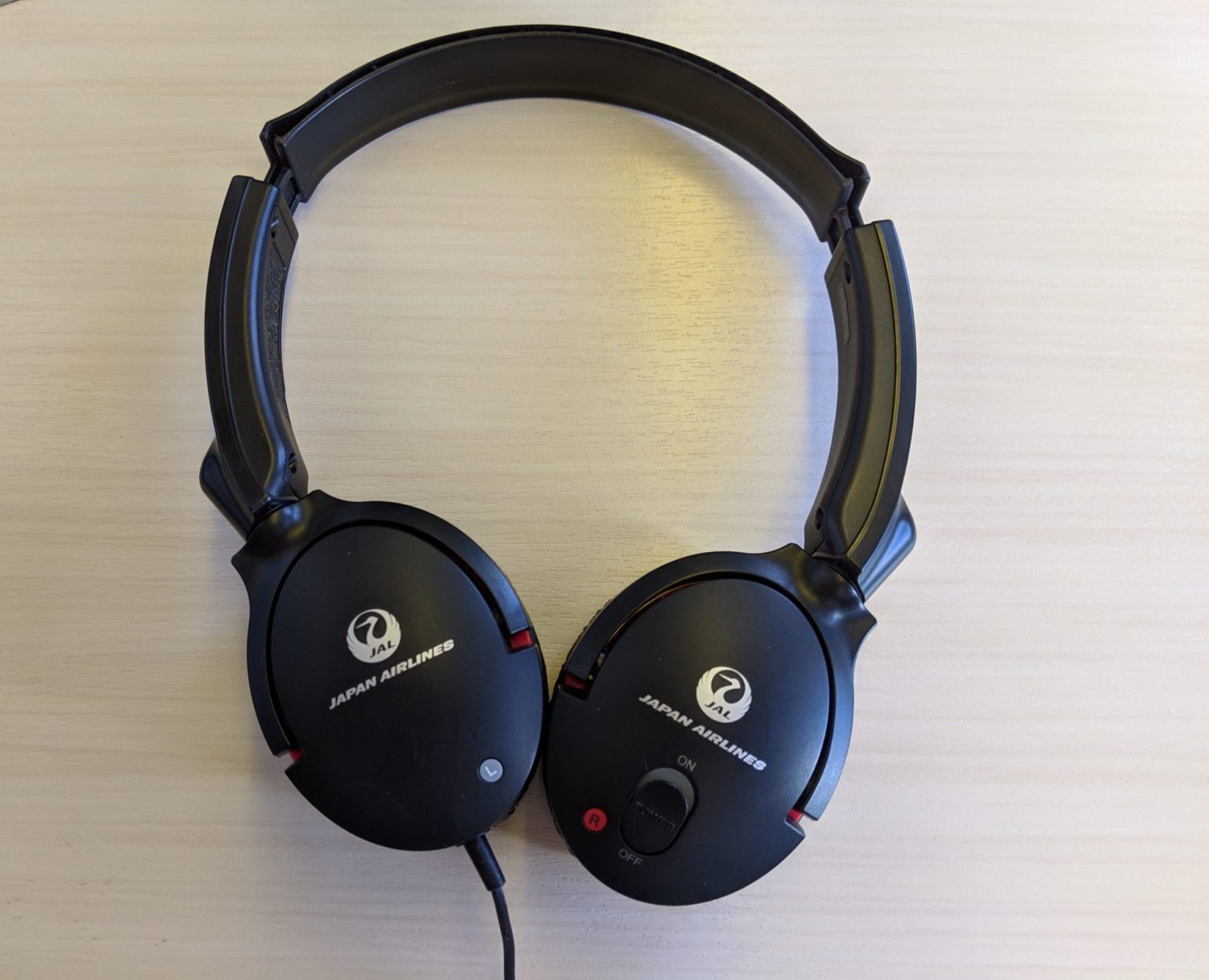 There was also a plush and comfortable set of slippers at each seat.

And finally, the amenity kit. It came in a small, branded pouch. Very smart looking, I'd say.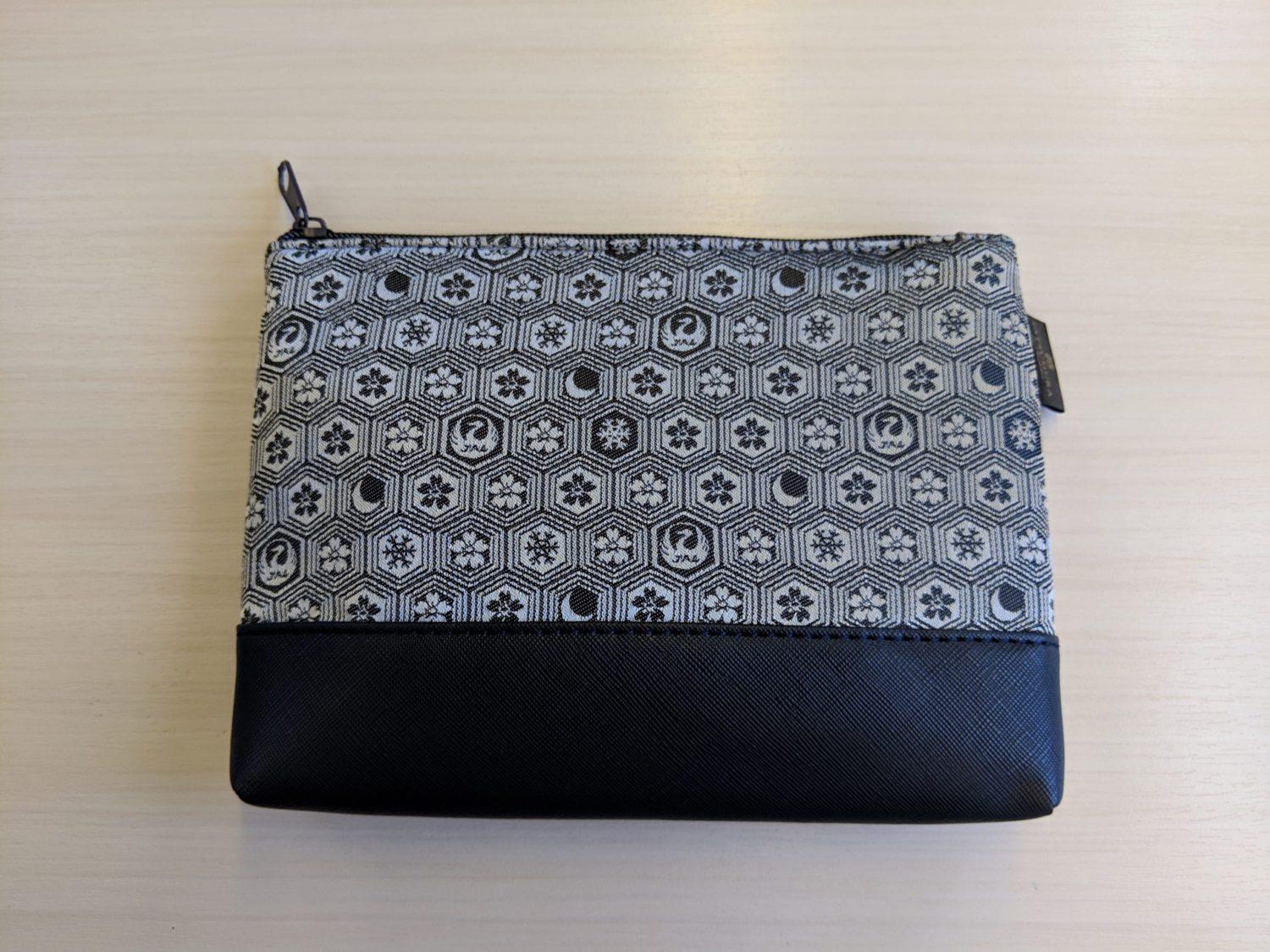 And the contents were great, too. There were two different kinds of facial masks, a package of tissues, earplugs, a dental kit, and something called a "medicated stick." Though it lacked any lotion, the Shiseido amenities in the bathroom more than made up for that omission.

Service and Dining on Japan Airlines Business Class
How do you sum up perfection?
I'm serious. Between the near flawless service throughout the flight and an absolutely outstanding meal after takeoff, it's hard to put into words just how good this was. I dedicated a whole post to just the meal, which was one of the best meals I've ever had – on the ground or in the air.
Almost any airline can buy a nice seat and slap it inside a plane. But it's the catering and the service that sets apart the very best airlines from the merely good ones in first and business class. And Japan Airlines was nearly flawless.
By the time I sat down, at least three flight attendants welcomed me onboard, and quickly offered a glass of champagne or orange juice. All of them were proactive, offering refills or another bite to eat throughout the course of the meal. They were lightning fast, too – plates were cleared within just a minute or two of finishing each course. A flight attendant literally appeared at my side within 10 seconds of the two times I hit the call button (don't worry – while it's frowned upon in the U.S., Asian airlines encourage this.
But most importantly, every single flight attendant was bright, warm, and engaging. There was a sincerity and eagerness to the service that easily surpassed even Singapore, the world's #1 ranked airline renowned for its service. The flight attendant working my aisle, Inaba, truly stood out. She was quick to offer more, give a suggestion on wine pairings, or offer up her favorite dish.
And then there was the food. Oh, the food. Though I've already written a post about it, it's worth repeating.
The first meal service kicked off about 30 minutes after takeoff with a two-dish amuse bouche: bocconcini cheese (think mozzarella) over a tomato mousse with a dash of pesto, along with a shrimp and marinated zucchini concoction sprinkled with bread crumbs and laid over an anchovy cream. They were perfect three-bite snacks to start the meal, served on a beautiful small cast iron tray.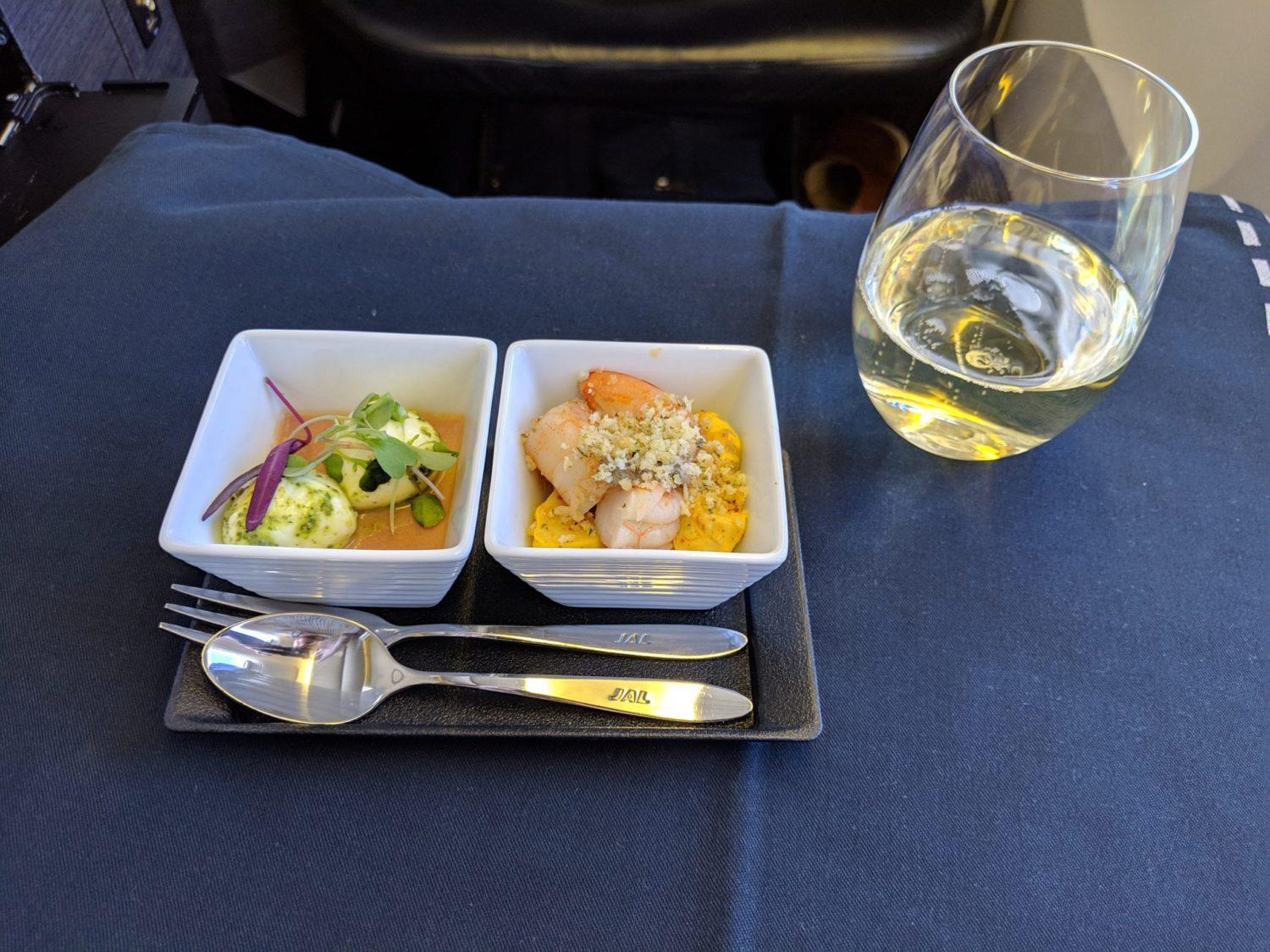 After that, it was time to choose between the Japanese set meal and a handful of different Western entrees.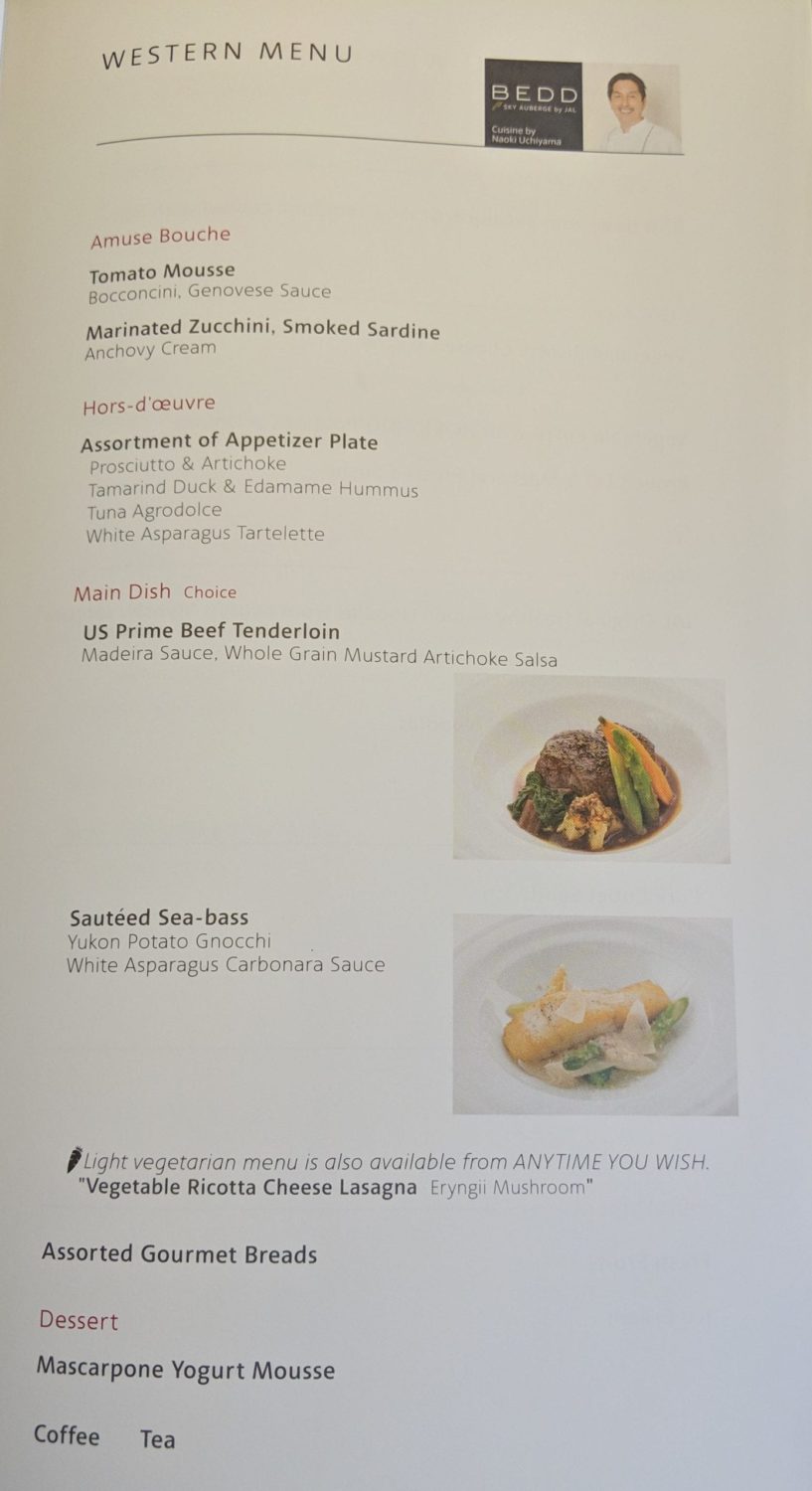 Sorry, but if you pick anything other than the Japanese meal, you're doing it wrong. Look at this.

This first course of cold selections – called irodori gozen – was an absolute home run. This box set was bursting with flavor, dish by dish. From the Chinese cabbage rolls stuffed with chicken in the top left to the bamboo shoots and eel in the bottom left and the octopus steeped in a vinegar sauce on the bottom right, every single bite was incredible. It's a testament of a truly incredible meal when you can't stop – even when you're not exactly sure what it is you're eating.
Inaba was kind enough to offer the perfect sake to pair with this dish. And her recommendation was spot on – it was a delicious combination.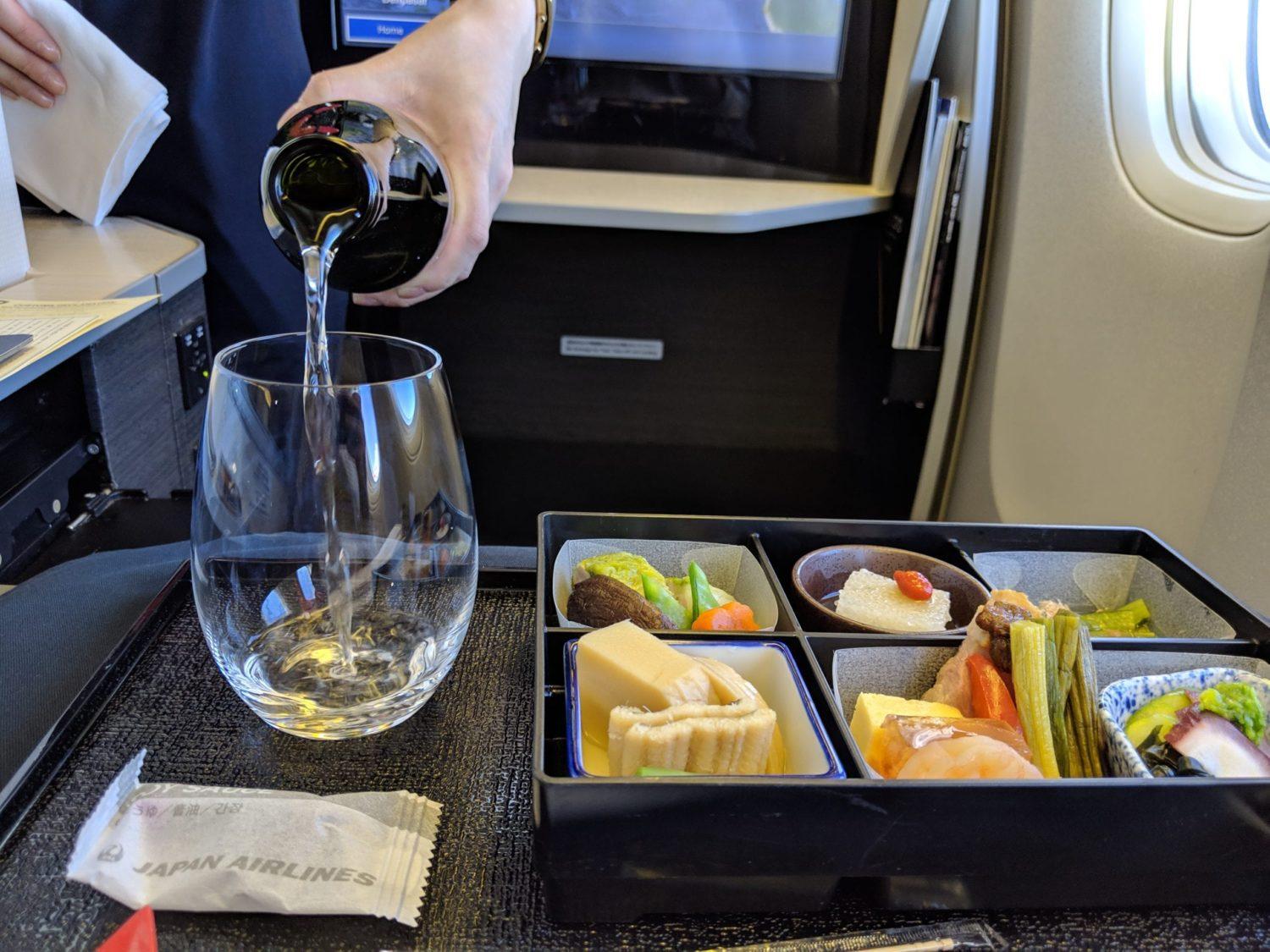 And after such an amazing first course, I wondered how the hot second course – called dainomono – could possibly stack up.

And wow, did it ever. I'm glad the cabin was only half full and that the engines on the Boeing 777 are so loud. Otherwise, a neighbor surely would have heard me blurt out an expletive as I took my first bites.
The beef was tender and flavorful. The rice and vegetables were all perfectly cooked – and that's no easy feat at 36,000 feet. The halibut steamed in sake was somehow both steeped in flavor yet flaky. And the crisp pickled vegetables on the side were a perfect way to break up the rich main course.
Finally, there was dessert: a mascarpone yogurt mousse with cherries and a sprig of mint. It was simple but delicious, sweet but not too sweet. It was a perfect way to end the meal.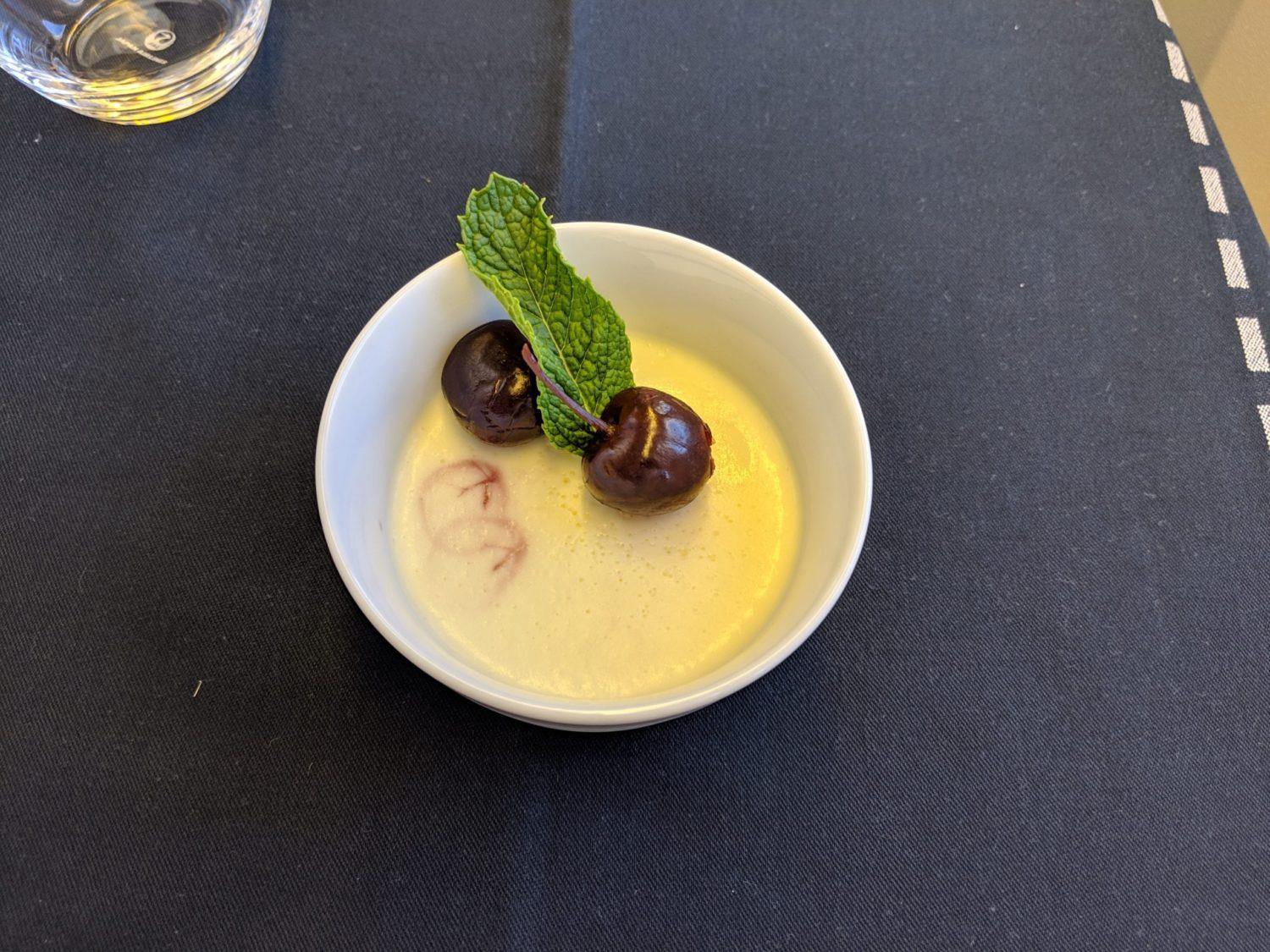 I mean it when I say this was one of the best meals I've ever eaten. At least a dozen times throughout the meal, I shook my head in disbelief or let out an audible "wow." How could a meal at 36,000 feet be this good? It put a similar Japanese set meal I had onboard Singapore Airlines last year to shame.
After the meal wrapped up, I worked for a while and before deciding to have a drink, watch a movie, and get some rest. Japan Airlines saves its best champagne and liquor for first class passengers, but there's still a pretty great selection in business class – including two different sakes.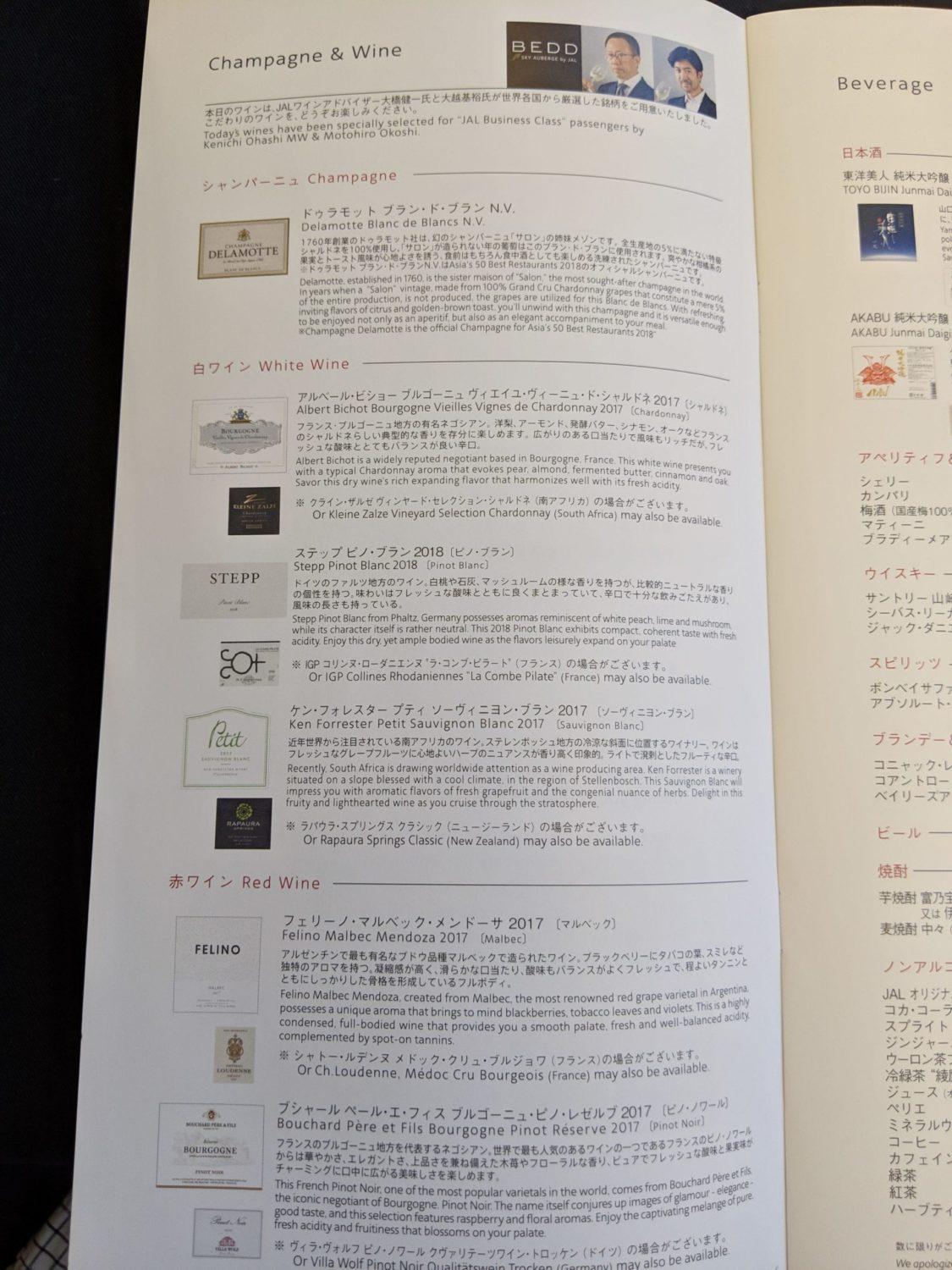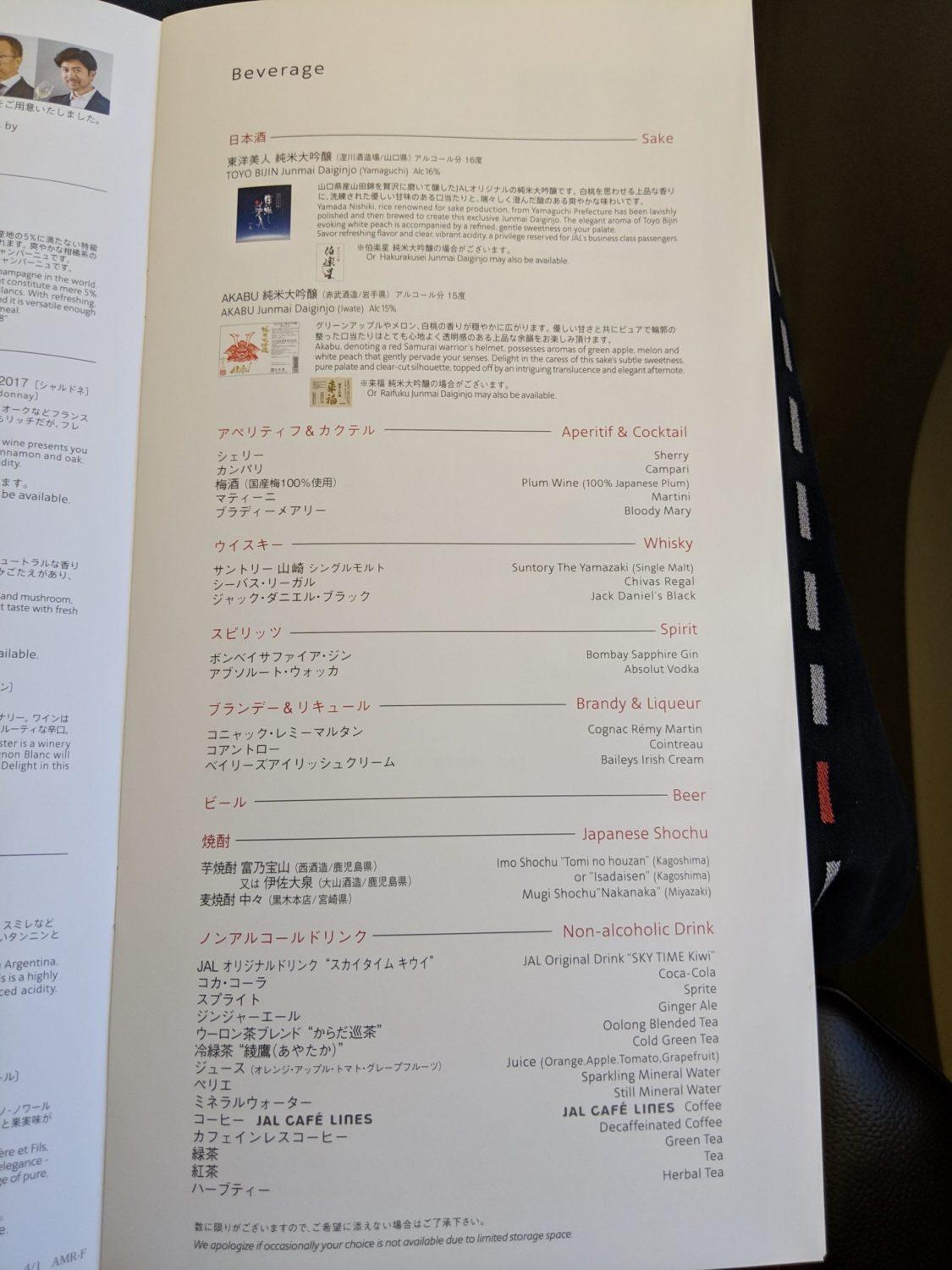 I ordered a glass of The Yamazaki, a single-malt Japanese whisky, which a flight attendant quickly brought out along with a small chocolate.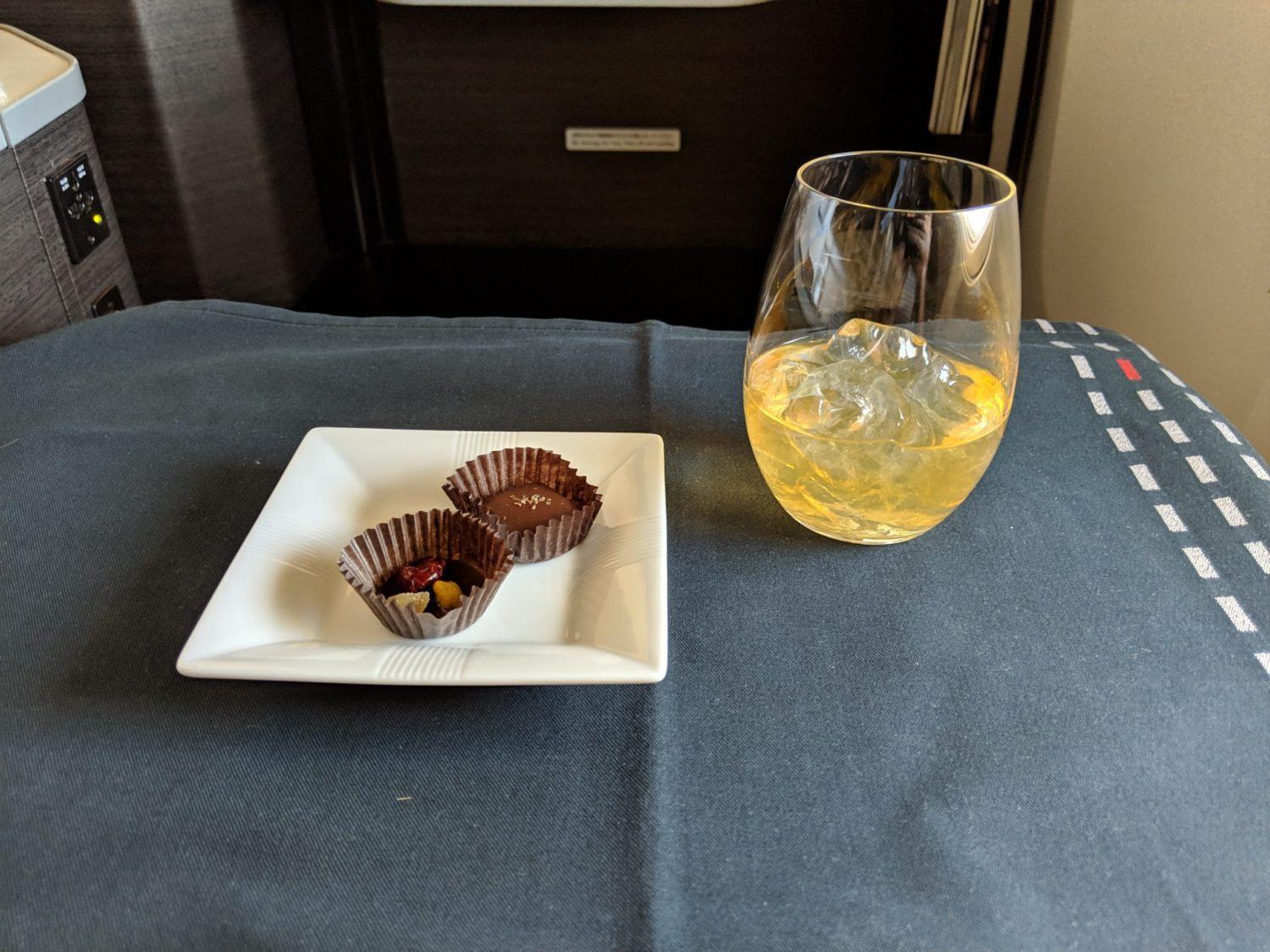 After a nap, it was time to eat again. When on Japan Airlines …
Japan Airlines handles its meal services a bit differently than most airlines. While most airlines schedule a second meal 90 minutes or so before landing, Japan Airlines is more freewheeling. You can order anything from an a la carte menu at any time throughout the rest of the flight. And the menu is pretty expansive.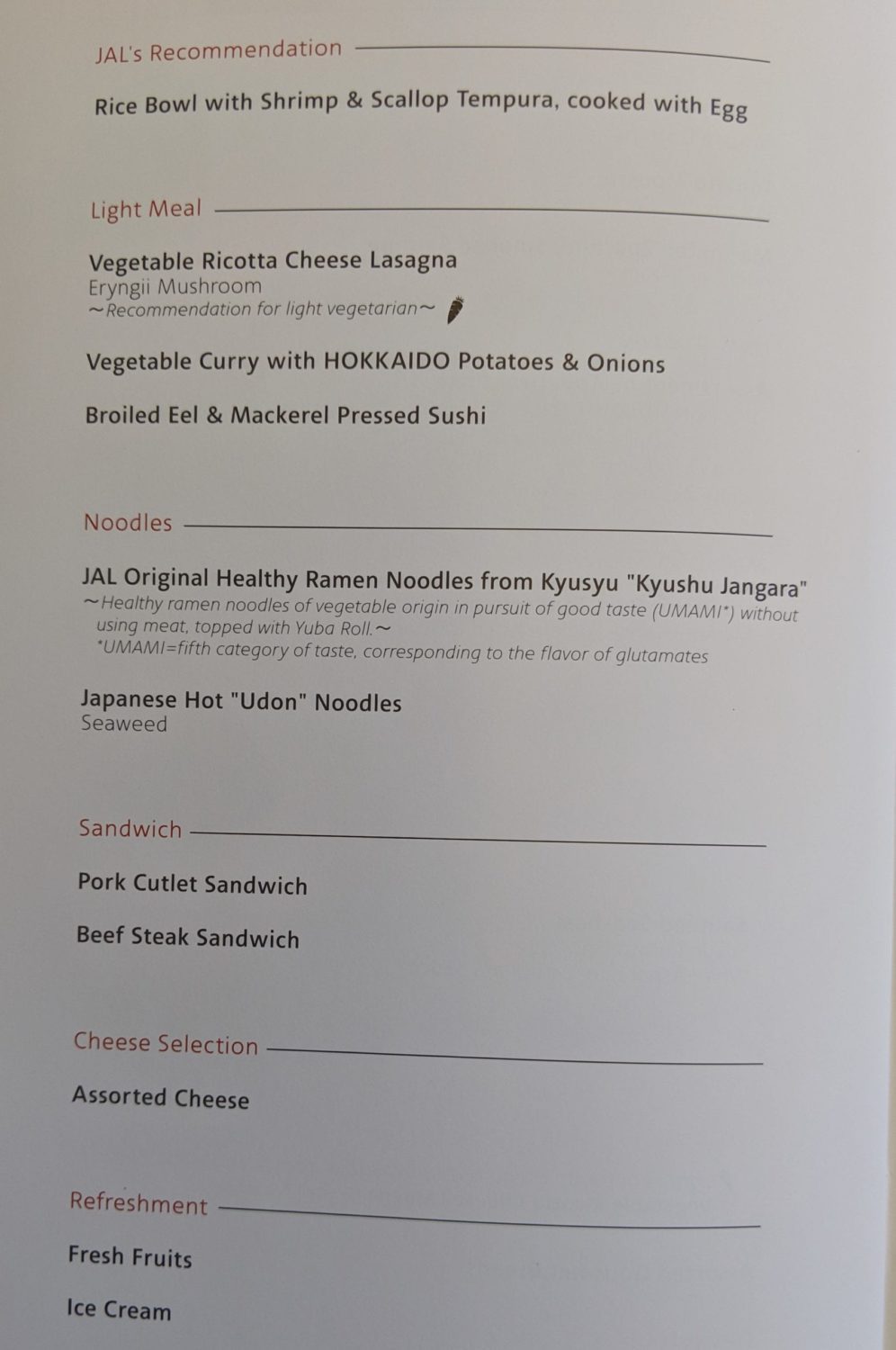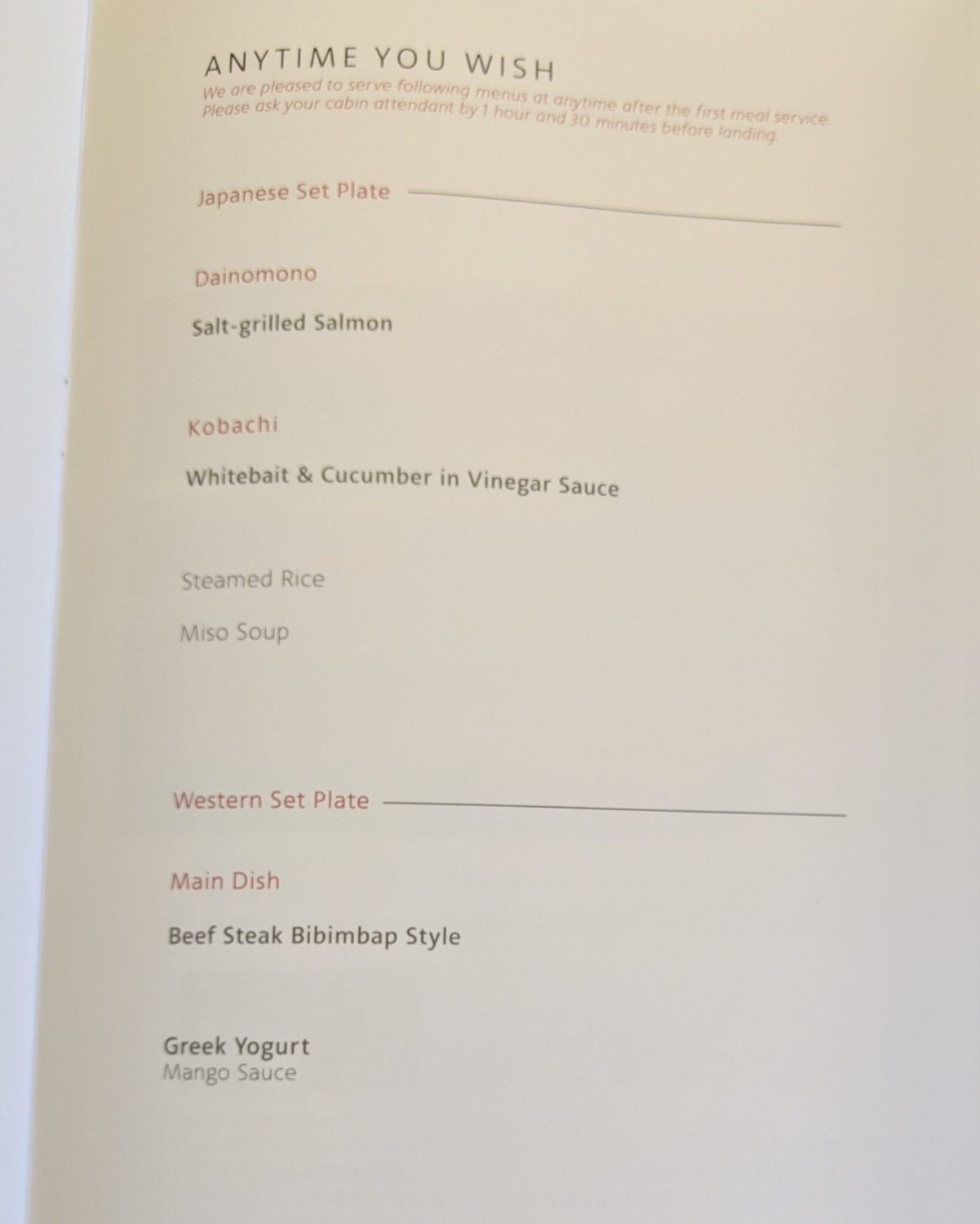 I ordered a bowl of ramen noodles, which were brought out about five minutes later.

And it was delicious. The noodles were cooked almost perfectly, and the broth was salty, rich, and deep. I got a glass of JAL's special "Sky Time Kiwi Drink," which was also delicious.
Just over an hour before landing, I figured I could eat more (for the review, duh) and ordered the Udon noodles. Again, about five minutes later they were delivered. And once again, it was a great dish.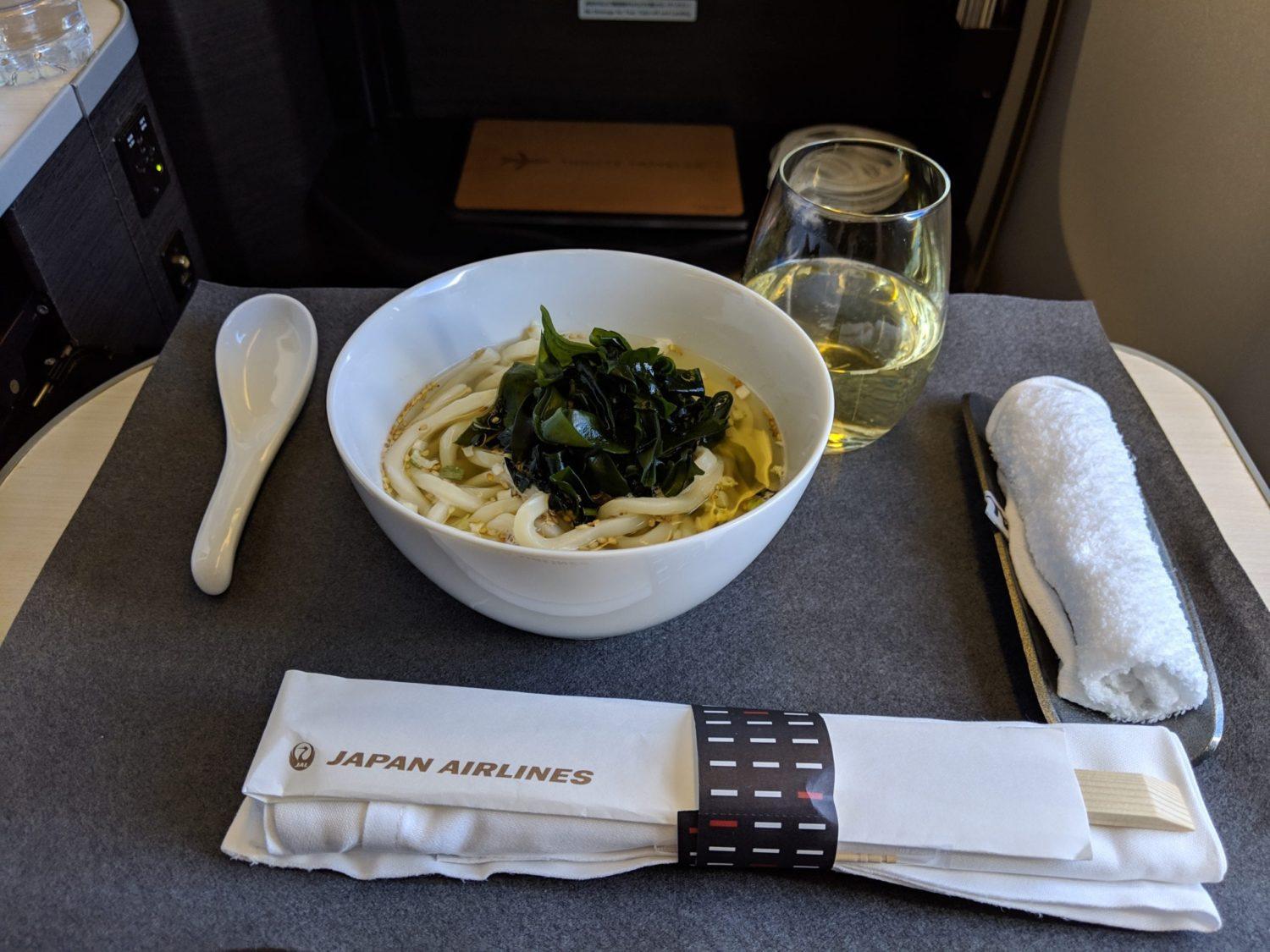 It's hard to write about the meals and service Japan Airlines serves in business class without sounding hyperbolic, but I mean every word. It was easily the best food I've had on any airline, with some of the best service to boot.
Entertainment
You won't find a bigger TV screen in business class.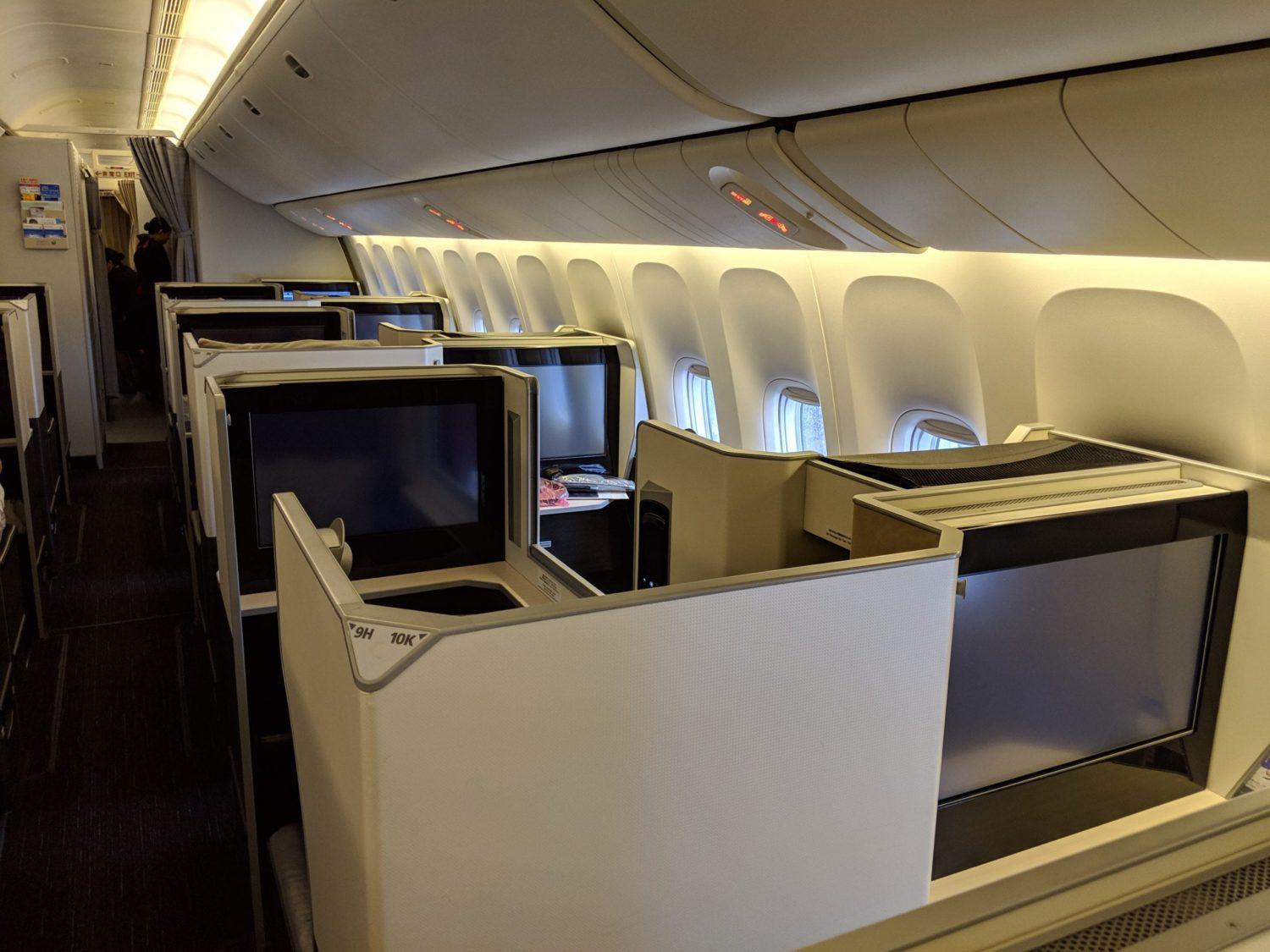 Every JAL business class suite is equipped with a 23-inch screen. And that's critical because the screens are so far away from the seats themselves – so much legroom – that it needs to be bigger than your typical setup. The screens are also fairly crisp, but they're definitely not brand new, high-definition monitors, either.
The movie and TV selection onboard JAL is pretty good, though far from the best. There was a mix of new releases like Vice along with some Hollywood classics, and a smattering of U.S. TV episodes as well.
The screen is touchscreen, but it's so far away that it's impractical. The good news is that there's a wired touchscreen remote at every seat.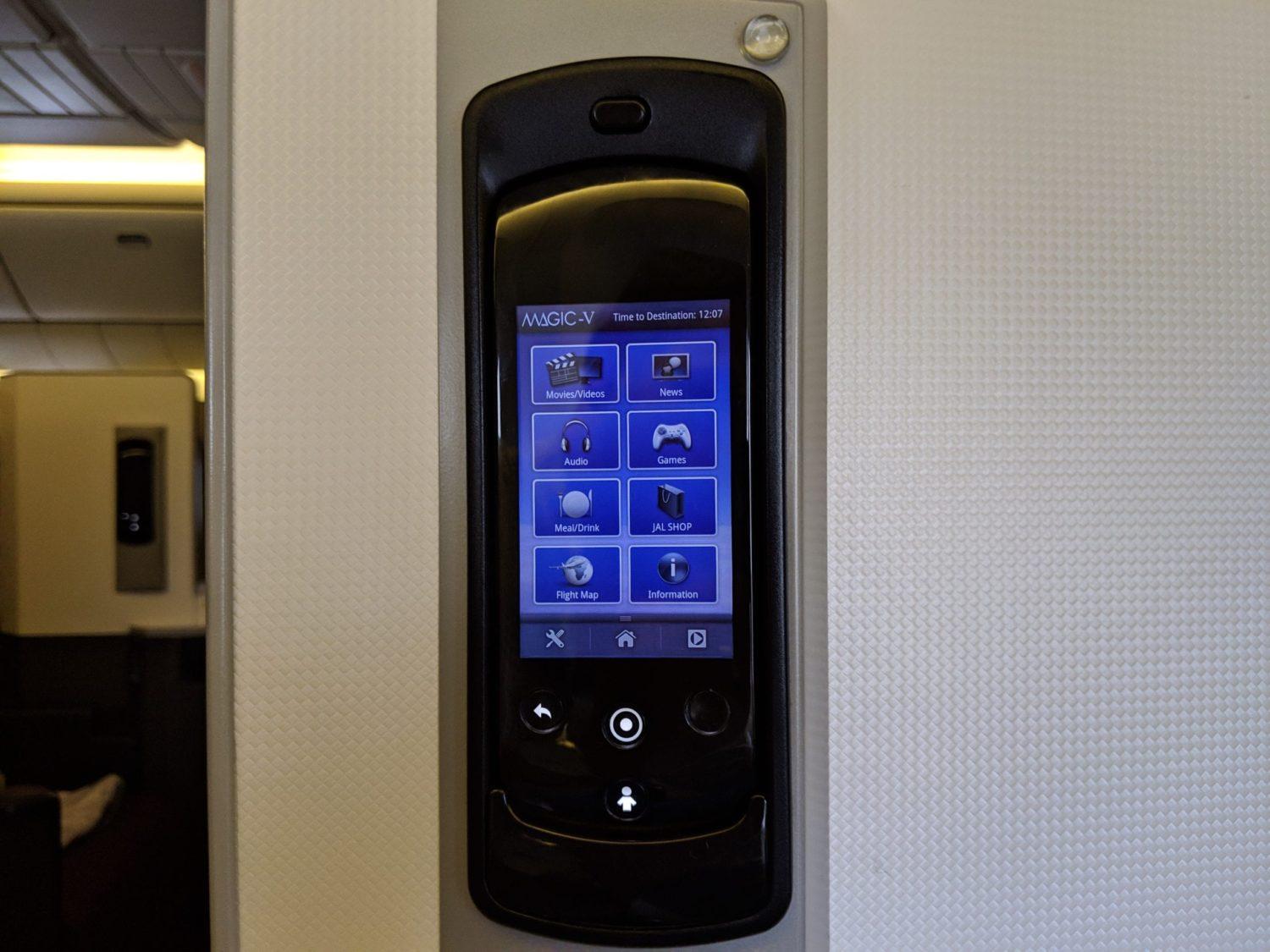 That said, the interface is a bit clunky and confusing. You often use your fingers on the remote like it was a cursor on the screen, rather than simply tap what you're looking for. After I mistakenly set the language on the inflight map to Chinese, it took me a few minutes to figure out how to reset it.

Japan Airlines also has Wi-Fi on most of its long-haul planes. And while many airlines charge by the megabyte, Japan Airlines has one of the most affordable pricing systems I've seen. It costs just $18.80 for a 24-hour pass. The internet speed was a bit sluggish for the first hour or so, but it really picked up as the flight went on.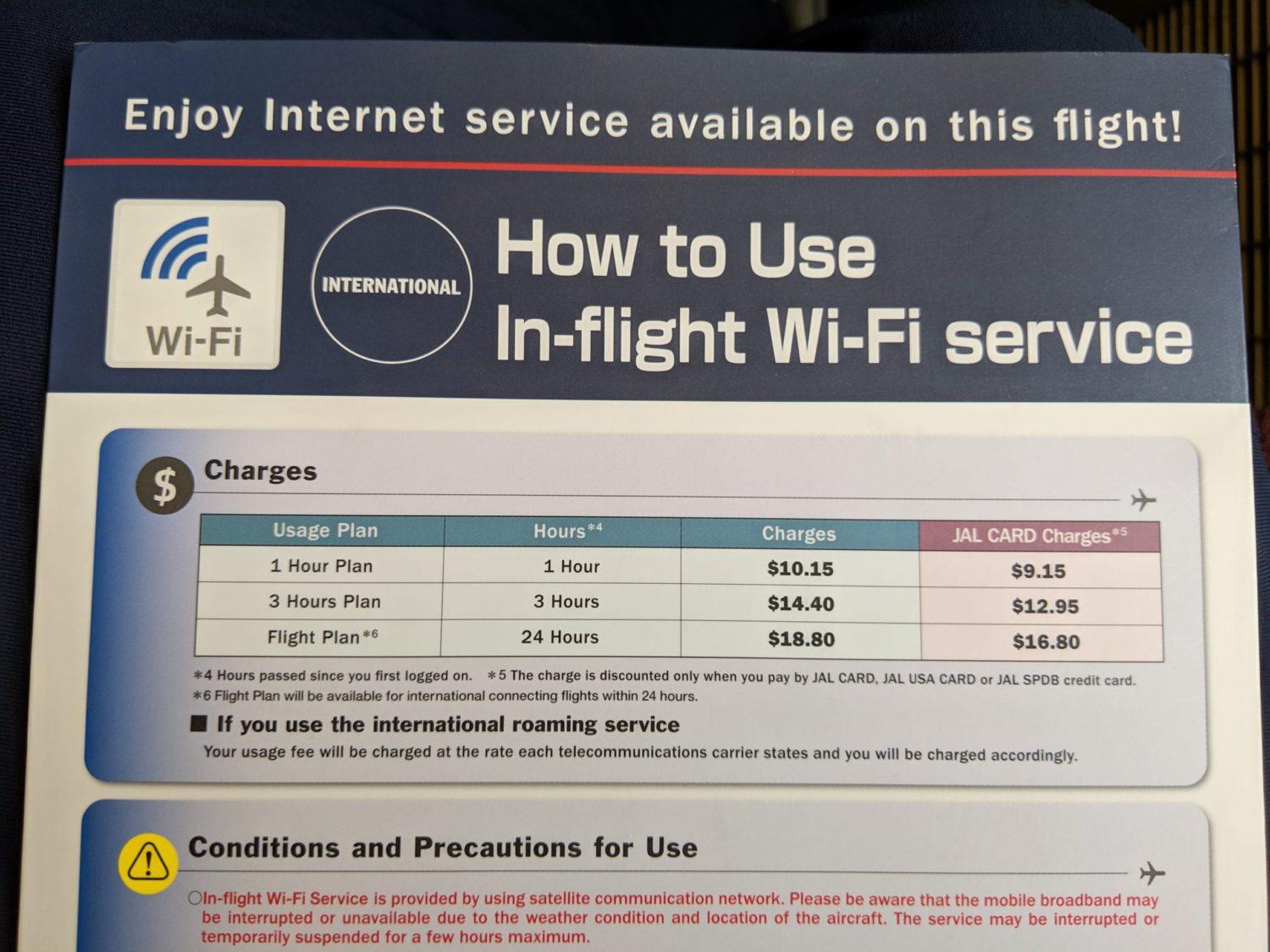 Bottom Line
I haven't flown every top airline flying between the U.S. and Asia, but Japan Airlines business class is easily one of the best options out there – if not the best, period. From private and spacious seats to incredible food and unbeatable service, they do absolutely everything right … and then some.