Like it or not, there's a major hurdle for any international trip: No matter where you go or your vaccination status, you'll need a negative COVID-19 test in hand to board your flight back to the U.S. And you'll need to take that test no more than one calendar day before your flight home.
It doesn't matter whether you're fully vaccinated or not: Everyone needs a test. These testing requirements – and the prospect of being forced to quarantine for two weeks in a foreign country if you test positive – have scared many would-be jet setters away from international travel since they took effect in January 2021. And despite hopes this requirement would disappear as the worst of the pandemic faded, it remains in place … with no sign of when it may end.
Read more: When Will International Travel Testing Requirements End?
Here's the good news: Our team has taken a handful of international trips recently, and we can confidently say tracking down a test in a foreign country isn't as daunting as it may seem. Sure, it depends on where you're going – and it adds a new layer of stress and complication no matter what. But follow these tips and you should be able to get tested before flying back to the U.S.

What Do the Rules Say?
Fortunately, the U.S. has made it relatively easy to get the right kind of test. Most kinds of COVID-19 tests you can find will meet the requirements.
Here's a look at the requirements laid out by the Centers for Disease Control and Prevention (CDC):
All travelers 2 years and older need a negative COVID-19 test to board their flight to the U.S.
That test must be performed no more than one day before your flight back to the U.S. The CDC tightened this testing window late last year after previously giving most travelers three days to test before a flight.
Tests must be either a nucleic acid amplification test (NAAT) such as a PCR or LAMP or an antigen test, including rapid antigen tests.
The CDC has loosened requirements to allow at-home, self-testing kits that have received emergency authorization from the Food and Drug Administration and also include a telehealth appointment.
Test results must show the type of test performed, the name of the entity performing the test, the date the specimen was collected, your name and identification, and a negative result.
Results can be in paper or digital format.
If you've had COVID-19, you can bypass this testing requirement. But you must show a positive test result no more than 90 days old – plus a signed letter from a health care provider showing you've been cleared to travel.
Unlike most other countries, note that there's no mention of needing a test 24 hours beforehand. That's by design: By giving you up to one full calendar day, you've got a bit more wiggle room to get a test. So if your flight to the U.S. departs at 5 p.m. on Saturday, any test taken on Friday or Saturday will be accepted.
Worried that the test you take in Rome, Cancún, or wherever else won't pass muster? Don't sweat it: Almost any kind of COVID-19 test you can take today will fit these requirements, no matter where you are. The biggest variable is to make sure that you take your test at the right time – and, of course, that you test negative.

It's mostly up to the airlines to enforce these requirements, which means you'll be asked to present your negative test result while checking in for your flight. And perhaps again during boarding or before shuffling into the gate area, just to be sure.
Read more: Details on New, Stricter International Travel Testing Rules
But first, you need to get that test. And as you'll see, there are plenty of options.
Check with your Hotel, Resort or Accommodations
If you're not sure where to start, start here.
As this new testing requirement for international travel first took effect back in January 2021, hotels and resorts around the globe tried to comfort travelers by launching onsite testing facilities or partnering with nearby labs. That's especially true in popular warm-weather destinations like Mexico and throughout the Caribbean. Best of all, these tests are typically cheaper than what you'll find in town – and maybe even free.
So it's worth asking your hotel, resort, or other accommodations if they've got COVID-19 testing available on site. If not, they can likely point you towards the most convenient testing options in the area.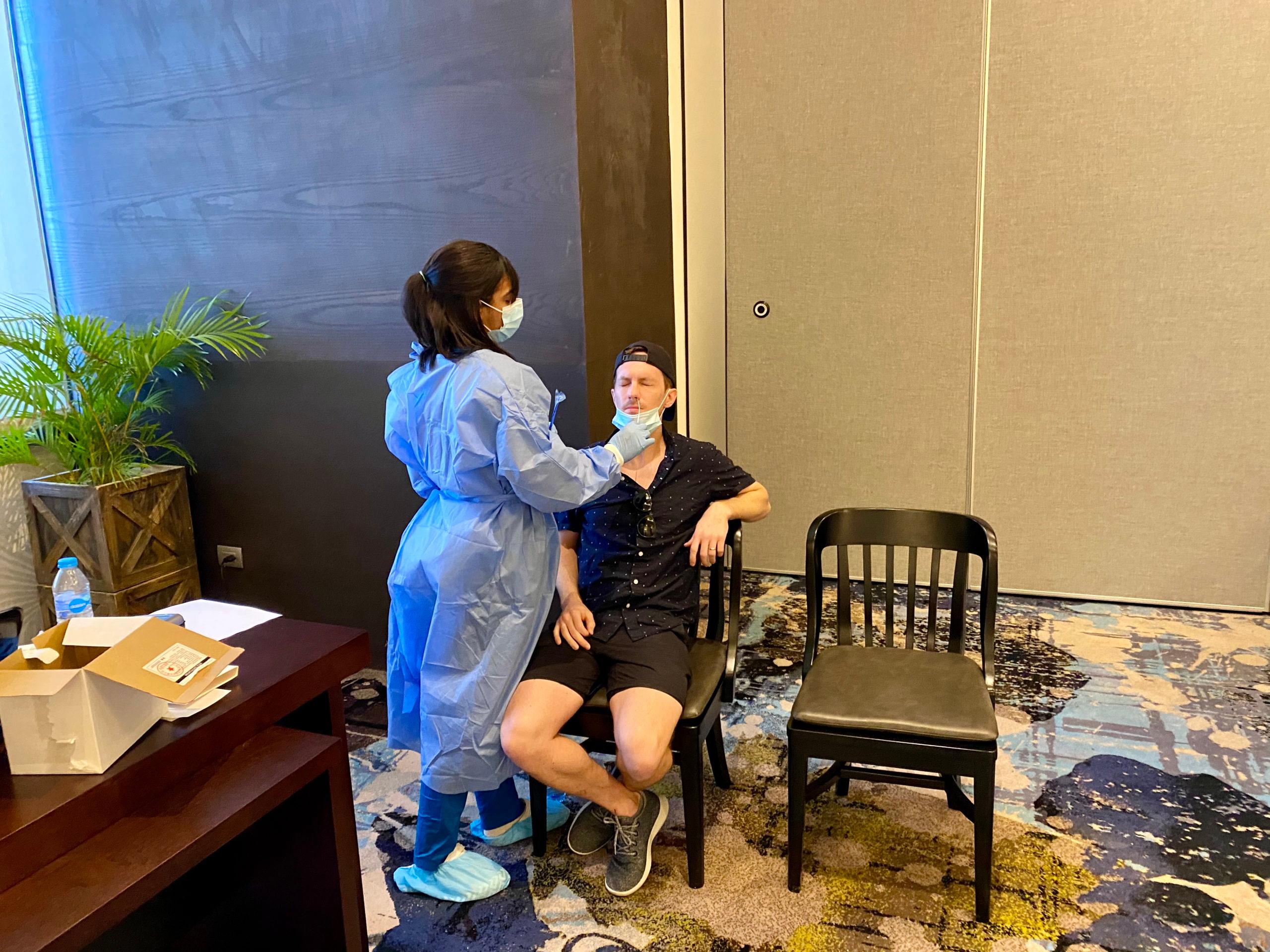 For example, Hyatt, Hilton, and Marriott began offering PCR or rapid antigen tests at many, if not all, of their properties throughout Latin America. We put Hyatt's complimentary test options to the test during a visit to the new Hyatt Ziva and Zilara Cap Cana in the Dominican Republic earlier this year.

It was a seamless process, with testing available on the resort grounds. And it was free. Just keep in mind that there may be a minimum stay requirement (typically two to four nights) in order to get a test for free from your hotel or resort.
Even if you're staying at an Airbnb, your host can likely steer you to nearby testing locations. Just send your host a message through the Airbnb app to inquire about the best place to get a test in town.
Pack One With You
Why not just throw a COVID-19 test in your bag? Just be sure it's the right kind of test.
Within months of launching this new testing requirement for international travel, the CDC made a great change: They began allowing self-testing kits, too. As the rules around testing to fly back to the U.S. tightened, these at-home test kits have become our go-to way to get a negative test abroad.
But not just any test will fit the bill. Critically, it must be an FDA-approved self-test kit. And the test itself must include a telehealth appointment, where a medical professional supervises your sample collection via webcam. That means any ordinary rapid test you can find off the shelf at your local pharmacy probably won't do.
Currently, that leaves us with just a few options. Just a few months ago, tracking down one of these tests was a tall task. Fortunately, it's gotten much easier lately. You can get: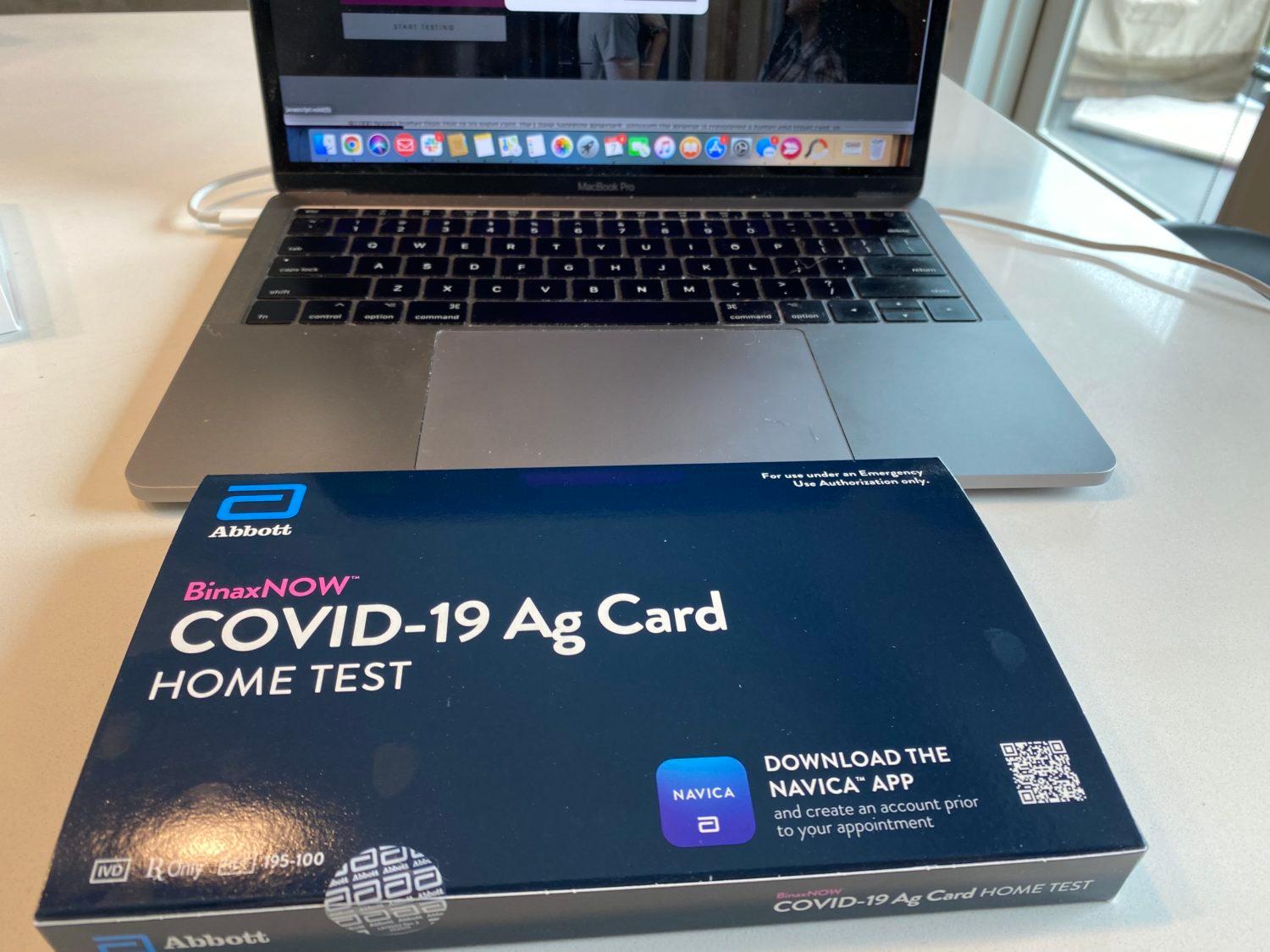 Read our review of at-home testing kits for travel! 
With any of these tests, you're set. You'll be able to schedule your appointment to get your sample, process the test, and get your results within just 15 to 20 minutes. After months of issues tracking down these tests due to low supplies, there should be no problem ordering these tests online.
Be warned: Make sure it's one of these tests and not a lookalike. You can buy some Abbott at-home test kits over the counter for a far cheaper price, but they don't include the necessary telehealth appointment. Without that, you'll be stuck abroad.
One other note: It's not a bad idea to throw a backup test kit in your bag, just in case there's an issue with your first test or you get a false positive result on the first go-around.
Check for Labs and Pharmacies in Town
Eighteen months or so ago, finding a reliable COVID-19 test anywhere in the U.S. was a challenge – let alone in a foreign country. And ensuring you got the results back in just a day? Impossible.
Fortunately, drastic advances and expansions in testing have changed that. In our experience, that applies abroad, too. In many cases, it's as simple as searching your destination for COVID-19 testing labs or pharmacies. In many cases, you can even book your appointment before your trip to ensure you've got a test lined up.
In Greece, for example, the government is clear about how widespread testing options are.

Before a trip to Madrid last summer, I simply searched "Madrid COVID-19 testing labs" a week before making way for Spain. Within a few minutes, I had booked an appointment for a rapid antigen test at a lab just north of central Madrid. Fifteen minutes, 50 euros, and a poke up the brain later, I had my negative results in my inbox.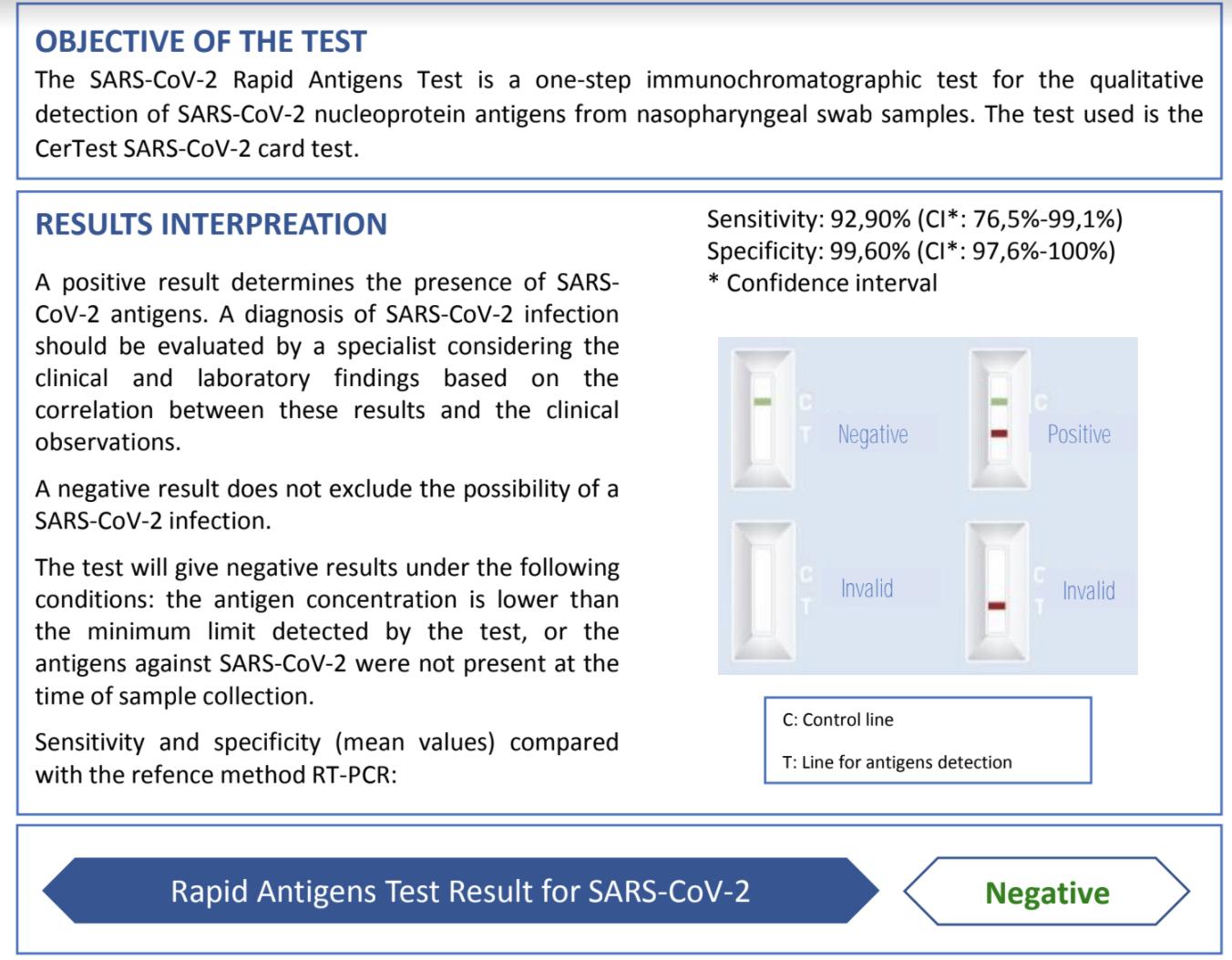 Testing sites are equally widespread in Italy, in our experience. In Rome, you can't walk more than a few blocks without seeing a pop-up tent offering rapid tests. Finding a pharmacy in Milan a few days before a recent flight back to the U.S. was an easy and fairly painless process. And it cost just 25 euro.

Of course, you'll have a much easier time finding a COVID-19 test in major cities and tourist hubs. So it may be safest to structure your trip to spend your last few days abroad in a major city to give yourself a long enough window to get tested and receive your negative results.
Go to the Airport
Yes, you can even get tested at the airport. Maybe. Possibly.
As this testing requirement for return flights to the U.S. went live, testing sites began popping up at major airports across the globe. But to take advantage, you'll need to plan ahead.
Some airports like in Madrid (MAD) allow you to schedule a test in advance. Looking for a slot a week before my trip, all the appointments were completely booked. It will vary widely from airport to airport and based upon the time you're traveling, but your best bet is to lock in an appointment far in advance if you plan to test at the airport.

At many other airports from Milan (MXP) to Cancún (CUN), tests are available only on a first-come, first-served basis. And in our experience, you'll pay a bit more for the convenience of getting tested ahead of your flight: Tests around Milan were 25 euro, while a test available at the airport was twice that at 50 euro.
Either way, you'll want to plan to take your test well ahead of your departing flight. That means arriving four to five hours before your flight departs – if not even earlier.
What if you get a false positive result without enough time to take a second test? Or what if – heaven forbid – you've actually contracted COVID-19 and don't know it until hours before you're set to fly back?
That's why we think testing at the airport should be your last choice – not a go-to solution.
Bottom Line
Getting tested to fly back to the U.S. after a trip abroad is a high-stakes affair. It's one thing to track down a test in a foreign country and ensure it's the right one. But that risk of testing positive and getting stuck? That's real.
Fortunately, the first part of that equation – finding a test before returning home – isn't nearly as daunting as it may seem. Unfortunately, this testing requirement is going to be a reality of international travel for the foreseeable future with no immediate signs that it will end soon.