Of the many things that make restrictive basic economy fares a bummer, the inability to pick a seat is the worst. It often leaves you stuck in a middle seat between strangers, rows away from your travel companion.
But if you're flying Delta, there are a few ways you can still pick your seat. You'll have to pay up with one method. And with some vigilance and luck, there's another way you can snag a better seat for free. 
Read on to learn how it's done. And if you want to take it to the next level, keep reading to learn how you can beat Delta basic economy fares altogether and make it even better.

The Basics of Delta Basic Economy
Delta was the first of the major airlines to roll out no-frills basic economy fares way back in 2013.
And while these Delta basic economy fares come with some major restrictions – you 'll have to pay to cancel a flight for a Delta eCredit and you won't even earn any SkyMiles or credits toward Delta Medallion Status – Delta's spin on basic economy is still more generous than many of its competitors. The airline has always allowed a carry-on, while others like United Airlines and JetBlue don't.
Baggage: Get a carry-on bag and personal item for free; pay $30 each way for a checked bag (or $60 each way to Europe).
Seat Selection: Seats are typically automatically assigned at check-in or at the gate, but keep reading to see how you can pick your seat!
Boarding: Boards last in Delta's boarding order.
Earning SkyMiles: No, Delta basic economy fares no longer earn SkyMiles
Earning Delta Medallion Status: No, basic economy flights no longer earn Medallion Qualifying Miles (MQMs), Medallion Qualifying Segments (MQSs), or Medallion Qualifying Dollars (MQDs)
Upgrades: Not eligible for complimentary upgrades or paid upgrades to first class or Delta Comfort Plus. Even if you have Delta Medallion status, you will not be eligible for upgrades.
Ticket Changes and Cancellation: Only free within 24 hours of booking. Main cabin tickets (and higher) are now eligible for free changes.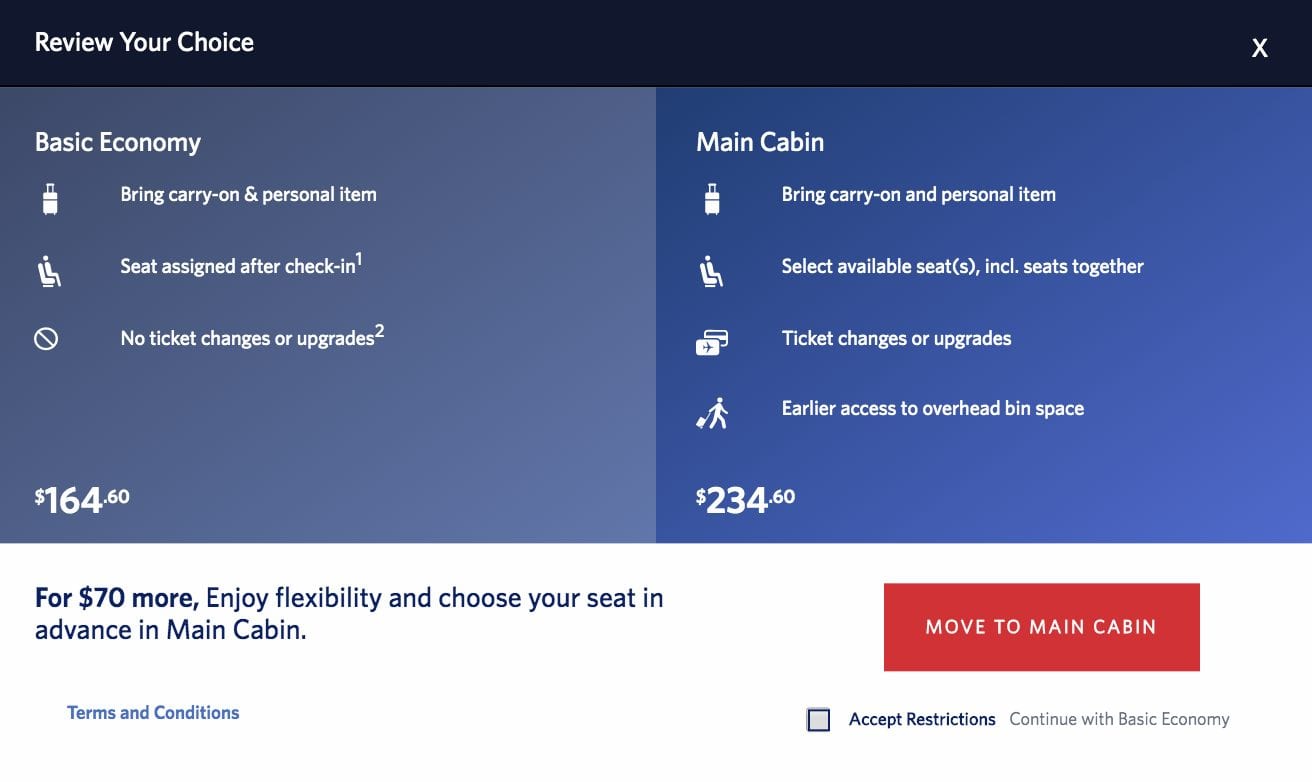 It's clear these no-frills fares aren't going anywhere. Delta has doubled down on them coming out of the pandemic, charging more than ever before to upgrade to a main cabin fare. Delta went where no other airline has gone by nixing the ability to earn redeemable SkyMiles or status with the airline when you buy a basic economy ticket.
But it's not all bad news … especially when there are two little-known ways you can still get a seat with Delta basic economy.
Option #1 to Pick a Seat: Pay Up
For years, Delta hasn't allowed basic economy flyers to pick a seat in advance. The airline's own policies and warnings make clear it's not possible.
But that's not exactly true. Delta generally allows basic economy passengers to pick a seat starting seven days before departure – for a fee.  A Delta spokeswoman confirmed that the airline rolled out this ability "partway through 2018."
"Delta does provide an option for Basic Economy customers to purchase a seat assignment because customers have told us that having a seat assignment further in advance than 24 hours from departure is important to them," a spokeswoman previously told us.
The fees for picking a seat with a basic economy ticket vary by route – seemingly from as low as $10 to $45 or more per flight. And you have to purchase a seat assignment separately for each leg of a trip. The norm for years was $29 per seat, whether you pick an aisle, window, or middle seat. But lately, we've seen much cheaper seats available for purchase.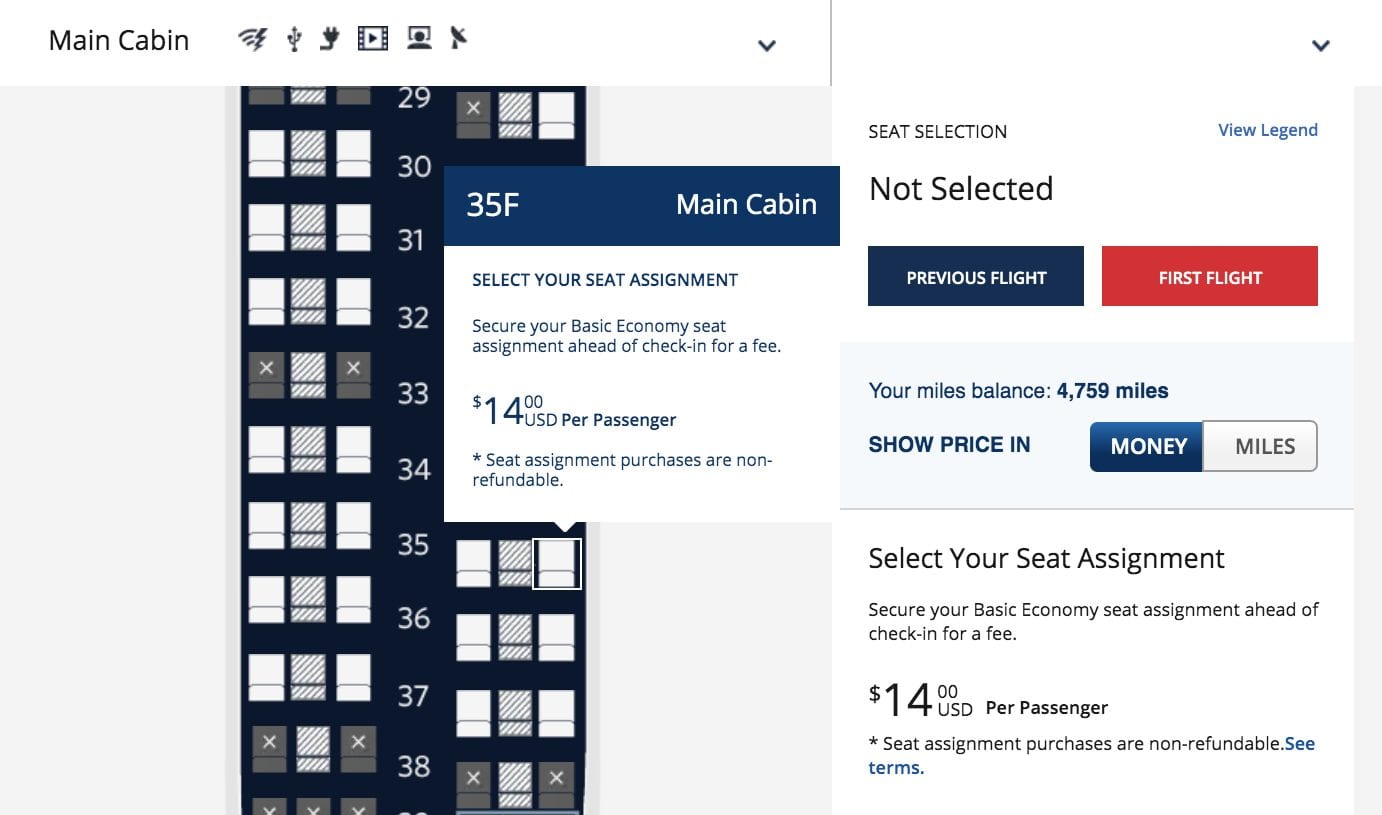 But that's not always the case. Sometimes it's a lot more – like this flight from Minneapolis-St. Paul (MSP) to Las Vegas (LAS).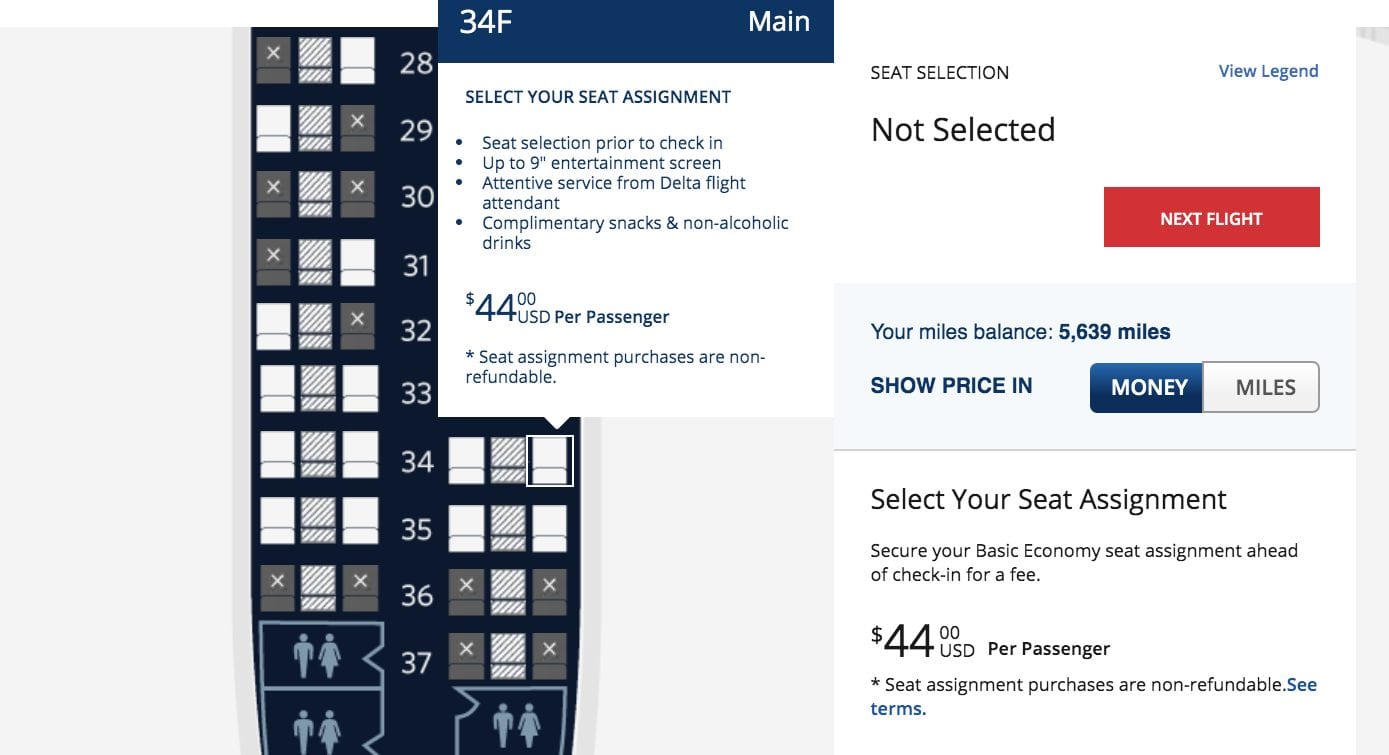 Once the seat selection window opens starting seven days before your flight, log in to your Delta account and check on your flight. You'll be able to hit the "Select Seat" – a function that's typically grayed out for basic economy passengers. Or just pull up the flight on your Delta app and hit "Purchase Seat."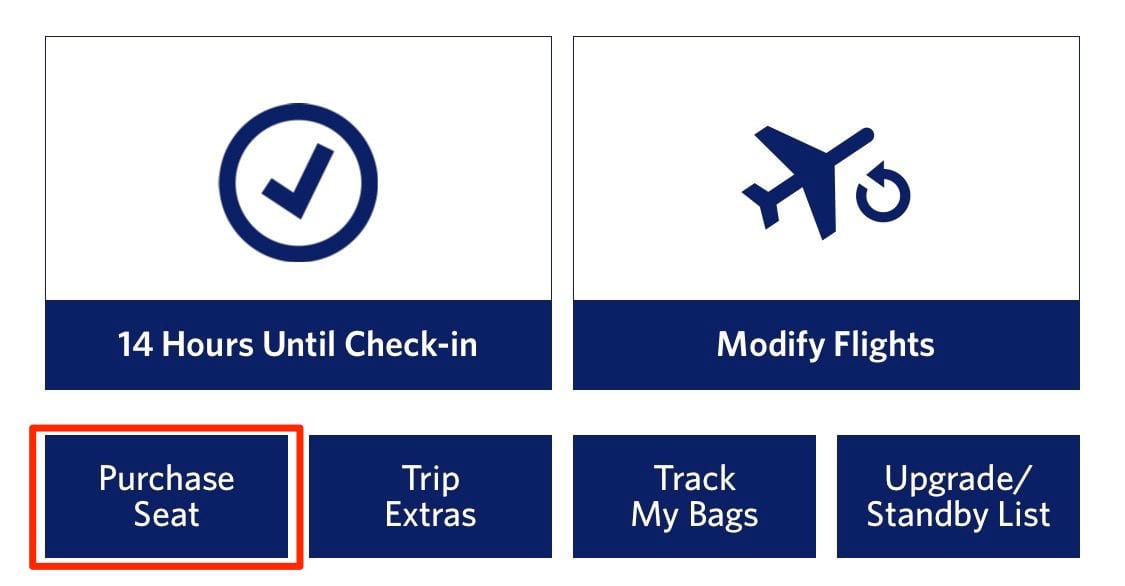 Just keep in mind the selection may be somewhat limited, and the price per seat may vary. Here was what was available for an older flight from Minneapolis-St. Paul (MSP) to New York-LaGuardia (LGA) about four days before takeoff.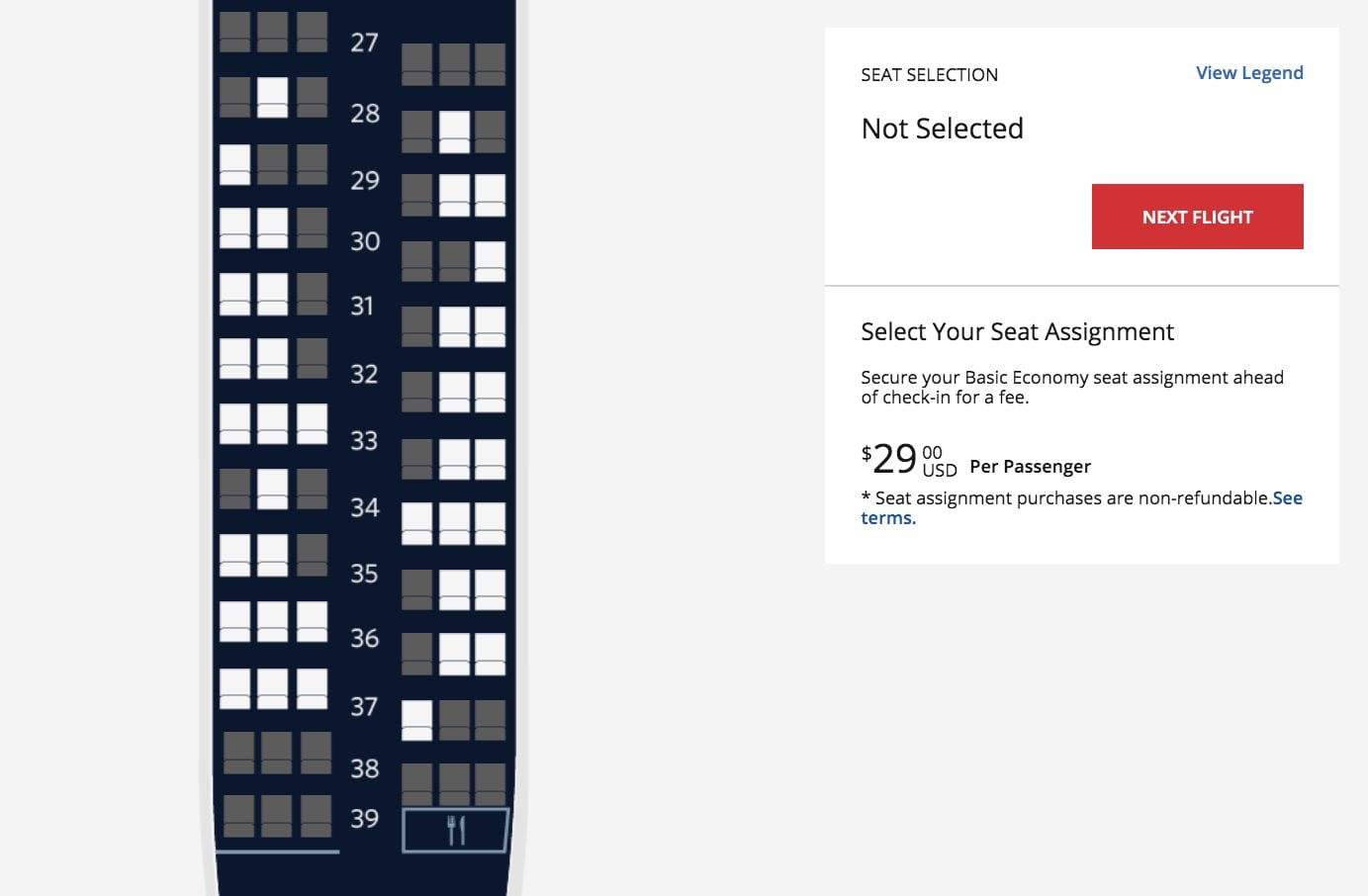 In this case, the seats are almost entirely at the back half of the plane. On the bright side, there were plenty of window and aisle seats available. And no matter which you chose in this case, it would cost $29.00.
But if Delta is charging $30 a seat, that's not a good deal. Consider this: Delta typically charges about $70 to $80 more for a main cabin round-trip fare, allowing you to pick your seats for free. So you may be able to get a seat assignment on each leg of the trip for the same price, plus the other benefits that main cabin fares have over basic economy like earning SkyMiles and free change and cancellation.
Still, if you want to make sure you're sitting next to your companion, it's worth considering. And if you're willing to roll the dice, there may be a way to do it for free.
Option #2: Last Chance at a Free Seat
Airlines have conditioned us to expect next to nothing for a basic economy fare. But it doesn't always have to be that way. Depending on how many seats are still open on the plane after check-in opens 24 hours before take-off (or 48 hours on international flights), you've got a window to make a choice for free.
Once check-in opens, basic economy flyers on Delta have a chance to pick the best of what seats are left. Just how many seats are left will vary wildly by route, time of day, time of year, and other factors. And these days, many flights are completely full which means you may not have the ability to pick, period.
If you're lucky, you might have a nearly empty cabin to choose from. Other times, the entire cabin may be booked and you'll be left to get a seat assignment at the gate. It just depends.
But if you want to avoid a middle seat or get seats together, you have to watch the seating chart like a hawk. Check the seating chart on the site or via app every hour or so for the few hours after the check-in window opens, starting 24 hours before a domestic flight is scheduled to depart. And check again the morning before your flight. And then again. As other passengers move around the cabin or change their flights, better seats may open up.
On a flight a few years ago from Minneapolis-St. Paul (MSP) to Las Vegas (LAS), there were just a few dreaded middle seats open when online check-in opened 24 hours in advance. But after checking the seat map religiously for the next few hours, it happened: There was an open aisle seat.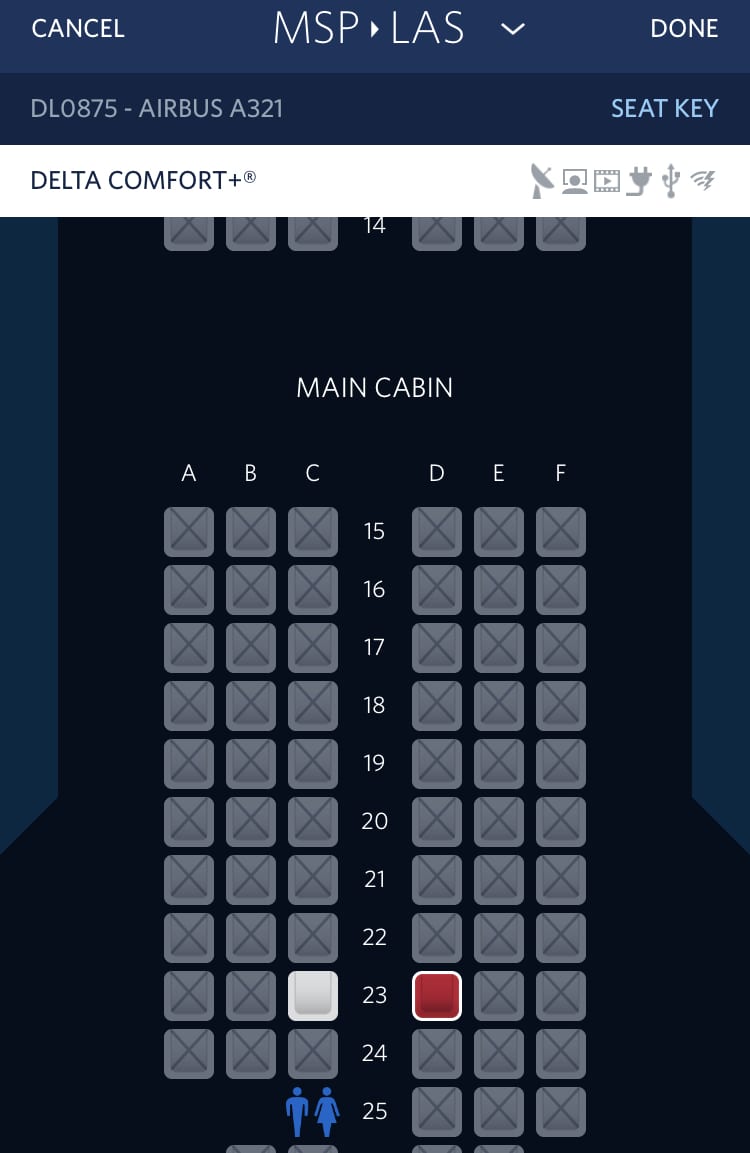 So I chose it immediately. And, as luck would have it, there was another seat just across the aisle for my friend. It couldn't have worked out better.
This is the best-case scenario – it won't always go so smoothly, especially if your flight is full. But it can pay off huge to watch closely and snag a seat.
Other Ways to Beat Delta Basic Economy Fares
These options to pick a seat are phenomenal. They can solve one of the biggest sources of frustration behind basic economy fares. But you can take it even further and take even more of the pain out of basic economy.
Delta's co-branded American Express can be a powerful weapon to beat basic economy fares. There are several options in the suite of SkyMiles credit cards, so read up on which one is right for you. But no matter which one you hold, it will get you a free checked bag on every Delta flight – along with up to eight others traveling on your reservation. The one exception is the Delta SkyMiles® Blue American Express Card, which won't get you free bags (terms apply).
That means you won't have to pay $30 each way for a bag. And Delta doesn't even require you to charge your flight to your Delta card to get this perk. It's attached to your SkyMiles number, so you'll always get it so long as you keep your card open.
And while you can always bring a carry-on bag, Delta basic economy can still be difficult because you board last – the overhead bins may fill up before you get on the plane. Carrying a Delta credit card helps here, too. Delta's co-branded credit cards also get you priority boarding. By holding one of these cards, you'll always board in the fifth zone even when flying basic economy.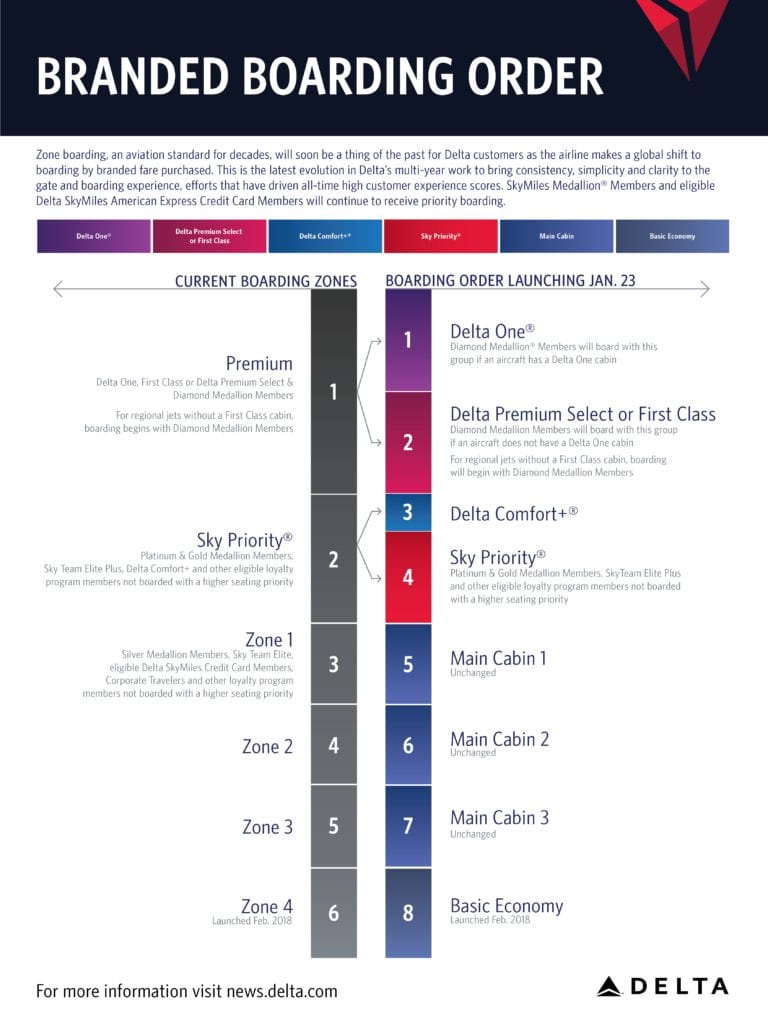 As an example, let's consider the Delta SkyMiles® Gold American Express Card. Like almost every Delta credit card, it gets you a free checked bag plus priority boarding. And it comes with an introductory annual fee of $0, and then just $99 a year after that (see rates & fees).
Do the math, and you'll see that you can come out way ahead in your first year with the card on baggage savings alone. And once that fee kicks in, the savings on checked baggage start after just two round-trip flights each year.

Click Here to learn more about the Delta SkyMiles Gold American Express Card. 
Bottom Line
You can never count on getting a choice seat when flying basic economy. With a basic economy fare, you get the best of what's left. And sometimes, a middle seat far away from your companion is all there is.
But if you're willing to pay up, you can get a better seat. And with some vigilance and luck, you can beat Delta's basic economy game for free.
Lead photo courtesy of Delta News Hub via Flickr