Like it or not, basic economy fares are here to stay. They're the major mainline carriers' way of competing with budget carriers like Spirit, Frontier, and Sun Country by offering no-frills fares that come with few perks or benefits. And Delta basic economy fares are no different.
For better or for worse, Delta has long been a leader within the airline industry – Delta started the slide into basic economy by rolling out these no-frills fares way back in 2013. They've slowly rolled out to more and more markets, making basic economy unavoidable whether you're flying domestically, heading to the Caribbean, Central America, Europe and even some destinations in Asia. They're even available on many award tickets booked with SkyMiles now.
But it's not all bad news. While you can no longer change or cancel these fares (after a flexible policy brought on by the pandemic ended in early 2021) and you won't get free upgrades even with Delta Medallion Status, you can bring a carry-on bag no problem – and that's not always a sure thing with these fares. Plus, there's even a way to pick a seat for free when flying Delta basic economy.
Let's take deeper dive into what's included and everything you need to know about Delta Basic Economy: what you get, what you don't, and how to beat these no-frills fares.
What's Included with Delta Basic Economy?
While there's no question Delta basic economy has some tough restrictions, it's more generous than what other airlines offer.
Baggage: Get a carry-on bag and personal item for free; pay $30 each way for a checked bag (or $60 each way to Europe).
Seat Selection: Seats are typically assigned at check-in or at the gate, but you can also pay for seat selection on many flights or pick your own for free after check-in.
Boarding: Boards last in Delta's new boarding order.
Earning SkyMiles: Yes.
Earning Delta Medallion Status: Yes, basic economy flights earn Medallion Qualifying Miles (MQMs), Medallion Qualifying Segments (MQSs) and Medallion Qualifying Dollars (MQDs)
Upgrades: Not eligible for complimentary upgrades. Even if you have Delta Medallion status, you will not be eligible for upgrades.
Ticket Changes and Cancellation: Not allowed except for within 24 hours of booking.
Like most airlines, Delta practically begs you not to book basic economy – you have to specifically opt in by checking "Accept Restrictions" and proceed with your basic economy fare. In fact, a top Delta official once wondered aloud: "What are people willing to pay" to avoid basic economy?
And that shows. While it varies by route, Delta now regularly charges an additional $80 roundtrip to avoid basic economy and move to a more-inclusive main cabin fare. The entire point of basic economy is to lure you in with a cheap price, then convince you to pay more to avoid additional restrictions.
That upsell is only getting stronger. After more than a year of free change and cancellation even on basic economy fares, you'll now need to buy at least a main cabin ticket to get that flexibility. You cannot change or cancel a Delta basic economy ticket purchased from May 1, 2021 and onward – period.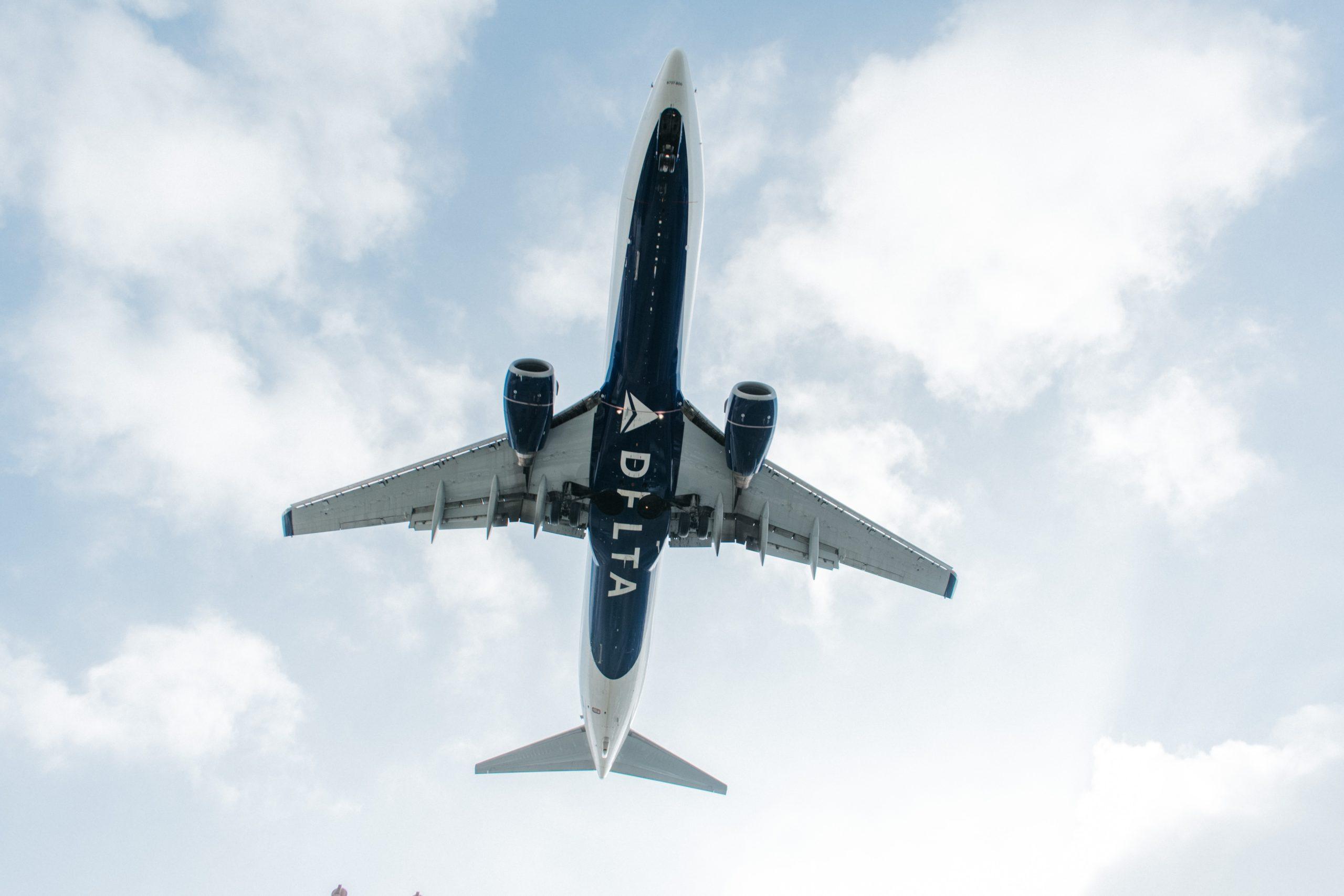 All that said, Delta basic economy is actually more generous than many of its competitors. Unlike other fares like United basic economy and JetBlue basic economy that only allow you to bring a personal item, you can bring a full-size carry-on bag with Delta's skimpiest fare. You'll also earn Delta SkyMiles and work your way toward Delta Medallion Status the same as a normal economy fare.
While you don't get free seat selection. Delta allows you to buy a seat starting seven days before departure when flying basic economy, with fees that typically run about $29 each. And as you'll see, there's even a sneaky way to get a seat for free…
What Routes Have Delta Basic Economy Fares?
Right now, Delta Basic Economy has been rolled out on all routes heading to the following locations:
U.S. domestic flights
Mexico and Central America
The Caribbean
South America
Europe
Africa
There is currently no basic economy offering on Delta flights originating out of the U.S. heading to the following locations:
Any economy ticket you book on these routes will be a main cabin fare including advanced seat assignment, carry-on bag, ticket changes, and subject to upgrades for Medallion members (depending on the destination).
Finally, Delta is an oddity in one way: Delta is still the only major carrier currently selling basic economy award tickets. first cropped up in late 2018, slowly expanding to more and more routes.
How to Beat Delta Basic Economy
Even the most restrictive basic economy fares don't have to be so painful. And there are a few great ways to get ahead even with Delta's cheapest fares.
Carry a Delta Credit Card
Carrying one of the co-branded Delta credit cards offered from American Express helps you beat Delta basic economy fares. This is the key to making these fares less painful.
As a benefit of holding one of the Delta American Express cards (with the exception of the Blue Delta SkyMiles American Express Card), you will receive a free checked bag and priority boarding. And you get these benefits even when flying on a basic economy ticket.
So while flying on a Delta basic economy ticket would normally mean you board last, holding one of these cards allows you to board in the Main Cabin 1 group.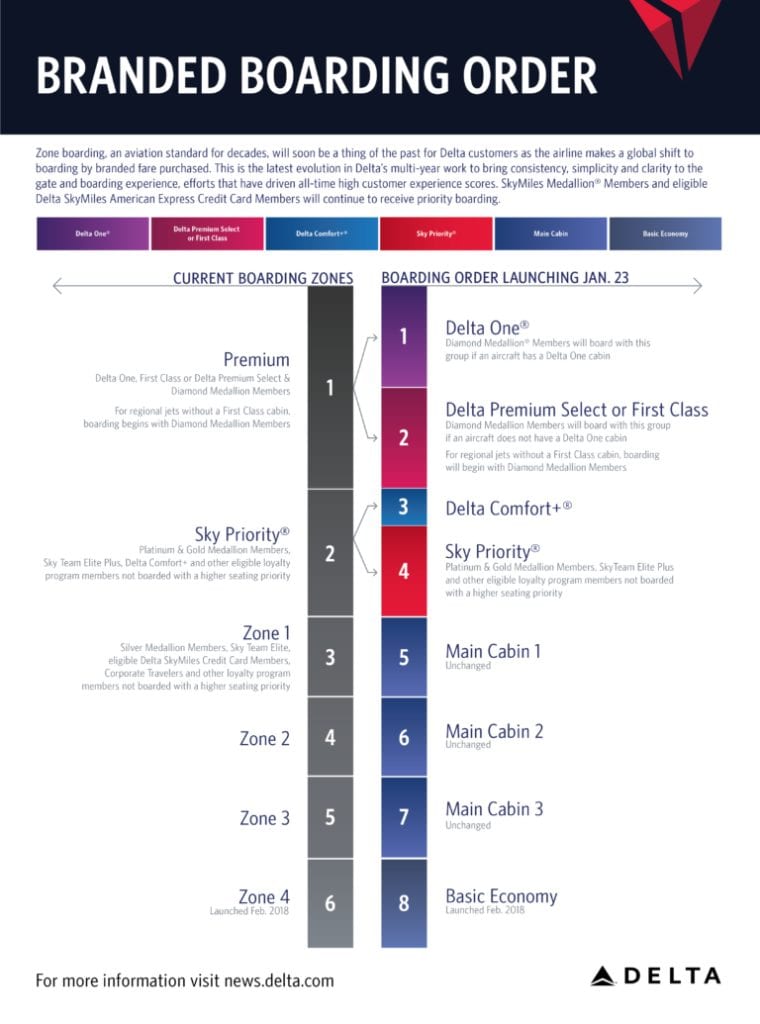 If you don't hold one of the co-branded cards, finding a spot for your carry-on bag once onboard the aircraft could be a challenge as you will be the last to board. So even though you are allowed a free checked bag, it may end up getting gate checked.
Additionally, all of the cards also offer a free checked bag – a $30 value every flight. That means you could check a bag for free and not worry about a spot for your bag once on the aircraft altogether. You don't even need to pay for your ticket with the card to receive these benefits. Read up on how this benefit works.
For example, the Delta SkyMiles® Gold American Express Card has an introductory annual fee of $0, and then just $99 each year after that (see rates & fees.) Even in your second year with the card, it takes just two roundtrip flights with a checked bag each year to come out ahead.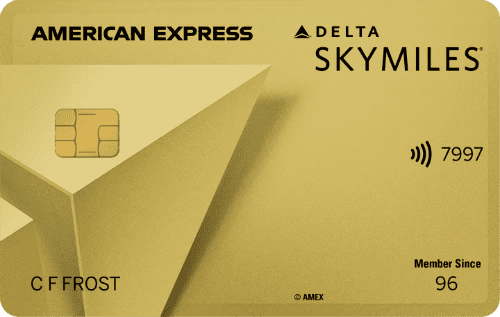 Click Here to learn more about the Delta SkyMiles Gold American Express Card. 
Pick a Seat for Free
Like most airlines, Delta gives you the chance to pay for a seat assignment if you want to avoid that dreaded middle seat. We've seen seat assignments on domestic flights as cheap as $19 each way – or as much as $59.
But there's another, little-known way to potentially get a seat for free. 
Starting when the check-in window opens 24 hours before your flight, Delta allows you to move about the cabin to any open seats … at no cost. That's your chance to check the seatmap and pick the best of whatever seats are left.

This isn't a slam dunk by any means. If your flight is full, you'll be stuck with whatever seat Delta assigns you. But it's worth checking, double-checking, triple-checking, and quadruple-checking after the check-in window opens to see if you can snag a better seat as your flight draws closer. You can change your seat selection until boarding begins.
Read our guide to picking your seat when flying Delta basic economy.
How Do Delta Basic Economy Fares Stack Up?
Delta basic economy fares are a mixed bag. There's both good and bad news.
Let's start with the good news. For starters, these fares are more generous than what you get with many competitors. You can bring a carry-on bag on board, and your ticket will earn SkyMiles and credits toward Delta Medallion Status just as any normal fare.
Delta also offers two ways to pick a seat even when flying basic economy. Starting seven days before departure, you can log into your reservation and pay for a seat assignment, which typically costs $29 per seat. If you're feeling lucky, you can wait until the check-in window opens 24 hours departure. Once that happens, Delta allows you to move to any remaining open seats for free.
Then there's the bad news. If you strike out with picking a seat, you'll likely be assigned a middle seat at check in. When traveling with a companion or a child, there's no guarantee you'll sit together. While Delta says it tries to seat children with a family member, it won't always happen. It depends on how full your flight is, and on the agent working at the gate.
That's why we recommend paying the fee to upgrade to a Main Cabin fare if you want to ensure you sit next to your companion. 
But above all, Delta basic economy fares are just like every other airline. Airlines act like these are lower-priced fares for budget-conscious travelers. In reality, they're charging the same amount a main cabin economy ticket once cost and giving you less. It's the airlines' way of getting more money out of you in fees.
Bottom Line
Basic economy has transformed the airfare world. By offering these bare-bones fares, Delta can compete with budget carriers on price while pitting flyers with new restrictions – largely in hopes that they'll pay up to upgrade.
Even as the pandemic fades away, it's clear that basic economy isn't going anywhere. In fact, it's more likely to expand.