With careful and proactive planning, flying with a carry-on pet has never been easier on major U.S. airlines. Take it from me.
If you're anything like me, your pet just makes life better. I love bringing my Aussiedoodle Wallie with me to parks, restaurants, bars, and on walks. But until recently, I hadn't shared my love of travel with him. That changed this month when I took Wallie from Minneapolis-St. Paul (MSP) to Orlando (MCO) – and thanks to months of research, his first flight went off without a hitch. 
Learn from me. If you want to make your small pup or cat a part of your next trip, consult this first-timer's guide to flying with your pet.
What to Consider Before Flying with Your Pet
On its face, bringing your small companion with you on your next flight seems pretty straightforward. Yet leaving your pet behind can still be the best option. Be sure to make a few key considerations before booking your pet on your next journey.
Is Your Pet Healthy Enough to Fly?
Always check with your pet's veterinarian before allowing them to take to the skies. If you're anything like me, your veterinary knowledge is limited, so I won't pretend to know what canine or feline afflictions can be exacerbated by air travel. You don't want to learn that lesson the hard way.
About 20 days before our flight with Wallie, during a regularly scheduled vet appointment, I simply asked our vet if he was fit to fly. It was a simple yes, and we had our official blessing.
Does Your Pet Have the Temperament to Fly?
This consideration is crucial, and you're going to have to be really honest with yourself. I know your dog or cat is a perfect angel and can do no harm, but you have to make the following assessments:
Can your pet remain calm and happy in a confined space for multiple hours at a time?
Can your pet remain calm and happy in a crowded, noisy environment where they will encounter all types of children, people, and other pets?
Is your dog especially noisy? Smelly? Hyperactive?
Before our flight with Wallie, we spent hours getting him acclimated to his carrier. What we didn't consider was how he would do in said carrier in a crowded airport environment. Luckily, he stayed calm and happy the entire journey. But don't count on luck like we did!
How Long is Your Trip?
Our journey with Wallie from Minneapolis to Orlando was six hours start to finish.
That includes a three-hour, nonstop flight as well as a 10-minute Uber ride to the airport and time in the airport itself. It was a very manageable situation for us. But by the end of the flight, Wallie started getting a little antsy.
Make sure you consider how long your travels are before booking your pet on the flight. If you're looking at a six-hour transcontinental flight, will your pet be OK for that long? If not, you might want to find a one-stop fare to break up the trip for them. Even then, you're adding total time to your journey.
This will, of course, vary from pet to pet. I know people who make transatlantic flights with their pets routinely without issue. Others wouldn't dream of taking their cat or dog on a short flight.
How Big is Your Pet?
Wallie clocks in at about 18 pounds and really fills up his pet carrier when he's inside of it, which puts him right on the cusp of discomfort when he travels. This is an important consideration for us, but I often see miniature cats and dogs flying very comfortably because of their size.
Our dog Wallie is just barely small enough to fly in the cabin: The restrictions vary from airline to airline, but carriers must be fairly small … and that means your pet must be, too. At 18 pounds (or 20 pounds total with the carrier), he fits comfortably but quite snugly into his carrier.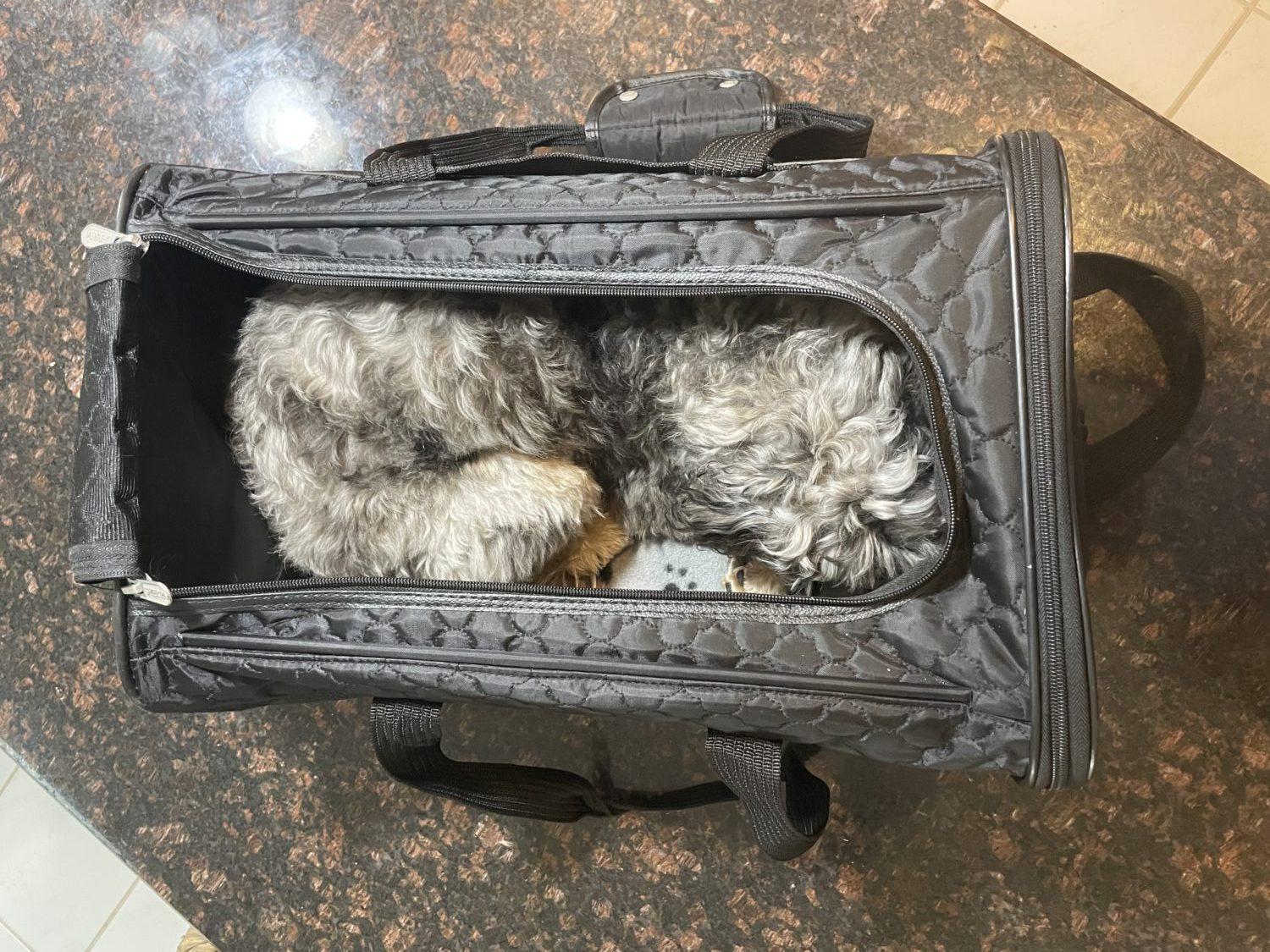 Depending on the airline and plane size, your pet carrier can only be a certain size. There are some planes in which Wallie would not be able to fit. The Delta Airbus A321-200 we flew to Orlando had plenty of room below the seats in front of us, but if we flew to a different city on a regional partner jet, there is a chance he wouldn't have fit.
On its pet travel page, Delta refers travelers to its full fleet list so you can determine what planes are large enough for your pet. The airline recommends a carrier that is 18″ x 11″ x 11″ to fit in most planes.
Booking a Pet on Delta
Once you've decided to bring your pet along, you'll have to (1) book your desired flights and (2) book your pet's spot on said flights with the airline.
In our experience with Delta, this was a relatively easy process. You cannot do it online like you can for a lap infant, so you'll have to either call Delta Customer Service or use their handy text message customer service feature like we did. Here's our correspondence:
The customer service representative responded to us within 10 minutes and asked us some simple questions. About an hour later, a "Delta specialist" picked up the conversation in the same text message.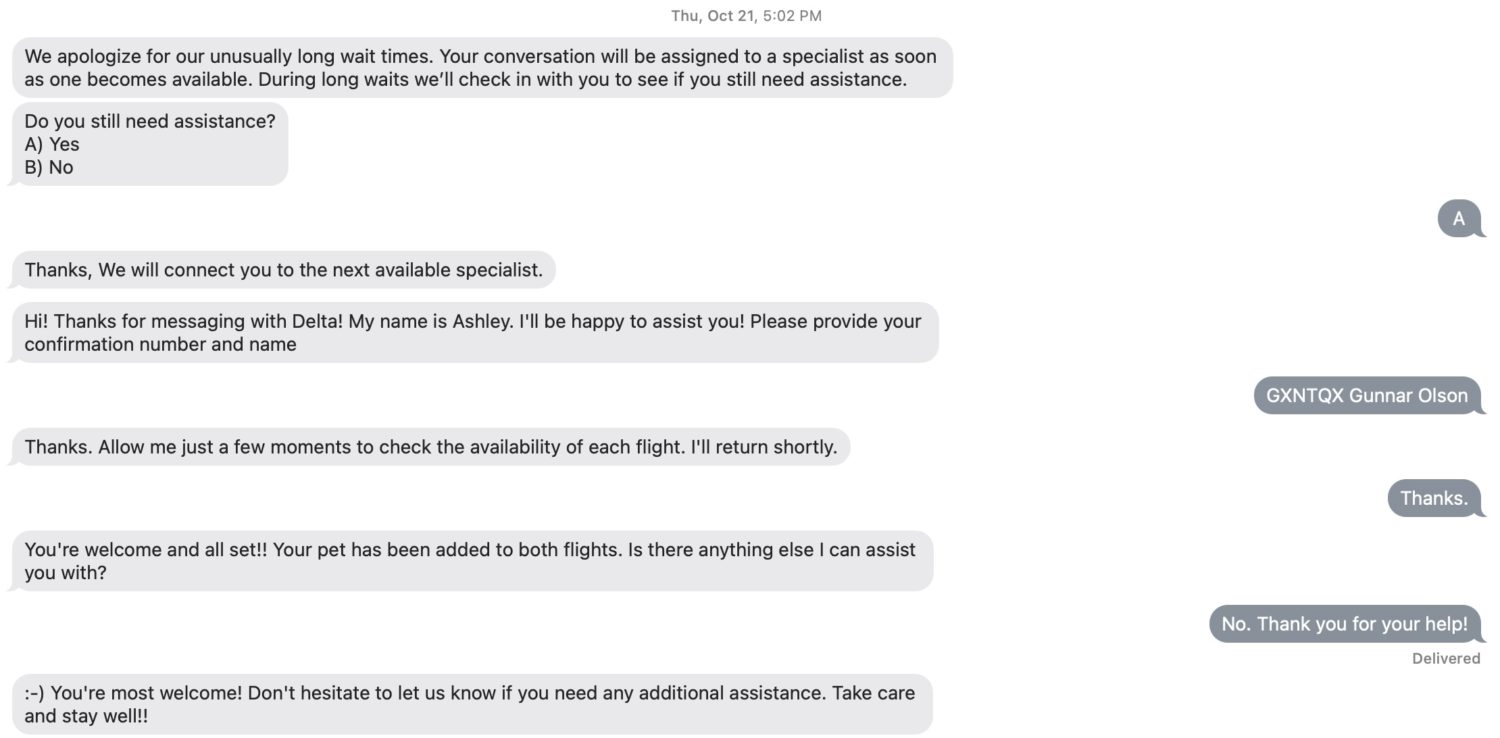 The long wait time was the toughest part, but the text messaging feature is a great way to lessen that burden – no more hold music! I was able to walk Wallie while we waited for the representative, who was able to book us no problem.
While you do not owe Delta any money when you make this reservation, it's important to note that you will have to pay $125 each way for your flight when you arrive at the airport and check the dog in. That fee is $200 for international flights (plus the U.S. Virgin Islands).
Pet Policies By Airline
The rules and restrictions regarding in-cabin pet travel vary airline-to-airline, so make sure you read through them thoroughly before flying.
Here are some of the important rules and fees by airline.
Alaska Airlines Pet Policy
Fees (each way): $100
Maximum carrier size (length x width x height): Hard-sided 17″ x 11″ x 7.5″, soft-sided 17″ x 11″ x 9.5″
Other bags: You may have either another carry-on or a personal item, but not both with your pet carrier.
See Alaska's full policy here. 
American Airlines Pet Policy
Fees (each way): $125
Maximum carrier size (length x width x height): Mainline flights 19″ x 13″ x 9″, regional flights on American Eagle 16″ x 12″ x 8″
Other bags: You are only permitted to have a personal item along with your pet carrier. No carry-on bags are allowed if you bring your pet.
See American's full policy here.
Delta Air Lines Pet Policy
Fees (each way): $150 ($200 for international flights, including the U.S.V.I.)
Recommended carrier size (length x width x height): 18″ x 11″ x 11″ fits most aircraft, but verify with customer service after booking.
Other bags: Your pet carrier counts as your carry-on baggage on Delta. You are allowed a personal item along with your pet carrier.
See Delta's full policy here.
JetBlue Pet Policy
Fees (each way): $125
Maximum carrier size (length x width x height): 17″ x 12.5″ x 8.5″ (combined weight of carrier and pet may not exceed 20 pounds)
Other bags: Carry-on bags are not permitted along with pet carriers if you booked a Blue Basic fare, JetBlue's basic economy.
See JetBlue's full policy here.
Southwest Airlines Pet Policy
Fees (each way): $95
Maximum carrier size (length x width x height): 18.5″ x 8.5″ x 13.5″ (Southwest sells its own Southwest-branded carrier for $58 that is 17″ x 9.5″ x 10″ at every airport ticket counter)
Other bags: Pets are considered either a personal item or a carry-on item, so you are allowed one other bag of your choice along with your pet.
Note: Southwest does not allow carry-on pets on any international flight.
See Southwest's full policy here.
United Airlines Pet Policy
Fees (each way): $125
Maximum carrier size (length x width x height): Hard-sided 17.5″ x 12 x 7.5″, soft-sided 18″ x 11″ x 11″
Other bags: You can bring your pet carrier on in addition to your carry-on bag allowance.
See United's full policy here.
What Kind of Ticket to Buy?
We highly recommend travelers upgrade to Main Cabin fares in any situation for the added flexibility and the ability to choose your seat on the plane. And that's especially important when traveling with your pet.
According to Delta, pets cannot accompany you in the bulkhead row, in an emergency exit row, any other row marked "no stowage", in flatbed seats, in certain rows on Airbus planes, in some center seats on other Airbus planes, or in Delta One.
For our flight to Orlando, we were careful to choose a non-bulkhead, Main Cabin row with a window and a middle seat to insulate Wallie from the action in the aisle.
Tips to Choose a Pet Travel Carrier
Choosing the right pet carrier is important for the comfort and safety of your cat or dog.
For the bougie pets in your life, you could spend hundreds on travel carriers. Fortunately, we found a fairly inexpensive option that worked perfectly for our recent trip.
Before we settled on what bag we liked the most at the best price point, we looked into a few other options first. This included a pet carrier rolling bag, a pet carrier backpack, and a very, very fancy Away travel pet carrier that was out of our price range.
The choice we landed on was a soft-sided carrier from the company Sherpa on Amazon for $39.99.
Here's the carrier without Wallie inside. As you can see, it's well ventilated and pretty big. Plus, it's soft-sided so it can collapse a little bit to fit under most airplane seats.
Clocking in at 18 pounds, Wallie is on the larger end of dogs that are fit to fly in-cabin. As you can see, when he sits all the way up, he sticks out of that carrier. But when he lays down, he is more than comfortable inside.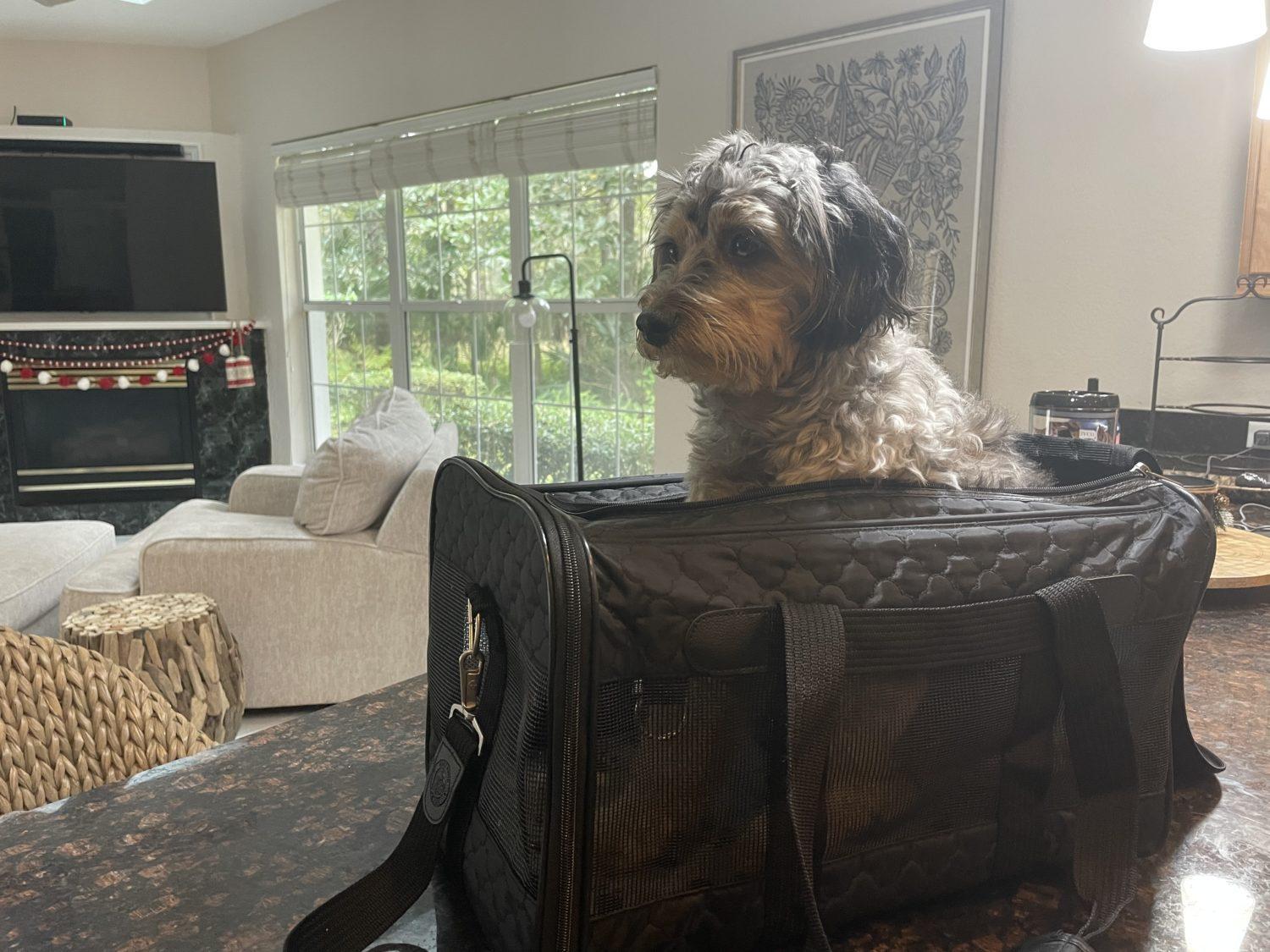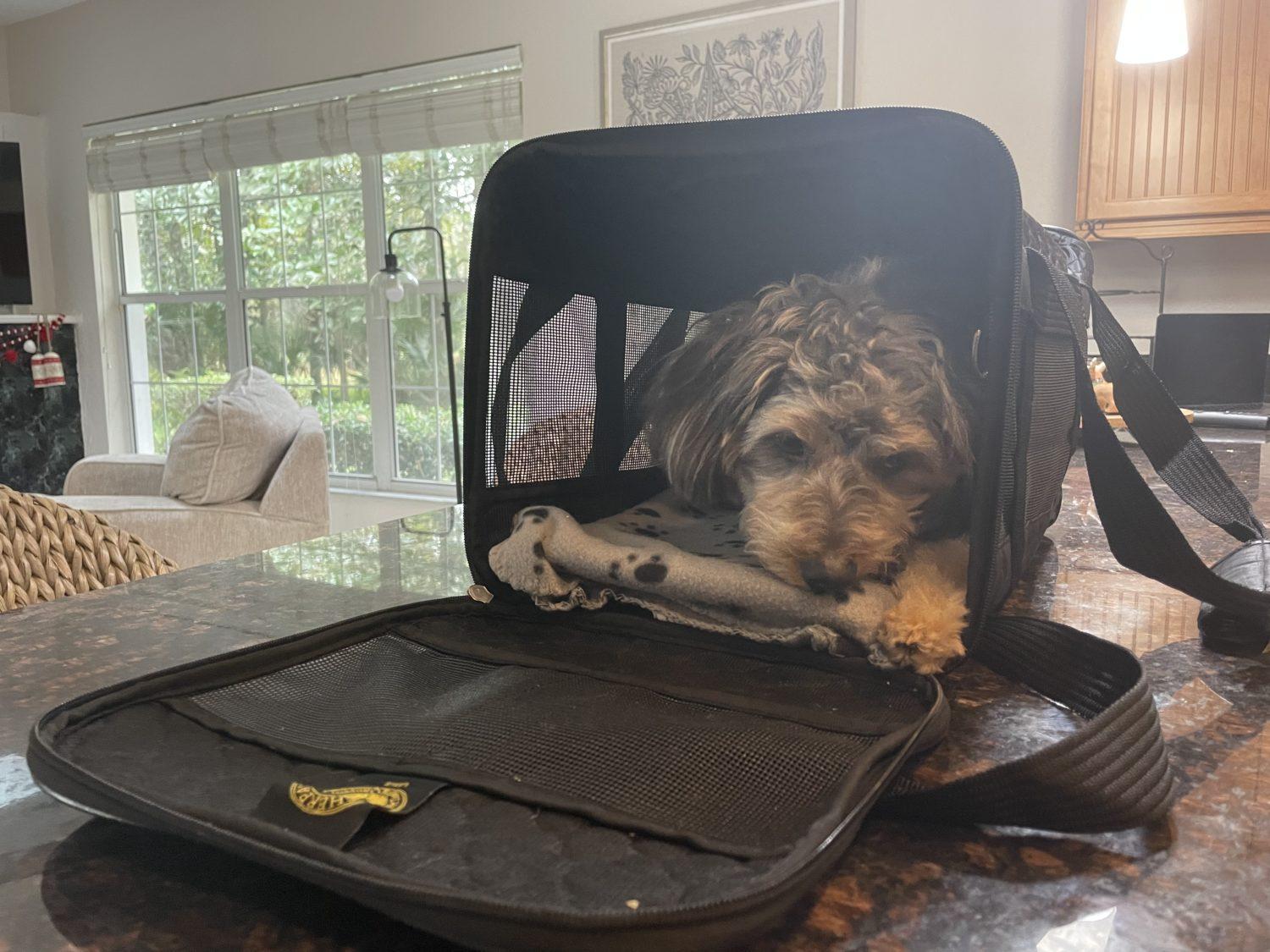 Tip: The dog paw print blanket does not come with the Sherpa carrier. It's Wallie's favorite blanket that smells like him that he's had since he was a puppy. We think it probably helped calm him down during flight. 
We think the Sherpa carrier is very effective, comfortable, and at a great value.
Pet Travel Checklist
Here are some items you shouldn't forget before flying with your pet:
Travel water bowl and water
Treats (I'd recommend bringing more than one kind in case they get bored of one)
Leash & collar
Toy or blanket from home
Bones or chew toys (dogs' ears react like ours do in rapidly changing altitudes, so give them something to chew on. Just no squeakers!)
Poop bags for pet relief areas
Calming treats (if needed for anxious dogs)
Small amount of food for long flights
What to Expect When Traveling with a Pet
Pet-to-pet, airport-to-airport, things are likely to be slightly different for you on your travel journey with your furry companion. If you don't know what to expect, here is how our flight from Minneapolis-St. Paul (MSP) to Orlando (MCO) went earlier this month
Getting to the Airport
We live just a few miles from our hometown airport, so we got an Uber Pets to get us to Terminal 1 quickly.
The trip was almost free, too, thanks to my American Express Uber credits from the Platinum Card® from American Express.
Checking In
Despite receiving an email one day before our flight asking us to check in as usual, we were given an error on the Delta App. That's because you have to check-in in person with a Delta agent when you have a carry-on pet.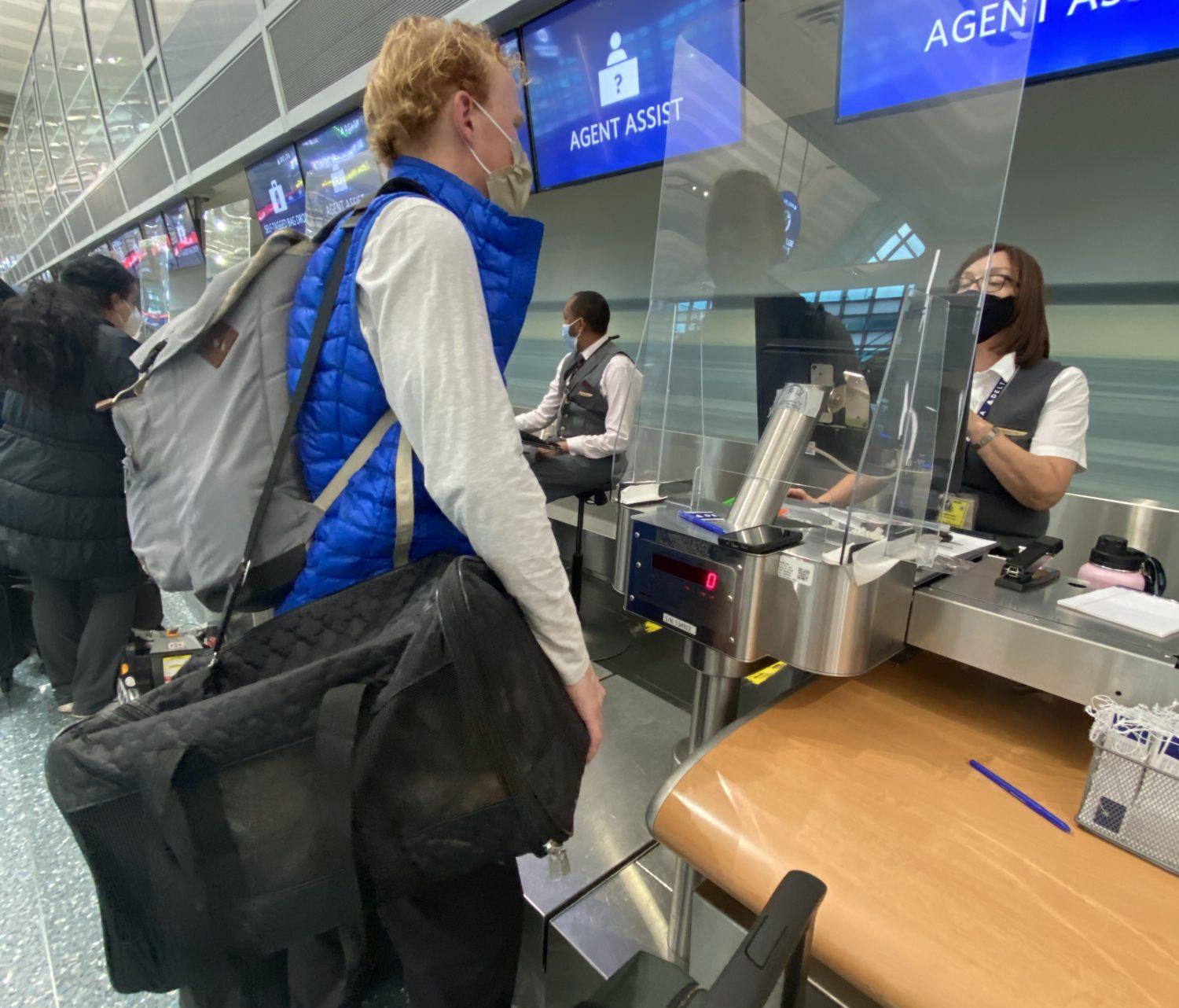 The very friendly Delta agent checked us in and took my payment of $125. We also had to check a bag for our six-day trip because Wallie counted toward our carry-on bag limit. The agent then gave us a green tag for his bag with his information on it and sent us on our way.
Another awesome perk of my Amex Platinum Card: My $125 carry-on pet fee counted toward my Amex airline credits because I had selected Delta as my preferred airline. I was interested to see if it included the pet fees … and it does!
Navigating the Airport
After leaving the ticketing area, we headed into the TSA PreCheck security line and breezed through.
When you get to the screening line, you have to take your pet out of its carrier and carry them through the sensor while their carrier goes through the x-ray machine like the rest of your baggage.
Once through, Wallie was put back into his carrier and we went on our way in search of a pet relief area. MSP has three of them after security and three of them pre-security in Terminal 1. Terminal 2 has one pre-security and one after.
We chose the pet relief area just behind the MSP Mall on the main floor underneath the Escape Lounge in Terminal 1.
Despite the confusing signage, the "nursing mothers" room and the "pet relief" area are not one in the same. The pet relief area is behind this door. Inside is a small hallway leading to a sink, beside which is a small patch of astroturf with a full-sized fire hydrant in the middle.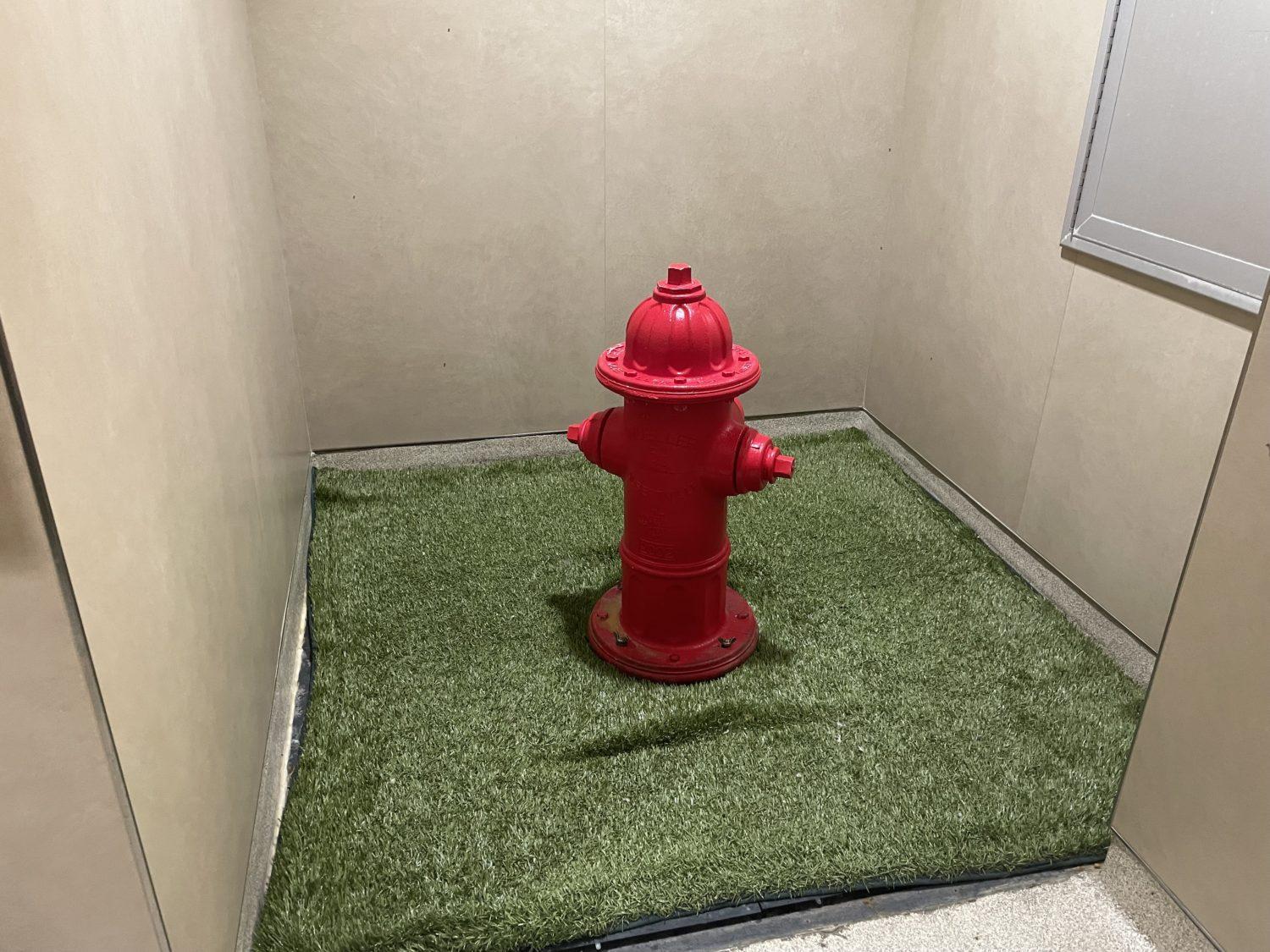 Wallie was thoroughly uninterested in the pet relief area, even when we tried again an hour later. He held it until we arrived in Orlando and took him to a patch of dirt outside the baggage claim.
Between pet relief area visits, we stopped by the Escape Lounge MSP to grab a bite to eat. Dogs are allowed in lounges, including Delta Sky Clubs, so long as they stay inside their pet carrier.
On the Plane
Once we walked over to the gate, we boarded the plane like normal and took our seats. Wallie's Sherpa carrier fit underneath our seat like a charm. Just keep in mind this won't always be the case depending on your carrier and what type of plane you're flying.
To calm him down in the new situation, we opened a small hole in the front zipper of his carrier and fed him treats periodically. Fortunately, he was relaxed for nearly the entire three-hour flight. At one point, we allowed him to pop up quickly for air as he was getting a little hot, but we made sure he went back into his carrier quickly as the rules require.
The landing jolted him a little bit, and after that, he was a little antsy. He cried a few times as people were standing up to leave the plane out of anxiousness.
But other than that, he was not a nuisance throughout the duration of the flight.
Arriving in Orlando
When we got off the plane, we struggled to find a pet relief area in Orlando airport. We decided it would be best to just take him to baggage claim and let him go outside while one of us waited for the bag.
Once outside, he was able to get out of his carrier and walk around on the leash for a little while, which he was very excited about.
We were picked up by family outside baggage claim and our pet travel journey ended!
Bottom Line
The process of bringing your pet on board is fairly easy to navigate with the right pet, but there are important considerations to make before, during, and after your journey with your furry friend.
From choosing the best pet travel carrier to pre-planning your pet relief area pit stops, your experience can be relatively painless if you plan ahead.