Nothing's worse than getting off a long flight only to wait at the baggage carousel for your luggage. It's why many travelers skip checking a bag and pack in just a carry-on bag. But flying with Delta, there's a silver lining…
Delta has a 20-minute guarantee to get bags onto the carousel after arrival. Did it take 21 minutes or more for your bags to slide down? You can easily (and, in most cases instantly) get 2,500 Delta SkyMiles as compensation for the delay!
This Delta baggage guarantee applies to all flights within the 50 U.S. states as well as Puerto Rico. Other airlines including Alaska have these baggage promises, but Delta's is incredibly easy to put to use. And at a time when every airline are still struggling with staffing and delayed bags, it could be a windfall for the next time you check a bag.
Despite launching way back in 2015, it seems like few travelers are aware of this option to earn a few thousand SkyMiles – or how easy it is to take advantage of when your bags are late to the carousel. Here's how it works.
The Rules for Delta's Bag Guarantee
The rules surrounding the Delta bag guarantee couldn't be clearer.
Only domestic flights within the 50 U.S. states (plus Puerto Rico) qualify – no international trips are eligible for 2,500 bonus SkyMiles even when bags are late
The 20-minute timer starts from the moment the boarding door opens and it ends when your bag arrives on the carousel
Bags arrive 21 minutes or later? You can only submit one claim per traveler each way, regardless of how many bags you checked
But if you're traveling with a group and your companions have checked their own bags, each traveler can submit their own claim
To submit a claim for late baggage, you must be a Delta SkyMiles member at the time of your flight
You must submit a claim within three days of your flight to get the bonus SkyMiles
Cash fares as well as award tickets booked using SkyMiles are eligible
Codeshare flights on Delta are eligible, but only if the last flight on the itinerary is operated by Delta
Delta says it can take up to two weeks to deposit bonus SkyMiles, but it's typically instantaneous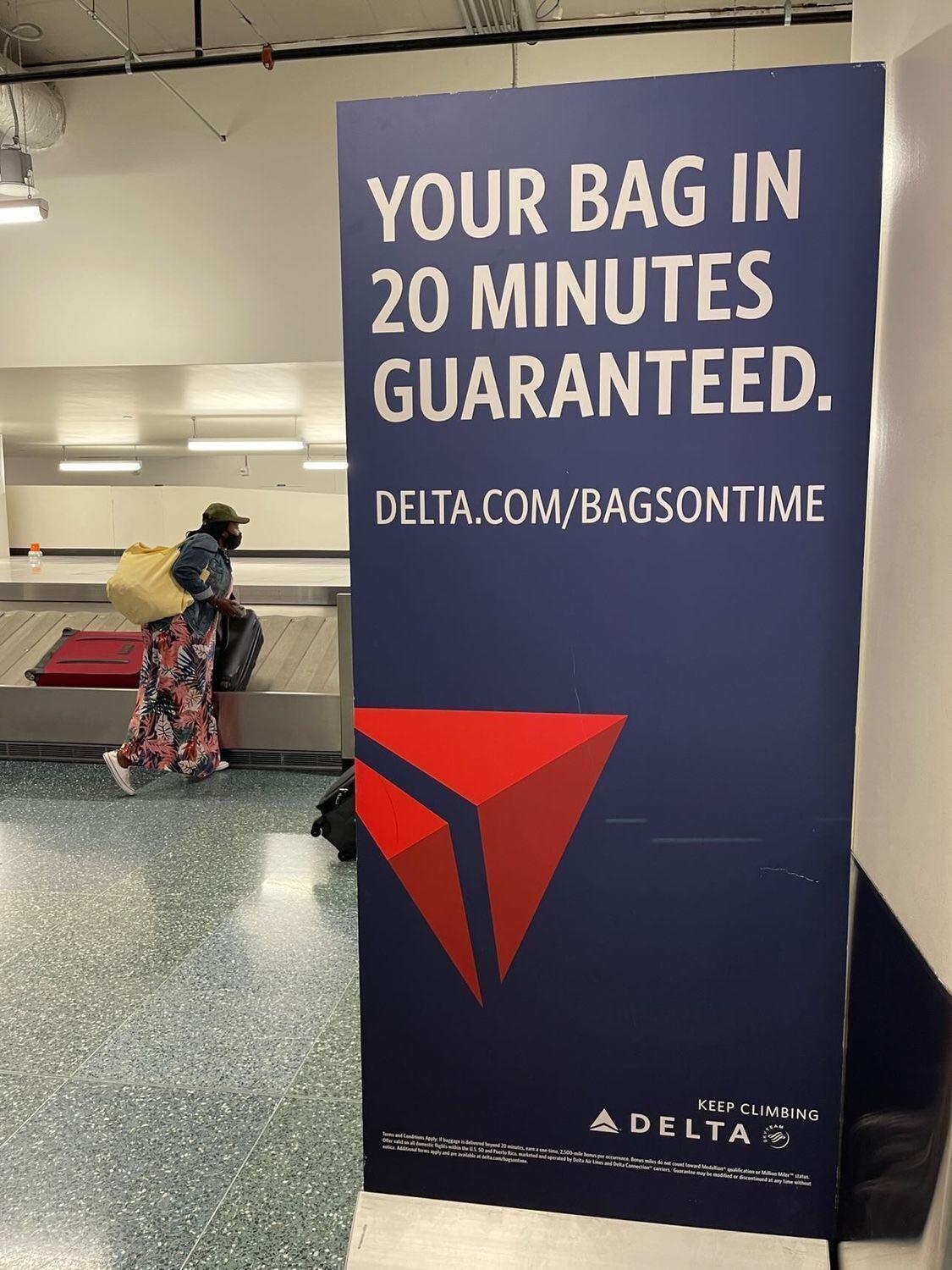 Read more about Delta baggage fees!
This might all seem a bit hard to track to figure out if can claim 2,500 SkyMiles for a late bag, but fortunately it's all fairly automated.
Delta logs the time of arrival directly within its app, so you can double check that for the official arrival time to start your counter for delayed baggage with Delta. And if you've checked a bag, the Fly Delta app also tracks your bag's progress to the carousel and stamps a final arrival time.
Otherwise, just start a stopwatch on your phone when the boarding door opens and hit stop when your bag makes its way down to the carousel. Either way, it couldn't be easier to submit a claim if your bags take more than 20 minutes.
How to Submit a Claim for Delayed Bags with Delta
Unlike Alaska Airlines, Delta has brought the entire process to get your bonus SkyMiles for a late bag online.
If your bags take more than 20 minutes to arrive, just go file a claim directly with Delta or tap in delta.com/bagsontime to your web browser. Just remember: You need to submit these claims within three days of your flight in order to get the 2,500 bonus SkyMiles.
The form itself is incredibly simple. Just enter your name, SkyMiles number, origin and destination city, your six-digit confirmation code, and the date of your flight.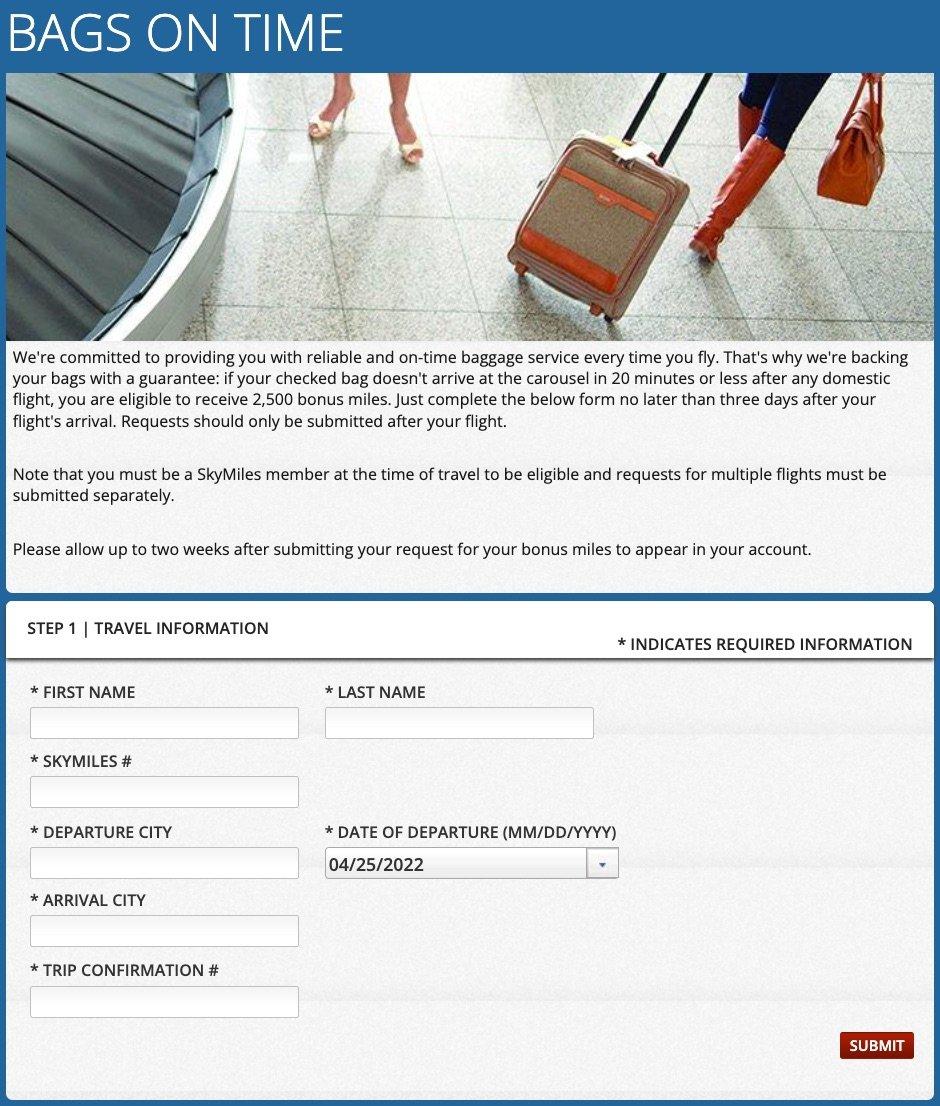 Just hit submit and you're done – and in many cases, that's all it takes to get your 2,500 SkyMiles. While Delta warns it can take up to two weeks, it's often instant. The airline seems to simply crosscheck your claim against its internal records and issue the bonus SkyMiles automatically.
Just check your SkyMiles account history to make sure those 2,500 SkyMiles are deposited.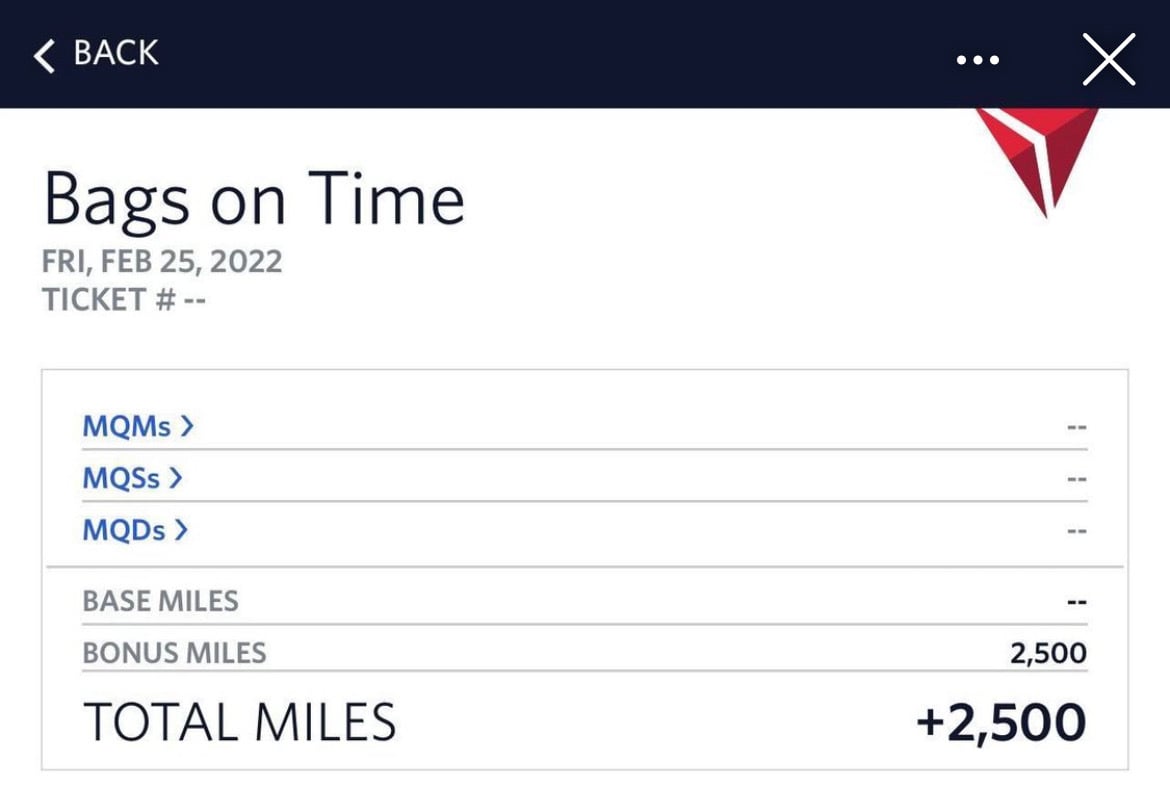 That's really all it takes. Getting 2,500 SkyMiles might not be earth-shattering, but it's an easy way to earn more SkyMiles if you're checking a bag. And considering we've seen domestic flights occasionally drop as low as 4,000 to 5,000 miles roundtrip thanks to Delta SkyMiles flash sales, a late bag could get you far.
Bottom Line
At this point, we're shocked more travelers don't know about this sweet little perk.
If your check bag takes more than 20 minutes to hit the luggage carousel, you can quickly and easily submit a claim and get 2,500 SkyMiles for your troubles. Those might just be the easiest 2,500 SkyMiles you'll ever earn.
Lead photo courtesy of risingthermals via Flickr