Airbnb has reshaped how we travel, opening up homes, condos, apartments, and flats across the globe for rent – often for much less than you'd pay at a big-box hotel.
But as Airbnb has grown in popularity, so have the number of rentals available … and not all of them are great. The national narrative surrounding Airbnb has shifted from a great way to score affordable lodging to outrageous cleaning fees, chores at check-out, and plenty of horror stories of awful apartments or homes. It's forced some major changes at the homestay platform, but many travelers are still skeptical.
Take it from us: Whether you're traveling in a big group or flying solo, you can still find a stellar Airbnb and come out ahead. Our team has been at it for years, so we've cobbled together our go-to methods to make sure we don't get stuck somewhere awful.
With a keen eye and our tips, you'll score the best Airbnb possible for your next trip no matter where you're heading. Here's how.
Want to save on your Airbnb? Use Capital One Venture Miles to book!

1. Pick a Neighborhood First
First things first: Decide where you'd like to stay.
There's no question that one of the draws of staying with hotels is that it's predictable and reliable, especially when it comes to location. With Airbnb, it's up to you to do the research. And the location is one of the most important factors that will shape your stay.
Take a look at a map of the city you are visiting and get to know the city. Google which neighborhoods are the safest, liveliest, have the most boutique shops, have the best restaurants, and so on. Only you can decide what fits the bill for your trip.
It can be helpful to decide on some activities and attractions you want to visit before booking accommodations. Easy accessibility to awesome restaurants and main attractions is a key component to picking the best Airbnb. Typically, homes that are closer to the city center will cost more. If you're looking for a cheaper Airbnb outside of the city center, take into consideration the cost of an Uber or public transportation to get into town.
On Airbnb, browse the map on the right to explore:

For some major cities, Airbnb will suggest some neighborhoods in a handful of the larger cities to give you a feel for the neighborhoods in a city and help you choose the best one for you. For all other cities, using the map feature can come in very handy for selecting the best area of town for your stay.
2. Master the Filters
Next, it's time to filter for the home or apartment you want – and avoid the ones you don't.
First up: Enter the dates you're staying. Don't waste your time looking at amazing homes only to find out they're not available the days you want to stay. Next, click "Filters" and make sure you pick "entire place" if you want to ensure you've got the whole place to yourselves – not just a spare bedroom.

In addition to adding how many guests you'll have to the search, we also like to specify the number of bedrooms. If you need two bedrooms, it's best to make sure on the front end that a great option for four travelers doesn't have just one bedroom and a pullout couch. You can also set a minimum for how many bathrooms you need: A couples' trip is much better when you don't have to share a bathroom, right?

If you'd rather stay in a house than a condo or apartment, you can also filter those results by property type. We also like to set a maximum price per night: While it's fun to look at the expensive ones, it can bog you down and add extra time to your scouring.
Last year, Airbnb overhauled its search platform to make it easier to find something special: The company calls them categories. Whether you want something with ski-out access or a tiny house, you can zero in on what you're really looking for.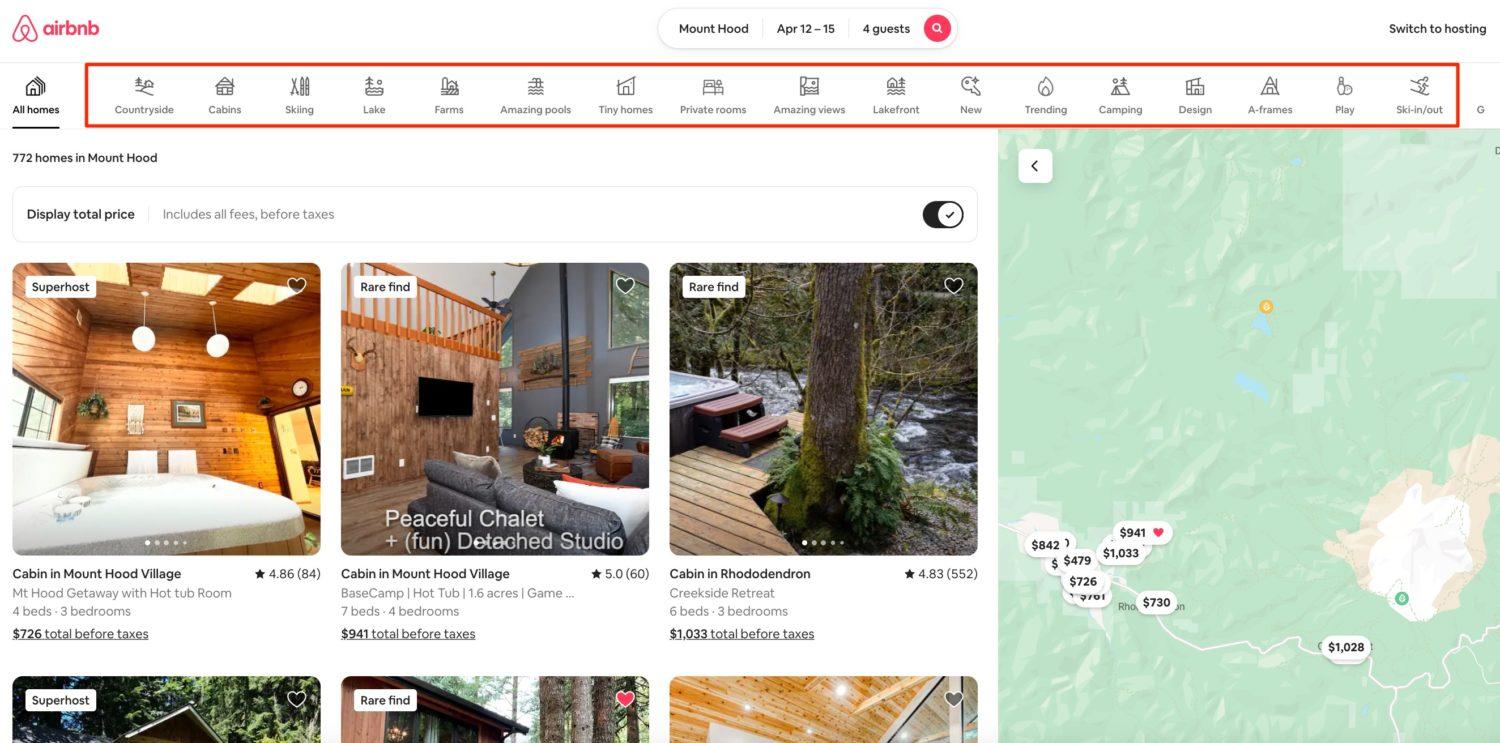 You're not done filtering yet. Now's the time to really drill down and make sure your stay has everything you need.
Scroll down through the filters until you see the option to filter for amenities. Want to ensure you don't get stuck somewhere hot without air conditioning? Need a laundry machine so you can wash some clothes and pack in just a carry-on bag? Need Wi-Fi so you can work during your trip? This is how you ensure you have everything you need.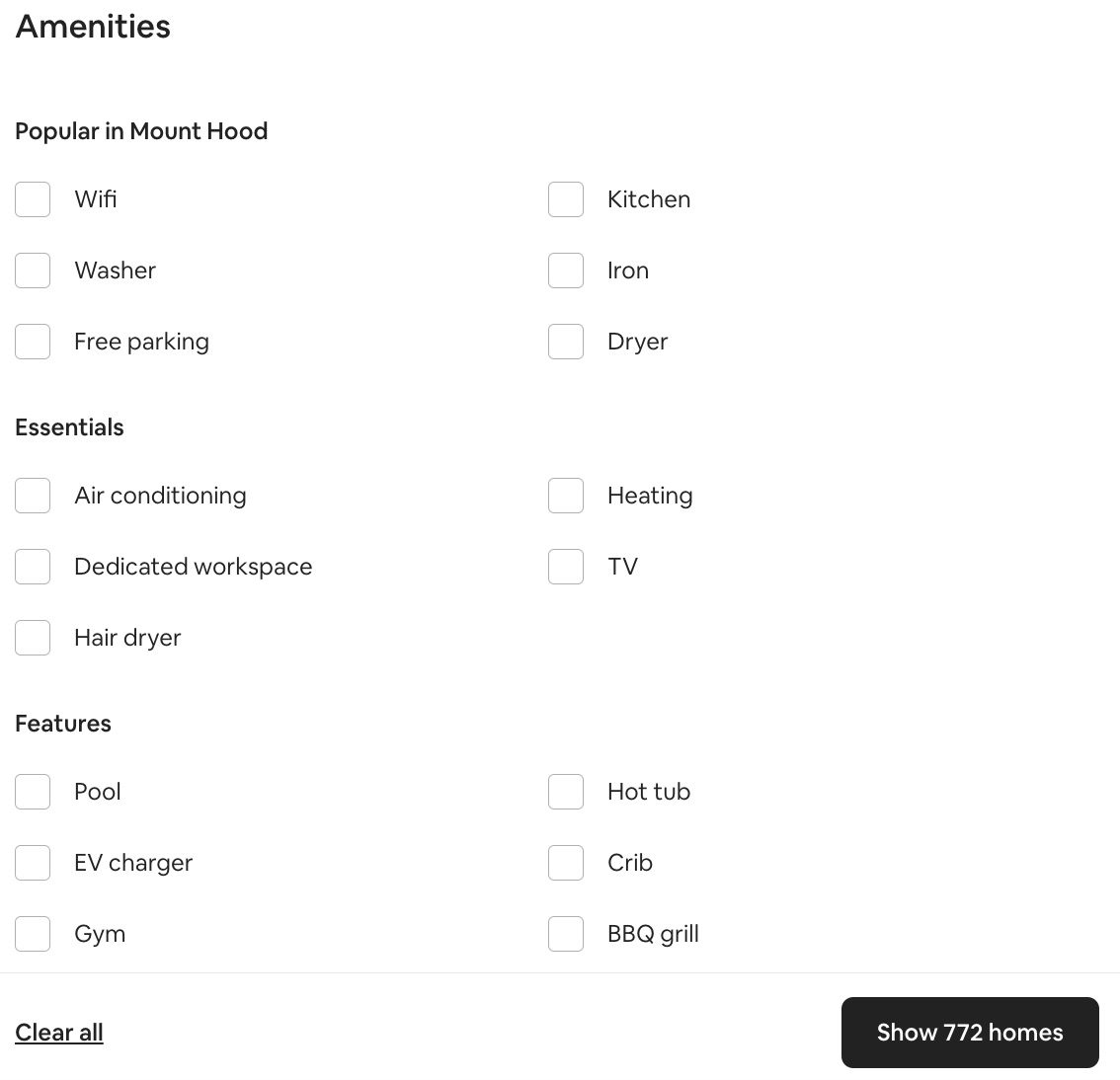 Want more flexibility in case you need to cancel? Luckily, the Airbnb cancellation policy has been beefed up over the last few years. Airbnb allows you to filter to only see properties with free cancellation. 


Just be sure to read the listing closely so you know the deadline to cancel to get your money back. On some stays, it's just a few days (or less) before you check-in while for others, it may be a month in advance or more.

Read our master guide to finding refundable Airbnb stays to make sure you're booking a stay that will meet your needs.

3. Focus on Superhosts or Airbnb Plus
If you're new to Airbnb or have been burned by a bad stay in the past, you may want to check out Airbnb Plus. To search for only Airbnb Plus homes, toggle the option on in the filters section.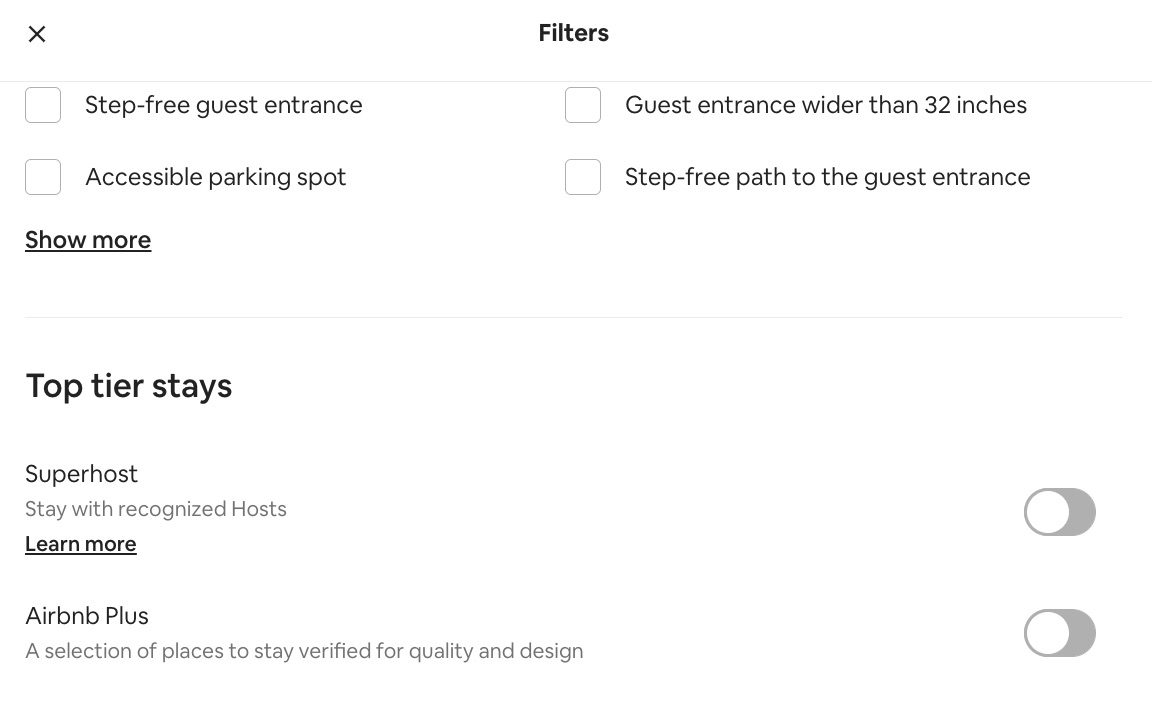 Airbnb Plus homes are inspected personally by Airbnb staff and rated to ensure the highest quality of these select homes. Not only have these Airbnb Plus homes been reviewed and visited to ensure quality and comfort standards, these homes generally have gorgeous decor. These hosts are also known for having perfect ratings, stellar reviews, and attention to detail.

Though Airbnb Plus listings aren't available in every city, their popularity has grown a lot in recent years. And they are definitely worth taking a look at if available in your destination.
Otherwise, consider narrowing down your search only to listings run by Airbnb Superhosts. While they're not quite on the level of Airbnb Plus properties, Superhosts are top-rated by guests with low cancellation rates.

4. Read the Reviews … Carefully
By now you should have a compilation of the homes that best fit your needs. This last step in searching for the best Airbnb possible is the most important: Read the reviews. Like, a lot of them.
No matter how many filters you set and listings you comb through, there is no replacement for reading the reviews for possible red flags.
As a general rule, we look at Airbnb listings that have no less than an overall average of 4 1/2 stars out of 5. With so many options, it's not usually worth it to take a chance with lower-rated homes to save a few bucks.
Typically, we choose eight to 10 homes with 4 1/2- to 5-star ratings to dig into. Before diving into the reviews, be sure to take a look through all of the photos (and we mean all of them) and make sure the home looks like what you're looking for.
Some things to keep an eye out for when reading reviews:
Take a look at a good amount of reviews to get a bigger picture of what staying in this home is like. Of course, take all reviews seriously but with a grain of salt. Something that might not have been a big deal to someone else might be a game changer for you.
Read reviews up to six months back. Beyond six months, the Airbnb homeowner may have since made changes and updates to take care of past issues.
On the other hand, make sure there's at least a few great, recent reviews. A top-rated property may not mean much if its last stellar review is from several years ago.
Pay special attention to longer reviews. Those who take the time to write a paragraph or more tend often provide a critical review of what could be better, rather than just writing "Great stay!" Often, reviewers will "sandwich" a critique or issue in between positive first and last sentences. Be sure to read the middle: see examples below.
Look for reviews denoting loud noises, cold showers, lots of stairs to get to the flat, and other similar complaints.
5. Watch for Fees!
Airbnb knows it has a problem: Runaway cleaning and service fees that can make what looks like a bargain nightly almost double the price … if not more.
After vowing to crack down on these fees and make them more transparent, Airbnb has done just that. More and more Airbnb users will now see the option to "display total price" – a toggle that will show prices with all fees, though taxes are not included. But you have to make sure you turn that toggle on!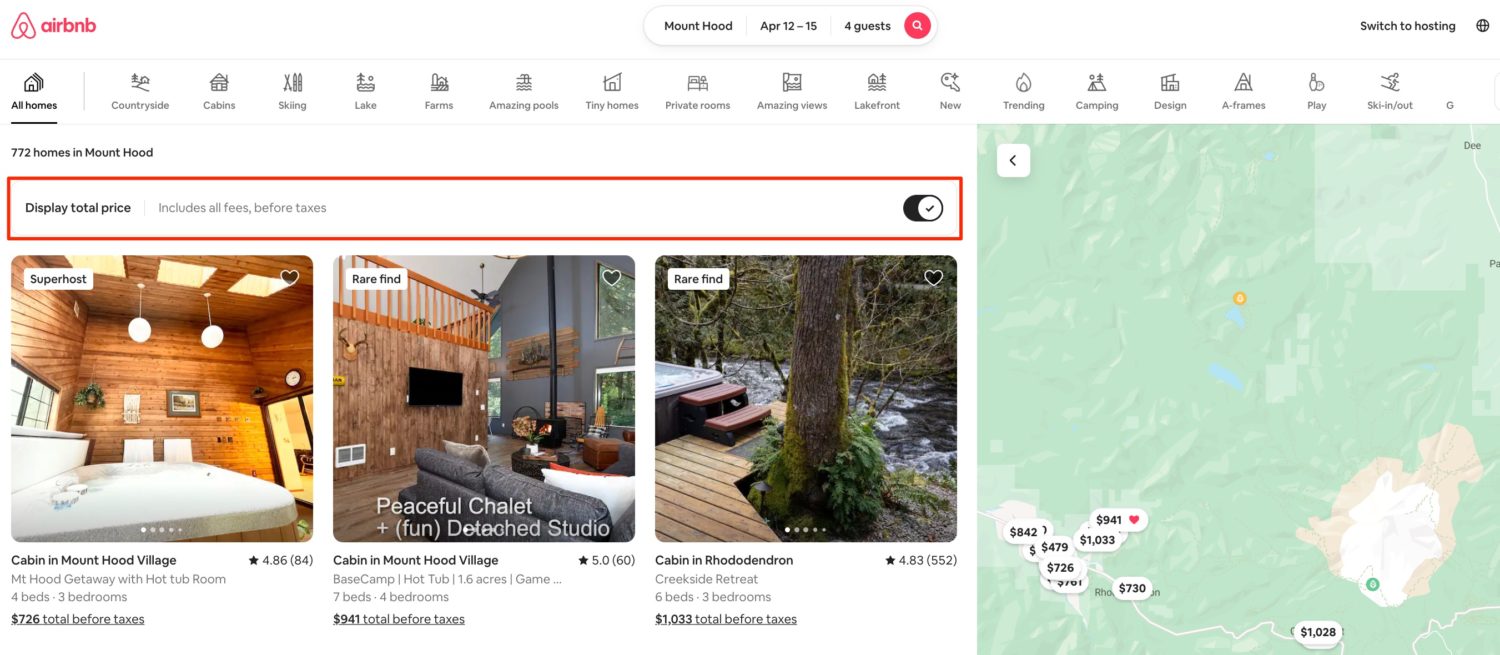 That alone should make it much easier to avoid sticker shock at checkout. Airbnb has also said it is cracking down on hosts who require guests to do laundry and other tasks before leaving by requiring hosts to disclose "unreasonable checkout tasks" during the booking process.
Even though you'll see something closer to your final price throughout the search process, it still makes sense to look at the breakdown of costs so you know what you're getting.

Bottom Line
The key to finding the best Airbnb possible is to filter, filter, filter, then read reviews. It's that simple. And don't sleep on the Airbnb Plus feature or renting only from Superhosts for reliable, top-rated homes.
Using these tips will save you time when searching and ensure you book the best Airbnb possible.