Airbnb has reshaped how we travel, opening up homes, condos, apartments, and flats across the globe for rent.
But there's no denying this home-share platform comes with some tradeoffs, and we've all heard a horror story – or perhaps one ourselves – when it comes to staying at an Airbnb. But really, that's no different than any accommodation: There are some great places to stay, and others, not so much.
With a keen eye and our tips, you'll score the best Airbnb possible for your next trip no matter where you're heading.
Thrifty Tip: New To Airbnb? Sign up using our link and you will receive $40 towards your first stay (we will get $20 as well).
Pick a Neighborhood
First things first: decide where you'd like to stay.
The area where you start and end your days on vacation has a huge impact on your overall experience, after all. Stay far ou,t and you'll need to take an Uber or use the metro system to get to the city center. Stay in the city center and you may hear cars all night. Certain neighborhoods may have more dining and public transportation options than others. These are all things to consider when deciding which area of a city you'd like to stay in during your trip.
Take a look at a map of the city you are visiting and get to know the city. Google which neighborhoods are the safest, liveliest, have the most boutique shops, have the best foodie restaurants, and so on. Only you can decide what fits the bill for your trip.
It can be helpful to decide on some activities and attractions you want to visit before booking accommodations. Easy accessibility to awesome restaurants and main attractions is a key component to picking the best Airbnb. Typically, homes that are closer to the city center will cost more. If you're looking for a cheaper Airbnb outside of the city center, take into consideration the cost of an Uber or public transportation to get into town.
For some major cities, Airbnb will suggest some neighborhoods in a handful of the larger cities to give you a feel for the neighborhoods in a city and help you choose the best one for you. For all other cities, using the map feature can come in very handy for selecting the best area of town for your stay.
Filter for Price & Essentials
Next, it's time to filter! I'm a filter fanatic because it gets me to the best homes that are most my style, and ditches those that aren't.
First up: filter for the dates you're staying. Don't waste your time looking at amazing homes only to find out they're not available the days you want to stay. Next, filter for the number of guests. I like to filter by the number of beds when traveling with friends or coworkers (under "More filters" button).
Third, filter by home type. This is often an overlooked step. I personally prefer to have the entire place to myself when booking an Airbnb. However, you can save a lot and often meet kind locals by booking a private room in someone's home.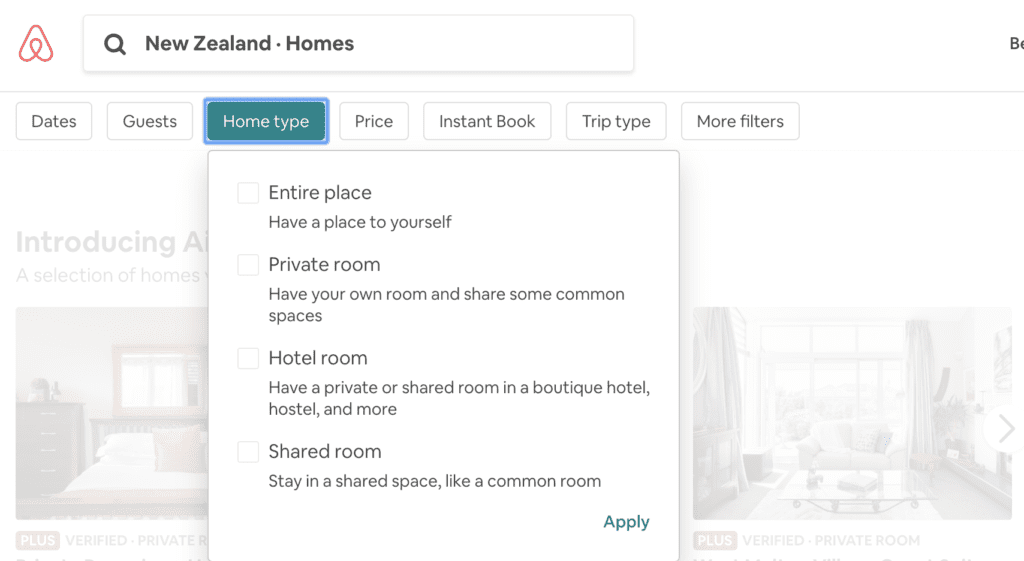 I also like to set a maximum price that I and my travel companions are willing to pay per night. While it's fun to look at the expensive ones, it can bog you down and take extra time to search.
Finally, select the "More Filters" button and further customize your search. This button is the key to making sure you are only searching homes that fit your criteria. Start by selecting the must-have amenities you'll need during your stay. Headed somewhere tropical? If air conditioning is a must, make sure you've got it selected. Planning to do some laundry during a long trip through Europe? Filter for homes with a washer.
Under the Facilities option, be sure to select "Free Parking" if you'll be renting a car, or "Hot tub" if that's a must for your family (it is for mine!)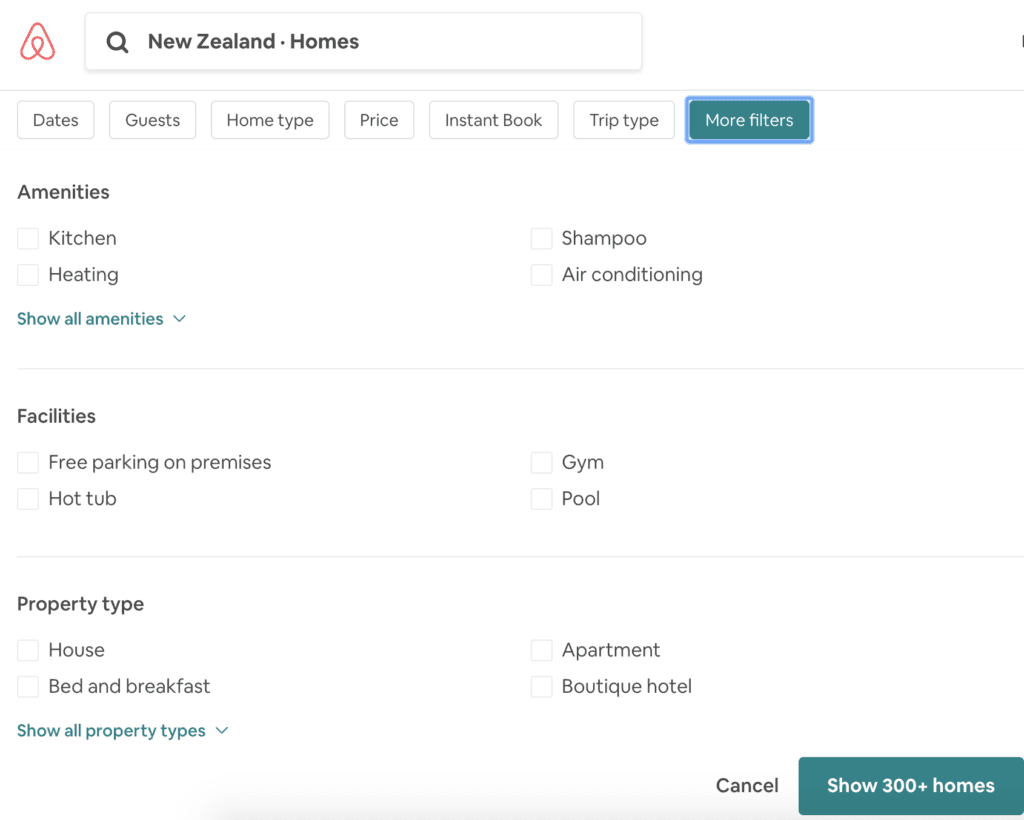 Filter for Home Style
Okay, this is my favorite part! And it's the key to finding some out-of-this-world and unique Airbnbs.
Under the "More filters" button, there is a section specifically for unique homes. Read my story on these unique home options and browse these gorgeous Airbnb homes in search for your next stay.
Read the Reviews
By now you should have a compilation of the homes that best fit your needs. This last step in searching for the best Airbnb possible is the most important: read the reviews. Like, a lot of them.
As a general rule, I look at Airbnb listings that have no less than an overall average of 4.5 stars out of 5. With so many options, it's not usually worth it to take a chance with lower rated homes to save a few bucks.
Typically, I choose eight to 10 homes with 4.5 to 5-star ratings to dig into. Before diving into the reviews, be sure to take a look through all of the photos (I mean ALL of them) and make sure the home looks like what you're looking for.
Some things to keep an eye out for when reading reviews:
Take a look at a good amount of reviews to get a bigger picture of what staying in this home is like. Of course, take all reviews seriously but with a grain of salt. Something that might not have been a big deal to someone else might be a game changer for you.
Read reviews up to 12 months back. Beyond 12 months, the Airbnb homeowner may have since made changes and updates to take care of past issues.
Pay special attention to longer reviews. Those who take the time to write a paragraph or more tend often provide a critical review of what could be better, rather than just writing "Great stay!" Often, reviewers will sandwich a critique or issue in between positive first and last sentences. Be sure to read the middle: see examples below.
Look for reviews denoting loud noises, cold showers, lots of stairs to get to the flat, and other similar complaints.
Search for Airbnb Plus Homes
Finally, if you're new to Airbnb or have been burned by a bad stay in the past, you may want to check out Airbnb Plus.
Airbnb Plus homes are inspected personally by Airbnb staff and rated to ensure the highest quality of these select homes. Not only have these Airbnb Plus homes been reviewed and visited to ensure quality and comfort standards, these homes generally have gorgeous decor. These hosts are also known for having perfect ratings, stellar reviews, and attention to detail.
Though Airbnb Plus is only available in select major cities right now, they are definitely worth taking a look at if available in your destination. You'll be sure to have a spectacular stay in an Airbnb Plus and – surprisingly – they won't break the bank.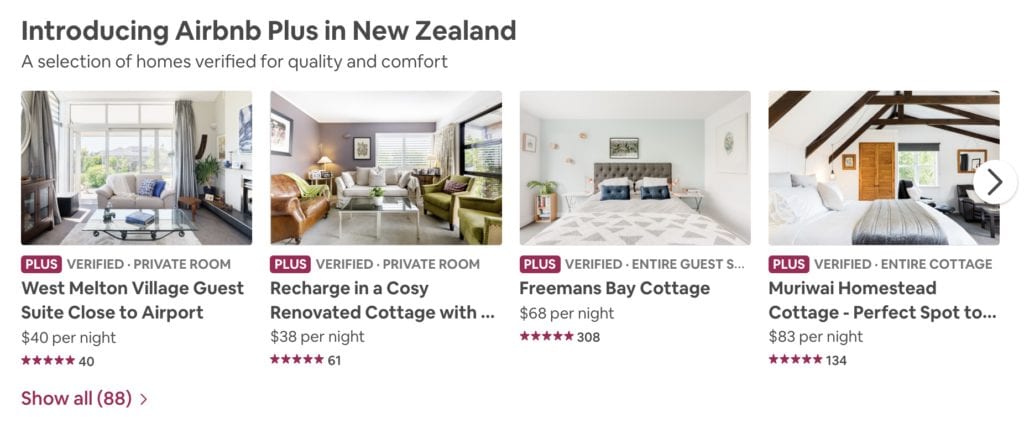 Bottom Line
The key to finding the best Airbnb possible is to filter, filter, filter, then read reviews. And don't sleep on the new Airbnb Plus feature for top-rated homes. Using these tips will save you time when searching and ensure you book the best Airbnb possible.