Here at Thrifty Traveler, we're all about cheap flights. But traveling on the cheap goes beyond airfare. And finding the best website to book hotels could make or break your upcoming vacation.
In many ways, finding the right way to book your hotel is even more confusing than flights. While there is no single best hotel booking site out there, deals aren't hard to find if you search through the best websites, portals, and search aggregation tools.
Where exactly are the best hotel deals? Just like cheap flights, hotel deals aren't one size fits all. It depends on what kind of accommodations you prefer, where you are traveling, and if you want to pay with cash or points and miles.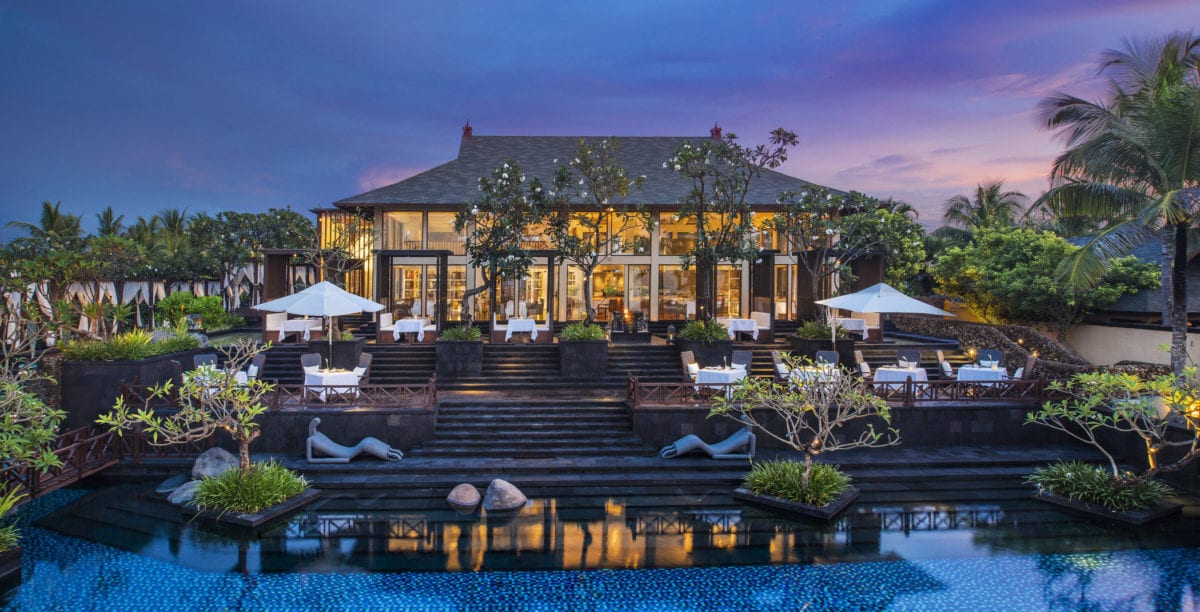 You might feel overwhelmed with all the websites claiming to be the cheapest hotel booking site, and you're not alone. Should I be using my credit card booking site? Is booking directly with the hotel the best way? What about Airbnb and VRBO? Is Agoda legit?
Our team has booked hotel reservations all over the world using tons of different hotel booking sites. Accommodation booking sites can vary wildly, so let's walk through some of the best options and help determine which sites might be right for you.
Types of Hotel Search Engines
Hotel reservation websites come in all shapes and sizes.
For starters, there are the sites from hotel chains themselves like Marriott, Hyatt, Hilton, IHG, and others, bringing you hotel rates right from the hotels themselves. Then there are online travel agencies you may know (and even love) like Expedia, Hotwire, and Kayak, which lump together tons of hotel bookings and can offer big savings.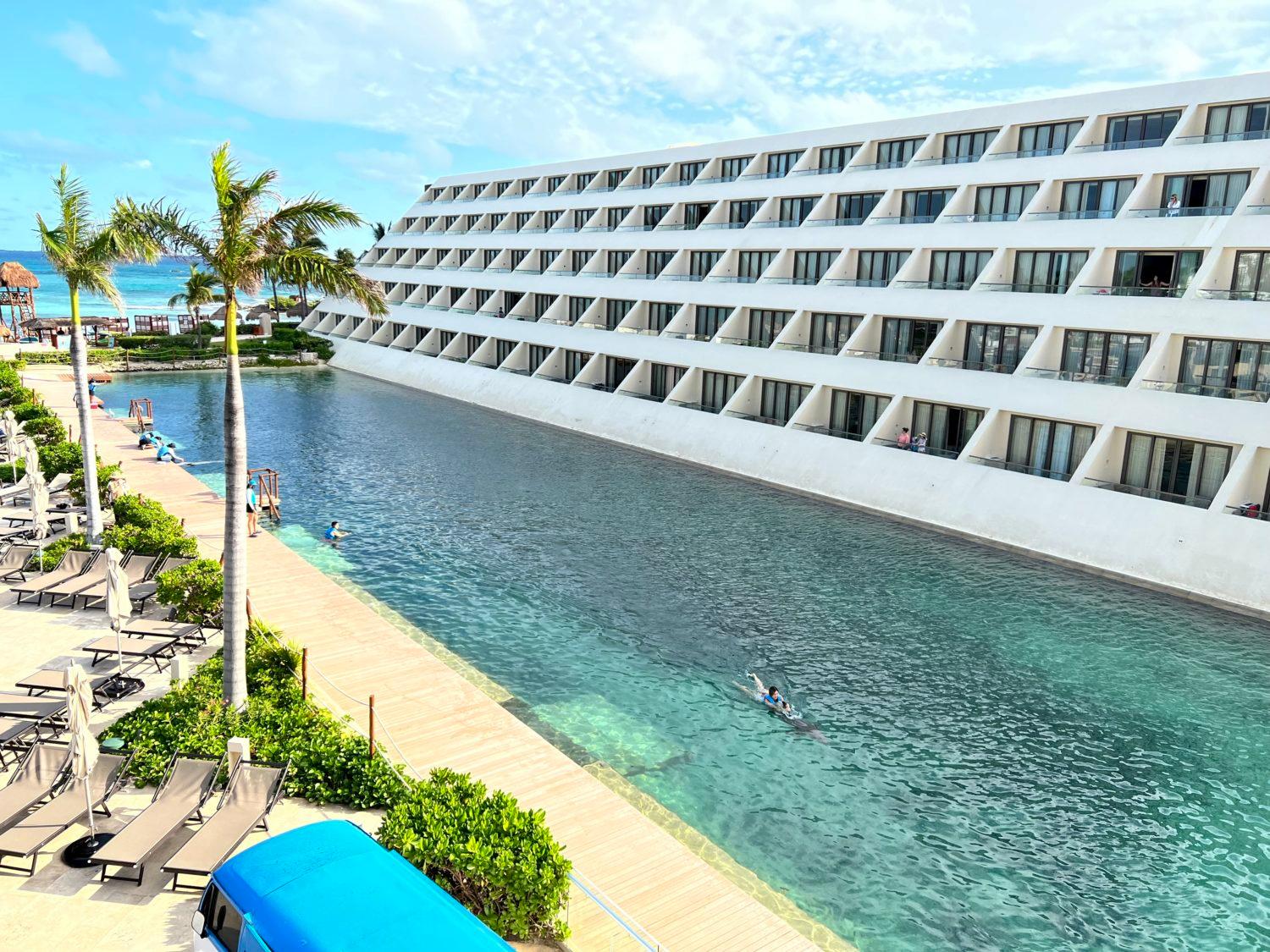 Other aggregators like Google Hotels bring you nearly every booking option – whether it's from the hotel itself or an online travel agency – all in one place so travelers can make the best choice from all of those options. Finally, there are credit card travel portals from Chase, American Express, and Capital One that give you the option to book with their flexible points currencies and can help you earn points faster.
It's a big, big world of hotel deals, so you need to find the site that is right for you.
How Do Third-Party Booking Sites Work?
If you aren't booking directly with the hotel on sites like Marriott, Hilton, or Hyatt, odds are you're searching through a third-party booking site. Those websites offer reservations for the very same hotels … but sometimes at different prices.
When searching through a third party booking site to book hotel stays, you might save some money on the reservation or at least see a few other options than you would when booking directly.
These sites can be hit or miss. We would always recommend comparing the cost of booking through one of these sites versus booking directly with the hotel.
For flights, we always urge travelers to book right with the airline – when things go wrong or if your plans change, it's much easier to get help through the airline than going through a middle man. There's less risk when booking hotels through another site … but there can still be drawbacks:
If you've got status with a hotel chain, those benefits typically will not carry over when you book through an online travel agency or another third-party platform.
You also generally won't earn points with that hotel chain but rather loyalty points or credits through Expedia, Hotels.com, or whichever program you're booking through – or none at all.
What We Look for in the Best Hotel Booking Sites
Let's say you're looking at booking a hotel room in Las Vegas or Los Angeles next fall, and you're searching for the best hotel booking site. In looking for the best website to book hotels, you're going to want to focus in on a few key details.
For one, pick a hotel reservation website that lets you compare and contrast rates and hotels. Most sites will allow you to see a number of hotels and their nightly rates so you can make a cheap purchase.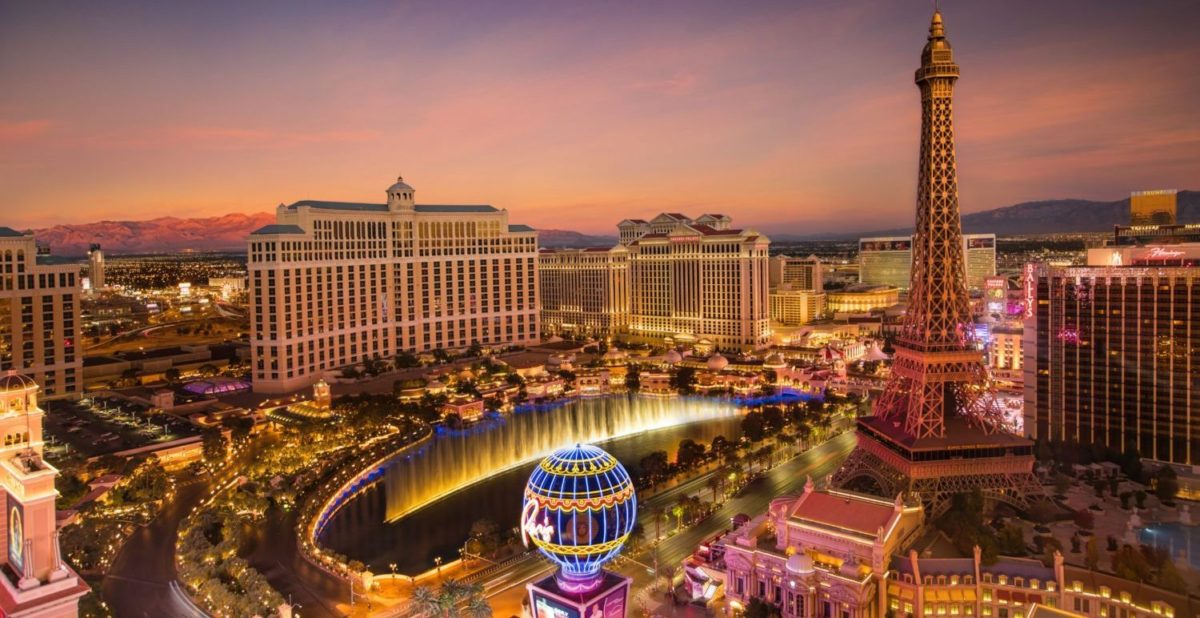 Second, use booking sites that come with a map feature. Let's say you're in Las Vegas and you find a great hotel you can book for $100 cheaper than some of the other options, but after you book, you realize that your reservation is 20 minutes off of the Las Vegas Strip. Whatever you are paying in Uber rides or taxis will eat at that $100 in savings very quickly. Don't get stuck in an undesirable area and spend time of your vacation commuting to all the fun!
Finally, make sure you go all the way up until the payment point of the booking before pulling out your credit card. Don't let an online travel agency or hotel booking site charge you erroneous fees after they quoted you a different rate.
1. Google Hotels
From the makers of the world's best flight search tool in Google Flights, Google Hotels similarly allows users to filter for the exact accommodations they want, exactly when they want them, while seeing nearly every option at their disposal.
Google Hotels is a powerful tool that allows you to find the hotel you like and then lets you look at all the different best ways to book your room.
Read our full guide to using Google Hotels to find cheaper hotels!
Google Hotels allows you to filter for either hotels or vacation rentals – in fact, it's one of the few that allows you to search for both. From there, it has tons of other filters in each of those searches.
In this hotel search for Las Vegas in October, you can filter for hotel star rating, price, special offers, pools and other amenities, class, brands, and much more. You can even check the box for hotels that offer free cancellation, allow dogs, are wheelchair accessible, have beach access, or much, much more. Google recently added the ability to add hotels to a list of favorites, saving them as you weigh which property to pick!
Once you've made your choice and are ready to book, you simply click "View prices", which takes you to a page with tons of options for booking, whether that's directly with the hotel or through a third-party booking site.
Google Hotels is a great tool to find cheap hotel rooms, especially if you have specific requirements for your stay.
Pros
The ability to use hundreds of filters for unique specifications in your hotel stay.
The ability to book directly with the hotel or with nearly any third party site.
Cons
You're always another click away from your booking site, as you cannot book rooms directly with Google.
2. Hotels.com
Hotels.com is another powerful hotel booking website that could help travelers really narrow down their options and find a nice nightly rate.
And when it comes to a hotel booking site, they have possibly the simplest, most memorable name there is. As far as online travel agencies go, this one is easily our favorite on the (very long) list if you need a hotel stay.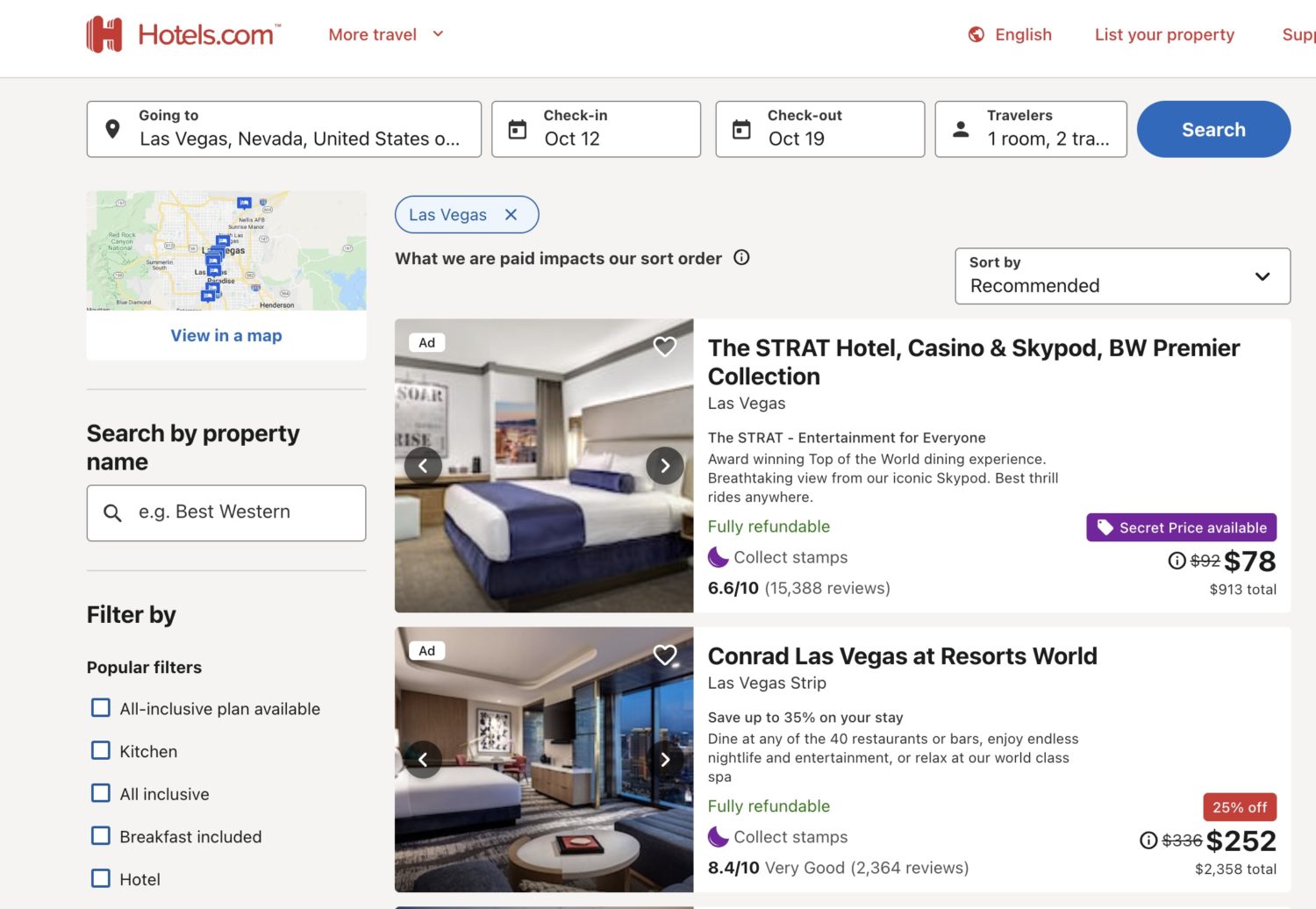 What helps set Hotels.com apart is its long list of filters that can get pretty specific to what you would want on vacation. You can filter for room with kitchens, how many bedrooms you want, what neighborhood you want to stay in, what landmarks you want to be by, if the place is LGBTQ welcoming, has hot tubs or ocean views, and much, much more.
Perhaps the best feature of Hotels.com is it's easy-to-use rewards program. Forget racking up a minuscule amount of points on each booking: For every 10 nights booked through Hotels.com, you get a free night. That free night is worth the average of your 10 nights.
But this rewards program may not be around much longer. Hotels.com is integrating its loyalty program with Expedia and other sites under the name One Key, and it's unclear whether the "book 10 nights, get one free" structure will stick around.
When it comes to booking, however, all bookings are made right with Hotels.com, meaning you don't have the option to book with another site or directly with the hotel. And watch for ads in your results: Some of the top results may not be there because they're the best, but because they're paying for top placement.
Pros
Tons of specific filters to find the perfect hotel for you.
Some good deals at specific hotels.
An easy and valuable rewards program to get free nights.
Cons
You can only book with Hotels.com.
Not all hotels offer rooms to Hotels.com, so your selection could be somewhat limited.
3. Agoda
Another great way to find a good property for your next stay is Agoda. The popular hotel, home, flight, airport transfer, and activity booking site is especially popular among travelers throughout much of Asia, but it can be useful in many major destinations.
The best part about the site is its versatility. You can book nearly every aspect of your trip from Agoda.com if you so choose.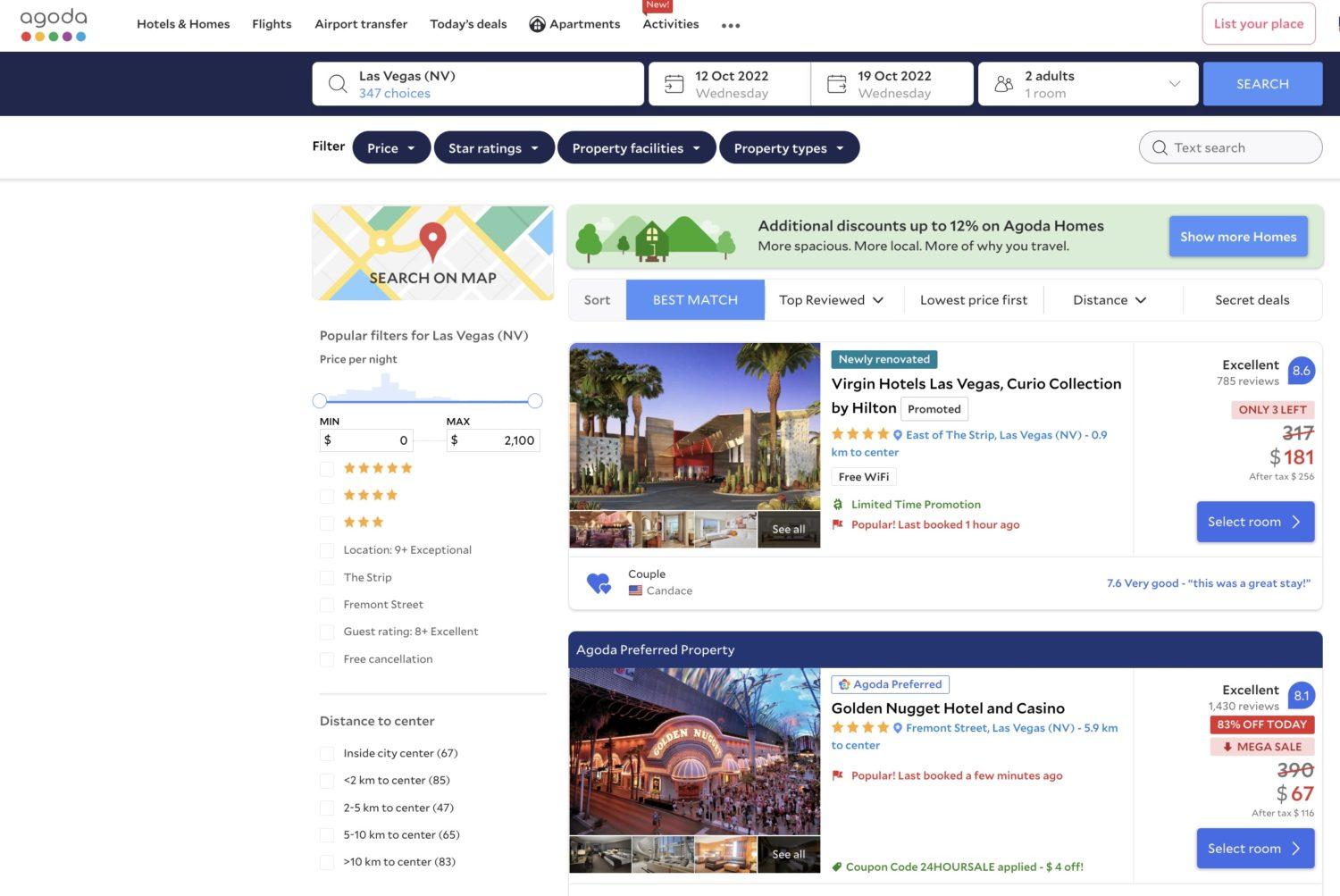 Travelers can filter by neighborhood, star rating, distance from city center, popular attractions, beach access, and more.
The site also shows coupon code offers on the deals, occasionally offering sizable savings on hotel rooms. Plus, it shows how many choices there are within your search parameters. In one test case, the site said there were 347 Las Vegas hotels that fit the filters I selected for my sample booking in October.
Pros
Access to steeply discounted hotel rooms thanks to coupon codes.
Access to vacation rental and hotel bookings.
Great especially within Southeast Asia.
Cons
Not every hotel is bookable through the platform.
Limited number of search filters.
4. Hotwire
Hotwire is one of the hotel booking sites you've already probably heard of. Its "Hot Rate" deals allow travelers to get even steeper discounts than you'll find on almost any other site, though it's a feature best utilized by non-brand loyal travelers who are looking to save as much money as they can.
Plus, the website allows you to choose pre-arranged neighborhoods for your booking, so you can always end up in the spot you want.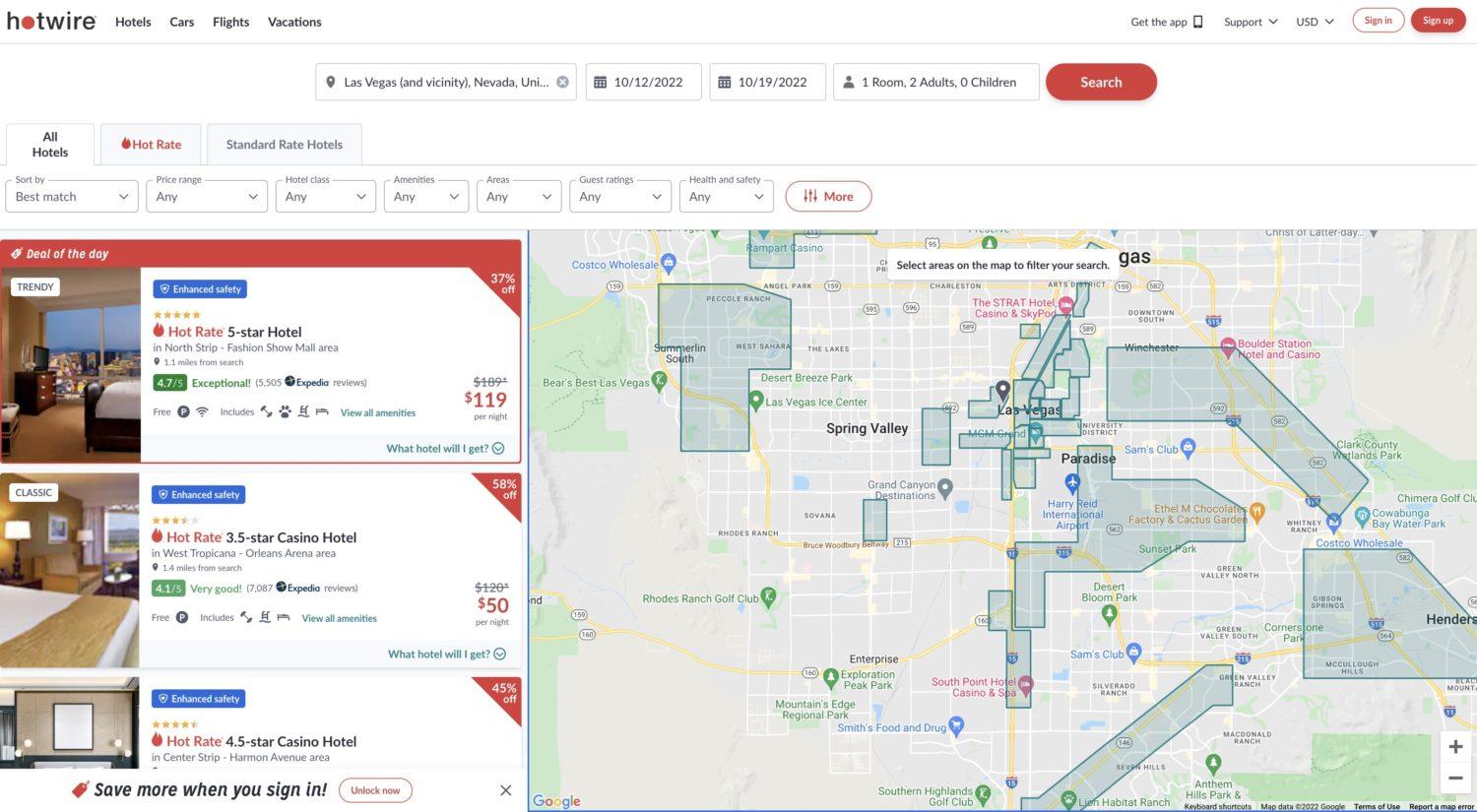 One of the most interesting features of booking hotels with Hotwire is the "Hot Rate" feature, which hides the name of the resort from the user, instead offering the neighborhood, star rating, and all the amenities. By shielding the name of the resort, Hotwire offers some steep discounts on the rooms. Also, you can get a narrowed down list of possible hotels by clicking the "What hotel will I get?" button underneath the listing.
Thrifty Tip: The website Better Bidding can help you narrow down even further to identify which mystery hotel you're booking.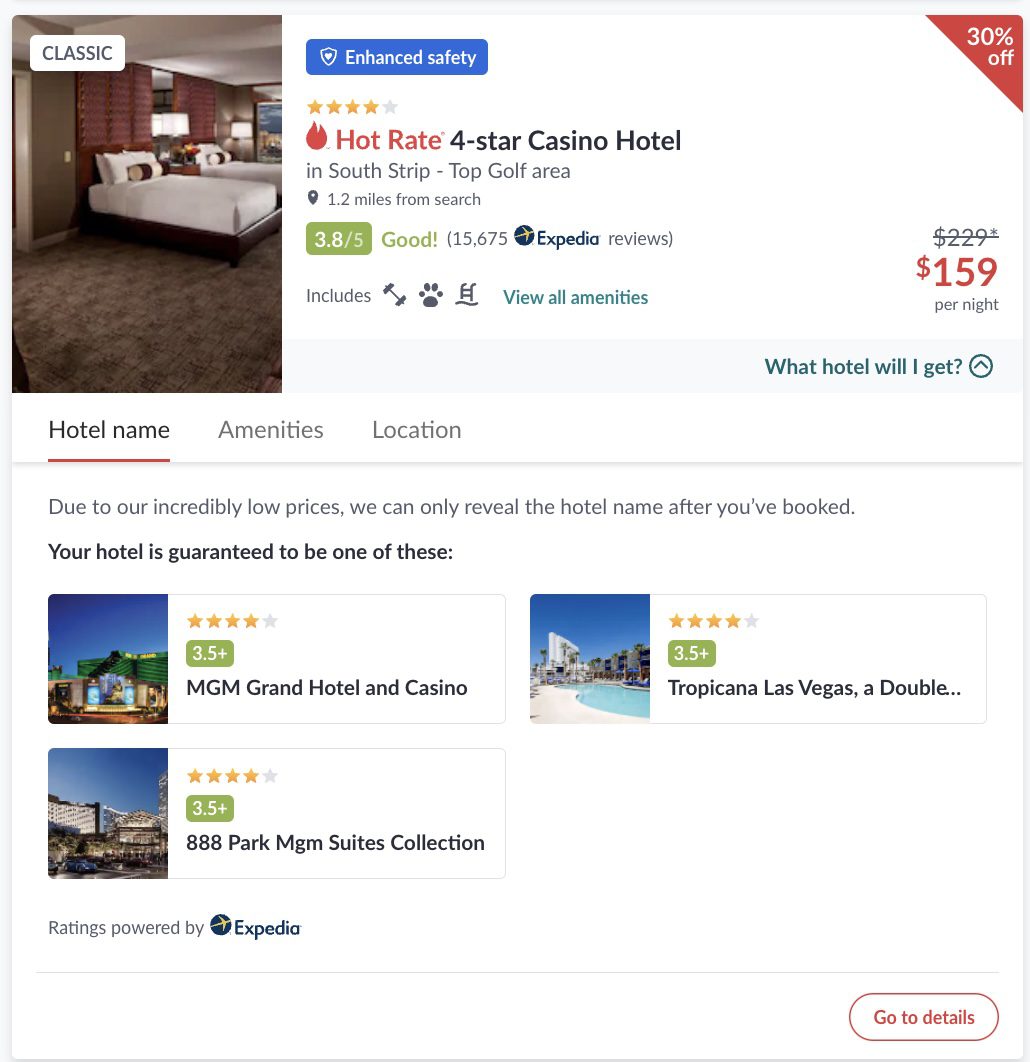 Hotwire is also a great way to find rental cars and offers a way to book flights as well. The downside to Hotwire is a limited number of filters, meaning you'll have to use some trial and error if you have specific needs from your resort.
Pros
"Hot Rate" feature gives users deeply discounted rates in exchange for not revealing the specific property until after booking.
Neighborhood specific searches are a helpful tool for a traveler who is particular about what part of town they want to stay in.
Cons
The best "Hot Rate" deals have the hotel names hidden, so you can't choose your favorite brand.
Hotwire has fewer filters than other sites.
5. Kayak
As far as online travel agencies go, Kayak is among the better options, in our minds.
The powerful search and booking tool lets you search through multiple booking sites at once, set price alerts, and filter down results to an unmatched level of specificity. You can search a map, find vacation rentals, and search through its list of "unique stays" as well. It's the most powerful hotel booking tool outside of Google Hotels, but it can occasionally offer even better deals.
One of the great features of Kayak as you search is that it offers a color-coded pricing calendar that allows you to see the dates where hotel rooms are cheaper than average, average, or higher than average. It can help you narrow down your search before you even see a listing.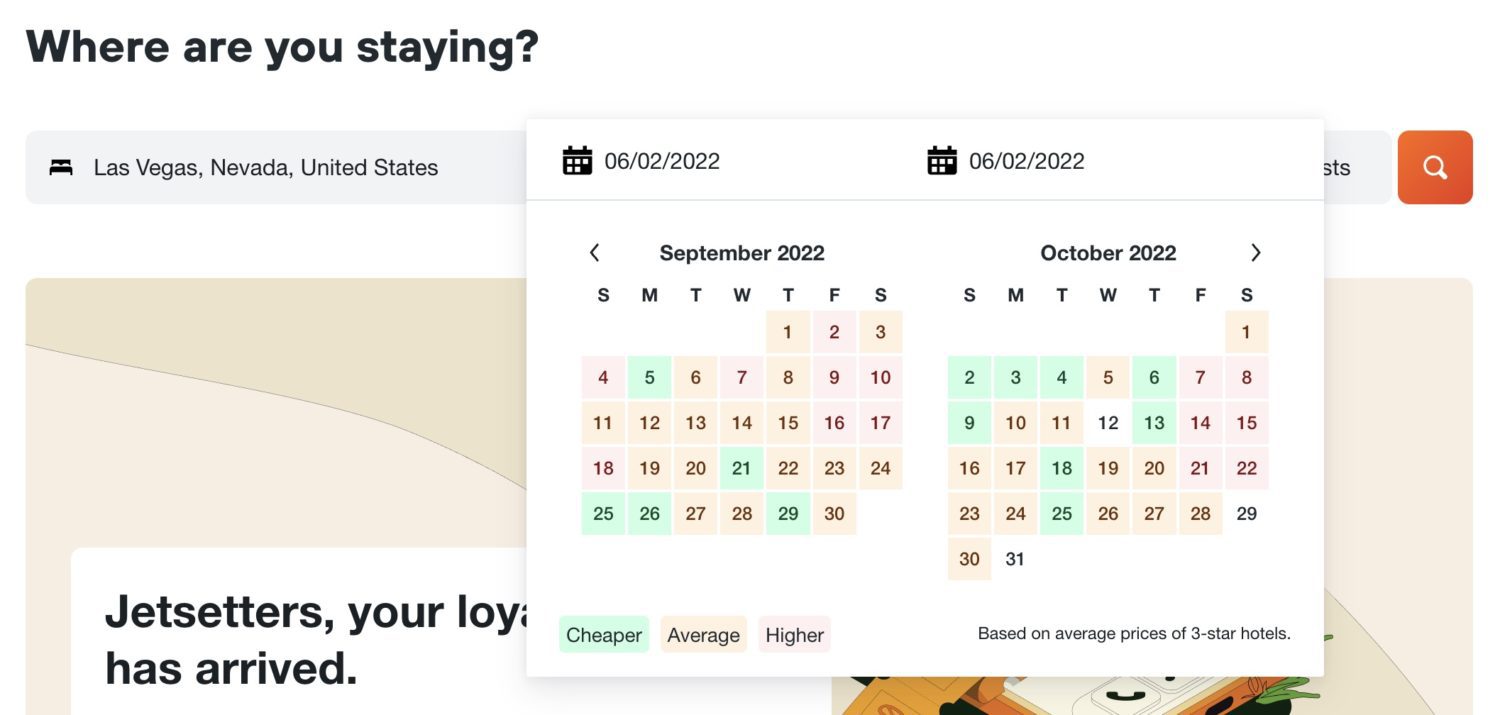 So if you don't like the rates you're seeing on the dates you selected, you can always go back to this calendar view to find some cheaper ones. It could save you hundreds of dollars when booking.
On the downside, Kayak's Explorer Rewards Program has extremely limited value – especially compared to the likes of Hotels.com. And like other OTAs, you won't earn points or have any hotel loyalty recognized on your bookings.
Pros
An extremely long list of filters allow you to find the perfect hotel room.
A color-coded calendar that lets you know the cheapest days to book.
The ability to see the cost of booking on dozens of other websites, including Kayak itself.
Cons
A questionable rewards program means you won't get much additional value out of booking via Kayak.
6. Hyatt
Sometimes, the best way to book your hotel stay is directly with the hotel chain. Hyatt and its World of Hyatt loyalty program is our favorite.
Only World of Hyatt properties (and a handful of affiliated chains) are bookable on their website. By creating a free World of Hyatt loyalty account, you can often find slightly lower nightly rates than non-members.
But if you have any World of Hyatt points, you could find an incredible value. Nights at Hyatt properties start as low as 5,000 points per night – or even less during off-peak times!
In addition, you can transfer Chase points to World of Hyatt if you aren't a regular Hyatt customer.
The search filters aren't extensive, but there aren't very many Hyatt properties either, so you won't be overwhelmed with  options.
Pros
Some of the best points redemptions in the hotel space.
Cons
Can only book World of Hyatt hotels.
Hyatt has a smaller footprint than most other hotel chains.
7. Marriott
Marriott and its enormous list of world hotels can be booked directly through its website.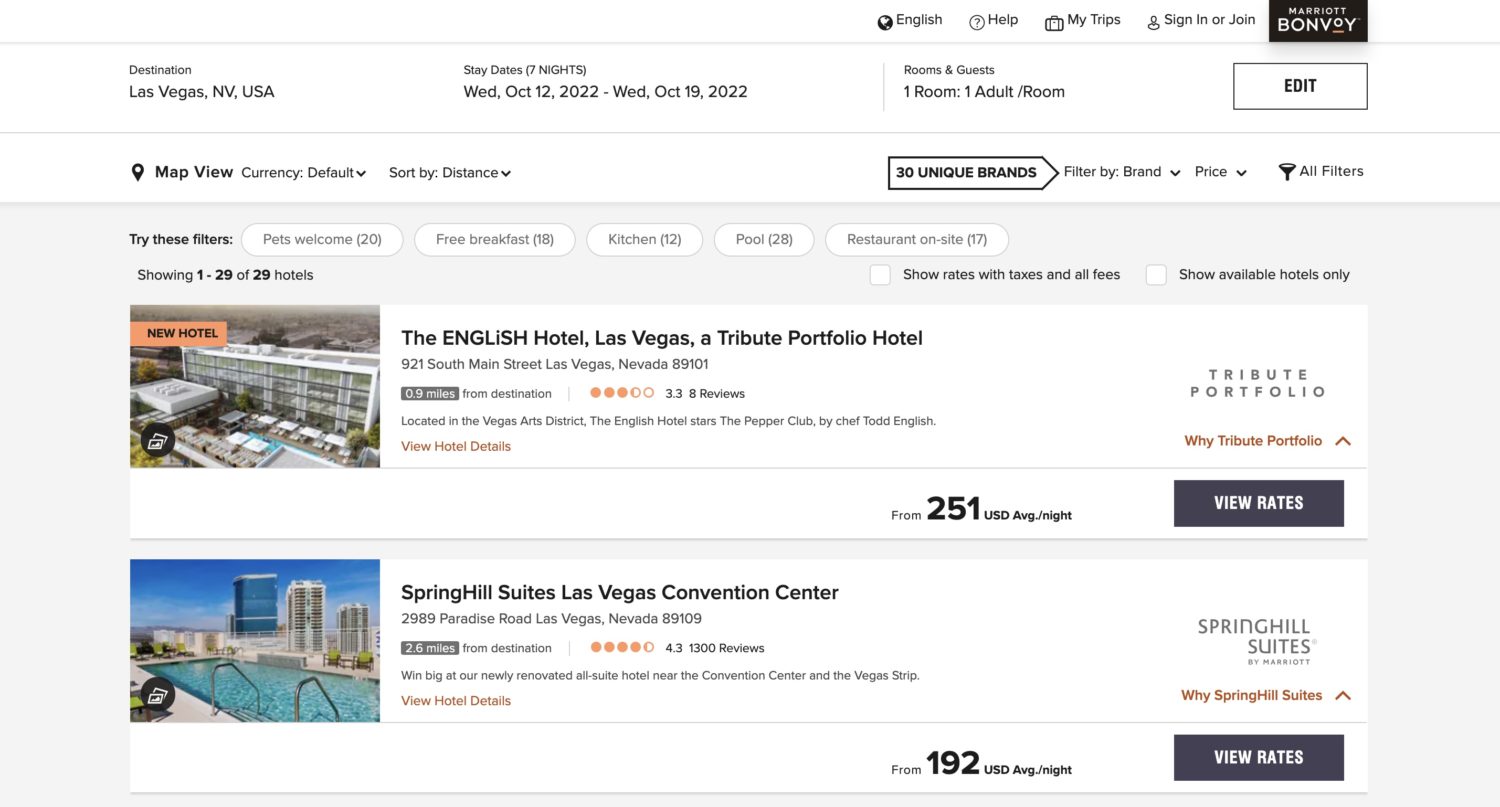 Because of this huge roster of participating hotels, Marriott Bonvoy has a ton of search filters for users to find the perfect hotel for their individual specifications.
At Marriott's website, you can use both cash and Marriott points to book hotel stays. By creating a free Marriott Bonvoy loyalty account, you can often find slightly lower nightly rates than non-members.
Marriott points can be earned or transferred in from Chase and American Express.
Pros
A huge list of participating properties.
Cons
You can only book Marriott hotels through Marriott Bonvoy.
8. Hilton
Hilton is another mega hotel chain where you can book hotel rooms directly on their website.
Hilton's site is easy to use with a relatively long list of search filters. By creating a free Hilton Honors account, you can often find slightly lower nightly rates at all Hilton properties than non-members. Plus, you'll earn points on each stay.
You can use Hilton Honors points to book rooms through the website, too. Hilton points can be earned or transferred from American Express.
Pros
Ability to book Hilton properties all over the world with Hilton Honors points.
A long list of participating properties.
Cons
You can only book Hilton properties on the Hilton Honors site.
9. Priceline
Priceline and its TV ad jingle are also probably known to many travelers. It's another great way to find deals on hotel bookings.
Like Hotwire's "Hot Rate" feature, Priceline's "Express Deals" hides the name of the hotel from the user until after booking in exchange for a much lower price. It's a nice feature for savings, but not the best for users who are brand loyal or are looking for a specific spot to stay on their journey.
With Hotwire, you can see a grouping of three hotels you know you will stay at. That feature is called "Pricebreakers" for Priceline.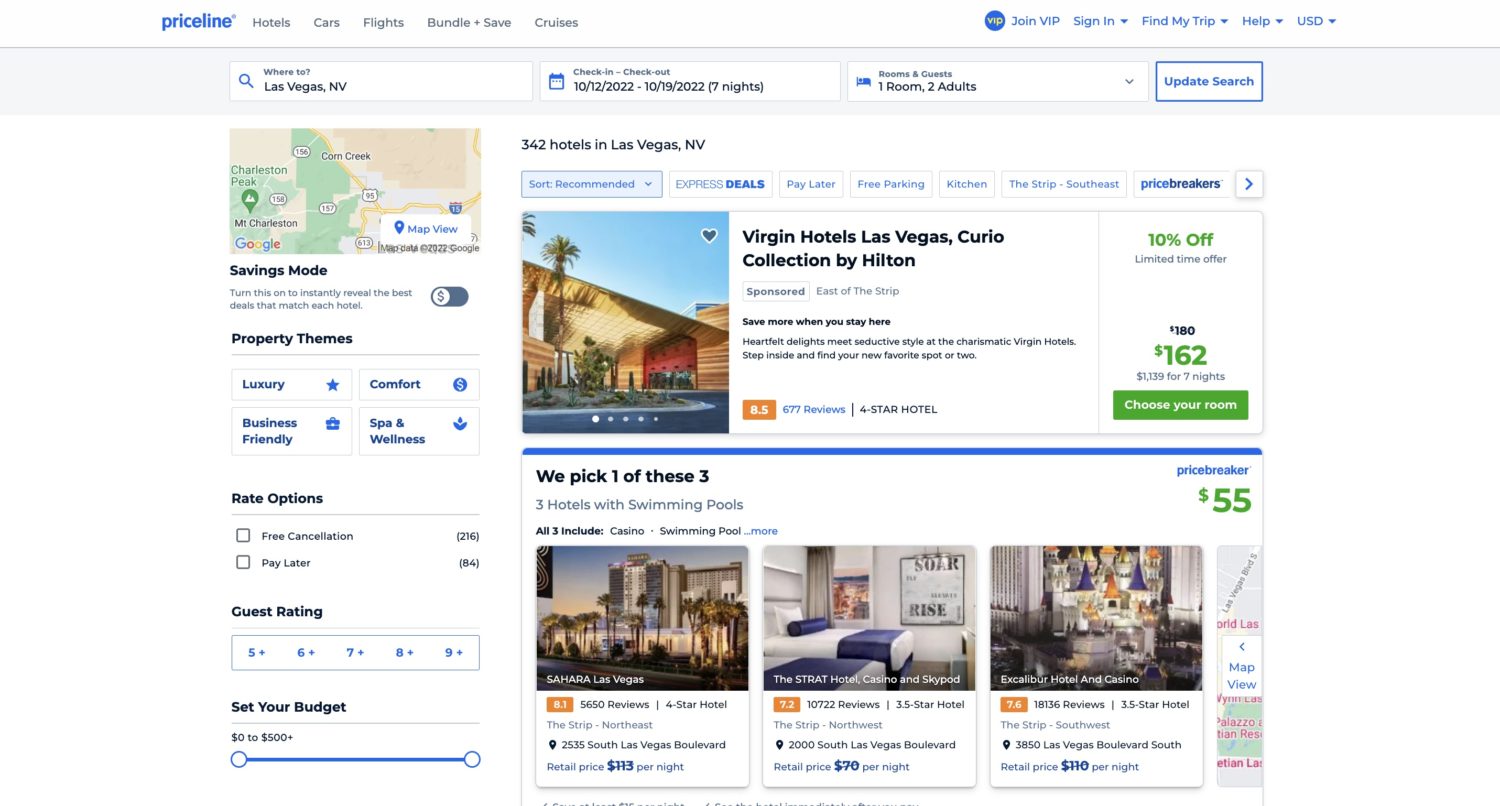 Priceline has a modest grouping of filters, including resort themes, free cancellation, star rating, brand names, and amenities like airport shuttles, free breakfast, spas, and more.
Pros
Priceline's "Express Deals" and "Pricebreaker" deals allow for steep discounts in exchange for not knowing the hotel name.
Tons of participating hotels and rates.
Cons
Not as great at filtering your results as alternatives.
For brand loyal travelers, you won't get to know the name of your hotel if you choose an "Express Deal" or "Pricebreaker" rate.
10. Hotel Tonight
Hotel Tonight has carved out a niche as the place to find a quick, last-minute hotel room. In fact, if you're looking to book with Hotel Tonight for a trip five months from now, you're out of luck! They only offer rooms four months away and sooner.
Their website is extremely simple. You select the day and city you want to stay in, and it presents you with some options and a map. No other filters or frills are available.
Hotel Tonight rates are only bookable with Hotel Tonight, meaning your booking options are more limited. But especially when you're searching for a last-minute deal, we always recommend stopping in to Hotel Tonight to see what they have for deals.
Pros
Maybe the single best way to snag a last-minute hotel deal.
Very simple website design and use.
Cons
Can only book stays up to four months in advance.
Options are limited.
Can only book rooms through Hotel Tonight.
11. Expedia
You may know Expedia from its television ads or, frankly, all types of ads. Expedia markets itself well and gets in front of a lot of potential travelers.
It offers a long, long list of search filters to help travelers narrow down their hotel stay options.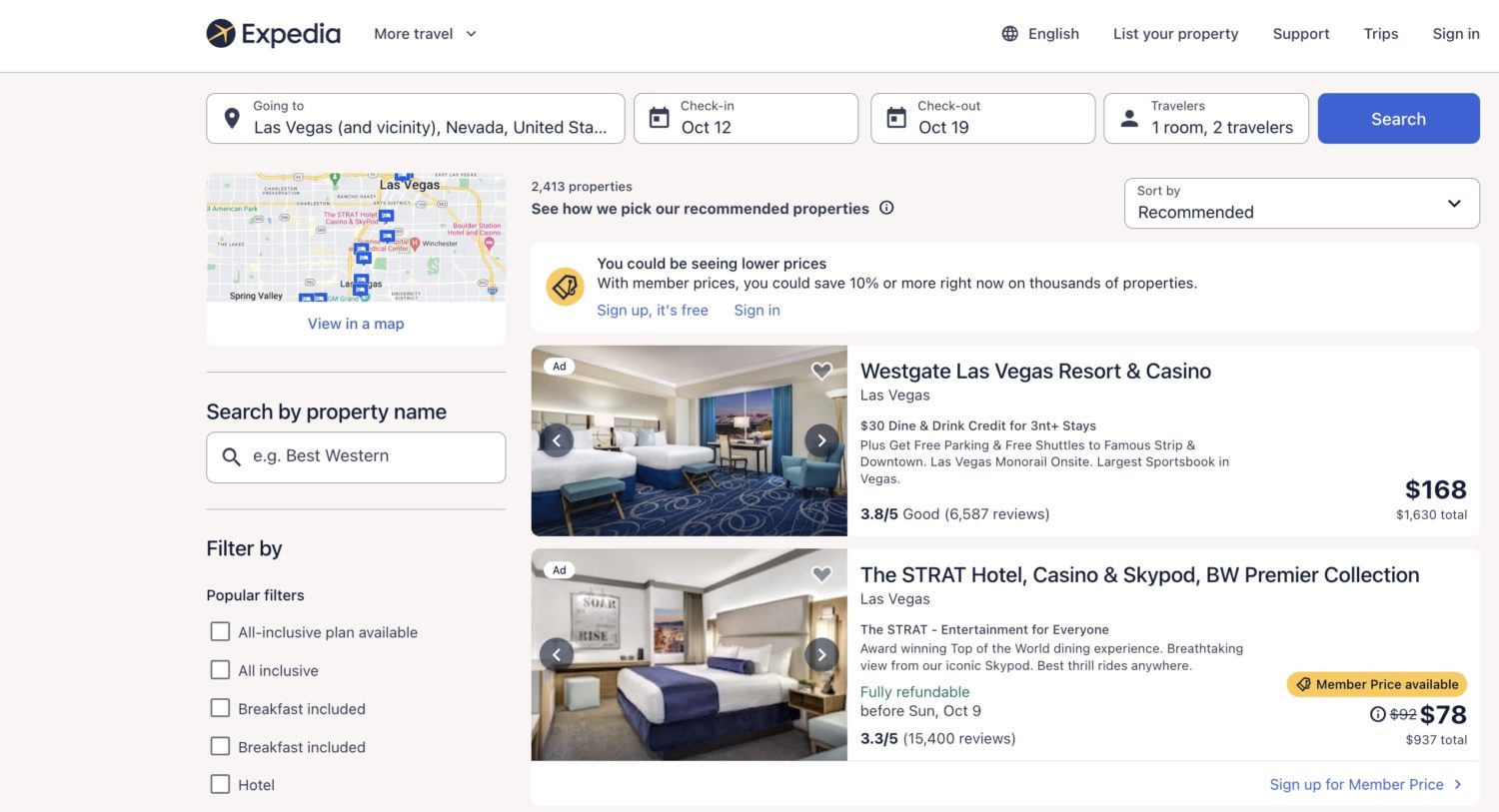 Expedia rates are only bookable through Expedia, but the website's large network of properties can still yield good deals.
Expedia is also a way many travelers book flights and rental cars, too, meaning it can be a one-stop shop for your next vacation if you don't want to book directly with the airline, hotel, or rental car company.
Pros
Tons of filters to help you search for the perfect hotel.
Reputable source of deals in the travel world.
A decent rewards program for booking your travel through Expedia.
Cons
Rates are only bookable with Expedia.
12. Travelocity
If you visit Travelocity and think it looks awfully familiar to Expedia, you're right! The two hotel booking websites are, in fact, one in the same. Expedia owns Travelocity, and their searches are almost identical (as you can see in this screenshot and the one above).
Travelocity also offers a long list of filters to help you narrow down your options, just like Expedia.
Travelocity is also similar to Expedia in that you can only book rates through their own site, so you don't get the option to book elsewhere. Like Expedia, Travelocity can help you book flights and rental cars to round out your trip.
Pros
Tons of filters to help you search for the perfect hotel.
Reputable source of deals in the travel world.
A decent rewards program for booking travel through Travelocity.
Cons
Rates are only bookable with Travelocity.
13. Trivago
Trivago is another great hotel booking tool, as it compares sites like Booking.com, Expedia, Hotels.com, Vrbo, Priceline, and more than 100 more. It is not, however, a hotel booking website. Trivago Book & Go is its booking subsidiary, but the website takes you to an entirely different reservation site to make the purchase.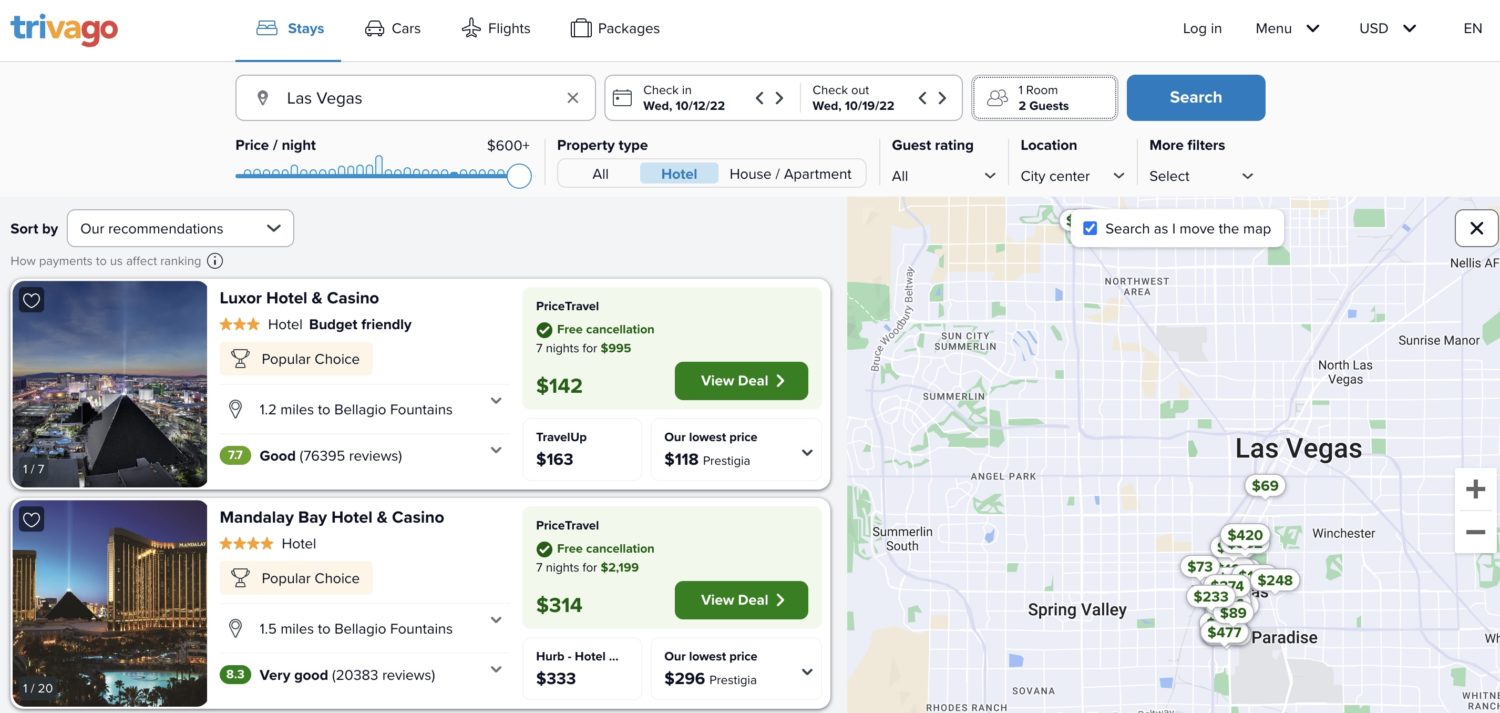 You cannot book directly with Trivago – it's simply a search engine for other booking sites, including its own. But it is a powerful tool to find those great deals, even if its list of search filters is pretty limited. If you know what hotel you want and just need to find the best rate at it, Trivago is a helpful spot to start.
Pros
The ability to search 100+ other booking sites at once.
Cons
Cannot book directly with Trivago.
Limited number of search filters.
14. American Express Travel Portal
For American Express cardholders, the Amex Travel Portal is another very handy tool for booking your next hotel stay.
Just as with other credit card companies, you can use your American Express Membership Rewards points or use cash to book your hotel stays. With the right credit card, you can earn up to 5x points per dollar you spend.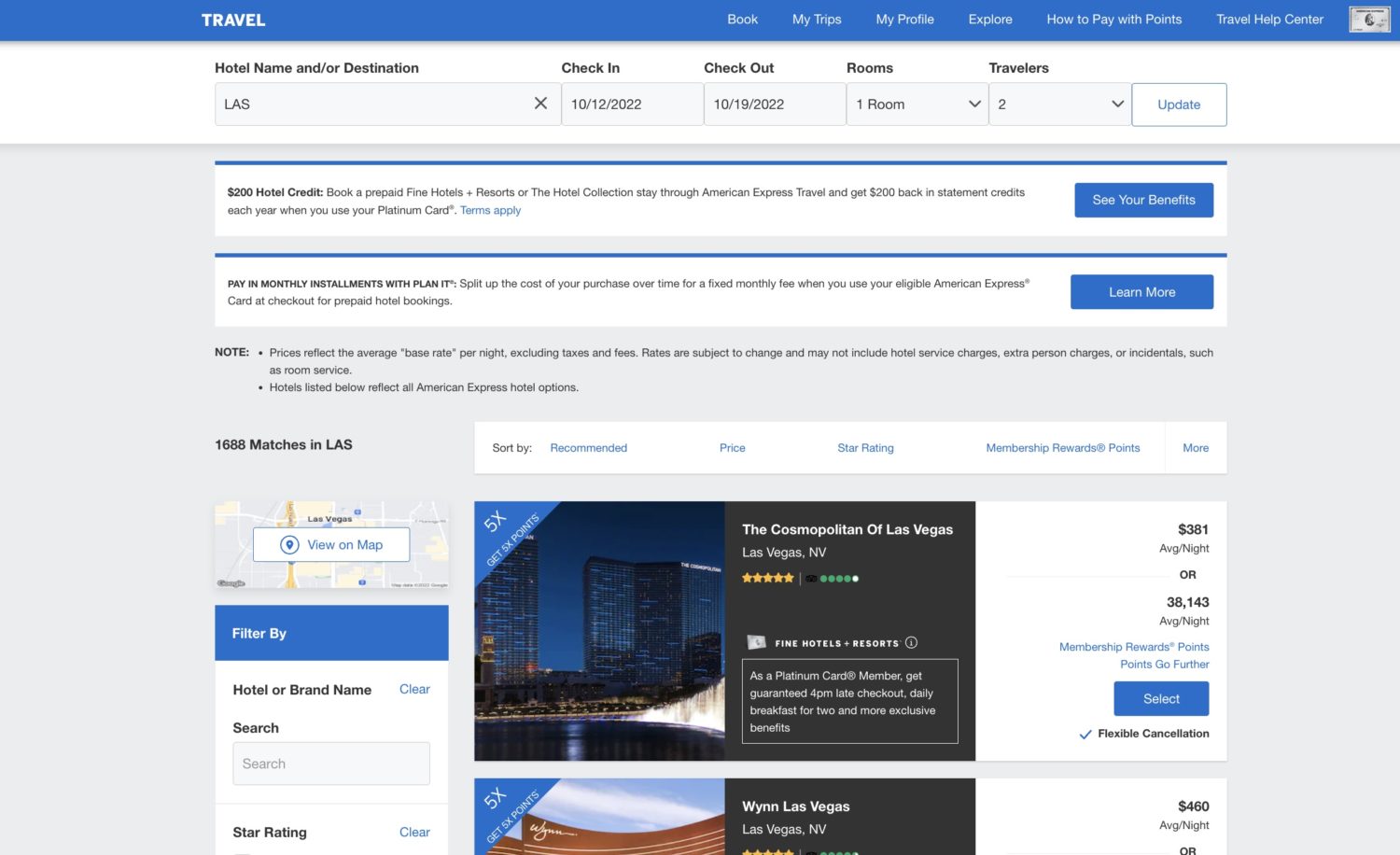 But the standout feature of American Express's travel portal is reserved for cardholders with the The Platinum Card® from American Express. That unlocks access to Amex's Fine Hotels and Resorts (FHR) Program, a collection of luxury properties across the world that also comes with a handful of special perks, along with the slightly-less-luxurious-but-still-excellent Hotel Collection. Think of FHR as elite hotel status on steroids.
Those FHR perks include free room upgrades when available, free daily breakfast for two, an experience credit of $100 or more for dining or spa services, noon check-in when available, and guaranteed 4 p.m. checkout.
And now you've got more of a reason to us your Platinum Card through the Amex Travel portal. Each year, you'll have a $200 credit to use at either Fine Hotels and Resorts or Hotel Collection properties. Just book via Amextravel.com, pay with your Platinum Card, and that $200 credit will kick in automatically. Hotel Collection properties require a two-night minimum stay to trigger the credit.

American Express also offers Hilton, Marriott Bonvoy, and Choice Hotels as Amex transfer partners, which is a decent list if you'd rather use points. The Amex Travel Portal also has a long list of search filters compared to Chase and Capital One, letting travelers filter by neighborhood and a long list of amenities.
Pros
The ability to use American Express Membership Rewards points on hotel stays.
The ability to earn 5x points on hotel bookings through the portal using a Platinum Card
An annual credit of up to $200 at select properties using the Platinum Card.
Cons
Can only use the portal with an American Express Membership Rewards credit card.
15. Chase Travel Portal
If you have a credit card that earns Chase Ultimate Rewards points, it might be worth searching the Chase Travel Portal when you're looking for hotel rooms.
The portal offers a long list of hotels all over the world, and gives you the chance to use your Chase points to book the rooms … for some extra value. With the Chase Sapphire Preferred® Card, every point is worth 1.25 cents booking through the Chase travel portal. With the Chase Sapphire Reserve®, that rises to 1.5 cents apiece.
You can also pay cash for the rooms at the listed price and earn up to 10x Chase points for every dollar you spend, meaning you'll have more Ultimate Rewards points in the bank for your next booking.
When using the Chase Travel Portal with a Chase Sapphire Preferred® Card, you also get a $50 hotel annual credit. If you hold the Chase Sapphire Reserve®, you get a $300 annual travel credit when you book hotels … or any travel, including flights, rental cars, or even parking fees.
On the flipside, you could do even better by instead using Chase transfer partners to book your hotels. Our favorite, World of Hyatt, is a 1 to 1 partner for Chase points, giving you access to hundreds of properties around the world at extremely reasonable rates. Whether you're booking a few days at the Hyatt Ziva Cap Cana in the Dominican Republic or are booking a far-flung stay at the Park Hyatt Zanzibar in Tanzania, your Chase points can go further. Chase points can also be transferred to IHG and Marriott Bonvoy.
The Chase Travel Portal has a decent number of filters to help you refine your search.
Pros
The ability to use Chase points to book hotel rooms and earn up to 10x Chase points on hotel bookings.
Annual credits on Chase cards can help offset the cost of your hotel stay.
Cons
Only available to select Chase credit card holders.
Chase's portfolio of boutique and non-chain hotels has gotten much smaller in the last year.
16. Capital One Travel Portal
Capital One also has a travel portal that acts as a great hotel booking site option for travelers with Capital One credit cards. Like the other credit card travel portals, however, you have to be a cardholder to book through this site.
Maybe the best part of the Capital One travel portal is that cardholders with the new Capital One Venture X Rewards Credit Card get 10 points for every dollar spent on hotels, helping you earn faster so you can burn more points later. Cardholders with the Capital One Venture Rewards Credit Card earn 5xpoinnts per dollar on hotels booked through the portal.
If you'd rather use your Venture miles, you can book hotels through the portal and get 1 cent apiece. That means a $250 hotel stay would run you 25,000 Venture miles.
With the Capital One Venture X Rewards Credit Card, you also get a $300 annual travel credit that can be used on any purchases made through the Capital One travel portal. But Capital One's travel portal has a relatively small list of filters for searching, meaning travelers might have to do some of their own research on properties. And in our experience, it can be hard to find the properties you want.
Overall, Capital One points are very easy to earn, making this portal a good way to book hotels with either points or cash.
Pros
The ability to earn up to 10x Capital One points on all hotel bookings.
The ability to use Capital One points to book hotels through the portal.
A $300 travel credit towards hotels if you hold the Venture X Credit Card.
Cons
You must have a Capital One card to book through the portal.
Capital One Travel's search and filters aren't as powerful as other portals.
17. Skip the Hotels, Use Airbnb or VRBO!
Sometimes, skipping the hotel altogether is the best way to book cheap lodging for your vacation. If a vacation rental is more your speed, there are two heavy hitters you should check first: Airbnb and VRBO.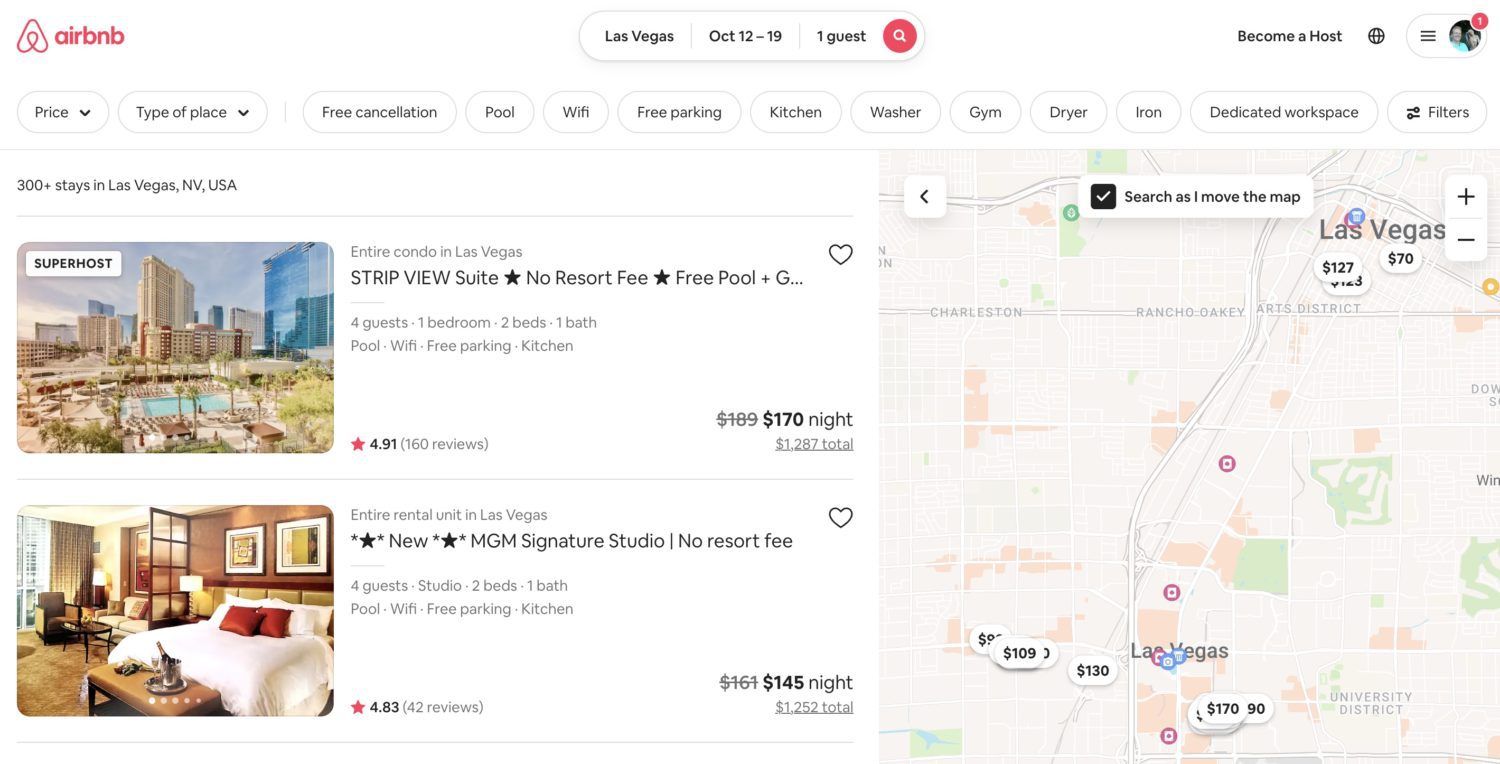 Vacation rentals are great for a few reasons. For one, they can be a saving grace when hotel rates are too high. Often, you can find better value booking an entire apartment than you can booking a tiny hotel room. Plus, if you're traveling with a group, Airbnbs can help you stay together in a place with a shared kitchen and living spaces.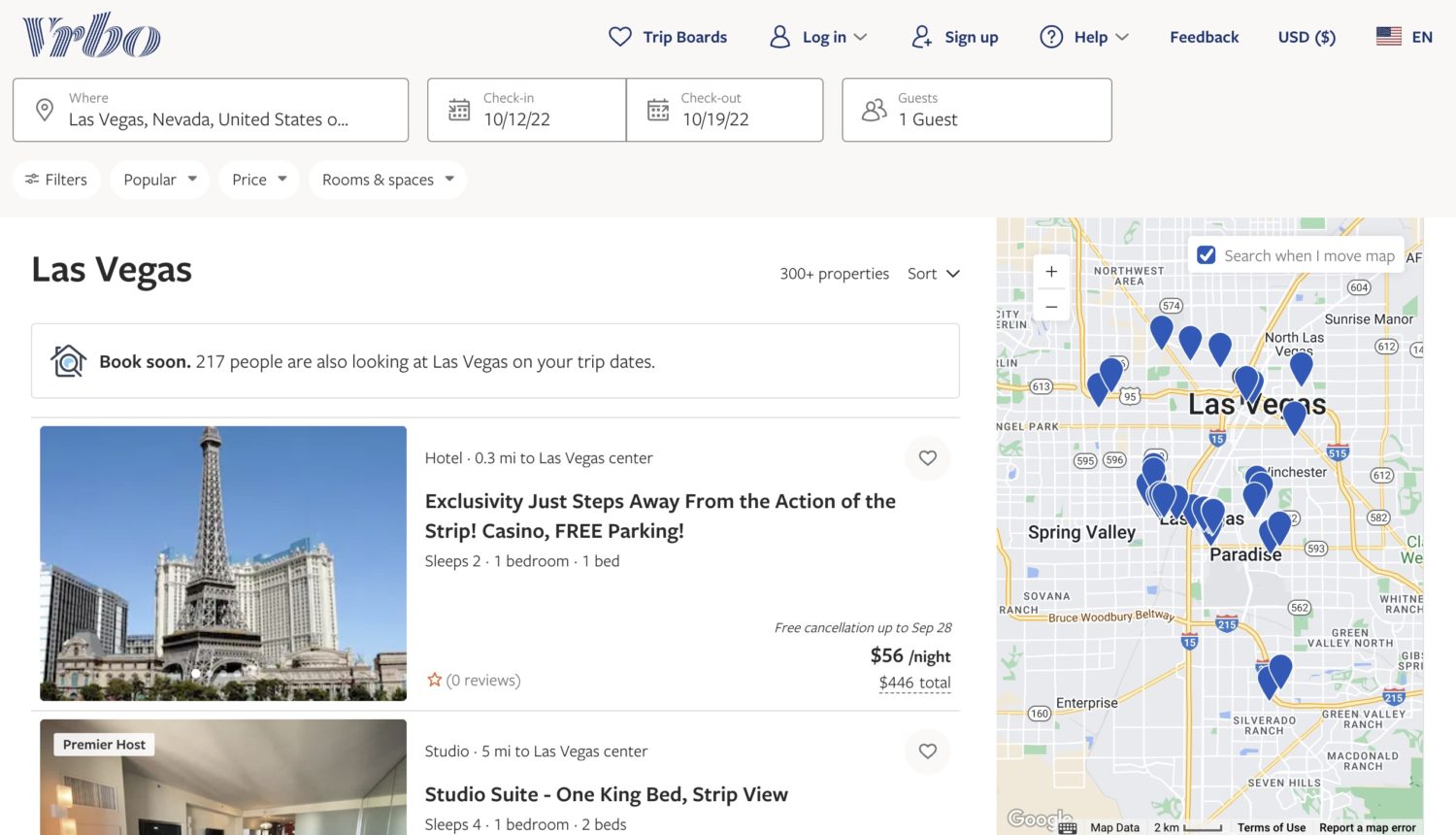 If something like that is more your speed, then use both VRBO and Airbnb to start your search. Both websites operate similarly and can be searched with a long list of filters and using the map.
Vacation rental websites like these are a great way to find a special, unique stay as well. Want something with a little bit of charm instead of a sterile hotel room? Live in someone's home!
Read more: Airbnb Overhauls Search Platform, Adds Travel Protections
Pros
The chance to book unique, charming stays.
A great way to book group travel.
Access to home amenities like kitchens.
An enormous network of properties around the world.
Cons
No traditional hotel bookings on these vacation rental sites.
There's currently no rewards program on either homestay platform.
Final Thoughts
Finding the best hotel booking site and the sweetest hotel deals doesn't have to be stressful. A single best website to book hotels doesn't truly exist, but there are tons of great accommodation booking sites that could lead you right to the perfect place to stay on your next trip.
The best hotel deals can be found at any of these 17 hotel reservation websites… plus a few more! It all just depends where and how you want to book.