The days of getting a free checked bag on every flight are long gone – unless if you're flying Southwest Airlines. 
These days, U.S. airlines generally charge at least $30 for your first checked bag, and Delta Air Lines is no exception. Those luggage fees are huge money-makers for airlines, and they can add up fast. Delta even upped the baggage fees for some international destinations recently: If you're flying the cheapest basic economy fares to Europe, a checked bag will now cost you $75 each way – up from $60 last year.
We'll break down exactly what Delta charges for bags based on where you're heading (and what fare you've got). But with the right tools and mindset, you can avoid paying Delta baggage fees altogether.
Delta's Current Baggage Fees
So how much does it cost to check a bag when you're flying with Delta? It depends on where you're heading.
We've put together a chart spelling out the fees when Delta basic economy or main cabin economy between the U.S. and a handful of destinations for one checked bag.
These charges apply each way, so double them for a round-trip flight.

| Destination | Basic Economy | Main Cabin Economy |
| --- | --- | --- |
| U.S. (including Hawaii, Alaska & Puerto Rico) | $30 | $30 |
| Canada | $30 | $30 |
| Mexico | $30 | $30 |
| Caribbean & Central America | $30 | $30 |
| El Salvador, Ecuador, Panama | $30 | Free |
| Colombia | $45 | Free |
| Brazil, Chile, Paraguay, Peru, Uruguay | $70 | Free |
| South America | $60 | Free |
| Europe & Northern Africa | $75 | Free |
| Middle East & Africa | Free | Free |
| Israel | $60 | Free |
| Asia | Free | Free |
| Australia | Free | Free |
Delta has a handy tool that can help you figure out how much you'll pay for a checked bag – if anything – based on where you're flying. You can input your airport of origin, destination, trip dates, the fare class you're flying, and how many bags you plan to check and Delta will estimate your baggage fees.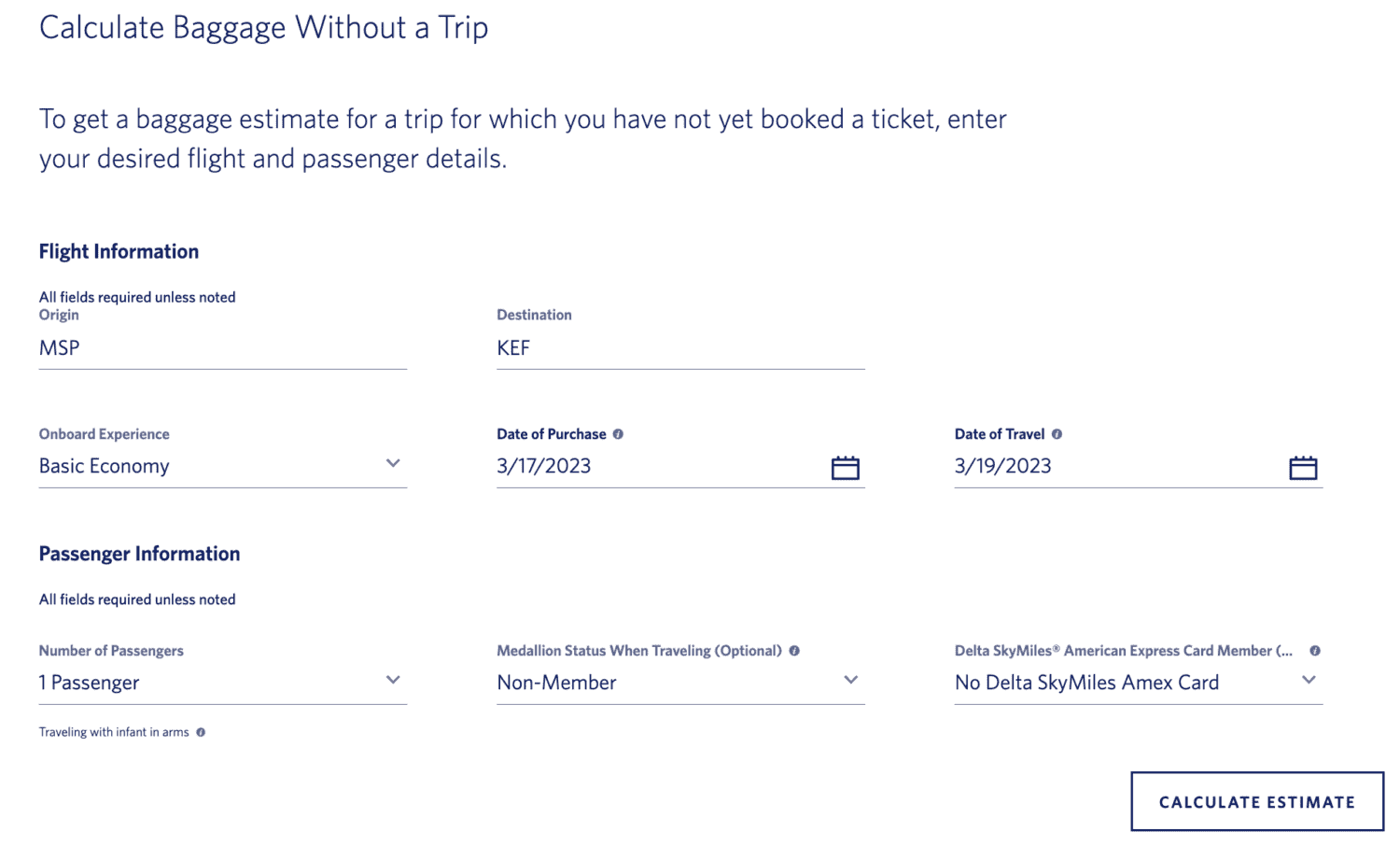 Some of these baggage fees increased as recently as Feb. 8, 2023. If you purchased your ticket before then, you may pay less to check a bag, depending on your destination.
Have an overweight bag? Or need to check a lot of luggage? You'll have to pay for it – and get ready to pay a lot.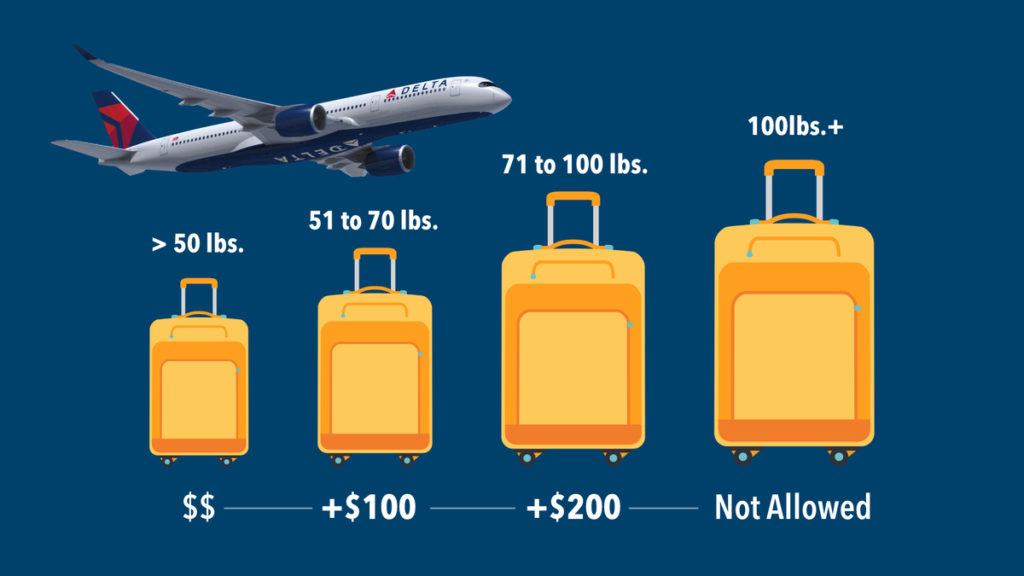 Delta caps the weight on checked luggage at 50 pounds. If your bag weighs 51 to 70 pounds, that will cost you an extra $100 each way. Bags that weigh in at 71 pounds to 100 pounds will incur another $200 fee. And bags that weigh more than 100 pounds aren't allowed, period.
As for checking a lot of bags, Delta's policies for excess baggage are convoluted, varying based on where you're heading. You'll be able to check up to two bags at normal prices – or even get them for free based on some of the strategies we'll dive into shortly.
Flying within the U.S. or to the Caribbean or Canada, the cost of checking a third bag will run you $150 each way. And while each passenger can check up to 10 bags, the cost of bags four through 10 will cost $200 apiece. Ouch.
Those costs swell on many international routes. On flights to Mexico, a third bag costs $180 each way. Flying to Europe with a lot of bags? Prepare to fork over a small fortune: Bags three through 10 will cost you $285 each.
Not finding an answer? Check out Delta's overweight and excess baggage policy for more answers.
Avoid Delta Baggage Fees By Packing in a Carry-On
The first way to avoid paying Delta baggage fees is completely free. You just have to pack a bit less.
Whether you're flying a Delta basic economy fare or first class at the front of the plane, you can always bring a carry-on bag (plus a smaller personal item like a backpack or purse) onboard. And with Delta, it's always free.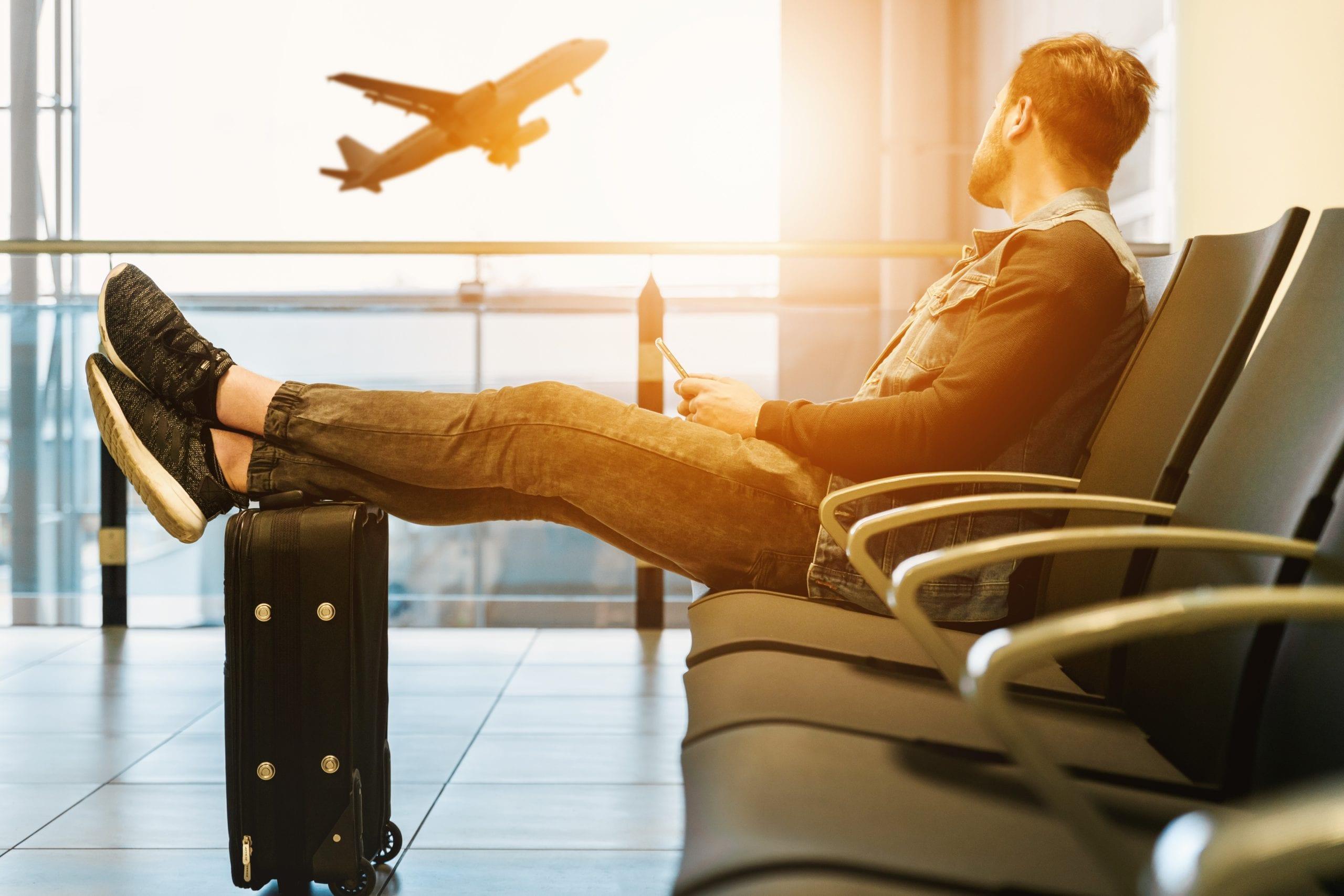 Delta says these bags should be roughly 22 inches by 14 inches by 9 inches, which is a standard carry-on size. And unlike some other major international airlines, there's no weight limit on your carry on with Delta. 
While it will save you money, packing into a carry-on bag can also save you time and stress. There's no more waiting to check in your luggage or grab it from the baggage carousel. You don't have to worry about the airline losing your bag anymore – it's with you at all times.
Packing into a carry-on bag when you're used to taking a 50-pound bag on every trip can feel daunting, but we promise it can be done. Follow our tips and you'll be a proud member of team carry on in no time.
Check out some of our favorite carry-on bags if you need to pick one up.
Fly the Right Route for Free Baggage
Paying Delta baggage fees for your flight is the rule these days as airlines have made baggage fees a big business. But there are some destinations you can fly to where the old days of free baggage live on.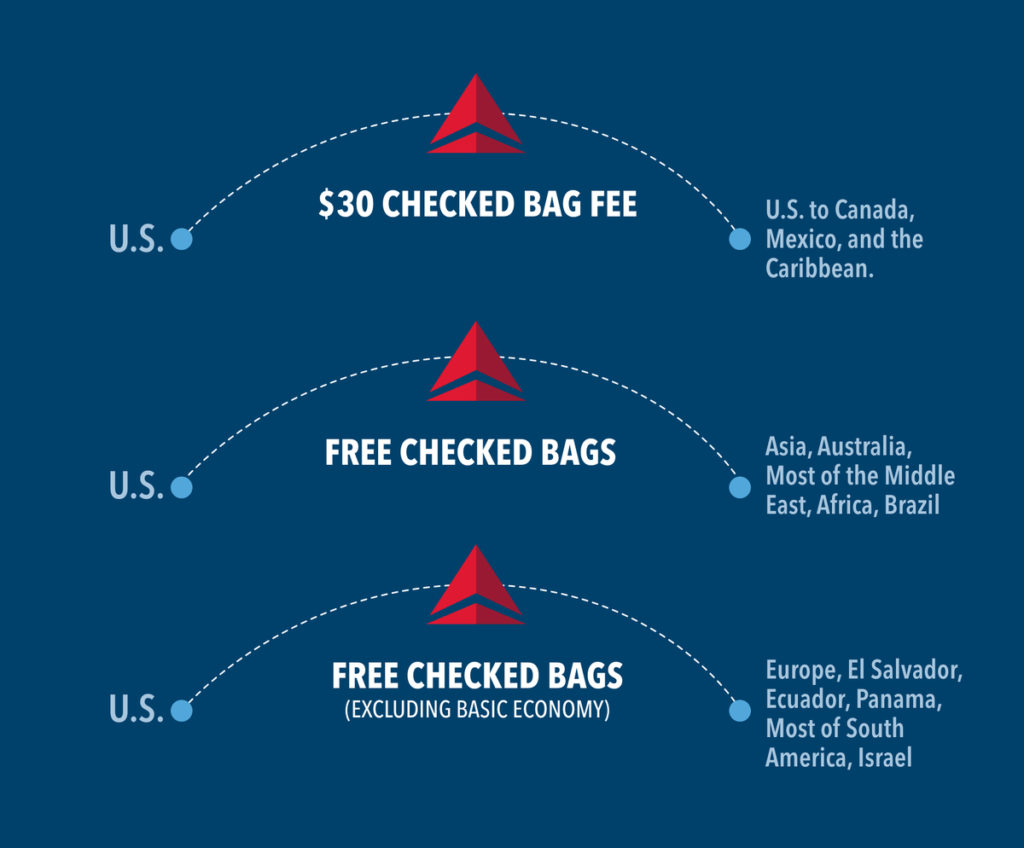 You'll always pay $30 for a checked bag each way for a domestic flight within the U.S. That same $30 fee applies on flights from the U.S. to Canada, Mexico, and the Caribbean. But on other flights, you may not have to pay.
Delta still allows a free checked bag when flying from the U.S. to:
Asia
Australia
Most of the Middle East
Africa
Brazil
So long as you're not flying Delta basic economy, you can also get a free checked bag flying from the U.S. to:
Europe
El Salvador, Ecuador, and Panama
Most of South America
Israel
Stop Paying Delta Baggage Fees with the Right Credit Card
Hands down, the easiest way to stop paying Delta baggage fees is to pick up one of Delta's co-branded credit cards from American Express.
There are four cards in all for everyday travelers: the Delta SkyMiles® Blue American Express Card, the Delta SkyMiles® Gold American Express Card, the Delta SkyMiles® Platinum American Express Card, and the Delta SkyMiles® Reserve American Express Card.
All but one (the Blue card) will get you a free checked bag up to 50 pounds on every Delta-operated flight you take. What's more, it'll get free bags for up to eight other passengers booked on your reservation.
And the best part? You don't even have to pay for your flight with your Delta credit card. So long as your Delta card is attached to your SkyMiles account, the free baggage benefit is automatic. It even gets you a free checked bag when you're flying Delta basic economy. One important exception: Even with these cards, you won't get a free bag on partner airlines like Air France or KLM.  You'll need Delta status for that.
If you need to check a second bag, fees will still apply. And there are some additional hurdles for excess baggage, which you can read about on Delta's website.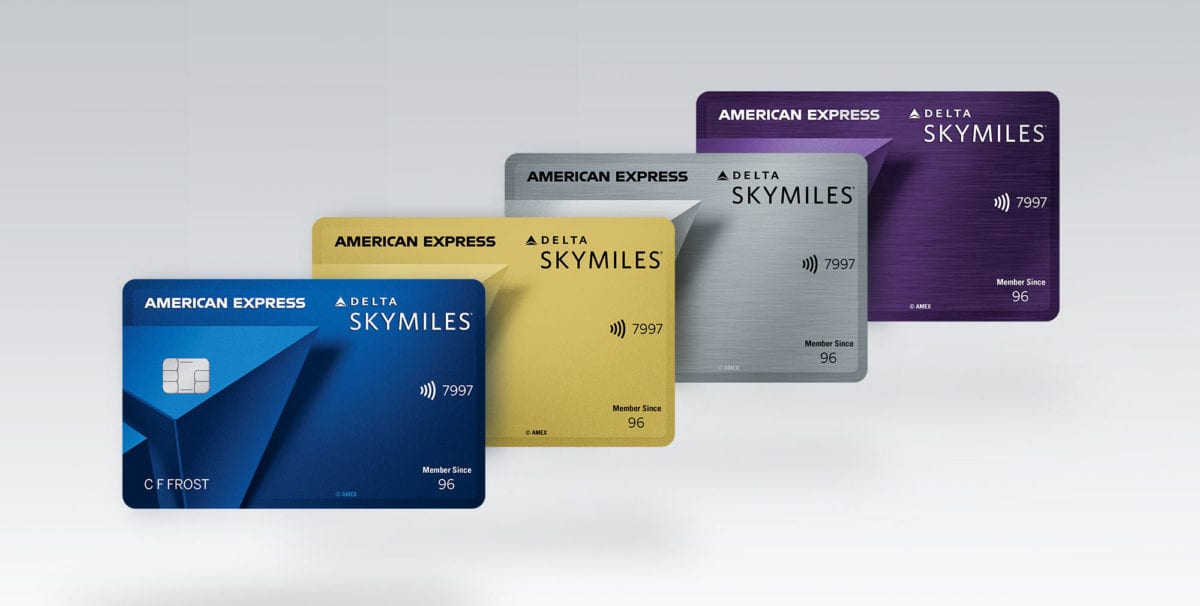 Most of these cards carry an annual fee, which no one likes to pay. But at $30 per bag each way, the savings can add up fast. Let's do some quick math.
The Delta SkyMiles® Gold American Express Card is a great card for even occasional Delta flyers looking to earn some SkyMiles and get some benefits. The card has a $0 introductory annual fee and it's just $99 per year thereafter (see rates & fees.)
At $30 or more per bag each way, it would only take two round-trip flights on Delta (4 segments x $30 = $120 in baggage fees) to come out ahead on the annual fee. Flying with a companion – or even a whole family? You could easily recoup the annual fee with just one flight. Up to 8 passengers booked on your same reservation will get the free checked bag benefit.
And remember: In your first year with the card, you're not paying for it at all. It's a win-win – save on Delta baggage fees at no cost.
Delta's other co-branded credit cards can also get you free baggage along with many other worthwhile benefits, though those cards come with much higher annual fees. If you're just looking to get a free checked bag, the value of the SkyMiles Gold card is undeniable.
Read our guide to decide which Delta credit card is right for you.
Here's a look at the full features of the Delta SkyMiles Gold American Express Card.
Welcome Offer Bonus:

bonus_miles_full

Check your first bag free on every Delta flight – savings of up to $60 on each round-trip flight per person.
Priority Boarding (even with a basic economy ticket)
Earn 2x SkyMiles per dollar spent at both restaurants and U.S. supermarkets
Earn a $100 Delta flight credit if you spend $10,000 on the card in a calendar year.
Earn 2x SkyMiles per dollar on eligible Delta purchases and 1x mile for all other eligible spending.
Get 15% off SkyMiles award tickets with TakeOff 15 when booking on delta.com or through the Fly Delta app
Enjoy 20% off in-flight purchases such as food & drinks in the form of a statement credit
$0 introductory annual fee for the first year (then $99 per year).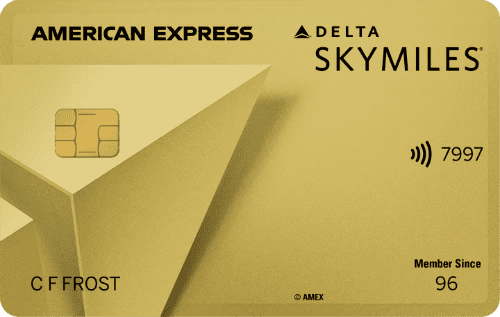 Click Here to learn more about the Delta SkyMiles Gold American Express Card. 
Build Up Delta Status
Frequent Delta flyers can make their way toward Delta Medallion status: Silver, Gold, Platinum, and Diamond.
And while we feel earning Delta Medallion status isn't worth the work for most travelers, it's yet another way to avoid paying Delta baggage fees.
No matter whether you're a low-level Silver member or a top-tier Diamond Medallion, you can check bags free on each and every flight within the U.S. and Canada. In fact, it gets better as you climb the status ladder: Silver medallions get one free checked bag, Gold status holders can check two bags, and Platinums and Diamonds can check a whopping three bags for free. And these baggage benefits even apply on some partner airlines like KLM and Air France!
While Delta sets the limit on most checked bags at 50 pounds, Delta Medallion members get a bit more weight – 70 pounds on their first bag. And unlike the credit card benefit, your status will also get you free baggage on some partner airlines. 
If you've got Delta status, you can help out the rest of your traveling party, too. Up to eight other passengers booked on your reservation can also check bags for free.
Fly Up Front, Get Free Bags
While it's not the most cost-effective way to get a free checked bag, flying first class, Delta One business class, or even Delta Premium Select will also get you free checked bags.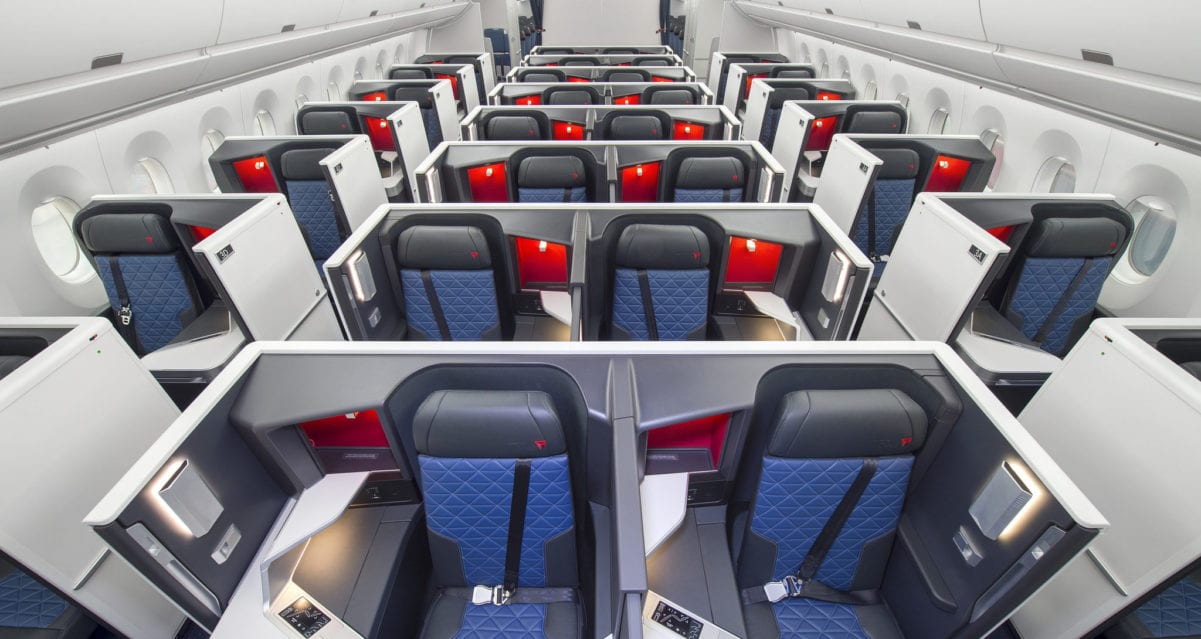 Whether you're flying domestic first class, Premium Select to Europe, or in a Delta One Suite to Asia, you'll get two free checked bags with your premium ticket. In each and every case, these bags can weigh up to 70 pounds.
Strollers and Car Seats Fly Free
Traveling with children and worried about paying a boatload to bring everything you need? Don't stress.
Delta allows you to check strollers and car seats for free. That should make it much easier (and cheaper) to plan and pack for your family trip.
Pay Your Delta Baggage Fees with SkyMiles
Please … don't do this.
Delta now allows travelers to pay for their checked baggage fees with SkyMiles for flights from most domestic airports.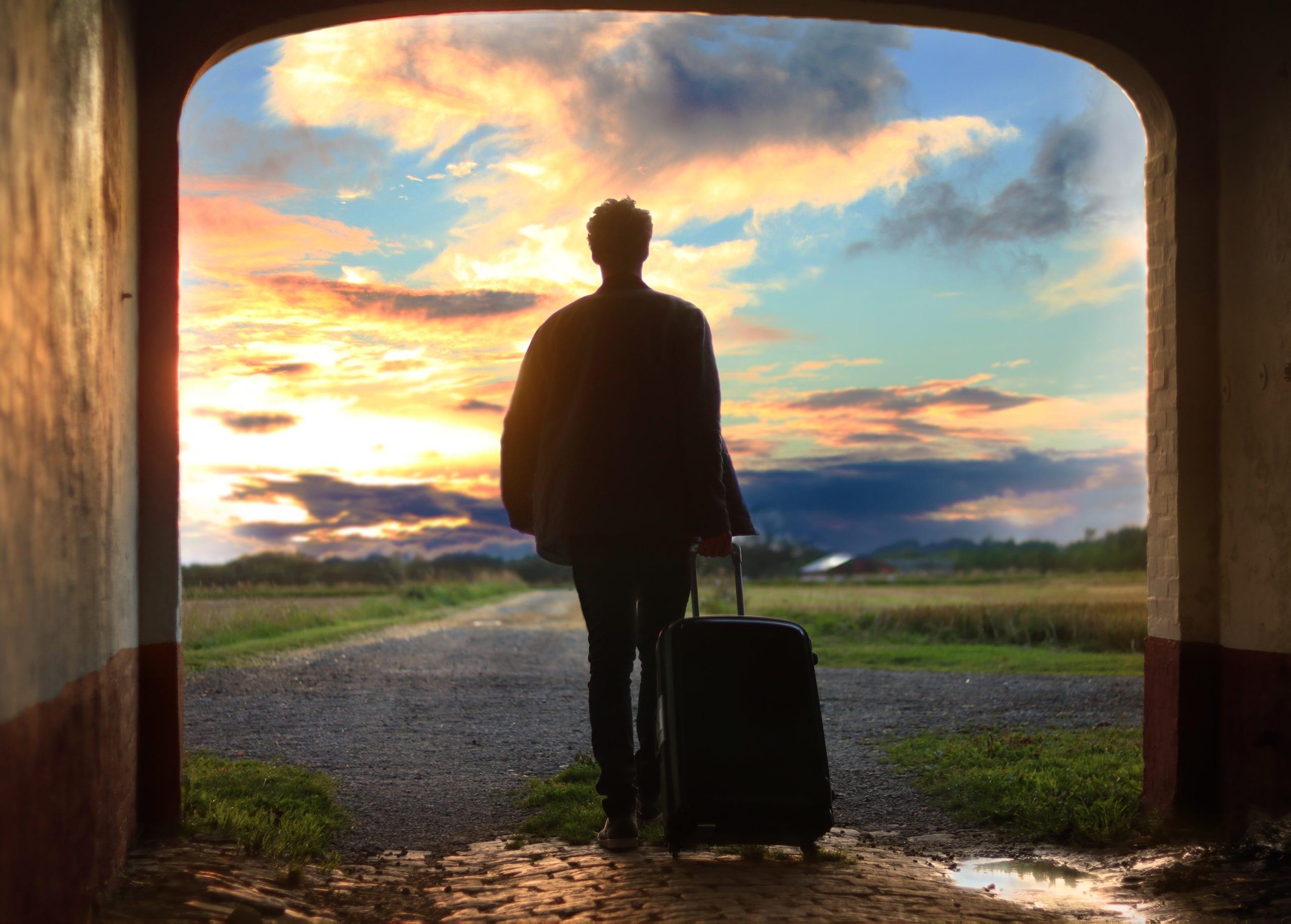 With this setup, a $30 baggage fee would cost you 3,000 SkyMiles. And that's a horrible deal. You're much better off saving your SkyMiles for flights – especially some tremendous deals through the frequent SkyMiles flash sales we see. With flights to Europe as low as 14,000 SkyMiles round-trip, wouldn't you rather fly to London and back than check a bag five times?
By giving you more options to use your SkyMiles, Delta is hoping to get travelers to fork over their SkyMiles without getting much value out of them. Read more about how Delta SkyMiles work – and how to make them work for you.
So please, skip this method and find another way to avoid Delta baggage fees.
Bottom Line
Baggage fees can be a pain – especially since it wasn't long ago that you got a free checked bag on every flight.
While Delta baggage fees have increased over the years, there are still a handful of ways to avoid paying these pesky fees when you're flying with Delta.