New numbers just confirmed what we've all been seeing and hearing about: Flight prices just keep going up.
Data released by the U.S. Bureau of Labor Statistics' Consumer Price Index last week shows flight prices jumped another 12.6% from April to May – and that follows a record-breaking jump last month, too. Compared to a year ago, average airfare was up nearly 38%. Ouch.
Everyone is seeing it: Flights are expensive right now. Fuel prices are driving airlines' cost higher and rising inflation is a factor, but it all comes down to the simple law of supply and demand: After shrinking to survive the pandemic, airlines simply can't keep up with surging travel demand.
But just because average flight prices are on the rise doesn't mean it's impossible to find a cheap flight. It may have gotten a bit harder, but the great flight deals are still out there.
From using the right tools to search to focusing on the best destinations, here's what you can do to find them.

Use Google Flights
If there's any tool you can use to find a cheap flight these days, it's this one: Google Flights.
Forget other sites like Skyscanner, Hopper, or an online travel agency like Priceline or Expedia – no search platform packs a bigger punch, with powerful tools and features that will help you zero in on the cheapest flight possible. Now more than ever, Google Flights should be your starting point for any search for a cheaper fare.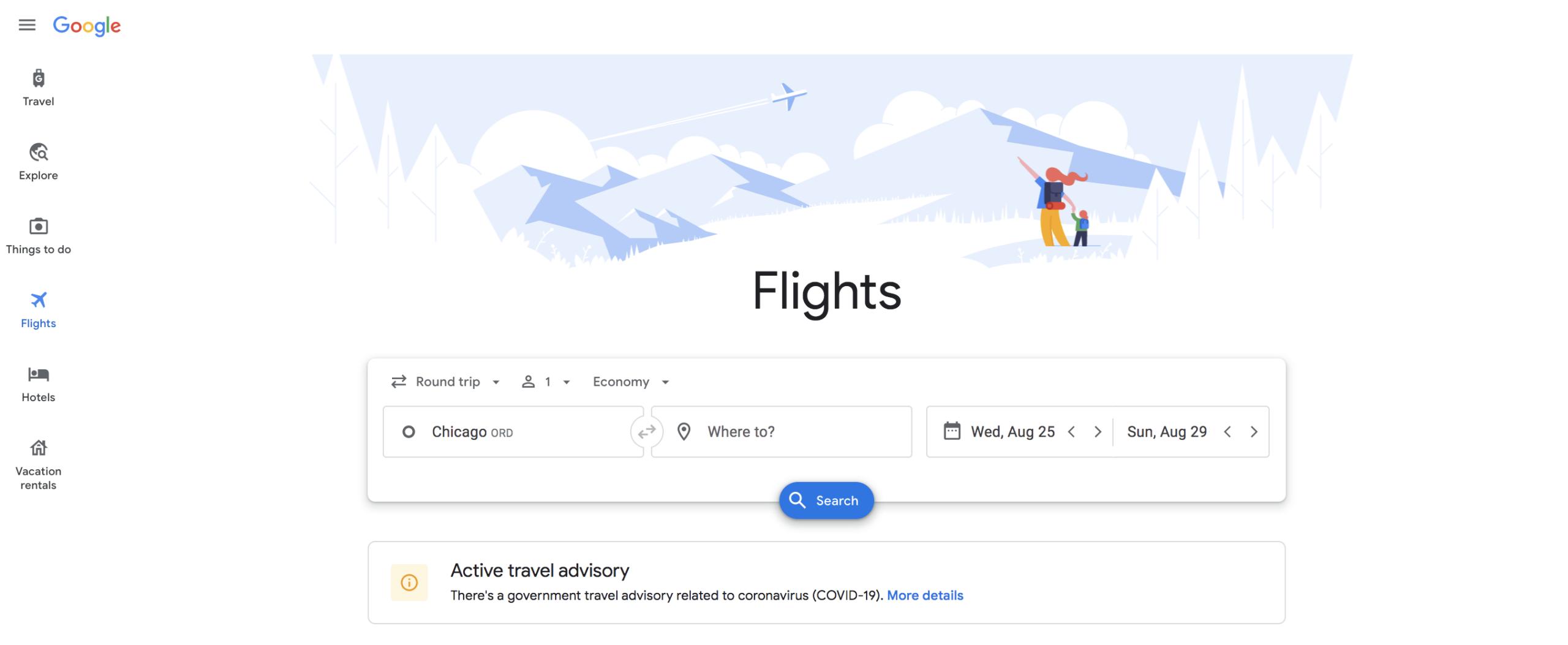 Read our full walkthrough to using Google Flights to find cheap flights!
The power of Google Flights lies in its filters. Here are all of the things you can filter when searching to find a specific flight:
Bags: This feature is a way to filter out many budget carriers and other basic economy fares. Add a carry-on bag to make sure your Basic Economy fares that allow free carry-on bags (like Delta or American Airlines) will still be included, while other airlines that don't include free carry-on bags in basic economy like United or JetBlue won't show up. This will also eliminate most budget carriers like Spirit, Frontier, Allegiant, and Sun Country from your results.
Stops: You can select how many stops you're willing to make during your trip – or simply make sure your results are only nonstop flights.
Airlines: Whether you have airline loyalty or are looking to finally take a flight on a five-star airline, you can use the Airline filter to only see flights for specific airlines or airline alliances like SkyTeam, Star Alliance, and Oneworld.
Price: On a budget? You can easily set the maximum price you're willing to pay for a flight.
Times: Need to depart in the morning? Or know you must arrive by a certain time? Use this filter to identify flights that fit the departure and arrival times that work for you.
Connecting Airports: Force Google to only display certain results based on which airports you connect through. You can also filter out flights with extra-long layovers. 
More: Here you can set the maximum length you're willing to be on a plane, and also decide whether you want to see trips that are booked with separate tickets (for example, fly out with one airline and return on another).
Arguably the best feature of Google Flights is its calendar view. This feature quickly shows you a two-month span, with dates in green immediately tipping you off to the best bet to fly for cheap.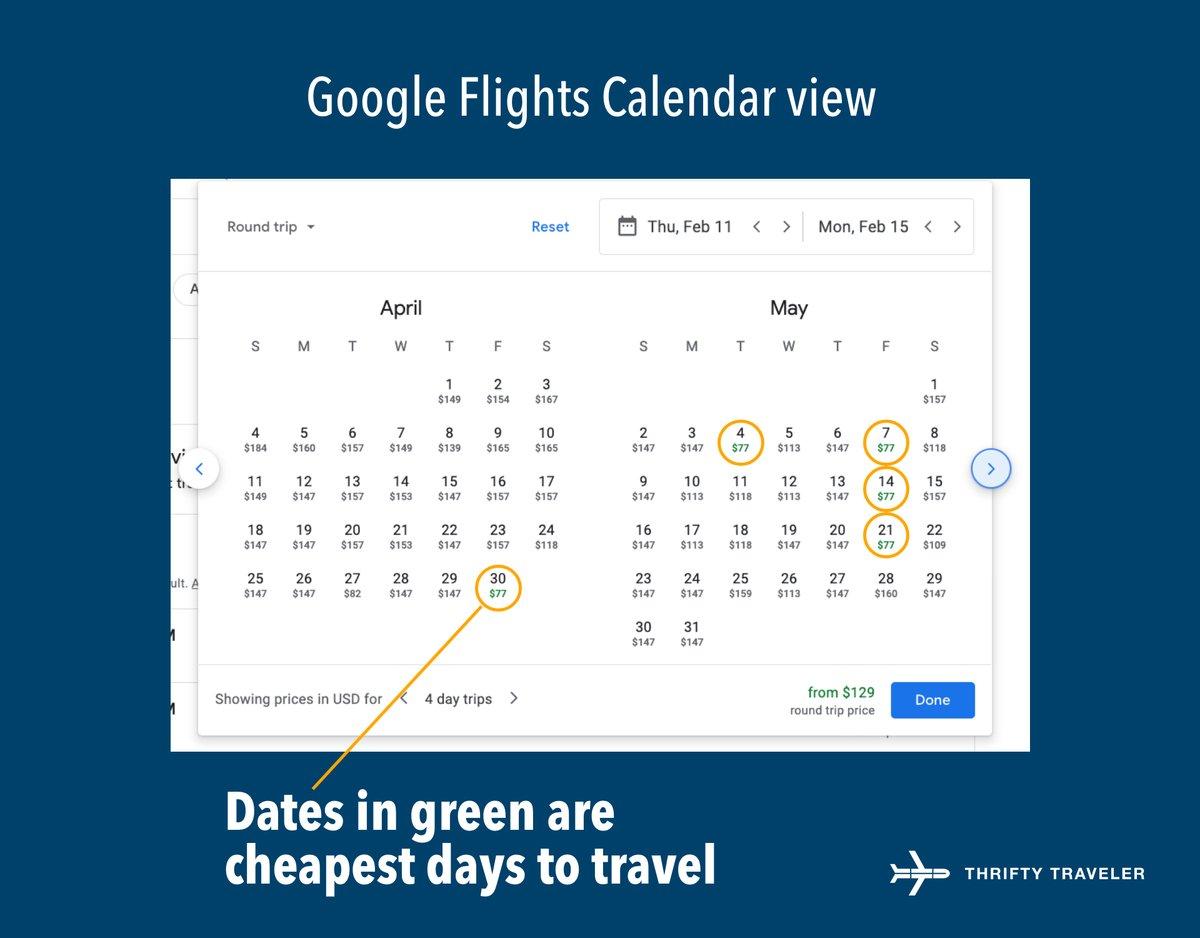 But Google has recently upped its game even more to help you find the cheapest dates to fly. If changing your travel dates by just a date or two would save you big bucks, Google Flights will give you a quick pop-up alert to let you know.

Finally, you can monitor changes to airfare with Google Flights Price Alerts. This is the perfect tool if you have to fly on specific dates, but want to make sure you get the best deal possible. In late 2021, Google added the ability to track flight price changes for any date, too. Just hit that toggle and you'll get an email notification anytime there are airfare prices available on your route that are lower than normal within the next three to six months.
Follow the Flight First Rule
In good times for cheap flights and bad, we have a mantra. We call it the Flight First Rule. And it's more important than ever now.
It's exactly what it sounds like: Before you request time off, book your hotel, lock in a rental car, or explore activities in your destination, start your travel planning by searching for flights. 
Instead of deciding on the dates of your trip before booking your flights, flip that familiar script on its head and start by searching for flights, letting the price guide you to the cheapest dates possible. It's all about being as flexible as you can to save on flights – and trust us, it makes a big difference … especially as flights get more expensive.
By following the Flight First Rule, you can easily save $200 or more on flights. And that can make all the difference right now.
Read more on the Flight First Rule!
Forget Peak Summer
We hate to be the bearer of bad news, but if you're looking to fly somewhere this July … well, prepare to pay up.
Travel demand is exploding heading into the summer as Americans make up for lost time, taking the trips they put off for the last two years. And airlines know just how desperate we all are to get back out there during the busiest travel season.
No matter where you're going, flying from mid-June through July and into August is bound to be expensive. If you haven't yet booked those flights and need to travel, we'd suggest you book now: Those prices aren't going to get any cheaper the longer you wait – just the opposite.
But can you wait a bit? Maybe take that trip in late August or early September? The savings can be substantial. Here's an example.
A trip to London in late July might sound just right … until you look at prices. Nonstop flights from New York City (JFK) to London-Heathrow (LHR) clock in at over $1,100 for a weeklong trip during the peak summer.
But by shifting that back a month and departing in late August, instead, you can cut the price in two: Down to just $583 per ticket for the exact same route, thanks to a deal we sent to our Thrifty Traveler Premium members last week.

We've seen this trend play out again and again and again. If you want to squeeze in a trip this summer, there's still a sweet spot for lower fares starting around mid-August. Airlines are discounting fares in the last gasp of summer, whether you're looking to go to Europe or even head somewhere domestically closer to home. But in June and July? Prepare to pay up.
In addition to peak summer, also avoid traveling during the winter holidays like Christmas and New Years. Each year, we see flight prices skyrocket for travel from mid-December to early or mid-January around the major winter holidays.
Get Cheap Flight Alerts
When flights get expensive, getting the heads up on great deals is even more important.
That's what our Thrifty Traveler Premium service is all about. We send tens of thousands of travelers daily flight deal alerts for cheap domestic and international fares straight to their inboxes. From sub-$200 domestic trips to $349 roundtrip fares to Europe and even award fare alerts to use points and miles (this is a Premium+ benefit), there's no better way to save on flights than to wait for the best deals to come to you – especially now.
Our members get instant email alerts for deals from their home airport (or any airports they want deals from – we find deals from 200 airports and counting!) then book direct with the airline. Each and every flight deal we send saves our members $200 or more on fights – and in some cases, thousands! You'll get deals like domestic flights as low as $100 roundtrip (or less!), trips to Hawaii under $200, fares to Europe for $300 to $400 or less, and much more. We even send Premium+ members ultra-rare mistake fares and deals on business class, too!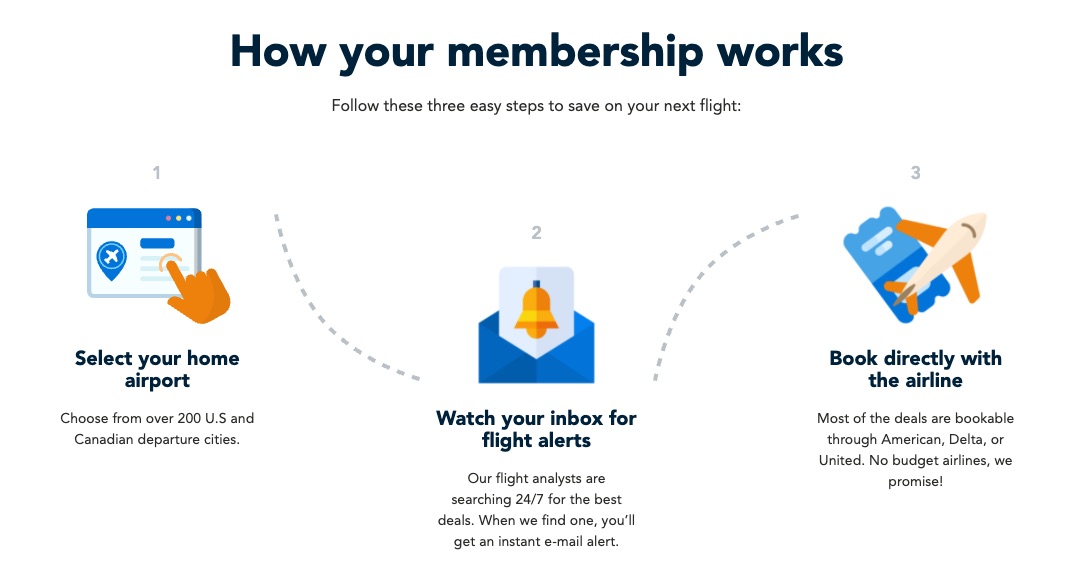 Okay, so just how good are the flight deals we find? Instead of telling you, we'll show you. Hawaii, anyone?
But the cheap flights continue to countries across the globe. And no, the deals we find aren't just from major airports. Check out these fares to Spanish cities like Madrid (MAD), Barcelona (BCN), and even Valencia (VLC) for less than $400 roundtrip … from almost every airport across the country!
We've been sending Thrifty Traveler Premium members tons of dirt-cheap fares to Caribbean islands lately, even harder-to-reach destinations like Aruba (AUA) or St. Maarten (SXM). With these alerts, you can snag flights that normally cost $700 or more for $250 or less!
These recent flight deal examples are no longer live … but there will be plenty more!
Want in on the action? Join Thrifty Traveler Premium for flight deal email alerts from your home airport. Membership starts at just $59.99 a year to sign up, but you'll make that back (and then some) after booking your first deal.
Not ready to pull the trigger on a subscription? Sign up to get free alerts for cheap flights to get some of these deals sent to your inbox. Upgrading to Premium gets you 10x as many deals.
Focus on Flying Off-Peak Days
Too many travelers focus on the day they search for and book their flights, thinking that's the key to scoring a bargain right now. In reality, there is no magical best day to book flights.
Here's what really matters: The cheapest days to fly. 
That's right. There are consistent patterns that show there are often cheaper days of the week to travel – and focusing on those cheapest days to fly throughout the week is a surefire way to find cheap flights. Typically, Tuesday, Wednesday, or Saturday are the cheapest days to fly. If you can structure your travel schedule around these days, these will likely be the best days to fly – both for a lower cost and a less hectic airport experience.
This is because they're the slowest travel days throughout the week. Many travelers head out for a long weekend on Thursdays or Fridays and return on Sunday. Business travelers head out for work on Mondays and return on Thursday or Friday. That means airlines are eager to sell more tickets on those other, off-peak days – resulting in lower prices and the cheapest day of the week to fly.
Let's take a look at an example. Say you want to head down to Florida from the midwest. Flights from Minneapolis-St. Paul (MSP) to Fort Lauderdale (FLL) are significantly cheaper on most Tuesdays and Wednesdays. Saturday departures are often a bit cheaper than other days, too.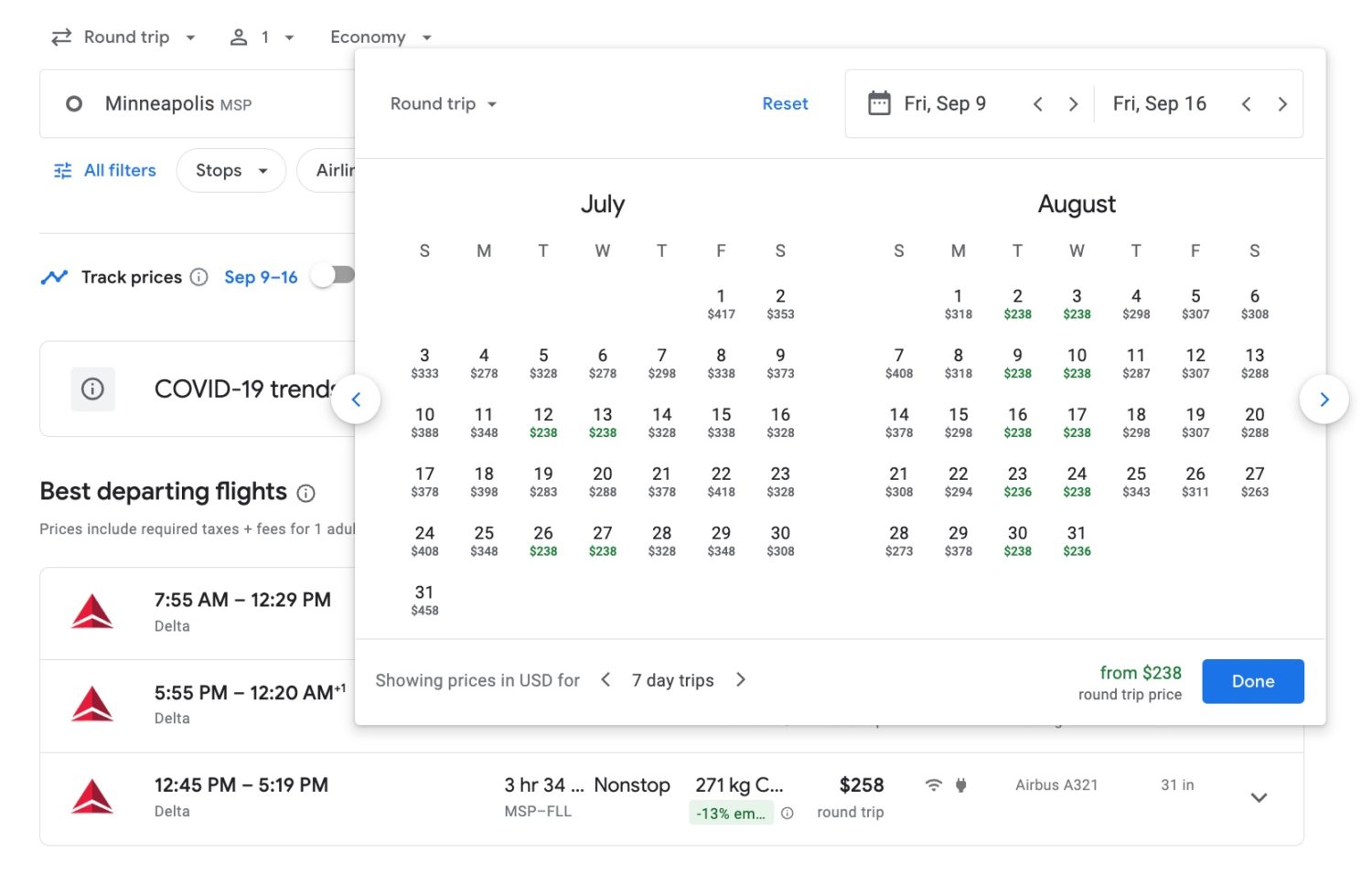 Compared to some Sunday prices, this simple change could save you up to $150 or more on these roundtrip flights.
Book Earlier
Throughout much of the pandemic, you could score a good deal on flights booking just a few weeks – or even days – before departure. Those days are over.
Avoid booking within 30-45 days before your flight – and even farther in advance for international flights.
Typically, airlines hike last-minute flight prices because they know travelers booking that close to their travel date are desperate and will pay whatever it costs to get to their destination. You do not want to fall into this trap.
So don't bank on getting a deal on a last-second fare. Especially this year, as prices surge, it's important to look farther out to book your trips. Unfortunately, your odds of scoring a great deal for a trip this summer are getting slimmer by the day as prices increase for one of the busiest travel periods yet.
But a fall getaway? Or a winter tropical vacation? Now's the time.
Focus on Shoulder Season
What are the cheapest months to fly? For most destinations, peak summer is madness for travel. And this summer is poised to be the peak of all peaks.
In normal years, flight prices  generally increase from mid-June to mid-August or early September as families get out for summer break and other travelers set out for sunny adventures. There are fewer sales and discounts, which means prices can be double the norm – or more. Not to mention, your destination could be packed with tourists.
Instead, try traveling during the shoulder season. It's often much cheaper to travel from May to early June and late August through mid-October. The weather is still relatively warm during the shoulder season, and you'll beat the crazy summer crowds. This is when we find the best international flight deals!
Use a search for flights from Minneapolis-St. Paul (MSP) up to Calgary (YYC) and Banff National Park. Banff is a hugely popular destination, especially in the summer months, which is why airfare can be almost double what it normally is during peak July and peak August.

But if you search for the months of September and October, it's a whole different story. Same great weather, hiking, views, and sightseeing, without the peak summer fares and crowds.
Turn to Google Flights Explore
After two-plus years, travelers are saying to themselves: "I just need to go somewhere. I don't care where, anywhere I can go for cheap." Go figure Google Flights has a tool for that, too.
It's called Google Flights Explore. This is the best way to find a getaway at a bargain when you're not sure where you want to go. Simply plug in your destination, enter your dates (or keep things flexible with a trip anytime over the next six months), and take a spin around the globe to see where you can go.
You can simply scroll across the map and see what prices pop up, or enter a destination. It can be as broad as "United States" or "Europe" or as dialed in as "California" or "Italy."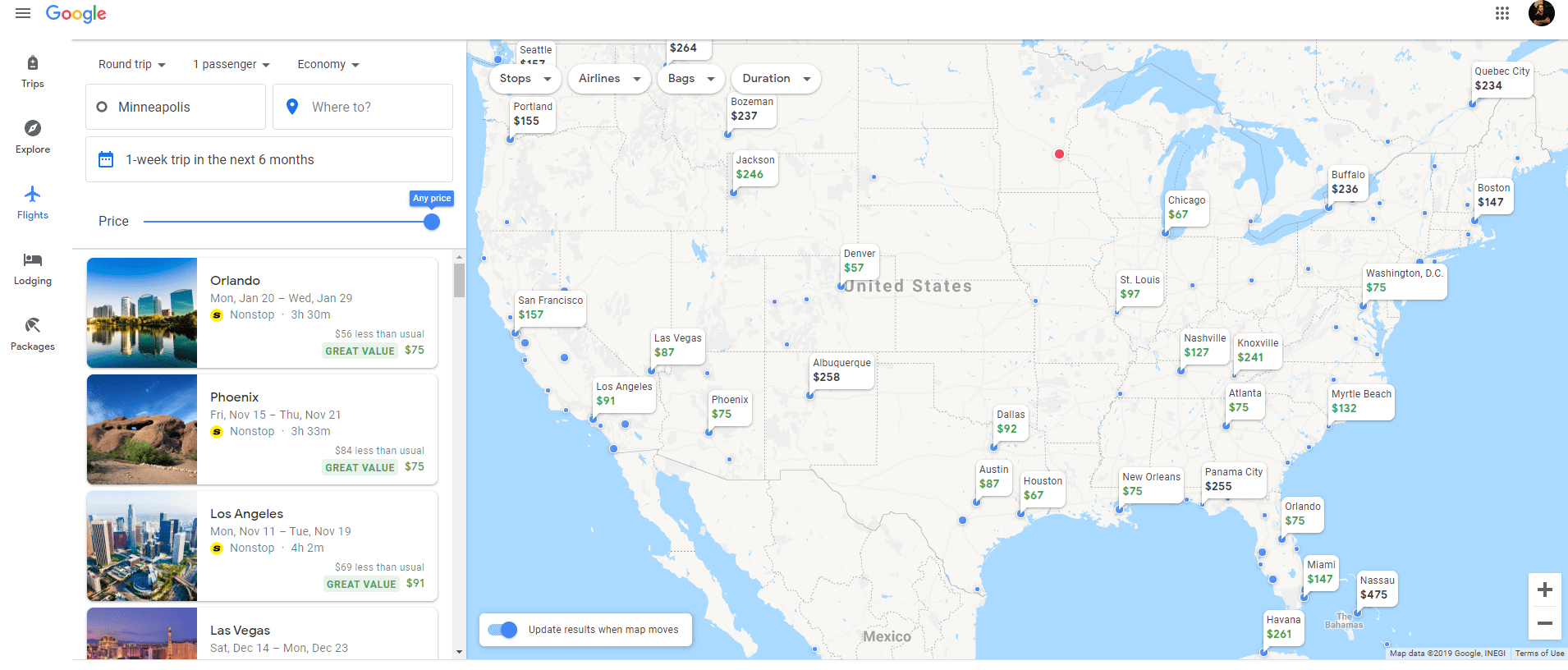 If you know you have a week off in June, you can plug those dates into Explore, and see exactly how much it would cost you to go to each destination. Or if you're even more flexible, selecting "One week trip in the next six months" will show you the very lowest fares available to any destination.
Even within this Explore function, you can filter to see only the flights you'd actually want to book. For example, you can display only nonstop flights or eliminate trips with lengthy layovers. You can even narrow it down to specific airline alliances: Pick Oneworld if you want to fly Alaska Airlines or American, Star Alliance for United, or SkyTeam for Delta flights.
Read our full guide to using Google Flights Explore!
Focus on Destinations With Cheap Flights
You can empty your bag of tricks to find cheap airfare, and you probably will. But there are some tried and true locations where we're still seeing cheap fares, and they might be your best bet for a cheaper vacation this year.
We recently put together a list of the best destinations where you can find cheap flights despite the overall uptick in airfare … and it might not be what you expect. There are plenty of popular spots on this list, from Alaska to Mexico to Iceland, London, and Portugal over in Europe and several popular South American countries including Colombia and Peru.
So while many domestic flights seem more expensive than ever, we've found fares like these…

Thrifty Traveler Premium members get alerts for deals like these straight to their inbox!
Or deals like these, too.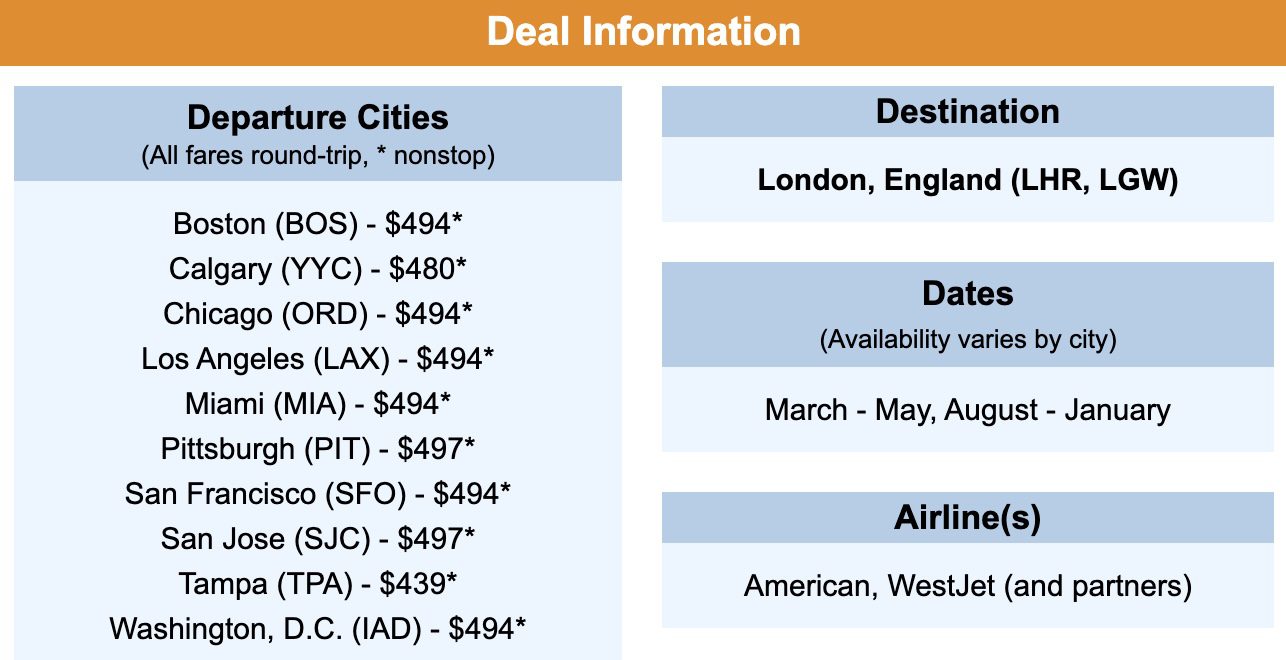 Use Your Miles
When flight prices look high, it's time to turn to a stash of points and miles.
Whether you've got Delta SkyMiles, American AAdvantage miles, or a balance of flexible Chase Ultimate Rewards points, they can help you offset the higher costs of airfare more than any flight deal ever could.
There's a ton of value out there no matter which points you use, but one of our favorite ways to book travel right now is with Delta SkyMiles. You can score even expensive domestic trips or international fares for just a few thousand SkyMiles thanks to an onslaught of Delta SkyMiles flash sales.
Take a look at that fare to Montego Bay, Jamaica (MBJ) from New York City (NYC)! This was part of a Delta SkyMiles deal we sent that could get you down to the beach for just a handful of miles. And if you're looking to book domestic flights using SkyMiles, you won't even need a handful – it's more like a pinch! We found this awesome 4,000-SkyMiles fare to Phoenix (PHX) for this spring.
If you have points and miles other than SkyMiles, you're still in a great position to save.
Case in point: A nonstop flight to Switzerland this summer could easily cost you $1,000 or more – or $5,000-plus in business class. But we sent Thrifty Traveler Premium+ members an alert for an incredibly rare chance to book nonstop flights for two from New York City (JFK) to Geneva (GVA) all summer long. Thanks to a transfer bonus using Capital One Venture Miles at the time, you could do it for just 52,500 miles each way – or just 105,000 miles roundtrip!
Want award space alerts like this, plus cheap domestic and international fares? Try Thrifty Traveler Premium+ now!
Bottom Line
Yes, flight prices are going up. The data proves it.
But those big-picture numbers don't tell the full story. There are still cheap flights out there. By following these tips, you can cut your way through the riff-raff and find cheaper airfare for your next trip.