Capital One has officially entered the airport lounge wars – and in a big way.
After years of planning and months of building, the company behind the popular Capital One Venture Rewards Credit Card and the premium Capital One Venture X Rewards Credit Card finally has its own branded airport lounge. Ready to use your Venture X lounge access and want to know how many Capital One lounges there are? There's just one so far – an incredible new space in Dallas-Fort Worth (DFW). But at least two more are on the way in 2023, and it's clear Capital One won't stop there.
But how can you get Capital One lounge access? What credit card gets you in free, and what other ways can you get in? Where can you find these lounges – and what will you find inside, anyway?
Keep reading for a full guide before your next visit to a Capital One Airport lounge.
Capital One Lounge Locations
What airports have Capital One lounges? So far, Capital One has just one airport lounge open down in Dallas-Fort Worth International Airport (DFW). But at least two more Capital One lounges are set to open soon … just not as soon as travelers had hoped.
Capital One had planned to open its next lounge locations in Washington, D.C.-Dulles (IAD) and Denver (DEN) sometime in 2022. But the bank quietly delayed those projected opening dates: Neither lounge will open until sometime in 2023.
Beyond that, Capital One clearly has plans to build out even more to challenge the likes of Amex Centurion lounges as well as the upcoming (and not yet open) Chase Sapphire Lounges which are not yet open.
Read more: For Capital One, Lounges are a Focus in 2022 & Beyond
Dallas-Fort Worth (DFW) Capital One Lounge
The DFW Capital One lounge officially opened its doors in early November 2021. And right off the bat, it blows almost every U.S. airport lounge out of the water.
This is a truly impressive space, clocking in at roughly 10,000-square-feet with amazing design and decor, comfortable seating with power outlets almost everywhere, and floor-to-ceiling windows to watch planes come and go on the runway below. You'll find it near Gate D22 in DFW's D Terminal, which is home to American Airlines.
There are also amenities you won't find in many other U.S. airport lounges, including two shower suites, a workout studio equipped with two Peloton bikes, two relaxation rooms, and even multi-faith prayer rooms.
But the shining star of the Dallas Capital One lounge is its food and drink program – and yes, all food and drink is free once you're inside. From a bowl of Korean bulgogi to fresh-made hummus and bacon mac and cheese, every single bite is delicious. The bar is stocked with free wines, beers, and craft cocktails, including a very tasty butter pecan Old Fashioned. And there are pour-your-own stations with water, soda, juices, and draft cold brew or lattes, too.
There's also a grab-and-go cooler full of fresh salads, sandwiches, and snacks if you want to pop into the lounge and grab something nice to eat that won't set you back $18 to $25 or more like most mediocre airport fare.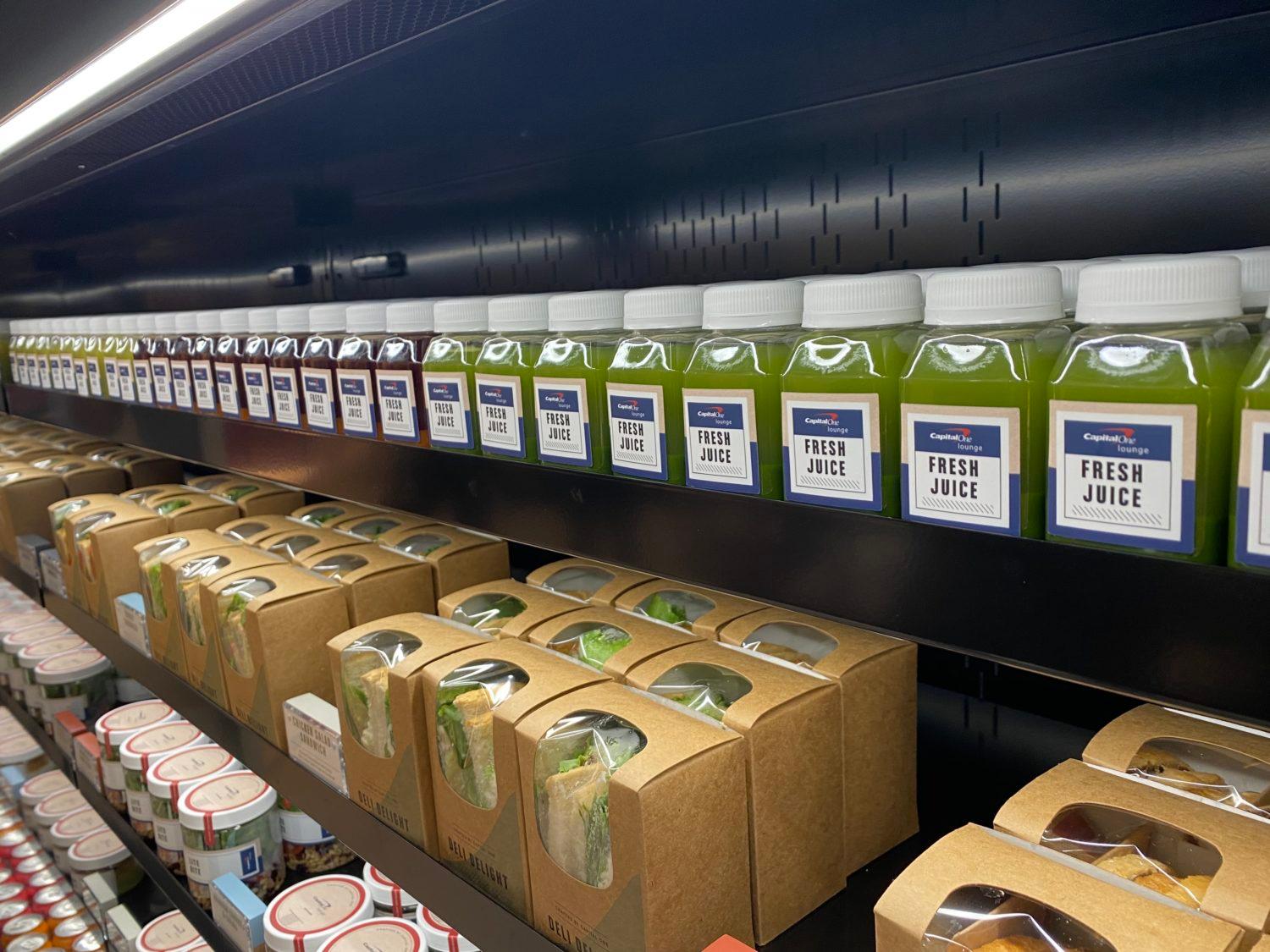 Read our full review of the Capital One lounge in Dallas (DFW)!
Again: All of this is free. From the space to the food to the drinks and everything in between, this DFW lounge is a step above almost any other airport lounge in the U.S., and more are on the way…
Denver (DEN) Capital One Lounge
Capital One Lounge Denver Opening Date: 2023
The credit card company is planning another Capital One lounge in Denver (DEN).
The company hasn't set an opening date for its Denver lounge beyond confirming with Thrifty Traveler it will open in 2023. It seems likely this will be Capital One's second location to open.
The plans call for an 11,200 square-foot space in Denver's Concourse A – home to American, Delta, Frontier, and a handful of other, smaller airlines. But all the Denver concourses are connected by tram, so anyone should be able to easily get there.
Because Capital One knows many of its cardholders connect through Denver, it's placing even more emphasis on lounge amenities like more relaxation rooms and shower suites. But beyond that, we don't know much about what's in store.
Washington, D.C.-Dulles (IAD) Capital One Lounge
Capital One Lounge Dulles Opening Date: 2023
Capital One is headquartered around our nation's capital, so it's no surprise they're opening a lounge at Washington, D.C.-Dulles (IAD).
The Dulles Capital One Lounge was actually the first Capital One lounge to be announced way back in early 2020 – though last we heard from the company, it won't open until sometime in 2023. The Capital One Dulles lounge will be located in the main terminal building just after clearing airport security, though the company hasn't shed any light on its size just yet.
Capital One has said they felt they needed to address the extra time and stress of getting from the terminal to the gate at Dulles – the lounge location is a good 10-plus minute walk from any gates. So they're devoting even more resources to the novel grab-and-go concept so cardholders can simply drop into the lounge, grab something to eat, and head to their flight.
Other Future Capital One Lounge Locations
Capital One has made clear that they're not going to stop at three U.S. lounges. But they're being tight-lipped about where their next location might be located.
Airport real estate is about as cutthroat as it gets. The company is likely weighing where their cardmembers are traveling as well as where the physical space to build out a Capital One lounge is actually available as they scout out their next location.
That's easier said than done. Case in point: Capital One has lost at least two bids for other new lounge spaces to Chase in both Phoenix (PHX) and Las Vegas (LAS).
Read more: For Capital One, Lounges are a Focus in 2022 and Beyond
Capital One Lounge Access Requirements
How to Get Access to Capital One Lounges
Capital One cardholders with eligible credit cards must show their card or digital lounge pass, which is available in the Capital One Mobile app, to qualify for complimentary or discounted access.
Whether you've got Capital One's top-of-the-line credit card, another card in your wallet, or have never been a Capital One customer, there's a way to get into these Capital One lounges.
Here are the exact requirements needed to get into the Capital One Lounge.
Capital One Venture X Gets You In Free
There's a new kid on the scene.
In November 2021, Capital One unveiled its premium credit card dubbed the Capital One Venture X Rewards Credit Card, a direct shot at the likes of the Chase Sapphire Reserve® and the Platinum Card® from American Express … with a much smaller price tag at just $395 a year. And it's the only way to get into these lounges for free.
Read more on the Capital One Venture X Card!
Venture X cardholders will get complimentary access to all Capital One lounges. Just show your new Venture X card at the check-in desk or pull up their smartphone app.
They'll also get two guests free on each visit, paying $45 per additional guest after that. Children under 2 are free.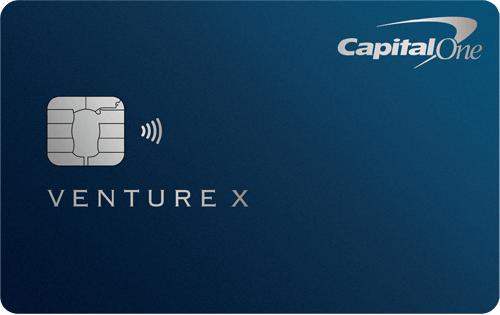 Click Here to learn more about the Capital One Venture X Rewards Credit Card
Beyond that, Capital One Venture X cardholders can add up to four authorized users to their accounts for free. Each authorized user will get their own lounge access – including another two free guests! That's the most lucrative benefit you'll find on any premium travel credit card if you're hoping to share lounge access.
Read more about adding Capital One Venture X authorized users!
Other Capital One Venture X Lounge Access
While the footprint of the Capital One airport lounge network is small right now, Venture X cardholders have access to 1,200-plus other lounges across the globe.
Venture X cardholders also get a Priority Pass membership, with complimentary access for the cardholder and two guests into any Priority Pass lounge. Plus, membership through Venture X will also get you comped meals at Priority Pass airport restaurants – a benefit that other cards like Amex have cut.
Additionally, in June 2022, Capital One also added access to Plaza Premium Lounges, opening the doors to dozens more lounges abroad and at home. The Plaza Premium name also includes Virgin Atlantic Clubhouse lounges in four U.S. airports like New York City (JFK) and Washington, D.C.-Dulles (IAD); several lounges at the Cancún (CUN) airport; and Avianca lounges throughout Colombia. Here's the full list of new lounges.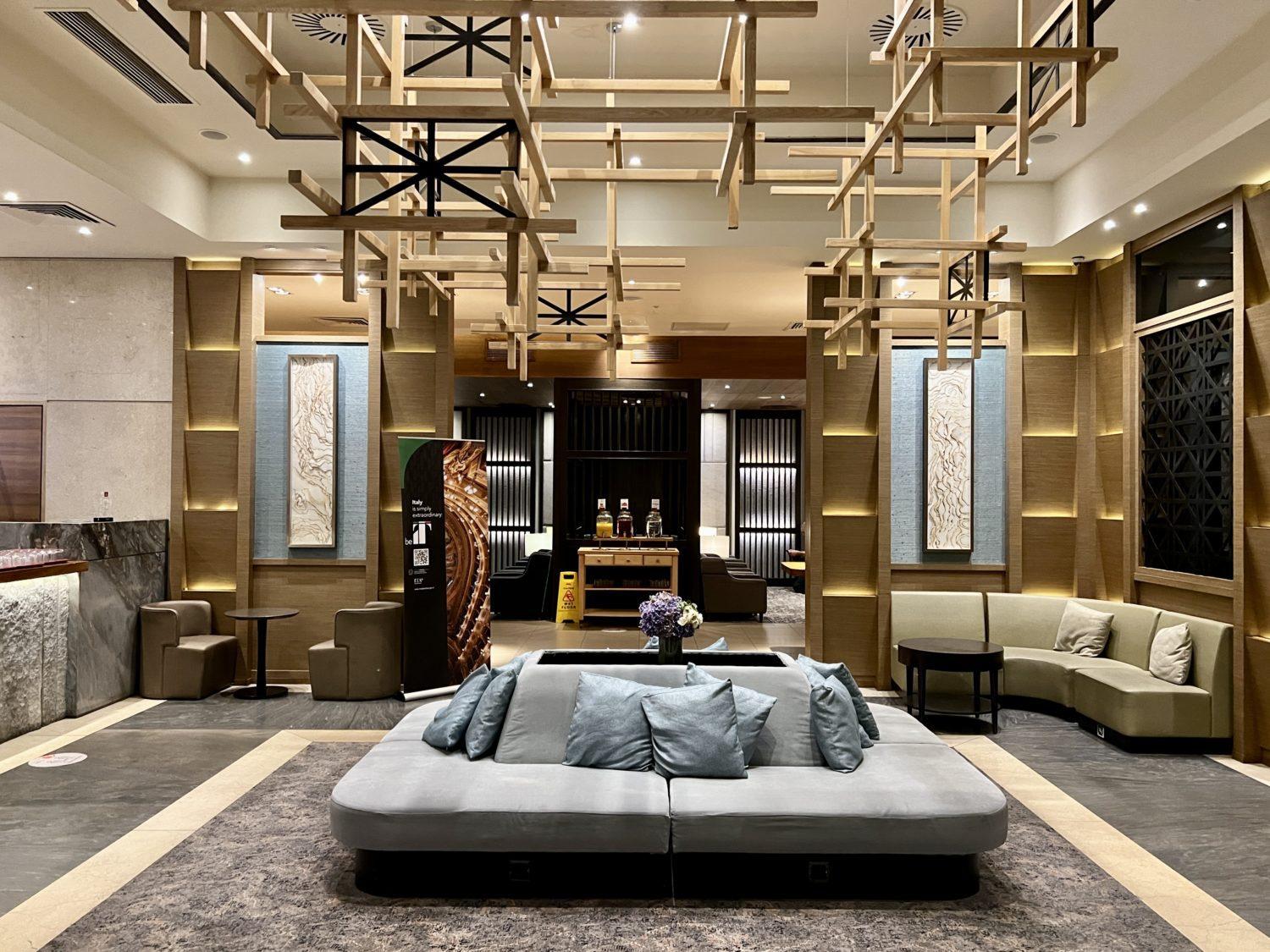 Two Free Annual Passes & Discounted Rates for Venture
Hundreds of thousands of travelers have a Capital One Venture Rewards Credit Card in their wallets. They're about to get some free lounge passes, too.
Venture cardholders will get two free annual passes to visit the new Capital One lounge in Dallas and other upcoming locations. They won't, however, get free guests – that'll cost $45 each. One exception: Capital One has confirmed that Venture cardholders can use one of two free annual lounge passes to bring a guest with them.
Once they've used up those free passes, Venture cardholders can get a discounted entry rate of $45 per visit. Even after you've used up free passes, guests still cost $45 apiece.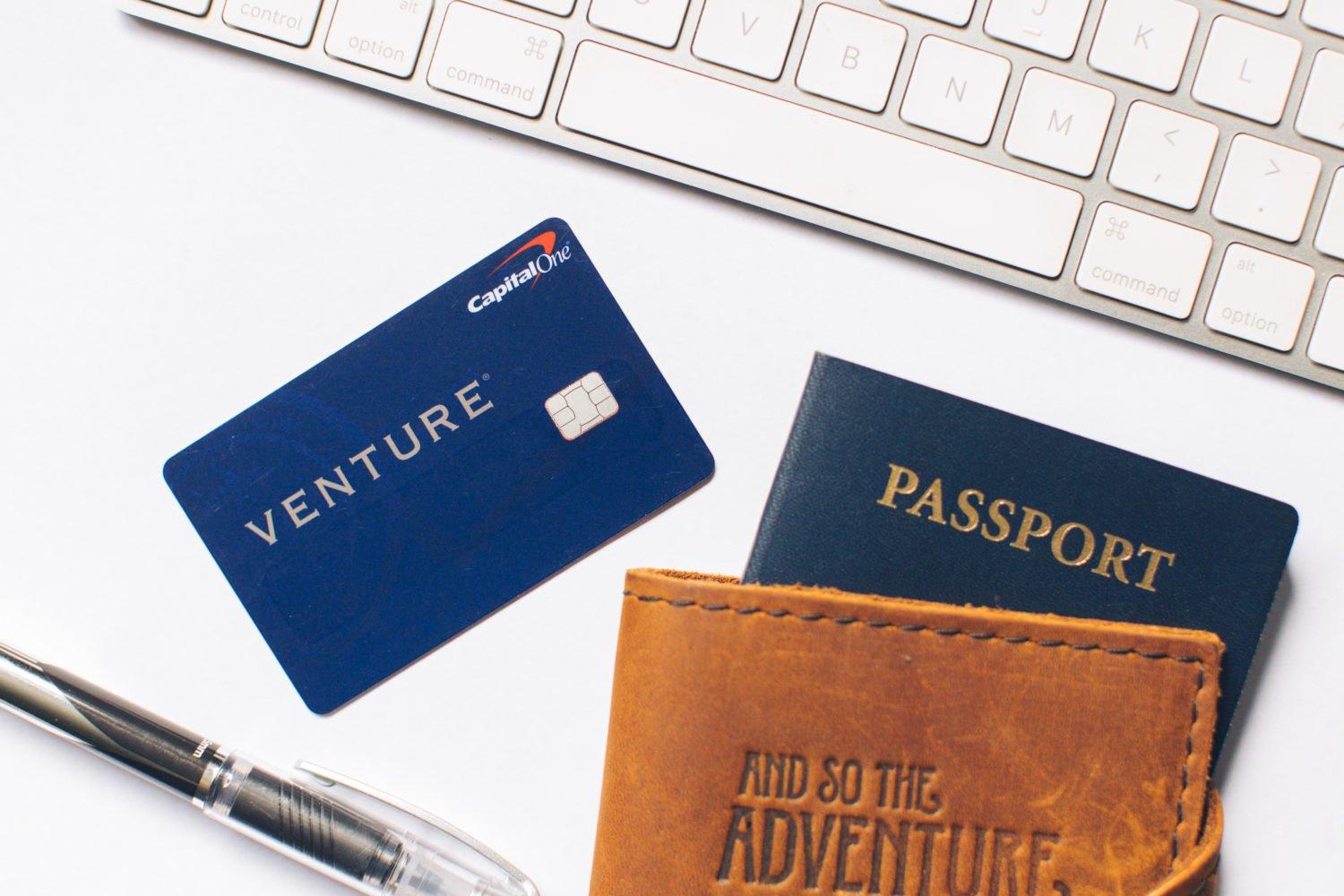 Capital One Spark Miles cardholders will also get two free passes and discounted entry rates.
Whichever card you have, just show it at check-in or show an agent your Capital One app to get in.
Paid Entry for All
Don't have a Capital One card in your wallet? You can still pay your way into the Capital One lounge.
Anyone can pay $65 to enter the lounge. That's on the steep side … and that's likely by design as a way to try to limit overcrowding in these lounges. Most other lounges that allow paid entry charge $40 or so.
Capital One Lounge Access Restrictions
Whether you're grabbing the Venture X Card or simply paying your way in, you can't just waltz into the new Capital One at any time.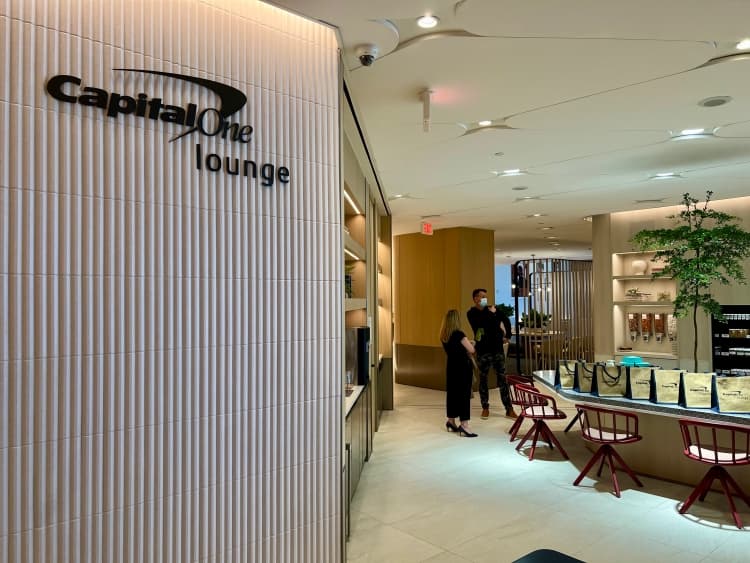 Capital One has said it will restrict entry to flyers with a boarding pass no more than three hours before departure. That mimics the same policy Amex enacted (and more recently, the Delta Sky Club) at its Centurion lounges a few years ago to limit crowding. But in this case, you still can't get into the Capital One lounge even during a longer layover…
… at least not on paper. In practice, we've found that Capital One is more than willing to let travelers in earlier than the three-hour limit, connection or not. As more cardholders flock to the lounge and it fills up, that may change. But for now, it's worth trying to get in earlier if you've got time to kill.
That policy also states you can't get into the Capital One Lounge upon arrival unless you've got a connection.
Bottom Line
The Capital One Lounge in Dallas is already open, and more locations are on the way.
Capital One has a ways to go to rival the likes of Amex Centurion Lounges in terms of how many locations are open. But if they can expand, these lounges are absolutely incredible and could quickly take the crown for the best airport lounge network in the country.
Capital One is reserving free access to these lounges for cardholders with its new, top-tier Venture X Card. But even travelers with the popular Capital One Venture Card can get in free twice a year – and pay a bit less than everyday travelers after that.