Whether you're planning a domestic trip, vacationing in the Caribbean, heading to Europe, or flying all the way to Australia, basic economy fares have become nearly unavoidable. But every airline handles these no-frills fares a bit differently: What you get (and what you don't) can vary wildly. Now it's time for a look at American Airlines basic economy.
Like many airlines, the American Airlines basic economy fare is the carrier's lowest-priced fare class. But the lower price comes at a cost: You give up free seat selection, earning some (though not all) American AAdvantage miles, and most importantly, the ability to change or cancel your ticket if plans change – or if prices drop. In fact, these cheaper fares have gotten even worse with even higher charges to check luggage on some ultra-long-haul flights.
But just what restrictions come with flying American Airlines basic economy? What kind of baggage can you bring, when can you board, and what mileage will you earn? Keep reading.
What You Get with American Airlines Basic Economy
When American Airlines first rolled out its basic economy offering years back, it was one of the worst you could buy.
It was so restrictive that, like United basic economy, you couldn't even bring a carry-on bag on board with you – just a backpack. And there was no way to pick a seat, for free or whether you paid up.
Luckily, that has changed as years ago American relaxed its carry-on baggage restriction, allowing travelers to stow a bag overhead when buying basic economy tickets. And while AA made a handful of improvements to its basic economy fares throughout the pandemic, there have been more recent changes that aren't so good.
Here's a current look at what you get with an AA basic economy ticket:
Baggage: Board basic economy with a carry-on bag and personal item for free; pay $30 each way for a checked bag (or $60 each way to Europe and $75 each way to ultra-long-haul destinations like Asia, Australia, New Zealand, and Israel).
Seat Selection: Available for a fee at time of booking, typically starting at $9 or 10 each way. Otherwise, seats are automatically assigned.
Boarding: Final boarding group (Group 8 or 9, depending on route).
Earning AAdvantage Miles: Yes, you will earn American Airlines AAdvantage award miles at a rate of 2x miles per dollar, which is significantly less when compared to earning at least 5x points per dollar with an AA main cabin economy fare.
Earning Status: Yes, but you'll only earn 2x Loyalty Points per dollar compared to at least 5x points per dollar with a main cabin economy fare.
Upgrades: Yes, American basic economy fares are eligible for paid upgrades as well as complimentary upgrades with AAdvantage elite status.
Ticket Changes and Cancellation: Not allowed on American's basic economy, except for within 24 hours of booking.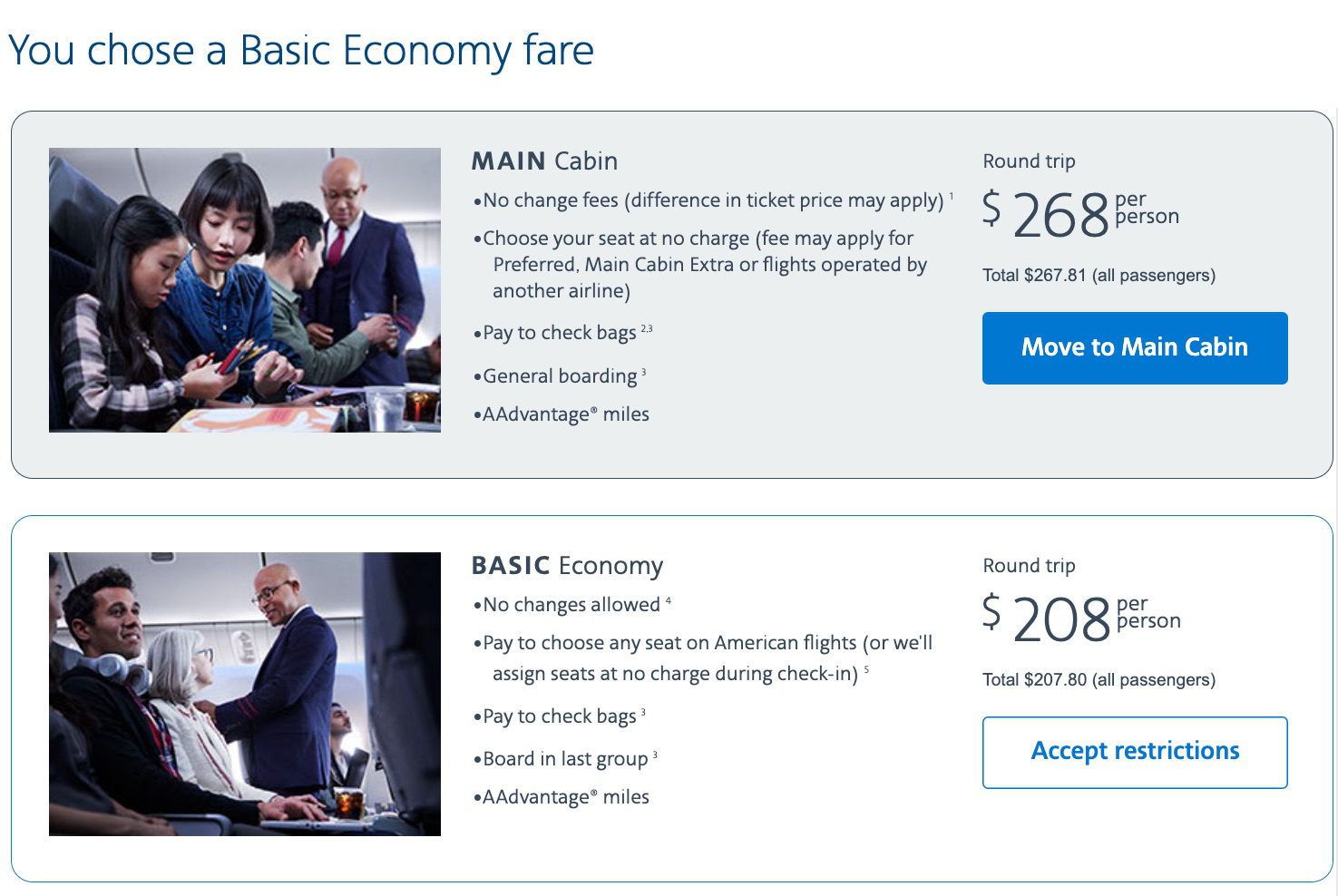 As you can see, American practically begs you to skip a basic economy fare and instead opt for a standard main cabin fare. This kind of upsell effort is common across the major airlines: The entire point is to draw you in with a cheaper fare, then hit you a bunch of restrictions designed to upsell you to a pricier main cabin economy fare. And while the price tag can vary, you can typically count on paying an additional $30 to $35 each way to avoid basic economy on a domestic flight – and much, much more when traveling internationally.
On the bright side, American has made basic economy slightly less painful over the years by allowing travelers to purchase a seat assignment right away. Previously, you had to wait until seven days before your flight. Now, you can pay up for a seat assignment when you're booking your flight. And best of all, the fees to pick a seat (and avoid getting assigned a dreaded middle seat) are typically reasonable, starting around $9 to $10.
But that's where the good news ends. American has made a slew of negative changes to these fares in recent months that make them even more painful, including:
Starting in 2023, you'll now earn just 2x AAdvantage miles for every dollar you spend on your American basic economy fare – down from 5x miles per dollar previously. Same goes for earning AA Loyalty Points to build status with the airline.
As first reported by The Points Guy, American now charges $75 each way to bring a checked bag on flights to Asia, Australia, New Zealand, and Israel.
Worst of all, American basic economy fares cannot be changed nor canceled, period. That means your American Airlines basic economy ticket is a use-it-or-lose-it purchase. You can't change dates or cancel the entire trip for an airline credit if your travel plans change. And you also can't rebook and pocket the difference if prices drop after you book.
Read more: What You Get with Basic Economy Fares (& Why You Should Avoid Them)
What Routes Have Basic Economy Fares?
Whether you're flying to Austin (AUS) or all the way to Australia, you may see basic economy fares across the globe searching with American now.
American Airlines basic economy has been rolled out on routes heading to all the following locations:
U.S. Domestic Fares
Mexico and Central America
The Caribbean
South America
Europe
Asia
Middle East
Australia & New Zealand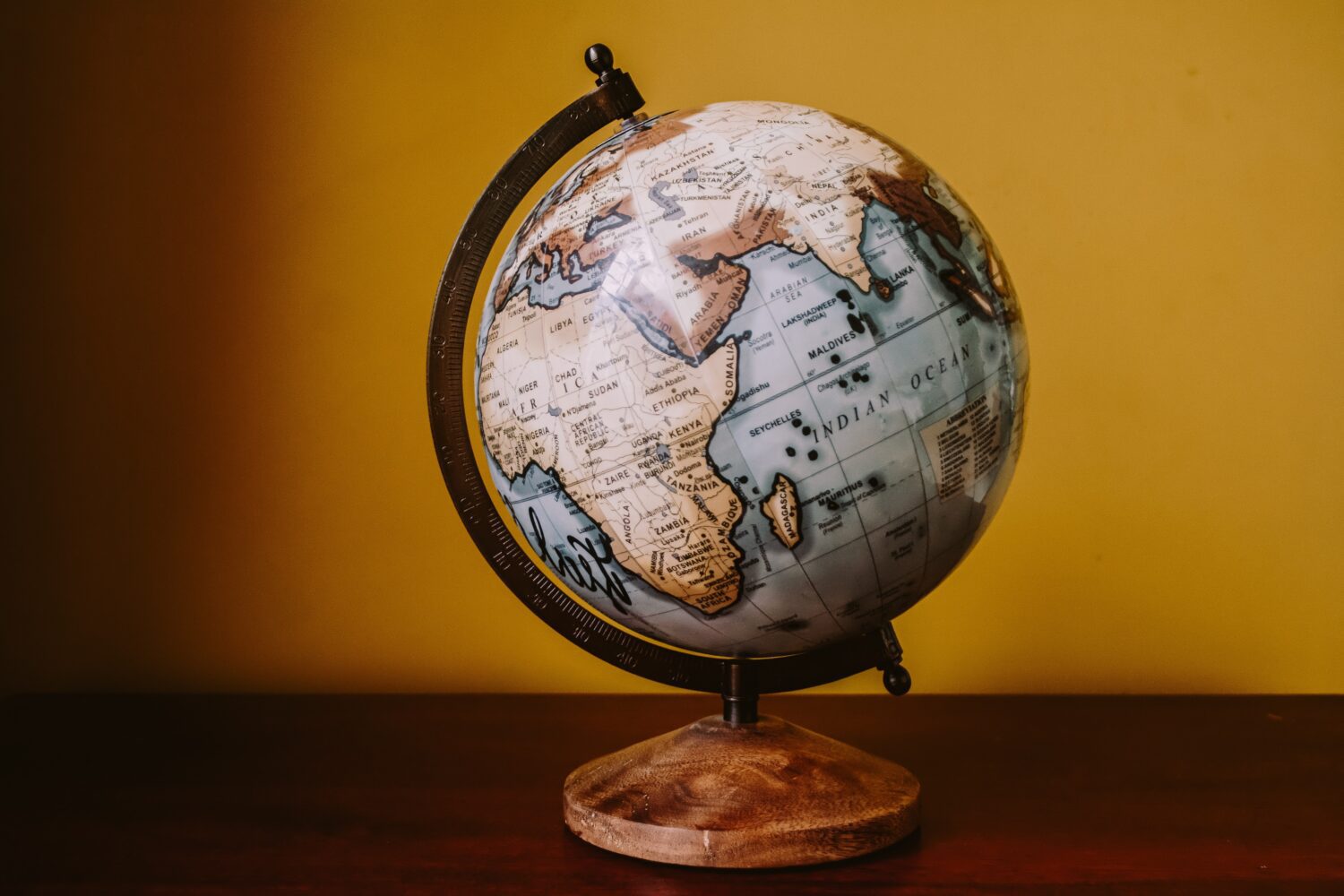 But just because AA basic economy fares exist on these routes doesn't mean you'll always see them. Throughout the pandemic, we've seen American Airlines stop selling its pesky basic fares on many routes – especially within the U.S.
That has changed in recent months, as basic economy has returned to most domestic flights and even many long-haul destinations. But you might get lucky and miss out on basic economy altogether. Trust us: That's a win for travelers.
How to Beat American Airlines Basic Economy
Basic economy is a pain no matter what airline you're flying. But flying American Airlines basic economy can be a little less painful with the right strategies – and the right cards in your wallet.
Get a Free Checked Bag and Priority Boarding with American Co-Branded Credit Cards
Co-branded airline credit cards can be a powerful weapon to beat basic economy on any carrier. And with American, you've got two options that give you identical benefits.
The Citi® / AAdvantage® Platinum Select® World Elite Mastercard® and the AAdvantage® Aviator® Red World Elite Mastercard® both get you a free checked bag on any domestic AA flight – along with up to four other travelers booked on the same itinerary. But let us stress: This free baggage benefit only applies to domestic flights.
And unlike some other airline co-branded cards, you don't need to actually pay for your flight with the card to get the benefit. It automatically applies once the card is attached to your AAdvantage account.
That's huge, as checked bags cost $30 each way for domestic flights within the U.S. The Citi AAdvantage Platinum Select World Elite Mastercard's annual fee of $99 is waived for the first year, which means you have a full year to take advantage of free baggage before paying a single annual fee.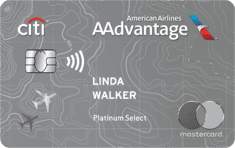 Click Here to learn more about the Citi® / AAdvantage® Platinum Select® World Elite Mastercard®.
The AAdvantage Aviator Red World Elite Mastercard's annual fee of $99 isn't waived for the first year. But even at that price, it could pay for itself after checking bags on just two round-trip flights each year.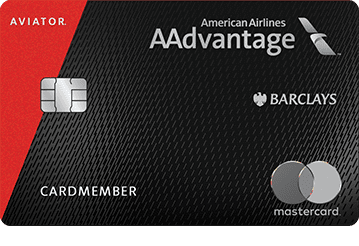 Click Here to apply for the AAdvantage Aviator Red World Elite Mastercard (this is not an affiliate link)
But if you're living the carry-on life, you may need overhead bin space, too. And considering basic economy fares on American board in the final Group 9, there's no guarantee you'll get it. Both co-branded cards also move you all the way up to Group 5 even when flying basic economy.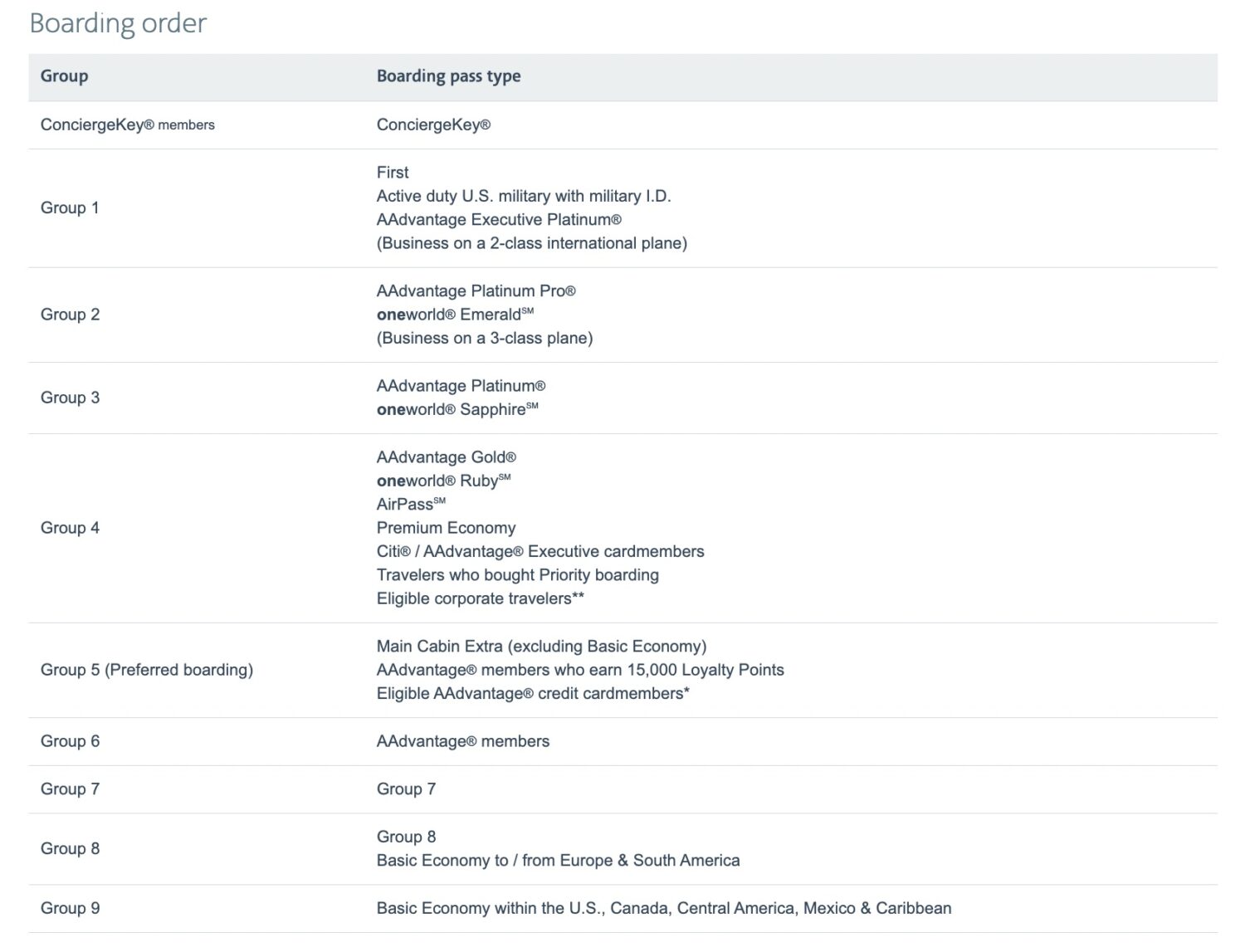 Pay For a Seat Assignment
No one wants to get stuck in a dreaded middle seat. On paper, American Airlines basic economy could leave you stuck there, as you don't get free seat assignment.
But there are two ways you can get the seat you want flying AA basic economy. One will cost you a bit extra, while the other strategy could help you score an extra legroom seat … for free.
American allows even basic economy flyers pay extra for a seat, starting right when you book your flights. The American Airlines seat selection fee will vary widely by flight, but they're pretty reasonable: The fee for a seat typically starts at $10 or $12 for a middle seat and just a few bucks more for an aisle or window seat. Seats closer to the front of the plane will generally cost more than those at the rear.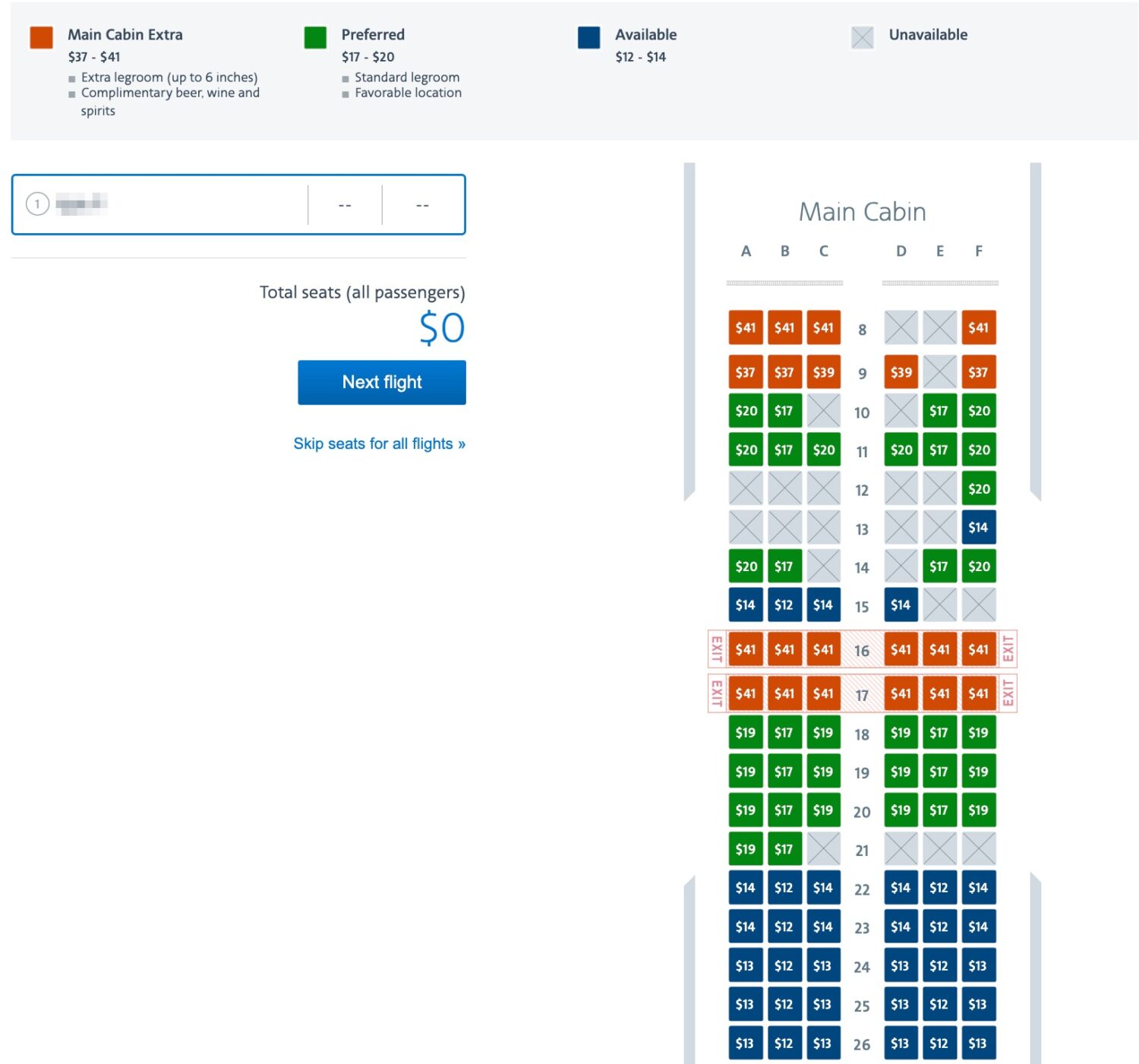 Just beware that if your basic economy fare isn't a nonstop flight, you'll have to pay separately for each segment of the trip.
But don't count on getting a better seat for free by talking to a gate agent shortly before departure – a favorite trick among frequent flyers. You still have to pay up to move to a better, empty seat before boarding. Of course, this may vary by agent. And if your flight is full, you're out of luck.
So if you want to ensure you're not stuck between strangers, your best bet is likely to pay up for a seat assignment right when you book – or long before your flight takes off.
Worried about sitting next to your children? American guarantees seats together, even with basic economy fares!
Or Get an Even Better Seat for Free
Feeling bold? You might be able to score an extra legroom seat for free.
Buying one of American's Main Cabin Extra seats – which typically come with an extra 3-4 inches of legroom – will generally cost you a lot more than your standard seat, at $40 or more each way. But a quirk in how American Airlines assigns these seats as its planes fills up could land you a spot there without paying a dime.
If you haven't already paid for a seat, American Airlines will automatically assign you one when you check in. And if no standard economy seats are left by the time you check in, American will put you in a Main Cabin Extra seat. See where we're going with this?
So by waiting to check in for your flight until the economy cabin is full, you can automatically be placed in a Main Cabin Extra seat for free. It's a bit of a gamble and it certainly won't work every time – only when your flight is filling up. But it's worth trying out on your next American Airlines basic economy flight.
Read more on how patience can pay off with extra legroom when flying American basic economy.

Bottom Line
Basic economy has transformed the airfare world. Offering these bare-bones fares allows American to compete with budget carriers on price while pitting flyers with new restrictions – largely in hopes that they'll pay up to upgrade.
Yes, these fares are a pain – and American Airlines is no exception. But with the right tools, credit cards, and knowledge, you can make them less painful and beat American airlines basic economy fares.