In the world of travel and points and miles, nothing beats having Chase Ultimate Rewards points – the points you earn from cards like the Chase Sapphire Preferred® Card or the Chase Sapphire Reserve®.
Sure, a stash of Delta SkyMiles or American AAdvantage miles can be great. But with Chase, you have some unbeatable flexibility and value. You can book almost any flight or hotel directly through the Chase travel portal, send points straight to more than a dozen different airline and hotel Chase transfer partners, or even use them to reimburse yourself for everyday purchases with the "Pay Yourself Back" feature.
We've rounded up some of our favorite ways to use these points.
Book Flights for Free Using Points
One of our favorite uses of any frequent flyer points is booking the cheap domestic or international flight deals you see here or with a Thrifty Traveler Premium subscription. And the absolute best way to book them is with Chase Ultimate Rewards points.
That's because your Chase points have a bonus when you've got the Chase Sapphire Preferred – and they go even farther with the Reserve card. Every point you've got from a Preferred Card is worth 1.25 cents toward travel. With the Reserve, that jumps to 1.5 cents apiece. 
That means a stash of 60,000 Chase points is worth $750 in airfare, hotels, or other travel expenses with the Preferred Card. And there's a silver lining: You'll still earn miles when you fly booking this way, unlike a traditional airline award ticket. Plus, there are no extra fees or taxes.
As an example, here's a recent deal on flights down to Peru we sent to our Thrifty Traveler Premium subscribers: You can get from Miami (MIA) to Lima (LIM) later this year and into early 2023 for just $221.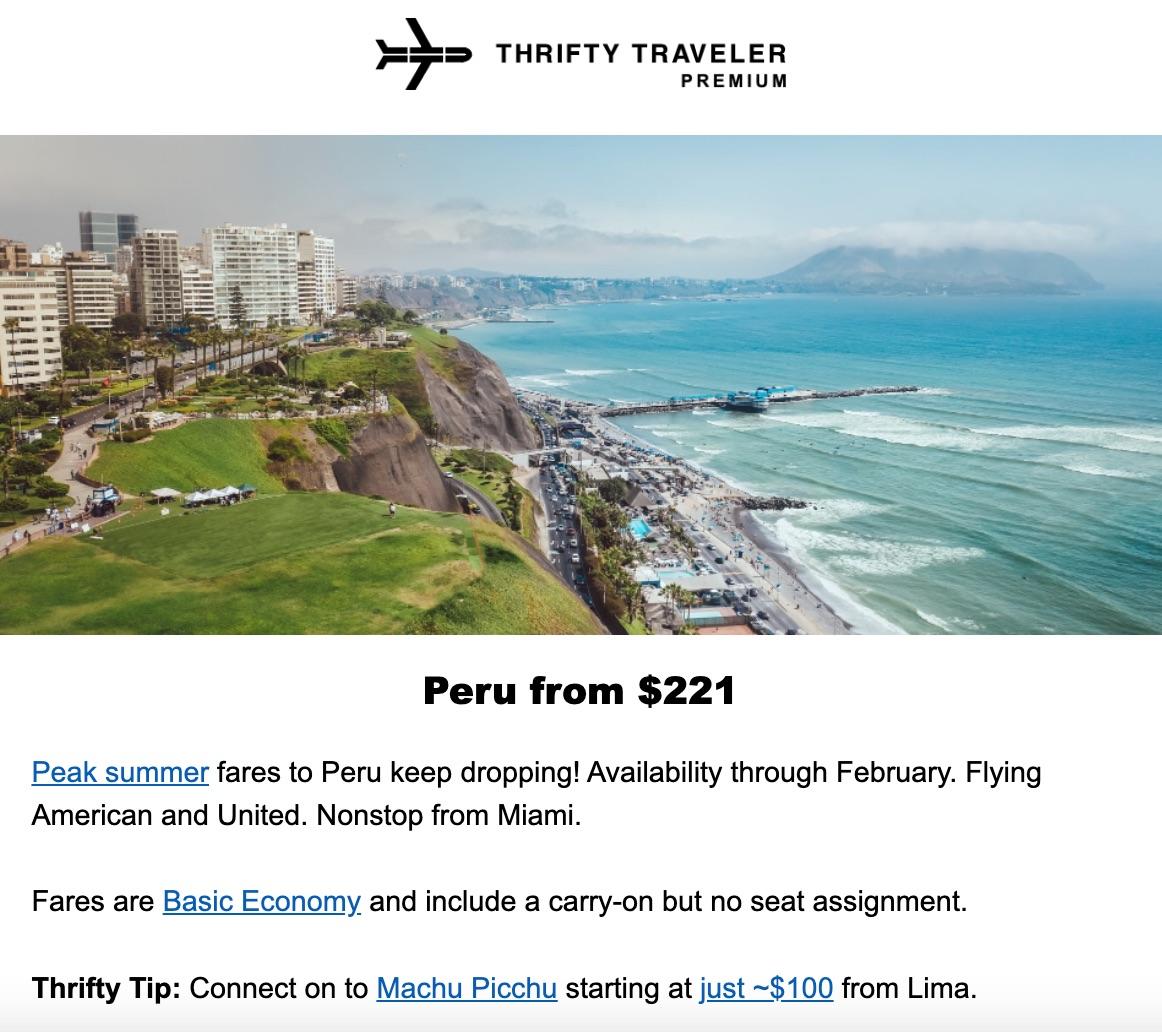 Booking this flight with points from your Chase Sapphire Preferred, it'd be under 18,000 points for this same round-trip fare. Booking flights directly through the Chase travel portal is generally simple and straightforward, and you can almost always pull up flights here at the same price you find through Google Flights.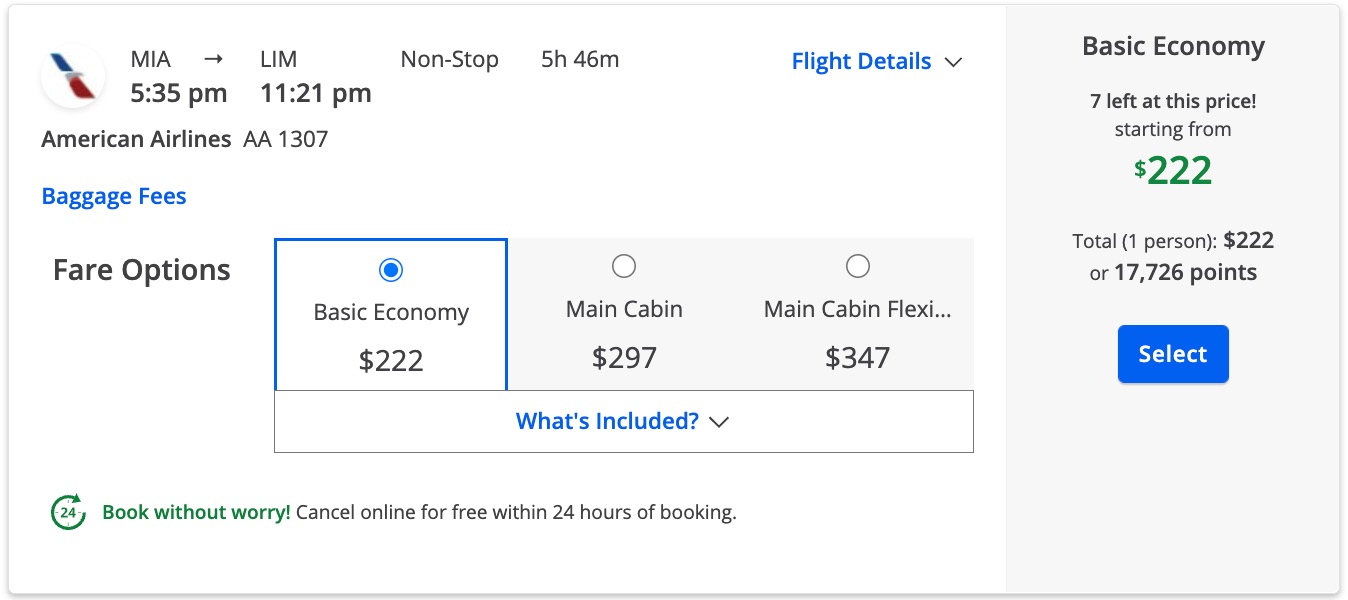 Read up on how Thrifty Traveler Premium works to see if you want to level up with huge savings on both domestic and international airfare
Fly Delta One Biz Class to Europe
The Delta One Suite is one of the best business class seats in the skies. Every suite has its own door, lie-flat beds, chef-catered meals, and more. And though it normally costs $5,000 or more to fly in this much style, you can do it with a stash of Chase Ultimate Rewards points.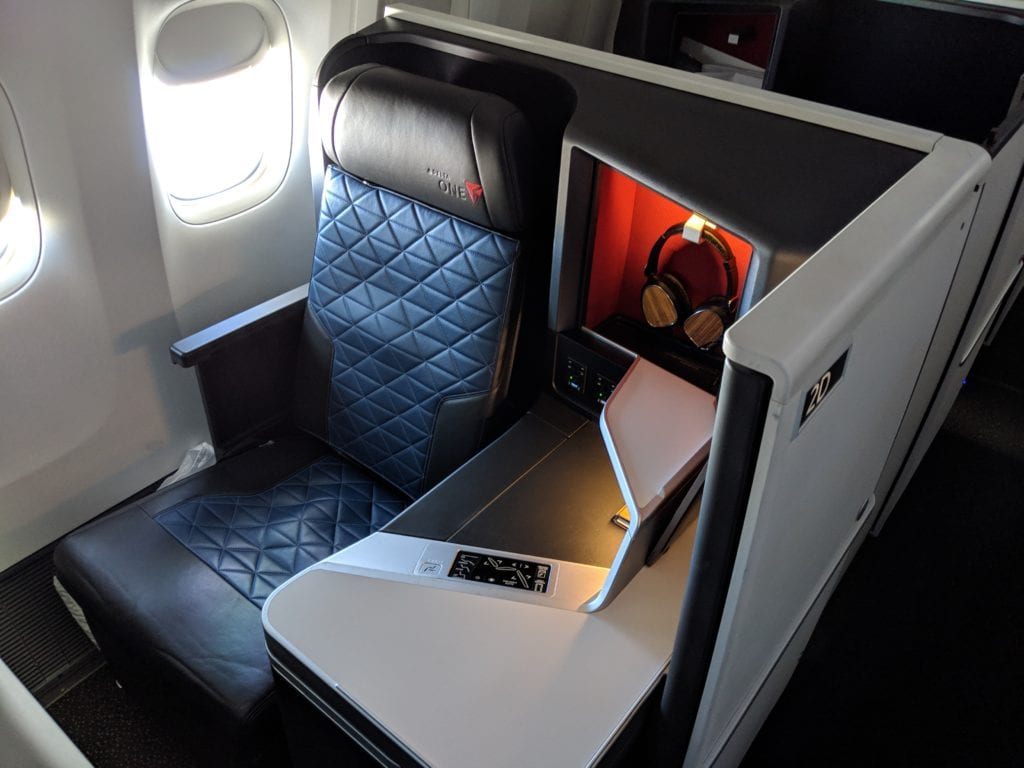 Read our Delta One Suites review and whether they live up to the hype!
Delta itself often charges 250,000 SkyMiles or more to book one of these seats. Don't do that.
Instead, you'll transfer your Chase points to Virgin Atlantic, a close partner airline of Delta's. And when you do that, it's just 50,000 points for a one-way trip to Europe. Plus, with a 30% bonus on transfers to Virgin Atlantic right now, it brings the price down to just 39,000 points!
It's one of our favorite workarounds to book Delta One and a go-to way to book any Delta flight for fewer miles. Unfortunately, Virgin Atlantic eliminated the ability to book these cheap Delta One Suites to other destinations in Australia and Asia.
It's gotten much harder to snag your own suite across the pond using Chase points these days as Delta is stingy with how many seats it will release to Virgin Atlantic. Look for flights operated by the Airbus A350 or Airbus A330-900neo to get a Delta One Suite. At the very least, you can book a lie-flat bed to kick off your return to Europe.
Read more: Europe Travel Restrictions for Americans – a Country-by-Country Guide
You'll need to transfer just 50,000 Chase points to Virgin Atlantic to book business class on flights like Detroit (DTW) or Minneapolis-St. Paul (MSP) to Amsterdam (AMS).
It's not always easy to zero in on the days when you can actually book these Delta One suites through Virgin Atlantic. But read our guide to using Virgin Atlantic miles to book Delta, and you'll know exactly what to do.
Thrifty Tip: Virgin Atlantic charges a modest $50 to cancel any award ticket and get your miles back – and in many cases, you can even get that redeposit fee waived. That means you could book a flight now and cancel down the line if need be.
4 (or More!) Roundtrip Tickets to Hawaii
You can book two round-trip tickets to Hawaii with this Chase bonus. So much for Hawaii being an expensive place to get to, right?
This is an example where Chase transfer partners really shine, as you have several options to book round-trip flights to the Hawaiian islands for about 25,000 points each – or much less.
If you time it right, you can get to Hawaii for under 12,000 Southwest Rapid Rewards points, as with this round-trip flight from Oakland (OAK) to Maui (OGG). And because Chase points transfer to Southwest on a 1:1 basis, 12,000 Chase points is all you need.

There are some other great ways to get to Hawaii using points. Another option is transferring your points to British Airways, which you can use to book flights to Hawaii on American Airlines or Alaska Airlines. And while American charges 45,000 AAdvantage miles for a round-trip from the West Coast, you can book the exact same flights for just 26,000 British Airways Avios. 
The trick here is that you have to fly from West Coast cities like Los Angeles (LAX), San Francisco (SFO), Seattle (SEA), San Diego (SAN), or Phoenix (PHX). You can fly from those cities to all four major Hawaiian airports at this low price. Chase points also transfer to British Airways on a 1:1 basis, so you'll be set.
Don't live on the West Coast? We've got another great option for you: You can book Delta flights from almost anywhere in the country for just 35,000 points roundtrip. 
The trick is booking with Air France/KLM Flying Blue miles, another Chase transfer partner. Whether you're booking a nonstop flight from the West Coast, a one-stop journey from New York City (JFK) or Minneapolis St. Paul (MSP) or even a two-stop trip from smaller airports, it's still just 35,000 miles apiece – or 17,500 miles each way.
These exact same flights would generally cost at least 70,000 SkyMiles roundtrip – and often closer to 100,000 SkyMiles each! It's a great way to save on a trip to Hawaii and put your Chase Sapphire Preferred bonus to use. Just beware: Booking these Delta flights through Flying Blue can be tricky, so be sure to read our guide on how it's done!
A Round-Trip for Two to Europe – Or One in Business Class
"European vacation" and "cheap" generally don't go well together. But you could use some Chase points and make it a reality – and even fly in style.
Again, you'll want to transfer your Chase points. This time, you're going to send them to Iberia – the Spanish airline offering some of the lowest rates to get to Europe and back. Chase points transfer to Iberia on a 1:1 basis. That means 34,000 points gets you 34,000 Iberia Avios. Got at least 68,000 points with Chase? That's 68,000 Avios.
And those numbers aren't random. Using Iberia, you can fly from Boston (BOS), New York City-JFK (JFK), or Chicago-O'Hare to Madrid (Madrid) for as low as 34,000 miles round-trip. At that dirt-cheap rate, a stash of 60,000 points is almost enough for two roundtrip flights to Europe.
Traveling solo – or feeling selfish? Why not use those points to fly business class to Spain instead? You can do it for just 68,000 miles round-trip! That's less than most airlines charge for a one-way business class ticket. Study up on how to book Iberia business class seats for cheap.
With Iberia business class, you're in for a treat. The seats are plenty spacious and recline all the way into a comfortable bed and the food is tasty. It may not be the best business class in the world, but you cannot beat this price.
Considering these business class tickets cost $4,000 or more a ticket when paying cash, it's a phenomenal way to use those Chase points.
Book a Bunch of Domestic Flights
Not looking to travel far, or accepting our new normal of less international travel? One of the best ways to book a short domestic flight in the United States is by using airline miles from Europe. We're not joking.
British Airways is a Chase transfer partner and a Oneworld alliance member, which means you can book flights on partner American Airlines using your Avios. And British Airways is one of the few airlines to use a distance-based award chart, meaning flights of 1,150 miles or less will cost just 9,000 Avios. 
With a range of 1,150 miles, you could fly from Minneapolis-St. Paul (MSP) to Chicago-O'Hare (ORD), New York City-JFK (JFK), or Washington, D.C. (DCA). Other options include ORD-Denver (DEN), JFK-Miami (MIA), and more.
Thrifty Tip: Put in your flight plans at GCmap.com to see if your travel plan makes the cut under 1,150 miles. 
British Airways' site can be spotty, so your best bet to find award availability is to look at American Airlines' website. Then input your flight details at BritishAirways.com or call up the airline to make the booking. Chase points transfer to British Airways instantaneously at a 1:1 ratio.
Read more on why we think the Chase Sapphire Preferred is the best card for domestic travel
Stay Free with Hyatt
It's not just airfare. In fact, using your Chase points to book free nights at Hyatt hotels around the world may be the absolute best use of these points.
Hyatt is one of our favorite Chase transfer partners, thanks to the insanely low rates at which you can book even some four- and five-star Hyatt properties. Here are a few quick examples of how you can squeeze a ton of value out of your Chase points by transferring them to Hyatt.
We'll start with the best of the best: Hyatt is one of the few hotel chains that operate all-inclusive resorts that can be booked with points. These Hyatt Ziva and Zilara properties scattered throughout Mexico and the Caribbean are amazing. Recently, Hyatt has added another 50-plus all-inclusive resorts to its portfolio after folding in several new chains.
But the best part is that you can book them for just 20,000 to 25,000 points per night – and sometimes even less!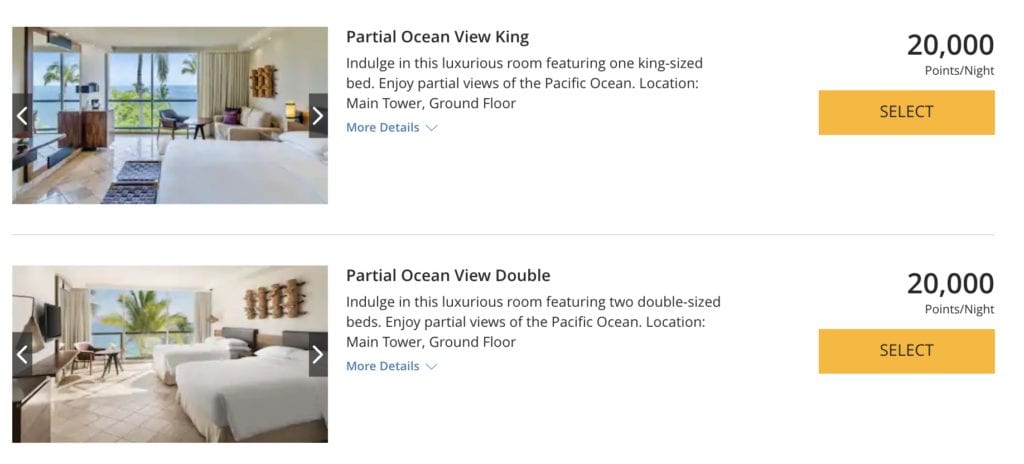 At that rate, you could spend two to three nights eating, drinking, and sleeping for free on a beach by transferring 60,000 Chase points to Hyatt. It's cheaper than staying at home!
Want to stay at a Park Hyatt, the hotel chain's absolute top-of-the-line brand? Look for insane value when you're traveling abroad: The Park Hyatt Saigon and Park Hyatt Siem Reap in Vietnam and Cambodia, respectively, each can be booked for just 15,000 Hyatt points a night.
Fancy a trip to Bali? Get your own villa with a private pool at the Alila Villas Uluwatu – one of the nicest properties on the island – for 30,000 points per night.
Fly Emirates First Class to Europe
It's time to knock this one off your bucket list.
Emirates first class is incomparable, from the suites to the food and champagne to the showers onboard – at least if you're flying the Airbus A380. And while a trip through the Middle East will run you much more, there's a fun way to put it to use.
Read our full review of Emirates first class!
Emirates operates two flights from the U.S. straight to Europe: Newark (EWR) to Athens (ATH) and New York City (JFK) to Milan (MXP). And you can book first class in either route with just 85,000 Chase points each way by transferring them directly to Emirates. After spending the $4,000 required to earn the 60,000-point bonus, you should have at least 64,000 points at your disposal.
Emirates has made some negative changes to its Skywards mileage program lately, increasing some award rates and jacking up cash fees on many routes. But this one is still a stellar deal.
Alternatively, you could book roundtrip flights in Emirates economy for 45,000 miles or do it in business class for 90,000 miles total!
Read our in-depth guide on how to book these Emirates flights to Europe
Roundtrip to Singapore – or One-Way in Business Class
Maybe it's the hawker centers with Michelin star food for a few bucks. Maybe it's the twinkling light shows each night in the Garden by the Bay. Maybe it's a byproduct of the hit film Crazy, Rich Asians.
Whatever the reason, Singapore is back in the spotlight after reopening to travelers and easing entry requirements. And Chase points can get you on the long flight to Singapore on one of the world's best airlines.
You could transfer these points to Singapore Airlines and book a roundtrip in economy for just 76,000 miles from the West Coast – or 80,000 from Singapore's other outposts in the U.S. The 15-hour flight won't be so bad with Singapore's spacious seats and stellar service.
But we won't blame you if you want to splurge for some extra space for some of the longest flights in the world. So you could also put these points for a one-way business class ticket. And on Singapore Airlines, that's hard to beat.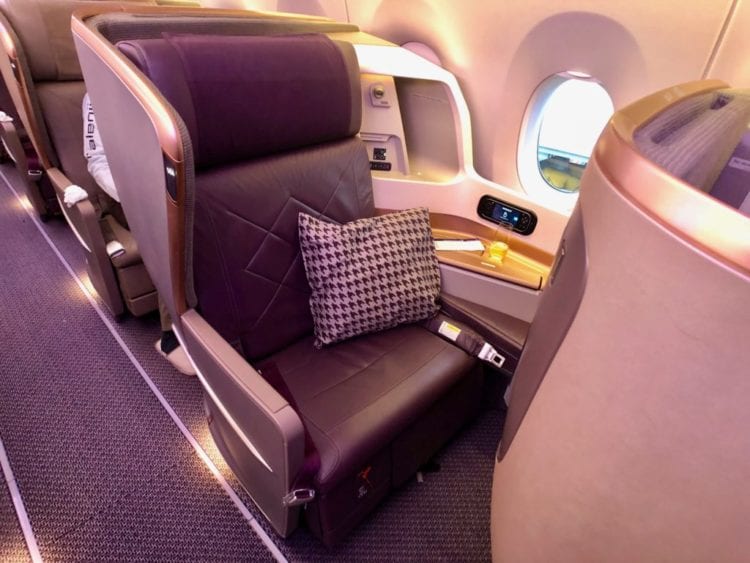 Read our full review of Singapore Airlines business class!
Singapore has some of the biggest and best business class seats you'll find in the skies. But it's the service and dining where Singapore business class truly shines.
You can book a one-way ticket starting at 95,000 miles. Even a business class flight on the world's longest flight – the nearly 19-hour journey from New York City (JFK) to Singapore – clocks in at 99,000 miles and less than $6 in taxes and fees. Spending 19 hours in business class for a bucket-list trip to Singapore? Yes, please.
After earning at least 84,000 Chase points with the Preferred bonus, you'll be in striking distance.
Generally, you can only book Singapore business class using Singapore's own Krisflyer miles. Fortunately, you can quickly and easily transfer those Chase points straight to a Singapore account to book. Just be sure to scope out award space before transferring: These transfers are a one-way street, so you can't get them back to your Chase account.
Tokyo and Back in First Class
It's one of the best redemptions in the world of points and miles: A roundtrip flight from the U.S. to Tokyo in first class with All Nippon Airways.
Using Virgin Atlantic miles (another Chase transfer partner), it's priced more like an economy seat. You can fly from the western U.S. to Tokyo and back for just 110,000 Virgin Atlantic miles, or 120,000 miles from Chicago-O'Hare (ORD) or East Coast cities. Most airlines charge substantially more for a roundtrip in business class. And that's massive, seeing as ANA often charges $20,000 or more for these first class flights.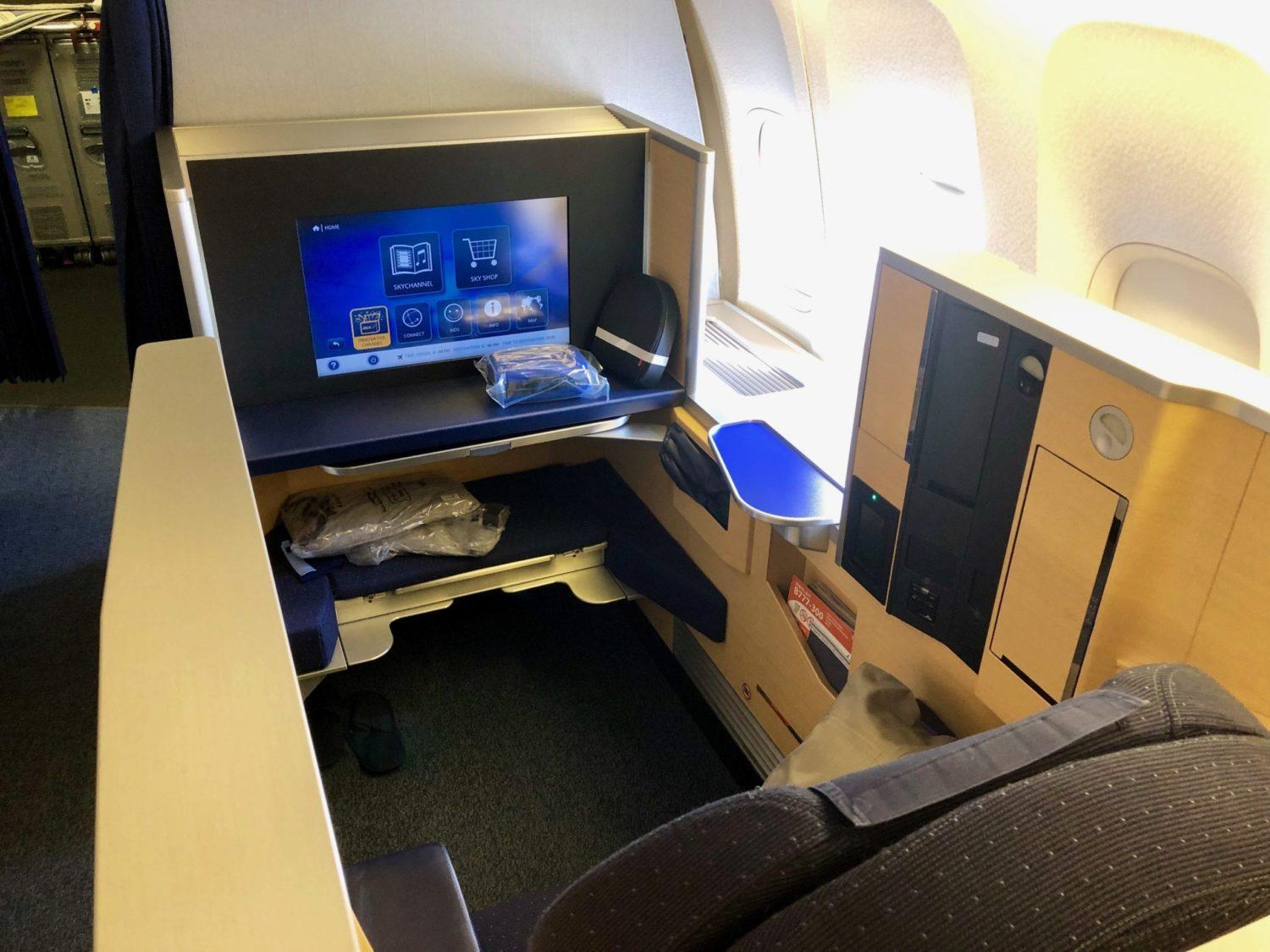 Read our review of ANA First Class from Chicago to Tokyo!
Pulling off this redemption through Virgin Atlantic requires some extra legwork. But it's easily worth it. Read up on everything you need to know to book ANA First Class using Virgin Atlantic miles.
The timing is great. Japan is preparing to open to travelers, though that timeline is still unclear. Most importantly, Chase is currently offering a 30% bonus on transfers to Virgin Atlantic. That means you need to transfer just 85,000 Chase points to get the 110,000 Virgin Atlantic points you need to book roundtrip from the West Coast … or a few thousand more from the Midwest or East Coast.
Need some help learning those extra points to polish this one off? Use Shop with Chase for your online shopping to earn a few thousand extra. Or pair your new Preferred Card with the Chase Freedom Flex℠ or Chase Freedom Unlimited® cards, two great no-annual-fee options that form the perfect pair with a Sapphire card.
Fly Lufthansa First Class
If you're looking to splurge for a true bucket list experience, you can't beat flying Lufthansa first class to Europe.
This is truly one of the best ways to fly. While Lufthansa first class disappeared throughout much of the pandemic, it's made its return to the U.S. as the German flag carrier has redeployed its Boeing 747-8i fleet to cities like Chicago-O'Hare (ORD), Miami (MIA), Los Angeles (LAX), and Newark (EWR).
Nothing beats sitting in the nose of a 747, sipping on champagne and noshing on a five-plus course meal (including caviar) on your way across the Atlantic Ocean.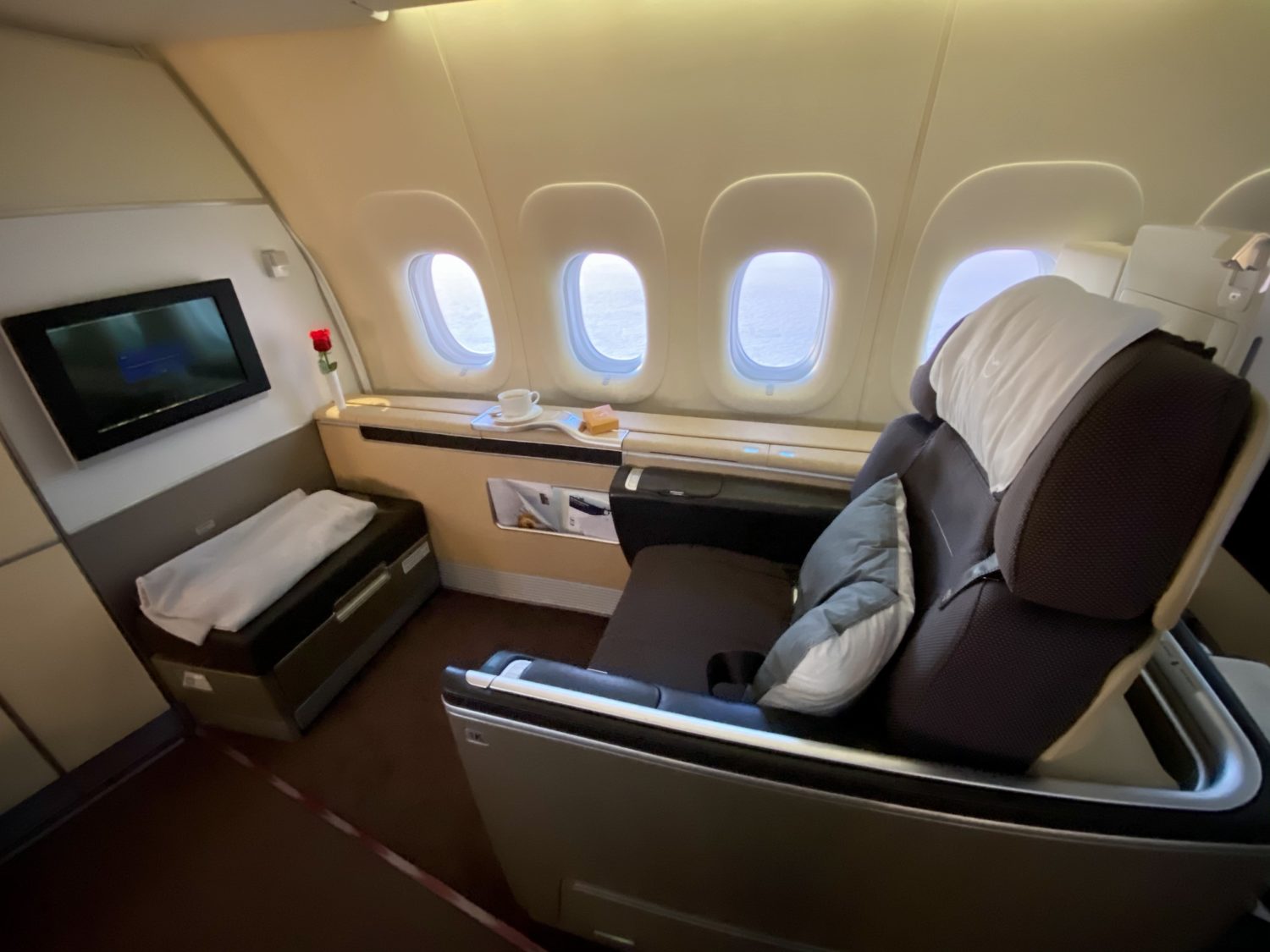 But the Lufthansa first class experience goes far beyond the plane. Whether you're connecting onward elsewhere in Europe or just flying back to the states from Europe, you'll get access to the incomparable Lufthansa First Class Terminal. And it's so much more than just lounge.
You can skip security at the airport altogether and get scanned in at the lounge itself. There are private sleeping rooms, amazing shower suites, top-notch meals on offer, and even a cigar lounge at the First Class Terminal. You'll be assigned your own attendant to alert you when it's time to catch your flight – then hop in a Porsche for a private ride on the tarmac straight to your plane.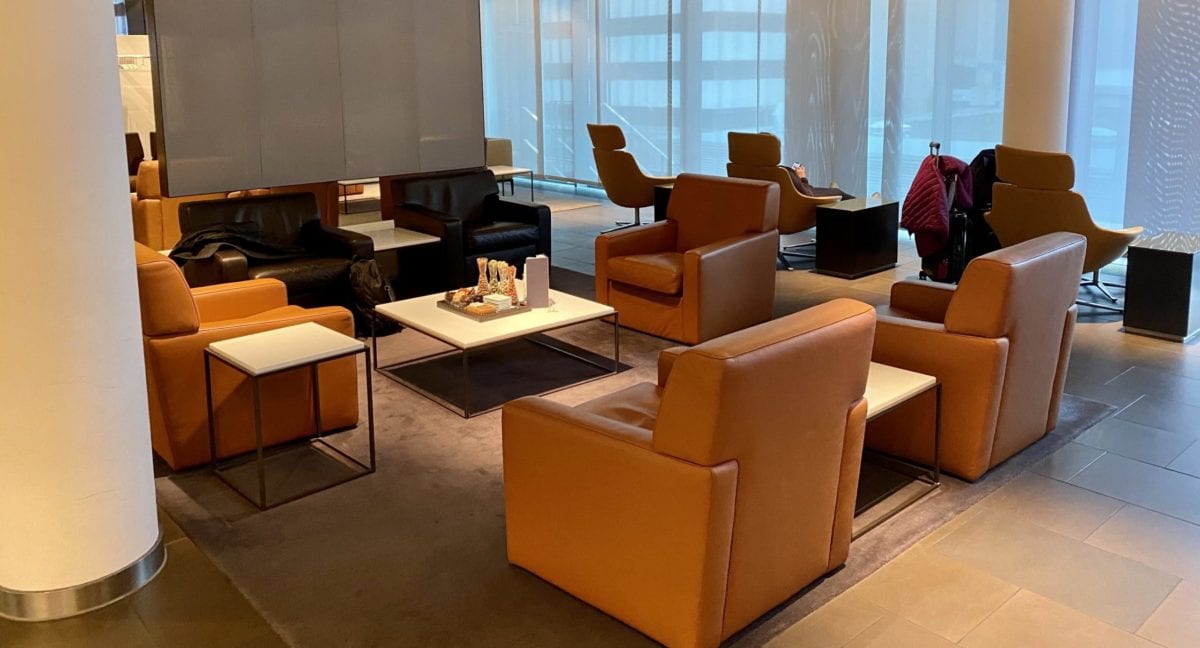 But how to book? Your best bet is by using Air Canada Aeroplan miles, one of the newest Chase transfer partners. With Aeroplan, you can book a one-way flight in Lufthansa First class for just 90,000 to 100,000 points each way or more, if you're starting from the West Coast. You can even connect through Frankfurt and continue on elsewhere in Europe for the same rate.
Just beware that booking these awards requires a lot of flexibility. You can only book Lufthansa first class within 30 days of departure using partner airline programs like Aeroplan – and oftentimes, you can only find award availability within just five to seven days before the flight departs.
How to Earn Chase Points
These redemptions don't mean a thing if you don't have any Chase Ultimate Rewards points to your name. Luckily, it's easy to pile up Chase points, with plenty of cards to pick from.
The Chase Sapphire Preferred Card is easily best place to start. While a record-setting, 100,000-point welcome bonus is gone and probably won't come back, you can still earn 60,000 Ultimate Rewards points after spending $4,000 in the first three months.
You'll also earn 3x points for every $1 spent on dining, including eligible delivery services. You'll earn 3x points per dollar spent on online grocery purchases, and 3x points per dollar spent on select streaming services, and 2x points per dollar spent on travel purchases.
With just a $95 annual fee, it's more than reasonable. And considering you'll get at least $750 toward travel when booking through the Chase travel portal (or much more by using some of the redemptions above), that's a ton of value for a cheap travel credit card.
Read our full review of the Chase Sapphire Preferred!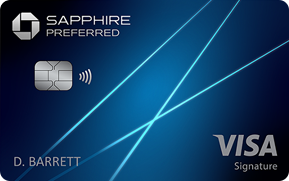 Click Here to get more information about the Chase Sapphire Preferred Card. 
For the more seasoned traveler looking for premium perks, the Chase Sapphire Reserve is hard to beat. That's because it comes with an outstanding set of benefits like an easy-to-use $300 annual travel credit, a free Priority Pass lounge membership, $100 toward Global Entry or TSA PreCheck enrollment, and much more. Those perks can easily outweigh the $550 annual fee – at least when travel returns to normal.
You'll earn 60,000 Ultimate Rewards points after spending $4,000 in the first three months.
If you hold the Sapphire Reserve, every point gets you 1.5 cents when booking directly through Chase. You'll also get 3x points on every travel and dining purchase.
Click Here to learn more about the Chase Sapphire Reserve.
Unfortunately, you can't stack both bonuses. Chase restricts cardholders to just one card at a time, and you can't earn the bonuses within 48 months of each other. These (and most Chase cards) also fall under the dreaded Chase 5/24 rule, which means you won't get approved if you've opened five or more credit cards from any bank within the last 24 months.
That said, there's another card that is a perfect complement to the Chase Sapphire Preferred Card. Actually, there are two.
Enter the Chase Freedom Flex and Chase Freedom Unlimited cards. These two Chase credit cards have no annual fee and typically earn cashback. But pair one with the Chase Sapphire Preferred Card, and it forms a powerful tandem that can help you earn even more Chase Ultimate Rewards points.
Read more on why you should pair a Preferred Card with a Chase Freedom Card!
Bottom Line
This is just the start of what could be an endless list of ways to use that big bonus of Chase points for travel – or other expenses. This list is truly just the tip of the iceberg.
And that's why we love Chase points so much – and why we always encourage travelers to start with Chase credit cards before moving on to other banks.