Ever since the country reopened to travelers last year, travel demand to Japan has been steadily building. And this year, it has reached a crescendo: Everyone wants to head for Japan in 2024. Yes, including you.
We know: Flights this long across the Pacific Ocean don't always come cheap. That's what we're here for.
Have you saved up some money for a trip to Japan, but still want to find a cheap flight? Or maybe you've hoarded your credit card points or airline miles for the long trip across the Pacific … only to find you have no clue where to start to get the most punch for your points?
Whether you're fine flying economy or are aiming to splurge for a lie-flat business or first class seat to Tokyo and back, we've got some ideas for how you can get there for less.

Cheap Flights to Japan: Under $900!
Seeing four-figure airfare to Japan and back for a trip this year or next? You can do better.
We spend all day, every day looking for cheap flights for our Thrifty Traveler Premium members, and Japan is always near the top of the list. Wait for the right deal to come around and you can get to Tokyo for $900 or less roundtrip.
You'll often find the lowest prices departing from the West Coast – particularly Los Angeles (LAX), where a dozen or more flights take off for Tokyo every day. That makes the region ripe for Japan flight deals like this one.

If you don't live in Southern California, use positioning flights to capitalize on these deals from Los Angeles. A cheap domestic flight to L.A. combined with this cheaper United fare above could save you hundreds of dollars in the long run.
But sometimes the flight deal comes and meets you right at your home airport, too. In the past few weeks, we've dug up a few difference instances of flight deals from all over the U.S. and Canada to Tokyo for less than $900 roundtrip – from airports big and small!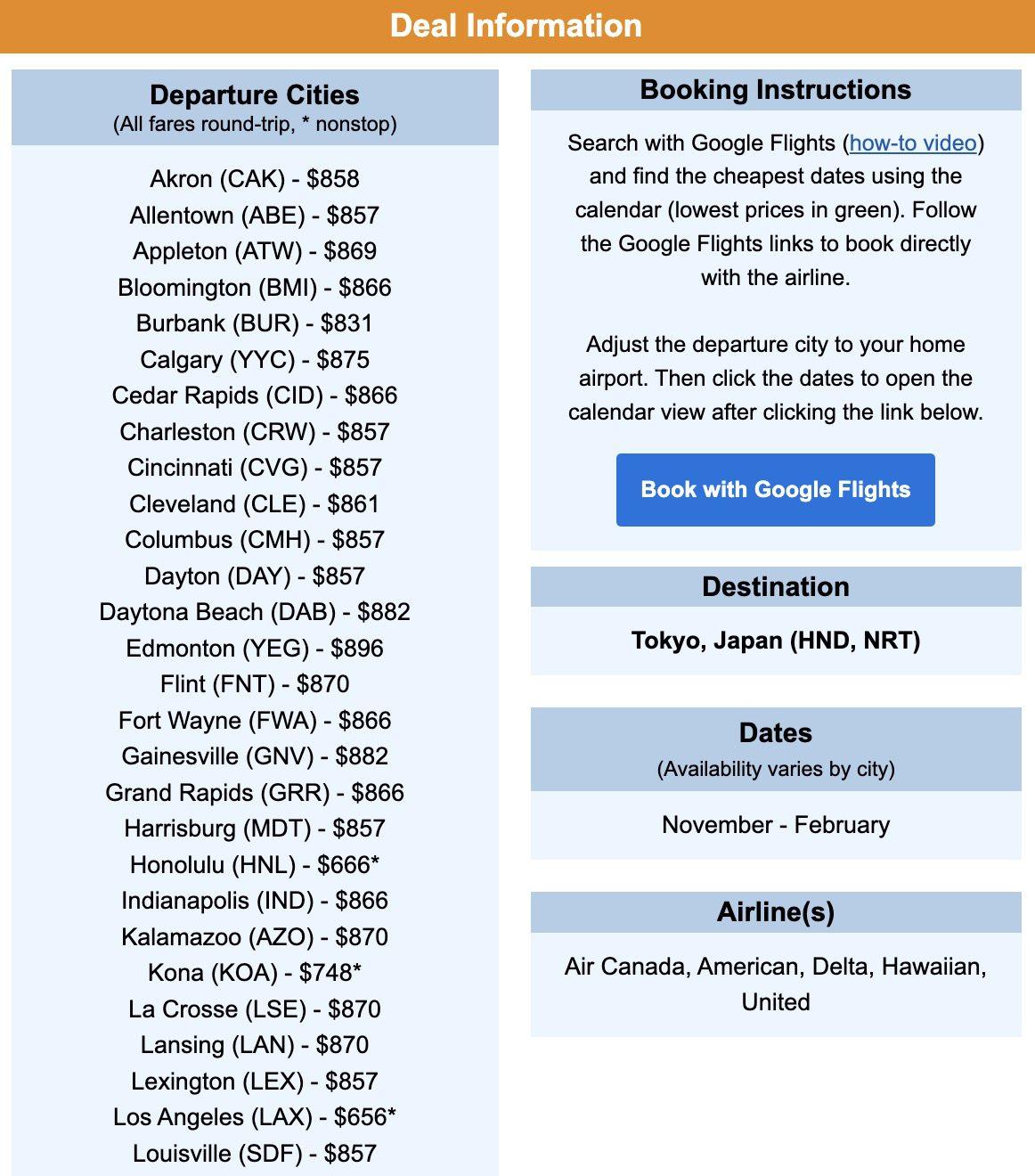 We find flight deals from more than 200 U.S. and Canadian airports – more than any other flight deal service! 
Cheap Premium Economy Deals to Japan, Too
Finally, let's upgrade – but just slightly. Premium economy can be a far more comfortable way to fly ultra-long-haul without breaking the bank for business class. It's perfect for that long flight to Japan.

So when those premium economy seats go on sale, we're all over them! Why not upgrade to premium economy when it costs just a bit more than a standard economy seat?

This deal is long gone now – get the next one in your inbox with Thrifty Traveler Premium!
Tips to Find Cheap Flights to Japan
If you're looking for a cheap flight to Japan, you'll want to keep these tried and true tips in the back of your mind.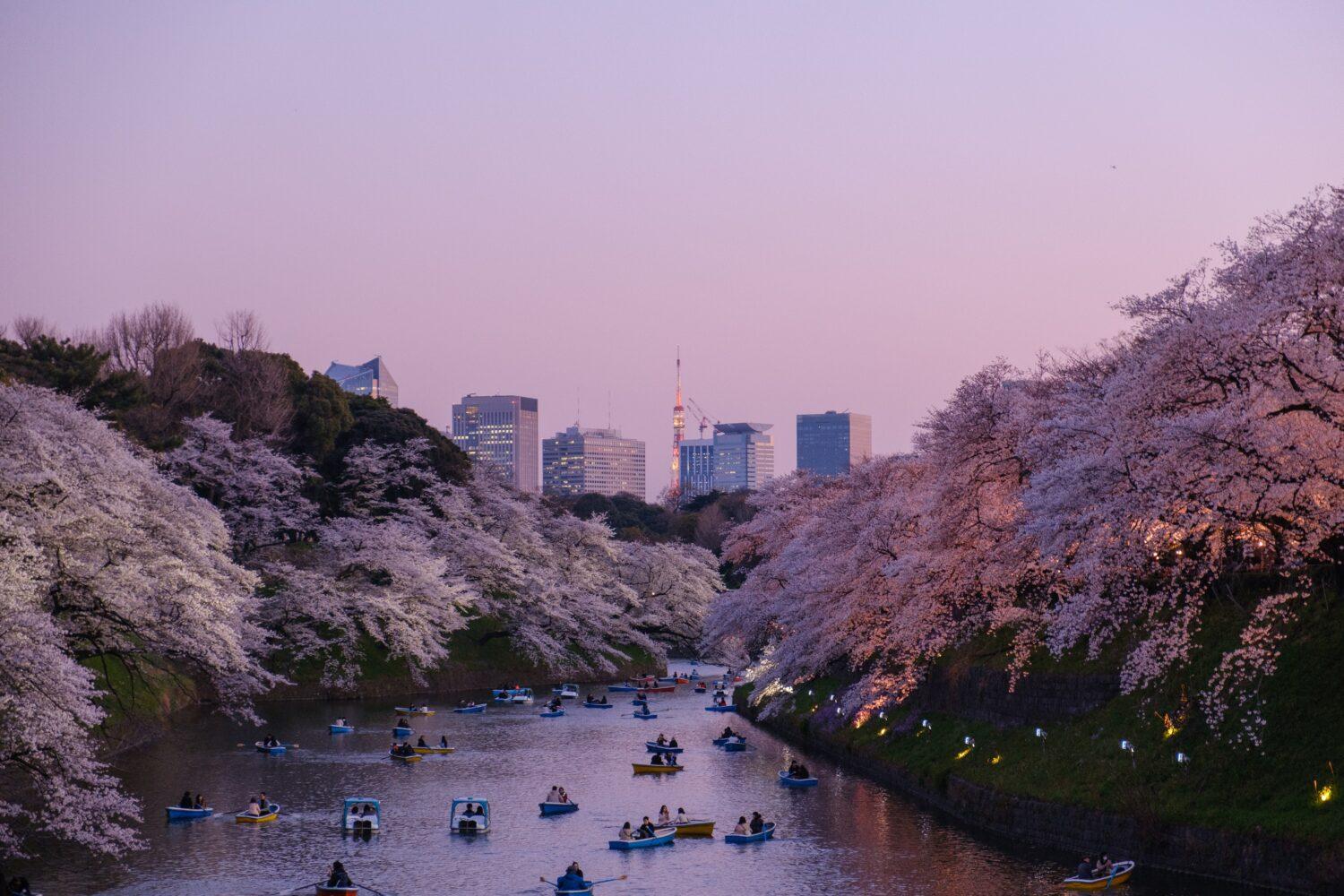 Fly Japan Airlines Economy Using AA Miles
When you're flying across the Pacific Ocean at the back of the plane, you want to be comfortable. And while economy seats across airlines may seem identical, every extra inch of space counts.
Few airlines do economy better than Japan Airlines (JAL). We're convinced this Japanese carrier offers the best economy seat to fly to Japan – or anywhere in Asia, really. JAL calls these seats "Sky Wider" economy, and they live up to that name.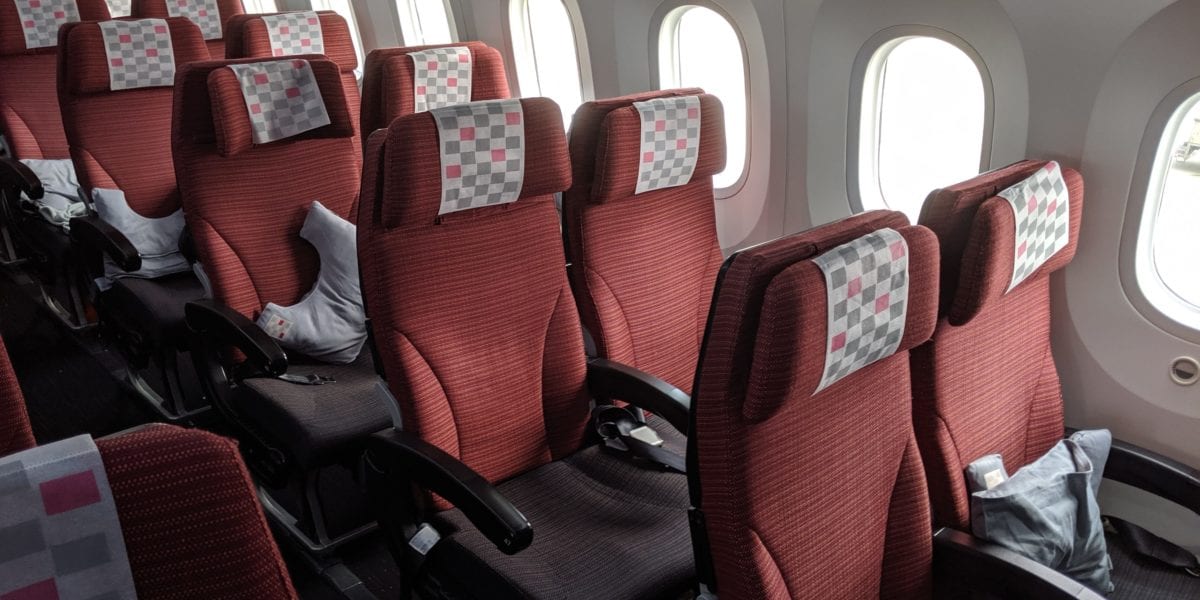 Read our full Japan Airlines economy review!
At up to 19 inches across, these seats are substantially wider than what airlines like American fly on many of the same long-haul routes. An inch or two of extra width is the difference between relaxing and worrying about rubbing shoulders with your neighbor. Look for JAL's Boeing 787 Dreamliners on these routes, as they configure the economy cabin with just eight seats across – most airlines squeeze nine seats into the same space.
Want legroom? You're in luck there, too. JAL gives you up to 34 inches of pitch on these planes, which is at least 2 inches more than you'd get on most airlines. Factor in JAL's tasty food and sterling service, and you've got one of the best economy seats for that log-haul flight to Japan.
How to Book: There are a handful of ways to book flights to Japan on JAL. You've got several partner airlines to choose from.
But we think the best way to get there is using American AAdvantage miles. A one-way flight between Tokyo and the U.S. will run you just 35,000 AAdvantage miles. And thanks to how American prices out award flights, it can work out at that price whether you're flying nonstop from one of JAL's many U.S. outposts or if you need to add in a connecting flight from your home airport flying American before the long transpacific jaunt.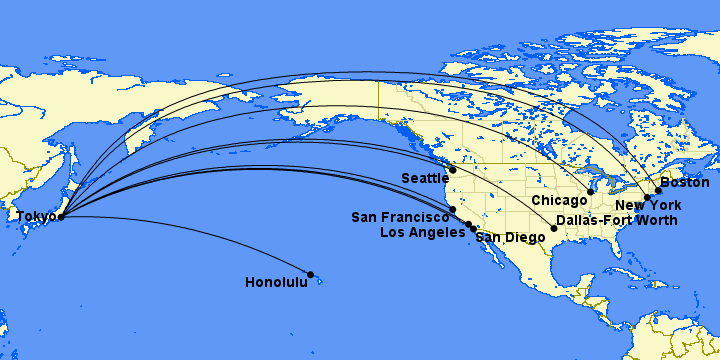 When it comes time to book, it couldn't be easier. You can book these flights with your AAdvantage miles directly on American's website. Finding economy flights on JAL at 35,000 miles is usually a cinch as award space tends to be wide open: Just search on AA.com and make sure you select "redeem miles."


If you're on an economy budget with your points, it's tough to beat 70,000 AAdvantage miles and minimal fees for roundtrip flights to Japan. But, it could easily be worth a bit of a splurge to fly to Tokyo in some incredibly cozy seats … or even suites.
Or Fly Japan Airlines Business Class for 60K AA Miles!
OK, so maybe we have a soft spot for Japan Airlines. Can you blame us when their business class seats look like this and you can fly them for just 60,000 AAdvantage miles each way?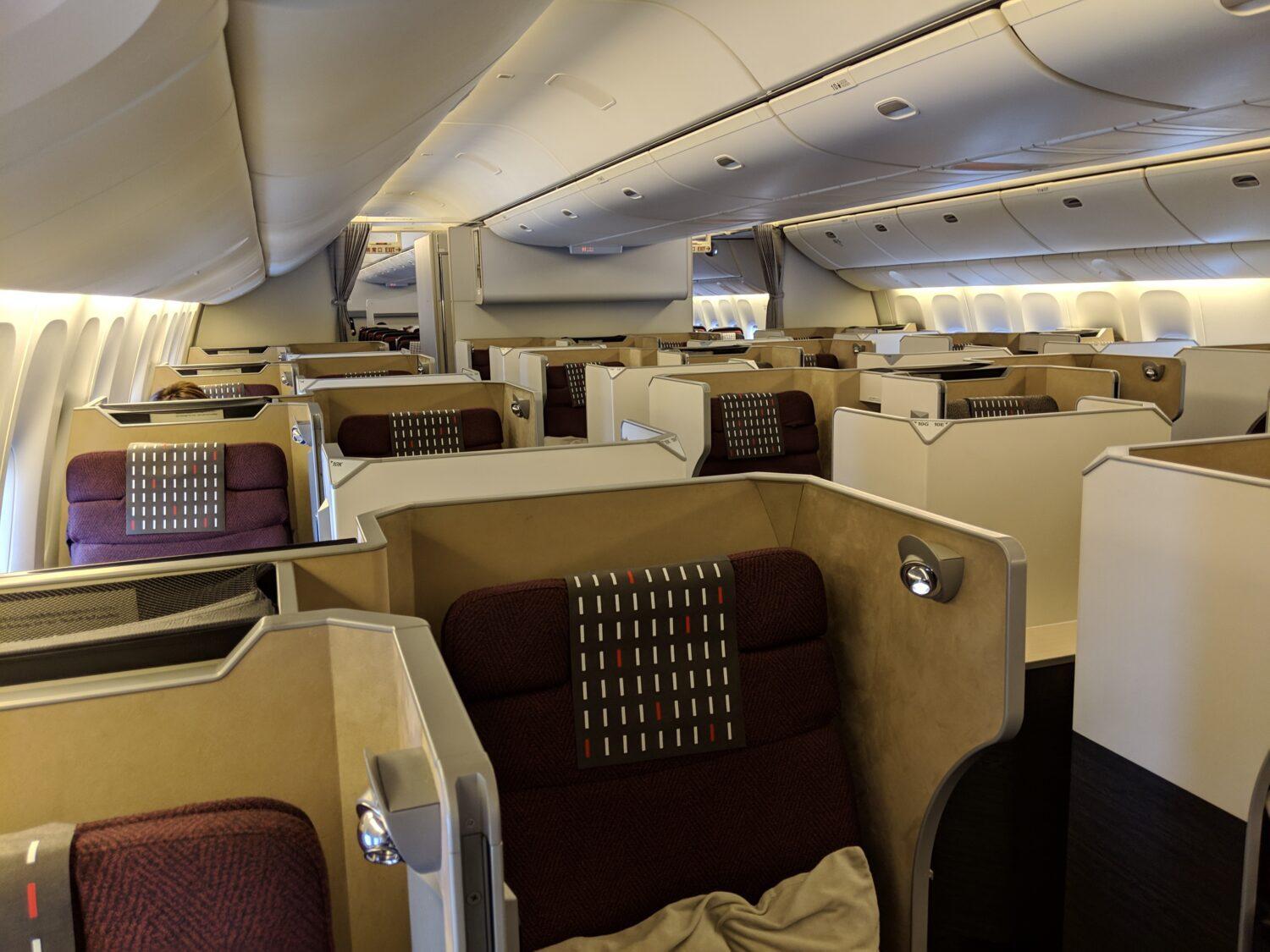 Read our full review of flying Japan Airlines business class!
Welcome to Japan Airlines' business class SkySuites. These seats are the best of both worlds, offering tremendous privacy while giving you near-limitless room to stretch your legs and store your bags. But it gets better, with some outstanding service and some of the tastiest food you'll have – in the sky or on the ground.
After a second flight from Tokyo-Haneda (HND) back to Chicago-O'Hare (ORD) earlier this year, I'm convinced JAL business class is one of the best ways to get to Asia in style. Just as with JAL economy, you can book these flights with American AAdvantage miles. And you only need 60,000 AAdvantage miles to do it. 
How to Book: American charges just 60,000 for a one-way business class flight from the U.S. to Tokyo-Narita (NRT) or Haneda (HND). There are other options to book, but this is the most cost-effective way to get to Japan in style on JAL. Plus, American makes it easy to cancel and get your miles right back for free if plans change!
Award availability comes in waves: Sometimes you can find plenty of seats months in advance, while other times you'll only see award space to book Japan Airlines business class to Tokyo just a few weeks out. Just a few weeks back, we tipped off Thrifty Traveler Premium members to some wide-open award availability for two (or more!) travelers to fly nationwide to Tokyo.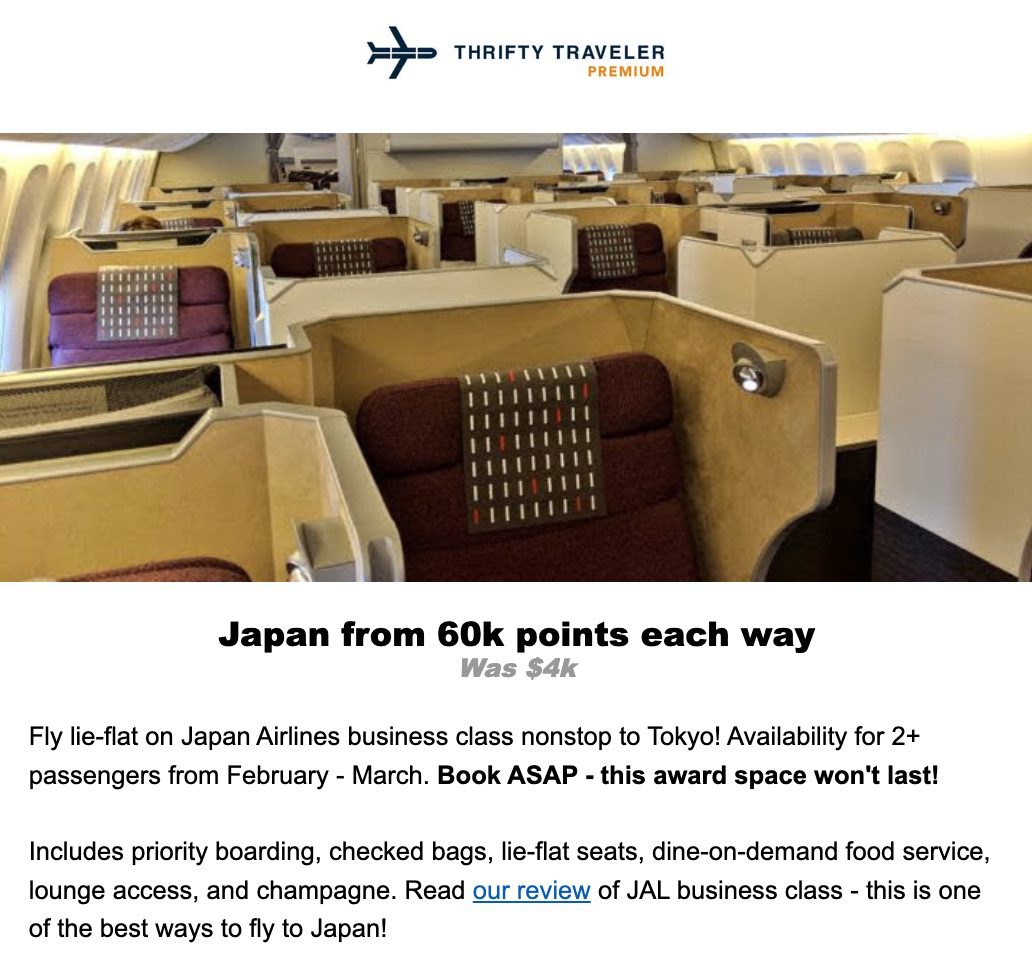 Whether you live near one of JAL's U.S. outposts or have to make a connection on American (or Alaska Airlines) to get there, flying business class from cities nationwide to Tokyo for just 60,000 miles and a few bucks is tough to beat. You can also book these same seats for as low as 60,000 Alaska Mileage Plan miles (or much more after a recent award rate hike) as well as through both British Airways and Cathay Pacific Asia Miles, though both programs tack on some hefty taxes and fees.

Read up on the best ways to earn American AAdvantage miles!
Wait for a Delta or United Flash Sale
Unlike American's concrete award chart which means you'll pay at least 70,000 miles for roundtrip flights to Japan, Delta's award pricing system is unpredictable. Sometimes the pricing to fly Delta can be good. Other times it's exorbitantly expensive.
But when the Delta deals are good, they're unbeatable. And deals to get to Japan just don't get any better than Delta SkyMiles flash sales. Case in point: Years ago, we found roundtrip fares to Japan on Delta for as low as 30,000 SkyMiles. That's less than most airlines charge for a one-way fare!


While SkyMiles flash sales have made a resurgence with some incredible deals like 37,000 SkyMiles to New Zealand or 9,000 SkyMiles to Mexico, it's been a while since we've seen a deal that cheap to Tokyo. But lower prices are still out there, like this recent Delta deal we sent to Thrifty Traveler Premium with flights to Tokyo as low as 42,000 SkyMiles roundtrip!

Delta has shifted all its flights to Japan into Tokyo-Haneda (HND), rather than Tokyo-Narita. Given how much closer Haneda airport is to town, that's a good thing. And the flight itself should be fairly comfortable, as many of Delta's long-haul planes are far more passenger-friendly in economy than its competitors.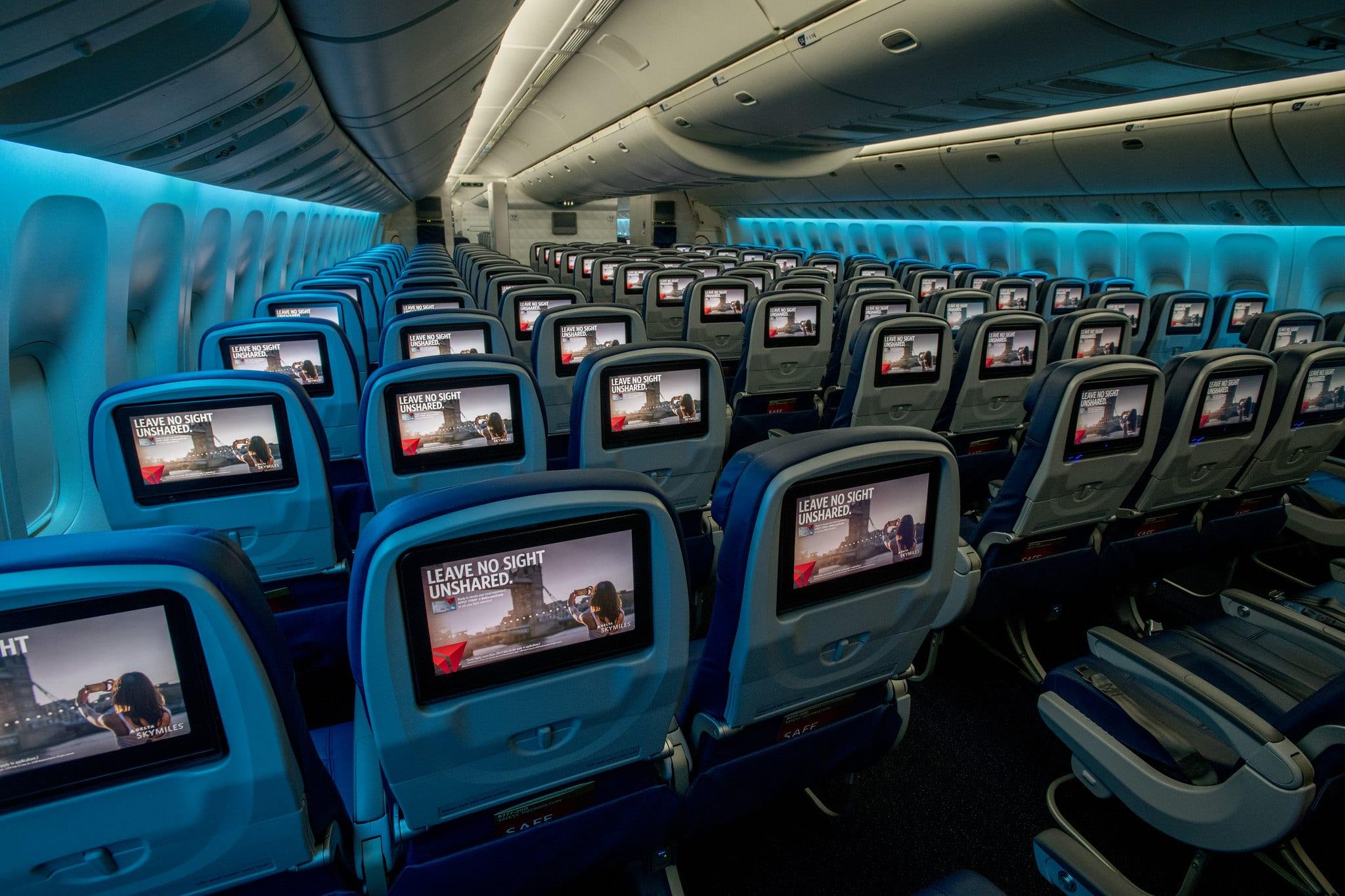 How to Book: Patience. And flexibility.
The trick with using Delta SkyMiles is waiting for the right deal, and being flexible enough to wait for it to come to you. That means this option likely won't work if you've got a specific time period. And as we mentioned, we haven't seen a great SkyMiles deal to Japan in some time.
There's just no telling when the next great deal will pop up. But Thrifty Traveler Premium members will get the first heads up about the next Delta SkyMiles deal to Japan.
Just how many SkyMiles you'll need to fly to Japan and back will depend on the sale – and where you live. If you're in a Delta hub like Atlanta (ATL), Minneapolis-St. Paul (MSP), or Detroit (DTW), expect to pay more thanks to Delta's hub penalty. But these deals can bring the price down between 30,000 SkyMiles to 50,000 SkyMiles round-trip, no matter where you live.
That's what makes this option tough to beat. Read up on how to earn the Delta SkyMiles you need to book one of these insane deals. Delta's suite of co-branded credit cards with Amex is a natural place to start, especially since they get you a 15% discount when redeeming SkyMiles thanks to the TakeOff 15 perk.
Otherwise, you can pile up Amex Membership Rewards from cards like the *amex gold* or *amex platinum*. Delta is an Amex transfer partner, which means you can wait for a great deal to Tokyo and when you get one, transfer some points to your SkyMiles account and book!
While Delta used to be the only carrier that ran flash sales like this, United dipped its toe into the Pacific Ocean with a Tokyo sale of its own this year.

If that looks like just about every North American airport with United service for 50,000 United Miles roundtrip to Tokyo, your eyes don't deceive you! This was an exceptional sale on spring flights to Tokyo and even Osaka (KIX) in some cases.
When flash sales like this come around, you have to be ready to book. They don't last more than a day normally. But if you have 50,000 United Miles in your account, you were sitting pretty when this doozy came into your inbox.
Fly Delta to Tokyo … But Not Using SkyMiles
Delta is back to flying nonstop to Tokyo-Haneda (HND) from five of its U.S. hubs. But unless you hop on one of those deeply discounted Delta SkyMiles flash sales, expect to fork over 150,000 SkyMiles or more … and sometimes much, much more.
There's a much better way: Save your SkyMiles and book those exact same Delta flights via Virgin Atlantic instead – often for far, far fewer points.
How much cheaper? We're talking flying from Seattle (SEA) to Tokyo for just 55,000 points roundtrip.

Read more on the Seattle sweetspot for booking Delta flights via Virgin!
That sure beats using more than double the Delta SkyMiles to book the exact same flights!


Looking to fly from elsewhere in the U.S.? The rate jumps up depending on the distance of your flight. For instance, it's 70,000 points roundtrip for nonstop flights from Los Angles (LAX) or Minneapolis to Tokyo and 90,000 points nonstop from all the way from Atlanta (ATL).
You can't transfer SkyMiles over to Virgin to book these Delta flights … but you can easily get the Virgin points you need. That's because Virgin is a transfer partner with all the major credit card programs. That means you can easily get the points you need from cards like the *chase sapphire preferred*, the *amex gold*, or the *venture x*. And if you time it right with regular 30% transfer bonuses from all of those cards to Virgin, you may only need as few as 43,000 credit card points for your flight to Tokyo!
How to Book: Before you transfer any points to Virgin, you'll want to make sure the Delta flights you want are bookable.
Head to VirginAtlantic.com and start by searching for nonstop Delta flights to Tokyo. You may need to be flexible, as Delta may not always allow Virgin to book these seats when you want them – especially during peak travel seasons.
Or just let us do the legwork for you. Earlier this year, we sent our Thrifty Traveler Premium members an alert for wide-open space to book this deal to Tokyo this spring (including peak cherry blossom bloom) and again from the fall into early 2024!

Get award alerts to use your points and miles with Thrifty Traveler Premium!
Fly ANA Business Class from 75K Miles Round-Trip!
Here's your chance to fly business class to Japan for the price of economy. And on one of the world's best airlines, to boot.
Most airlines charge at least 160,000 miles for a roundtrip flight in business class to Japan. Booking flights on All Nippon Airways with ANA Mileage Club, it starts at just 75,000 miles. For a roundtrip. In business class. That's not a typo.
This is one of the cheapest ways to get to Japan using miles. The trick is timing it right, as ANA carves out different pricing during low (L), regular (R), and high (H) travel seasons.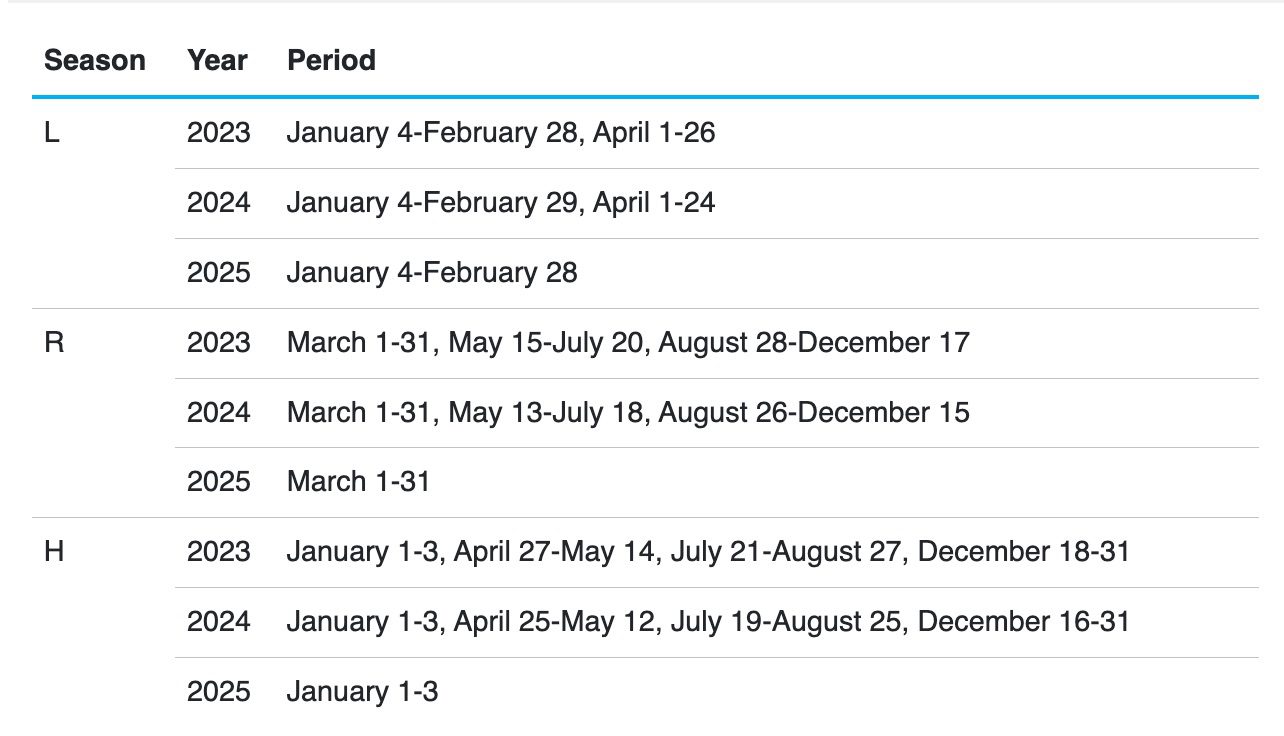 You'll want to focus on the low season if you can, as that's when a business class roundtrip flight from the U.S. to Tokyo will cost you just 75,000 miles. A trip during the regular season will jump to 85,000 miles and 90,000 miles during the high season – both still excellent deals.
But no matter how you time it, this is a great deal. United Airlines, a partner carrier through the Star Alliance, would charge at least 176,000 miles for the exact same flights.
And while all of ANA's business class seats are excellent, the new seats flying between New York City (JFK) and Tokyo – and occasionally, from San Francisco (SFO) or Chicago-O'Hare (ORD) – are absolutely out of this world. They may just dethrone Qatar Airways' Qsuites for the mantle of the best business class in the world.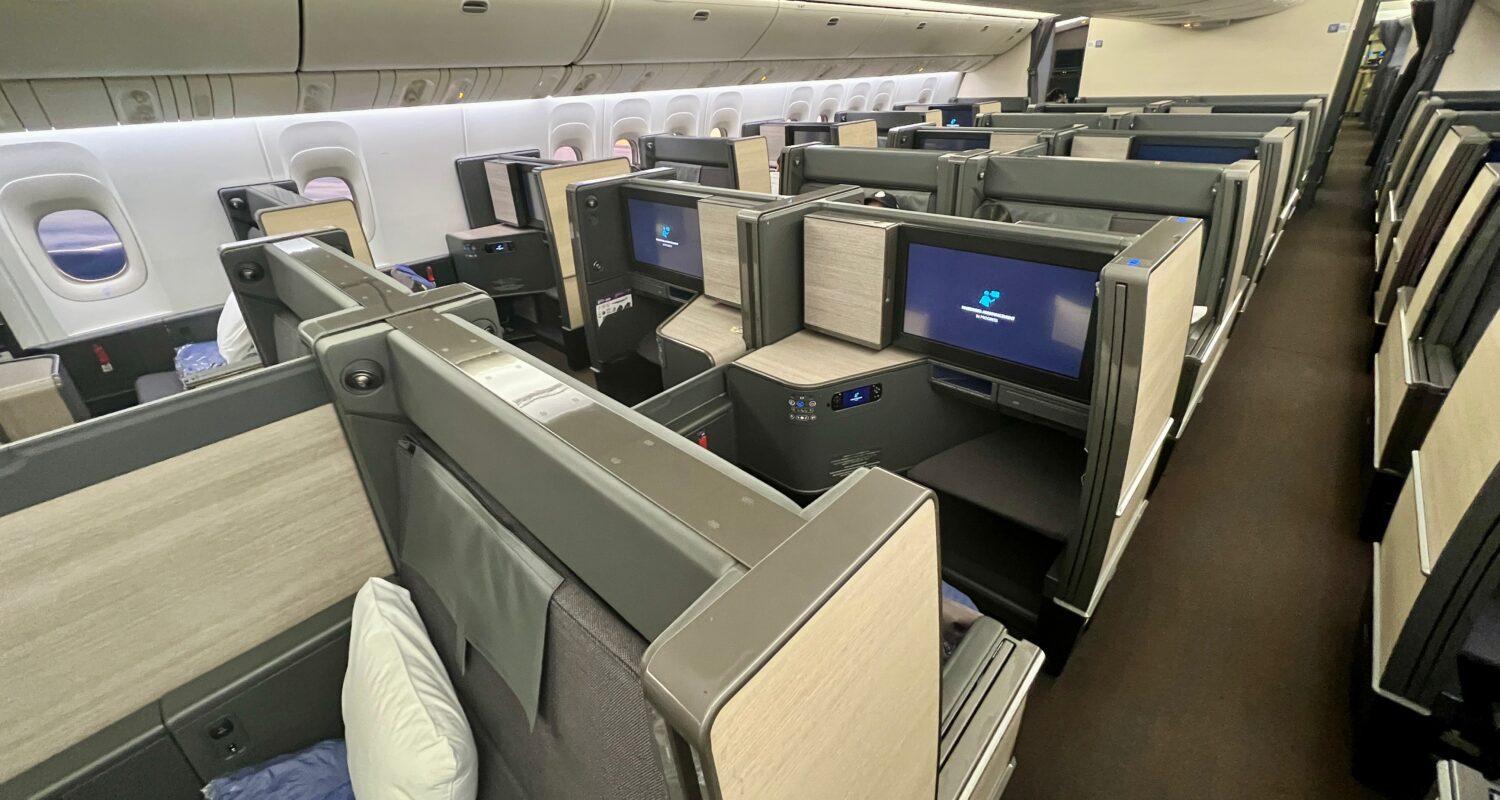 Read Next: Our Review of ANA's New "The Room" Business Class
How to Book: First things first, you need some ANA miles. And you don't need to fly ANA a bunch to earn them.
Instead, just transfer those points from American Express Membership Rewards straight to ANA. If you're eligible for a whopping 150,000-point bonus on the Amex Platinum Card via CardMatch (or get that bonus through personal referral links), you can book these flights for two in one fell swoop. Just beware that these transfers tend to take about 48 hours or so.
Before you do, though, be sure to head to ANA's website and scope out award availability to make sure the flights you want are available. That can be a chore, as ANA is incredibly stingy with these seats recently. Searching through United.com is actually the place to start: Look for nonstop flights bookable for 110,000 miles with ANA from the U.S. hubs it flies to and from like Los Angeles (LAX), Chicago-O'Hare (ORD), Houston-Intercontinental (IAH), New York City (JFK), and many more. Your best bet with ANA is almost always by searching within a month of departure … or 10-plus months in advance.
A deal this good can be tough to find. Earlier this year, though, we sent Thrifty Traveler Premium a few alerts for wide-open ANA business class availability from both Chicago, Los Angeles, San Francisco (SFO), and other cities.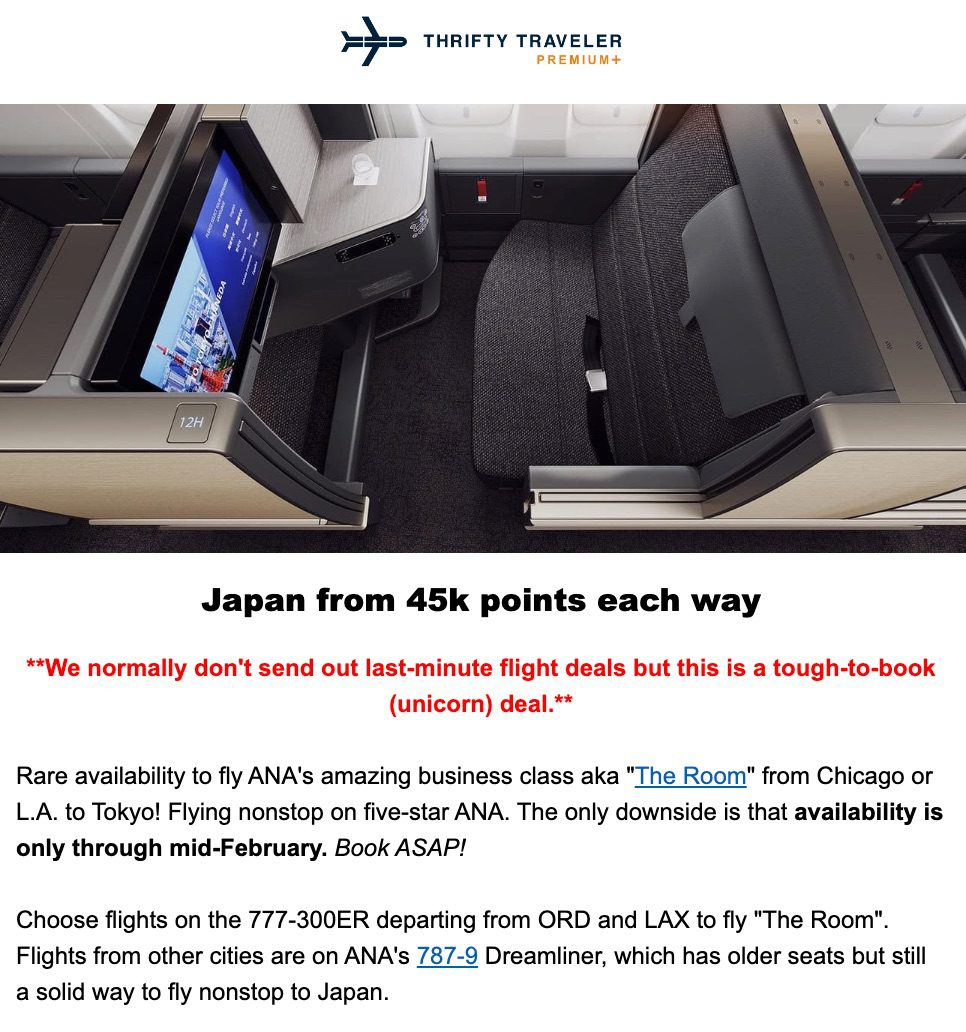 Most importantly, you need to find roundtrip fares – ANA does not allow one-way bookings when using its own miles.
Once you've found the flights, head back to ANA's website and search for those same flights to book with ANA miles. You'll need an ANA frequent flyer account to search award bookings, so log in, plug in your dates, and get to booking.
The one downside of booking with ANA is that the airline can pass on a decent chunk of taxes and fees in addition to that cheap mileage rate. As of publication, you'll pay an extra $560 or so roundtrip. But those surcharges are regularly changing and could drop soon.
Read our complete guide to booking flights with ANA Mileage Club!
Spring for ANA First Class
We saved the best for last. And even after a recent hike, it's still one of the best points and miles redemptions, period – not just to get to Japan, but in the world.
It combines two airlines you're already familiar with – Virgin Atlantic and ANA – to fly first class to Japan for a fraction of what most other airlines would charge: As low as just 145,000 Virgin Atlantic points roundtrip (or 72,500 miles for a one-way flight). Get this: You'd need to use 121,000 miles from United to book this exact same flight one-way – not roundtrip!
You'll get the best deal flying from West Coast cities like Los Angeles or San Francisco. Starting in this Midwest or East Coast pushes award rates up to 170,000 points roundtrip – or 85,000 miles each way. Expect to pay about $600 or so in taxes and fees for a roundtrip booking. But unlike booking through ANA itself, Virgin Atlantic allows you to book one-way flights with ANA.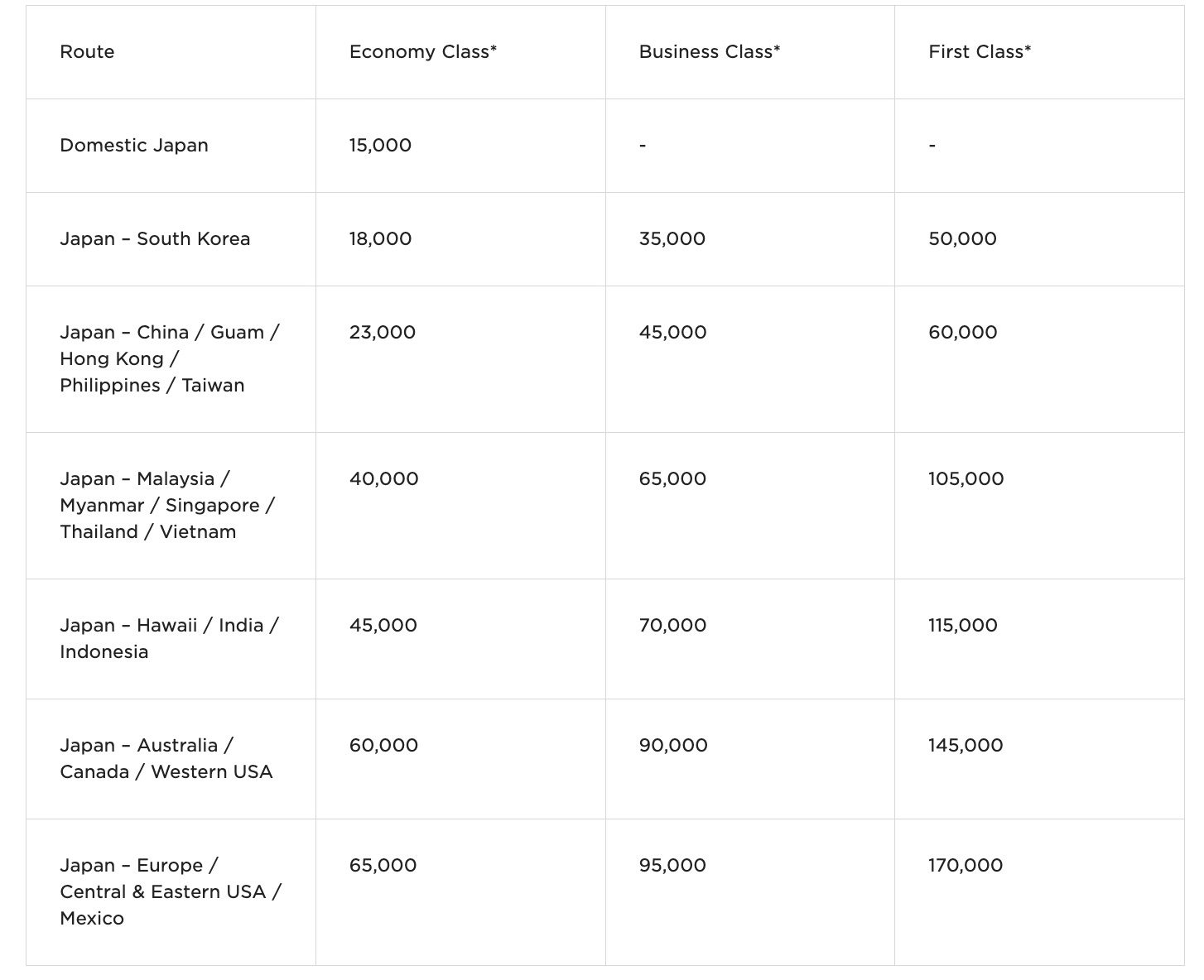 All those miles are worth it because flying first class on ANA is an absolute treat. These suites are almost too private – if that's a thing. You'll have one of the most comfortable beds available in the skies. Amazing dining, comfortable pajamas, top-notch amenities, and seemingly bottomless glasses of Krug champagne will help put you right to sleep.

Read our full review of ANA First Class on the flight from Chicago-O'Hare (ORD) to Tokyo-Haneda (HND)
How to Book: Virgin Atlantic Flying Club raised award rates to fly ANA first class by 42% earlier this year. While that stings, this is still the best way to book these first class suites.
The hard part is finding award availability. It's the ultimate unicorn fare – you can scan through months' worth of flights without seeing a single seat. But that changed in early 2023, when we sent Thrifty Traveler Premium members not one but two award alerts to snag the airline's newest first class suites using miles.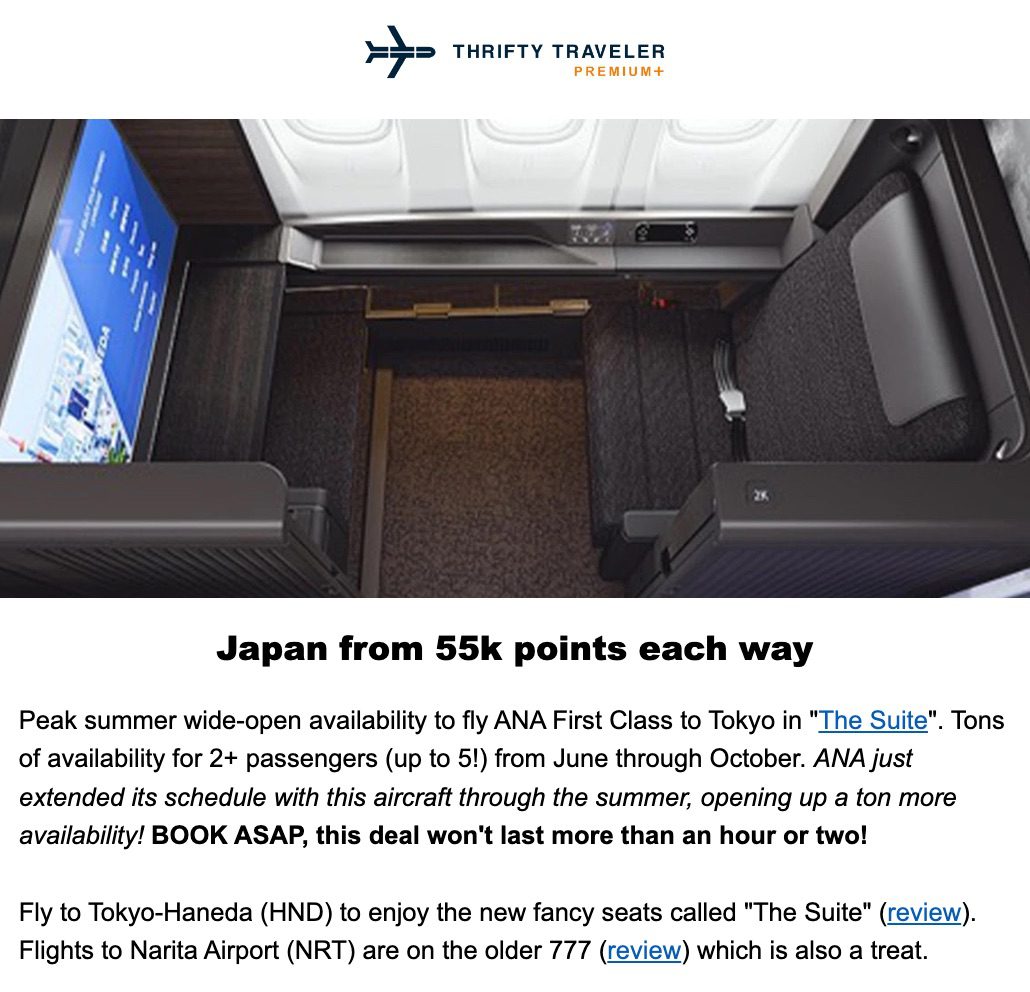 Read our full guide to booking ANA flights using Virgin Atlantic miles! And keep in mind that you can transfer points to Virgin from Chase, Citi, and American Express, and even Capital One and Bilt Rewards!
But even after that painful award rate increase earlier this year, this is still the ultimate bargain – especially if you can take advantage of one of the regular 30% bonuses on transfers to Virgin. That brings your cost for a one-way ride in ANA First Class to just 56,000 points and under $300 in taxes and fees.
Just to underscore how good of a deal this is: Roundtrip flights typically sell for more than $20,000!


Bottom Line
Japan is waiting for you, and you want to get there. It's up to you to make it happen.
As you can see, you've got plenty of options to book flights to Japan – whether you're fine flying economy or are looking for the comfort of first class.
Thrifty Traveler's Gunnar Olson contributed to this story.