Basic economy fares have reshaped travel, as airlines charge travelers more for what they once got for free. And United basic economy fares are easily among the worst.
United has the single most-punitive restriction for basic economy flyers, so it pays to be hyper-vigilant about what you get and what you don't. We gave it the lowest score in our battle of basic economy that compared all three major U.S. airlines – and it wasn't particularly close.
But why is it so bad? What do you get, and what don't you get? And how can you make United basic economy a little less painful? Let's break it down.
What is United Basic Economy?
United basic economy is much like a basic economy ticket on any other U.S. carrier. It's the airline's cheapest fare. And while it gets you the same standard economy seat and experience once you get on the plane, it's loaded with restrictions that can make it more painful.
There's no way to spin this one: United has some of the worst basic economy fares out there of any major U.S. airline.
Baggage: Get a personal item for free; pay $30 each way for a checked bag (or $60 each way to Europe). No carry-ons allowed unless flying to Europe.
Seat Selection: Available for a fee, typically starting at $10. Otherwise, seats are automatically assigned.
Boarding: Boards the plane last in the final boarding group.
Earning United MileagePlus Miles: Yes, you'll earn
Earning Status: You'll earn Premier Qualifying Points (PQPs) but not Premier Qualifying Flights (PQFs) toward status with United.
Upgrades: Not eligible for complimentary upgrades with United status, nor can you pay for an extra legroom Economy Plus seat.
Ticket Changes and Cancellation: No free change or cancellation is allowed except within 24 hours of booking. Otherwise, you can cancel a domestic roundtrip for a voucher minus a $99 fee – or $199 for an international roundtrip ticket.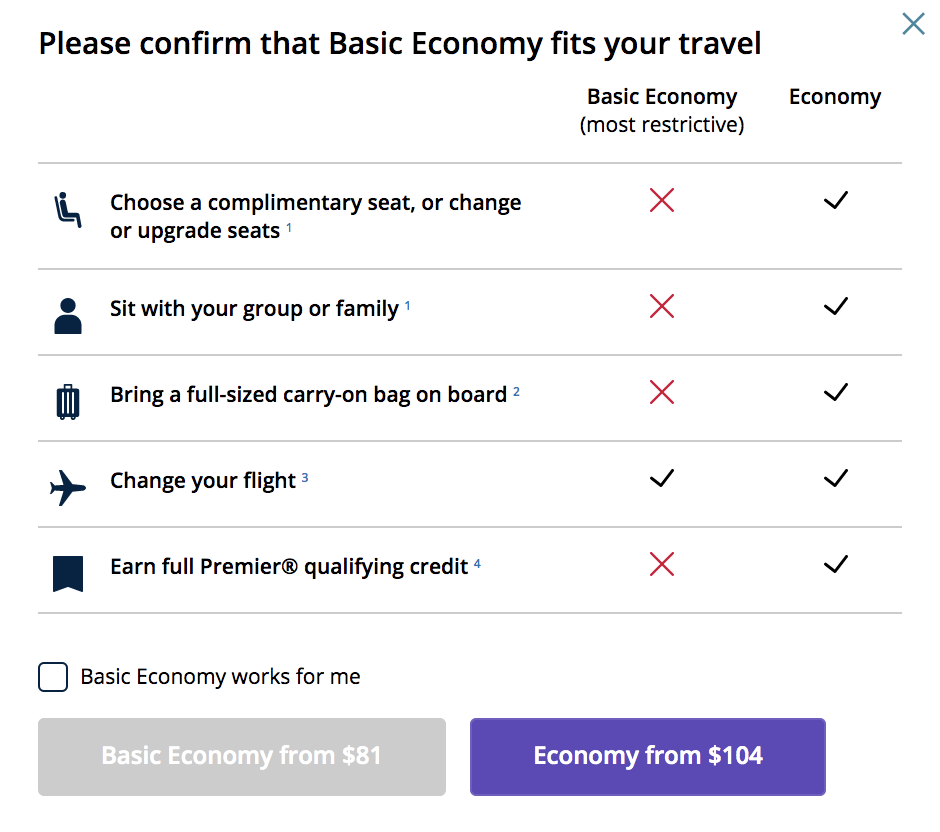 United's Basic Economy is easily the worst among the major U.S. airlines. And there are no signs that it will get any better.
Unless if you're flying to Europe or other long-haul destinations, you won't get a carry-on bag. That alone is proof that United is merely looking to force flyers to pay up for a main cabin economy fare – generally another $60 to $70 or more on a round-trip ticket. Only JetBlue with its Blue Basic fares has matched this punitive policy.
These fares are a huge cash cow for United and other airlines. And unfortunately, basic economy fares are generally priced at what main cabin fares once were. On United and other airlines, you're paying the same amount but getting less with basic economy.
Read more: No, You're Not Getting a Good Deal on a Basic Economy Fare
One saving grace of United basic economy? Unlike Delta basic economy, you'll still earn both redeemable United MileagePlus miles and at least some credits toward United elite status. After a brutal change in late 2021, you no longer earn either with Delta.
Still, a few things about these fares are worth highlighting even further – some good, but mostly bad.
Basic Economy is Strict with Carry-Ons
Let's start with the bad news: No carry-ons.
Unless you're flying across the Atlantic Ocean or to another long-haul international destination, all you get is a small personal item like a backpack when flying. And United executives say they have no plans to change this, even as both Delta and American allow carry-ons for all basic economy passengers. It's the "most restrictive" fare for the airline and the most restrictive measure of any basic economy fare in the U.S.
And that comes with a double whammy…
No Online Check-In, Either
Because you can't bring a carry-on bag onboard, you have to finalize checking in for your flight at the airport. Yes, that's right: No online check-in when flying United basic economy.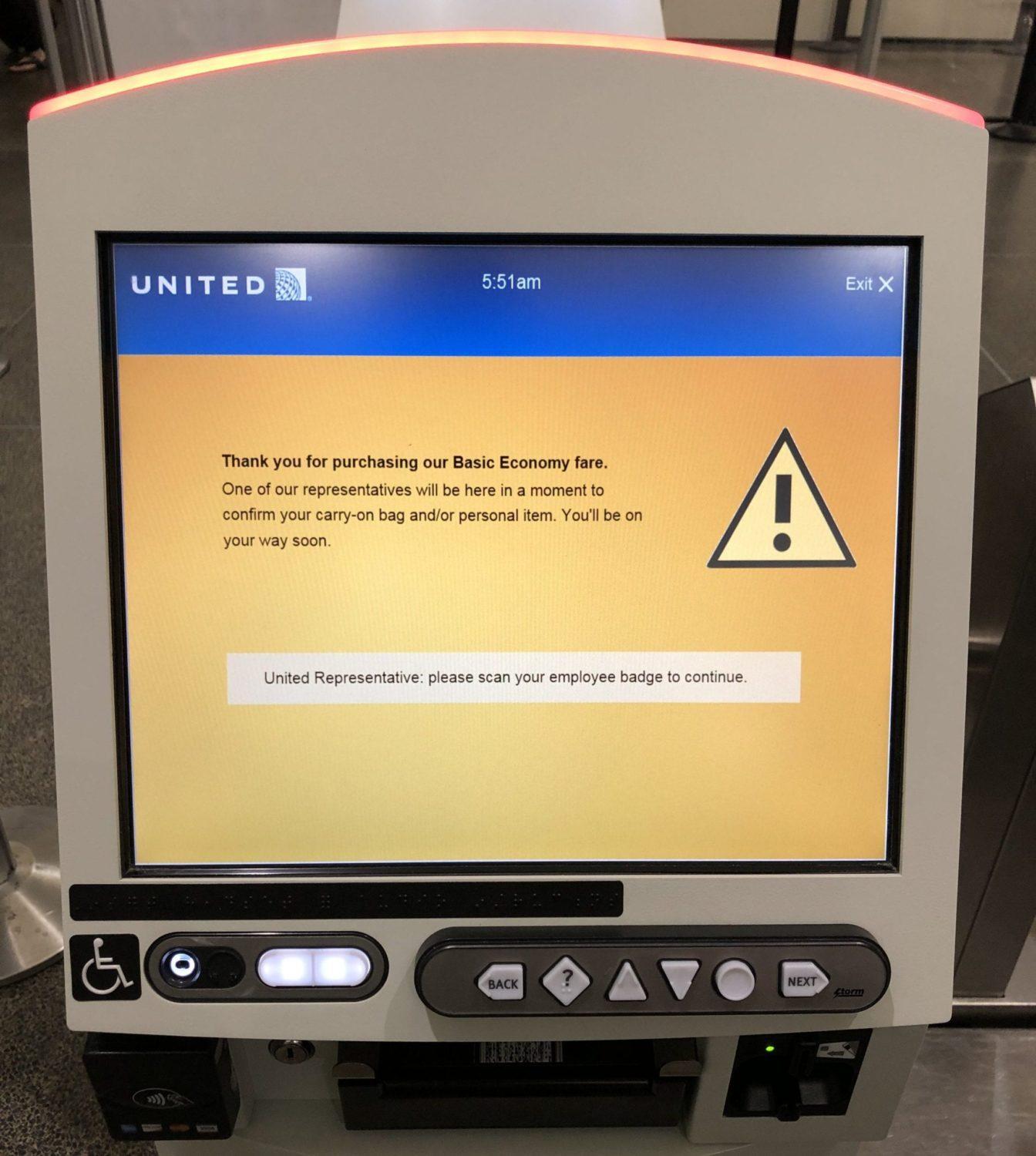 Some travelers who purchase basic economy might be able to check in online if they're also checking a bag. But that's a moot point: You'll have to go to the desk at the airport to check your bag, regardless.
Read more about checking in online with United!
Pay Up For Seats
If there's one upside to United basic economy, it's the ability to pay for a seat assignment.
The window to pay up for seat selection opens right when you book your flight – earlier than you'll find on many airlines. And the price is often right: We've seen seat selection fees as low as $5 to $8 a seat. Generally, seats toward the back of the plane are the cheapest. And a middle seat will almost always cost you less than an aisle or window.
What Routes Have United Basic Economy Fares?
Right now, United Basic Economy has been rolled out on all routes heading to the following locations:
U.S. Domestic Flights
Mexico and Central America
The Caribbean
South America
Europe
Australia
Asia
That's right: Practically every single route in United's network features basic economy at the starting point. Even ultra-long-haul flights to Singapore (SIN) and Sydney (SYD) have basic economy, though you can at least bring a carry-on bag and also get a free checked bag with these fares.
How to Beat United Basic Economy
There are no two ways about it: Flying United Basic Economy can be a drag. Luckily, there are a few ways you can make it a little less painful.
Get Some Perks Back with a United Credit Card
The easiest way to beat some of these restrictions is by holding one of United's co-branded credit cards like the *united explorer card*.
Among the other benefits of the card, you'll be able to bring on carry-on luggage – as will any other travelers booked on your itinerary. You'll also get a checked bag for free, as will anyone else booked on your reservation.
Read more on United Airlines baggage fees!
And you'll also all get priority boarding – a significant improvement, considering United basic economy flyers typically board last.
But there's one catch: You have to pay for your ticket with the United Explorer card in order to get those benefits. It's one of the few airline credit cards that require you to pay with the card in order to get the perks.
Learn more about the *united explorer card*
Avoid a Dreaded Middle Seat Selection
On paper, you don't get to select your seat with a United basic economy fare. But in practice, that's not quite true.
United sells seat selection to basic economy flyers for an additional fee. The window to pay up for a seat assignment is open from the moment you buy your ticket. Better yet, the fees are typically quite reasonable.
Just be warned: United may try to sell you a "bundle" with seat assignment. These typically aren't a good deal – you can buy it later for much cheaper.

So just click past it and proceed through checkout and you'll get the option to pay for a seat a la carte. Take a look at the seat map for an upcoming flight from Houston-Intercontinental (IAH) to Washington, D.C.-Dulles (IAD), and you'll see that a window seat starts at just $13. A preferred seat towards the front of the cabin, meanwhile, is $27 per passenger.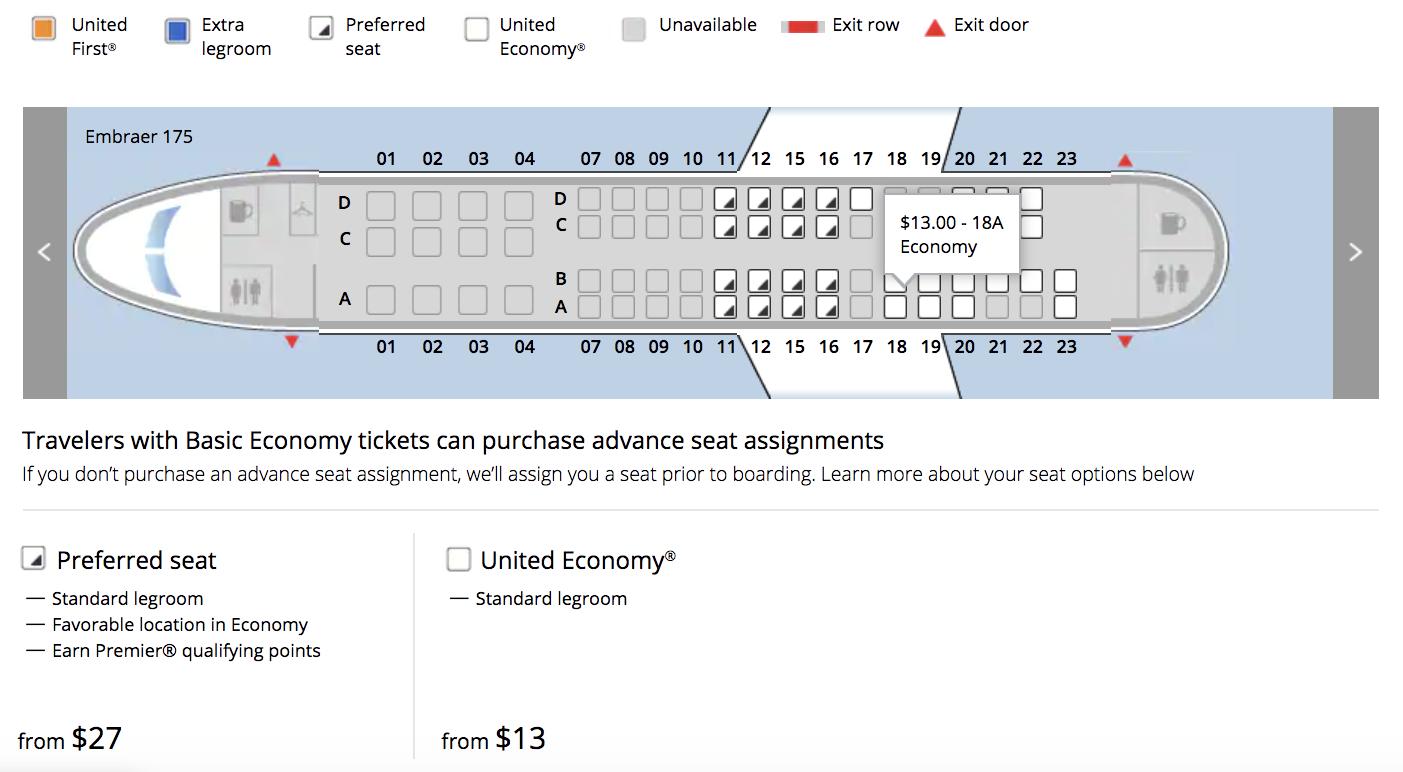 The price will vary by flight, but those rates are about average. Expect to pay $10 to $20 per seat. But keep in mind: That's a per-segment cost. So you'll have to pay double for a round-trip flight – and even more if your flight isn't nonstop.
If you want to make sure you get a certain seat, you're better off paying for an assignment right away. Not only will the number of available seats shrink as your departure approaches, but the price for a seat will likely increase, too. No matter what, you won't be able to upgrade from basic economy to an economy plus or first class seat.
And Unlike with Delta, you can't move around the cabin to get an available seat for free after the 24-hour check-in window opens when flying basic economy with United. But the ability to pay for a seat from day one is unrivaled.
That brings up an important point: You need to do the math on whether it makes sense to go for basic economy and add extra costs compared to buying a more-inclusive main cabin economy fare outright. 
If a main cabin fare costs an additional $70 or more roundtrip, going for a cheaper United basic economy fare could make sense. But if that upgrade fee is just $20 – as we've seen is commonplace throughout much of the pandemic – paying up for main cabin is probably worth it.
United Economy vs. Basic Economy
What's the Difference Between Basic Economy and Economy on United?
The names may sound similar, but make no mistake: These two types of airfare are not the same. And too many United Airlines flyers find that out the hard way.
Comparing United basic economy vs economy boils down to one simple fact: United's basic economy tickets have fewer perks compared to a main cabin economy fare. 
One major – and painful – difference is that with a United Basic Economy ticket, passengers are given a much smaller United Airlines baggage allowance. Flyers with a basic economy ticket are not permitted to put a carry-on in the overhead bin – they're limited to one small personal item underneath the seat. With a normal economy fare, you can bring a normal carry-on bag onboard. 
Because of that, basic economy passengers cannot check in online or using the United app. Basic economy passengers can only check in at the airline's counter at the airport. You also can't pick a seat for free with a United basic economy ticket, while you can with a standard economy fare.
One last notable difference comparing United basic economy vs economy comes with earning status with United. With a basic economy fare, you'll earn half as many credits toward MileagePlus status as you do with a normal economy ticket. And you won't be eligible for complimentary upgrades, either.
What Does United Economy Include?
United Economy is your standard airline fare, and it's typically more expensive than the basic economy fare. Here's a summary of what United Economy includes:
Includes a carry-on 22×14×9″

Choose your own seat for free

Boarding group 3-5

Change your tickets for free or cancel for a credit

Ability to upgrade to Economy Plus seats with extra legroom or First Class

Able to check-in on the website online or via the United app
What Does United Basic Economy Include?
Along with some noticeable restrictions, here's a final quick summary of what United Basic Economy includes:
Only one personal item (sized 17 inches × 10 inches × 9 inches) allowed

Can't upgrade to Economy Plus or First Class

Seat is assigned to you at the check-in counter, or you can pay extra for a seat assignment

Last boarding group

Flights can be canceled for a voucher minus a $99 fee on domestic roundtrips (or $199 for long-haul international)

Unable to check-in online or via the app unless you pay for checked luggage
Bottom Line
There's no doubt about it: United basic economy fares are a pain. And given how much money the airline makes on them, they're not going away anytime soon.
They're among the most restrictive fares you'll find in the skies. While every other airline allows you to bring a carry-on bag while flying basic economy, United does not. And that means you can't check in online, either.
On the plus side, seat selection fees are often more than reasonable if you don't want to get stuck in a middle seat. And carrying a United co-branded credit card can make a lot of the pain of basic economy fade away.