If you're shelling out big bucks or a metric ton of miles to splurge for business class, you want the best seat you can find. With Delta, it's a mixed bag.
Any lie-flat seat is a godsend when flying six-plus hours from coast to coast or overseas, but business class seats are not created equally – especially with Delta. While they're all dubbed "Delta One," the Atlanta-based airline has more than a half dozen different types of business class seats that could make or break your trip. It's up to you to choose wisely.
From the state-of-the-art Delta One suites complete with privacy doors to decades-old seats that are in dire need of a refresh (or retirement), we've ranked our go-to Delta One seats from best to worst.
1. Delta One Suites on the Airbus A350
This is Delta's best. This is what you want.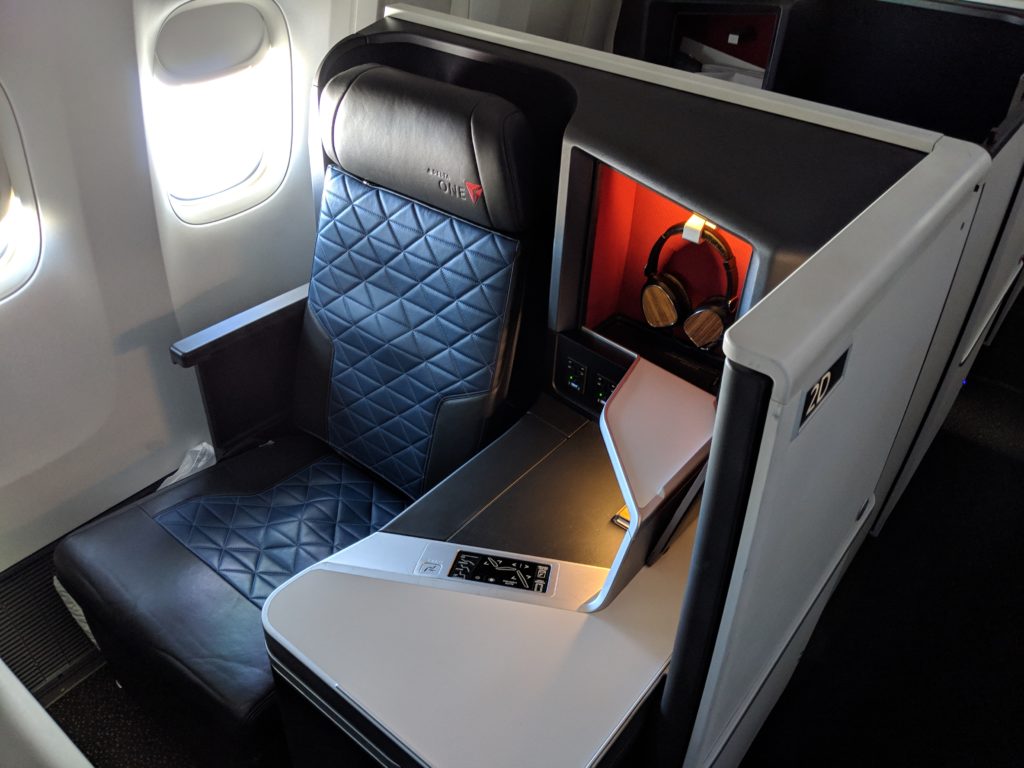 The Delta One Suite onboard the airline's flagship Airbus A350 is as good as business class gets with Delta … and it should be in the conversation for one of the best business class seats in the world, period.
A cozy seat that turns into a bed with the push of a button? Check. Direct access to the aisle no matter where you're sitting? Check. A suite equipped with a closing door so you can shut out the world while you slumber at 35,000 feet? Check.
This isn't Delta's only plane with private suites onboard. But since the A350 is Delta's largest aircraft in the fleet, the suites on the A350 are more spacious than others. Plus, the finishes are top-notch like the stitching on each seat, the blue backlighting at the front of the suite, and the patterns on the bulkhead walls.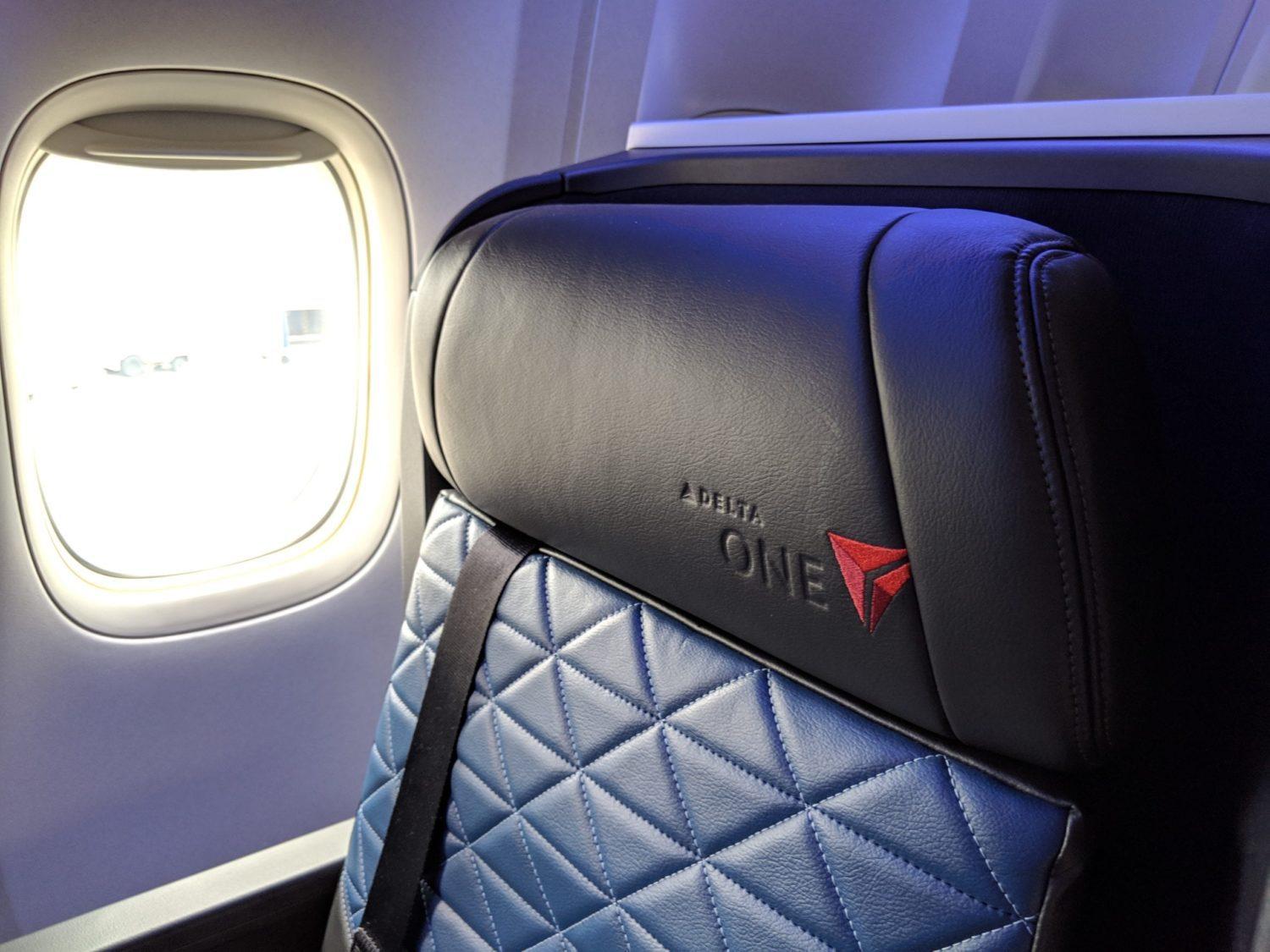 Read our full review of flying Delta One suites from Tokyo-Haneda (HND) to Minneapolis-St. Paul (MSP)!
But beware! Just because you're flying a Delta A350-900 doesn't guarantee you'll find these suites: Delta has a subset of A350s with a far inferior business class seat onboard.
To ensure you've got a suite on the A350, make sure the cabin is laid out in a 1-2-1 configuration on the seat map. Here's what to look for.
Where to Find It
The Airbus A350-900 is the cornerstone of Delta's long-haul fleet, but that doesn't mean you'll find it flying everywhere.
These days, you're most likely to find the A350-900 on some of the airline's longest flights to Asia and Oceania. That includes routes like Los Angeles (LAX) to Sydney (SYD) and flying from Atlanta (ATL) to both Cape Town (CPT) and Johannesburg (JNB) as well as many nonstop flights to Tokyo-Haneda (HND) and Seoul (ICN).
Hoping to score these suites on flights to and from Europe? Focus on major routes like Detroit (DTW) or Atlanta (ATL) to Amsterdam (AMS) or Paris-Charles de Gaulle (CDG) – though it will often come and go.
But it should get easier – especially if a massive order of additional A350s comes to fruition.
2. Delta One Suites on the Airbus A330-900neo
Being second best isn't too bad when you're still getting a suite with a door in Delta One business class.
The Airbus A330-900neo is the newest plane in Delta's fleet so go figure it's got some of the latest-and-greatest business class suites, too. You'd be forgiven for thinking these were identical to the suites onboard the A350.
Indeed, they are quite similar. The cabin is laid out in an identical 1-2-1 arrangement, so everyone can step out from their suite straight into the aisle. And every one of them is euqipped with a door you can slide close.
Since the cabin on the A330-900neo is narrower than the A350-900, you won't have quite as much room to stretch out in these suites. And the finishes are different and, dare I say, a bit boring compared to its predecessor. It's a lot of white and not much else.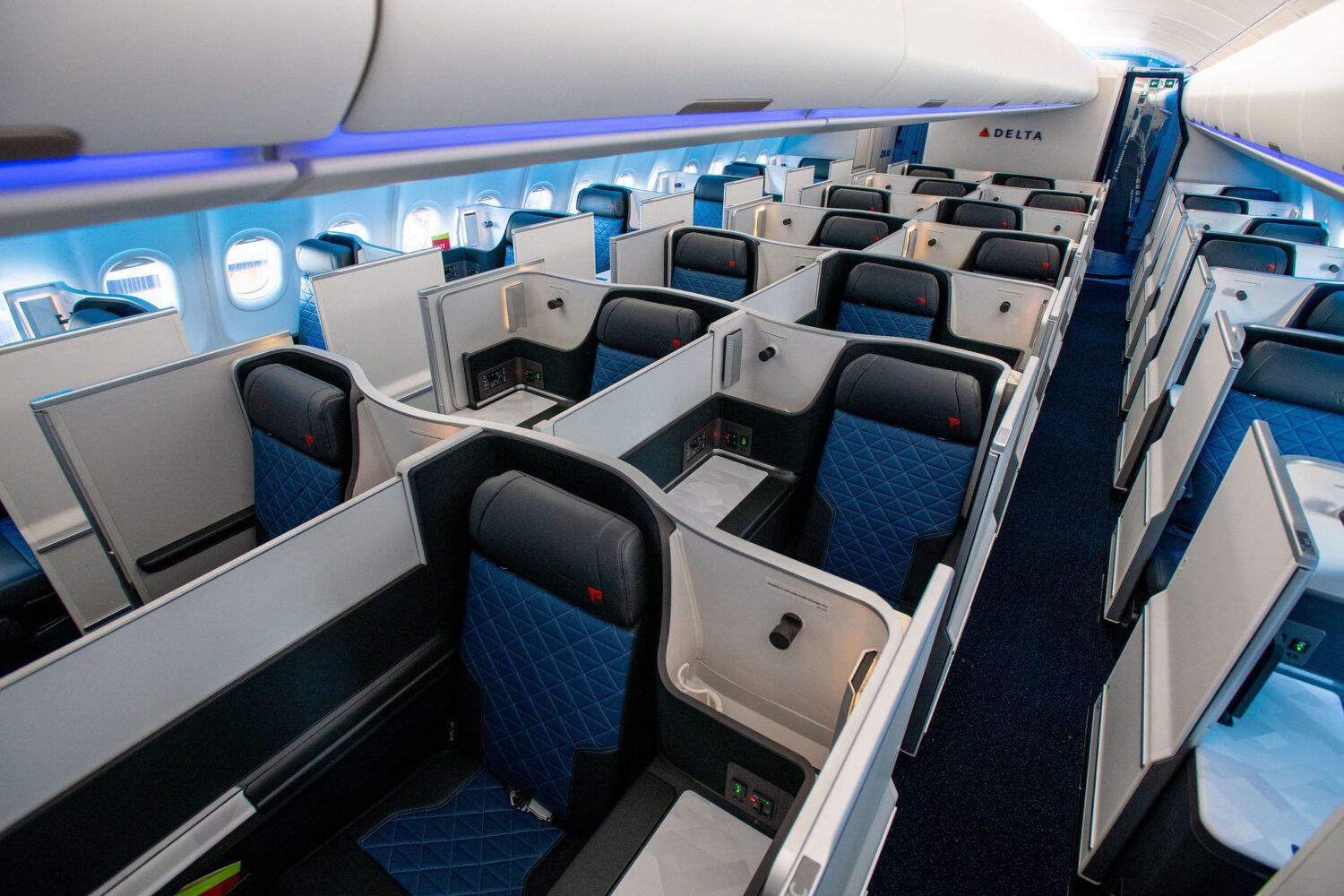 On the plus side for tall travelers, these A330-900neo suites have a few extra inches of legroom in lie-flat mode. There's definitely more storage in these A330-900neo suites, too. And the 18.5-inch seatback screens are some of the crispest you'll find in Delta's fleet with an excellent interface to pick a movie, TV show, or just watch your flight's progress.
Where to Find It
These days, you're most likely to find the A330-900neo on the airline's longer routes to Europe from hubs like Minneapolis-St. Paul (MSP), Los Angeles (LAX), or even Salt Lake City (SLC) to Amsterdam or Paris – especially over the busy summer travel season.
Otherwise, look to Asia. Many major routes to Tokyo and Seoul are operated on an A330-900neo.
3. Delta One on the Boeing 767-400
Delta has given one of the oldest planes in its fleet a serious facelift, and that includes a sparkly new Delta One cabin at the front of the plane.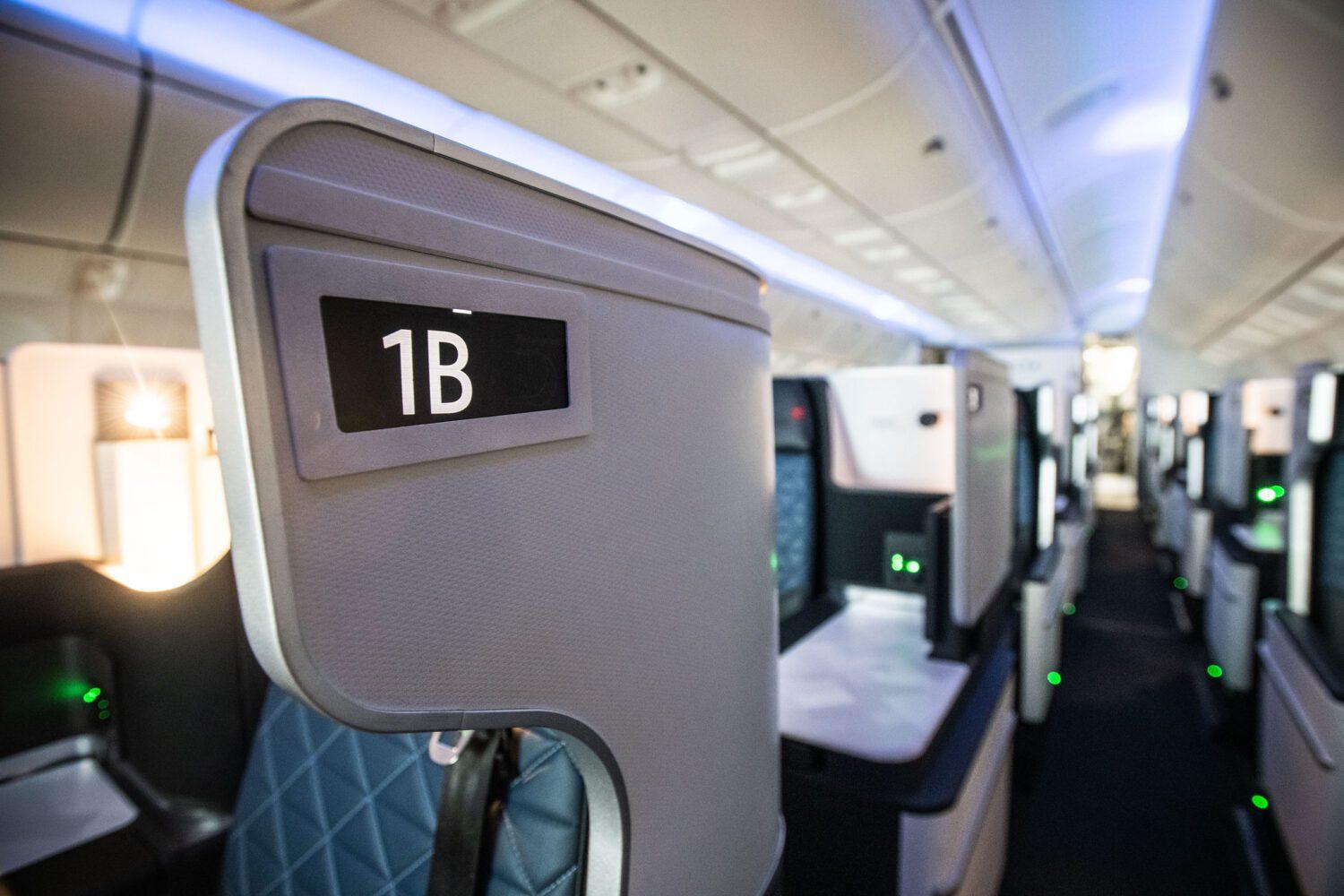 The seat on these Boeing 767-400ERs is a dead ringer for those on the Airbus A330-900neo … with two critical differences:
The seats are much narrower: Just 20 inches or so wide.
There's no closing door.
Still, these Delta One cabins are far more modern than those you'll find further down on this list, with nicer finishes and much better in-flight entertainment onboard. Despite the lack of a door, the seats are also far more private than older Delta One cabins.
But be warned: It's not just any Delta Boeing 767 where you'll find these upgraded seats: You specifically want the 767-400. As you'll see, the difference between these Delta One seats and those you'll find on the 767-300 is substantial.

Where to Find It
It's slim pickings, as Delta has just 20 or so of these 767-400ER planes in its fleets.
You'll pretty much only see them flying to and from Europe – especially on business-heavy routes to major cities like London-Heathrow (LHR), Zurich (ZRH), Geneva (GVA), Milan (MXP), and others.
4. Delta One on the Airbus A330-200 & A330-300
Let's start with the good news: The Delta One seats on all of Delta's Airbus A330s are comfortable. The 1-2-1 cabin layout means you can easily step out into the aisle, and the reverse herringbone arrangement means seats are angled away from the aisle for more privacy.
But these seats have seen better days.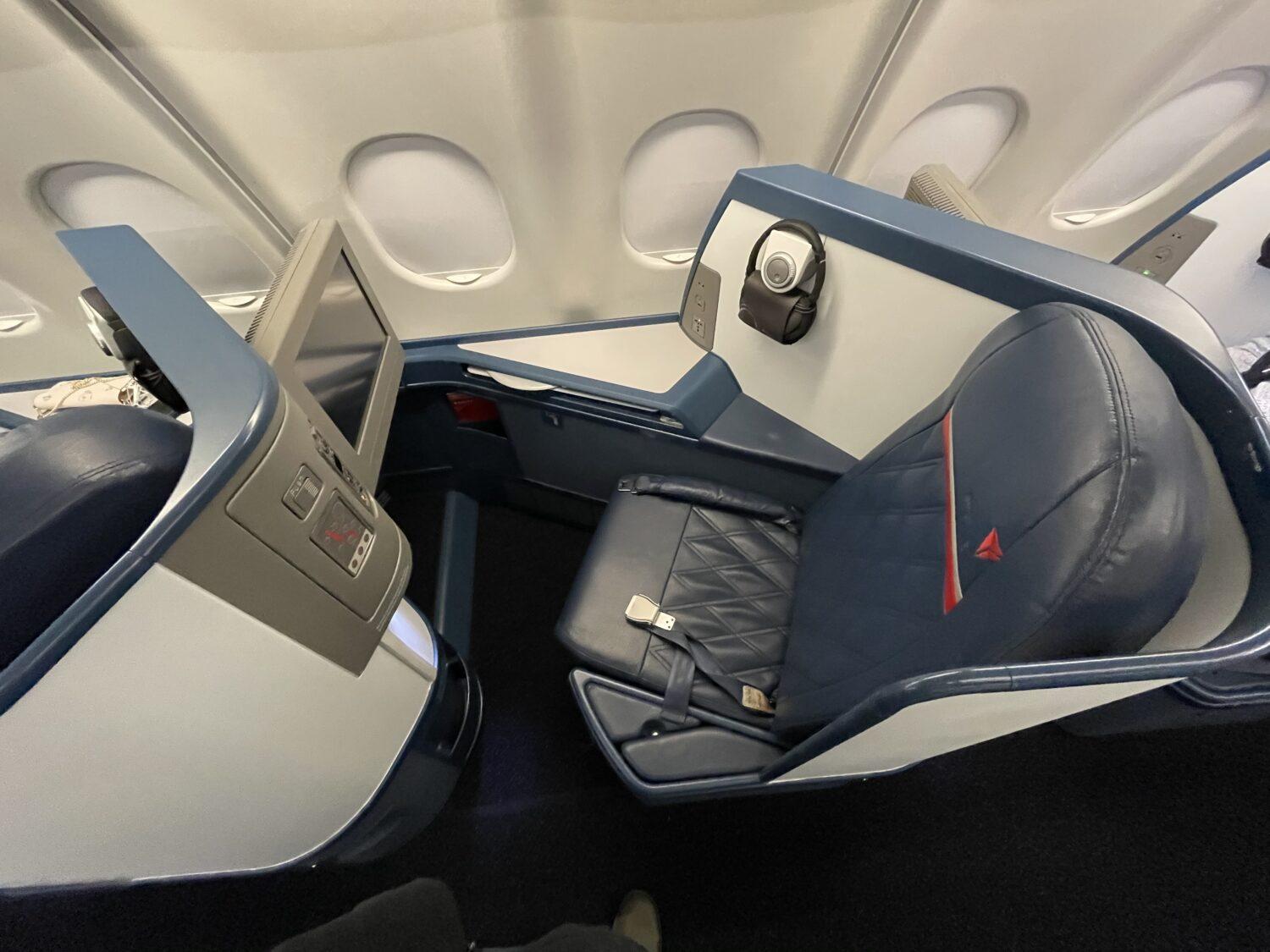 The colors and finishes look out-of-date, to say the least. The seat back screens and controls feel ancient compared to Delta's newer jets.
Delta is in the midst of retrofitting these Airbus A330s … but not much is changing in the Delta One cabin aside from redoing the seat padding, unfortunately. The emphasis for that project is on touching up Delta economy seats and adding a Delta Premium Select cabin.
Where to Find It
Along with the 767s, Delta's A330s are a fixture heading to Europe. Pick a transatlantic Delta route and odds are it's a coin flip as to whether you'll be flying on an A330-200 or A330-300.
You'll also occasionally see the A330 flying domestically from Delta hub to Delta hub, especially in the fall and winter.
5. Delta One on the Airbus A350
What gives? Delta's flagship A350s are surely all equipped with Delta One Suites, right?
Not quite. Delta acquired nine second-hand A350s from close partner airline LATAM. Rather than keep them out of service for months to install Delta One Suites onboard, they slapped some Delta colors on LATAM's existing seats and called it good.
There are some obvious negatives as well as a few sneaky positives to these particular Delta One seats. The 2-2-2 arrangement means you might have to step over a neighbor in order to get to the aisle. And if you value privacy when flying business class, you won't find it with these seats.
That said, the arrangement is great for traveling companions. And the seats themselves are generally quite comfortable, with far more room to stretch your legs and move your feet around than you'll find on most other Delta business class seats since there's not a narrow footwell.
Where to Find It
Honestly, it's a bit random. It almost feels like Delta threw darts at a map to decide where it would fly these strange A350s.
You'll find it flying the airline's new route to New Zealand from Los Angeles (LAX) starting this fall. It's on several marquee routes down to South America, like Atlanta (ATL) to Santiago (SCL) or Lima (LIM). But it's also flying nonstop from Atlanta all the way over to Tel Aviv (TLV).
This subset of Delta's A350 fleet may not be around for long, though. Delta has indicated they plan to retrofit these planes with Delta One Suites, though the timeline is unclear.
6. Delta One on the 767-300
If you're flying to Europe or across the U.S., odds are you'll be flying in one of Delta's many Boeing 767-300s: It's the backbone of their transatlantic and transcontinental fleet.
Up in Delta One, that's … not exactly a good thing. Here's why: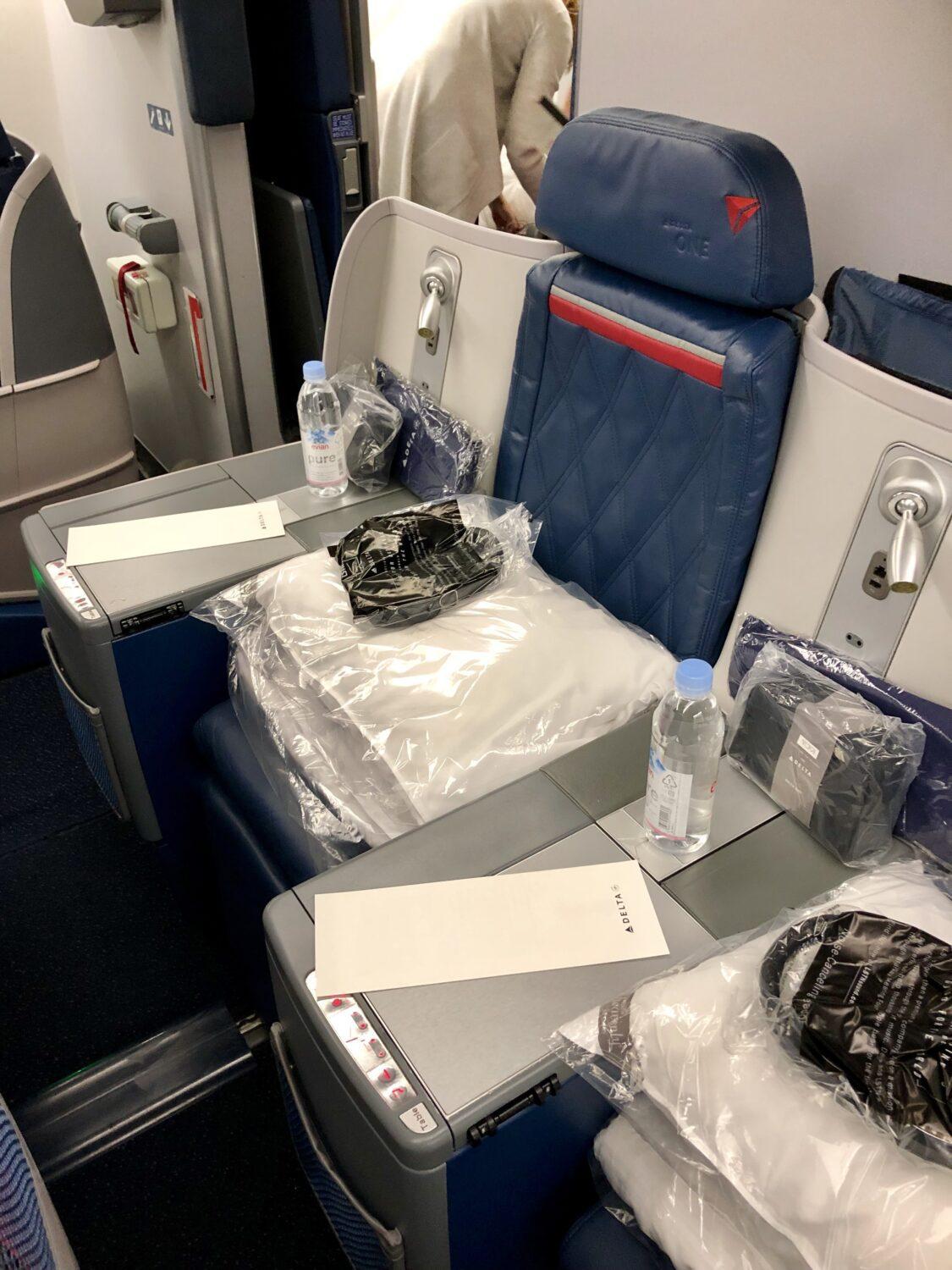 Let's start with the positives. The 1-2-1 seating arrangement means you'll have direct aisle access no matter where you sit. The seats convert to a lie-flat bed.
But that's pretty much it. At just 20 inches wide, the seats themselves are quite narrow. The in-flight entertainment is positively ancient, with screens just 10 inches and change across. There's virtually no privacy, whether you're flying next to your loved one or a cabin full of strangers.
It's hard to complain about a lie-flat business class seat, but you can do so much better than these seats – on Delta and other airlines. Considering virtually all of United's long-haul fleet is equipped with its best United Polaris business class seats and American's long-haul fleet is up-to-date, these Delta One seats stick out … and not in a good way.
If there's one upside, it's that there's no Delta Premium Select cabin on this aircraft. That means ultra-frequent travelers who have earned Delta Global Upgrade Certificates can use them to skip from economy straight into lie-flat seats on a big trip abroad.
Otherwise, you might be disappointed with these seats, whether you paid thousands of dollars or redeemed a mountain of SkyMiles.
Where to Find It
These planes are a mainstay on Delta's routes to and from Europe as well as coast-to-cost transcontinental routes. It's also the jet of choice on Delta's flashy flight from Los Angeles to Tahiti (PPT).
7. Delta One on the 757-200
This one's an oddball in Delta's fleet. And it's one you won't find very often.
Rather than the standard domestic recliners you'll find on most of Delta's Boeing 757s, there are 15 equipped with lie-flat seats up front. And they're different than the Delta One seats.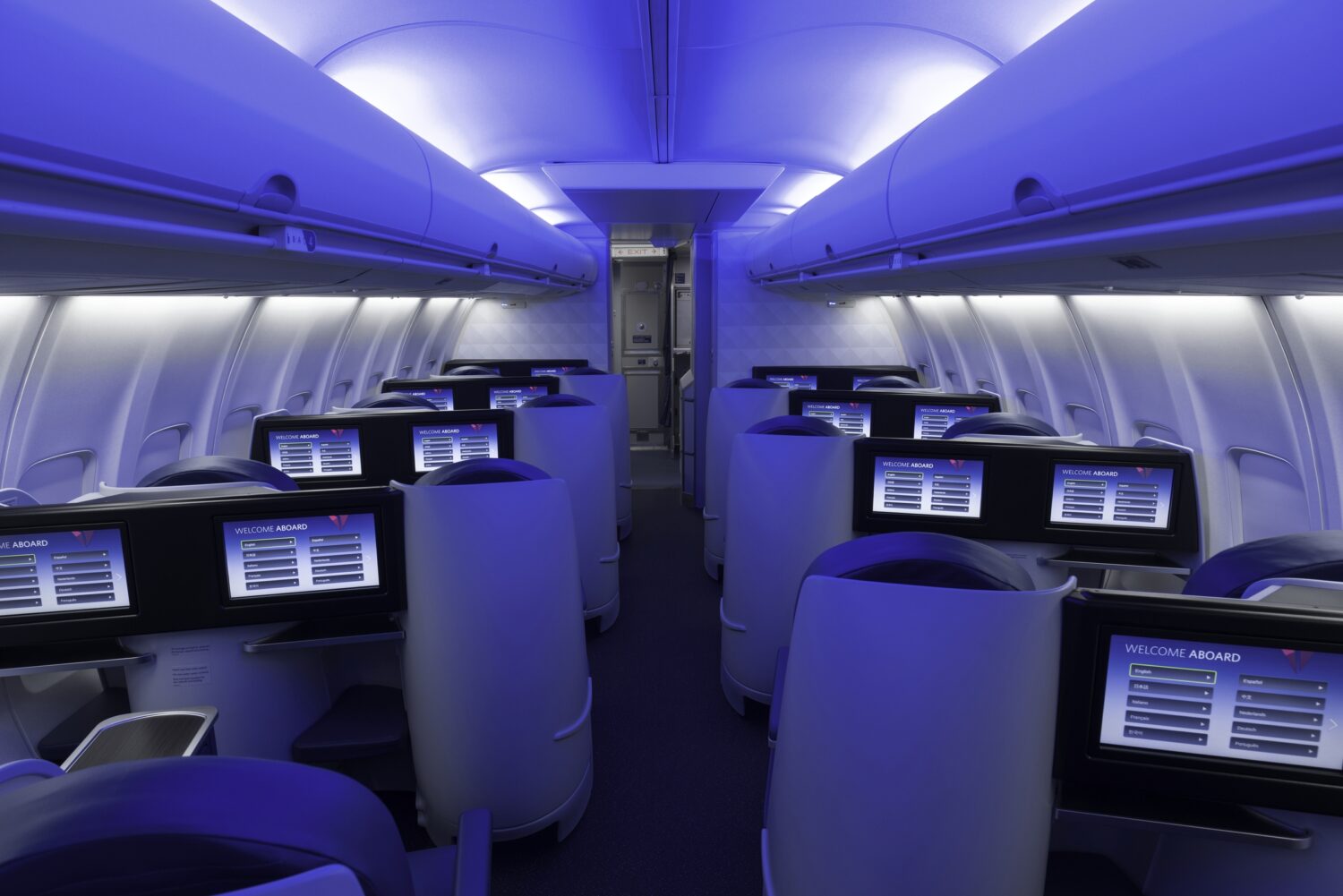 There are just 16 Delta One seats in the cabin, spread across four rows in a 2-2 configuration. By all accounts, the seats are comfortable and wide, with better in-flight entertainment than you'll find on most of Delta's 767s. But the lack of direct aisle access and the small cabin makes puts this one at the bottom of the list – if you can even find it, that is.
Where to Find It
It's a bit of a unicorn, but you can track it down.
You're most likely to find this particular 757-200 flying transcontinental routes like Washington, D.C.-Reagan (DCA) to Los Angeles (LAX) as well as a few one-off European routes, like nonstops connecting New York City (JFK) and Reykjavik (KEF).
Bottom Line
Not all business class seats are created equal, and that's especially true when it comes to Delta.
Whether you're splurging or emptying your coffers of Delta SkyMiles, this ranking should help you find the best seat you can flying to your destination this year or next – and avoid the worst of them.