If you've ever hesitated to book a flight, there's something that might give you peace of mind.
Thanks to a federal rule established by the U.S. Department of Transportation, you can cancel your flight to, from, or within the U.S. within 24 hours of when you booked it for a full refund. It doesn't matter which airline you're flying or where you're coming from or heading from, as long as the flight touches U.S. soil, you have up to 24 hours to cancel it for free and get your money back – not just a voucher or travel credit.
The 24-hour flight cancellation rule can be a powerful tool for travelers, especially when it comes to booking cheap flights. Say you stumble on an amazing deal or maybe even an alert from Thrifty Traveler Premium about a great flight deal – like a $230 roundtrip mistake fare to Paris – but aren't sure whether the dates will work or if you can get the time off. Don't wait: Book the flight to lock in the cheap fare, then use the next 24 hours to figure out the logistics and decide whether you want to take the trip. If you change your mind, as long as you cancel within the 24-hour window, the airline has to give you a full refund.
There are some caveats to this little-known rule, though. Read on for everything you need to know about the 24-hour flight cancellation rule.

What is the 24-Hour Flight Cancellation Rule?
Airlines are required by the DOT to refund you your money if you cancel a flight within 24 hours of booking unless they offer a free, 24-hold option on a fare while you're searching for flights. The federal rule applies to all airlines that operate flights to, from, or within the U.S., including international carriers.
Most airlines opt for the 24-hour cancellation policy. After purchasing a flight, travelers have up to 24 hours to cancel the flight for any reason and get a full refund to their original form of payment without paying any additional fees. It doesn't matter what type of ticket you purchase either, whether it's a pricy first class fare or the cheapest basic economy ticket.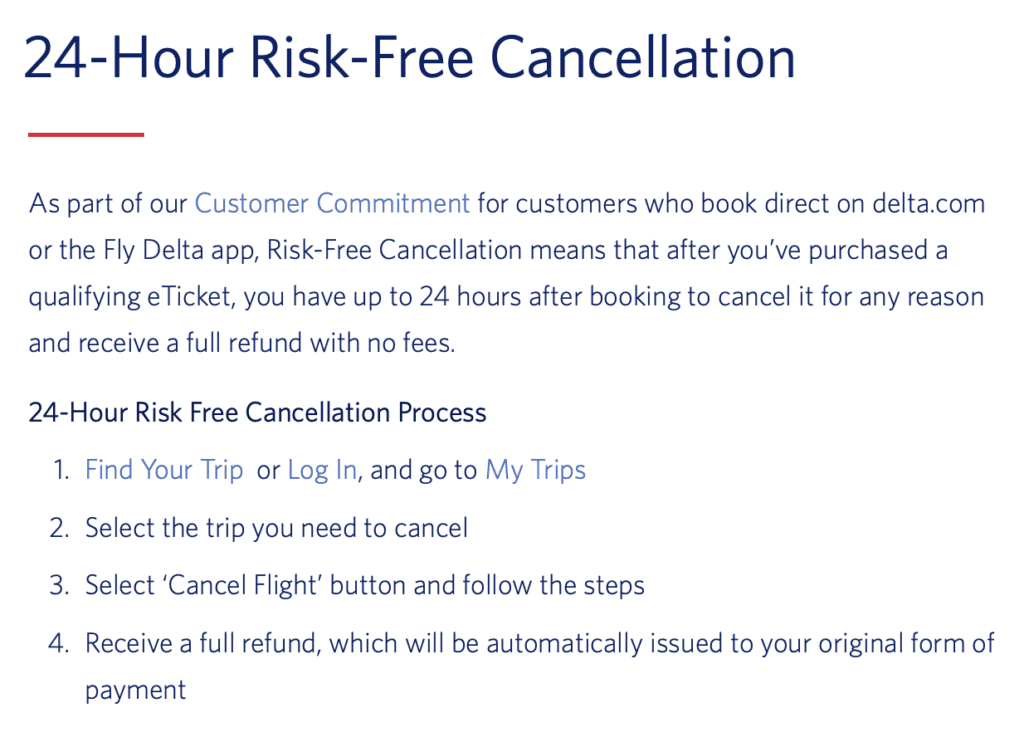 But, a few airlines offer the hold option, allowing you to lock in the current price before booking. The hold time is typically 24 hours. That gives you time to check for cheaper fares or confirm travel plans before you have to pay anything. Once you commit to purchasing the ticket, everything can be completed online. Before the 24-hour hold is up, you will need to pay for your ticket or it will be canceled.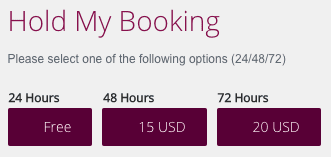 Things to Consider with the 24-Hour Cancellation Rule
Before you grab that hot flight deal, there are a couple of things to look out for:
Book directly with the airlines: Strictly speaking, the 24-hour rule only applies to tickets booked directly with the airline. So it's always best to search using Google Flights, and then book direct if there's any possibility your plans may change.
Some OTAs follow it, others don't: Travel agencies are not subject to the same DOT law as airlines. If you're booking airfare through a third party, double-check their cancellation policies before booking. The good news is that most major online travel agencies like Priceline and Expedia typically offer 24-hour cancellations. Smaller ones found through Momondo and Skyscanner generally don't, so beware. It is one of the big reasons we suggest to skip the OTA and book directly with the airline if possible. 
This is an either/or rule:

Airlines generally don't offer both a hold and a 24-hour cancellation window, and they typically don't work together.

Miles are not mentioned:

Though many airlines refund rewards or miles too, this is not explicitly required by the DOT rule. Make sure to understand your carrier's rules before booking an award ticket. Generally speaking, mileage bookings are more flexible than cash bookings. 
Exceptions to the 24-Hour Cancellation Rule
While the 24-hour rule is fairly encompassing, there are some important caveats. Most notably, flights booked very close to departure may not be eligible for a full refund within 24 hours of booking.
The DOT's guidelines officially say that this policy is only necessary for flights booked at least seven days before departure. But, some airlines are more generous. As an example, here is how each of the major U.S. airlines approaches these last-minute bookings:
Alaska: Must be booked at least 24 hours prior to departure.
American: Must be booked at least two days prior to departure.
Delta: Must be booked at least three days (or 72 hours) prior to departure.
JetBlue: Must be booked at least a week prior to departure.
Southwest: The 24-hour rule applies to all bookings.
United: Must be booked at least a week prior to departure.
Be sure to read up on your airline's individual policy before buying your ticket to know whether the 24-hour cancellation window will apply.
It's also important to note that while you may not be eligible for a full refund if you change your plans more than 24 hours after booking, most airlines are now offering free cancelation for a voucher – as long as you book at least a main cabin fare. That means if you want any flexibility, you'll want to avoid basic economy.
Bottom Line
Whether you're flying within the U.S. or heading abroad, you'll almost always have a 24-hour window to cancel your flight and get a full refund. Remember that next time you see a great flight deal – and book it before it disappears.
As we often say, "the hotter the deal, the shorter it lasts." The 24-hour rule allows you to book now and ask questions later. Just be sure to read up on the airline's 24-hour cancellation policy to ensure you're covered in case plans change. Then, book the ticket!