We're more than 18 months into the COVID-19 pandemic. And while more Americans are traveling than this time last year, travel has changed.
From mandatory masks to social distancing markers to new cleaning and boarding procedures and reduced in-flight service, COVID-19 transformed the once-routine travel day into an almost unrecognizable experience more than a year ago. By now, many aspects of the flying experience have returned to something close to normal.
But not everything. Whether you're getting ready to step foot on a plane for the first time since 2020 or have flown a few times in the last year, it helps to be prepared. Use these tips to stay safe and travel (relatively) stress-free.
Do Your Research
Whether you're flying domestically or heading abroad, there may be more hoops to jump through. And it's up to you to do your homework.
There's no overarching requirement to get vaccinated or test negative for COVID-19 just to get on a plane in the U.S. It all depends upon where you're going. 
While most U.S. states have dropped the travel restrictions, Hawaii still requires either proof of vaccination or a recent negative COVID-19 test to get in – plus their governor has asked travelers to stay away until at least November amid a surge in cases.
For international travel, providing proof of full vaccination has become commonplace for entry. But the travel restrictions vary widely from country to country, with some countries still completely closed to foreign travelers.
From the very start of the pandemic, travel to Mexico has been a free-for-all with no testing or vaccine cards required. Elsewhere across the Caribbean and Central America, you may need a
Read our country-by-country guide to international travel restrictions!

And things are changing fast – especially in Europe. Despite a push from the European Union to restrict American travelers, many countries across the continent remain open today.
But some like Spain and Italy have made it harder to get in with additional vaccination or secondary testing requirements. Others including the Netherlands and Sweden have essentially shut down to Americans altogether. Stay up to date on Europe travel restrictions!
Oh, and no matter where you go, you still need a negative COVID-19 test taken no more than three days before flying back to the U.S. Without it, you won't be boarding your flight home.
Check out our tips for tracking down a COVID-19 test while abroad!
Check-In Online … and Carry-On Only
Even as more and more Americans return to the skies, travel still hasn't returned to pre-COVID levels. And that means airports can feel relatively empty at times
But that doesn't mean crowds don't form, period. There are still issues with social distancing, especially at check-in kiosks, bag drop-offs, and baggage claims. We've seen massive, hour-long lines at baggage drop-off points in particular.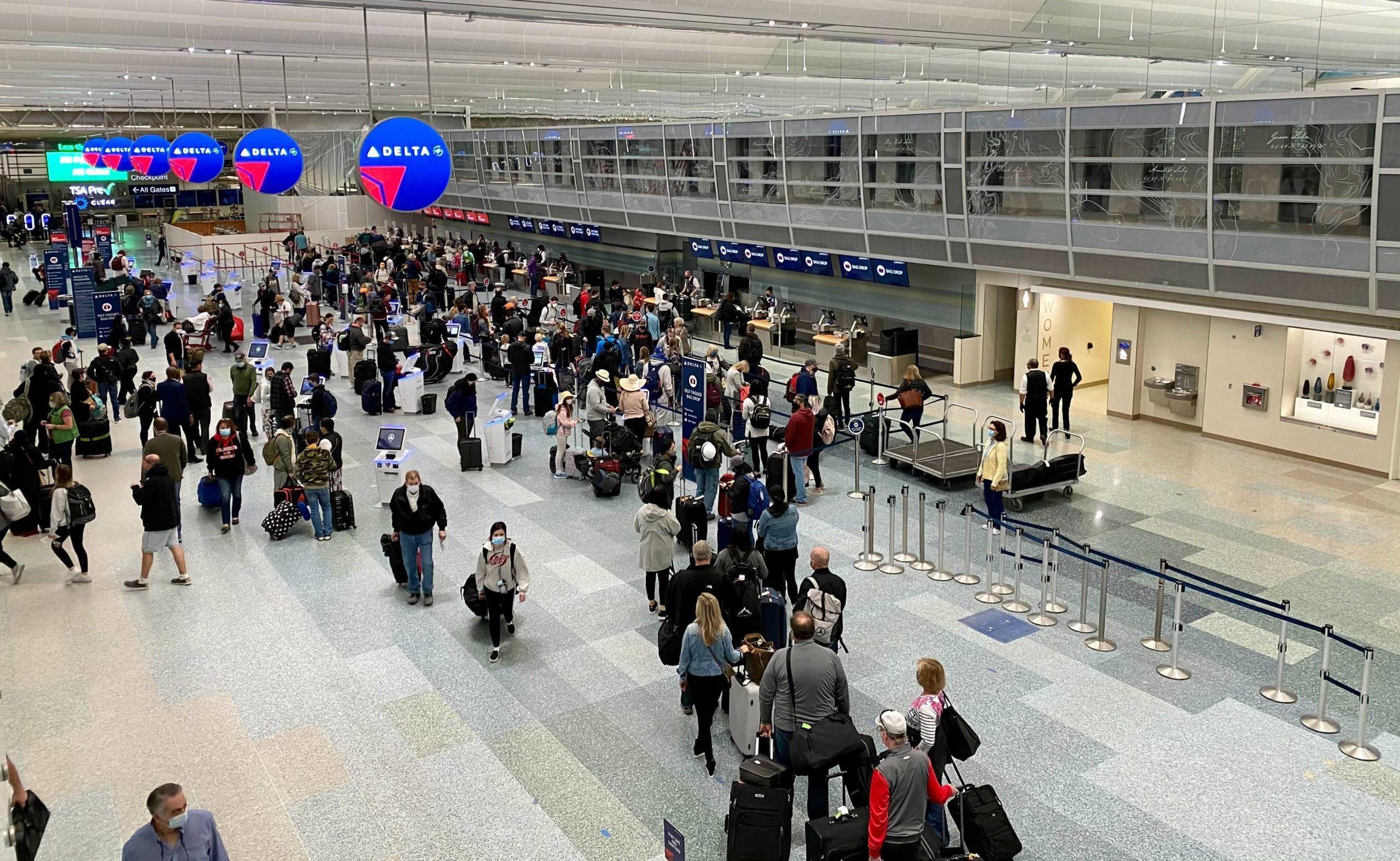 While unfortunate, it makes sense. Even with travel down across the board, there are only so many kiosks and airline agents available. Business travelers who travel with just a carry-on or briefcase are staying home, and the people who are traveling are more likely packing in bigger checked bags. Some crowding is bound to happen.
But there's an easy way to avoid it all: Check-in for your flight online, and use an airline smartphone app to pull up your boarding pass so you can waltz right past the line to check in. And rather than checking a bag, pack in just a carry-on bag – trust us, it's easier than you think.
These two small changes to your travel pattern can help you minimize contact with strangers and drastically speed up your trip through the airport.
Fly on Slower Days
Want to take it even farther? Just how many fellow travelers you'll see will depend heavily on which day you're actually flying.
Don't just take it from me. Check out the graphic tracking the number of travelers passing through U.S. airports each day through 2020 and 2021, and you'll see just how much it changes day-by-day.

While the numbers are always changing, there's a clear pattern. Tuesdays, Wednesdays, and Saturdays are typically the slowest days with fewer travelers. Sundays, Mondays, and Fridays are usually the busiest. 
That means your best bet for having more space at the airport (and more room on the plane) is by flying on an off-peak day. Bonus: Booking flights that depart on those days is almost always cheaper, too.
TSA PreCheck & CLEAR are Worth Their Weight in Gold
Everyone dreads spending long waits in line at TSA security checkpoints – perhaps now more than ever.
Just as with the crowds at the airport itself, just what awaits you in line will depend on what day you fly. In our experience, lines for even the standard security lines are typically quite short these days.
But if you want to ensure a quick trip through airport security with no backups, TSA PreCheck might be better than ever right now. The same goes for CLEAR, the privately run security program that allows you cut to the front of the line.
On every stop during our travels throughout the last year and change, lanes for both of these fast-pass programs were nearly empty, morning, afternoon, and night. The business travelers that are more likely to pay for these programs are staying home right now, and that makes them even faster.

The TSA is trying to go completely touchless in security line. At many security checkpoints, you can simply insert your ID into a reader rather than hand over your license and boarding pass. Apple and the TSA are even working on a pilot of adding your ID to your digital wallet, making it even easier.
With CLEAR, it's even better. I'm normally quite skeptical of CLEAR and whether it's worth the steep cost. But in this strange time, there's no denying the value of walking up to a kiosk, scanning your eyes, flashing your boarding pass, then walking straight to put your bag on the conveyor belt.
Bring Masks (Yes, Plural)
You have to wear a mask on the plane and throughout the airport.
After months of airlines requiring it – and banning flyers who don't comply – it's now a federal law. And that means you could face federal penalties for going maskless. That requirement is in place through at least Jan. 18, 2022.
A few airlines may provide you a mask if you don't have one, but that's not something you should rely on. So do the world a solid and come prepared with your own. Just to be safe, pack a few masks – masks shouldn't be reused constantly, and you never know when an elastic band may snap.

Oh, and a little tip? Bring some gum, too … unless you want to spend your flight smelling your own coffee breath.
…And Snacks
At airports across the nation, shops, stores, and restaurants have limited their hours. Some have closed altogether. More than a year into the pandemic, it can still be a challenge to get a bite to eat at the airport if you're flying early in the morning or late in the evening.
The same can be true on planes, where airlines drastically scaled back their in-flight service last year. While most of the snack-and-drink service has slowly returned, that's not true across the board. On some airlines including American and Southwest, you still can't buy a drink onboard.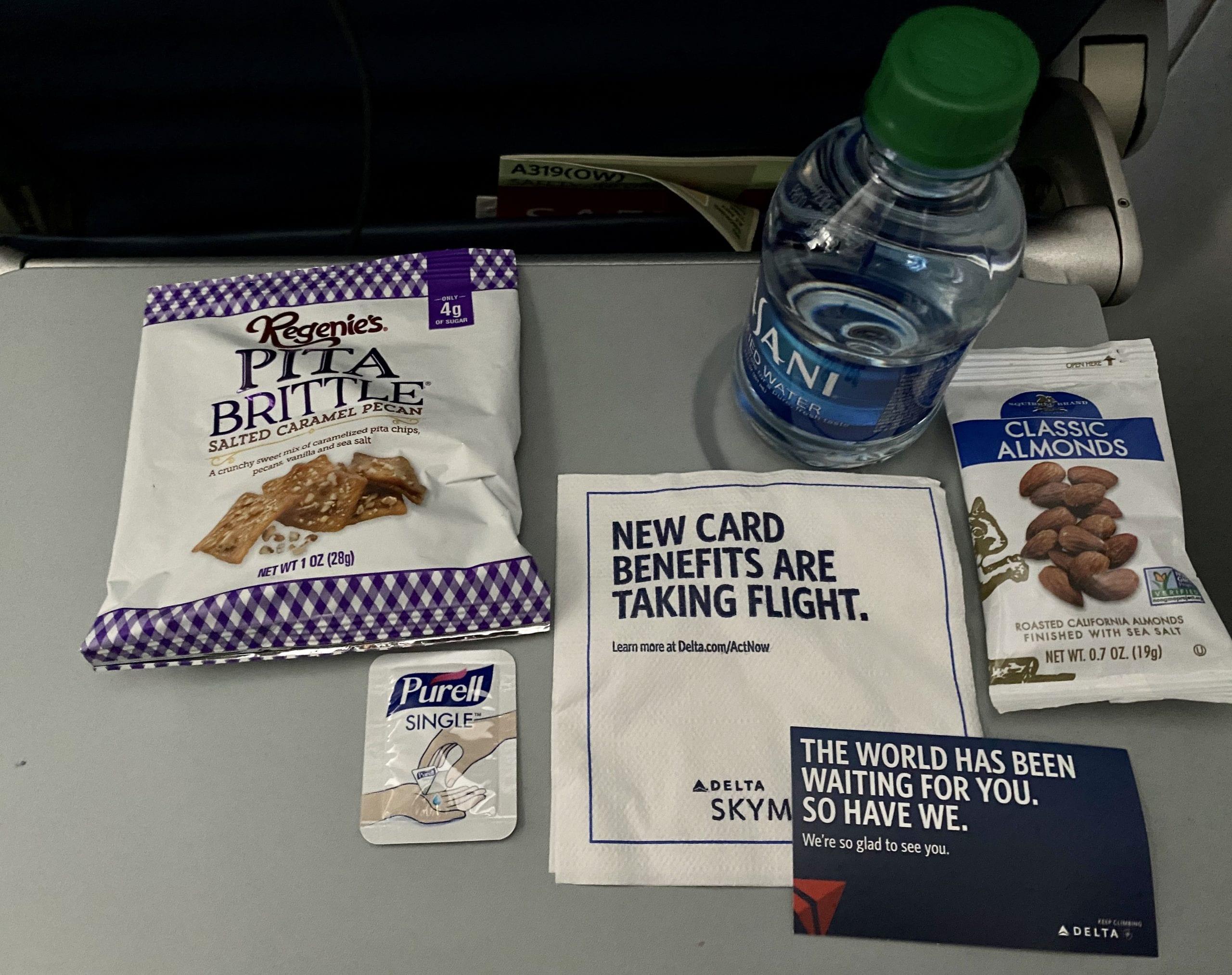 And that means you need to be prepared. Some snack shops and newsstands remain open as usual, so buying a water for the flight shouldn't be an issue. But a full meal? Don't count on it.
Bringing your own snacks is a great idea. Just beware that the TSA is now asking travelers to put their food in a clear plastic bag to be scanned separately at security checkpoints. So plan ahead and pack wisely – or prepare to go hungry.
Don't Count on an Empty Seat
At the outset of the pandemic, planes were going out practically empty as most Americans stayed home for months. Some airlines took it even farther by blocking middle seats to give passengers even more space.
But those days are over. As Americans returned to the skies throughout 2020 and 2021, airlines began filling planes to capacity again. Delta was the last holdout, and even the Atlanta-based airline stopped blocking middle seats in May 2021.
These days, you should just assume your next flight will be full. Any open seats next to you will be a surprise – just don't count on it.
You can see that borne out in the data from Airlines for America, which tracks how full flights are in the U.S., on average. That percentage has steadily climbed since bottoming out in the spring of 2020 – though it has begun trending down a bit again.

There's one major exception to that rule: While flights from the U.S. to Europe are often going out at capacity, the flights returning to the U.S. are a different story. Here's a look at an Air France flight from Paris-Charles de Gaulle (CDG) to Minneapolis-St. Paul (MSP) in July, when roughly half of the seats in economy were open.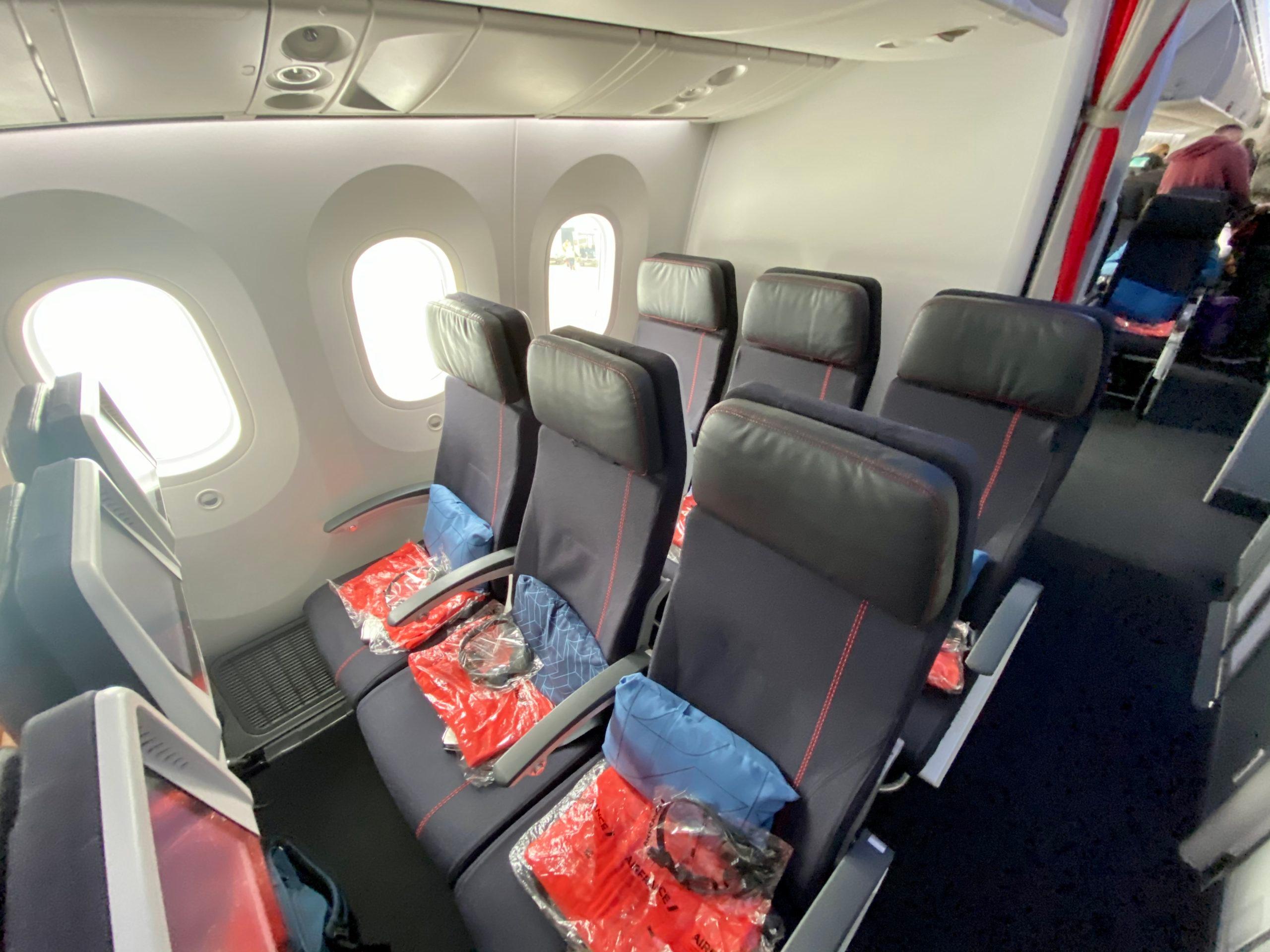 Read more: What It's Like Flying to Europe and Back Right Now
And that makes sense. While many countries throughout Europe have reopened their borders to Americans, the U.S. still bans nearly all European travelers. That's a recipe for some relatively empty flights.
Remember: You Won't Lose Money if You Don't Go
You don't have to choose between your health and your wealth.
For years, airlines typically charged $200-plus to change or cancel a flight. But with coronavirus upending travel plans around the globe, they've given travelers some unprecedented flexibility to change or cancel flights for free.
For starters, every major airline has done away with change fees so long as you buy a main cabin fare or higher. That means you can change your flight without paying hefty fees or cancel and get a voucher
On many airlines, the cheapest basic economy fares no longer get that flexibility. Delta basic economy and United basic economy are an exception: Those fares booked for travel through the end of the year can be changed or canceled. On other carriers, you won't be so lucky.
Thrifty Tip: Want a refund, not a voucher? Instead of canceling now, it pays to wait.
These policies make it possible to change course with an upcoming trip without losing your money. It also makes it much easier to plan a future trip amid the ongoing uncertainty of the pandemic.
Read up on how to book travel smarter as COVID-19 continues!
Bottom Line
No matter when you travel again, it's bound to be a much different experience. Be prepared, do your research, and follow these tips to make it a smooth process – or at least as smooth as it can be.