There's no doubt in our minds: Google Flights is simply the best platform out there to search for airfare, no matter your travel needs … and the competition isn't particularly close. But flights are only half the equation, which is why Google has been building up its Google Hotels platform.
It's just what it sounds like: Think of it as the Google Flights for hotels, as the two platforms look and work much the same. And that means it could be a game-changer when it comes time to search & book lodging for your next trip.
Visit Google.com/hotels and you will come across a user interface that looks very similar to what you know and love from Google Flights. It's simple and very intuitive. You'll be able to enter a destination where you need lodging, dates, and the number of guests you will be traveling with.
Read on for everything you need to know about using the Google Hotels search feature to find the best hotel deals and book your lodging.

How Do You Use Google Hotels?
Like Google Flights, Google Hotels is a great place to start your search when you are looking for lodging for your upcoming trip. The Google Hotels platform integrates with Google Maps and will show you exactly where each property is located throughout the city. This is extremely helpful if you know you want to stay in a certain area or by a landmark for a specific event.
Search For A Hotel
To give you an example of how the Google Hotels platform works, let's walk through an example search for a quick weekend trip to New York City. I started off by searching for hotels in New York City for a long weekend in March.
After selecting my travel dates and number of guests (two), I can run the search.

New York City is huge, so the search results literally populated over a thousand hotel options. Even narrowing my search down to Manhattan doesn't help a ton.
This is where utilizing the additional search features of Google Hotels will come in handy…
How To Narrow Your Search Results in Google Hotels
Once you have dialed in on where you want to stay using the map, Google Hotels offers a number of different filters to zero in on your options even further.
Google Hotels Filtering Options
The ability to filter down your search results in Google Hotels is quite extensive. As of publication, the following filters are available:
You'll can filter for properties that have a certain guest rating. This is powered by Google reviews. The default setting is to only show properties that have 4.0 stars or higher.
You'll can also filter by price. You can set both a minimum and maximum price you are willing to pay.
Google Hotels also allows you to filter based on the hotel's rating. Only looking to stay in a 4-star or 5-star hotel? There's a filter for that.
There is also a filter labeled "Special Offers." With this filter, you'll have the ability to only show hotels that offer free cancellation, and also a list of properties that Google flags as cheaper than their usual rates.
You'll also find an amenities filter. Looking for a pet-friendly hotel? Or want to be sure there's a pool? How about a hotel that has an onsite restaurant? You'll find all these options on the Amenities filter.
You can filter by property type. Looking to stay at a hostel? Or maybe you only want to consider a resort? This is the filter you'll want to use.
You can even filter your search results by hotel brand. Have loyalty to one of the major hotel brands like Hyatt, Hilton, or Marriott? You can easily filter your search results to show you hotels within that brand.
You'll also find a filter that will show you whether or not a property is eco-certified. Hotels can get certified as environmentally sustainable by an independent organization recognized by Google. Once they are, they will show up with this filter.
Unfortunately, there isn't yet a way to filter out hotels that charge those pesky resort fees … or even a way to display them until you get to the final checkout screen during the booking process.
But let's make this real and get back to our New York City example. For my search, I know I want to stay in Midtown close to Central Park so I zoomed in on the map of that area. Once there, I chose properties that have Google reviews of 4 stars or higher, had a fitness center, and I wanted to see only Hilton properties because of my Diamond status from the Hilton Aspire Card. That narrowed down my search to just 48 properties.
Once you choose a specific hotel chain, it even lets you dial in specific brands within the hotel chain as you can see below.

Google Hotels Sorting Options
Once you have dialed in your search using the Google Hotels filtering options, you'll also have the ability to sort your search results. You'll be able to sort your search results by the following parameters:
Relevance
Lowest price
Highest rating
Most reviewed
Which Hotels You Will See in Google Hotels
Google Hotels integrates with Google Maps. That allows users to see all the hotels in a specific area, as long as the hotel has the property listed on Google. That means just about every hotel you can think of should be visible through Google Hotels.
Use the Google Hotels Price Tracking Feature
If your travel dates aren't flexible, using the price tracking feature can save you big money.
As long as you don't have any filters turned on, you will be able to use the price tracking feature. It doesn't appear that you can add price tracking for a specific property just yet. I would imagine Google will add this in the future.
This works the same way as Google Flights price alerts: Google will notify you via email whenever prices for a specific search go up or down. In order to use this feature, you must have a Gmail email account. 
This toggle will appear about halfway down the page, as shown below, and can be toggled off and on quickly. Even after you book, it might be a good idea to keep this toggle on. Many hotels allow penalty-free cancellations at least 24 hours before check-in so long as you don't purchase a non-refundable rate. That means if prices drop, you might be able to cancel and rebook at a better rate.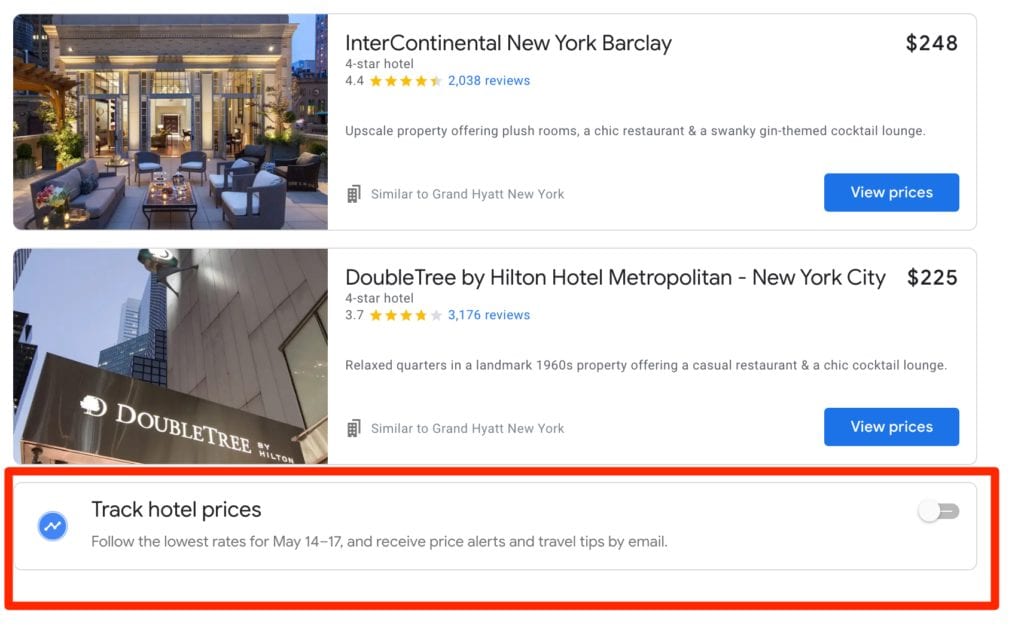 By drilling into a specific property, you'll also be able to find a chart that will look similar to what you'll find on Google Flights.
Curious to know whether or not the current price for the dates you've selected is a good deal at a specific property? Google will give you some information on what prices typically look like for your dates.

Other Helpful Google Hotel Search Features
What You'll Pay Feature
Another cool feature of Google Hotels is the "what you'll pay" dropdown on the main filter menu. Again, taking a page out of the Google Flights price forecasting book, this feature will tell you what prices look like for your stay vs. the rest of the month.
As you can see below, it's even broken down by each hotel star rating. As you can see, prices for this long weekend stay in May are average. This is useful to help ensure you're getting a good deal – or if shifting your trip by even a few days can help you save.


When To Visit Feature
Another great feature is the "when to visit" tab.
As you can see, this will give you some average temperature data by month, give you an idea of crowds and when hotels might be the cheapest. As the data below suggests, shifting my trip to July could save some money when it comes time to book my hotel.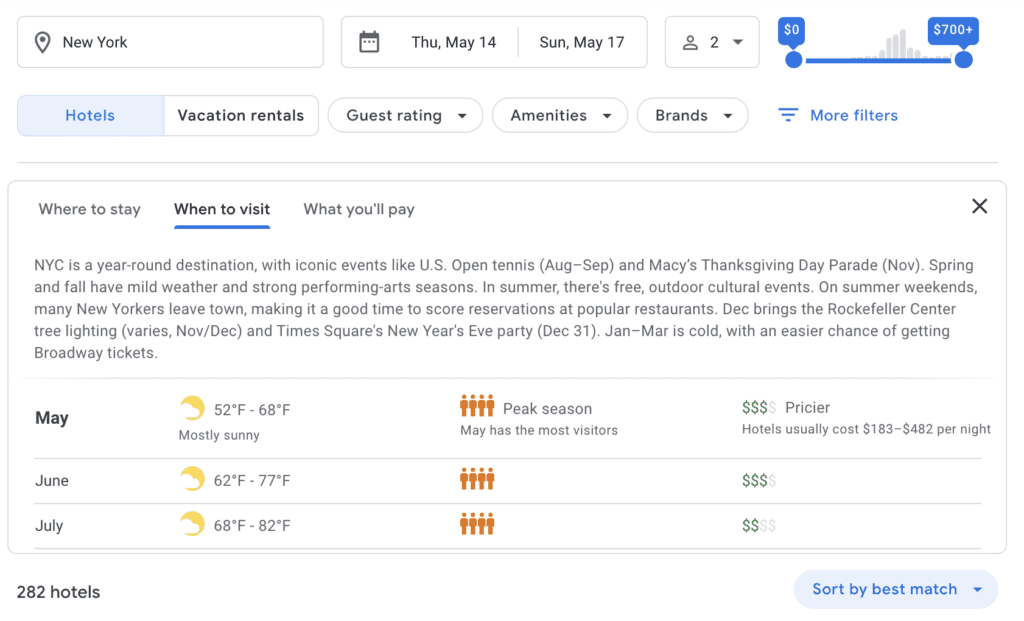 Where to Stay Feature
Yet another cool feature offered through Google Hotels is the Where to Stay feature.
If you know what city you're heading to but don't have a specific neighborhood or area in mind, this feature can help point you in the right direction. As you can see below, the top suggestion for my New York City stay is the Williamsburg neighborhood in Brooklyn. Google will provide some top attractions on other fun things to do in the area.

By selecting the "Add area" button, it will show you the area on the map and allow you to select hotels within the neighborhood.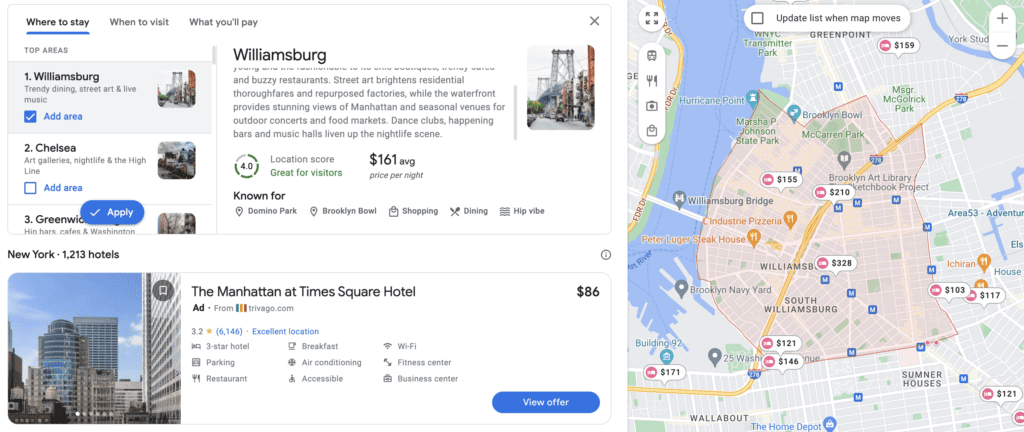 Booking Your Stay Through Google Hotels
Ready to book? Google Hotels gives you plenty of options.
After you select a hotel, Google Hotels will give you a list of all the different ways you can book and prices, from booking directly with the hotel itself to a number of different online travel agencies (OTAs).
In my case, booking directly with Hilton matches the lowest price offered from a handful of different OTAs. When that's the case, you'll almost always want to book directly with the hotel. If you've got elite status with a hotel chain, booking through an OTA like Booking.com or Expedia means those benefits won't be recognized – plus, you won't earn points through the hotel chain. Plus, these third-party bookings are almost always the first to be canceled if a hotel gets overbooked.
But the power of this tool from Google is undeniable: It gives you a quick price comparison.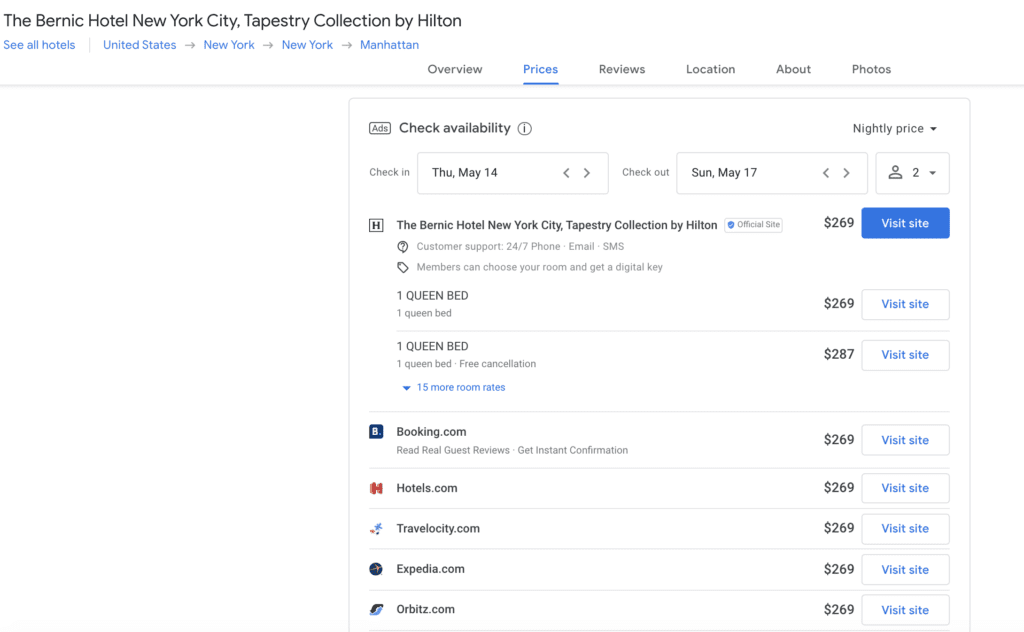 Book Home Rentals with Google Hotels, Too
In addition to hotels, the platform allows you to book vacation rentals from sites like HomeAway, VRBO, Expedia, and more. 
One notable exception missing from these home rental listings are Airbnb properties. That's unlikely to change: Airbnb is a competitor of Google as it branches out in its hotel and home rental offerings. But for the rest of these home rental platforms, it works just like searching for hotels. You can filter by the price, guest rating, and more.
Simply click on the filter button and select "Vacation Rentals" if you want a full home rental to show up. This is a great option for families or large groups, which can often save a fortune by renting a house rather than booking several hotel rooms.
Just as with any normal hotel search, you can customize the results to fit your needs, whether you want just a room or a full home. But you can also filter for any must-have amenities, from free Wi-Fi and air conditioning to a pool or even a hot tub.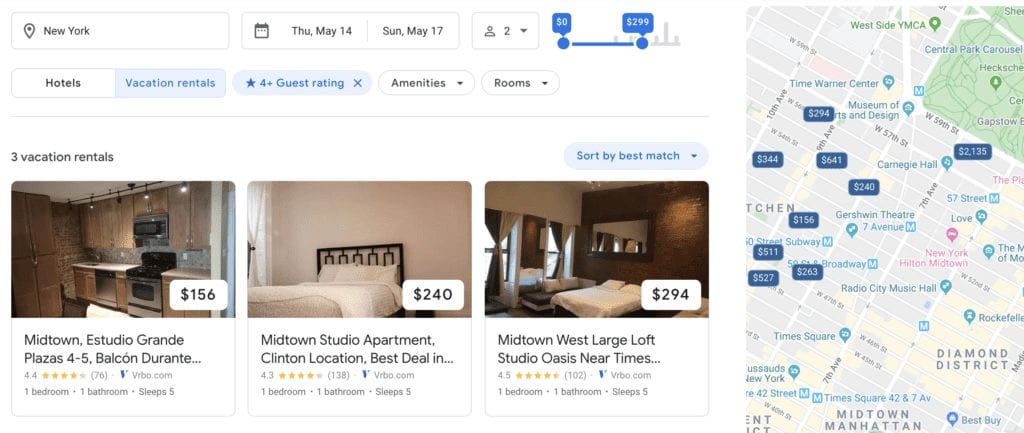 Bottom Line
Google is trying to replicate what they've built with Google Flights to disrupt the hotel booking industry. And that's a good thing.
It's a great place to start your hotel search – whether you are planning to pay cash or book with points. The platform will allow you to zero in on exactly where you want to stay and provide you with solid pricing information to help you make a decision. Just visit Google.com/hotels to get started with your next hunt for a hotel.