Shopping for luggage can be stressful. There are a variety of brands and within the brands, there are different styles. We did the research for you to break down our 5 favorite checked luggage pieces.
In fact, members of the Thrifty Traveler staff have tried and tested many different checked bags over the years and these are the bags that made the final cut. Without further ado, here is our guide to the 5 best checked luggage pieces.
Delsey – Aero 25" Expandable Rolling Luggage
Delsey created a sleek and durable suitcase perfect for every traveler. The Aero 25" Expandable Roller is made from 100% polycarbonate which makes it lightweight yet durable. Within the suitcase, there are two full packing compartments with a handy divider to avoid your items moving around. There are also tie-down straps and a smaller pocket for safe storage of your accessories.
Included with your purchase is a TSA-accepted lock for safety and security. Lastly, the Delsey Aero comes with a worldwide limited 10-year warranty.
Cost: $108.70 at Amazon
Travelpro – Maxlite 5 25" Expandable Suitcase
Pair your Maxlite 5 International Spinner with the matching  Travelpro Maxlite International Packing Suitcase,  one of the lightest luggage pieces out there. Just as with the carry-on, customers rave about the durable handle, widely adjustable height options, as well as the quality of spinner wheels. The price for this piece, along with the quality, is the real selling point.
Travelpro was created by an ex-Northwest Airlines 747 pilot who thought there had to be a better option for luggage. They are the brand that essentially created the 4 wheeled spinner luggage that we all know and love and what makes wheeling your bag throughout the airport so much easier.
The Travelpro Maxlite 5 expandable suitcase comes with a limited lifetime warranty which will cover defects of materials or workmanship of the bag. It will not cover wear or damage caused by abuse, mishandling, accidental damage, inappropriate selection, or carelessness caused by an airline or other common carriers. You can read more about the bag warranty here.
Cost: $139 at Amazon
Away – The Medium
Have you ever been stuck waiting for your flight, phone battery diminishing, and no outlets in sight? Fret no more, your Away checked luggage has a built-in battery specifically for your phone charging needs. Consequently, we think of the Away luggage as a "smart" suitcase, but you can also pick up the bag without the built-in battery.
A favorite of many on the Thrifty Traveler staff, the Away bags have an unbreakable polycarbonate shell, TSA-approved combination lock, and hidden laundry bag. Lastly, Away allows you to test the piece for up to 100 days with a money back guarantee.
The most appealing part of the Away bag is the lifetime warranty it offers. It will cover cracks or breaks in the shell, wheels, handles, or telescoping handles that break off and are no longer usable, zippers that can no longer be opened or closed and fabric tears that render front pocket fabric non-functional. You can read more about the lifetime warranty offered by Away here.
From an upfront cost and warranty perspective, you are going to be hardpressed to find a better value than the Away Medium bag.
Cost: $275 at Away
Thrifty Tip: Use our link to get an additional $20 off this bag, bringing the price down to $255.
Briggs & Riley – Baseline Medium Expandable Spinner
Briggs & Riley has two main selling points and justifications for the high price. Their unconditional lifetime guarantee and their patented compression-expansion technology.
Yes, you may see other brands with a lifetime warranty, but Briggs & Riley set themselves apart with their statement of "if your bag is ever broken or damaged, we will repair it free of charge, no proof of purchase needed, no questions asked." Basically, whether you damage your suitcase, or the airline does, it will be fixed free of charge.
Additionally, you don't even need to send the bag back to Briggs & Riley. You can bring it into any authorized Briggs & Riley dealer worldwide and they will fix it for free. For a full list of authorized dealers, click here.
Another notable feature of Briggs & Riley is the patented compression-expansion technology, mentioned above. You pack your suitcase to overflowing, zip it up, and simply push down to compress all of the air out, drastically increasing the storage capacity of the bag. Lastly, the handle is on the outside of the bag which is unique and allows for more packing room for your items.
Cost: $659 at Amazon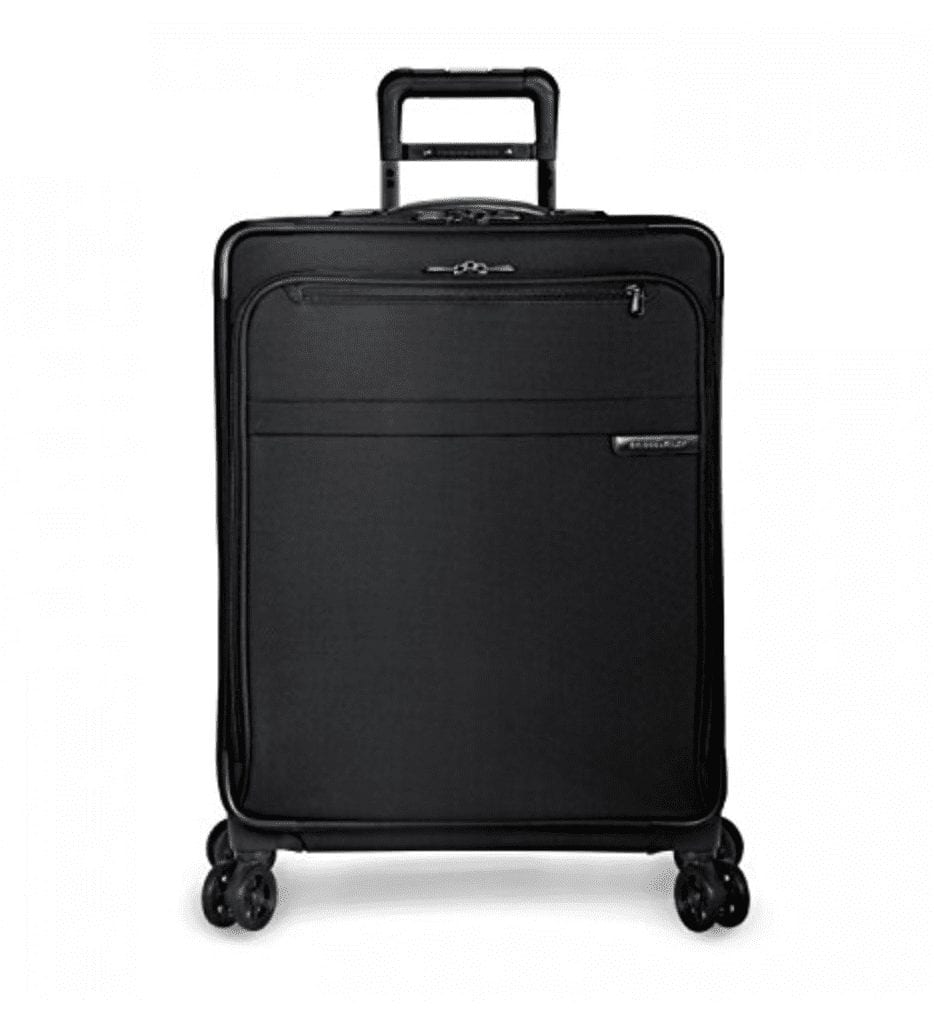 Tumi V3 Short Trip Expandable Packing Case
Coming in with the highest upfront price point is the Tumi V3 Short Trip Expandable Packing Case. Tumi is well known and respected for being built with the highest detail to quality. Tumi's audience has historically been frequent business travelers but has been expanding to those wanting more quality and willing to pay for it.
Two unique features for Tumi are their free personalization options as well as their Tumi tracer. Tumi tracer is a 20-digit unique individual product number that is permanently affixed to the product to assist you in finding lost and/or stolen items. Other features include a hanging zip pocket with two separate compartments, hanger bracket, front vertical zip pocket, and top quick grab zip pocket.
Tumi products come with a 5-year limited warranty for things like handles, zippers, and wheels. You can bring the bag into any Tumi store worldwide and they will fix them no questions asked. You can read more about Tumi's warranty here.
While this bag has the highest upfront cost of any bag on the list, you can often pick up Tumi products for 40% off by stacking a few deals. During their semi-annual sales, there are usually great opportunities to stack the sale with a cashback offer like the one we recently featured. If you can hold out until the next semi-annual sale, you might be able to grab this bag for 40% off. This is a much easier price point to digest for a quality bag.
Cost: $565 at Amazon
Bottom Line
As you can see there are quality checked luggage pieces to fit every budget. Each piece noted has a unique feature that may or may not spark your interest.
Be sure to weigh your pros and cons when purchasing. You want to be comfortable with your choice while traveling. Though we suggest always carrying on, traveling with a checked bag is something that you might need to do from time to time. Especially if you are traveling for an extended period of time. Use our guide to find the best checked luggage the next time you are in the market.