Our Thrifty Traveler Premium members get the hottest domestic and international flight deals available. But it's not just the major U.S. hub airports that benefit from these deals.
From Aberdeen, South Dakota (ABR) to Atlanta (ATL) and Washington, D.C.-Dulles (IAD) to Wichita in Kansas (ICT), we find flight deals from airports big and small. We even find deals from nearly a dozen Canadian cities!
In all, we cover more than 200 airports and counting – more than any other flight deal service on the market. And yes, even tiny regional airports get amazing deals.
Want instant notification of the best domestic and international deals we find from your home airport(s)? Join Thrifty Traveler Premium! Plus, you'll get alerts for business class fares and award deals to use your points and miles, too.
Check out some of the craziest flight deals we've found!
Here's the entire list of airports that we currently cover:

City Name (Airport Code)
Aberdeen (ABR)
Abilene (ABI)
Akron (CAK)
Albany (ALB)
Albuquerque (ABQ)
Allentown (ABE)
Anchorage (ANC)
Appleton (ATW)
Arcata-Eureka (ACV)
Asheville (AVL)
Atlanta (ATL)
Augusta (AGS)
Austin (AUS)
Bakersfield (BFL)
Baltimore (BWI)
Bangor (BGR)
Bemidji (BJI)
Billings (BIL)
Birmingham (BHM)
Bismarck (BIS)
Bloomington (BMI)
Boise (BOI)
Boston (BOS)
Bozeman (BZN)
Brainerd (BRD)
Bristol (TRI)
Buffalo (BUF)
Burbank (BUR)
Burlington (BTV)
Butte (BTM)
Calgary (YYC)
Cedar Rapids (CID)
Charleston (CHS)
Charleston, West Virginia (CRW)
Charlotte (CLT)
Charlottesville (CHO)
Chattanooga (CHA)
Chicago (ORD & MDW)
Cincinnati (CVG)
Cleveland (CLE)
Colorado Springs (COS)
Columbia (CAE)
Columbia (COU)
Columbus (CMH)
Columbus (GTR)
Corpus Christi (CRP)
Dallas (DFW & DAL)
Dayton (DAY)
Daytona Beach (DAB)
Denver (DEN)
Des Moines (DSM)
Destin (VPS)
Detroit (DTW)
Devils Lake (DVL)
Dickinson (DIK)
Dothan (DHN)
Dubuque (DBQ)
Duluth (DLH)
Eau Claire (EAU)
Edmonton (YEG)
El Paso (ELP)
Erie (ERI)
Eugene (EUG)
Evansville (EVV)
Fairbanks (FAI)
Fargo (FAR)
Fayetteville (FAY)
Fayetteville (XNA)
Flint (FNT)
Fort Lauderdale (FLL)
Fort Myers (RSW)
Fort Wayne (FWA)
Fresno (FAT)
Gainesville (GNV)
Grand Forks (GFK)
Grand Junction (GJT)
Grand Rapids (GRR)
Green Bay (GRB)
Greensboro (GSO)
Greenville (GSP)
Gulfport (GPT)
Harrisburg (MDT)
Hartford (BDL)
Hibbing (HIB)
Honolulu (HNL)
Houston (IAH & HOU)
Huntsville (HSV)
Idaho Falls (IDA)
Indianapolis (IND)
International Falls (INL)
Jackson (JAN)
Jacksonville (JAX)
Jackson Hole (JAC)
Jamestown (JMS)
Joplin (JLN)
Juneau (JNU)
Kalamazoo (AZO)
Kalispell (FCA)
Kansas City (MCI)
Key West (EYW)
Knoxville (TYS)
Kona (KOA)
La Crosse (LSE)
Lafayette (LFT)
Lansing (LAN)
Las Vegas (LAS)
Lexington (LEX)
Lincoln (LNK)
Little Rock (LIT)
Long Beach (LGB)
Los Angeles (LAX)
Louisville (SDF)
Lubbock (LBB)
Madison (MSN)
Manchester (MHT)
McAllen (MFE)
Medford (MFR)
Melbourne (MLB)
Memphis (MEM)
Miami (MIA)
Midland (MAF)
Milwaukee (MKE)
Minneapolis-St. Paul (MSP)
Minot (MOT)
Missoula (MSO)
Mobile (MOB)
Moline (MLI)
Monterey (MRY)
Montgomery (MGM)
Montreal (YUL)
Myrtle Beach (MYR)
Nashville (BNA)
Newark (EWR)
New Orleans (MSY)
New York City (JFK, LGA)
Norfolk (ORF)
Oakland (OAK)
Oklahoma City (OKC)
Omaha (OMA)
Ontario (ONT)
Orlando (MCO)
Ottawa (YOW)
Palm Springs (PSP)
Pasco (PSC)
Panama City (ECP)
Pensacola (PNS)
Peoria (PIA)
Philadelphia (PHL)
Phoenix (PHX)
Pittsburgh (PIT)
Pocatello (PIH)
Portland, Oregon (PDX)
Portland, Maine (PWM)
Providence (PVD)
Raleigh (RDU)
Rapid City (RAP)
Redding (RDD)
Redmond (RDM)
Regina (YQR)
Reno (RNO)
Rhinelander (RHI)
Richmond (RIC)
Roanoke (ROA)
Rochester, New York (ROC)
Rochester, Minnesota (RST)
Sacramento (SMF)
Salt Lake City (SLC)
San Antonio (SAT)
San Diego (SAN)
San Francisco (SFO)
San Jose (SJC)
San Juan (SJU)
San Luis Obispo (SBP)
Santa Ana (SNA)
Santa Barbara (SBA)
Santa Fe (SAF)
Saskatoon (YXE)
Sarasota (SRQ)
Savannah (SAV)
Scranton (AVP)
Seattle (SEA)
Shreveport (SHV)
Sioux City (SUX)
Sioux Falls (FSD)
South Bend (SBN)
Springfield, Missouri (SGF)
Springfield, Illinois (SPI)
Spokane (GEG)
St. Louis (STL)
St. Thomas (STT)
Syracuse (SYR)
Tallahassee (TLH)
Tampa (TPA)
Thunder Bay (YQT)
Toledo (TOL)
Toronto (YYZ)
Traverse City (TVC)
Tucson (TUS)
Tulsa (TUL)
Vancouver (YVR)
Victoria (YYJ)
Waco (ACT)
Washington D.C. (DCA & IAD)
Watertown (ATY)
Wausau (CWA)
West Palm Beach (PBI)
Westchester County (HPN)
Wichita (ICT)
Wichita Falls (SPS)
Williston (XWA)
Wilmington (ILM)
Winnipeg (YWG)
See a city missing from this list that you'd love to see deals from? Shoot us a message at help [at] thriftytraveler.com; we're always adding to our departure city offerings.
Tips For Picking Your Departure Airports
Attention, Premium members: You can log into your Premium account and fine-tune which departure city airport(s) you'll get flight deal alerts from. Only get alerts from the airports you want, whether it's just your home airport or all 200-plus!
Here are a few ideas to help you select the best departure cities:
Consider adding your home airport, and a few other nearby airports to maximize the deals you'll receive.
You can also add major hubs like Chicago, New York airports, Boston, and Los Angeles to your preferences – these big cities often get some of the cheapest airfare. Then, book a cheap positioning flight to take advantage of one of the deals and come out way ahead!
Want to get ALL of the deals we find? Leave your preferences at "ALL Cities," and you'll get every single flight deal we find
Interested in flying at the front of the plane? Opt-in to get business & first class deals from every airport, so you'll never miss a discounted premium cabin fare (or award alert) no matter where it departs from
Members also get alerts for unicorn fares, which include mistake fares and extremely rare and time-sensitive deals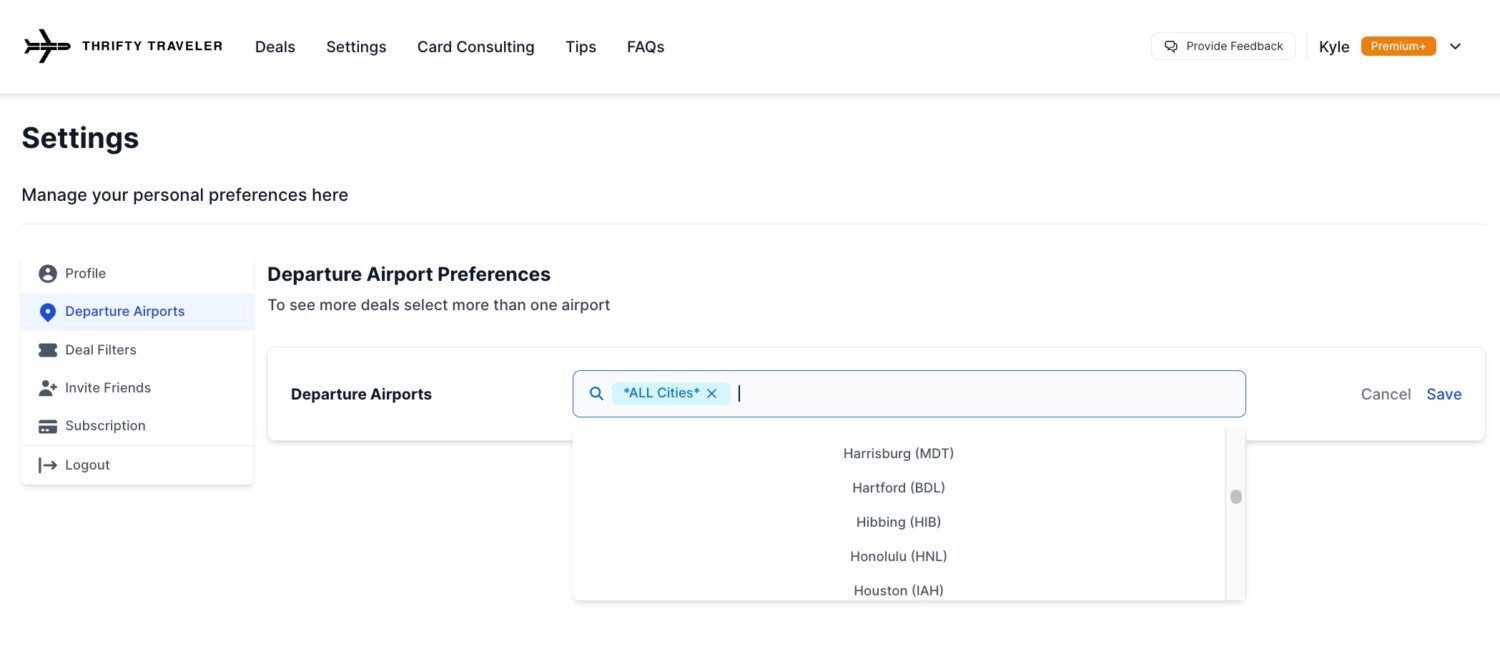 Thrifty Traveler Premium members can now see all their deals online! Just log into your Premium account (and bookmark that page!) and you can scan through all the recent deals we've found and sent … whether they're from one of your departure airports or not! You can filter for cash or points & miles deals, set price limits, and even search for specific destinations.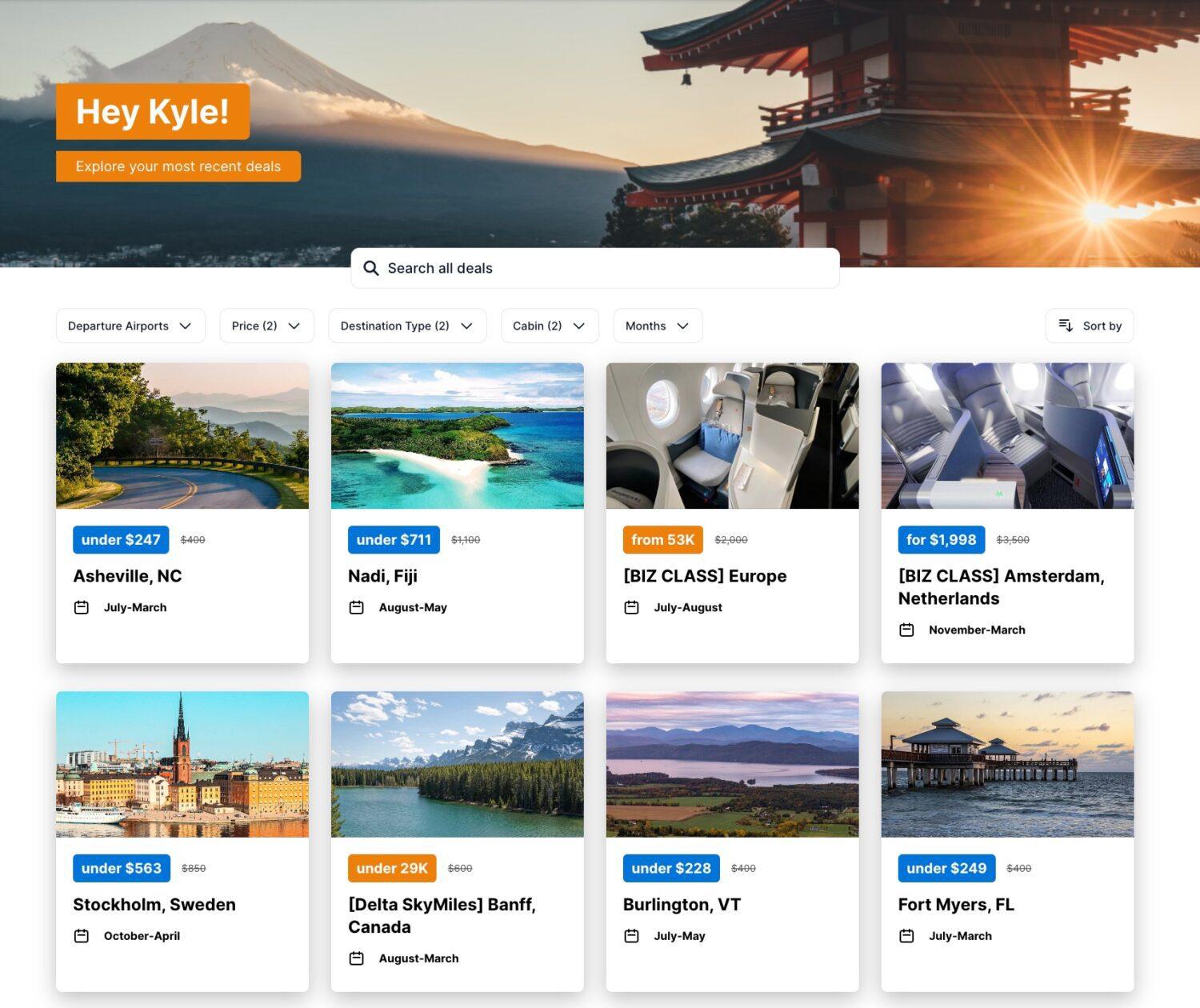 One note: This new hub defaults to showing deals from your selected airports – just click "departure airports" to add more airports to your display.
Not a Premium member yet? You're missing out on 99% of the flight deals at $250-$500+ off normal airfare! Join our flight deal service and stop missing out on deals we find from your home airport.
Want to learn more? Read up on how Thrifty Traveler Premium works!