Want to fly Emirates First Class but don't care to visit Dubai? Fly one of its routes from the U.S. to Europe instead … or between Hong Kong (HKG) and Bangkok (BKK). Or how about a rare chance to fly SWISS First Class … from Brazil to Argentina?
It's all possible thanks to a strange quirk in the airline world called fifth-freedom flights: Seemingly random routes that allow airlines to fly between two cities where the carrier itself isn't based. There are hundreds of these strange routes across the globe. And they're not just fun for bragging rights: They can be a great way to fly some of the best seats in the sky – often for substantially less than what you'd pay on a "normal" route.
There are far too many of these remarkable routes to list in full (here's a comprehensive list), but we've rounded up some of the weirdest (and coolest) fifth-freedom routes from around the world – and how you can book these flights either with money or points and miles.

What is a Fifth-Freedom Flight?
They may sound strange but it's fairly simple: A fifth-freedom flight is when an airline based in one country flies between two different countries other than its home country.
For example, Emirates is based in the United Arab Emirates, and the vast majority of its flights you'll see fly in and out of its Dubai (DXB) hub. But the airline also flies nonstop between the U.S. and Europe with onward flights to its hub in Dubai. There's also a fifth-freedom flight connecting Mexico City (MEX) and Barcelona (BCN).
These types of flights occur all over the world once airlines get special agreements to sell tickets between the two foreign countries. Airlines add these seemingly strange routes for a handful of reasons:
A carrier wants to serve a destination but it's too far to fly nonstop from its hub. Adding a shorter fifth-freedom flight makes it possible with a quick stop.
There's not enough demand to fill up flights on the longer nonstop, but making a pitstop (with a fifth-freedom leg) allows the airline to fill some additional seats
It's a big market with a ton of demand where an airline believes it can break through with a goofy route, like Emirates' fifth-freedom routes between the U.S. and Europe.
When it happens, it's almost always a win for travelers: It adds more competition and amazing opportunities to fly some of the best airlines in the world for less.
Such as…
NYC to Milan or Athens on Emirates
Emirates is one of the most prestigious airlines in the world but it can cost a pretty penny (or a boatload of miles) to fly Emirates First Class to or from its hub in Dubai (DXB). Luckily, travelers in New York City can take advantage of Emirates' two unique routes to Europe to experience what it's like for much less.
Emirates flies nonstop from New York (JFK) to Milan (MXP) and from Newark (EWR) to Athens (ATH). You can fly each route for just 45,000 miles roundtrip in economy or 108,000 miles in Emirates business class.

With low fees of roughly $250 roundtrip in business class and a chance to upgrade to Emirates First Class at check-in, this is by far your best chance to fly one of the most sought-after cabins in the sky.

Best of all, it's super easy to get the Emirates miles needed to book these flights as you can transfer Amex Membership Rewards, Capital One Venture Miles, Chase Ultimate Rewards, or Citi ThankYou points to Emirates.
It's worth noting that as of November 2023, Emirates will only be flying its older Boeing 777 aircraft on these routes – not its signature, double-decker Airbus A380. These older planes have similar first class suites, but the business class seats are subpar. Plus, you won't find showers or an onboard bar on Emirates' 777s.
Related reading: How to Fly Emirates to Europe on Points: 45k Economy, 108k for Business
A Few Options to (& Within) Europe on Singapore Airlines
Singapore Airlines recently reclaimed the top spot in SkyTrax airline rankings – and for good reason. It has some of the comfiest business class seats and friendliest staff in the sky.
Best of all, you don't need to fly on the longest flights in the world down to Singapore in order to fly the best airline in the world. Instead, you can fly this hospitable airline on two flights from the U.S. to Europe and a few other shorter flights around the world.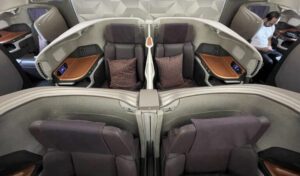 Thrifty Traveler's Flight Deal guru Jon recently flew Singapore business class aboard the massive A380 between Frankfurt (FRA) and New York (JFK). A while back our co-founders Jared and Nick flew Singapore Airlines' A350 from Houston (IAH) to Manchester (MAN), the only airline flying nonstop between these two cities.
Both of these flights can be easily booked with Singapore Airlines KrisFlyer miles, which is a transfer partner of all the major banks. After an increase in rates last year, it costs 25,000 miles for economy, 52,000 for premium economy, and 81,000 up in business class each way. But you can sometimes do even better and book Singapore Airlines flights with Aeroplan points for less.

Sign up for Thrifty Traveler Premium and get these unique deals sent straight to your inbox!
Looking for a flight from Italy to Spain (or vice versa)? Yes, you can fly Singapore Airlines on the hour-and-a-half flight between Milan (MXP) to Barcelona (BCN) as well. This can be a great way to avoid the budget carriers flying this route and fly a five-star airline instead.
Cash fares are typically just over $100 on this route but the lowest fares could come with restrictions. You can also book main cabin economy for as little as 6,000 United miles plus roughly $25 in fees. Better yet, use United's excursionist perk to add this short flight onto a multi-city, roundtrip award booking from the U.S. or Canada for no extra miles.

Miami to Punta Cana or Auckland to Sydney on LATAM
Flying to the Caribbean and want a lie-flat seat? Or, how about a cheap way to fly between Australia and New Zealand? LATAM, an airline based in South America, could be your ticket.
LATAM flies its 787 Dreamliner on the short two-and-a-half-hour flight from Miami (MIA) to Punta Cana (PUJ) in the Dominican Republic once a week on Saturdays. This aircraft has lie-flat business class seats – and they can sometimes be booked for a bargain.

It often costs over $600 roundtrip for economy tickets to the Dominican Republic. For business class, you're often looking at close to $1,000 or more – and you'll be sitting in a standard domestic first-class recliner seat when flying other airlines. This unique route from Miami to Punta Cana is one of the cheapest ways to experience flying in a lie-flat seat.
LATAM also flies a 787 Dreamliner between Auckland (AKL) and Sydney (SYD). This can be a great way to book a lie-flat seat between New Zealand and Australia during a bucket list trip. Comparing flights around Christmas, it's nearly half the price you'd pay to fly Qantas – and not all Qantas flights have lie-flat seats.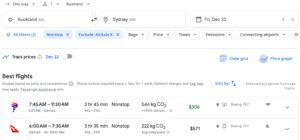 Sao Paulo to Buenos Aires on Many Airlines
Flights between Brazil and Argentina are one of the biggest hotspots for finding a fifth-freedom flight.
There are more than 10 airlines flying nonstop between these two South American countries, including a few fifth freedom routes between Sao Paulo (GRU) and Buenos Aires (EZE). Along with a few South American carriers, you can also fly between these two cities on the following airlines:
Air Canada
Ethiopian Airlines
Swiss
Turkish Airlines
At one point, you could also fly Qatar Airways on this route but it's no longer on the schedule as of publication.
The best seats you can book on this three-hour flight are SWISS First Class. In fact, this is one of the only ways it's even possible to book this cabin with miles: SWISS usually doesn't allow you to book its first-class cabin with partner airline miles when flying its long-haul routes.
But if you have a stash of United miles, you can book SWISS First Class on this short flight between Brazil and Argentina for just 38,500 miles each way.

Thrifty Traveler Premium members who signed up for our new "Nerd Alerts" were alerted to a chance to book the entire first-class cabin on this route earlier this year.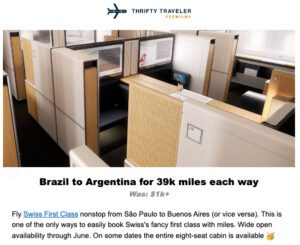 Get the next "Nerd Alert" deal straight to your inbox with Thrifty Traveler Premium!
Bangkok to Hong Kong or Christchurch to Sydney on Emirates
Have you ever wanted to take a shower on a plane? Don't want to pay $10,000 to do so? Consider flying some of Emirates' other fifth-freedom routes on its massive Airbus A380 in Asia or Oceania.
These aircraft are equipped with impressive suites and access to an onboard bar and shower for Emirates First Class passengers. And while it normally costs a boatload of miles or cash to fly first class on Emirates' long-haul routes, you can experience what it's like on these shorter flights for much less.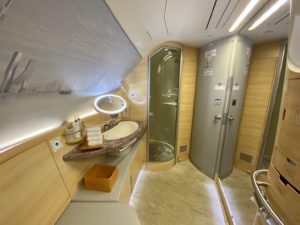 For example, you can often purchase flights from Bangkok (BKK) to Hong Kong (HKG) for around $600 one-way. That may seem like a lot for a three-hour flight, but it's definitely one of the cheapest ways to fly Emirates First Class on the planet.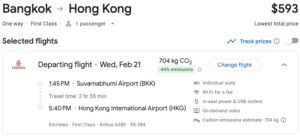 Looking for another way to fly between Australia and New Zealand? Emirates also flies its A380 daily between Christchurch (CHC) and Sydney (SYD). At roughly $940 one-way, it's also among the cheapest ways to fly Emirates First Class.
Bottomless Dom Perignon champagne on the three-hour flight to Australia sounds like a fun way to kick off a night in Sydney. Need to freshen up before hitting the town? Rinse off in the onboard shower.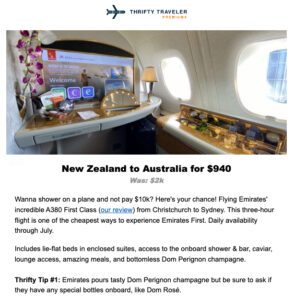 Get "Nerd Alerts" like this along with deals departing from 200+ U.S. and Canadian Airports with Thrifty Traveler Premium!
Nassau to Grand Cayman on British Airways
Flying between islands in the Caribbean usually involves small prop planes – what aviation geeks lovingly call "puddle jumpers." But if you hop on one of British Airways' flights within the region, you could enjoy more space on board as you hop between islands.
One of the coolest routes in its network is nonstop flights from Nassau (NAS) to Grand Cayman (GCM) aboard a Boeing 777. At 467 miles, this two-hour flight from the Bahamas to the Cayman Islands falls in the lowest-priced distance band on British Airways' award chart.
This means you can book these flights for as little as 9,250 British Airways Avios one-way in economy. And it's not much more for premium economy at 11,500, or up in business class for 15,000. Thanks to some changes in how British Airways prices award tickets, you'll only pay $1 in taxes and fees on this route.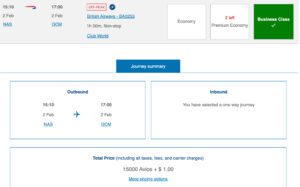 These flights normally cost over $500 in economy so you're getting an incredible deal if you book with points instead.

Luckily, you can transfer points from Amex, Bilt Rewards, Capital One, and Chase instantly to British Airways. This means if you're earning points on cards like the *amex gold card*, *venture x*, or the *chase sapphire preferred*, you can transfer those points instantly to British Airways.
Tokyo to Seoul on Ethiopian Airlines
Need a flight between Tokyo and Seoul? You won't run out of options. With multiple airports in each metropolis to choose from, there are several airlines flying nonstop between these two megacities. But the most interesting option isn't on an Asian carrier.
There's also an Ethiopian Airlines' flight between Tokyo-Narita (NRT) and Seoul-Incheon (ICN). The African airline flies this route five times per week.
While Ethiopian Airlines won't win any awards for its business class, it's the only Star Alliance airline flying lie-flat seats between these two cities. That may not matter much for a two-and-a-half-hour flight, but it's nice to know the option is there if you want to splurge.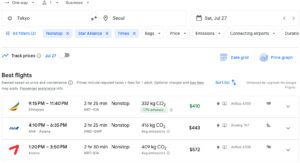 London & Vienna to Bangkok on EVA Air
EVA Air, based in Taipei (TPE), is one of our favorite airlines. From its Hello Kitty planes to top-notch inflight service, it's a great way to fly anywhere in the world, including this 11-plus-hour flight from London (LHR) to Bangkok (BKK) – or a slightly shorter flight to Bangkok from Vienna (VIE) in Austria.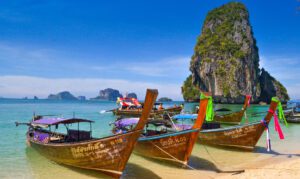 It may be difficult to find award availability to fly EVA Air business class on this route from England to Thailand, but if you're gonna endure this long of a flight in economy, you might as well go with one of the best airlines in the world.
Since EVA Air is part of the Star Alliance and a partner of ANA, you could use this flight as part of an ANA round-the-world ticket. Otherwise, the cheapest way to book this flight with miles is through the Turkish Airlines Miles & Smiles program. It costs 30,000 miles one-way in economy plus around $250 in taxes and fees.


Since you'll be on the hook for slightly higher fees when booking an award flight flying EVA Air, you may want to consider paying for a cash ticket instead.
Read more: When to Use Points & Miles vs. Paying Cash for a Flight
Singapore to Bali or Buenos Aires to Santiago on KLM
Who knew Dutch airline KLM had fifth freedom routes within Southeast Asia and South America? I didn't, that's for sure. Best of all, KLM is flying its best business class seats on these unique routes in the southern hemisphere.
The Boeing 777 flying from Singapore (SIN) to Bali (DPS) is equipped with individual suites in business class. That's a game changer and the only way to fly in an enclosed suite on this popular route.


Don't feel like spending cash? Burn your Delta SkyMiles on this flight for just 40,000 SkyMiles plus around $45 one-way in business class.


Or book for less directly with Air France-KLM's Flying Blue miles. It's just 22,000 miles one-way to fly business class on this route.

Since Flying Blue miles are some of the easiest to earn, you shouldn't have any trouble gathering the miles you need to book these flights. You can transfer points from Amex, Bilt, Capital One, Chase, and Citi to Flying Blue.
Need to fly from Argentina to Chile? KLM has you covered there, too. You'll find the Dutch airline flying its 787 Dreamliner between Buenos Aires (EZE) and Santiago (SCL).
Cash fares are quite expensive to fly KLM on this two-hour flight, often north of $300 in economy or $1,000 in business class. If you want to splurge, you can book KLM business class from Buenos Aires to Santiago for 55,000 Flying Blue miles one-way.


I'd probably save my points and just book a cheaper economy ticket on this short flight. Nonetheless, KLM seems to be the only airline flying business class on this route. So, if you want to fly up front, it's your only option.
Brisbane to Auckland on China Airlines
The third route between Australia and New Zealand on this list connects Brisbane (BNE) and Auckland (AKL) flying Taipei-based China Airlines.
It's not the cheapest way to fly this three-hour flight, but it is the only option in the SkyTeam alliance, which helps keep fares low overall with the added competition. Cash fares hover around $200 each way for economy or $580 for business class, while booking with points can be hit or miss.
At the time of publication, I was only able to find availability online with Flying Blue. It costs 16,500 miles in economy or 55,000 in business plus roughly $100 in taxes and fees, each way. Neither is a particularly great deal.

But you can book these flights for much less with Virgin Atlantic Flying Club points. Since this flight clocks in at 1,428 miles in distance, it's just 10,000 points in economy or 21,500 points in business one-way, according to Virgin's award chart for China Airlines flights.

However, you can't book these flights online with Virgin. Instead, you'll need to seek out availability on Flying Blue's website and then call Virgin at 1-800-862-8621 to see if they can book the same dates for less. I confirmed with a phone agent that these China Airlines flights are indeed bookable for 21,500 Virgin points one-way in business class, which is a pretty sweet deal.
Bottom Line
Airlines fly several interesting routes around the world where you'd never expect them to fly. For travelers, this can translate to big savings and special opportunities to use your points and miles.
Whether you want to experience first or business class on some of the most prestigious airlines in the world or just want a cheaper economy ticket on a well-known airline, these unique fifth-freedom routes can be your ticket to fly for less.