Everyone wants to travel during peak summer or over the holidays, and airlines know it. That's why savvy travelers avoid the busiest travel times and save hundreds by instead traveling just before – or just after.
It's called shoulder season, and it's one of the best ways to save on travel. Instead of booking a trip a summer trip in July – when everyone and their mom is trying to fly – aim for early June or maybe September instead. With that small shift, you can pay half the price of peak summer airfare.
The savings go beyond flights, as hotels and accommodations are almost always cheaper when you avoid the busiest travel periods. And it's not just about dollar signs, either: When you travel in shoulder season, you're less likely to encounter longer lines and big crowds at airports or attractions, and you'll miss the worst of the worst when it comes to flight delays and cancellations.
When is Shoulder Season?
It depends on where you're going, but it's right before – or just after – the peak travel season.
Here in the states or over in Europe, the busy summer travel period runs from June all the way through mid-August. March (thanks to spring break) and December (because of Christmas and the winter holidays) are also peak travel times. That means shoulder season runs from April into May and again from September through November. 
Time it right, and you can still get excellent weather and fewer crowds at your destination for a fraction of the cost.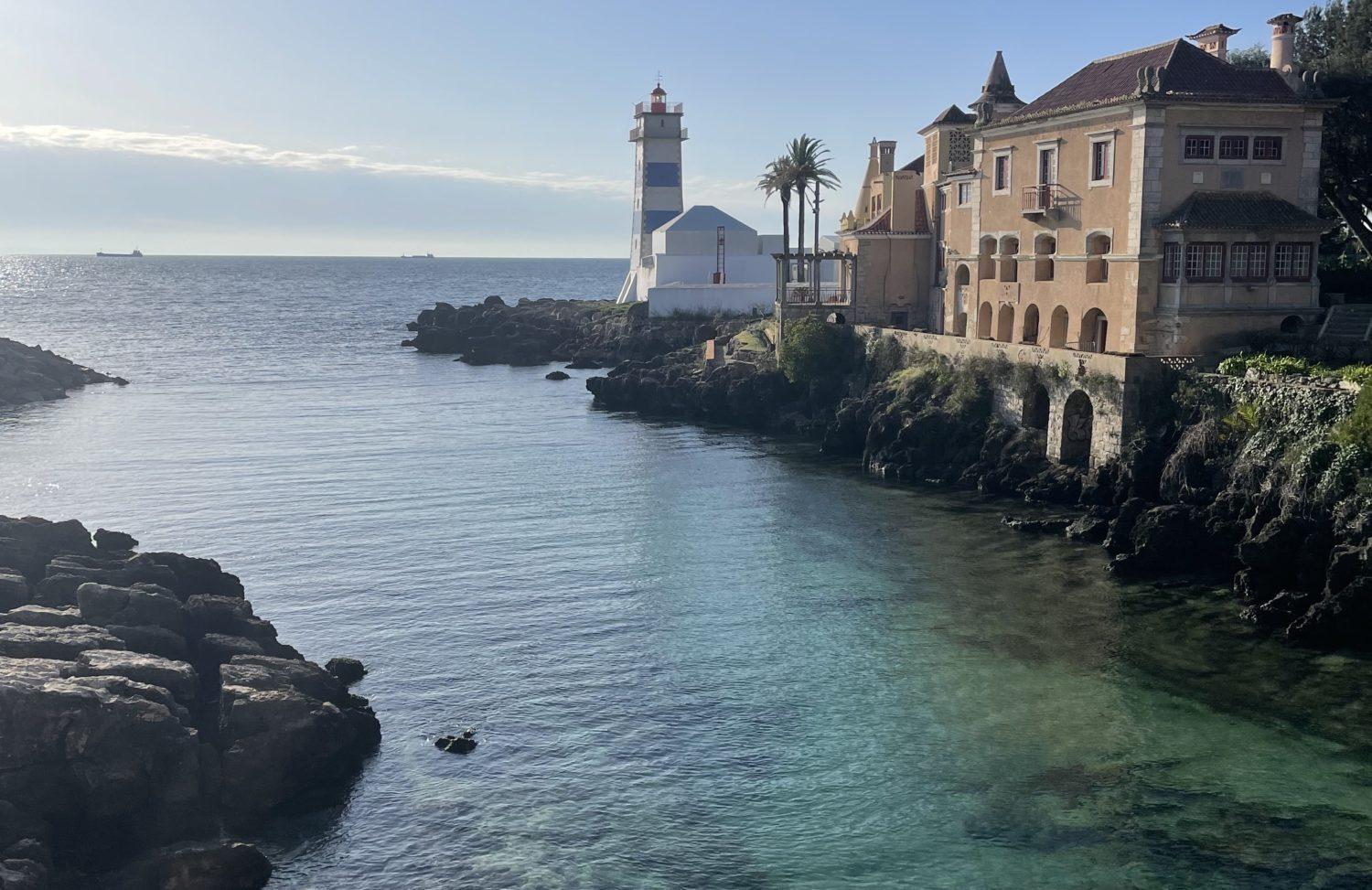 Of course, shoulder season is, by definition, not the very best season to travel. The school year calendar makes it easiest for most people to travel during the summer months. And by the time you make it into October, the weather over in Europe is cooler than what you'll find in July – though that's not necessarily a bad thing. The same goes for April and May.
But with that comes way fewer crowds and drastically reduced prices. It's one of the easiest ways to make your next trip cheaper and easier.
Read more: What Are the Cheapest Days to Fly and Travel in 2023?
Fewer Crowds & Less Hassle
If you followed the news over the last year, you saw relentless flight delays and cancellations from peak summer through the holidays.
We have great tips to protect yourself against delays and cancellations and how to deal with them if they do happen to you. Fortunately, most airlines have gotten their act together … but not before millions of Americans were impacted by flight disruptions.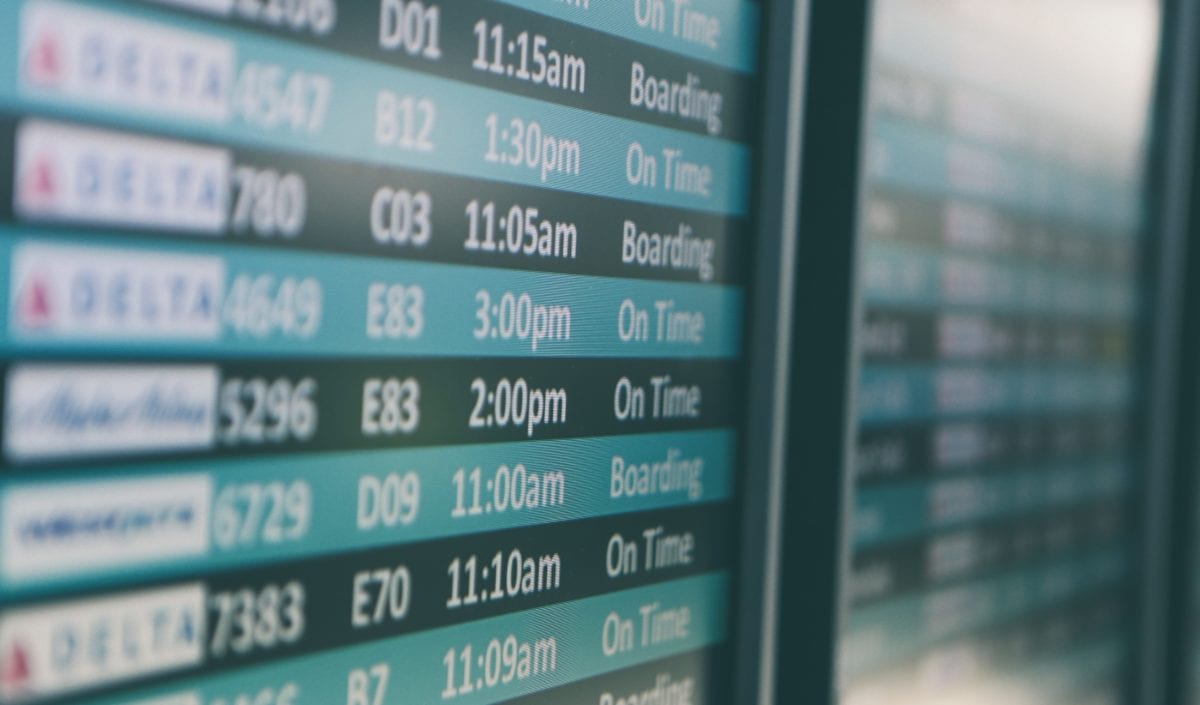 And in Europe, things were horrendous last year in hubs like Amsterdam (AMS), Dublin (DUB), Paris-Charles de Gaulle (CDG), and especially London-Heathrow (LHR) with long lines and even bigger piles of lost luggage. That's still the case today. Luckily, the upcoming spring shoulder season should be much cleaner logistically.
And once you get to your destination, shoulder season crowds await. That's a good thing.
Just like the season itself, the crowds at the most popular travel sites always peak in June, July, and August. So in April, May, September, October, and November, you've got a better shot at feeling like you've got the place to yourself.
We see it year in and year out all across Europe. Iceland, for example, is extremely popular –  especially in the summer. It's not unusual to be among hundreds of tourists at some of the most popular spots. But when I went last April, I found relatively good weather … and empty parking lots all over the even country's most famous attractions.

I don't care how nice the weather is: I HATE waiting in lines. Nothing ruins a mood like waiting an hour during my travels. Shoulder season alleviates that concern. Restaurant reservations? No problem. Museum tickets? Come on in!
If you can get a few days away from school or some time off work during the fall, winter, or spring, you're going to find a much smoother travel experience and way fewer crowds.
Cheaper Flights During Shoulder Season
At Thrifty Traveler, we're huge proponents of what we call the Flight First Rule. It's exactly what it sounds like: Instead of deciding on the dates of your trip first, plan your trip around the cheapest flight prices you can find.
Booking flights in the shoulder season proves it – for both domestic and international travel. While airfare shot up last summer, we saw flight prices drop (a lot!) for trips in the fall and spring. Even during the worst of it, the late summer and early fall were a prime source of flight deals. The same is true for spring and fall 2023, like these fares to the French Riviera!

Get cheap flights like this one sent straight to your inbox with Thrifty Traveler Premium!
A trip to Nice (NCE) could be exactly what the doctor ordered. But you know who wants to visit Nice in July and August? Everyone.

Look at this Google Flights calendar search for fares between Baltimore (BWI) and Nice (NCE) in 2023. Those are economy fares for $1,300 roundtrip. Please don't pay those prices.
Instead, move your search a few months into the fall. You'll find flights to Nice half that price.

While it won't be as warm as in the summer, the French Riviera is still spectacular with temperatures in the 50s and 60s. So if you're willing to add a layer, you'll enjoy it all to yourself for a fraction of the cost.
East of there is another European destination on everyone's list: Croatia. The cities of Dubrovnik (DBV), Split (SPU), and Zagreb (ZAG) are on many travelers' lists, but finding your way to Croatia in peak summer is going to cost you a fare with a comma in it, guaranteed.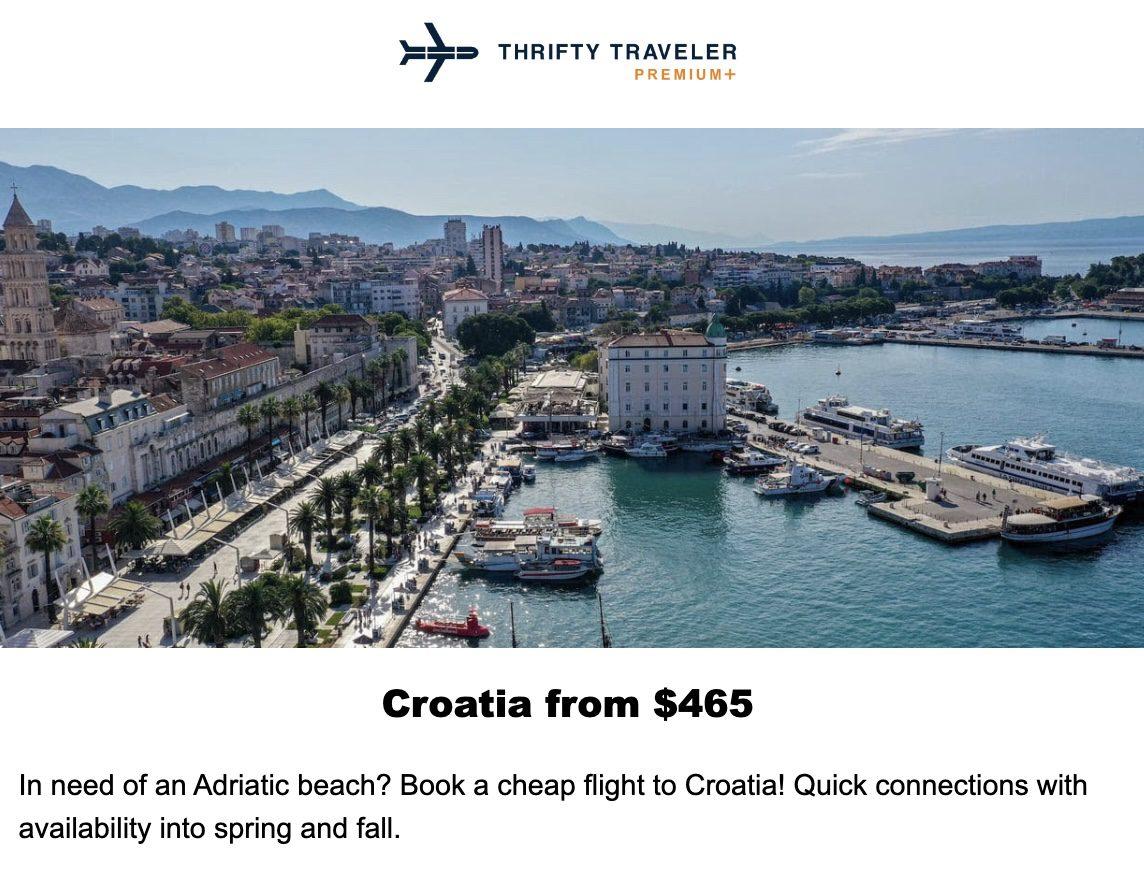 However, this flight deal we sent to our subscribers a few weeks ago included tons of fares in the $500s (and some in the $400s even!). So, how'd we find it? We aimed for the shoulder season.

All of this availability was through April and then after September. I promise you, September and October on the Adriatic Sea is still amazing with average temperatures in the 70s.
Read all our tips on how to find cheap flights!
Bottom Line
Everyone wants to fly during the peak travel seasons … and that's why you're going to save hundreds of dollars by moving your trip to the shoulder season.
April through May and September through October are all shoulder season for some of the best destinations all across the Northern Hemisphere. Traveling during those months rather than July or over the holidays could get you half-off (or more!) peak season airfare.
Add in a smoother travel experience with fewer crowds, and it's time to rethink your travel schedule.